ADD_THIS_TEXT
Reaching prospects with cold emails is tough.
The typical business worker gets 121 emails every single day, let alone sending over 40 themselves.
And that's not to mention the countless promotional emails that people get, leading them to mark businesses as spam content.
Or the fact that people already spend over four hours on email daily, amounting to 20.5 hours a week checking, reading and sending.
It's safe to say that email saturation is real.
And if you are cold emailing, you can expect to be last on the list of top priority emails to check.
People have to deal with clients, complaints and reporting to executives demanding reports yesterday.
One surefire way to get a response is by building familiarity before hitting send.
Establishing a real, mutual relationship.
Here's how to do it the right way and implement it in your sales and marketing strategy.
Why Familiarity Works
When presented with choices, the human brain almost always favors the familiar.
In one study, participants were given a blind taste test between two different sodas, Coke and Pepsi.
Without knowing which product was which, most participants chose Pepsi as the better-tasting beverage. But then something interesting happened.
When they saw the products with their brand labels, some participants changed their minds and chose Coke instead.
Why?
Brand familiarity.
As Jack Heath puts it, "Better the devil you know than the devil you don't."
When the study participants didn't have any emotional associations with the product itself, they chose what they thought tasted better.
But as soon as emotion was involved, they sided with their (predetermined) approved brand.
In other words, brand bias plays a significant role in how people engage with the world around them, even when it comes to things like social media searches.
When surveyed about the most important factors in choosing one search engine result over another, those polled said that results involving a "known retailer" were more likely to be picked.
Again, brand bias (familiarity) at work.
This idea of familiarity also applies to cold email outreach, however.
When presented with the option to either open your email and engage with your message, a little bit of brand familiarity can make all the difference in the responses you get.
A friendly subject line, a personalized introduction, lack of an "over-salesy" pitch… these can all impact open and click-through rates and, more importantly, conversions.
You should always have familiarity in mind when building your cold outreach email lists.
Learn from Account-Based Marketing
Building familiarity with complete strangers is a difficult task.
The key to doing it well is knowing just how cold your lead truly is, and whether or not you need to take extra steps to introduce yourself before you actually pitch.
This is where something like account-based marketing (ABM) should come into play.
ABM is the process of identifying the ideal prospects before you start the outreach process.
It allows you to narrow down your list and pinpoint the most qualified leads as well as disqualify those who probably won't open your emails at all.
This gives you a much smaller, but albeit much more effective, email list to work from.
Don't worry. This is a good thing.
Smaller lists give you the ability to add more elements of familiarity, like personalizing your introduction based on information about the user, their company, role, and other interests.
Personalization to this degree requires a little time and effort, which you might not be able to achieve with a list of thousands.
Once these qualified prospects are in your funnel, however, they're more likely to move through it at a faster pace.
When done correctly, you can see some pretty stellar results.
In one case study from the team at Funnelholic, for example, they increased their open rate to 60%, improved reply rates from 2-3% to 31%, and netted 15 new meetings after using an ABM strategy to refine their email list to only the most qualified leads.
A similar strategy was used by Salesforce to add over $100 million in recurring revenue, all without a single cold call.
They even wrote a book about it, called Predictive Revenue. That's how successful it was.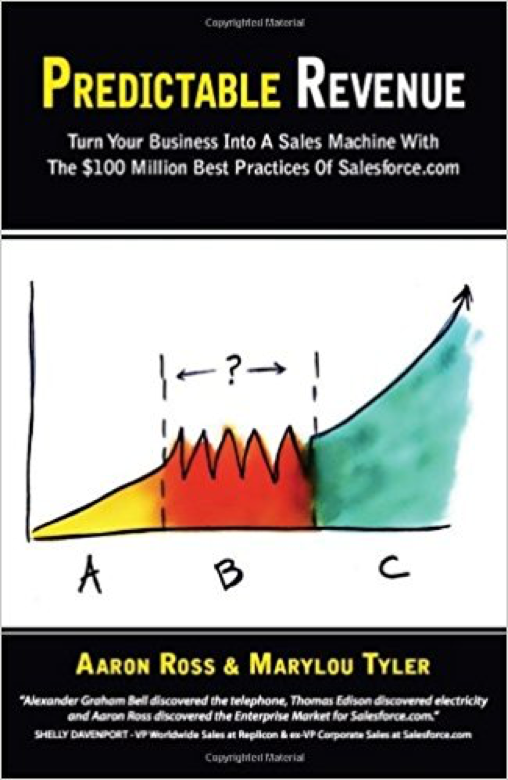 ABM pulls in better, more specific and targeted leads than the wide net of other inbound marketing strategies.
It also frees up your time to spend connecting with prospects rather than selling to them.
And it's how you land real clients that will stick with you over time.
Research Prospects Ahead of Time
So how do you take advantage of ABM and build up familiarity?
The next step in the process after you've narrowed down your list to qualified leads involves researching your prospects for connection points.
The good news is that you have a relatively small list to work from, so while it will take some time, it won't take all of you time.
Your priority will be to get to know each prospect as much as you possibly can before you send them a templated email hoping for a sale.
In the world of cold email outreach, Research is King.
One of the first places you want to start the research process is LinkedIn.
While you can always do research on any other social channel, LinkedIn is a great resource specifically for outreach because it provides work-related details on your prospect.
Things like specific job titles and role descriptions can all help you personalize your message.
You can scroll through their skill endorsements, for example, and learn more about what they do and what they're passionate about.
You can also get notified if any special event occurs, like a job change, that might otherwise impact the familiarity of your message.
Take a look at things like their latest products, any accomplishments or awards they've won, recent changes to their job or role, or related interests they may have.
You can also look to see what communities they follow or other organizations they're connected with.
If you do have a common connection, be sure to note that, too.
You want to make a note of any important information that could help you establish a natural connection or relationship with the prospect.
It's not about being creepy. You don't need to know their detailed work history for the last ten years.
The research process is simply about finding common ground that will help you craft a pitch that's more relatable.
Note your findings in your CMS or in your email spreadsheet to use later in your email template.
Use Their Current Job Position to Target Pain Points
Once you have your preliminary research out of the way, you can begin to shape the message you will send to each prospect.
The most important thing to remember is that people want to know what's in it for them.
They will need a good reason to open your email as soon as it lands in their inbox. That's why familiarity is so essential for that connection.
When you know about your prospect, you can say, "Here's why this is beneficial for you, specifically."
You can show them you're not just copying and pasting a message to anybody — you're talking directly to John Smith, Marketing Director at ABC Company, who is currently working on an outreach campaign.
Crafting the perfect cold outreach email to John Smith is all about the details.
If you open your cold reach emails by talking about the "amazing features" of your product or service, what you can do, why your company is so great… well, in the words of Shania Twain, it won't impress them much.
This is true for regular outreach emails and applies doubly to cold outreach.
You have to tailor your message to the prospect in a way that showcases which specific benefits from your company or product or service will help them with their goals.
It's about tapping into their needs and their pain points. Yes, even if you don't know them (that's where the research part will come in handy).
To start, use their current job title or position to dig into the nature of what they do on a daily basis.
Are they CEO? COO? CFO? Director? VP? Head of Sales?
What challenges do these roles uniquely face that your company could help with?
Since you won't necessarily have the specific details of their pain points just yet, you'll have to get creative.
But if you already know that they're the Chief Marketing Officer (CMO), for example, you can probably identify at least 2-3 paint points that a CMO might experience based on your knowledge of the role.
Outline those pain points and put them in your message.
Build a Familiar Brand with Your Email Messaging
Familiarity is all about trust.
People know that their favorite brands will come through for them.
Once you know how to connect with your prospect based on your research, the final step in the familiarity-building process is to prove your value.
You have to show that you can be trusted, even though that can be incredibly hard to do in a cold email.
So you start by offering as much value as you possibly can.
Consider which elements of your email will showcase the trust. An email from a friendly first name or with an icebreaker can set people at ease, for instance.
As Wistia's director of business development, Kristen Craft, puts it, these little trust-building details are all about showing character, which can help improve engagement rates.
She gives an example of a time when Wistia was having difficulty getting customers to fill out an email survey.
They found that the email itself was boring. More of a chore than something that screamed, "Open me and engage!"
So they used a video instead.
Not only did they get more click-through and open rates on the email itself, but nearly 50% of those who received an email filled out the survey.
Just by including a video in an introductory marketing email, Wistia increased their click-through rate by 96% and doubled their response.
Why did this work?
People know when you want something from them, which can be a huge turnoff.
What the team at Wistia did was show that while yes, they did want something from their email recipients, it didn't mean that they weren't willing to offer something up in return.
They gave something of themselves first.
By showing character, they were able to build touchpoints with strangers that enticed them to participate in the survey.
This is something that you can do, too.
When you can consistently show yourself to be identifiable, approachable, positive, helpful, and genuinely concerned, you will build trust.
People will learn that they can safely open your emails and consider your offer.
Eventually, people will start to recognize your brand.
And once that happens, you've built familiarity and you enough brand bias to pitch successfully.
Conclusion
If you want to stand a chance of getting your cold emails opened, you need brand bias.
That can be hard to get if you're sending cold emails, it's true.
But the best way to do it is by building up familiarity with your prospects before you hit send.
First, you have to narrow down your list.
Disqualify any leads that you know won't be receptive to a completely cold email. Focus on the leads that already have some connection point with you.
Next, do some research.
Look for the prospects on your (now shortened) list. Find them on LinkedIn and take a look at what they do.
Find interests, skills, roles, connections and any other pertinent information.
Then do some digging into the pain points that they might experience in their job.
Once you have an idea of what it is they might need from you, you can show them how you help solve email problems just like the ones they experience.
You can create a message that shows them you can be trusted.
And once you have their trust, you have their attention.
ADD_THIS_TEXT