A good product or service does not guarantee flourishing sales. You have to make the purchasing process as intuitive as possible for your customers if you want to attract more buyers and encourage repeat purchases.
Considering that 32% of all customers would stop buying from a brand they love after just one bad experience, can you afford to ignore the user experience aspects of your eCommerce website or app?
People are usually multitasking, jumping from one platform to the other to complete their tasks. If using your website or app is another task, you can kiss your sales goodbye.
On the other hand, if your platform is easy to use and simple to navigate, customers will feel valued and they will reward you with loyalty, word-of-mouth marketing, and of course, greater sales.
Every dollar invested in building a seamless user experience gives a return of $100 i.e. a 9,900% ROI. Isn't that crazy!
What is eCommerce user experience?
eCommerce user experience (UX) refers to how a customer or end-user feels about using your eCommerce website.
Is it quick and convenient to use?
Is it easy for customers to find the products they want?
Does it offer a friendly, and secure way to make purchases?
The average online shopping cart abandonment rate is a whopping 69.8%!
A portion of this figure is simply due to customers indulging in "window shopping," but for the rest, eCommerce companies need to take a closer look at the reasons—especially those that can be addressed.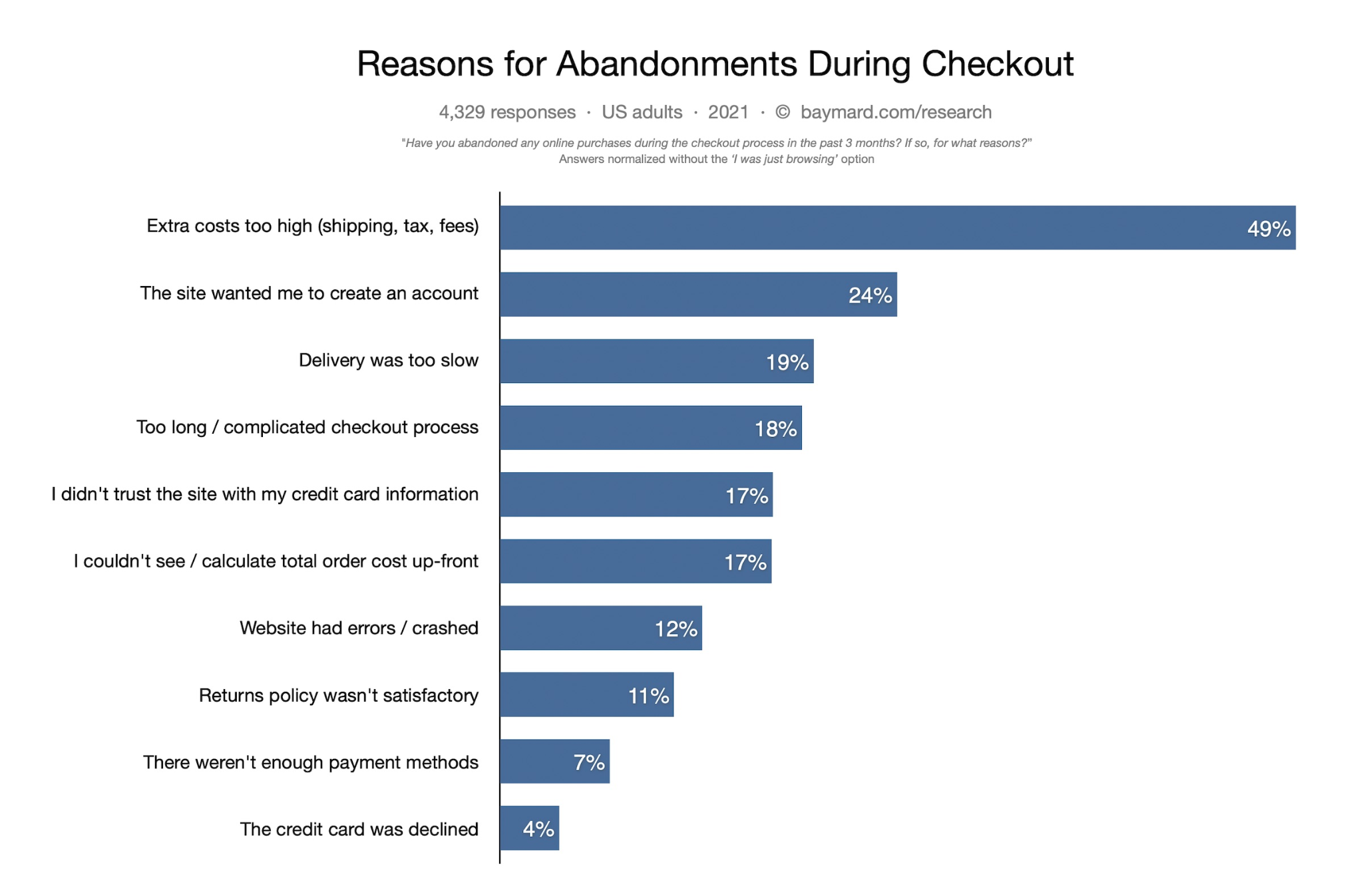 Source: Baymard
Inability to checkout as a guest, complicated checkout procedures, limited payment channels, inefficient order fulfillment systems, secure payment gateways—such issues can be fixed to make eCommerce websites more attractive to use.
Inevitably, it boils down to user experience.
How does eCommerce user experience affect conversions?
Imagine that you have walked into a store after being enticed by the attractive storefront. But, inside, you cannot locate the items you want nor can you find somebody to help you. How likely are you to come back to this store?
Similarly, you land on a website from an attractive landing page or ad thinking you've discovered a good brand. But you see that the page takes forever to load, the site design is cluttered and difficult to use, or you're required to complete a complicated checkout process.
You're not likely to go through with the purchase. You're not converting into a customer.
Thus, for a healthy conversion rate, your website must focus on many aspects to make it easier for customers to buy from you:
Attractive product presentation
Fast loading
Intuitive navigation
Simple and secure checkout
Easy readability
Now, let's look at 10 best practices for eCommerce websites that translate into an excellent user experience.
10 hallmarks of a stellar eCommerce user experience
Let's take a detailed look at the factors that contribute to an excellent eCommerce user experience.
Mobile-first design
The rise of mobile commerce (mCommerce) i.e. shopping through a smartphone or tablet has necessitated the designing of websites with mobile users in mind. Poor UX design harms most mobile websites because users find the fonts and links too small to click on.
According to Stat Counter, 56.94% of all Internet traffic comes from mobile devices, whereas 76% of consumers say that they prefer to shop on their mobile phones because "it saves them time."
This represents a huge opportunity for eCommerce brands to pursue a mobile-first design.
Note that a mobile-responsive design entails adapting a desktop website to a mobile or tablet screen and adjusting the content, layout, and navigation to fit smaller screens.
However, a mobile-first design involves adjusting the layout for mobile devices and including elements of great user experience such as streamlined content and fast download speed.
Make sure to consider the following elements of a mobile-first design:
Tap-friendly: CTA buttons and links should be big enough to allow users to easily tap them and there should be enough margins around them to prevent errors.
Navigation: There should be enough white space around menu items to help users easily read and tap on them.
Visual content: Use infographics and videos instead of chunky text to support users viewing content on smaller screens.
Textphone numbers: Phone numbers should be text instead of image to enable users to tap on them to call you or copy and paste them to share or use later.
Contact forms: There should be more form input fields to enable users to fill them easily.
Fast loading: A slow-to-load website puts off mobile users who usually look for speed and convenience.
It also makes sense in terms of SEO to have a mobile-optimized website because Google now supports mobile-first indexing.
If your website isn't optimized for mobile users, you could experience lower traffic and performance, and consequently, lower sales. Google may even penalize you for it.
A web company that offers SEO services such as mobile optimization and conversion optimization could help you achieve a true mobile-first design.
Example: Etsy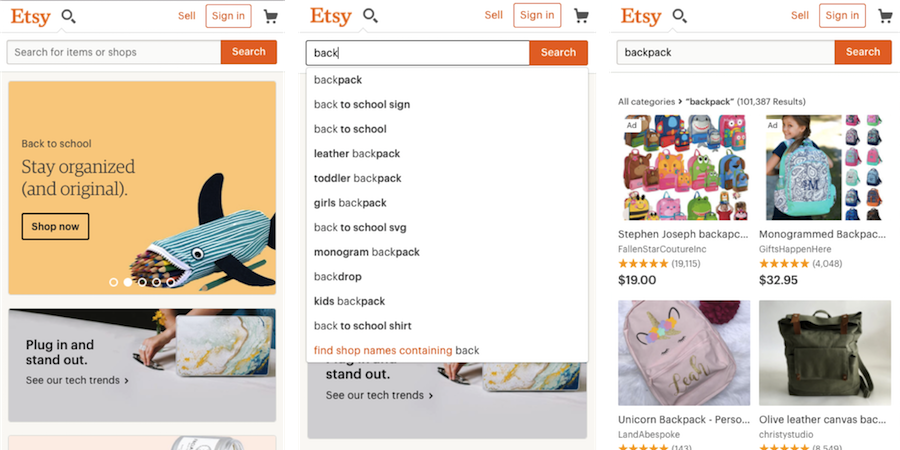 Source: AddThis
Etsy has several elements that make it a great experience for mobile shoppers.
It has an intuitive search and filter function.
The search bar is prominently displayed on the home page so users don't have to look for it.
It is quick to return results on searches.
Its predictive search function indicates the range of items available to the shopper.
It has multiple filtering options apart from price and relevance that include shop locations, whether the item has free shipping, whether the item is on sale, and whether gift wrapping is available.
Great navigation
Etsy uses a hamburger navigation system that may not be great for discoverability, but the categories are neat and well-labeled.
Quick checkout
Etsy has a simple three-stage checkout and allows users to checkout as guests. It also allows users to register using their Facebook or Google credentials.
Clean and organized website design
The homepage is the first thing that customers see when they land on your eCommerce website, so it should be clean, organized, and free of clutter.
First impressions do matter and your home page gets most of the traffic.
A clean website design should have the following:
Simple and minimalistic design that puts the focus on the product or the text that you want users to see
Consistent color scheme
Focus on impactful elements such as recent blog posts
High-quality images and appropriate text size
Most successful eCommerce companies prefer a flat website design free of unnecessary elements like video backgrounds, automatic sliders, parallax scrolling, or transparent buttons.
These elements look good but they hinder navigation and cause friction because they tend to be glitchy.
User experience emphasizes functionality over beauty. All design elements should aim to convert visitors and drive sales. It is worth looking into hiring an e-commerce developer who can design your website exactly the way you would like it to look.
Navigation is another important tool to help visitors find what they're looking for.
Use prominent, well-labeled categories and sub-categories that lead to product pages.
Keep the navigation menu design consistent across pages in terms of color, style, and font.
Your home page should have a conspicuous search bar, preferably in the header.
Make use of contrast and color to lead visitors to the CTA button.
Allow multiple filtering options to fine-tune the search.
Include support for abbreviations and symbols within the search.
Enable auto-complete suggestions to show visitors the range of products available.
Good-quality product photos and videos
Product presentation is important for eCommerce websites because your visitors cannot touch the product.
You must help your customers visualize the product as well as possible so they're clear about what they're buying.
High-quality, sharp photos taken in good lighting demonstrate every aspect of the product.
Use zoom functionality to help people take a closer look at the product.
Offer a look at the product from various angles.
Focus on the interesting aspects of the product through the photo.
Present the product in a relatable context, if possible.
Product videos and explainer videos help boost conversion rates, especially if the product is complicated to use.
It increases visitor engagement and allows you to share important product information faster.
It also boosts consumer trust because people have a better idea of what the product looks like and how it works after watching a video.
An Invesp study shows that 73% of online consumers are more likely to make a purchase after watching a video that explains how a product works.
Considering the limited attention spans of users, keep videos short and put all the crucial information in the beginning.
Address common customer concerns in your videos to overcome hesitation and objections.
Example:
Nike has a clean, minimalist website design along with high-quality images and videos of products.

Source: Nike
Informative product detail pages
Product detail pages should be both useful for customers and appealing for Google. However, a balance has to be achieved between being informative and being cluttered.
You should include elements like images, price, product options, availability, and breadcrumb navigation to help visitors understand what you're selling.
User-friendly, organized, and content-rich product detail pages will boost user experience and contribute to SEO optimization to rank higher in Google search results.
Thus, your product pages will be more discoverable leading to more traffic, and consequently, higher sales.
Let's take a deeper look into the elements for product detail pages:
Highly visible CTA button
The aim of your page is to guide your visitors to the CTA button. Usually, this is the "Add to Cart" button for an eCommerce website.
The CTA button should stand out with the help of contrast and/or colors. It should tell people exactly what they need to do and should be placed in a highly visible location.
Product images and video(s)
Product images, product videos, and explainer videos are important to build trust and convince customers to move toward the checkout.
Images should be large, sharp, and taken from various angles of the product.
Include variant images to show the product in different colors, sizes, textures, or fabrics.
Trust badges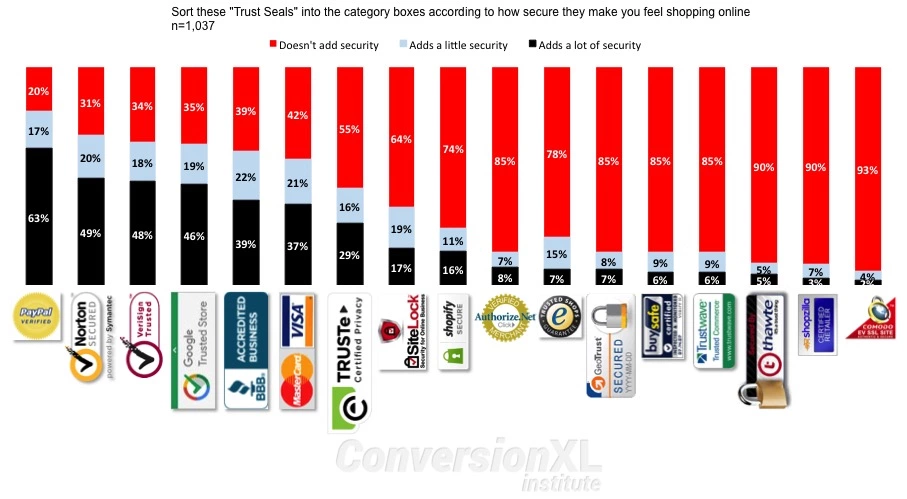 Source: Sleeknote
People buy from businesses they trust and it is not easy to build consumer trust.
Transparency, clarity, and trust badges are some of the ways you can generate trust apart from keeping your promise of offering a high-quality product.
Trust badges are symbols that tell your visitors that you are a legitimate page and financial transactions on your site are secure. E.g. McAfee, VeriSign, TRUSTe, PayPal, Better Business Bureau.
They make customers feel more comfortable about handing over their personal and financial information to you.
If you refer to the Baymard graph at the beginning of this article, you'll find that 19% of consumers abandoned their shopping carts because they did not trust the eCommerce site with their credit card information.
That's why it's important to ensure that you inspire confidence in your customers by showing social proof.
Also, you should obtain an SSL certificate for your website to make financial transactions secure. Google boosts the rankings of sites with HTTPS over HTTP.
You can choose as per your requirement. SSL will enhance customers' experience and boost their confidence in your site. If your business has one domain then, a single domain is required. In case, if the website is running on different subdomains then, a low-priced or cheap wildcard SSL certificate is enough for website security.
Customer reviews and testimonials
Genuine reviews and testimonials are a compelling way to attract more customers to your ecommerce website and convince them to buy from you.
Customer reviews can cause a 74% increase in conversions, so you mustn't make the mistake of ignoring them.
Include customer reviews on your product detail pages and don't worry about negative reviews. People find a mix of positive and negative reviews more believable. It also helps them understand if the product meets their requirements.
You can also display customer reviews at checkout to build confidence.
Example:
Sephora has a rating and review section for each product to build trust and aid visitors in their purchase decisions.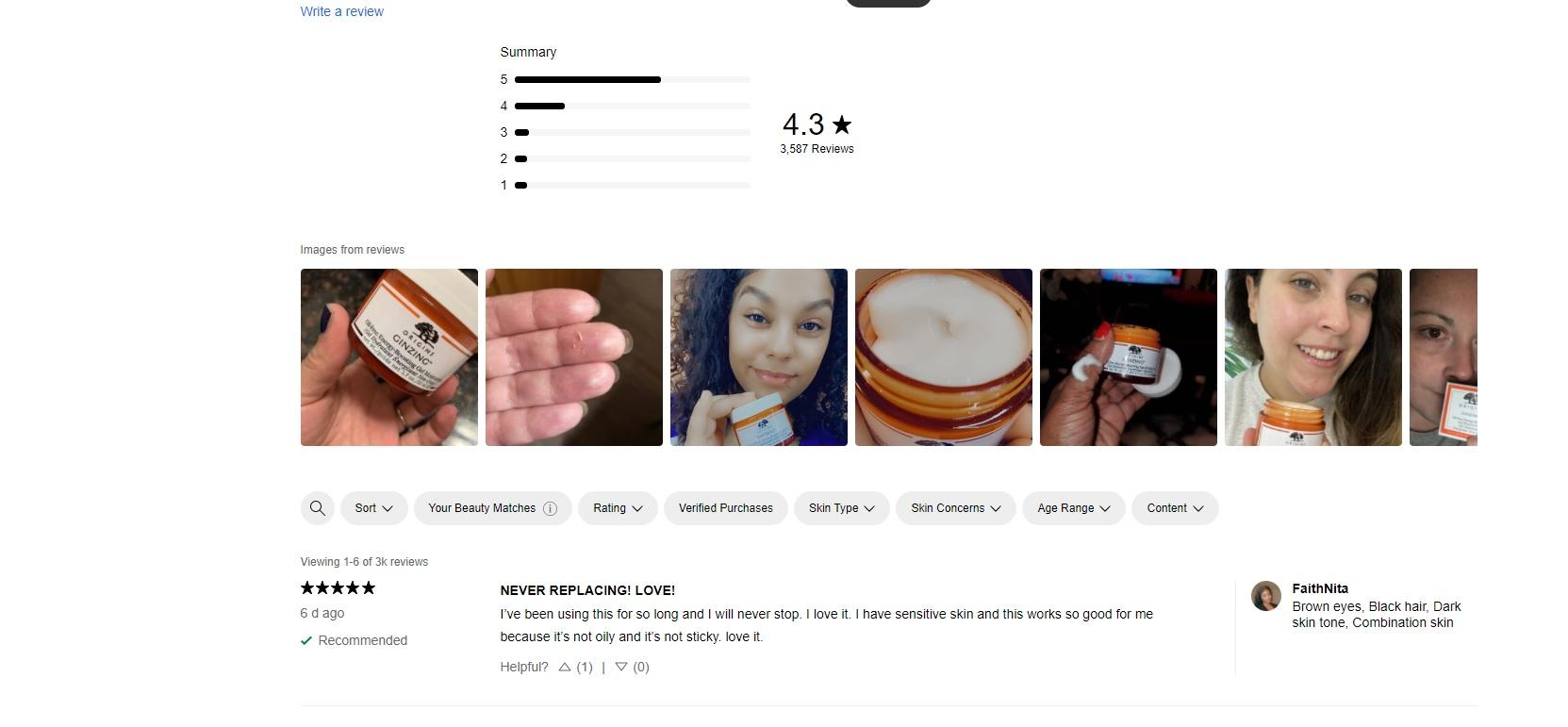 Source: Sephora
Testimonials are similar to customer reviews. They are statements from previous or current customers about their experience purchasing from you.
Personalized shopping using historical data
Personalization makes customers feel valued and, as a result, boosts customer loyalty and persuades them to make a purchase.
Use data collected on past orders, shopping preferences, and previously searched content to offer suggestions while the customer browses your site. Greet them by their first name and show them recommendations they're most likely to buy.
You can also add suggestions like "People also viewed…" or "Frequently bought together" on product detail pages to prompt visitors to browse further.
Example:
Skullcandy has a stunning website optimized for a good user experience. One of them is the "Frequently Bought Together" section on the product pages.

Source: Skullcandy
Geo-targeting can help you personalize the shopping experience in the following ways:
Display location-specific offers based on language and culture. For instance, if a customer searches for products from India, you could display products in Hindi.
Display offers based on the time of the year and location. E.g. Black Friday or Christmas
Transparency about policies and processes
Transparency in user experience means that customers clearly know what to expect when using your eCommerce website. This includes clearly stating the following:
Company policies
Return and exchange policy
Privacy policy
Order fulfillment process
A customer should not find out about hidden charges or extra shipping charges at the checkout page. In fact, extra charges are the #1 reason for cart abandonment.
On the other hand, when customers consistently find transparency and authenticity over several transactions, they become loyal customers and tell friends and family about you.
Example: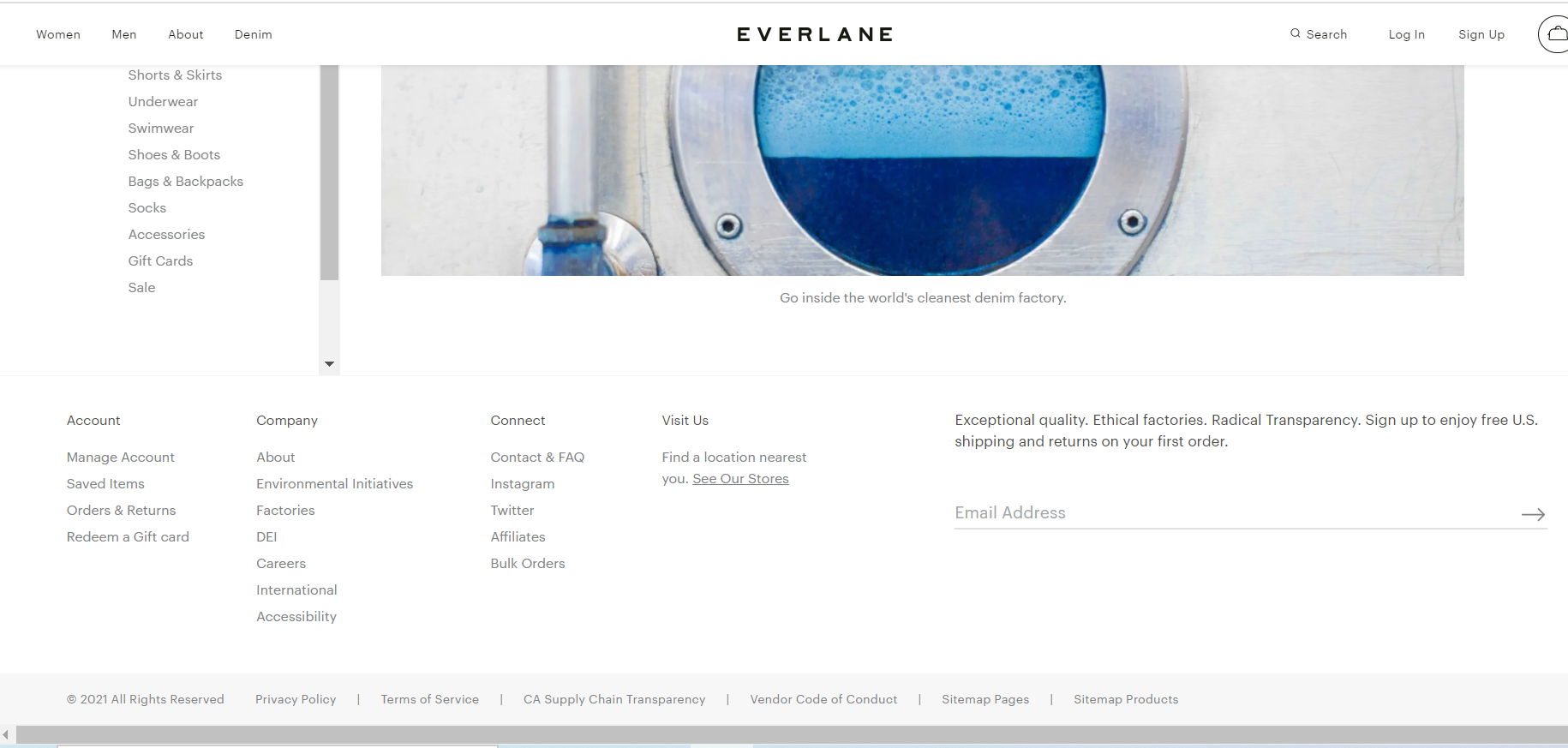 Source: Everlane
Everlane displays its privacy policy, terms of service, CA supply chain transparency, and vendor code of conduct at the footer of every page.
Simple and secure checkout process
The goal of a good user experience is to make it easier for people to purchase your products, not harder. The checkout page is where visitors convert into customers, so it should be designed to be as simple, easy-to-use, and convenient as possible.
Incorporate the following elements to make your checkout smooth:
Offer a variety of payment options such as debit card, credit card, PayPal, Stripe, or Alipay.
Visitors are more likely to abandon their cart if they do not find their payment option of choice. Providing various payment options has several advantages – more international sales, customer convenience, payment customization, and greater security.
According to the 2021 Global Payments Report, digital/mobile wallets (44.5%) were the most common eCommerce payment method, followed by credit cards (22.8%) and debit cards (12.3%).
Allow guest checkout payments
Before you push people to part with their names and email IDs, consider the fact that 34% of visitors abandon their carts if they don't find a guest checkout option.
You can still obtain your customer's email address as part of the usual checkout flow.
Do not require visitors to sign up for your website. If it is really important, consider enabling sign-ups using a Google or Facebook account.
Have as few form fields as possible.
Don't send visitors to a separate page to complete payments.
Assure visitors that their financial transactions are private and secure.

Source: Hardgraft
Example:
Hardgraft offers an "Express Checkout" option with multiple payment methods – Google Pay, PayPal, and ShopPay — where you're not required to sign up.
You can also choose to create an account and submit your email to join a "Members Club" for special benefits.
Note the simple three-step checkout process comprising Information, Shipping, and Payment.
You can also consider implementing a one-click checkout process by placing the CTA button right on the product page instead of leading visitors to a separate checkout page.
Amazon.com uses this strategy to simplify checking out for their customers.
Fast website loading
The speed of your website, both on desktop and mobile, is important to prevent visitors from losing interest and leaving without making a purchase.
Google/SOASTA research (2017) revealed that as the page load times increased from 1 second to 10 seconds, the probability of a mobile user bouncing from the site increased by 123%.
Neil Patel found that over 40% of visits are abandoned if a site takes more than 3 seconds to load.
Moreover, page speed is a ranking factor for mobile websites.
To check your website speed, you can use Google's PageSpeed Insights, Gtmetrix, Pingdom, or WebPage Test.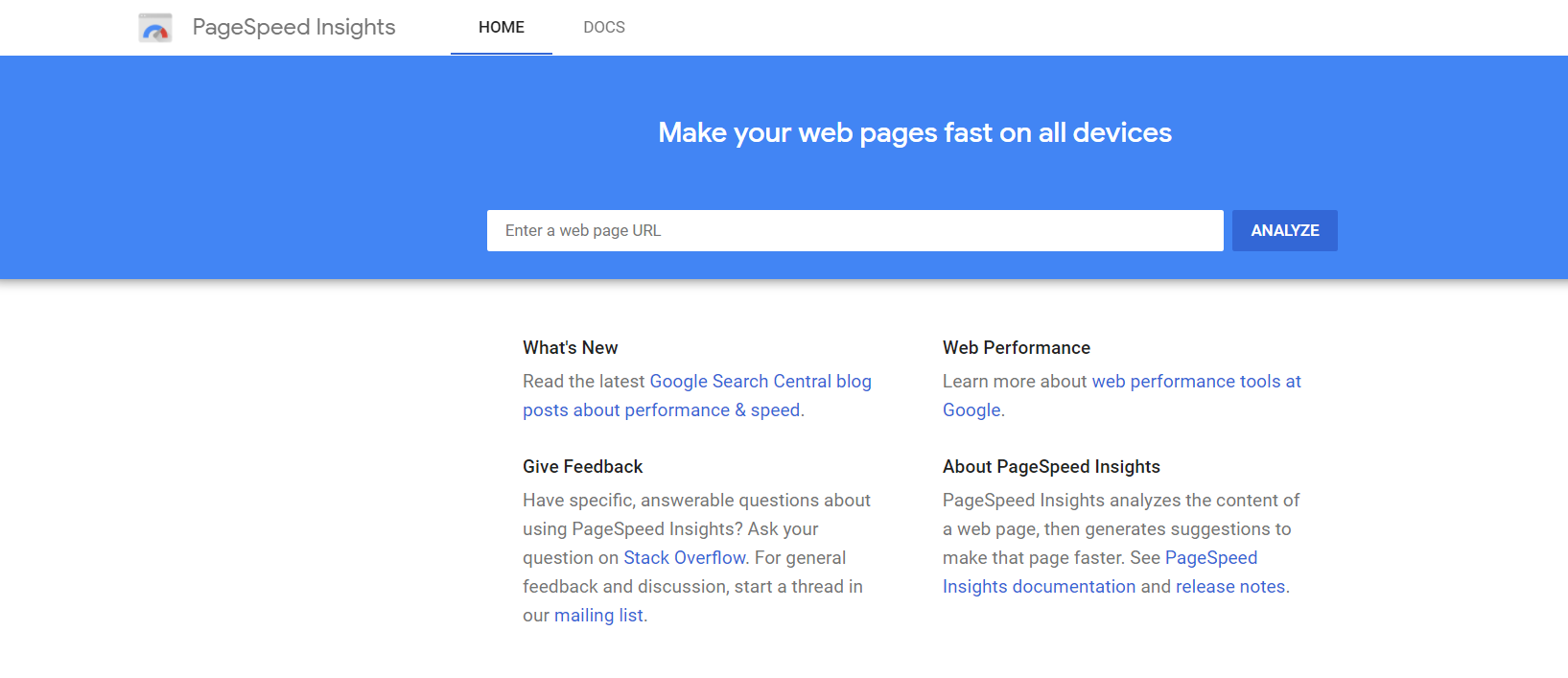 Source: PageSpeed Insights
You can improve page speed in the following ways:
Resize large images to reduce file size where high resolution is not necessary. Use photo editing tools like Canva, LunaPic, or Pixlr.
Reduce the number of HTTP requests your eCommerce website makes.

Use tools like HTTPstatus, GiftOfSpeed, and Google Chrome's network panel to count the number of requests.
Remove unnecessary files that take too long to load and resize larger images.

Use a high-performance hosting server that can handle high amounts of traffic.
Remove unnecessary plugins and extensions that cause your pages to take more time to load.
Consider CDN providers like Amazon Cloudfront or Cloudflare to improve site performance, boost page loading speed, and improve rankings. Some of the points you can improve easily, but some may require the help of an experienced developer to help you with technical issues and boost your website.
Updated business blog
A purposeful content marketing strategy helps improve the overall user experience by providing answers to the most common problems faced by your visitors.
You can set up a blog on your eCommerce website where you share tips and tricks, how-to guides, and other types of content.
Create a content calendar to ensure that you're updating the blog regularly.
Perform keyword research to help your content rank for specific keywords that will bring more traffic to your site.
Google ranks fresh, comprehensive, and useful content higher than other sites.
Example:
NatureBox has a blog on its website where it shares resources on health and wellness.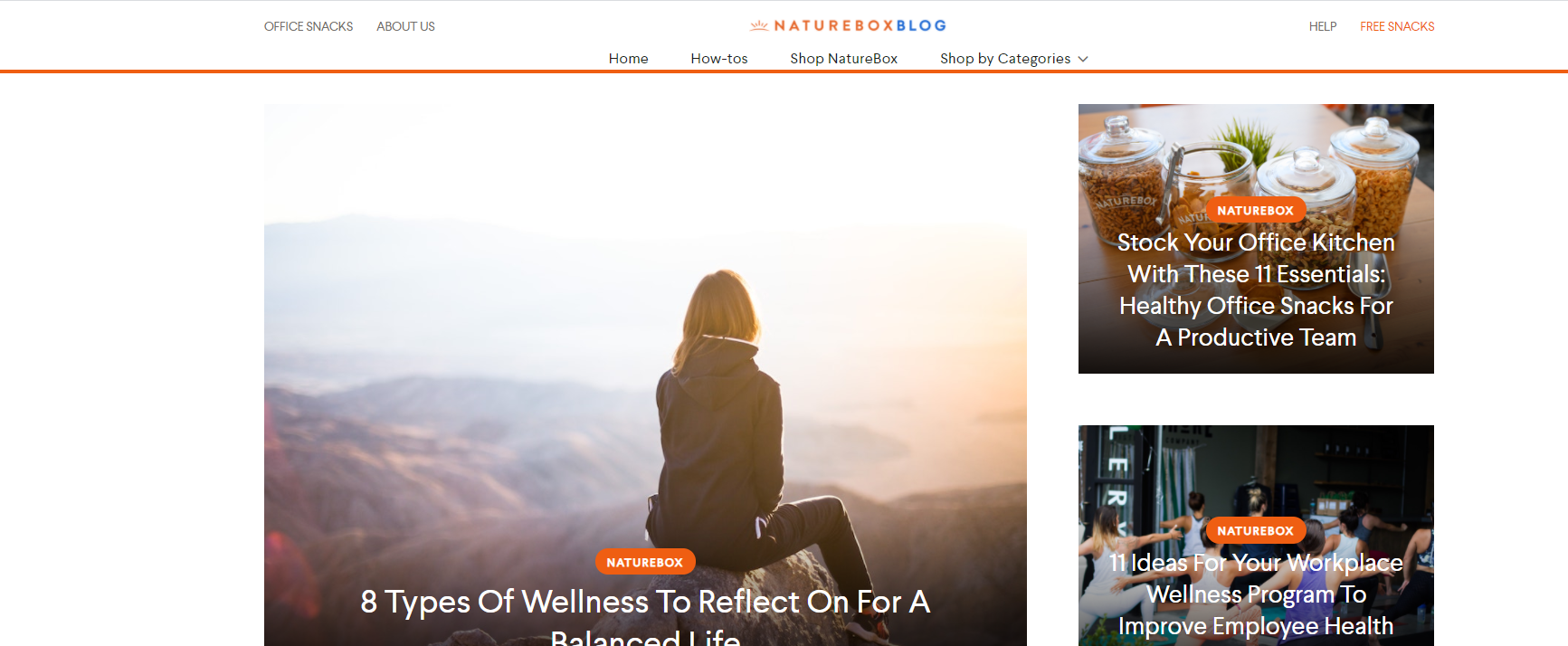 Source: NatureBox
Efficient virtual assistance
Just like customers expect help from a physical assistant in a brick-and-mortar store, your online visitors may want help with their search or have some queries.
You can offer a phone number, an email address, or social media links for visitors to contact you for support.
Or you can do even better and incorporate chatbots to help visitors with instant responses.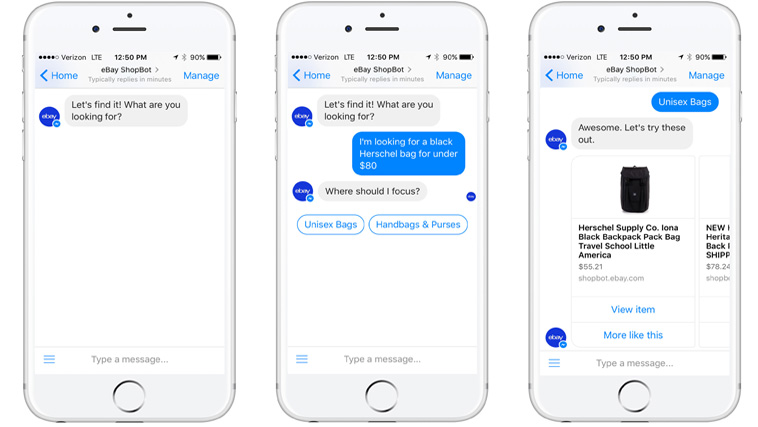 Source: eBAY
Example: eBay has an AI-powered chatbot called ShopBot "that helps people find the best deals from eBay's one billion listings."
According to a MindShare report, 63% of customers would consider seeking help from chatbots. This is encouraging data for any eCommerce brand looking to implement AI-based tools to enhance user experience.
Conclusion
A stellar user experience is crucial for an eCommerce website because it enables visitors to find what they need and purchase it easily.
The three main elements of a good eCommerce user experience are simple navigation, quick transactions, and smooth communication.
A good experience will compel them to return to you for further purchases. You'll receive more visits through word-of-mouth marketing.
And that's how you can leverage the user experience to drive greater sales and build a loyal customer base.