There's nothing new when we say that email marketing is one of the most efficient ways to reach your customers.
Emailing is a low-cost method with a high return on investment (ROI). Furthermore, email marketing automation means that, after some initial setup, this type of marketing is mostly "hands-off," allowing you to focus on innovative thinking and relationship building.
By automating your email marketing, you can send automated email responses to your customers' activities, which also implies that you can send emails at the most suitable times that would in turn increase your conversion rates!
You can send emails that are specifically customized for each of your customers, making it easy for you to send a personalized message to different target markets.
What is email automation and why it matters?
Email automation is a method of delivering automatic emails to the right people with the right message at the right time, without doing work each time, using marketing automation software.
You may target customers based on their activity, preferences, and previous sales when you combine your website analytics with your email marketing software. Then you can customize each customer's experience and make your automated campaigns more relevant.
Email automation is a powerful marketing automation tool that's ideal for lead nurturing and, ultimately, driving sales from both new and existing customers.
Marketers benefit from email automation in a variety of ways, including time savings, easier-to-scale marketing campaigns, and increased revenue.
Automated emails can be easily customized based on your prospect's preferences. You have the option of selecting the type that best suits your audience and business.
Exploring the sophisticated features of email automation software can help you increase your ROI and improve client satisfaction.
What are the benefits of email automation?
It's easy to see why most businesses utilize email automation in some form or another.
After all, no one wants to spend hours manually copying and pasting a message to thousands of subscribers.
However, there are a number of advantages to email marketing automation that aren't immediately apparent. Let's take a look at some of these:
1. Personalize your user's experience
Customers prefer personalization, according to research, which most marketers already know.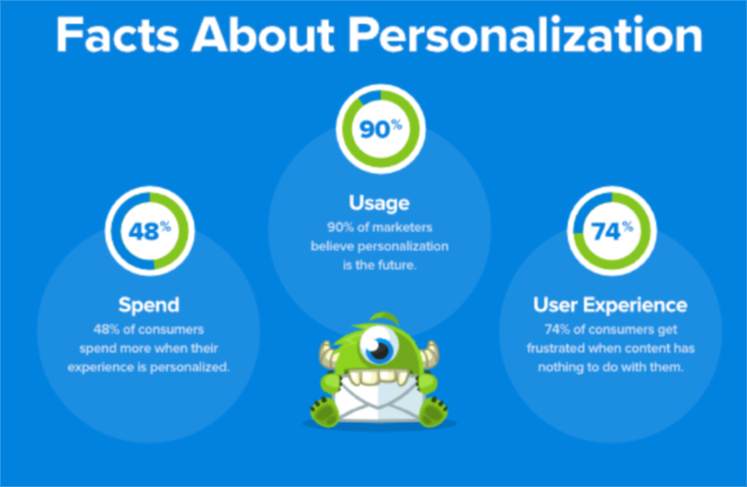 90% of customers find tailored material appealing in some way.
Consumers are more likely to indulge in businesses that provide personalized recommendations and offers, according to 91% of respondents. The addition of personalized images using tools like Hyperise can also 3x email response rates.
In 2019, 72% of clients respond only to marketing messages that are tailored to their specific interests.
Email is one of the most versatile tools that marketers can use to reach their target audience. Hence, it is also highly customizable and can be used to provide such an experience to the users.
2. Save your marketing team's time
The way that all types of teams do business is changing as a result of automation.
Respondents in a 2017 study of technology employees said they felt email marketing automation can boost the marketing team's productivity.
According to 69% of respondents, automation could help them save time. If the repetitious portions of their job were automated, 59% claimed they could save at least 6 hours per week.
Seventy-two percent stated they would devote the time saved to higher-value tasks.
This means that instead of spending time on manually generating email lists and scheduling communications, the marketing teams can devote that time to more vital duties, such as developing long-term relations with the clients.
The simple conclusion is that automation allows you to accomplish more, and increased productivity is more valuable.
3. Improve your customer retention rate
Research done by the Harvard Business School proves that improving customer retention by 5% increases profit by 25-95%.
With email marketing automation, you can schedule your communications so that your customers don't go too long without hearing from you—and make sure the copy is relevant to maximize the impact of your messages.
"Hey, we haven't heard from you in a while," the email begins. "Pay us a visit!" is likely to be thrown away. As an example, consider the following:
Greetings, Joe!
We haven't heard from you in quite some time, and we wanted to make sure you were aware of our most recent offer. The printer for which you've been purchasing parts has released a new model, and it's 20% off! Come take a look.
This is an example of a message that meets the need and is more likely to entice a customer to return.
4. Make your marketing strategies scalable
The number of customers you can reach while sending out an email series manually is limited by the size of your team.
Would you be able to stick to your deadlines if your customer base increased overnight? What if it increased by threefold?
You can scale your email marketing operations by sending automated emails.
You don't need to make sure a team member is accessible when you set up your platform to send a message every time someone signs up for your mailing list via web form.
Customers are automatically integrated into your system when they take any of the actions you track with email automation.
Their actions inform your system about which messages to deliver them next, reducing the strain on your limited resources.
Email automation examples
By looking at some common examples of how other businesses automate their marketing campaigns, you can get a better understanding of how to use it in your own business.
Have a look:
1. Email welcome series
One of the most prevalent types of email automation is the welcome series, which is a great way to save time and create relationships with new subscribers.
This method requires creating a series of pre-written emails that can be personalized and sent out on a regular basis anytime someone joins your mailing list.
A welcome series could be as simple as a single email thanking the user for signing up, or it could be as extensive as a year's worth of weekly emails or even more.
2. Abandoned cart emails
Most e-commerce sites utilize an abandoned cart email as another example of email automation.
Customers who have added things to their shopping cart but have not checked out will receive an email from the site as a result of this form of automation.
The average incidence of cart abandonment is more than 68%.
Here's a graph that shows shopping cart abandonment across several industries.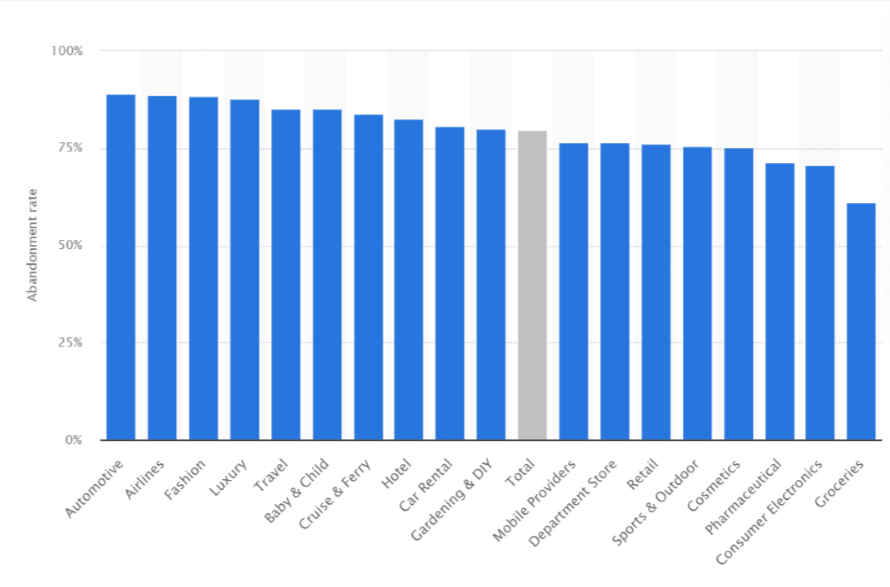 This form of email can help to lower this percentage by serving as a reminder and prompt to buy for clients who were confused about their purchase or were simply stopped before completing it.
3. Birthday emails
Sending a personalized email message on a customer's birthday, if you have their date of birth, is a terrific approach to make them feel important and strengthen your relationship further.
Birthday emails can also be a good strategy to boost purchases.
As a "birthday treat," sending an exclusive discount code can entice customers to make purchases they might not have considered otherwise.
4. Email reminders
You can send automated email reminders to clients to remind them of upcoming account expirations, appointments, or when it's time for a routine service.
Not only, automatic email reminders save your time in administration, but they will also encourage repeat business.
5. Regular newsletters
You can be more productive in developing content for your emails with automation because you can create them in bulk and schedule them as drip campaigns over the next several weeks or months.
How can you make your email marketing automation effective?
Here are a few pointers to ensure that your new automated email plan runs smoothly:
1. Collect more information by tracking customer's responses
To get more information, keep track of the responses.
You have the potential to obtain crucial information from each customer every time you send an automated email. You can find out if an individual
Has opened your email
Has clicked through your website
Utilized a deal/ coupon
Purchased a product that has been recommended to them
Continue to surf once they are on your site
When it comes to automating your emails, everything you discover about your customers might help you decide what to do next.
Try an alternative approach if your recipients aren't opening your discount emails or clicking on your recommendations.
2. Offer strategically curated discounts
One of the most common reasons for individuals abandoning their shopping carts is the unreasonable cost of shipping.
You can't get rid of shipping expenses or lower your rates, but you can send out discount coupons or promo codes to persuade hesitant buyers to spend.
This can be a good tactic, but don't go overboard with it. Customers may anticipate to receive discounts more frequently if you provide too many.
Always remember- never promise more than you can provide.
3. Create automated drip campaigns
Before becoming a customer, some people interact with your business multiple times.
Drip campaigns "drip" important information about a company, product, or sector over time.
These campaigns must be work-related, and drip campaign messages are only sent to prospects who have expressed interest via email automation.
Let your emails do
Email automation aids in the identification of your target audience and the engagement of your customers.
Automations, unlike manual campaigns, operate in the background while you focus on other important tasks.
You can send customized emails to each user, new ones as well as the ones who come back for more, using automation. When you combine email automation with customer analytics, you can fine-tune your targeting with each message you send—and expand your business without compromising that particular personal touch.
Of course, you must ensure that the content you link to in your emails is of high quality and relevance, otherwise, you will be wasting your time.