Engaging visuals are essential for any marketing or sales strategy. Humans are visual beings and we respond well to any kind of visual stimulus. The market for sales visuals is booming – we can see that from the ads found on social media platforms like Instagram and Facebook. Not to mention the fact that some people can even earn a living from the advertising visuals on their videos.
What do we mean exactly by visuals? Of course, when we first think of visuals, what comes to mind are photographs and perhaps illustrations. On the internet, though, we can also include GIFs and webms, videos, and so on. There are even now interactive visuals, like infographics and three-dimensional photographs.
So these visuals are useful for all kinds of marketing and sales, from traditional email campaigns to social media video marketing. There's a wealth of evidence that shows how important these visuals are, and some good ideas as to how you can harness them to boost sales for your business.
In this article we're going to answer three key questions about engaging visuals:
What makes visuals engaging?
How can we harness engaging visuals?
How useful are visuals in boosting sales?
What makes visuals engaging?
Color, urgency, boldness
Visuals need to be colorful. Good colors are important. People might expect dry products, for example business intelligence software, to have plain and simple colors. Actually, every product needs bold colors, especially contrasting and complementary ones.
It's important not to use too many, though. Select a few, and keep the majority of the visual in one color. That's true about fonts, too. Select a powerful font, but stick with one, and don't use too many different sizes of text. This creates discordance for the viewer, which you really don't want.
So, to recap, imagine you are trying to sell a cheap VoIP service to a call center company. How should you design a visual?
For the visual to be attractive, select a maximum of three to four colors.
The colors should be contrasting and complementary.
For the visual to be engaging, have one font and do not vary size too much.
(Source: McDonalds Facebook)
This McDonalds advert is a perfect example of how to make a striking visual. Excepting the picture of the burger, there are only three colors – the black being at least 80% of the total image. There is one font in two contrasting colors. The burger and the title are clearly the focal point, and the advert tries to sell only one, very obvious thing.
Focal point
Speaking of focal points. Choose one thing to focus your visual around and really concentrate on it. For example, if you are selling data quality software, you might want a really sharp infographic that shows exactly what your software does. If you are trying to sell a travel package, a video with attractive montages of the specific place would be an obvious focal point.
Don't focus on multiple things or make a visual that tries to do everything. Consumers don't appreciate visuals that aren't clear or have misleading imagery. Instead, they want something they can process immediately and that really catches their eye.
If you target your visuals, they'll be more engaging. Your potential customer needs to get a sense that there is a piece of information that they need to understand. This focal point should have all the information that you want to tell the viewer. The less information, the more they will retain.
(Source: Shillington Education)
There are several ways you can build focal points graphically – with color, contrast, or the location of the thing you want to draw attention to on the graphic. Alternatively, the content of the graphic, with the wording and the text, can be used to draw attention. For example, text like "workflow automation saves you money" provides an obvious center for the rest of the text content of a graphic.
How can we harness engaging visuals?
Audience Research
Audience research is super important in discovering marketing, sales, or e-commerce trends. Research your audience to find out what kind of visuals they like and design visuals that are appropriate to them. Just as each visual should have an obvious focal point, each visual should have an obvious target audience.
Appealing to New Prospects
Social media platforms bring your potential customers to you, rather than you having to go and seek them out. Of course, it's obvious to see how social media requires good visuals. Some platforms can combine both video and still image, like Facebook and Instagram, some are only video, and others only use still images.
Nonetheless, engaging visuals posted on social media can catch the eye of a potential consumer and bring them to your service or product, as long as the directions are well advertised, too.
Part of your audience research is also knowing where to post your visuals. For instance, offering professional products like call center solutions is much more likely to succeed on LinkedIn than on TikTok!
Creating Leads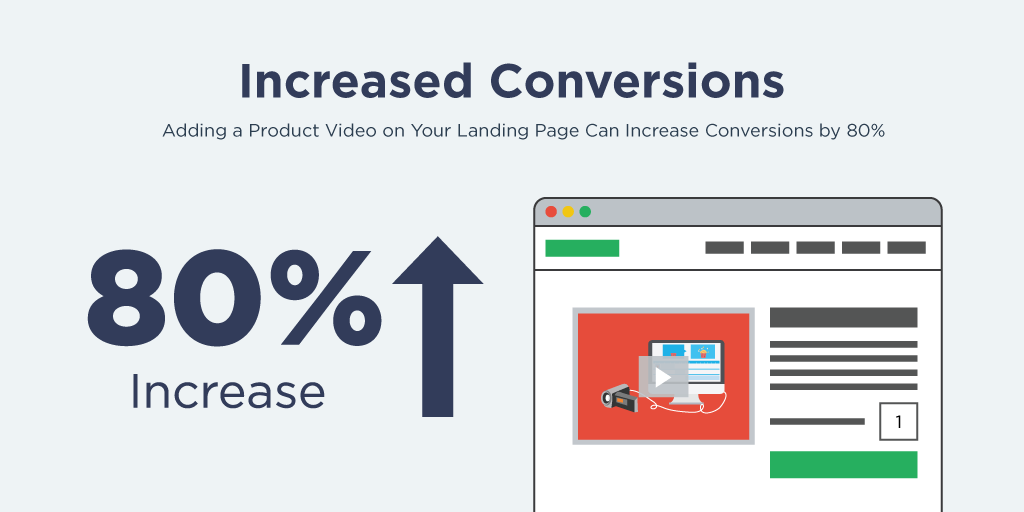 (Source: Clum Creative)
Creating leads can be tough, but we can identify two methods here in which visuals are useful.
The first is placing a video on your landing page. A video on your landing page can increase conversions into sales by around 80%, especially if it follows the principles of engaging visual content. If your website has a landing page, then placing a video there is one proven step you can immediately take to convert a sale.
However, a lot of sites nowadays don't have landing pages. So what can you do instead?
There are now services (such as Wistia) that allow you to generate a lead directly from a video. Social media accounts can link directly to websites via icons. Videos can therefore be useful whether or not you have a landing page. Either way, the main aim is to get a potential customer engaged, and then find a way to move them onto your product page.
Making engaging visuals is the best way to do that.
Closing a Sale
Closing a sale means being persuasive, of course, but also informative. You want to present the best information to your potential customer, but in a way that doesn't involve inundating them with too much information, too often.
Of course, visuals can be key here, but the type of visual might change. You might use an exciting or interesting video to initially capture a prospect's attention. An interactive infographic, meanwhile, could work better to finally close that sale.
You can use your digital customer support to collate potential customers who have lodged specific questions and answer them with effective infographics. All that goes part of the way towards moving a customer from being a lead to being a sale.
How useful are visuals in boosting sales?
There are a lot of sources of data analysis that prove that visuals are really important. We've already described above how useful they can be, if designed right. The statistics backing it up, though, are worth looking at in their own right, as they build a story themselves.
(Source: Tabsite. Incidentally, an example of a good visual.)
Now compare the graphical version of the information provided above with the text version below. It's clear to see how people are less inclined to read a list of numbers or statistics, but will instantly take in the information when presented visually.
Here are the key statistics:
Engaging visuals can boost sales for any kind of product
Selling software is the same as selling physical products. Call center phone software is the same as a loaf of bread in this respect. You find the audience you're selling to, tailor visuals to them, make those visuals bold and energetic, and make sure the visuals focus on one thing.
Outdated or boring visuals don't help to sell anything, no matter what the product or service you're promoting. Visuals don't make sales themselves, but buyers are all human. You need every advantage you can get in capturing and holding onto a lead.
One final point about harnessing engaging visuals: they need to be updated regularly to be useful. Consumers get used to the same message easily, so update your content!
**Guest Post**
Bio:
Richard Conn – RingCentral US
Richard Conn is the Senior Director, Search Marketing for RingCentral, a global leader in unified communications and contact center software provider.
He is passionate about connecting businesses and customers and has experience working with Fortune 500 companies such as Google, Experian, Target, Nordstrom, Kayak, Hilton, and Kia. Richard has written for sites such as Nextdoor and Marketscale.