Growing your email list is a constant battle. That's because it will naturally decay over time, as contacts change jobs, old email addresses are abandoned, and people opt out for various reasons. There's not much you can do about this natural decay, but you can focus on maintaining a growth rate that's higher than your loss rate.
Of course, that doesn't mean growth for growth's sake, because not all subscribers are equal. Some are repeat buyers, some are tire kickers, and some will never open a single email you send them.
But while there's no such thing as a perfect list, you should still be striving to thoughtfully grow your list with the right kind of audience in mind. Along the way, you should also be carefully cleaning your list in various ways. It may sound like a lot to keep track of, but it doesn't have to be if you use the right tools and tactics. Here are 10 top tips for growing and maintaining a clean email list:
1. Verify Your List Accuracy Regularly
Combating email list decay is as simple as using the right tool. For example, VoilaNorbert's email verifying tool helps verify that the email addresses on your list are still correct and up-to-date. This keeps your sender score high, so you stay in the inbox and out of the spam filter. It doesn't get much easier than that.
2. Clean Up Your Language to Avoid the Spam Filter
Restoring your email integrity once you're flagged as a spammer isn't easy. To stay in the clear, you need to follow best practices. For example, words like 'buy', 'free', 'apply now', 'bargain', 'lowest price', and many more should be avoided if possible, because they're known spam filter trigger words. Another big spam filter trigger is including large images and attachments in your emails.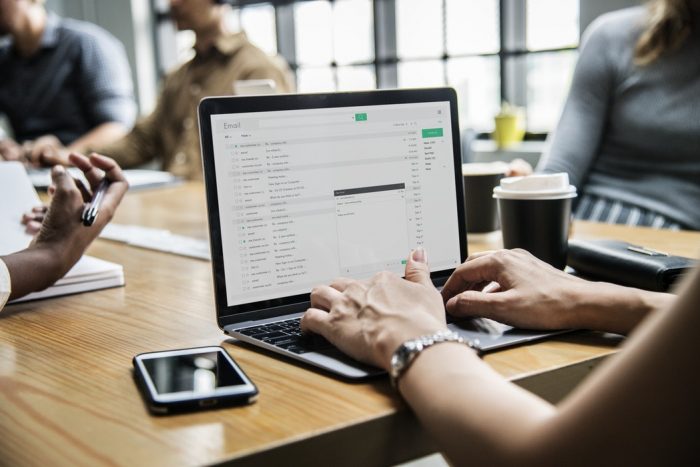 3. Make It Easy to Sign Up
Although this tip seems like a no-brainer, it's one of the top mistakes businesses make. You should have sign-up forms for your email list everywhere:
Sign-up forms should be all over your website, including at the top and bottom of pages and articles, and in pop-ups.
There should be a statement in each of your emails asking people to sign up if the email was forwarded.
Take your campaign offline by also creating paper forms or providing tablets for people to sign up at trade shows, events, etc.
4. Pump Up Your Content Creation
You should be putting out high-quality content that your ideal audience or buyer would find relevant and useful. This will help you attract attention from social media sites, Google results, or word of mouth. Once they've reached your page, you can offer premium content in exchange for their email address.
5. Deploy the Double Opt-in
The cleanest lists ensure subscribers are real and really interested by having them confirm in their inbox that they want to sign up. Confirmed subscribers are far less likely to report the emails you send as spam. The double opt-in can stifle growth a bit, but the increased quality of your email list is more important than its size.
6. Always Encourage Sharing
Add a call-to-action at the end of your email prompting people to share the content with friends they think might enjoy it. This is a common practice in articles and blog posts, but it's not used nearly enough with email. Prompting action is easy, especially if you're putting out good content that will make people naturally want to share it.
7. Focus on Creating Truly Remarkable Content
If you have any hope of natural growth from forwarding to friends, family, and colleagues, it all starts with the content you produce. The content you put out should be nothing short of phenomenal if you want people to look forward to your emails. They should love your content so much that they cry out on social media when it doesn't show up.
Creating next-level content takes serious effort, but why settle for being another content producer that puts out decent work? Aim for the stars instead.
8. Revitalize Your Stale List Through Opt-in Campaigns
If your list has decayed and aged ungracefully, then a simple win is to create an engaging opt-in email that serves as a call-to-action to get people to re-opt in. The email should make it clear that those who don't respond will be removed.
While it may seem counterintuitive to remove people in order to grow your list, it actually serves the greater purpose of purifying your list to only include core subscribers who enjoy your content and are the most likely to respond and engage. Doing so also increases deliverability, ensuring your message is received by more people.
9. Take the Time to Scrub Your List for Errors
Sometimes getting your hands dirty is the easiest way to clean up your email list. Here are a few things to do on your next clean-up day:
Clean up simple errors such as dave@yaoo.com, ashley@alo.com, and leslie@gmailcom.
Remove any mass distribution email addresses such as postmaster@somecompany.com, sales@somecompany.com, or any email with the word spam in it.
Ctrl + F is your best friend here. Pull up your email list and intentionally try to mess up common email domains to find errors.
10. Get Some Critical Feedback
The best way to maintain a clean list is to keep your audience engaged. In order to do that, you need to ask questions and get feedback that you can use to make your content better and better as time goes on.
Try sending out polls to gauge interest on what content people want the most.
Ask for feedback at the end of every email, or at least periodically. You could do this with a survey or encourage replies in your call-to-action.
Ask contacts to set some communication preferences, such as topics of interest and preferred frequency. Segmenting your list or tailoring it can keep people around longer and stoke engagement.
Ask questions within the unsubscribe option to see if they might prefer different content or a different frequency.
It's no secret that growing a clean and functional email list is one of the best marketing moves your company can make. In fact, about 75% of companies described email ROI as either 'good' or 'excellent', just beating out SEO for the top spot. If you periodically clean your list with tools like VoilaNorbert, focus on creating amazing content, and make it easy for people to sign up and share it, then you're well on your way to more engagement, greater conversions, and better ROI.
What's your secret to growing and maintaining a clean email list? Tell us in the comments below: