These days nobody doubts that the global pandemic changed our workstyle forever. Most of the companies and their employees not only adapted but started to enjoy the flexibility remote work gives us.
According to Forbes, 76% of employees do not want to return to full-time office work. Some are even ready to change the job if it requires office comeback.
Is this the case for your sales team? Do some of your employees want to come to the office every day, some a couple of days a week and some are ready to commute only when you have weekly/monthly team meetings?
Let's figure out how to keep everyone happy without wasting money on half-empty office rent.
Follow Big Company Examples
Huge corporations, such as Google and Microsoft confirmed that they are going to keep remote/hybrid workstyle in foreseeable future.
The are plenty of arguments in favor of this decision. For instance:
Employees are more productive when they are free to choose whether to stay at home and work in pajamas, go to a nearby coffe shop, coworking space, or head to the office.
77% of those who work remotely at least a few times per month show increased productivity, with 30% doing more work in less time and 24% doing more work in the same period of time according to a survey by ConnectSolutions.
Remote and hybrid workstyle helps companies save costs. Since you don't have to locate the entire team at the office, you can seriously save on office rent and maintenance. If you are managing a small marketing or sales team you may opt for a super flex office or even a few dedicated desks at a coworking space (more on the option below).
Calculations from Global Workplace Analytics suggest that companies can save around $11,000 per employee per year if they allow their employees to work remotely 50 percent of the time.
Flexjobs says they've saved $5 million from remote work.
IBM reduced real estate costs by $50 million.
McKesson indicates savings of $2 million a year.
Sun Microsystems' real estate costs have sunk by $68 million a year.
The possibility to hire top talents from all over the world. I believe every manager is familiar with the staffing issue. It's really challenging to find a salesperson with a relevant skill set that will become a good addition to the team. However, when you can hire people from any corner of Earth, it significantly increases the chances to compile a golden team. With the recent influx of tools for secure remote work management, hiring a global team is even more appealing.
Compliance with health and safety protocols. Covid showed us how fragile is human health and life and made everyone much more careful about the matter. These days it's much safer to manage a remote team. When people don't have to use public transport every day, avoid direct contact, and stay at home when feeling sick, the risk of infection significantly reduces, which also impacts the team's productivity.
I am pretty sure you are ready to sign at least one of the above statements. Now, it's time to figure out how you can actually benefit from them.
Use Super Flex Office That Adjusts to Your Team's Needs and Company Budget
Supposing you are not ready to go fully remote. You probably still need an office to look more trustworthy to the customers. Besides, some of your employees need to be present there every day. You also want to run weekly standups, strategy brainstorms, training, meetings, and all that jazz looking into colleagues' eyes.
At the same time, you understand that renting an office that will stay half-empty most of the time is economically unfair. You will still pay full price for its maintenance, buy furniture and equipment, etc. Moreover, you will have to spend your time or hire an office manager to ensure that there is enough paper in the printer and soap in the bathroom.
I am sure you'd rather focus on things that bring you money and you can do it by leasing a super flex office at a coworking space.
What Is a Super-Flex Office
The term came into use not so long ago, in times of the pandemic, when companies started to use a hybrid workforce (when some of your employees work at the office full-time and some complete their tasks from home).
In simple words, a super flexible office is a technology-powered workspace that allows fitting a company of 30 people into a room for 10. Obviously, you just pay for an office for 10 people but can accommodate the entire team when needed.
The service is mostly offered at coworking and flexible workspaces but in fact, every entrepreneur can turn their office into a kind of super flex by supplying it with relevant desk booking technology.
How Does It Work
Very simple. You just lease a small affordable office equipped with a desk booking system at a coworking space. Then, your sales team members will take turns to come and work there. They will book their seats through the apps on their smartphones provided by the coworking space you have a contract with.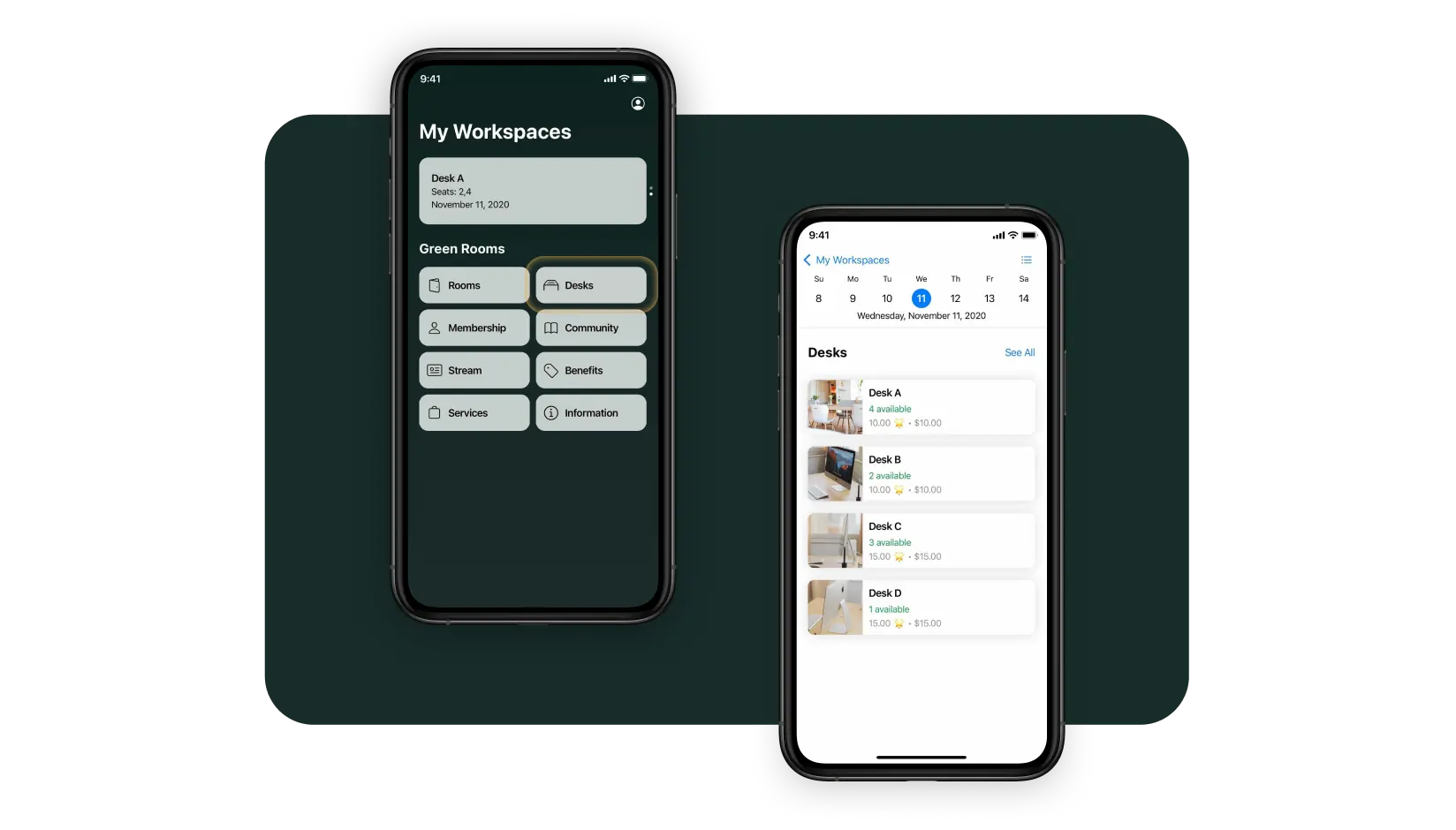 Image Source: andcards
Don't see any magic for now? It starts when the number of people who want to come exceeds the number of desks you have. They just book additional desks at the open space via the same app, come and enjoy a productive day and friendly community.
What about team meetings, standups, brainstorms, receiving calls, and inviting guests? Same here, you just use the app to book a conference room of appropriate capacity (for calls your employees can use skype rooms and not disturb their colleagues concentrated on crafting irresistible sales pitches and finding best prospects' emails) and run your meeting worry-free.
The best thing about a super flex office at a coworking space is that you don't have to sign any long-term commitments. You pay as you go, which means you pay only for the services you consume (such as office space for 10 people instead of 30, additional desks, and a few hours of meeting room usage if required) and are free to cancel or on the contrary expand at any moment.
Let's see what are some other benefits a super flex office at a coworking space can bring your sales team.
Benefits of Leasing a Super-Flex Office at a Coworking Space
Prestigious location. Renting a traditional office downtown is surely not cheap while leasing a flexible office at a coworking space won't break your bank. This way, you get a luxury physical address for your company at a very affordable price, which will positively impact your brand image.
Flexibility. Coworking spaces are valued for their flexibility. You can come late at night or early in the morning, which is essential for sales teams that work with customers located in different time zones. Besides, you don't have to force your employees come at 9 am if they are more productive at 17 pm. Everyone can build their own schedule as the building is accessible 24/7.
Cost savings. You pay only for the things you and your salespeople actually use. No way to get shocked by the bill at the end of the month. The system just adds additional items (such as one-off fees for meeting rooms usage or additional services) to your recurring fee and you pay it with a convenient method (banking card, Google Pay, Apple Pay) within the same app you use for booking.
Worry-free. Since you sign up a contract with a coworking space, you don't have to worry about office furniture, cleaning, internet connection, printer ink, water in the cooler, soap in the restroom, whatever. Super flex is a kind of all-inclusive serviced office. So, you and your sales pros just take their laptops, come and work till successful daily tasks completion. Everything mentioned doesn't impact the price of your contract as you use shared infrastructure, which makes "luxury things" affordable.
Supportive community. The main difference between coworking space and the traditional office is that the former offers community to join. This seems like not something you seek when looking for affordable office space for your sales team, yet, I bet it will be something you will stay at a coworking space for.
Free training and events. The cool thing about coworking spaces is that they offer tons of opportunities to grow personally and professionally. Most of the events they host are free for community members, like you. Your team can select the most interesting workshops and develop their skills without even leaving the building.
New business contacts. Sometimes all your business needs to grow faster is a few contacts with the right partners. At a coworking space, you and your sales managers will have plenty of opportunities to get acquainted with such people and start to cooperate with them.
Inspiring interior. Coworking space architecture and design go far beyond the tedious office walls of a traditional office. Their interiors inspire you at every step. Some are styled like spa salons (The Wing), others strike your imagination with post-apocalyptic scenes (Exberliner). Once I even saw a balloon in the meeting room (Creative States.) All these surely spark the team's creativity and help to take a look at the routine tasks from another perspective.
Additional services and benefits. Most of the coworking spaces give you more than you expect. They are highly interested in members' satisfaction and success. So, in addition to the standard offerings, you will get access to community perks (these are mostly discounts and freebies) and value-added services for your business. This will save you a lot of time because you won't need to search for a graphic designer or tax consultant when you need them. You will just open the coworking space app on your smartphone and order the service at the best price.
Bottomless coffee and cookies. Most of the coworking spaces serve unlimited tea, coffee, cookies, fruits, and even milk and cereals free of charge. This helps your team refill the energy during the day when they have no time or just don't want to get up from their chairs and go to a cafe or restaurant for lunch or dinner.
Happy employees. And the last but not the least point in this list is the happiness of your sales managers. 89% of coworking space users report that they are happier since joining a coworking space. And all of us know that a happy person is much more efficient at work, which is a huge benefit for a team manager like you.
Over to You
COVID-19 has taught us many lessons. With so many online solutions for remote project management, it was easy to adapt to social distancing, especially for teams involved in outreach, link building, digital marketing, and sales.
Now, when the level of vaccinated people worldwide increases every day, we don't have to stray away from peers anymore. But it doesn't mean you need your traditional office with all its expenses and liabilities back. Choose flexibility as it is advantageous for all stakeholders!
The article was written by Helga Moreno from andcards, a big fan of remote workstyle and coworking spaces boosted with innovative technology.