PR for SaaS companies cannot be approached in the same way as traditional marketing. To make an impact, you have to tailor your strategy to the nuances of the SaaS market.
An effective PR strategy gets you media coverage, builds a strong brand, inspires potential investors, and attracts customers.
Gartner predicts that global SaaS end-user spending will reach $145.3 billion in 2022. The SaaS market is highly competitive and typical PR pitches touting the basic benefits of the software are not newsworthy anymore. You need a fresh strategy that focuses on customer impact and customer adoption to raise the visibility of your SaaS brand.
Here are six tactics to build a SaaS PR strategy that works in the real world:
Send regular press releases
Send press releases to journalists regularly about newsworthy updates at your SaaS company. Talk about important milestones in product development like a new product launch or a critical upgrade.
Press releases can also talk about customer wins, publication of original research, webinar or podcast launches, and executive addition announcements.
Explore some great press release examples to understand various formats and pick the right one for your needs.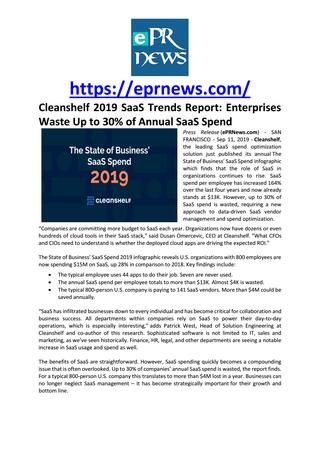 Source: Isuu
The idea is to keep your company top of mind without diluting the overall impact with trivial updates. Did you know that 43% of journalists receive five or more pitches per day?
To get your story featured, you need to know where your target audience is, pitch consistently, and personalize your pitches to the journalist and media house you're sending it to.
93% of journalists prefer to be pitched via email so it's important to be mindful of preferences to get a favorable response. Use PR tools like Voila Norbert, HARO (Help A Reporter Out), and JustReachOut to find journalists likely to be interested in your news.
The goal of press releases is to drive sales by providing sales teams with a touchpoint for them to engage with customers.
You can also create a press page on your company website where you add shareable content that journalists will be interested in. Research keywords that journalists use most often to drive organic traffic to your site.
Publish original research – industry reports, studies, etc.
As a SaaS company, you have access to a ton of data. Use it to create industry trends reports and derive consumer insights.
Original research is a highly effective SaaS PR tactic for a variety of reasons:
Both journalists and customers will be interested, getting you media coverage and backlinks.
Google considers original research as a sign of credibility. So your site ranks higher in SERPs.
You can start with something as small as an online customer survey before moving on to bigger data-based reports.
For example, Conversocial published The State of Customer Experience Trends 2020 and found a media mention in PR Newswire.
Attend or host webinars
A good way to reach new audiences is by building relationships with industry experts, influencers, founders, and executives.
By attending or hosting a webinar, you position your SaaS brand as an authority in the market. B2B marketers say that webinars and virtual events have produced the best overall content marketing results in 2020.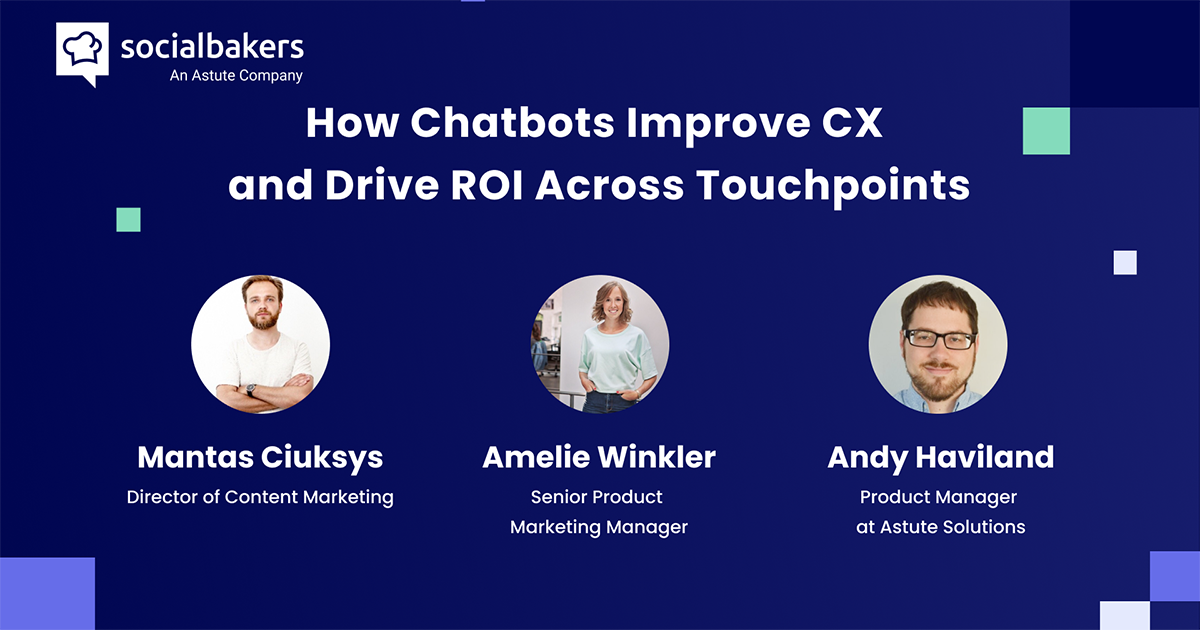 Source: Social Bakers
89% of marketers believe that webinars are the top digital channel for creating qualified sales leads. The same report shows that the use of webinars has increased by 162% and attendance has risen to more than 60 million people.
Hence, this is a brand-building avenue you do not want to ignore.
To make webinars more valuable for your attendees, consider the following tips:
Provide exclusive insights that are not shared by your competitors.
Focus on evergreen and relevant topics so customers will refer to them later when they need information. It will also generate new leads long after the webinar is over.
Build a relationship with your customers by following up with your attendees after the webinar.
Launch ebooks
Visme created an ebook titled "Marketing Strategies We Used to Bootstrap Visme to 4 Million Users" to generate buzz around their new product, Respona.
The results?
The ebook saw 10,000 downloads and more than a thousand sign-ups to Respona within 60 days of launch.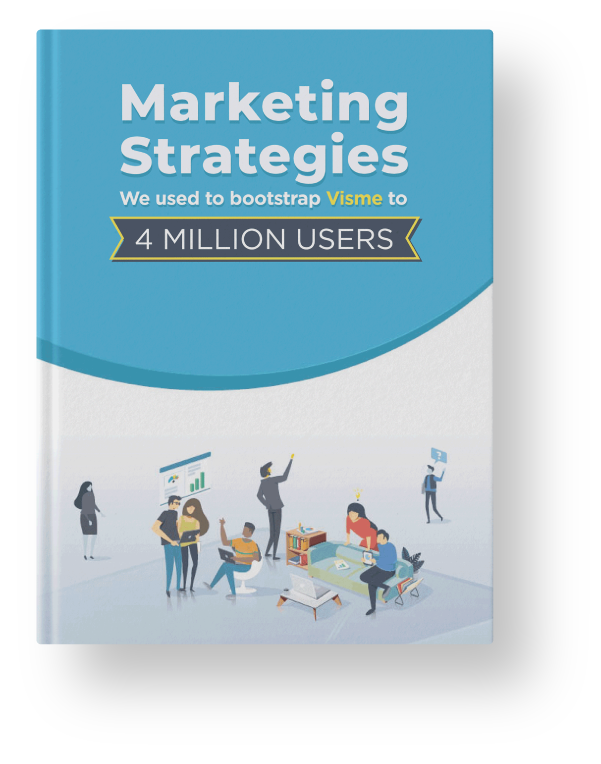 Source: Visme
Ebooks are excellent lead magnets because they're shareable, visually pleasing, and informative. They help you attract your target audience, educate them about your product, and also act as a good resource during the onboarding of a new customer.
Here are some steps to efficiently promote your ebook:
Create a landing page for your ebook.
Showcase your ebook on your company website.
Promote your ebook on social media platforms where your target audience is present.
Include CTAs in your blog posts (if you have a SaaS blog) that lead to your ebook landing page.
Use paid advertising opportunities for greater reach.
Participate in podcasts
Podcasting is a powerful technique to reach qualified leads.
You can participate in podcasts as a guest to speak about your company and product. Find podcasts using these search strings:
podcast + keyword
Top podcasts 2021 + keyword
When pitching to podcast hosts, think about how you can add value. Can you share exclusive content that the audience will like? Do you have the knowledge and the qualifications?
Source: Aaron Zakowski
Or you can launch your own podcast and invite industry experts and marketers to share information and updates.
Partnering with experts through podcasts has many benefits:
Builds brand awareness
Establishes authority in the SaaS industry
Provides a platform to promote your products and services
Determine your goals for your podcast beforehand to guide content creation.
Do you want to create a community around your product?
Do you want to increase brand awareness?
Do you want to connect with your target audience?
Write guest posts
Guest posting is the best way to get backlinks and build a reputation in the SaaS industry. It's especially suitable for startups because it doesn't need a huge marketing budget.
Steps to get started with guest posting:
Find sites that accept guest posts.
Use the following search strings to find guest posting opportunities:
Write for + SaaS
Guest post + keyword
Guest writer + keyword
Guest submission + keyword
Check the results to see what types of guest posts are accepted and what topics have been covered (or not covered).
Shortlist sites that accept posts on topics you are qualified to write about and have expertise in.
Choose sites for publication
Check the guest post submission guidelines for each of your chosen sites. You may need to perform keyword research and link to reputable research in your posts.
Some sites will ask you to send a pitch before you write the full piece.
Following guidelines carefully will ensure that your pitch or post is not rejected.
Start writing
When you write a guest post, ensure that the tone is not self-promotional or sales-y. Include real-world examples, data, and analyses wherever possible.
Guest posts don't always have to be text-focused. You can also send in infographics or data visualizations if you have access to proprietary data. You receive a mention in the author bio, which gives you an opportunity to promote your SaaS company.
Therefore, the benefits of guest posting as part of your PR strategy are:
Establishes your SaaS company as an expert
Generates backlinks and consequently, higher search rankings
Creates additional sales opportunities through qualified leads
You can start with smaller publications where your target audience is likely to be present. Then move on to bigger ones like Fast Company, Forbes, and Entrepreneur. However, your target audience should be reading these big publications, else it is a wasted exercise.
For instance, Buffer began to build brand recognition by posting on small blogs first. Once it had enough traction, it moved to guest posting on bigger publications like Forbes and Business Insider. This is how it was able to build a good reputation in the SaaS industry and stand out from its competition.
Conclusion
PR for SaaS businesses does not necessarily require a huge marketing budget. With these six tactics, you can make an impact in an overcrowded market. You get valuable media mentions, backlinks to your website, and build a reputation as a thought leader. Once you start generating decent traffic, you will eventually see an uptick in qualified leads and customers.