Think sales is just a numbers game? That the most effective sales teams are those that make the most calls and send the most emails?
Maybe that used to be true, but times have changed.
Today, winning at sales means looking at the bigger picture and formulating a mid- to long-term sales strategy. Indeed, more than half of fast-growing B2Bs now take at least a year-long view of their sales plan, while one in ten look more than three years ahead. This is normal for business development.
In other words, if you want to be a successful sales operation, you're going to need a strategy. Here's how to build your own:
1. Hire Sales Reps with the Right Attributes
Building a high-performing sales team isn't about hiring a bunch of superstars. It's about searching for great people who buy into your goals and values, and developing them into excellent salespeople.
While the definition of a great hire will naturally vary from one company to another, there are a handful of traits to look out for when you're interviewing new members of your sales team:
Ability to think creatively
Hard-working
Driven
Competitive
Entrepreneurial
Intelligent
Find someone who ticks all six boxes and you've got an employee who can be molded into a fantastic salesperson – and who'll put in the effort required to get there.
2. Define Your Ideal Customer Profile
It always surprises me how many businesses still don't know who their ideal customer is.
Of those who claim they do know, a worryingly high percentage have only just scratched the surface. They might know a little about their ideal customer profile (ICP), but they don't have a clear picture (and they definitely don't understand how to use what they've got to enhance their sales performance).
Let's go back to the basics. For an ICP to be fit for purpose, it needs to tick these boxes:
It helps you to quickly identify quality prospects
It can be simply explained to someone else so that they can identify new ICPs
It is clearly defined so that processes can be put in place to find more ICPs
If your ICP doesn't achieve those three things, it's hindering your sales strategy. Work with anyone in your company who has direct access to your customers to build a better ICP, and then iterate it as your sales activities either prove or disprove your assumptions.
3. Understand How to Attract Your Target Customer
Whatever your business sells, two things are universally true. You need to understand:
How to attract your target customers (as defined by your ICP)
How much revenue you need to earn from those customers to sustain and grow the business
Once you've answered those questions, you'll be left with three potential sales models – self-service, transactional and enterprise: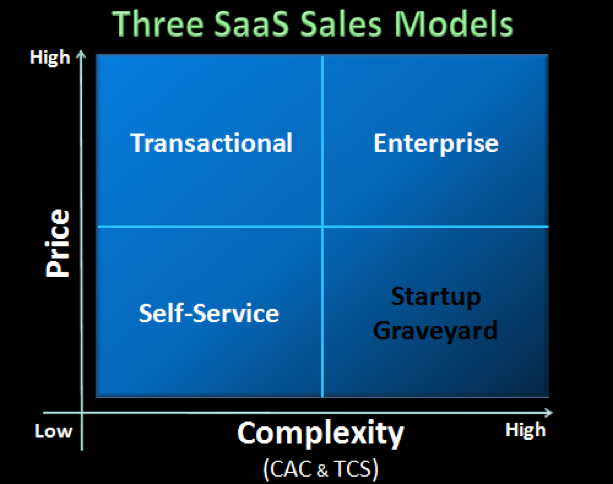 Up there in the top right-hand corner, you can afford to invest a lot of time and money into customer acquisition. You've got a complex product – which most likely translates to a longer sales cycle – and you're generating a healthy return from each account.
But if you're down in the bottom-left quadrant, acquisition needs to be fast and cheap. You can't afford to offer live product demos and attend lengthy sales meetings; you need the customer to effectively close the deal themselves.
You won't know if you're operating in the right quadrant without insight into your customer acquisition costs (CAC) and total cost of sales (TCS), though you can probably estimate where on the spectrum from low to high the complexity of your sales program falls.
If needed, spend some time crunching these numbers. Failing to base your sales decisions on them could lead your company to the Startup Graveyard.
4. Conduct a SWOT Analysis of Your Existing Activities
Building a successful sales strategy means understanding where you are at the moment, as well as the steps required to take your sales operation to the next level (and to the level beyond that).
The most effective way to do this is through a good old-fashioned SWOT (strengths, weaknesses, opportunities, and threats) analysis. Gather together your sales, marketing and product teams, and scrutinize your company's ability to:
Upsell existing accounts
Find new accounts that match your ICP
Turn those ideal prospects into paying customers
Take particular care to identify the reasons why your salespeople currently find it hard to close deals. Is it that they aren't reaching the right people? A SWOT analysis or other audit may reveal better fit prospects. Is the product they're trying to sell not truly competitive? Knowing where your company currently stands relative to others in its marketplace should inform the direction of your sales strategy.
5. Figure Out Where You Want the Company to Go
Want to know the most common mistake people make when plotting a new sales strategy? They begin creating a roadmap for success without first pin-pointing the destination.
Start by categorically stating your aim. Your SWOT analysis should help you out here, if you don't already have a clear vision of what success means for your company.
Let's say the single biggest problem standing in the way of your sales team is the limited number of prospects who match your ICP. Now that you've defined the problem, plot all the actions required to overcome it. For instance, you might need to invest in persona research to find new prospects, while adopting an account-based marketing approach to convert more of your existing leads.
Keep in mind that the best goals are SMART. Saying you want to dominate the market in the next five years might feel empowering, but it won't motivate your salespeople until you put your aims into cold, hard numbers.
6. Implement a System for Continuous Improvement
No sales strategy is complete if it lacks a means of identifying and implementing areas for improvement.
There are several ways to get the feedback required to find smarter, more efficient, and effective systems, processes, and tactics. For instance:
Speak to your customers. What did they like about your sales process? What did they find frustrating or unhelpful?
Ask your employees. What makes your product easy to sell? What do they struggle with?
Survey new sales reps. Is your onboarding program fit for purpose? How could it be improved?
Be careful that you don't just gather this feedback. You have to actually act on it, even when doing so isn't all that comfortable. It isn't fun to get less-than-positive feedback. But truly effective salespeople treat it as an opportunity to learn, grow and get better.
Also, make sure you're using business development tools that can simplify your systems.
This is crucial if you want to keep track of everything, especially if you're managing a big sales team.
7. Level Up Your Pipeline by Ditching Unqualified Leads
Sick of having a healthy-looking sales pipeline that only delivers a trickle of new business? Maybe it's about time you started qualifying your leads more effectively.
You should only treat a lead as qualified if you can provide a concrete answer to four of the five following questions:
Does the prospect have a specific – and prominent – challenge that would prompt them to buy your product?
Is the prospect directly involved in the decision-making process?
Can your prospect afford to pay for your product?
What is their buying process?
Are they likely to buy in the near future?
Build Sales Team Buy-In
Follow the above steps, and you'll have all the ingredients for a high-performance sales strategy. But it still won't work without one more key element – the buy-in of your salespeople.
Read: 6 Ways to Sell Like a Pro
However detailed and innovative your strategy, it's doomed to failure unless your salespeople are onboard. They're the ones who'll be working with it day in, day out. Take the time to get them onside and consult them throughout the strategic process.
Built a killer sales strategy? What other steps did you take to get there? Let me know in the comments below: