New year's around. And for this year's resolution, we've decided to stop wasting time with tasks that can be sped up.
We've compiled a list of the 15 best SEO Chrome extensions that you should be using in 2022 which have helped us increase our workflow productivity.
We'll cover extensions that help with link building, keyword research, on-page SEO, rank checking, and analytics.
We'll also dig into each tool's pricing, what makes it so good, and how you can use it to up your SEO game.
So be sure to stick around till the end. Because by the time you're done reading this article, you'll have an upgraded SEO arsenal and an edge over your competitors.
In a hurry? Jump to the tools:
The 15 Best SEO Chrome Extensions to Use in 2022
Top 3 Link Building Tools
Voila Norbert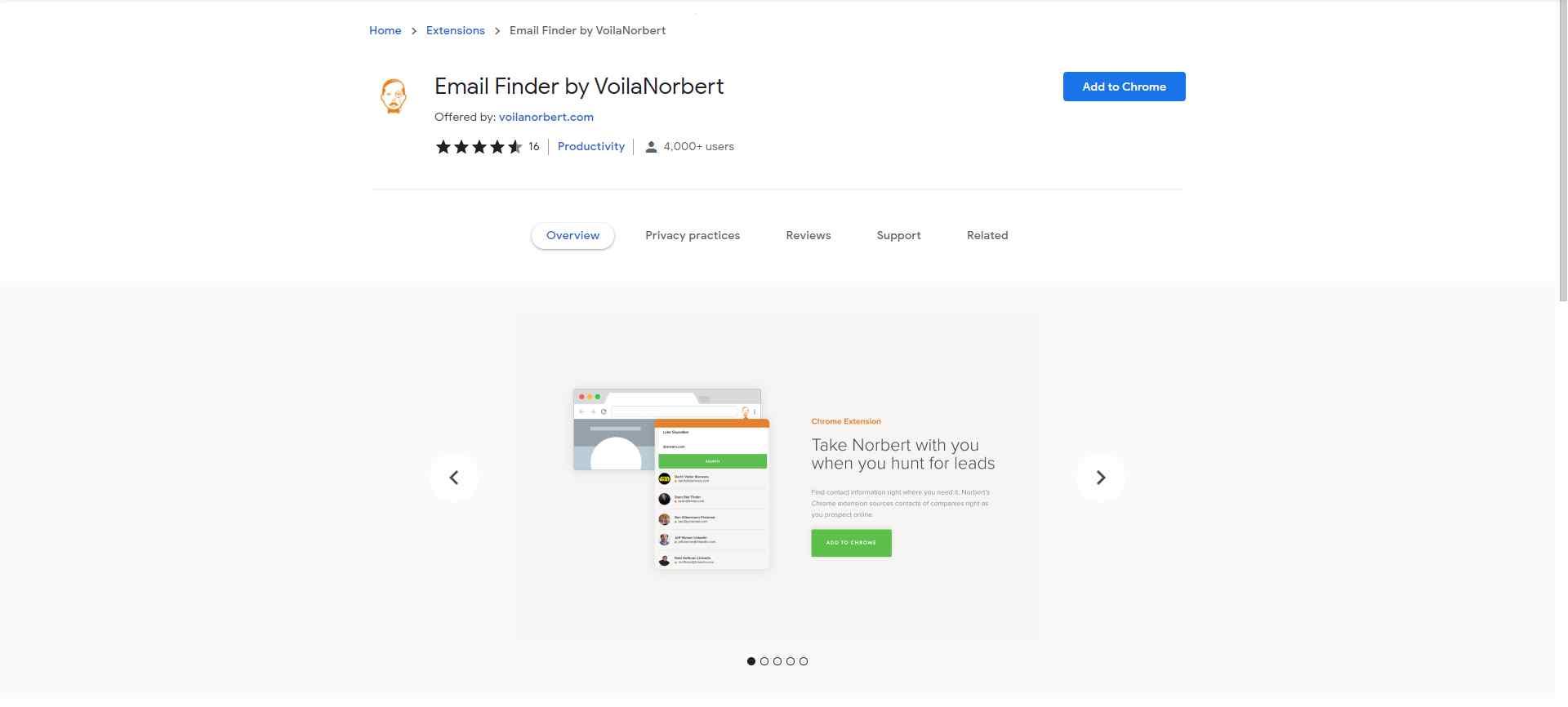 Alt: NorbertChromePage
Voila Norbert is an email-finding tool that comes with a handy Chrome extension.
Finding email addresses of website owners is a crucial step in link building and we make sure you ace it. That's because we have an accuracy rate of 98%, which is higher than all other email-finders on the market.
You don't have to take our word — take it from Ahrefs: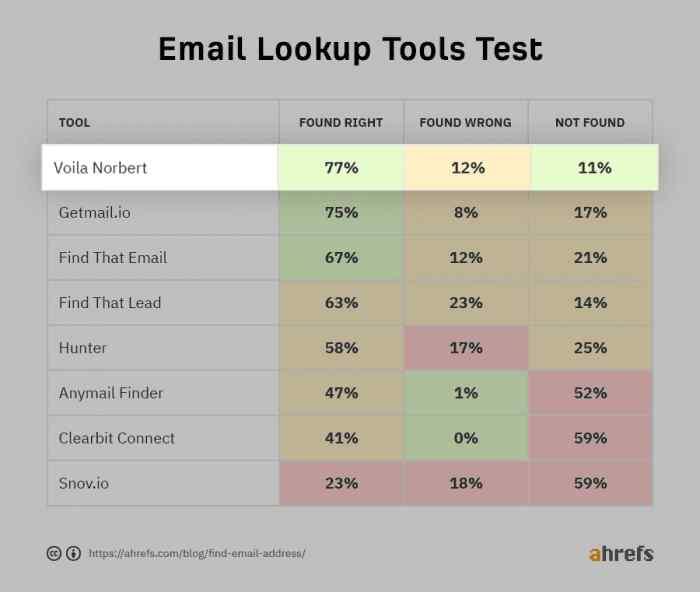 Alt: Ahrefs comparison
To get started with Norbert, all you need is the website URL and name of your prospect. You feed this information to Norbert's Chrome extension and get an email address in return. Pretty simple, right?
Plus, we're very affordable. Finding emails cost you only $0.05/email on the Valet (beginner) plan and as low as $0.001/email on the more advanced plans.
On top of that, Norbert offers a Gmail plugin that makes your email campaigns effective by letting you:
Automate follow-ups
Schedule emails to prospects
Create reminders and add notes
Get valuable performance insights on your outreach campaigns
The web-based application for Norbert also offers more useful features such as:
Prospect list exporting for offline use
Integration with a wide range of other marketing and SEO performance tools.
Bulk email finding. You can upload a CSV file with a list of URLs and names to find emails in bulk. This is very useful when trying to scale your link-building strategy.
Email enrichment, which gives you extra information about an email address such as name and social media profiles. This can make communicating with website owners very effective
If you want to experience what Norbert has to offer, you can generate 50 free leads here!
Check My Links Chrome Extension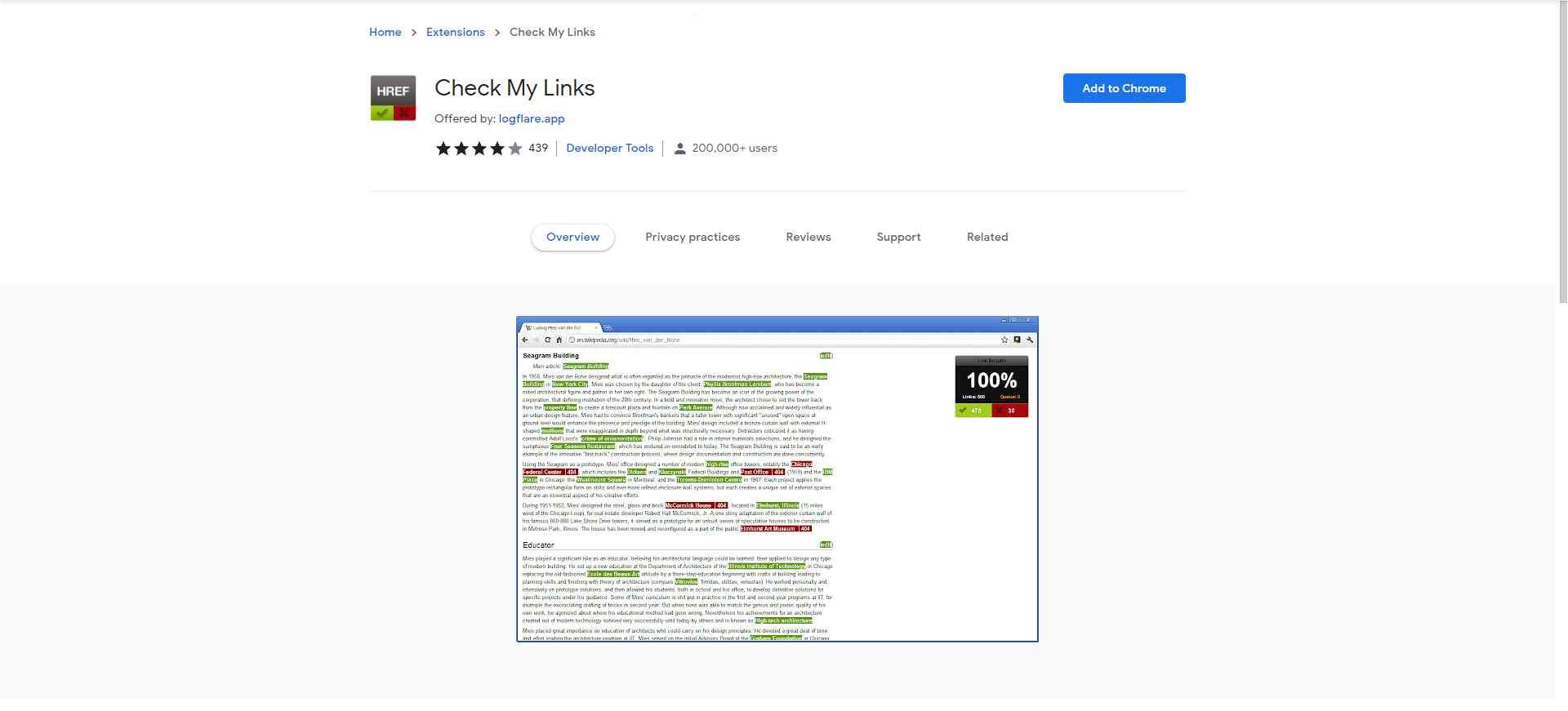 Alt: CheckMyLinksChrome
This handy Chrome extension helps identify and fix broken links plaguing your site.
Broken links sour the experience for users and are bad for SEO. So it's recommended to clean them up as soon as possible and Check My Links is one of the best tools to do that.
But that's not all. It can also be used as a backlinking tool that clues you in on opportunities left vacant due to dead links that you can fill.
For example, while going through a popular website, you can use this extension to spot dead links. You can then contact the website owner and convince them to replace a dead link with a link to your website.
This is particularly useful when you leave auto-check enabled. Auto-check lets you effortlessly find unexpected link-building opportunities as you browse the internet.
Oh and the best thing about this tool? It's free, which makes trying it out an absolute no-brainer.
GrowthBar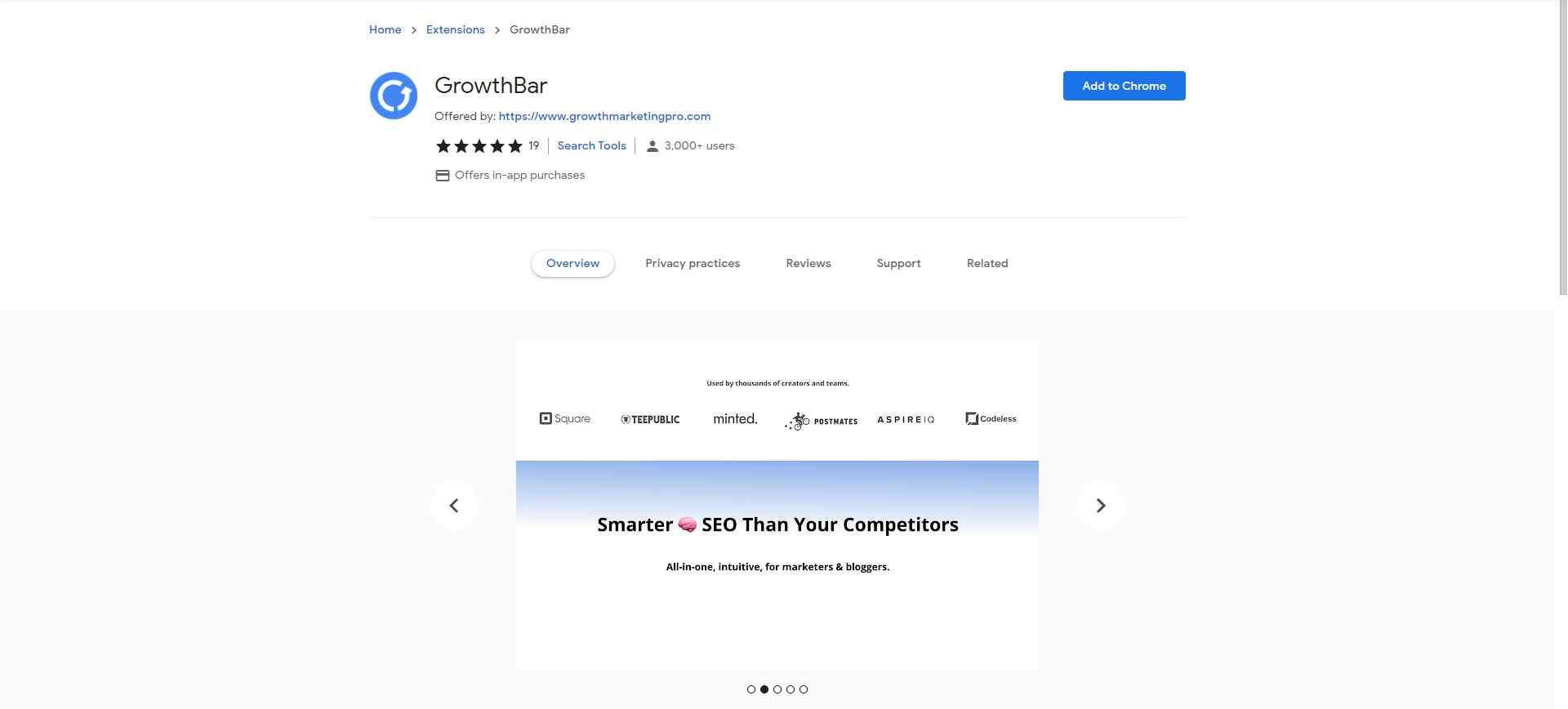 Alt: GrowthBarChromePage
GrowthBar is an easy-to-use yet powerful SEO tool. It has an intuitive Chrome extension that offers all the necessary features that you'd get with an SEO tool suite right into your browser.
It can help you with everything from backlink analysis to keyword research to rank tracking. It also offers you actionable insights to boost the success of your online business.
What makes the GrowthBar extension stand out is that it's budget-friendly. And it offers almost everything you would expect from a full-fledged web-based SEO tool.
This includes unlimited backlink analysis, keyword research, and advertising analysis. All of this is included in all 3 of its pricing plans.
The "Standard" plan costs $29/month and allows you to add 1 website while the most expensive "Agency" plan lets you add up to 10 websites and costs $129/month.
You also have the option to use GrowthBar's free plan, which provides basic on-page SEO statistics like traffic value and Domain Authority (DA). However, advanced features will be locked unless you upgrade to one of the paid plans.
To keep track of a website's backlink profile, simply click on the "Top Backlinks" option in the extension. You'll be able to see a list of the top 5 referring domains for that site. Clicking on "See more" will allow you to open and access a bigger list featuring the top 200 referring domains for that website.
Top 3 On-page SEO Tools
SEOquake by SEMRush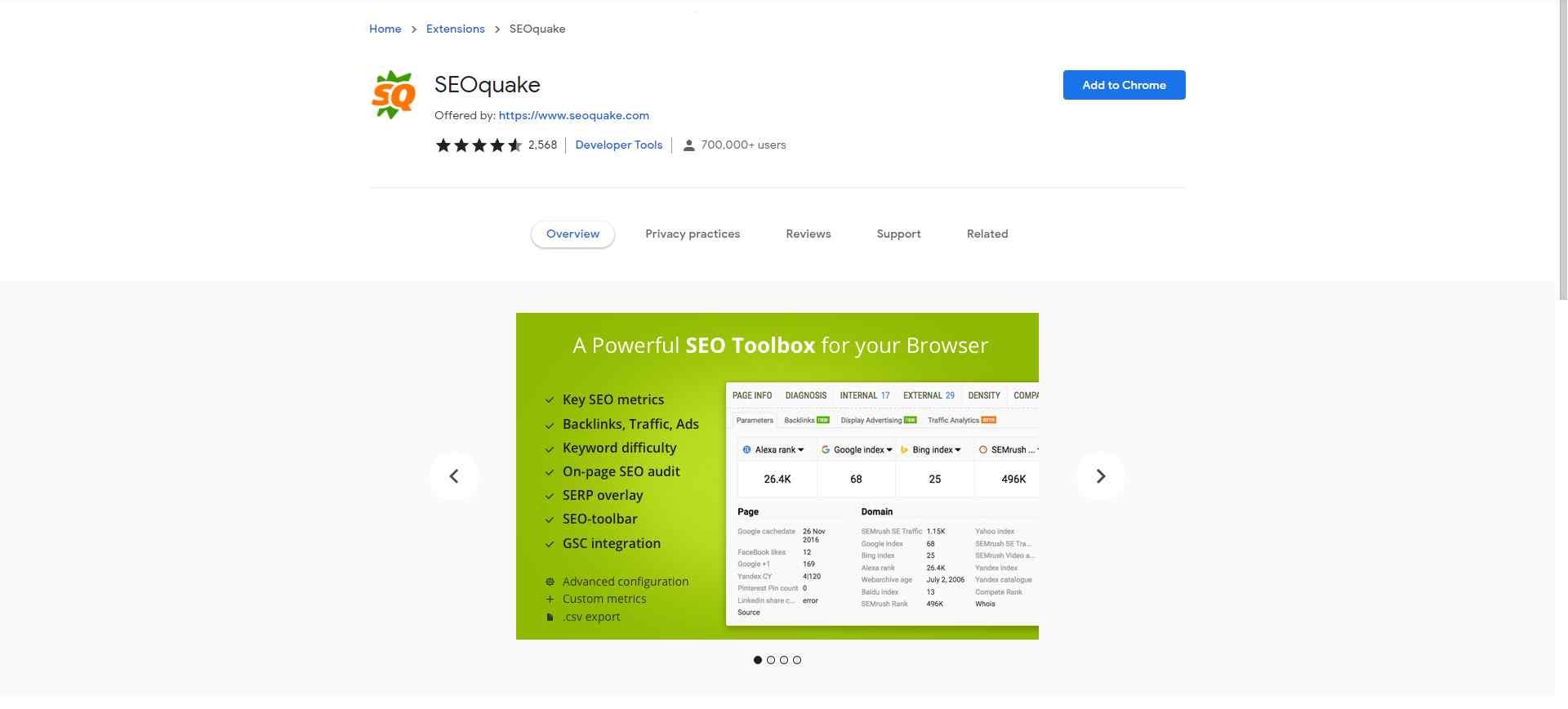 Alt: SEOquakeChromePage
With link-building tools out of the way, let's talk about on-page SEO tools.
SEOquake is a Chrome extension by SEMrush that gives you insight into essential SEO metrics like keyword data. You also get the option to perform a detailed SEO audit of any website you open.
It's an extremely versatile extension that can help you take your website's performance to the next level in no time.
And the best part about it? You don't need an active SEMrush subscription to get the most out of this Chrome extension.
Here's a brief overview of all the things you can do with this free extension:
Get a detailed analysis of SERPs
Assess keyword difficulty in real-time
Get an SEO audit of any page you visit
Examine and monitor internal and external links
Compare the URLs and domains of your competitors instantly
Get an instant summary and report of all keywords found on a website
MozBar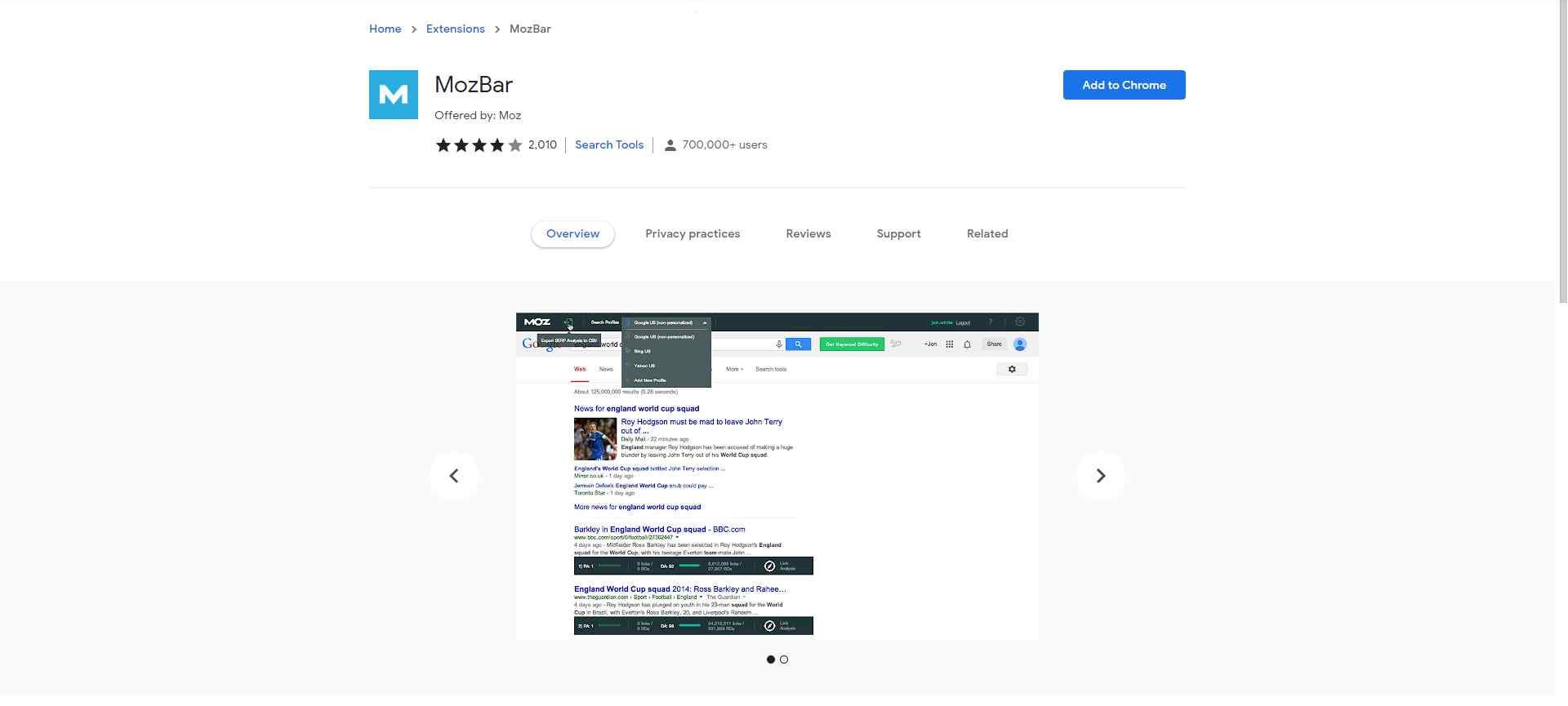 Alt: MozBarChromePage
MozBar is as good as SEOquake (if not better). It provides you with instant SEO metrics about a web page or SERP without ever having to leave your browser.
This extension by Moz allows you to do everything from generating custom searches by country, city, region, or search engines to locating keywords on a webpage. You also get the ability to spot "nofollow" and "follow" links.
Additionally, this tool gives you the power to expose page elements and look at the HTTP status and assess a website's DA.
But what makes this plugin so excellent and a must-have for SEO purposes is that it provides all of these valuable stats for free!
Although if you want to get the best results and even more features, you should probably consider getting a MozPro account.
An active MozPro account gives you access to the full Moz suite and a few extra premium features. These include page optimization suggestions and a keyword difficulty checker.
Pricing for a monthly MozPro subscription starts at $99/month (or $79/month if you choose to buy the yearly package).
Detailed SEO Extension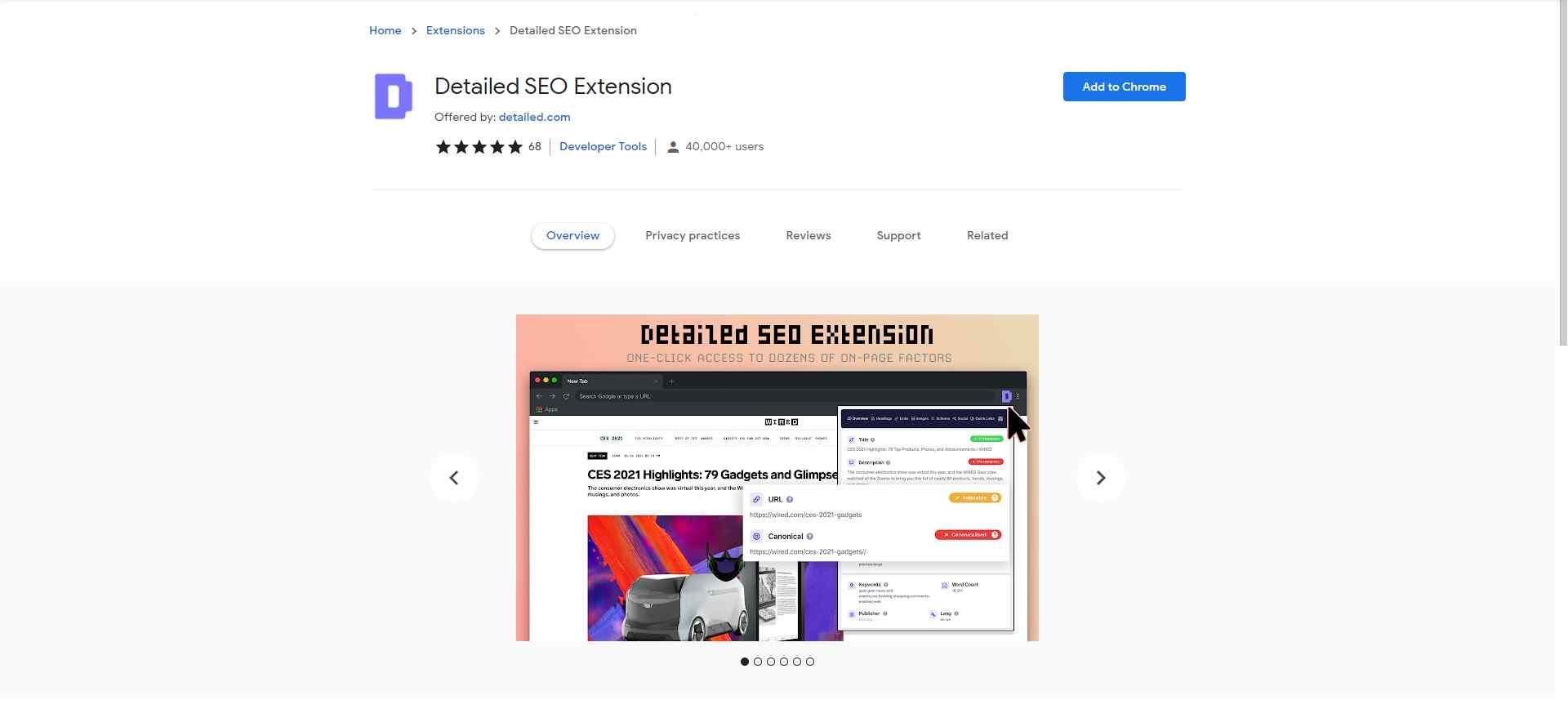 Alt: DetailedSEOChromePage
This on-page SEO tool does exactly what it says on the tin. Detailed SEO extension gives you comprehensive insights into how you can improve your on-page SEO.
It offers everything you would want from an advanced SEO tool, allowing you to check:
URL indexability
Canonical URL
Heading structure
HTTP status codes
Twitter and Facebook tags
Internal and external links
Images with or without ALT tags
Number of words on a webpage
Robots.txt and sitemap.xml files
Title and meta description length and content
What we really like about this extension is that it doesn't track your data, doesn't upsell, and is completely free.
Top 3 Technical SEO Tools
SEO Minion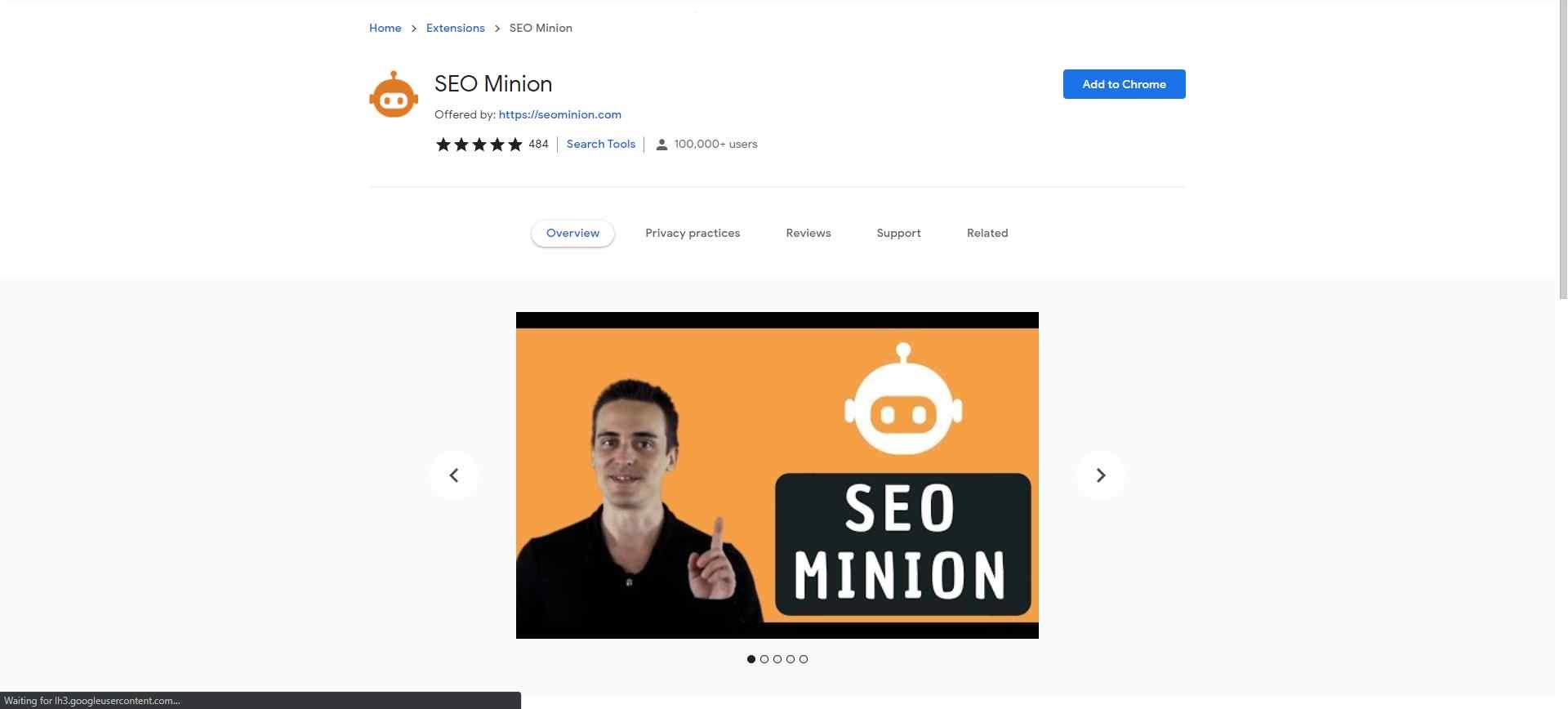 Alt:SEOMinionChromePage
SEO is all about staying up-to-date, consistent, and playing for the long game. If you spend a few minutes each day making improvements to your website, it can have a significantly positive impact on your traffic down the line.
And an easy way to improve your SEO bit by bit is through the SEO Minion Chrome extension.
The tool offers:
SERP previewer
on-page SEO tool
redirect tracer
broken link checker
Google location simulator.
What makes SEO Minion stand out is that it lets you compare Google rankings and SERPs for your website across different countries.
It also breaks down hreflang data, which is required when you want to target people in other regions with different languages.
SEO Minion is completely free. So if you're searching for an SEO Chrome extension that isn't cluttered with pay-to-use features, then this might be right up your alley.
Pagespeed Insights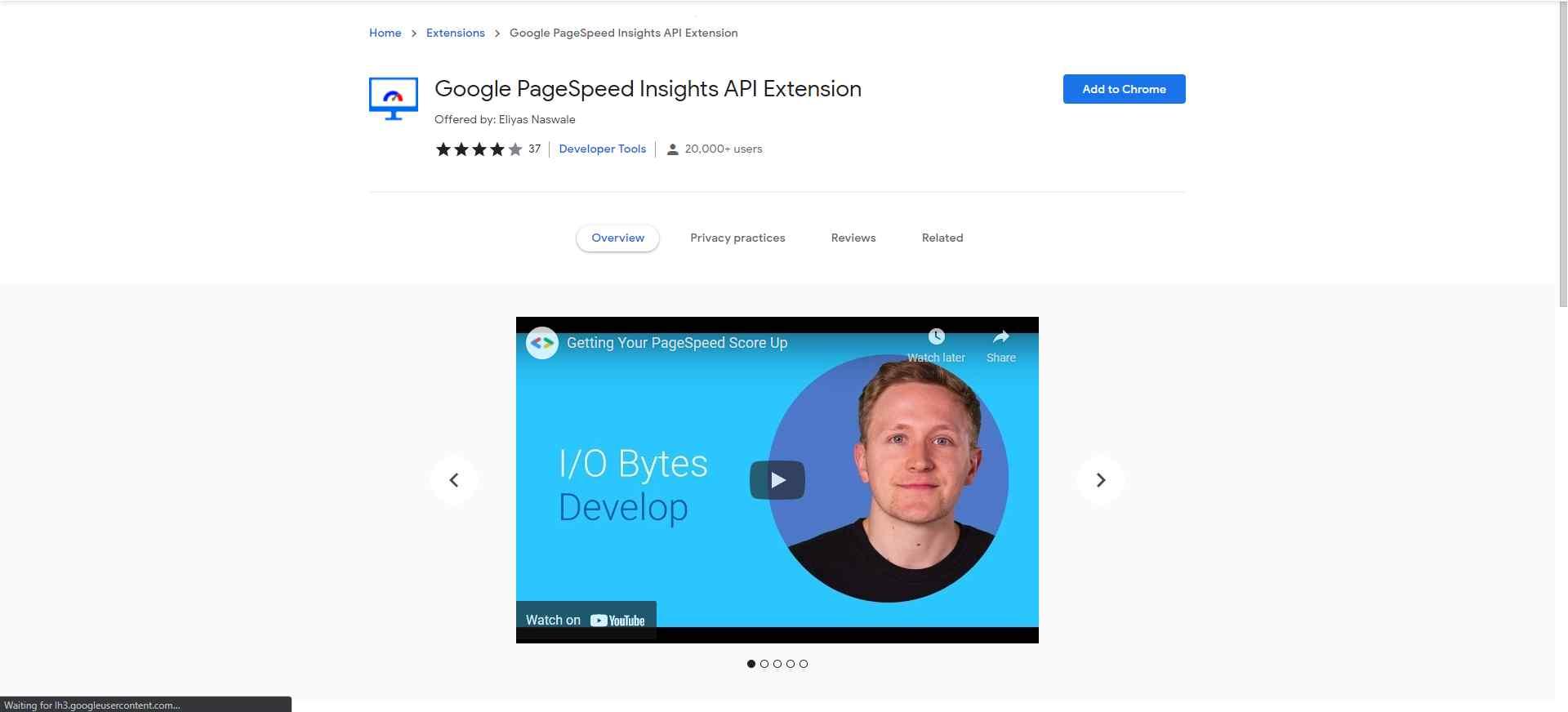 Alt: PagespeedInsightsChromePage
Slow loading pages negatively affect both your conversion rates and search engine rankings.
Studies show that nearly 70% of customers who are not satisfied with a website's performance are less likely to buy from that brand. Similarly, every 1-second delay in load time (between 0-5 seconds) causes your conversion rate to fall by 4.42%.
But how do you determine if all the pages on your website load quickly and meet Google's recommendations? Well, that's where the Pagespeed Insights extension comes in.
This extension displays a summary of your website's load times. It also provides detailed and actionable insights into how you can boost its speed and create a much smoother experience for users.
What makes this Chrome extension excellent is that it shows you the real-time loading times of your website across all types of devices. This includes desktop, mobile, and tablet. And the cherry on the top? It's completely free to use.
Ahrefs SEO Toolbar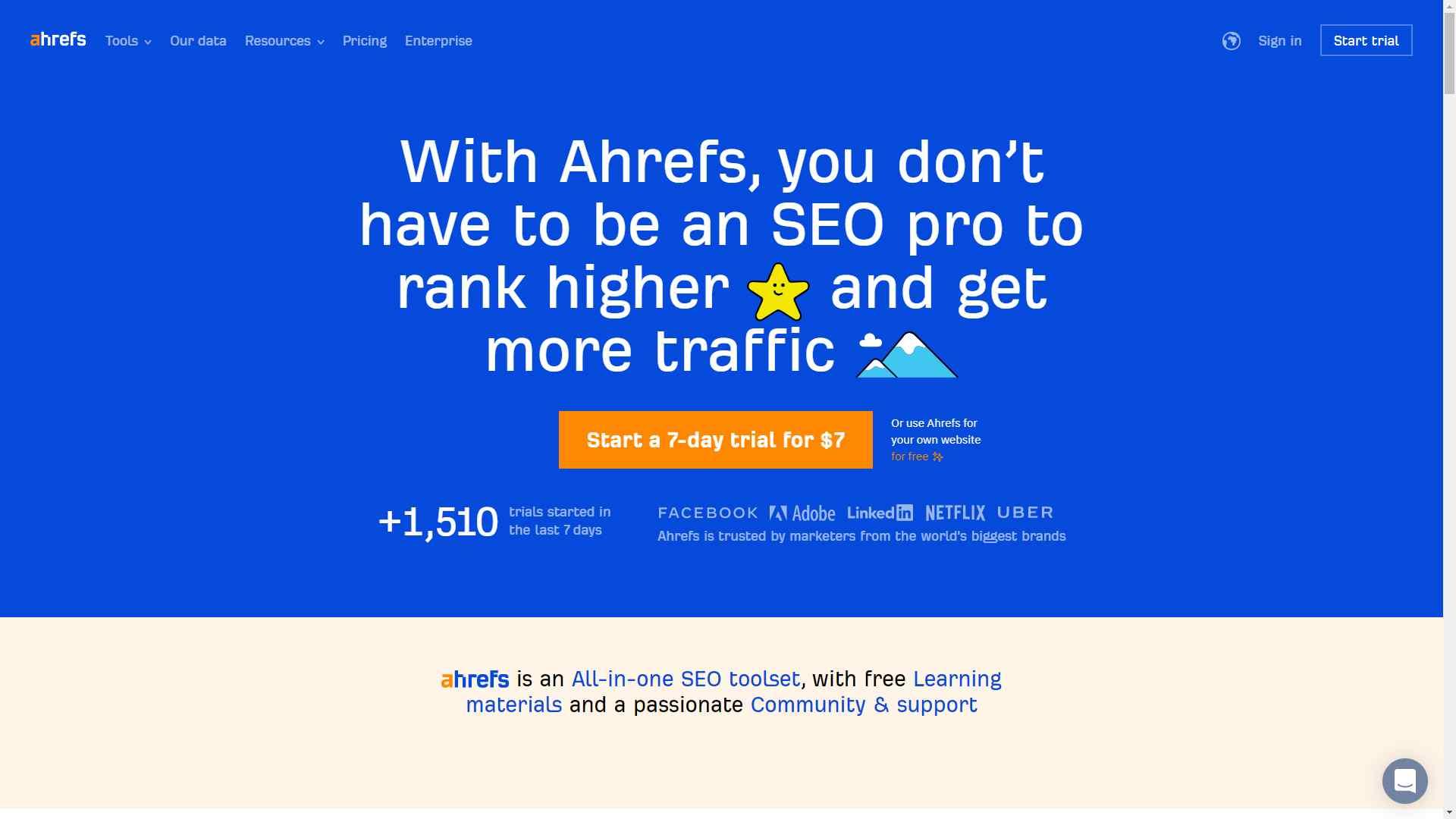 Alt: AhrefsHomepage
Ahrefs is probably the most comprehensive SEO tool out there. Their Chrome extension is useful as a technical SEO tool and can be used as a redirect tracer and broken link checker.
But what truly makes this tool unique is that it's one of the most popular SEO tools out there and is used by some of the world's biggest businesses. These include Netflix, Facebook, and Uber. With big-name users like that, it's definitely worth a shot.
The Ahrefs SEO toolbar plugin is free to download. However, if you have an Ahrefs account, you can access more comprehensive SEO metrics such as backlink analysis and page and domain rating.
Ahrefs premium subscriptions start at $99 per month.
Top 3 Keyword Research Tools
Ubersuggest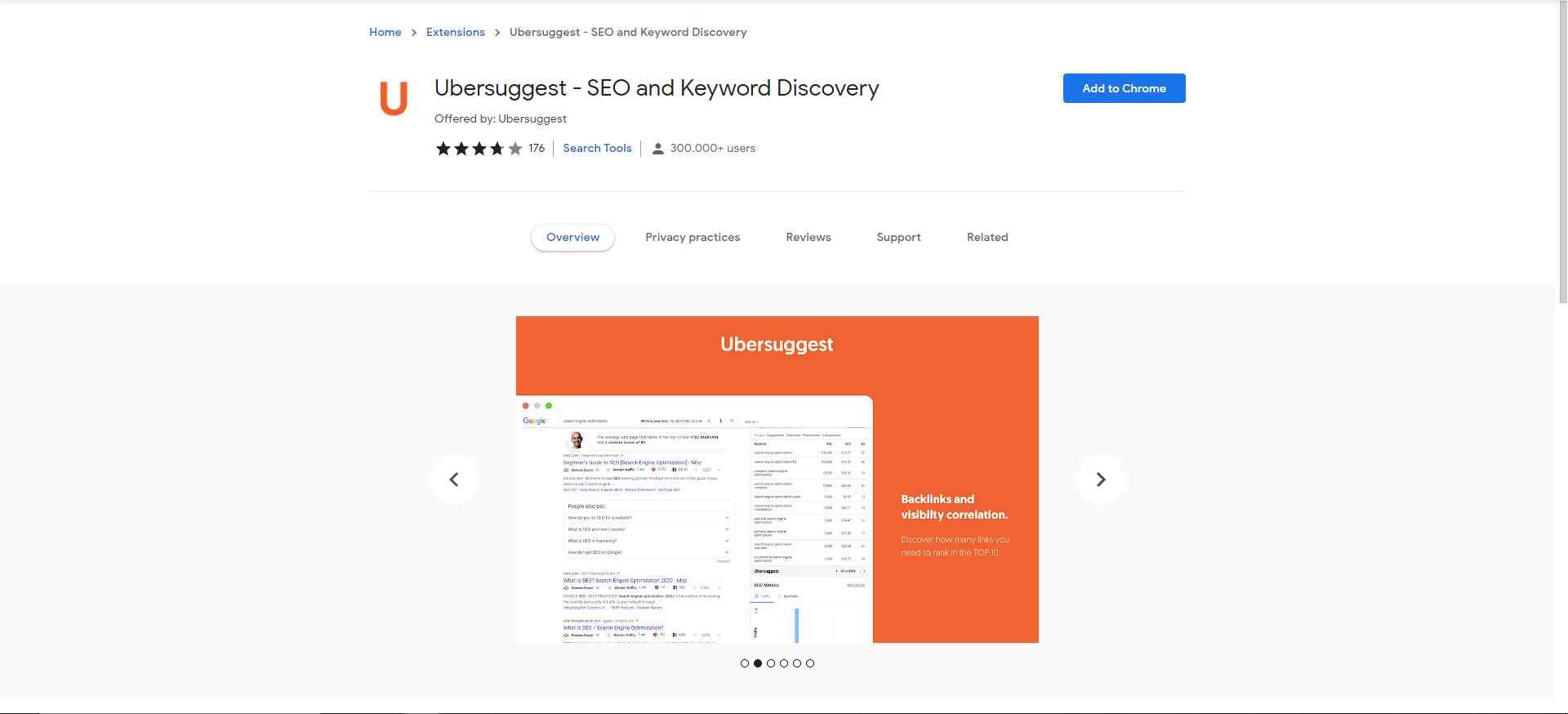 Alt: UbersuggestChromePage
The importance of using the right keywords can't be overstated. However, finding the best ones can be a daunting task. Fortunately, the Ubersuggest Chrome extension can make this much easier.
Some of the important metrics this extension gives you include:
Backlinks
Keyword volume
Keyword ranking
Domain authority
Keyword Cost-Per-Click (CPC)
What makes this extension so great is that it doesn't show vital keyword data for only Google search results. It also helps you target YouTube and Amazon, both of which can do wonders for your eCommerce business and eCommerce SEO
Additionally, the extension has a neat live visualization feature for search metrics, which makes the data easy to digest.
The Ubersuggest toolbar also has both a web page and SERP analyzer.
The web page analyzer helps you learn more about the keywords you're ranking for and other vital website data such as page speed. It also assesses your site and can inform you if certain pages are broken.
The SERP analyzer, on the other hand, gives you valuable information about each result on a SERP. This includes the domain score and the average number of backlinks.
Keywords Everywhere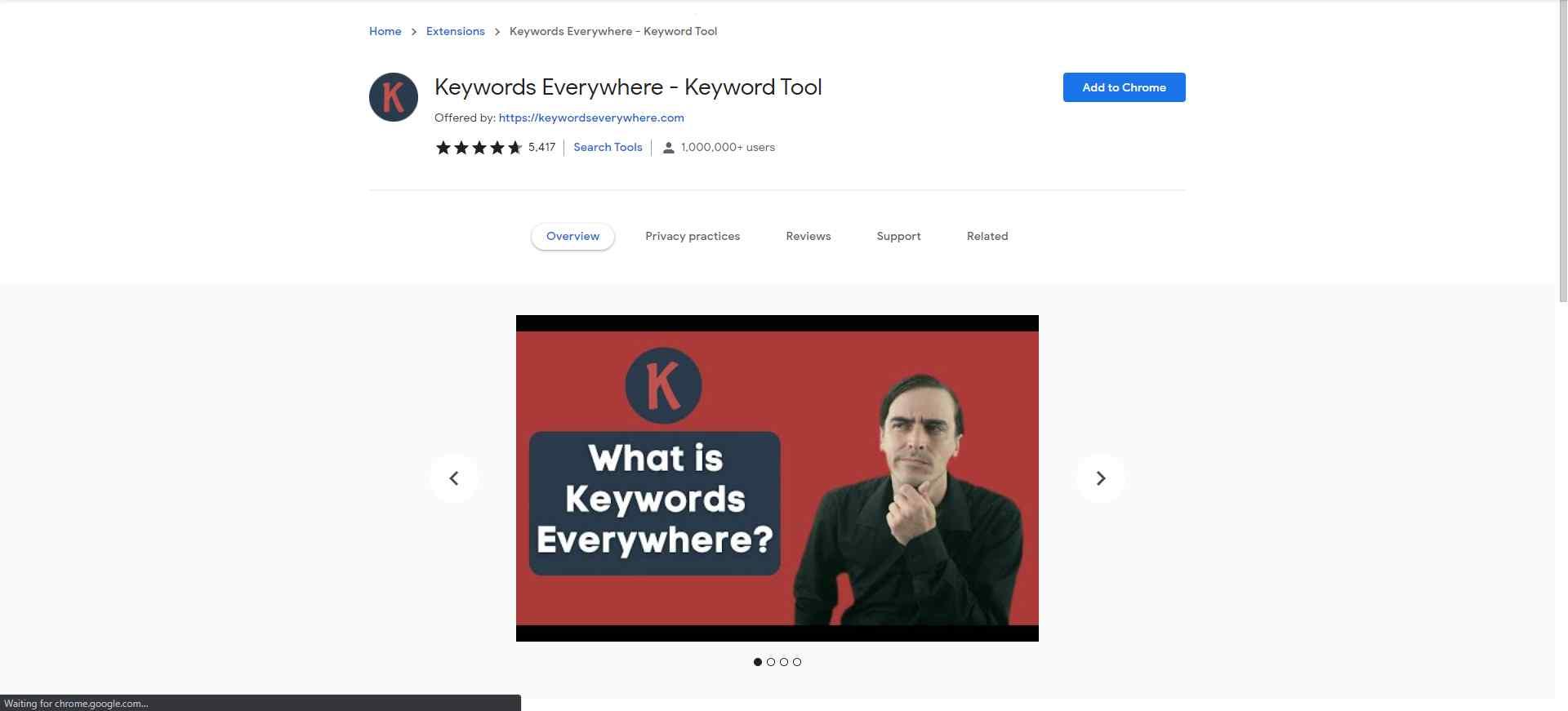 Alt: KeywordsEverywhereChromePage
This is one of the most commonly used Chrome extensions by SEOs. Just like Ubersuggest, Keywords Everywhere is a great tool for anyone who needs to do keyword research. And it's extremely simple to use as well.
Simply go to Google and enter any keyword you're interested in. The extension will show you a list of related terms and keywords (LSI) that you should consider using (in addition to your target keyword). You can export this list for offline use as well.
What makes Keywords Everywhere so special is that the data you're looking for is provided to you within the Google interface. This makes keyword research super easy.
On top of that, the tool can analyze websites on a SERP for a specific keyword. It can also show you the traffic they generate per month and the number of keywords they are ranking for.
This kind of powerful data can be game-changing when you're trying to boost your SEO strategy. Because it can help you find out how other competitors in your niche are outranking you on Google.
You can access even more information about specific search queries if you choose to pay for "credits" within the extension.
The paid version unlocks features that help:
Assess the CPC for a specific keyword
Gauge the Adwords competition for a keyword
Provide data about monthly search volume for a keyword over the last year
Click here to get to know more about the pricing.
Keyword Surfer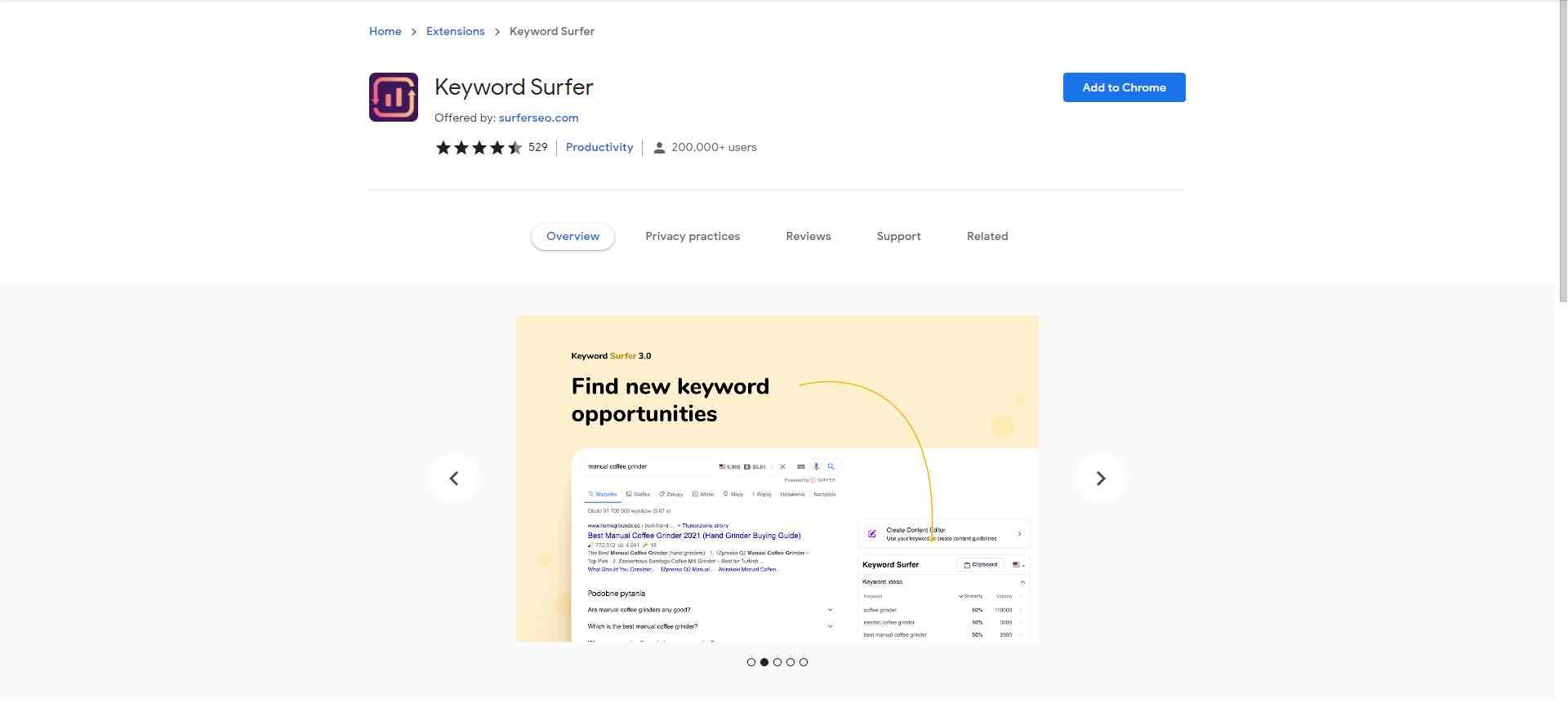 Alt: KeywordSurferChromePage
Keyword Surfer provides an insane amount of data for a free tool. It is a keyword and SERP analysis tool that gives you insights directly in your Chrome browser.
So whenever you search for a keyword, you can take a look at that keyword's worldwide and regional search volume right inside Google's interface.
If you're looking for more info, you can check out a list of other suggestions and their search volumes in the tool's sidebar.
Scrolling down a bit in the sidebar will also show you how many backlinks each result has. This can help you estimate how many links you'll need to rank on the first page.
Top 3 Rank Checker Tools
Alexa Traffic Rank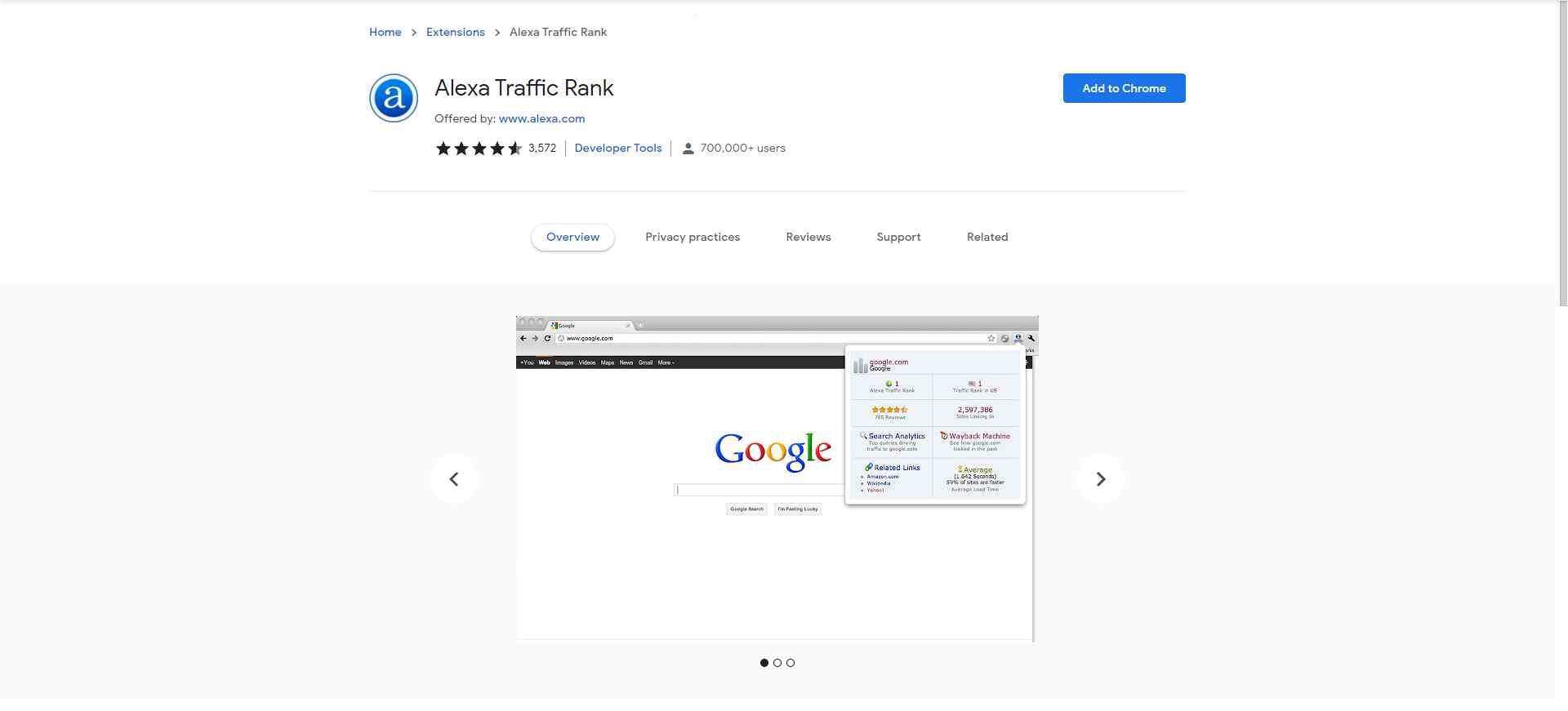 Alt: AlexaTrafficChromePage
Now that we're done with keyword extensions, it's time to discuss rank checker tools. At the end of the day, we all want our websites to rank as high as possible. And Alexa Traffic Rank is a Chrome extension that can help you with just that.
This tool gives you real-time information on any website and allows you to check its Alexa rank, which can give you a rough idea about how popular it is.
It also helps you identify which search queries are leading to a website and what queries a web page is ranking for.
On top of that, it provides other useful SEO metrics like page loading speed. This lets you evaluate and improve your website's overall performance and ranking.
But what we love about this rank checker is that it's extremely easy to use and free of cost! Plus, Alexa ranking is one of the most reliable measures of global website rankings, so you can always be sure about its accuracy.
Fatrank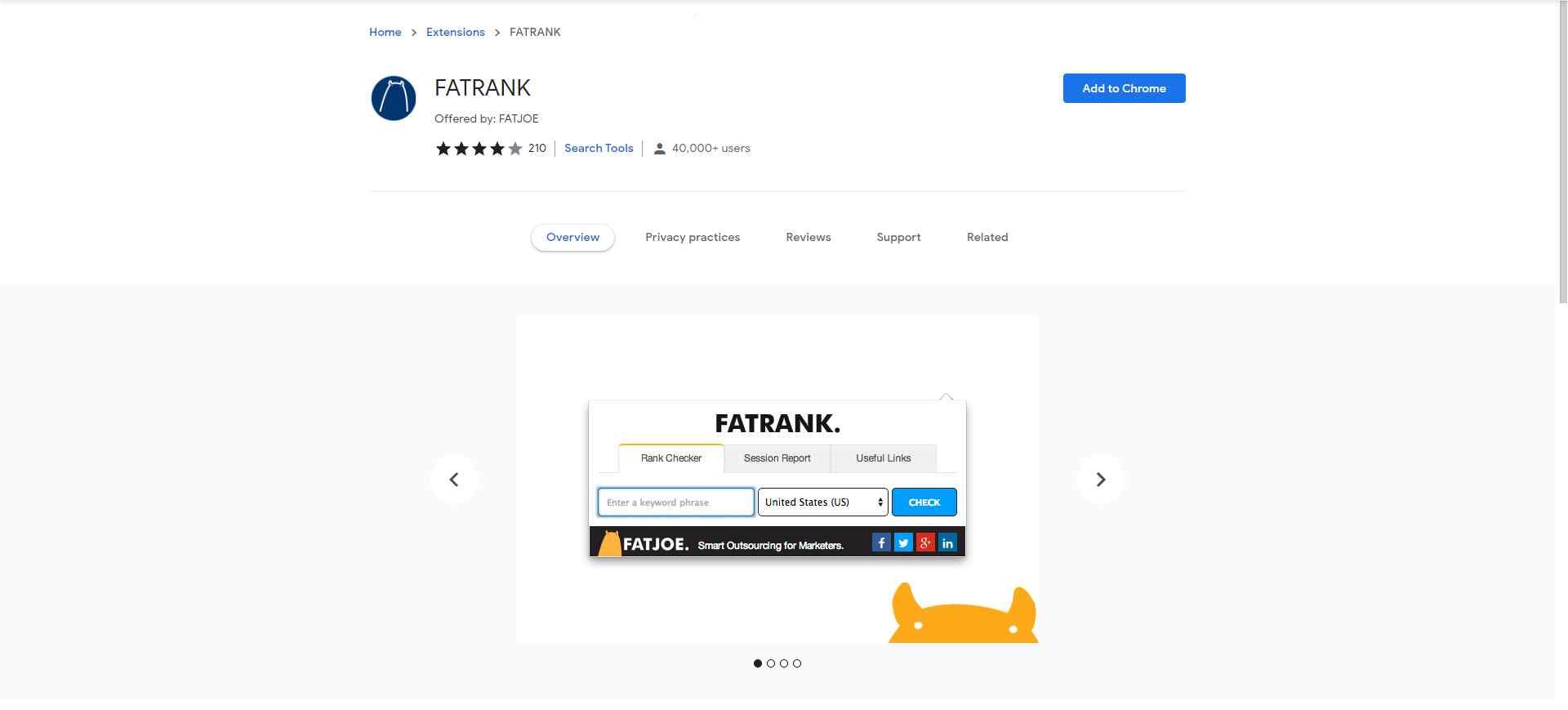 Alt: FatrankChromePage
FatRank is a browser extension that lets you track keyword rankings for any website.
The best thing about it is that it offers unlimited keyword searches and lets you add multiple sites for free. It also allows you to track your ranking based on geographic location.
The tool is pretty simple to use. Simply install the extension, go to the page you wish to analyze, click on the extension, and enter a keyword to see if the site ranks for it.
If it ranks in the top 100 results, Fatrank will let you know the exact position. If it doesn't, it will only tell you that you didn't rank in the top 100 by displaying a "Not Found" message.
All the data you gather through the extension is also saved in the "History" section, which can be downloaded as a CSV file for offline use.
Whatsmyserp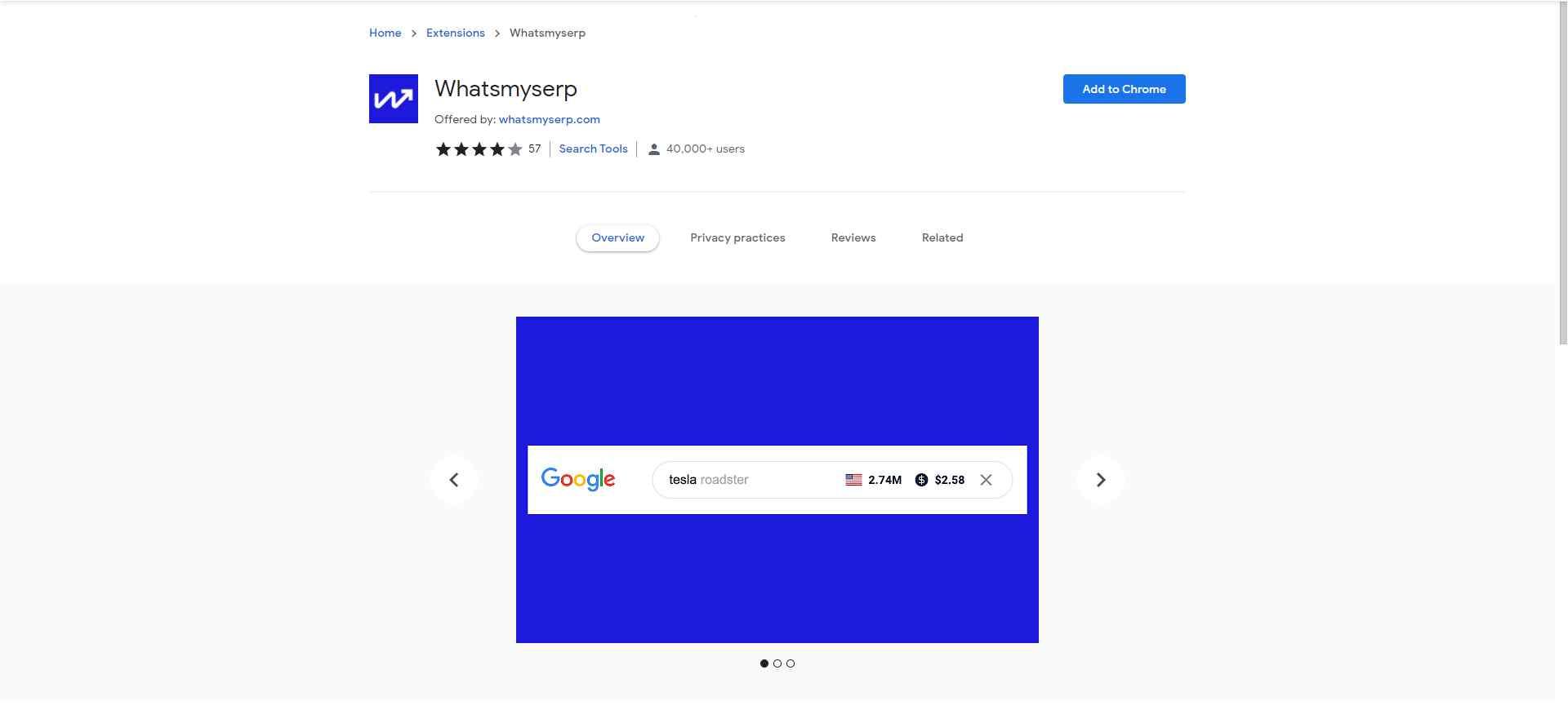 Alt: WhatsmyserpChromePage
The last SEO Chrome extension we're going to cover today is Whatsmyserp.
Whatsmyserp helps users accurately assess their global and regional SEO rankings in Google SERPs. It monitors your web page ranking by using a keyword ranking tracker.
What makes it such an excellent rank tracker is that it has an intuitive interface with advanced features but is still much more affordable than other alternatives. A Whatsmyserp premium subscription with extra features like all-time rank history costs only $5 per month.
Some of the benefits of using this extension include:
Unlimited on-demand checks
Desktop and mobile rank tracking
Rank tracking according to local regions
Keyword tracker auto-updates daily to ensure the data is accurate