No matter how hard we try to sugarcoat it, email outreach is hard.
The people you're pitching to don't have all the hours in the day to sift through each email. So, when you reach their inbox and ask for something, you need to get it right. Failure to do so could deem your outreach ineffective and time-wasting.
The truth is most email outreach sucks. In fact, we've provided some real examples from marketers who've been on the receiving end of bad outreach.
In this article, we'll break down each email example and provide some feedback on how the outreach person would have strengthened their email.
Give a clear offer
Don't make it all about you
Personalize your templates
Address the right person
Show your credentials
Perfect the subject line
Don't be pushy
1. Give a clear offer
While it might sound obvious that your outreach emails need to have a point, it's not uncommon for people to send an email that has no clear offer.
Take a look at this one received by Ganesh Mukundan, Content Marketing Specialist at Hiver:

The problem
"This marketing email is not only poorly written but quite abrupt," says Ganesh. "There is very little context on what this company does. The choice of words is also off. It starts with 'As I recall,… when in reality, this is the first email I've received from them."
The solution
Ganesh says that he'd fix this outreach email by setting the context right at the beginning and providing a clear and crisp introduction. He would include relevant data to strengthen his pitch, but most importantly, include at least one powerful success story along with a link to an article or video. This is where customer case studies come in handy.
But most of all, Ganesh says "make the tone conversational and more natural in your email outreach. Don't forget, a human is on the other side of that inbox."
2. Don't make it all about you
If you're avoiding sounding like a robot, be cautious. You can take personality to the extreme and make your email "me, me, me."
Take a look at this email outreach example and tell me your first impression: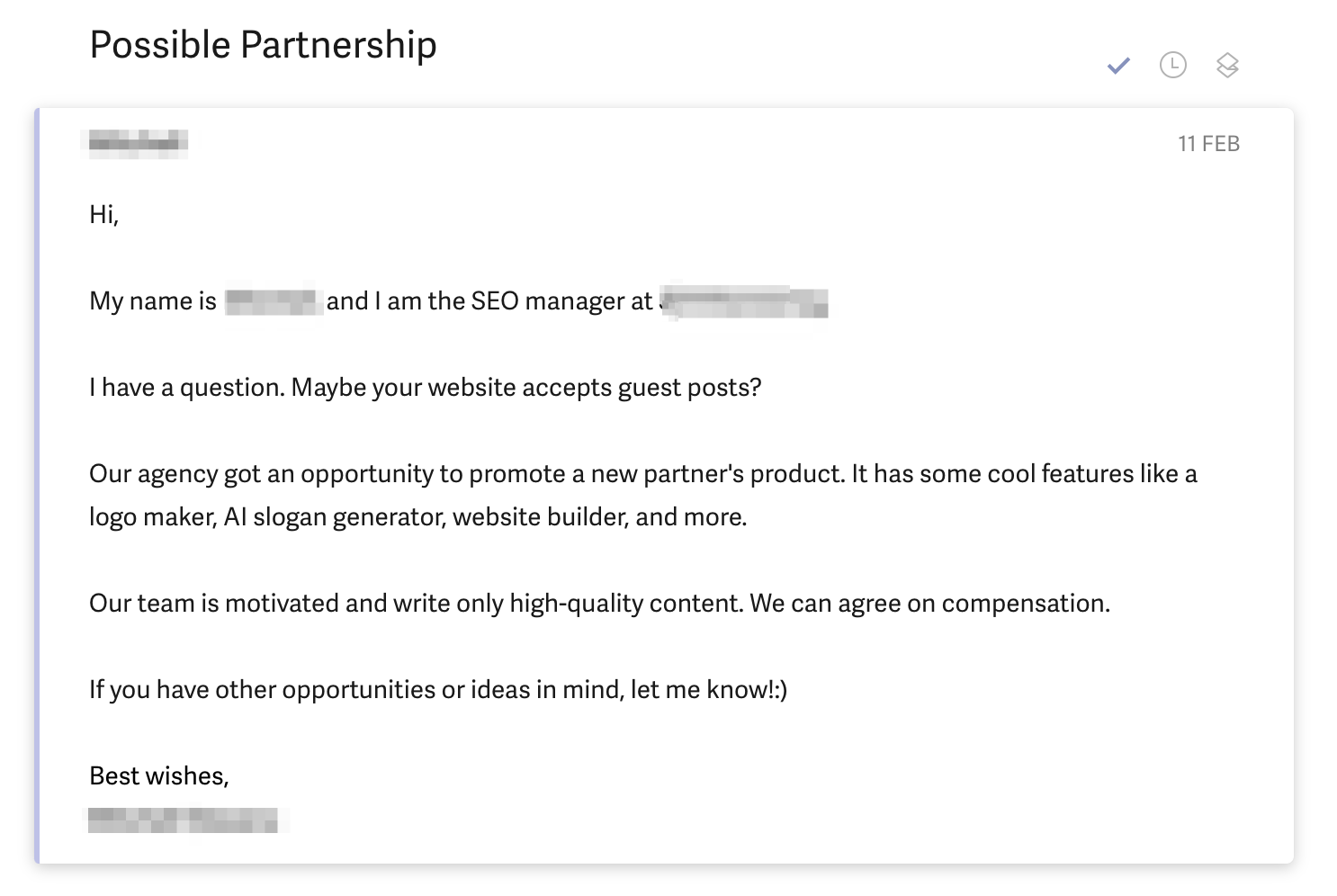 The problem
After reading this email, you're probably asking yourself, "what's in it for me?"
This link builder created an email that's all about their agency's product, their features, and their 'motivated team.' Nowhere in this email does it provide actual value for the recipient.
The solution
This one can be instantly improved by changing the positioning. Ditch the boasting about your agency's products and explain how the recipient would get the value. Will the content be shared with their network? Email list? SEO-optimized? Those benefits are much more appealing than a self-centered email blast that does nothing for the person receiving it.
In this case, it could help to use a warm-up email before really diving into the nitty-gritty of services. Warm-up emails are a simple but effective way to kick off relationship-building.
3. Personalize your templates
It's no secret that templatized outreach emails save time. But even the most effective templates still need to be personalized to provoke responses from the people you reach out to.
Laurentiu Bancu, Chief Marketing Officer at Paymo, shares an example they had recently: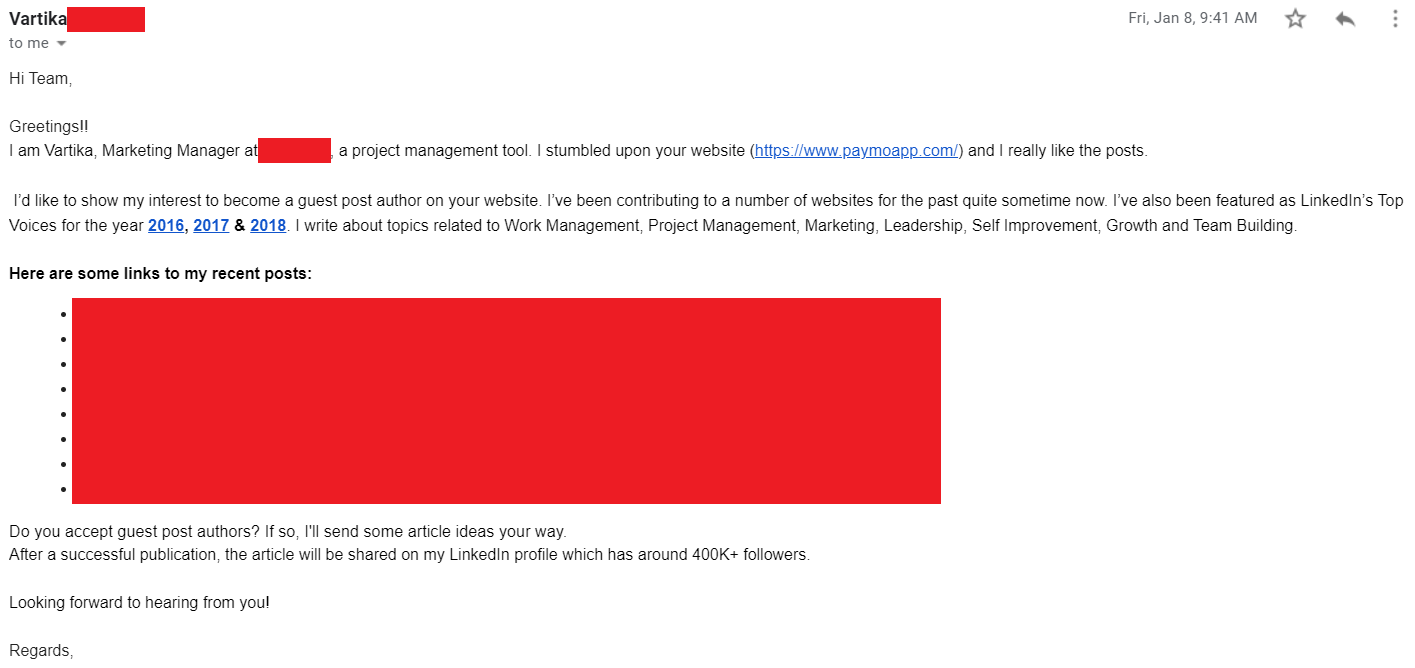 The problem
"This looks like the typical inoffensive outreach "cliche" email template, the one I ignore in 99% of cases," Laurentiu explains. "What bothers me the most though is when you send an email to a competitor without doing minimal research first."
Laurentiu continues: "I don't consider competitors enemies. In general, competition is good for everyone. But the fact that you didn't take five minutes to understand who you reached out to means you surely won't get a reply."
The solution
Laurentiu recommends to stop sending the same old email blasts and focus on personalization. "Sure you might get a few responses here and there, but it's not efficient," he said. "On top of that, it's spammy and unprofessional."
Again, if you're sending these emails, you need to consider why someone receiving it would care. "We don't have a "write for us" section anywhere on our website, and publishing articles just for the sake of it it's not part of our strategy," said Laurentiu. "So, what's your plan?"
Finally, telling someone you liked their article you "stumbled upon" is poor personalization. Talk about a specific part of the article that interests you. Did you like it enough to share it on social media? Did you link to it somewhere?
To flip the switch on this outreach email and make it response-worthy, Laurentiu has three bits of advice:
Do a basic 5-10 minutes of research and adapt your template accordingly (if you don't want to start from scratch each time)
What's in it for the person you reach out to? Again, you should be able to bring some value to the table.
Be sincere in your intentions.
4. Address the right person
Another obvious but easily overlooked tip is to address the right person at the right company when you're reaching out to them.
Below is an email I received about a backlink inquiry: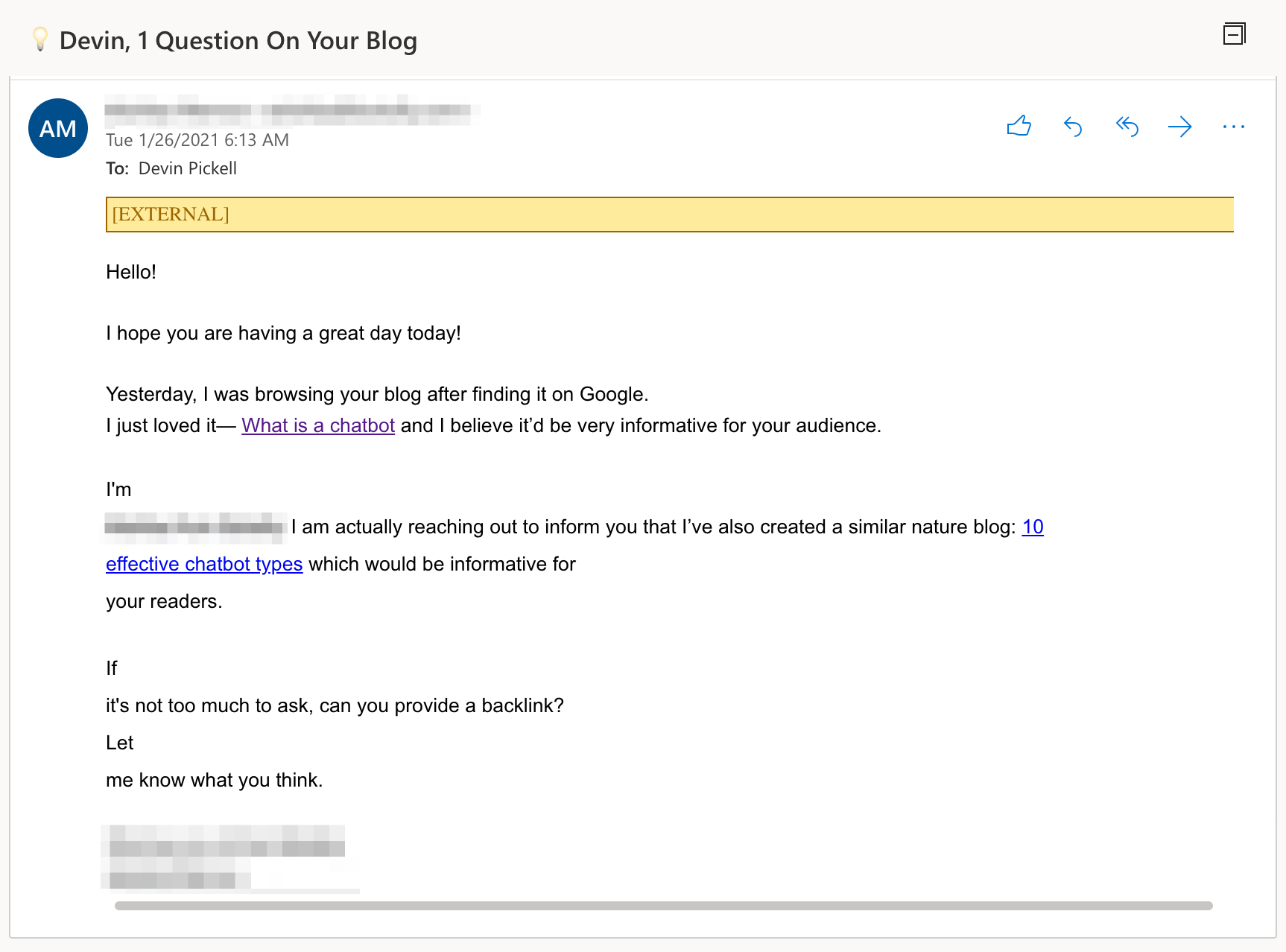 The problem
While there are a number of issues with this email, like "stumbling upon" the blog from Google and asking for a link straight up without providing any value, the biggest error is they addressed the wrong person.
They linked an article I wrote from a previous company of over 7 months. A quick look at my LinkedIn or Twitter would've shown that I've been at Nextiva since then.
This person followed up multiple times to address the backlink inquiry, which told me they were relying on an email scraping tool that still had me listed at my old company.
The solution
While automation and scraping tools save us a ton of time, you still need to check that you're reaching the right person's inbox. Blindly sending out emails this way can have a negative impact on future relationship-building and the brand you represent. Take a few minutes to confirm the information and tweak your copy for personalization. It'll do wonders.
5. Show your credentials
When you're pitching for a favor, it helps to show your credentials and how you can bring value to someone's website. This is especially true in marketing.
Take a look at this example received by Rebecca Reynoso, G2's Editorial Content Manager:

The problem
"The writer says they're a writer. Ok, cool. Where's your portfolio?" says Rebecca. "They don't include a link to their website or to writing samples. Red flag. Who's to prove they're a writer except for their word and their Gmail account?"
Rebecca says that while the writer lists their niches, G2's blog doesn't cover any of the topics. This means they're blindly pitching any site that'll respond, regardless of the types of content that the blog publishes.
"We're a SaaS business blog. Not lifestyle, travel, or food," said Rebecca. "Plus, they're reaching out to websites they "find relevant," yet again their supposed niches don't align with what our blog publishes. Another sign of a canned outreach attempt."
The solution
To make the outreach email better, Rebecca recommends including a portfolio link, links to relevant pieces of content, and your contact information – preferably LinkedIn, and offer references as an additional layer of proof over who you are.
"Make sure the blog you're pitching actually covers the niches you write about," she says. "You'll never get a tech blog that talks about 3D printers, the new Onewheel XR, and the latest in computer hardware to respond to you wanting to write about fashion trends."
6. Perfect the subject line
Ever heard the phrase, "you never get a second chance to make a first impression"?
The same applies to outreach emails. You only have a matter of seconds to convince the person to read the rest of your pitch.
Savan Kharod, Growth Marketer at Acquire.io, shares an example of how an unclear subject line can set the wrong expectations for an email: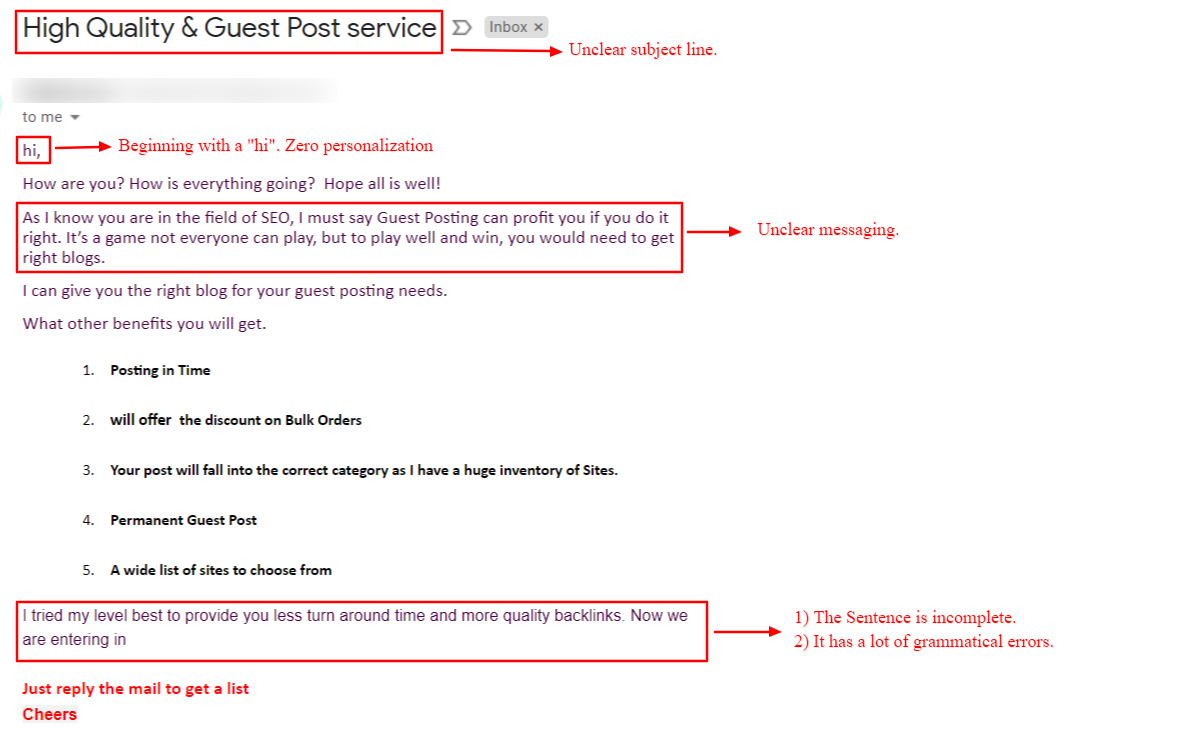 The problem
Before you open up any email, the first thing you read is the subject line. When the subject line is unclear, it sets the wrong expectation going forward for the rest of the email.
"Once you open up any email, the first thing you notice is the introduction; Who is that person? Why has he/she emailed me? And that's clearly missing in this one," says Savan. "Also, the conclusion paragraph is incomplete. It begins with something else and ends up at something else. "Now we are entering in", entering in where? Be specific and be clear."
The solution
To fix this outreach email, Savan recommends writing a clear and convincing subject line. Something that entices the reader to open it.
"Start with a personalized opening," he says. "It's annoying when you open up an email and don't know who the person is. Open up your email with a brief introduction about who you are and why are you reaching out to them."
3 Email subject line tips
Every great email starts with a subject line with a high open-rate. To get more clicks on your emails, try some of these email subject line tips:
Use the recipient's name: Personalize from the beginning and show the recipient you meant to reach their inbox.
Try using emoji: Mix things up and stand out in someone's inbox using an emoji. This could yield higher open-rates, but be careful when using this tactic with higher-level decision-makers, like C-Suite.
Add a video: This could be especially useful if you're in sales or marketing. Use a screen recording of yourself auditing the recipient's website or blog. This added layer of personalization could help you book your next meeting.
7. Don't be pushy
It's one thing to be assertive and straightforward in your email. In fact, it's best to keep things short and sweet considering how many emails people receive every day. But there's a fine line between assertive and pushy. Telling someone you "need" something from them is a great way to turn off the recipient. The example below comes from Elise Dopson, a B2B SaaS writer: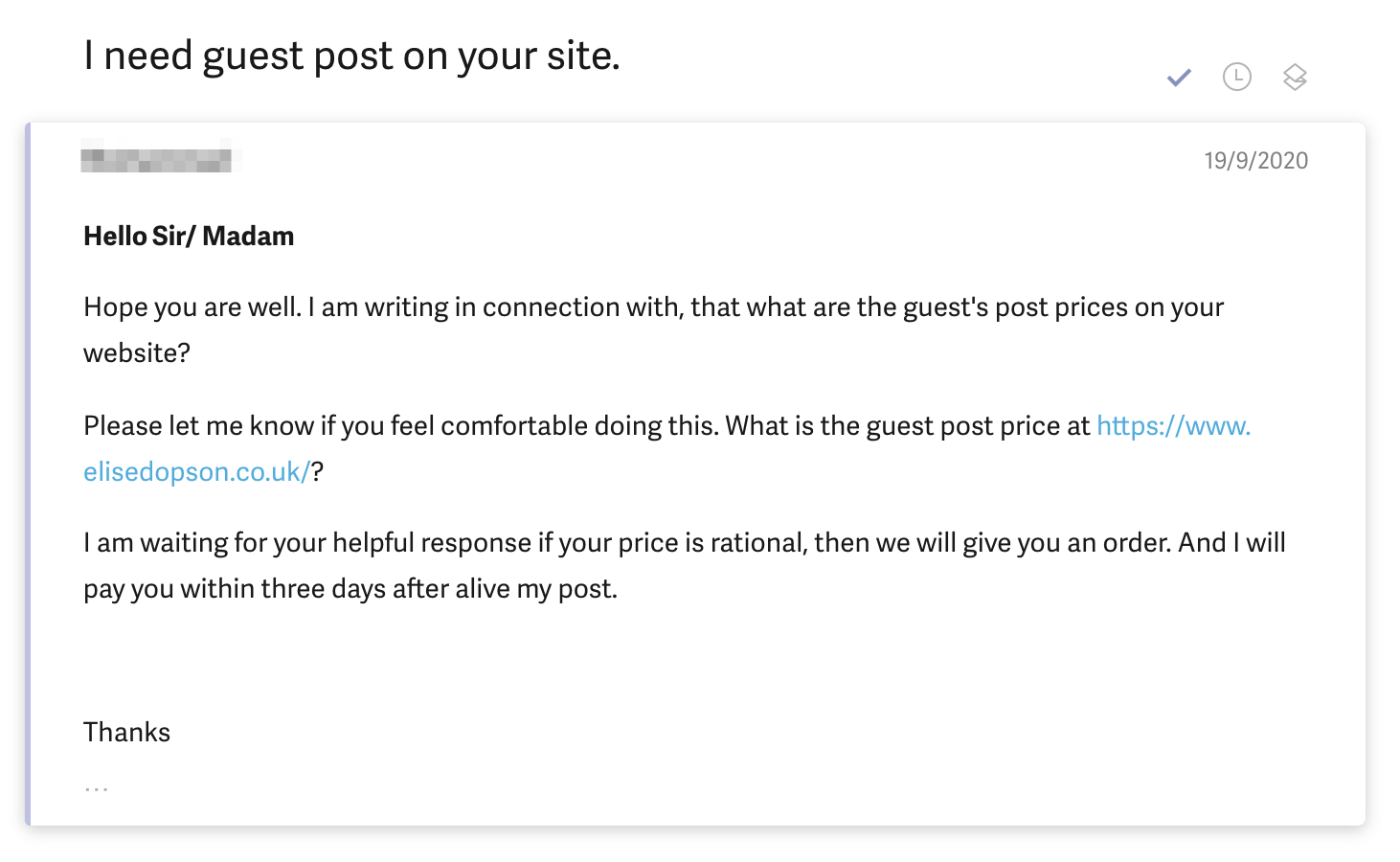 The problem
The tone of the email sounds aggressive. They completely bypass any conversation about whether you want their contribution and skip straight into money talk. By that point, they say they'll only "give you an order" if the "price is rational."
This email also breaks some golden rules of email etiquette, like referring to the person as "sir or madam." We're all professionals here. Use the person's name.
The solution
"It'll take a lot of work to fix this bad outreach email," says Elise. "But having good manners, and not being pushy with your pitch, will make a remarkable difference."
It's time to craft better outreach emails
The world is full of bad outreach emails. The good news is that you don't need to do anything groundbreaking to stand out from the crowd, as seen from our examples in this article.
Make sure to give a clear offer, personalize your message, and show your credentials. Remember, you're convincing the person reading your email to do something for you. Be polite in your ask, and highlight the value you're giving to them.
Using these simple tips will not only yield you better open and response rates, but you'll have more authentic and productive conversations in your inbox.