We've curated a list of the eleven top-notch reverse email lookup tools on the market in 2023.
Since each tool has its strengths and limitations, not all of them may suit your requirements entirely.
All of these differ in:
Functionality
Type of email lookup service
Pricing
Ease of use
However, by reading this article, you can find a tool that best suits your needs. Our comprehensive review covers the unique features, pricing, freemium options, database size, and accuracy of each tool.
Let's dive right in and explore these powerful tools in
Jump to Sections
If you want an option perfect for verifying the validity of someone's email, use Voila Norbert's email verification tool. It will scan your sender's email and give you any additional contact information. You can try our verification feature for as low as $0.001/email.
What is a Reverse Email Lookup?
Receiving emails from anonymous senders is common these days.
It might be your future business partner, your next best employee, a long-lost relative, and in the worst case, a scammer.
The person's name or email isn't enough to know their true identity. Plus, it's not wise to ask who they are.
What if it turns out to be a long-lost relative? Of course, she won't be happy because you forgot about her.
In short, it could be anyone.
In such a case, you need a reverse email lookup to dig into the sender's email.
The perfect tool can extract the senders' public and private information available on the web. These include the phone number, home address, social media profiles, place of work, and job title.
Why do I need a Reverse Email Lookup Tool?
A reverse email lookup tool reveals more information about an email sender. But that's just the tip of the iceberg.
The service it offers brings the following solutions.
Reconnect with a friend or relative
It's possible to lose contact with a friend or relative. But if you remember their emails, you have a better chance of reconnecting with them.
A reverse email lookup tool will scan their emails and extract some promising information.
These include their current phone number, home address, or even their current names. (People get married and change their surnames).
Protect Yourself from Scammers and Hackers
On average, an email user receives 16 suspicious emails every month. Reports also show that malicious email detection increased by 9% between Q2 and Q3 in 2020.
It calls for more care whenever you receive an unknown email with a suspicious message. Don't click on any link or download any attachment from the email.
Instead, run the email on a reverse email lookup. The tool will show if the person behind the email is legitimate or a scammer
Verify Recruits and Business Partners
78% of job seekers misrepresent themselves on job applications.
If you're a company with a foundation in integrity and want the right person for the job, you must include email lookup tools as part of your hiring arsenal.
The tools help you to know if a candidate is truthful about their professional experience.
Also, you can use an email lookup to check for more information about potential business partners.
Some tools can even reveal an individual's bankruptcy status. This protects you from getting into business with dirty partners.
Online Purchases
While 80% of USA adults make at least one purchase online, a few of them end up in the hands of scammers.
So when you plan to buy something online but are suspicious of the seller, you can use a reverse email lookup to find more information about them.
You'll get to know if the seller is connected to any deceit or frauds in the past.
What is Reverse email Lookup used for?
As hinted in the above section, a reverse email lookup tool finds the identity and information of people by using their email addresses.
Most tools also double up as people lookups – searching by name, and phone lookups – searching by phone number.
For marketing purposes, the tools come in handy when you want to check your leads' emails. You don't want to hurt your Gmail send score by continually sending emails to the wrong addresses.
Top 11 Reverse Email Lookup Options
Voila Norbert
Voila Norbert is the most popular email finder serving thousands of professionals every month.
While its primary duty is finding emails from the web, its email verification tool functions like a full-suite email lookup tool.
The idea behind the feature is simple.
Voila Norbert doesn't want you to send emails to invalid email addresses.
You already know that doing this multiple times lowers your sender score… And soon enough, you'll be trapped by spam filters or get blacklisted by Gmail police.
Norbert has verified over 1 billion emails and prevented over 270 million bounces, The best part? Our email verifier records a 98% deliverability rate.
That said, here are things that happen during the email verification process:
Syntax validation – Norbert will remove invalid email formats. Only the good ones pass through.
Email deduplication – Norberts wipes away any duplicate emails to avoid sending emails to the same person twice.
Domain Verification – It will remove all the emails addresses that have inactive and invalid domain addresses.
How Norbert's Email Verifier Works.
Step one: Upload or copy-paste your list with dirty emails into Norbert's system.
Step two: Sit back and grab a cup of joe while Norbert works his magic.
Step three: Download your list, all clean and ready for your next email campaign.
Simple as that.
One more thing, though.
We added new robust functionality to our email verification tool. You can now call Norbert through the API.
In a nutshell, this means that you can integrate Norbert's Verify API for real-time email verification in your products and databases.
Voila Norbert Pricing
Voila Norbert is one of the most economical email finder tools.
Its email verifier tool, also doubling as an email lookup, is quite affordable. To verify up to 500k emails, you will pay $150, approximately $0.003/email.
If you have an extensive list above the number, the price goes down to $0.001/email.
Take us out for a spin now to see how it works.
2. Cocofinder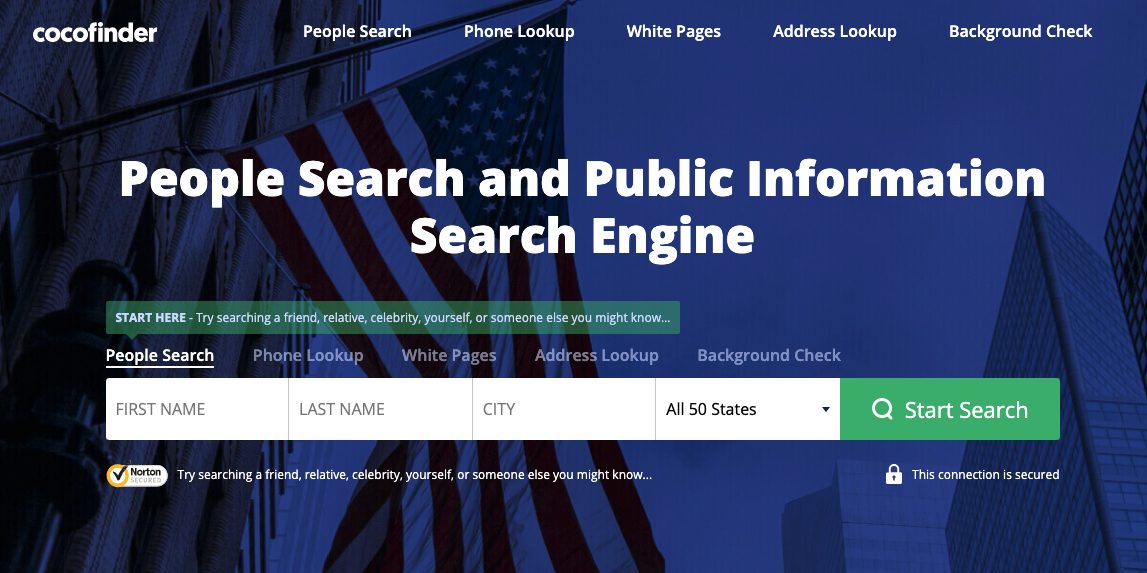 Cocofinder is a massive name in the industry.
Its database is filled with billions of entries, hence impossible to miss out on anyone's information in the USA.
One thing about Cocofinder is that it's very rigorous on how it operates. A simple search goes beyond your expectation.
It can extract meaningful information like photos, criminal history, property holding, and even relatives.
So how is this possible?
Cocofinder gives you six available lookup options. These include:
Email lookup
People search
White pages
Background checks
Address lookup
Phone lookup
And since the tool is very robust, it's become a reliable lead generation tool for businesses looking to fill their sales pipeline.
This is possible, thanks to the accurate data resources which are similar to the ones the USA Government uses.
Cocofinder Pricing
Cocofinder doesn't have a definite pricing plan on its website.
But they've mentioned that basic features like phone search are available for free. Reach out to them for complete pricing.
Note that the more data you'll need, the more you'll pay.
3. TruthFinder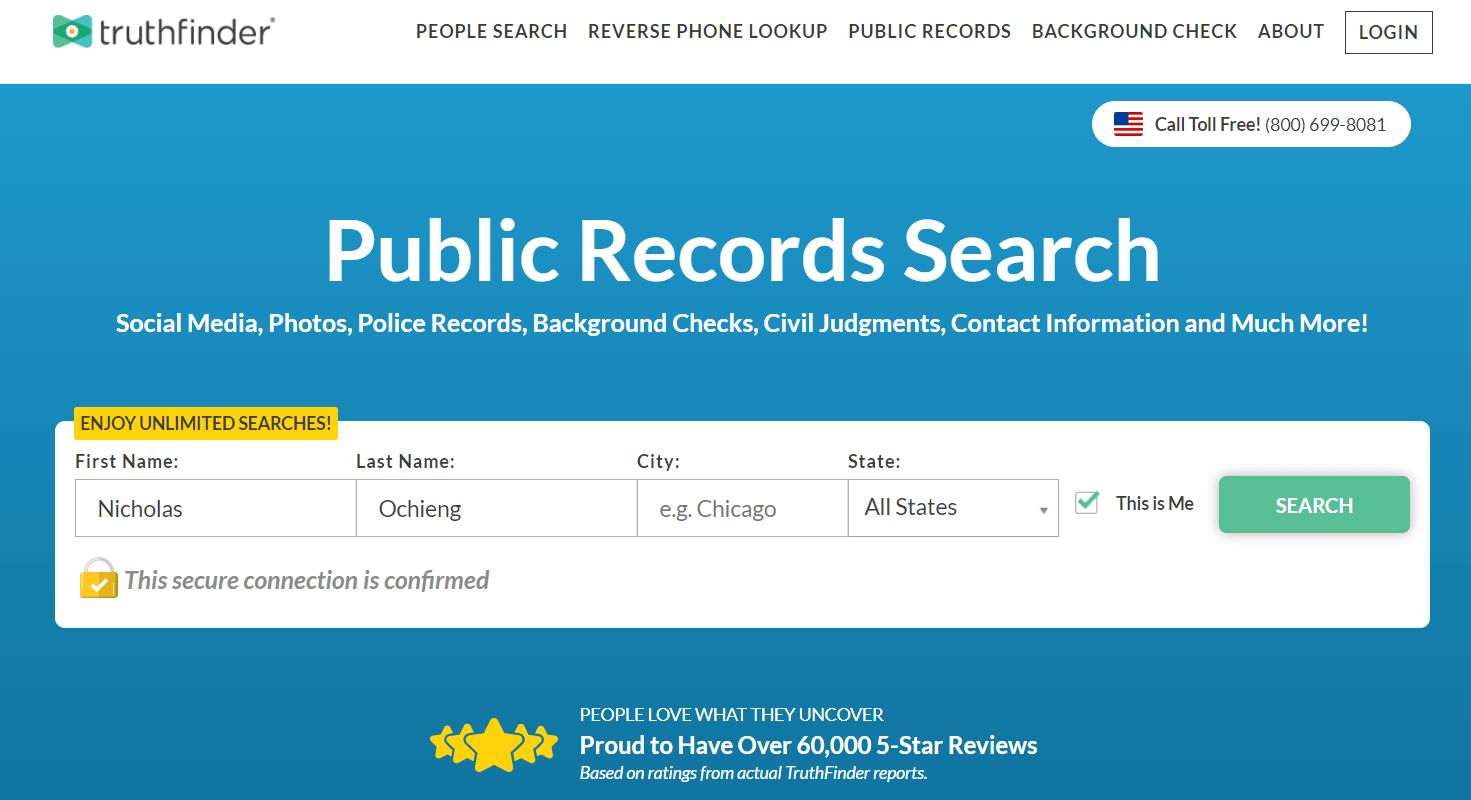 Truthfinder has massive data spanning 150 million records in its database.
Most of its competitors only rely on public records and social media. Truthfinder leverages that weakness to stay on top of the competition by sourcing data from multiple resources.
It goes deeper even to check state records, deep web information, and federal records.
And since TruthFinder is versatile, it gives you a wide range of different background checks. Unlike most email lookup tools, you don't have to put in a lot of information.
Furthermore, it offers different lookup options like Cocofinder above. These include people search, email search, reverse phone lookup, and public records search.
Whatever lookup option you choose, the tool can give you information like white pages, social media profiles, current home address, court records, and address history.
Finally, it claims to have data from 85% of all the adults in the USA. So, if you're looking for a tool that will record little to no misses, Truthfinder is a reliable option.
TruthFinder Pricing

Truthfinder membership fees are reasonably priced.
You can get started or as low as $30/month. You'll pay $26/month if you choose the 3-month subscription.
4. ClearBit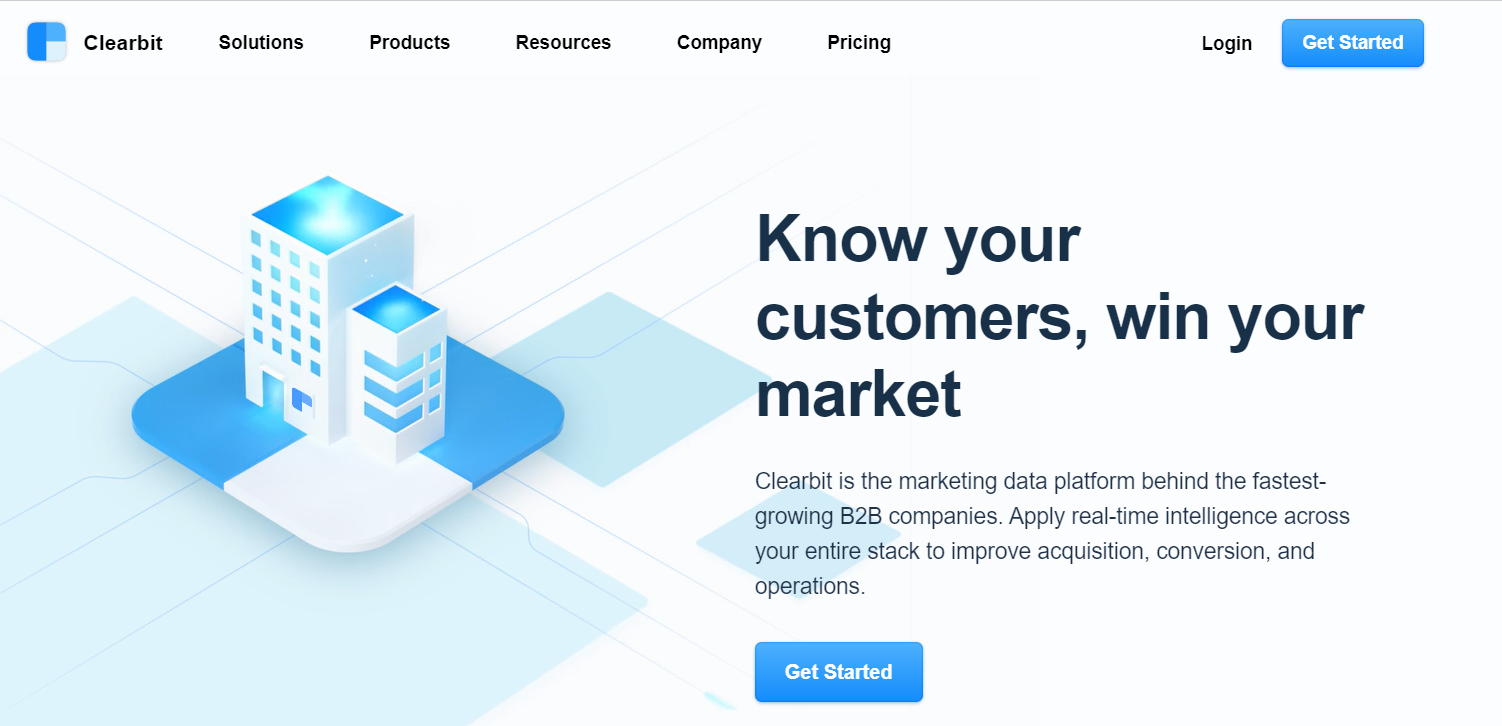 Clearbit wears all hats.
On the one hand, it's an advertising tool and, on the other hand, an email enrichment tool.
Though it has spread itself too thin, it is still well-groomed for reverse email lookup. This is possible, thanks to the enrichment feature.
And unlike other lookup tools that have numerous lookup options, Clearbit is only centered on email lookup.
In short, you only need an email to get every conceivable register out there. These include workplace, home address, bio, role in their companies, and physical location.
You should note that Clearbit is mainly built for the B2B audience; hence, it's not reliable if you want it for personal use.
The email you search should be a customized email with a domain name as the "prefix." Personal emails with an "@gmail.com" can't work here.
This is a big downside for anybody who wants to search suspicious emails from anonymous senders.
Clearbit Pricing
Clearbit's pricing is based on the type of product you want to purchase. You have to choose the "enrichment" product to get detailed pricing.
They haven't put the actual numbers on their websites. Reach out to them.
5. BeenVerified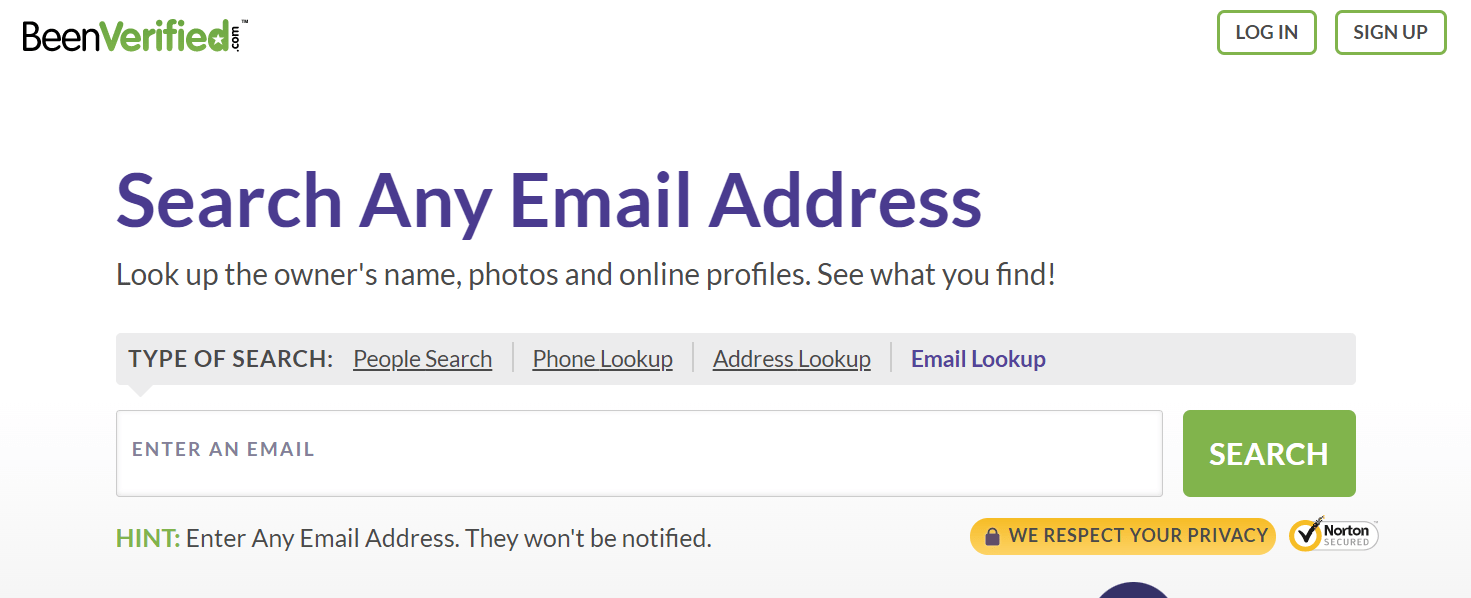 BeenVerified is another email lookup tool with a vast customer base.
It's feature-rich, hence able to extract information faster. The best part? BeenVerified is so rigorous in searching information that they even get down to the person's vehicle. They're that serious.
Here's a brief breakdown of how BeenVerified works.
The first thing to do is enter the person's email address on BeenVerified's magic search box. Make sure you've chosen the email lookup option.
It will instantly give you back all the information you need, talk of social media profiles, contact information, education, jobs, and employer information.
As you can see, it's easy to use, 100% secure, and very affordable.
You'll also love the anonymous feature, which lets you do your thing in privacy. It won't confirm your address to a third-party company.
BeenVerified Pricing
Like all the other email lookup tools, BeenVerified hasn't displayed its pricing on its website. You can have a trial for one dollar, though.
As we researched, we found that it has two pricing plans based on the type of information you need.
You can purchase a three-month subscription that goes for $17.48/month for that period. For a month's usage only, you'll pay $26.86.
6. Social Catfish
You can't believe what an anonymous email sender says.
The goal of social catfish is to scrape through a sender's email address and get to know the real person behind the email.
At the moment, it has run 17 million reports for 200,000 customers. Out of these, 160,000 customers gave them 5-star reviews. If you weren't sure of a reliable tool, Social Catfish is something to consider.
To use it, register and choose a plan based on your needs. Put the email on the search bar and click "search." Wait for a few minutes to get back your results.
You'll notice how it's easy to navigate through the tool and run your reverse email lookup. As a result, locating lost connections is far much quicker.
What's interesting is that social catfish even uses someone's picture to help you rekindle your relationship.
Finally, you can use it to double-check the information given by someone. This comes in handy when you want to confirm if a recruiter or prospect has given you the correct information.
Social Catfish Pricing
The tool gives you two pricing plans.
You can pay $5.75 and use it for five days. The monthly pricing goes for $27.45.
7. Instant Checkmate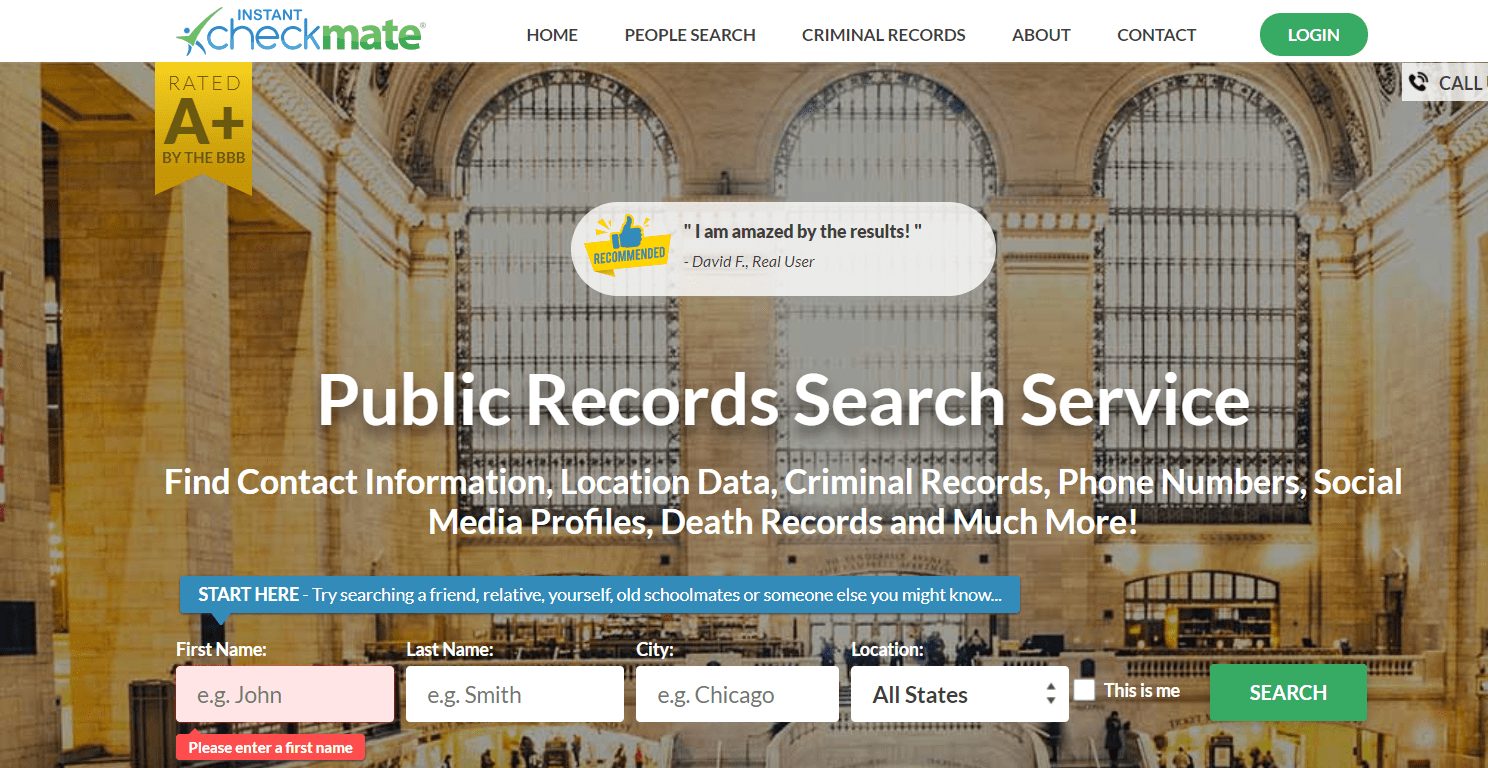 Instant checkmate is groomed to extract anyone's information using email, phone number, and names.
A single reverse email lookup shows you photos, previous jobs, possible home addresses, social media profiles, and Gravatar profiles.
And like most tools, Instant checkmate offers multiple lookup options, including phone number, location, and name.
This is just to make sure you exhaust all options and find all the available information out there.
We can't fail to mention the tool's accuracy power. It scours data from specialized sources, meaning you have fewer chances of missing the information you're looking for.
If that is not enough, it also has 70,000 five-star reviews users. Therefore, it's a wise choice if you're more into reliability than speed.
Instant Checkmate Pricing
You can start using the tool by paying $2 for five days.
Once you've had some experience, you can purchase a monthly subscription that goes for $35. It also offers a three-month subscription at $28 per month.
8. Pipl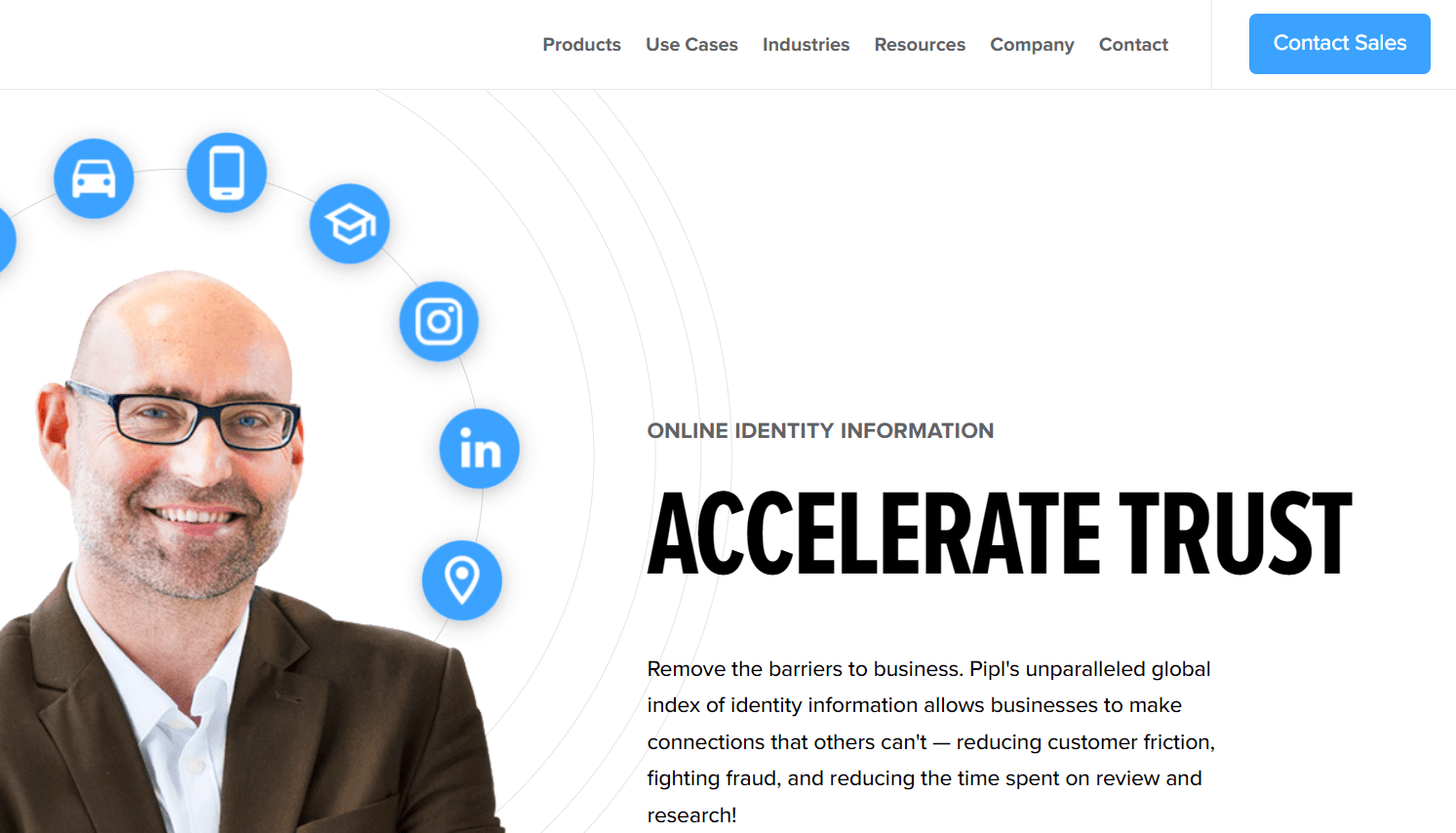 Pipl is a great email lookup tool.
Having over 100 billion identifiers, 3 billion identities across 150 countries is something to be proud of. It also has a massive portfolio of customers including big shots like Google, Microsoft, and BBC.
And it's clear to see why the tool is a big deal. It offers three solutions as follows:
Verify: The feature comes in handy when you want to protect your e-commerce transactions. Pipl will check and identify any suspicious and complex transactions.
Investigation: This is where you'll find the email lookup tool. It can use a sender's email, name, and mobile phone number to identify the person behind a message. This resolves cases quickly even when you have the thinnest and ambiguous information.
Contact enrichment: Pipl is armed to help you connect with personal, business, and demographic information. It's a good start in building relationships that can turn into profitable ventures in the long run.
While Pipl has all the things you might be looking for in an email lookup tool, you have to be careful about how you put your information into the search box.
It's not effective even with the slightest error.
Furthermore, you have to enter the country code manually. Unfortunately, this is not good for the user experience.
Pipl Pricing
Pipl's pricing is in two models.
One is the Pipl AP which costs $0.10/match. The plan is ideal for searching contacts by name, email, address, and phone landlines.
The other plan is called Pipl search, which costs $298/month but is billed annually. The price decrease if you purchase it as a team of between 5 and ten people.
9. Spytox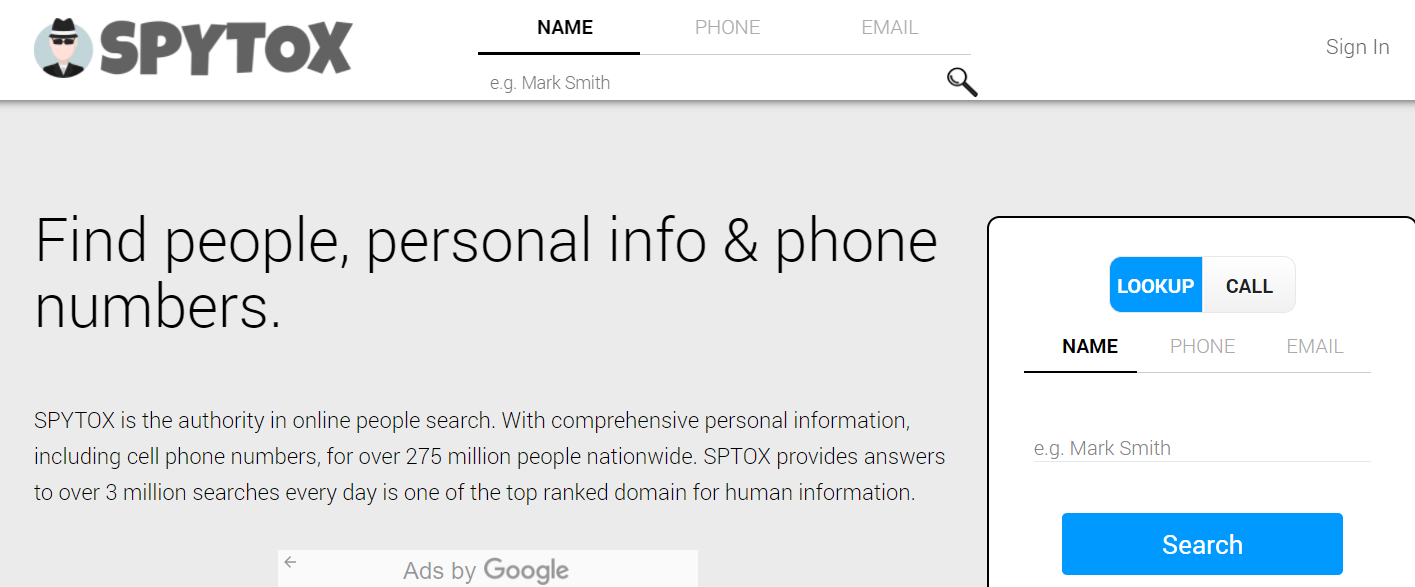 For most people, email lookup isn't something they give much attention. They might only use it when they receive the occasional suspicious emails…
Like those emails from "soldiers" claiming to have found a million dollars while fighting the Taliban in Afghanistan.
For this reason, you won't need a paid tool since you do reverse email lookups once in a while. If you're in such a position, you need a tool like Spytox.
Why so? It's an entirely free email lookup tool that is rare to find.
Spytox is simple and gives you basic email lookup features. You can search your prospects by name and phone number.
On the downside (yeah, you should've expected that) Spytox tool is not 100% accurate.
You will occasionally get mixed results. So, don't depend on it if you want a tool for extensive risk management.
Sure, it's suitable for manual review and daily ad-hoc searches. But have another option on the side if you need a more robust tool with a vast database.
Spytox Pricing
As mentioned above, the tool is entirely free.
10. PeopleFinders

PeopleFinders is one of the most straightforward email lookup tools to use.
And with access to 45 billion records of 250 million American adults, it's a sure bet when you need accurate data.
PeopleFinder is not like other email lookup tools that only focus on getting the sender's mobile phone numbers, home addresses, and social media profiles.
It further extracts more private information like criminal history, court records, bankruptcies, and property records. This information helps you to know who you can trust and who you can't.
As a result, it becomes a viable tool to vet online sellers, business partners, and even neighbors.
To use PeopleFinders, all you need is the email sender's first and last name, city, and state. For email lookup, you just need the sender's email.
Enter this data on the tool's search bar and run it. It takes a few minutes before it sends back all the information you need.
PeopleFinders Pricing
The tool offers several pricing options to suit any user.
The pricing is based on two models: the search report, which gives you basic information like contact information.
The second model is the background report that gives you more information like property, court records, and criminal history.
The search report goes for $1.95, and the background costs $9.95 per search.
If that's not enough for you, you can opt for the subscription plan going for $24.95 per month and unlimited search reports.
For unlimited monthly background reports, you'll pay $29.95.
11. Intellius

The last tool on this list is Intellius, a company founded in 2003 and has continued to help users uncover people behind emails.
They boast that they're the leading provider of public data about people and their connections. While this is not confirmed yet, we can agree on one thing the tool does exceptionally well.
That's the technology behind its operations.
Intellius uses a spidery graph that connects people in one detailed report. This means that one search can give you information about different people connected to your primary search.
In addition, the tool has access to over 20 billion records, meaning you're unlikely to get false information about any prospect.
That said, the tool comes in handy when you want to reconnect with old friends, check someone's criminal history, look up potential relationships, review property data, and more.
Intellius Pricing
Intellius is one of the most expensive tools we have on this list.
Plus is has tiered pricing plans spanning seven options. These include people search, email lookup, social network search, background check, and more.
In this guide, we'll only talk about email lookup pricing and people search. Visit their website to get a complete pricing breakdown.
For a single email search, you'll pay a whopping $6.95. But you get all the information you need like phone number, full name, known relatives, place of birth, and social media profiles.
The people search is less expensive as it only costs you $1. The turnaround time for both inquiries is around 3-5 minutes.