Spending time and resources to craft an email marketing campaign only to end up with a low open rate can be incredibly frustrating. However, it's a reality of cold email outreach. Are you aware of different types of trigger words you should be using in your emails?
While there's no magic formula to ensure that all your emails get opened, it's been shown that subject lines matter a lot – in fact, around 69% of emails are marked as spam based on just the subject line.
Subject lines are the recipient's first impression of your email, and by writing them effectively, you can entice the reader to click through to your content and improve your email open rates.
One way to do so is to leverage trigger words. In this article, we'll cover what trigger words are, why they work, and how you can use them in your email subject lines.
Let's dig in.
What Are Trigger Words?
Trigger words – also called power words – are words used to evoke, or trigger, emotional reactions in readers and are often used by marketers to push users to carry out a specific action.
The theory behind these words and why they work is based on affective science – the study of emotion and affect. The nuances of affective science are beyond the scope of this article, but the image below will help you to get a basic understanding of human emotions.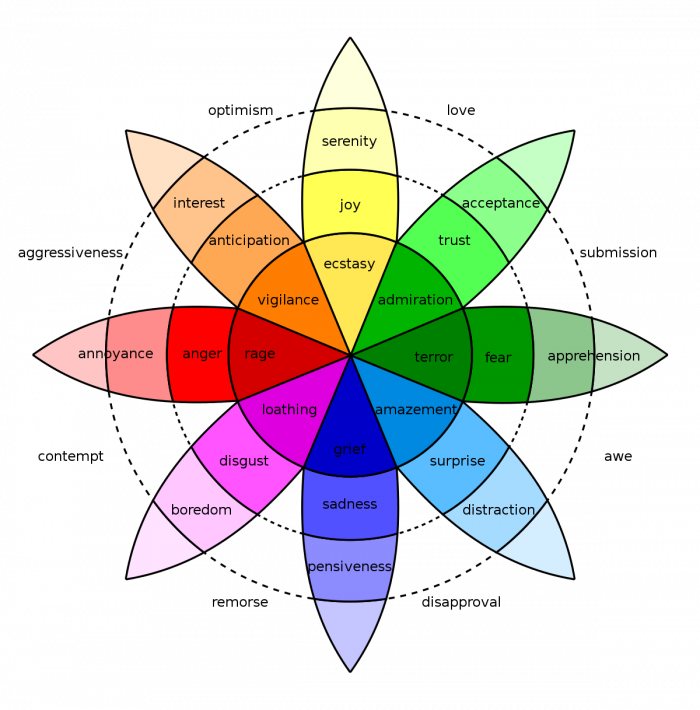 Created by Robert Plutchik in 1980, this image is known as Plutchik's wheel of emotions. It seeks to break down human emotions into eight distinct categories and explain how they connect to and overlap with each other.
The main categories are as follows:
Anticipation
Joy
Trust
Fear
Surprise
Sadness
Disgust
Anger
While humans tend to think that they control their decisions through logic and clear thinking, that's not usually the case. We're an emotional species and aren't as in control of our decision-making as we might like to think.
We react emotionally to many things around us, including marketing. With some simple tweaks to your subject lines, you can use this knowledge to drastically improve your email open rates.
Why Should You Use Trigger Words in Your Email Campaigns?
Everyone wants more clicks from their email marketing campaigns. By utilizing these words in your email subject lines, you encourage the recipient to click through to the content you've sent them.
But you don't need to stop at your subject lines. Trigger words can be used throughout your email marketing. You can use them in your headlines and your subheadings. You can use them in any CTAs that you include in your emails. You can also subtly introduce them into any images that you have in the email.
Trigger words can be used almost anywhere. And when used well, they will help you increase your email open rates and improve conversions.
Now that we've covered what trigger words are, here are some examples of different types of trigger words along with sample email subject lines to help you increase your email open rates.
Trigger Word Examples
Top Trigger Words
Surprise Trigger Words
Jaw-dropping
Mesmerizing
Mind-blowing
Remarkable
Breath-taking
Astonishing
Spectacular
Anticipation Trigger Words
Mysterious
Little-known
Forgotten
Impatience Trigger Words
Now
Easy
Today
Instant
Right Now
Fast
Excitement Trigger Words
Amazing
Vibrant
Blissful
Delightful
Terrific
Trust Trigger Words
Foolproof
Surefire
Research-backed
Trustworthy
Facts
Guaranteed
Absolutely
Proven
Fear Trigger Words
Sabotage
Fail
Banned
Helpless
Personal Trigger Words
Yes
You
Before you forget
Reclaim
Empower
Overcome
How
Tired
Exclusivity Trigger Words
Elite
Insider
Unlock
Limited
Secret
Trigger words from this category work because they make your email recipients feel like they're being let in
Example Subject Lines
In order to show these words in action, here are five examples of email subject lines that you can use as inspiration in your own email campaigns:
"These Mind-Blowing Email Subject Line Tips Will Improve Your Conversions Today."
"Want to Know the Secrets Behind Crafting Great Email Subject Lines? Here Are 50 Free Tips."
"65 Surefire Ways to Improve Your Email Marketing Click-Through Rate by at Least 50%."
"Want to Know How to Craft Great Email Subject Lines? These Little-Known Tips Will Help You Get More from Your Marketing."
"25 Research-Backed Tips That Will Improve Your Email Open Rates Today."
Additional Reading: How Do Spam Filters Work? 100+ Spam Trigger Words to Avoid
Best Practices for Using Trigger Words
When including trigger words in your email subject, try to match them to your customers' pain points. Ask questions that they might be asking themselves, such as: Why do I need this? Will this help me in my day-to-day life?
Focus on igniting curiosity – the trigger words that you use need to sell the idea of what's on the other side of that click. Don't make any empty promise and make sure you're offering value.
Most importantly, always test your subject lines and iterate accordingly. As with anything in email marketing, the ability to test is crucial to your success. Try variations with different trigger words and see what your audience reacts to, then take those learnings and test again.
The more testing you do, the more effective your subject line will become, and you'll see higher open rates as a result.
Not all trigger words will be suitable for your email subject lines, but with some careful thought and consideration, as well as a bit of testing, you'll be able to nail down the best words to use to reach your audience and achieve your desired results.