If you want emails to convert, you can't rely on copying what everybody else does
We all know there are thousands of companies online writing blog posts, trying email templates, and A/B testing subject headers to within an inch of their lives. Yet writing an email that sells your product or service takes more than an email template.
There are three different approaches to writing emails you can use to convert customers more organically:
Storytelling: Because humans react to stories, legends, and histories
Emotional appeal: Because impulse purchases and heartwarming advertisements still work on customers
Customers to write to customers: Because referrals are powerful. Who better understands customers than each other?
In this piece, we're going to take an in-depth look into how these alternative approaches to email marketing can result in more customers for your business.
Let's get converting!
Approach 1: Storytelling
We all know people react to stories. Whether it be in a picture book or a story Apple is telling about their latest product, stories can help people envision themselves in a scenario.
Let's think about storytelling from a brand's perspective for a second. Think about sneaker brands Adidas and Nike. They're both well known across the world, yet when Adidas released a Yeezy sneaker, it became significantly more popular than Nike's Air Jordans.
But why?
They are both endorsed by famous household names. Yet Yeezy sneakers are released in limited numbers, which builds hype and helps them sell out in minutes. This scarcity allows the Yeezy brand to create the perfect stories through advertisements that leave a desire to purchase a pair of its sneakers.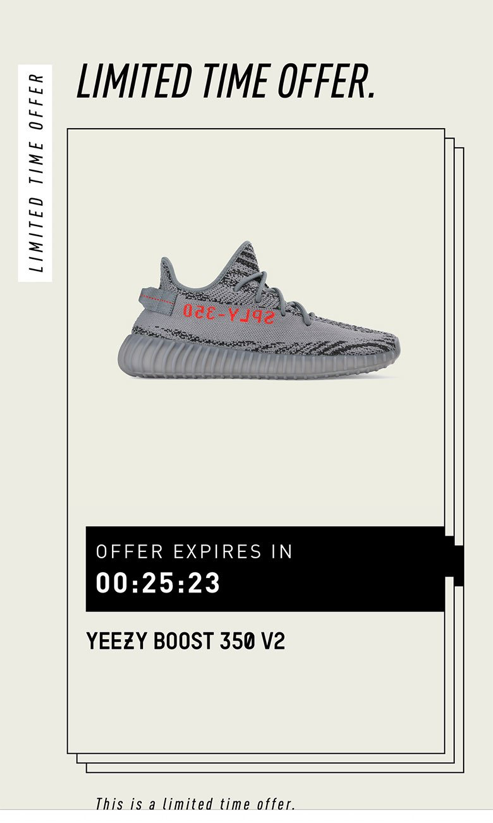 Yeezy Sneakers advertised as a limited time offer by Adidas. Limiting the number of sneakers produced allows the brand to create scarcity and excitement around the product. Image Source
The reason this particular example is worth mentioning is that its part of a larger storytelling dynamic. People are purchasing more than a Yeezy sneaker; they're investing in the story behind the shoe. And there's no escaping that consumers want to be part of a story. Up to 92% of consumers want brands to build marketing materials and advertising campaigns that feel like stories.
If you are aware of storytelling formulas, it's easier to use them in your email campaigns. There are three main powerful storytelling formulas:
The Golden Circle
The Hero's Journey
Raskin's Greatest Sales Deck
Formula 1: The golden circle
The golden circle is a storytelling technique that "starts with why."
Telling stories this way it the reverse of what most brands do, which is telling customers what they want them to do (usually buying what they're selling.). However, Simon Sinek, who created the golden circle, says that companies should start with "why" instead of "what" when they're telling their story.
"People don't buy WHAT you do; they buy WHY you do it. 
"When most organizations or people think, act, or communicate, they do so from the outside in, from WHAT to WHY. And for a good reason — they go from clearest thing to the fuzziest thing. We say WHAT we do, we sometimes say HOW we do it, but we rarely say WHY we do WHAT we do." 
"When communicating from the inside out, however, the WHY is offered as the reason to buy, and the WHATs serve as the tangible proof of that belief."
It is this reversal of the order that allows these leaders to sell a vision instead of a product. And that's what makes their pitch so effective.
To use this storytelling formula yourself, you need to dissect each circle:
Circle 1 – Why:

Why does your company exist?
Why do you and your employees get out of bed in the morning? Why should your customers care about your company, and what's your biggest aim?

Circle 2 – How:

How do you do what you do?
What is your Unique Selling Proposition?
Why should customers choose you instead of your competitors?

Circle 3 – What:

What does your company do?
What products/services do you sell?
What industry are you in?
Build your story from circle 1—not circle 3.
Formula 2: The hero's journey
Telling a story using this formula requires you to position your customer as a hero who embarks on a journey, suffers a PR crisis, wins the crisis, and returns transformed.
This seems more like a Hollywood film than a conversion technique until it's mapped out. For example, if you're selling a SaaS tool in an email campaign, using the hero's journey can look like this:
Start: At the start of the campaign, they are sent a thank you email for trying out your product, along with a spiel about what it can do for them.
Call to adventure: Followed with an email specifically designed to boost their ego. Go over (again) the benefits of the product. A nice touch here is to send the email from a founder, CEO, or someone that relates to the customer, like the head of product development.
Overcome obstacles: You know your product better than anyone. Stay in touch with them and ask if they've got any issues so far. This is also an excellent time to let them in on some easy tweaks they can make to your product to optimize their experience.
First test: Now, start the "crisis." Set a challenge for the trial user, and see if they can tackle it
Second test: After they complete the test, let them know that it was just a warm-up. Set them a harder challenge to test their abilities.
Realizing your product's value: You've tested them. They passed. They now know that your product works. Now, make your pitch and share stories from your current customers about how your product has helped them.
End: Are they in or out? Send them a thank you email for testing your product and encourage them to upgrade so they can keep overcoming their challenges.
Formula 3: Raskin's Greatest Sales Deck
The last formula is from a popular Medium post by strategic consultant Andy Raskin.
It was a deck belonging to Zuora, a Silicon Valley company that sells a SaaS platform for subscription billing. Raskin broke the company's sales deck into five elements to show why this formula was so effective.
Part 1: Name a Big, Relevant Change in the World
What is a shift in the world that would create big stakes and huge urgency for your prospect?
Part 2: Show There Will Be Winners and Losers
Show how that shift will create winners—and losers. The key here is to show how adapting to the change will create a positive future, and how ignoring it will result in a poorer one.
Part 3: Tease The Promised Land
Give the potential customer a taste test of what using your product/service will achieve. This happily-ever-after conclusion should be desirable yet challenging to accomplish without outside help. For example, Zuora achieved this by showing companies what it means to succeed in the subscription industry:
Part 4: Note that the "promised land" isn't your offer—it's the future
Your product mustn't be featured as the "promised land," but as a building block to help the customer get there. Introduce your product as a magical solution to help them reach the Promised Land.
Part 5: Present evidence you can make this vision a reality
Anyone receiving your emails will be skeptical of any hopes and dreams you're selling them. Prove to them that what you're selling is the real deal. Whether it's by showing them customer success stories and case studies, or reviews and testimonials, it's time to pull out the best evidence you can offer to win them over.
Approach 2: Emotional appeal
A lot of successful marketing plans have one aspect in common: they managed to create an emotional connection with the customer. Tapping into the emotional side of your customers can help them build a picture of what their life looks like with your product or service in it. In turn, your email campaigns will enable you to:
Focus on an individual, not a group: As a society, we make more of a connection with a photo of a single starving kid than a "100 kids die from starvation daily" statistic.
Establish a connection with the customer: And find something they genuinely care about.
Appeal to their inner-interests: What benefits will they get from your product? Will they lose weight? Increase their indie cred? Don't highlight your product features; focus on the customer's deepest desires.
Build a connection with your customer's identity: Who are they, and who do they want to be? What do they value? And how can your product help them achieve their goals?
If done well, an emotional appeal can create a large enough pull for the customer not just to buy your product, but to keep coming back for more. The backbone of emotionally appealing to your customers is using the right words in your emails. Using the right words can help guide your reader through the customer cycle, and there are a few basic words that you can apply to all campaigns, no matter the emotion.
We've picked out three you can use in your email campaigns and work them into your email copy.
"You"
People like to talk—and think—about themselves. You can take advantage of this by using "you" in your email copy to help them imagine themselves using your product. Speaking directly to the person reading your copy by using the word 'you' is one of the simplest and most effective ways of using emotional appeal.
"Their Name"
Inserting a customer's name into your email copy can do powerful things to help them convert. Not only does it grab their attention, but it also piques their curiosity. Getting people to pay attention to emails is one of the biggest challenges for marketers—using their name helps break down the barrier.
Words like "Different" and "Individual"
If you want people to do something, be sure to give them a reason why they should. A study by Ellen Langer found that people are more likely to do what you ask if you simply give them a reason to.
Whether that's to create a sense of urgency or get them to feel something, using words such as "different" or "individual" in your copy can light a fire in your customer's belly. Possibly the most recognizable use of words like this is from Apple. The brand launched the "Think Different" campaign in 1998, and it was so successful that it won an Emmy Award for Best Commercial.
The "Think Different" campaign laid the foundations for the future of Apple's marketing campaigns. Since 1998, every piece of marketing material from emails to bus stop posters have encouraged people to think outside the box, and imagine what their life would look like if they were using the product they are advertising.
A classic example of an Apple email that focuses on emotions—not product features. Image Source
Approach 3: Get customers to write to customers
Your customers are likely part of a community, whether it be friends, family, or even colleagues.
The great thing about communities is that they talk to each other. They share their favorite products, and marketing towards communities brings together different demographics and tribes of people.
For example, TOMS markets towards a specific community: those who want to contribute towards a charity. One Huffington Post contributor, MaryEllen Tribby, described how her 13-year-old daughter convinced her to buy not one, but three pairs of TOMS shoes. Her daughter told her, "I know it's a lot of money, but for every pair of shoes purchased, a pair is donated to help kids all over the world who can't afford shoes." 
"Even though I thought three pairs of shoes at $77-a-pop was a bit extravagant; I justified the decision in my head, telling myself that I would be helping kids who weren't nearly as fortunate as my own," Tribby said.  
Although the backbone of the TOMS marketing strategy is charity, there is another factor in the company's success: word-of-mouth marketing. Word-of-mouth marketing is powerful as it's basically one friend saying to another, "Hey, you should buy this." It's authentic and real, and it's trusted by 86% of customers.
Airbnb used this exact technique in the early days of the company. When the general public was suspicious of renting out their homes to complete strangers, Airbnb used a referral program that took them from their private beta and brought in 2,107 new members. Considering their private beta numbers were 2,161 members, that means the referral program nearly doubled their membership base.
Here's how it worked.
For every friend a user invited to Airbnb that booked a trip of $75 or more, the referring friend received $25 travel credit.
For every friend a user invited to Airbnb that rented out their pad (and received a booking), the referring friend bags $75 in credit.
This means for every friend they referred, an Airbnb user could earn up to $100 travel credit.
Airbnb made it easy for their users to invite their friends on Facebook, email or through the unique referral URL
There were no limits to how the user used their travel credits. If they had $300 in travel credit and they booked a place worth $400, they could use the entire chunk of credit and be left with just $100 to pay.
The campaign, named by Airbnb's Growth team as "Referrals 1.0", was so successful that the company has since released Referrals 2.0.
Wrapping Up
Email is arguably the best tool for converting new customers, but few brands manage to set themselves apart from their competitors.
This is why we wrote this article; to give you a fresh perspective on some alternative approaches you can take with your email campaigns. While your competitors are mulling over A/B conversions and sending out template after template, you can utilize emotional appeal and the power of storytelling in your campaigns to win your customers over.
Who knows, your brand may set a trend like Apple, and be used as a case study in the future of companies that nailed high-converting emails.