The traditional sales process has always relied on the expertise and intuition of sales professionals to identify potential customers, nurture relationships, and close deals. However, with the advent of Artificial Intelligence (AI), these sales processes are infused with a new level of intelligence and efficiency.
For instance, AI-powered tools and algorithms can analyze vast amounts of data, extracting valuable insights, and make intelligent predictions. This enables your sales professionals to make data-driven decisions, personalize interactions, and optimize their strategies for maximum impact.
In this article, we will explore the significance of using AI for sales process optimization and its impact on your sales strategy, customer relationships, and overall business success.
AI-Powered Lead Qualification and Scoring
One of the most significant challenges for sales teams is identifying high-quality leads from a large pool of potential customers. This is where AI-powered lead qualification and scoring come into play.
By leveraging machine learning algorithms, AI can analyze data from various sources, such as website interactions, social media posts, and customer profiles. This makes it easier to identify potential clients with a high likelihood of conversion. As a result, sales professionals can focus their efforts on the most promising leads, saving valuable time and resources.
Also, the real-time insights provided by AI equip sales managers to make data-driven decisions and allocate their team's efforts more effectively, resulting in improved sales performance and higher conversion rates.
AI-Enabled Sales Recommendations and Personalization
In today's highly competitive market, personalization is key to capturing the attention of potential customers and building strong relationships. A McKinsey research found that companies that did well with personalization generated 40% more revenue than average players.
Using AI for sales lead qualification empowers your team to deliver personalized experiences at scale. It achieves this by analyzing customer behavior, preferences, and past interactions. With this, sales representatives have valuable insights and recommendations to tailor their communication and sales strategies to individual customers.
For instance, AI-powered tools can suggest relevant products or services based on a customer's purchase history or browsing patterns. These recommendations enable sales professionals to provide tailored solutions and even work with the marketing team to create more specific ads— they can send more enticing drip email campaigns with more accurate product recommendations, for example.
With such accurate AI suggestions, your sales and marketing teams can also work with a more optimized SaaS marketing strategy, improving the overall customer experience. Personalized communication through AI-generated emails or chatbots can also enhance customer engagement and increase the likelihood of closing deals.
Sales Process Automation and Workflow Enhancement
AI's impact on sales processes goes beyond lead qualification and personalization. It also automates repetitive and time-consuming tasks, allowing sales professionals to focus on building relationships and closing deals. AI-powered sales software can handle tasks such as data entry and appointment scheduling.
With AI's ability to process and analyze data at a rapid pace, it can accurately input information into customer relationship management (CRM) systems. This frees sales professionals from the burden of manual data entry.
Also, AI-powered systems can intelligently schedule appointments based on sales representatives' availability and customer preferences, ensuring a seamless and efficient process. Even upon scheduling these appointments, AI allows you to automate the process of sending follow-up emails, so your customers don't have to miss crucial updates.
We can't talk about workflow enhancement without bringing up Generative AI tools like Writer or ChatGPT. These tools can help create content and templates for marketing and sales materials like emails, taglines, chat scripts, and other operational documents. Here's an example:
These content generators can also be useful when writing articles or blog posts for your SaaS link building efforts, as well as sales or marketing campaings.
Additionally, AI-enabled workflow enhancements streamline the sales cycle by automating the progression of leads through various stages. For instance, AI algorithms can analyze historical data on successful deals and identify patterns that lead to conversions. This information helps sales teams prioritize their activities and make data-driven decisions about the next best steps in the sales process. Integrating AI-driven data extraction tools into an ELT pipeline can further enhance sales processes. Doing so, sales teams can efficiently collect and consolidate relevant data from various sources, enabling informed decisions and tailored sales strategies through up-to-date insights in CRM systems or analytical tools.
Customer Insights and Relationship Management
Customer relationship management (CRM) is crucial for building long-term customer relationships and driving sales growth. AI CRM tools like Zoho or Salesforce provide sales teams with valuable data-driven insights into customer behavior, preferences, and needs. These tools can analyze vast amounts of customer data in real time.
Typically, AI-powered tools include a dashboard like the example below: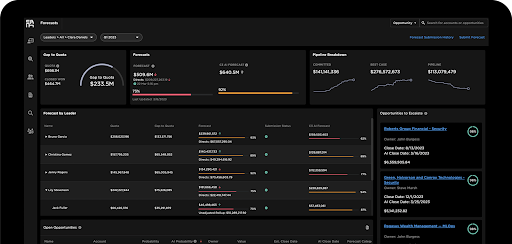 With a well-curated dashboard, it's easier to identify patterns and trends. So, your sales professionals can understand customers better and communicate with them more effectively.
Additionally, with AI's assistance, sales representatives can gain a comprehensive view of a customer's journey, including their interactions with the brand across various touchpoints. This valuable information allows sales teams to provide timely and relevant solutions, improving customer satisfaction and loyalty.
Ultimately, sales professionals can nurture more informed relationships and drive business growth. This is what happens when they leverage AI for marketing and sales through informed customer insights as well as relationship management.
Ethical Considerations in AI-Driven Sales Processes
While AI offers immense potential for improving sales processes, it is essential to address the ethical considerations surrounding its use. As AI systems rely on historical data, there is a risk of perpetuating biases and discrimination. For instance, facial recognition algorithms are trained on large datasets of images. In some cases, the algorithms can be biased against certain groups of people.
For instance, research shows that AI facial recognition comes with a possibility of significant errors in the classification of race, gender, and even age groups. Such errors if unchecked can lead to poor lead qualifications which may not improve your sales communication efforts. So, it's crucial to ensure that your AI algorithms are trained on diverse and representative data sets to avoid such errors and other unfair practices.
Transparency and accountability are also vital in AI-driven sales processes. Sales leaders and professionals should understand the inner workings of AI algorithms and ensure they align with ethical guidelines and regulations.
The International Chamber of Commerce (ICC) states that it is essential for people to trust that their personal information will be used responsibly and respectfully. Customers want to know that their data is safe— this is how the potential of AI will be fully realized. In view of this, you should be intentional about telling customers how you use their data. Furthermore, transparency in how AI models make decisions can help you build trust with customers.
3 Future Trends and Implications
Looking ahead, the role of AI in sales processes is likely to expand even further. Advancements in AI technologies, such as deep learning and natural language processing, will enable more sophisticated analysis of customer data, leading to increasingly accurate predictions and personalized recommendations.
Also, AI-powered digital assistants are fast becoming prevalent, providing real-time support to sales representatives during customer interactions. We can only say that this will get better.
So, as the role of AI in sales processes continues to evolve, it is crucial for you to adapt and stay ahead of the curve. Here are some recommendations you may want to note:
1. Embrace a culture of continuous learning
Foster a culture of continuous learning and skill development to keep up with the rapid advancements in AI technology. This includes providing ongoing training and resources to employees to enhance their understanding of AI tools and technologies. This way you empower your sales team to leverage AI and effectively drive growth.
2. Define Strategic Goals
Clearly define your strategic goals and identify the areas where AI can provide the most value. This involves evaluating various sales processes, such as lead generation, customer segmentation, personalized communication, and predictive analytics.
Determining how AI can optimize these areas–for instance, you can use AI to enhance product demonstrations or analyze buying patterns. In doing so, you can ensure that they are investing in the right solutions that deliver tangible results.
3. Find the right balance
Finally, while AI can automate and optimize various sales processes, it is important to find the right balance between AI and human involvement. Sales is ultimately a human-centric activity, so maintaining a personal touch and building authentic customer relationships remain essential.
Ultimately, you should leverage AI as a support for your sales professionals. The focus should be on freeing up their time for tasks that require human intuition and creativity. This is a more prudent approach than an absolute dependence on artificial intelligence.
Conclusion
Artificial intelligence has emerged as a powerful tool in transforming sales processes. Today, we explored how using AI for sales can help with lead qualifications, sales recommendations, and sales process automation.
AI's ability to automate tasks, provide valuable insights, and enhance personalization is revolutionizing the way sales teams operate. However, it is crucial to approach AI implementation with careful consideration of ethical implications and to provide appropriate training and support for sales professionals.
As AI continues to evolve, it will become increasingly essential to embrace this technology and leverage its capabilities to stay competitive. By harnessing the power of AI, your sales professionals can optimize, improve customer relationships and drive business growth.
Also, with the right balance of human expertise and AI-driven insights, it's totally possible for your sales team to achieve remarkable results and unlock new opportunities in a dynamic market.


**** This is a guest post from Nico Prins. Nico is the founder of Crunch Marketing, a SaaS link building agency. The company works with enterprise SaaS clients, helping them scale lead generation globally across EMEA, APAC, and other regions.****