The B2B sales environment is a cut-throat one. Sales reps are always fighting with the clock to hit quotas. Sales, after all, is what keeps a business afloat. Reaching out to leads, qualifying them and turning them into customers keeps firms ahead of the competition.
Prospecting is a crucial part of the sales process. It's also both time and effort-intensive. So much so, that it's the part of sales which reps struggle with the most. That's why you might need a helping hand.
This rundown of the nine top B2B prospecting methods around is designed to help you do just that. It will point you to some unusual and innovative B2B prospecting methods to try. It will also offer some tips for getting the most out of the more traditional options. First, though, let's all get on the same page about what B2B prospecting is all about.
Understanding B2B Prospecting
Sales is an area of business with lots of jargon. There are loads of phrases that get put out there, which can be difficult to pin down. Before we get to methods and options, then, it's worth explaining prospecting in detail.
What is Prospecting?
B2B prospecting is a specific stage of the sales process. It's when you search for new clients or customers and start to nurture them. The ultimate aim is to generate new business for your company. The direct goal of B2B prospecting, then, is to find prospects and move them into your sales funnel.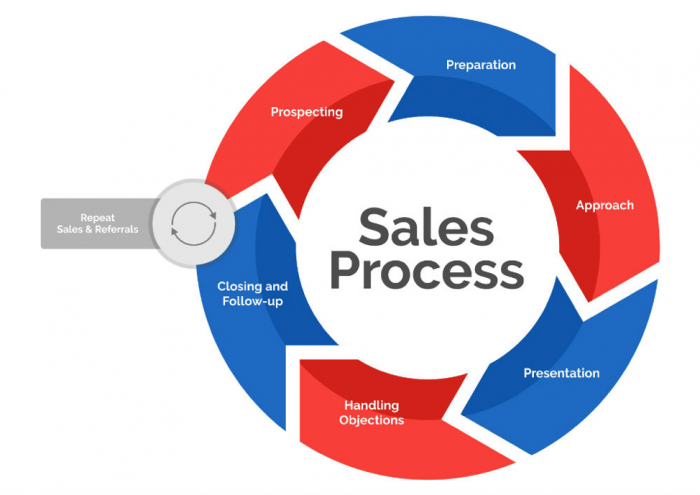 Prospecting is closely related to lead generation. In fact, they can be said to be two parts of the same larger process. Through prospecting, you generate leads but then go on to qualify them. That means you identify them as fitting your firm's buyer persona. You then interact with them to take them closer and closer to becoming real customers.
The B2B Prospecting Process
The process of prospecting differs a bit depending on the B2B prospecting method you opt for. In general, it will involve the following significant steps and stages:
Researching leads – Sales reps locate potential customers. They then find out as much as they can about them to see if they could realistically provide a firm business. This often involves checking that they meet certain criteria. These criteria will be associated with a company's target buyer persona.
Connecting – Making the first contact with the prospect. In B2B prospecting, this usually involves getting past a 'gatekeeper.' Gatekeepers are the people reps have to speak to before reaching decision-makers. People like receptionists or PAs.
Qualifying – Through contact with the prospect, reps assess their potential. They're looking to see if they are good candidates to become customers. You can do this by exploring the prospect's needs. That allows for the identification of the prospect's pain points. They're the problems that need solving. If they can be solved by the product the rep's selling, the prospect is sales-qualified.
Once you have found, nurtured and qualified, the person the prospecting part of the sales process is over. The next stage is for the sales rep to close the sale. How, though, can reps make sure they get as many prospects as possible to the closure stage of the sales process?
9 Top B2B Prospecting Methods
There are many avenues which sales reps can explore. You can broadly split sales prospecting into two categories. Those are inbound and outbound prospecting methods.
Inbound prospecting is nurturing a lead who has already shown some interest in your firm. They might have signed up to your email list after visiting your site. They may even have reached out to you via email, phone, or social media.
Outbound prospecting is far more common. It's where you, as a sales rep, have to do the legwork. You need to find leads, connect with them, and nurture them from scratch. That often involves utilizing many different communication channels. It's this kind of prospecting which the following methods will focus on.
1. Email Prospecting
Many sales firms lean heavily on email prospecting. It's deserving of its place at the head of this list of B2B prospecting methods. That's because of the many advantages it holds over other methods.
For instance, there are loads of top-quality tools and lead generation software around to help automate much of the process. You can use these to find an email address for prospects and create engaging email templates to use along the way. Finteza is another great tool to check out for automated funnels.
Email communication, too, is favored by many businesses. An email is visual and can be easily forwarded to different decision-makers within a firm. It can also be quickly deleted, of course, but no prospecting method is without its challenges.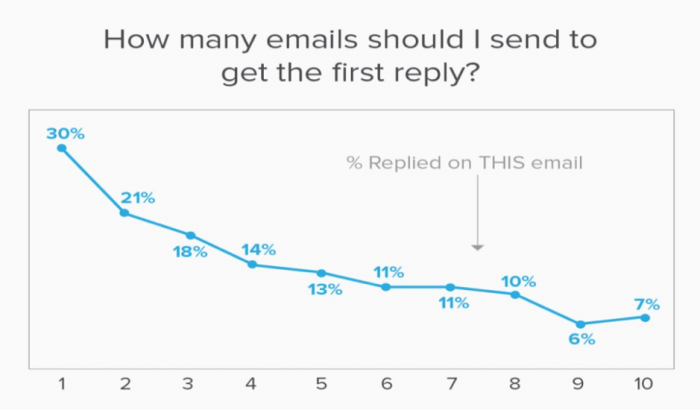 (source)
Personalization is the one thing to keep in mind when going down the email route. It's not viable to write every initial email to every prospect from scratch. Unless you only plan to send a handful of messages you need to use templates.
The best prospecting emails seem as if they're written only for the recipient, even if they're not. These emails capture the attention of the prospect and can open a dialogue. Once you have started a conversation, you can then build a personal rapport with a prospect.
2. Cold Calling
There's a common misconception that cold calling doesn't work. It remains a very effective method for B2B prospecting. A recent survey showed that over 40% of salespeople still rate a phone as their most effective sales tool.
For B2B prospecting, speaking on the phone delivers a vital personal touch. A phone call allows you to establish a closer connection with a person. You can start building rapport with a prospect from the first contact. It can also lead to a sale far quicker than email prospecting.
Today, cold calling can be both time and cost-efficient. Modern VoIP phone systems let a business's sales staff make a high volume of calls in a short time period. And you can do this for a much lower cost than with traditional telephony.
If you cold call, make the most of the opportunity to make a personal connection. Don't robotically read from a pre-prepared script. That's not engaging. It suggests you make too many calls. You should make them feel like they're the most important person you've spoken to all day.
3. Twitter Outreach
That's the two most common B2B prospecting methods covered. Now we can move on to the more innovative options you may not have considered. We'll start with our first mention of social media. Social media provides many good opportunities for sales reps.
Prospecting through Twitter outreach is a good example. One of the best things about Twitter as a prospecting tool is how easy it is to find prospects. The social network has a great advanced search feature. You can use it to locate people ripe for outreach in an instant.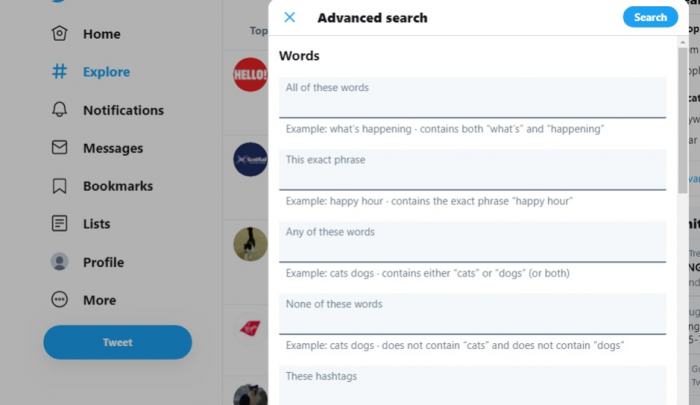 What's more, there are plenty of tools that make using Twitter even easier. For instance, there are tools like Hootsuite or SocialOomph. Once you've found prospects, you can use Twitter to gain insights about a person.
4. LinkedIn Groups
Billed as the professional social network, LinkedIn is something most professionals should use. If you're a sales rep and you're not a member of LinkedIn groups related to your niche, you're missing out.
LinkedIn groups provide a great way to connect with prospective customers. Once you're a member of a group, the platform will let you search the list of other contacts in that group. Their profiles on the social network make it easy to see if they're prospects worth pursuing.
Like Twitter, too, LinkedIn has an advanced search feature. That makes it even easier to access a wider pool of potential customers. That's alongside the InMail element of the platform, which you can use to reach out when you want to.
You do have to be careful when using LinkedIn for prospecting. The platform is concerned about its users and the safety of their information. They clamp down hard on people who scrape the site for data. Honest prospecting through LinkedIn groups isn't a problem.
5. Quora
Question and answer platform, Quora, is popular. The way the platform works is simple. Users can post questions they want answers to and answer questions from other people.
As a B2B prospecting method, Quora is a kind of a mixture of outbound and inbound prospecting. What you want to do is to find questions you can use your industry experience to answer.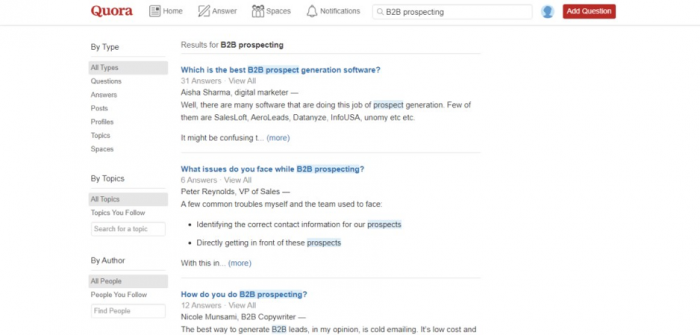 If the answer you give is good enough, a large number of Quora users will see it. You can be sure that people who view your content will be interested in your niche. They wouldn't be looking at answers to a question related to it if they weren't.
You can treat anyone who interacts with your answer, therefore, as a potential lead. Starting a dialogue should be easy. If you're an active member of Quora and answer lots of relevant questions, they'll see you as an authority in your field.
6. Facebook Groups
You might raise your eyebrows at this entry on our list of B2B prospecting methods. Indeed, Facebook isn't exactly a hotbed for B2B activity. Spending a little time looking at and sharing insights with Facebook groups, though, can prove useful.
Make sure you pick the groups most related to your business and what you're trying to sell. Then share facts, tips, or infographics with the group to set yourself up as an expert. That can lead to engagement with other members of the group.
You can create your own Facebook group, designed to serve your ideal clients. HeyOrca, a SAAS for social media marketing agencies, has integrated a Facebook group into their marketing strategy because a Facebook group is a great way to foster community, interact with clients, and stay ever-present in prospects' minds. The interactions with their community make sure that HeyOrca stay in sync with the problems their clients need solved.
Through these engagements, you might find some handy prospects to nurture. The beginning of that process can still take place on Facebook. Building a rapport over Facebook should be easy. Eventually, you can reach out more formally and start trying to move a prospect into a sales funnel.
7. Webinars
Webinars are useful for bringing qualified leads into your sales funnel. That's why they make this list of top B2B prospecting methods. To use them correctly, though, does take time, effort, and expertise.
You should use a webinar for more than just pitching your product or service. A webinar is an opportunity to deliver a valuable presentation. It is an opportunity for you to exhibit your expertise.
The topics you cover in a webinar should align with the needs of your customers. Answer the questions that your ideal client has and show how you can fill their needs. Use a  webinar to answer them and establish yourself as an expert in your field. You can use a webinar software for this to create a completely unique experience.
Through a webinar, you can drip in details of how your product or service can help with their pain points. As long as your webinars are valuable to prospects, you don't have to rush this. Try to deliver a presentation around once a week. Prospects will come back for each one and can be gradually won over to become a customer.
8. Client Referrals
You've worked hard to turn leads into prospects and ultimately make them clients. At the end of the sales process, you don't have to write off those clients and never contact them again. Reaching out to them and asking for referrals is a smart form of prospecting.
Your clients will know lots of other people in similar niches and jobs to their own. The chances are that lots of them might also fall within your target audience. If a client's willing to refer you to their contacts, it can make a huge difference to your overall sales.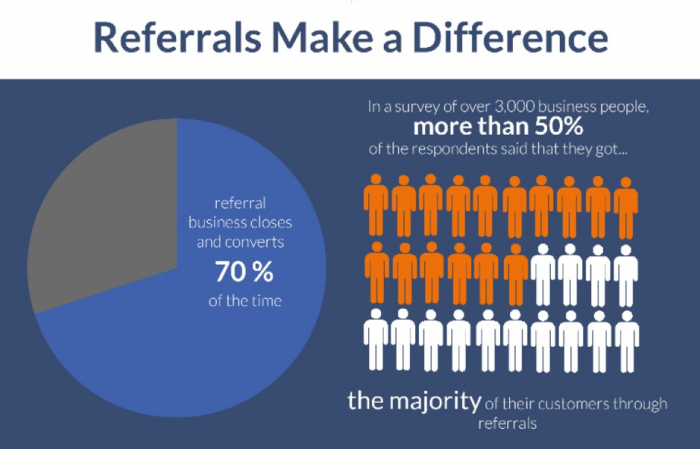 (source)
Timing is key when it comes to client referrals. You don't want to go back to someone straight after they've first bought from you. They'll still be getting to grips with your product or service. Try to reach out after somewhere between 14-28 days. That way, your client will still remember their interactions with you.
9. Direct Mail
Direct mail isn't a prospecting method for everyone. Just like cold calling, direct mail is still effective, mainly because it is now underutilized.
You probably don't want to get involved with a mass mailing of leaflets or postcards. Where prospecting by direct mail can be useful is for customers who still appreciate the personal touch (after all, direct mail is expensive).
You can use direct mail for prospecting by sending a handwritten note or letter. You can then use this as an opportunity to follow up with a cold call. If that business has a high financial value, it's well worth considering direct mail as an option.
****This is a guest post from Sam O'Brien. Sam is the Senior Website Optimisation & User Experience Manager for EMEA at RingCentral, a global VOIP provider. You can connect with him on LinkedIn, Sam has a passion for innovation and loves exploring ways to collaborate more with dispersed teams.****