Finding good talent is not simple anymore.
But with the right tools and an organized workflow, finding your next best employee can be made a lot less cumbersome.
This is why in this article, we've compiled the eleven most essential steps of recruitment from digging out someone's email address all the way to onboarding them (and taking your team to the next level).
We've also determined the best recruitment tool for each step in this workflow, what makes each tool stand out, how to use it, what current users think about it, and how much it costs.
The next time you begin recruiting, you'll know exactly the steps you should follow and the tools you should use to ace each step. And you'll absorb the talent out there like a sponge!
Skip to Sections:
Email Finding Tool: Voila Norbert
Voila Norbert is the most accurate email finder in the market. It will help you with the first step in your recruitment process. And that's finding the email address of someone who you think can be a valuable addition to your team.
Over the years, we have created a gigantic database of B2B email addresses. And we run each query through it to eliminate guesswork, which allows us to maintain an accuracy rate of 98%.
Keep in mind that you will not find sophisticated features some other email finders offer. But as an email finder, our goal is simple — to get you that email address and get it right every time. In that regard, no one beats us.
Here's how we beat other email finders according to a 2021 survey conducted by Ahrefs:
Alt: Ahrefs comparison
Key Benefits and Features of Voila Norbert
Norbert offers:
A Google Chrome extension
50 free email addresses, allowing you to test our accuracy without paying
The ability to search via API, helping you integrate Norbert with other applications
Pay-as-you-go email verification, allowing you to ensure that your current leads actually work
Bulk email search, allowing you to find multiple email addresses at once by uploading a CSV file
Extreme ease of use, letting you find a lead using just the name of your candidate and their company's URL
A wide range of third-party integrations, allowing you to use Norbert with HubSpot, Drip, Zapier, and many other tools
Email enrichment, giving you more useful information about a candidate
How to Use Voila Norbert
To get started with Norbert, you'll need two things:
The name of your prospect
Their company URL
Once you have both of them, check out this GIF on how to dig out an address: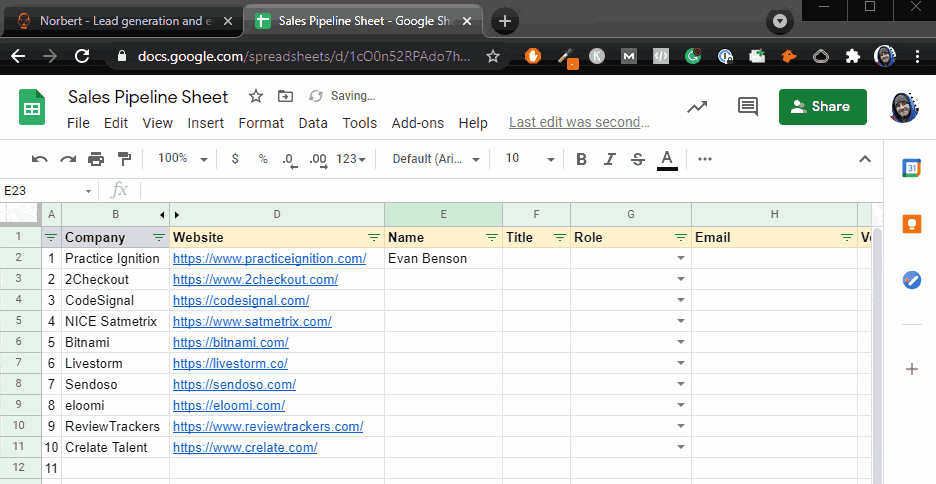 Voila Norbert Reviews
Features that Norbert receives the most praise on include:
Great interface
Excellent accuracy
We are rated:
4.6/5 on Capterra
4.7/5 on G2
Here are some reviews our customers left us: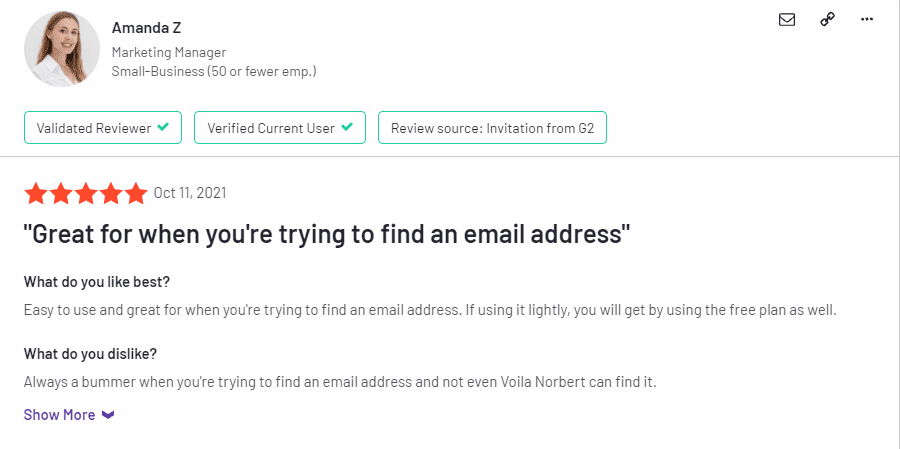 Alt (for both): Voila review
Voila Norbert Pricing
We currently offer 4 pricing plans, which include:
Valet (1000 leads for $49/month) at $0.05/email
Butler (5000 leads for $99/month) at $0.02/email
Advisor (15000 leads for $249/month) at $0.016/email
Counselor (50,000 leads for $499/month) at $0.001/email
All packages include bulk finder and API usage.
Job Aggregator: LinkedIn Talent Solutions
LinkedIn Talent Solutions is a quick and efficient job aggregator.
It's a group of tools made up of LinkedIn Recruiter, LinkedIn Jobs, and LinkedIn Talent Hub among others.
The best thing about the tool is that it provides you with extremely valuable data that would be difficult to find otherwise. It allows you to:
Find where your competitors are recruiting from
Find what skills your company needs, which determines the type of people you'd look for
Post jobs and target them to the right people
Reach out to candidates using the same tool (instead of having to contact them via other channels)
The tool also lets you see the type of content potential candidates are posting on LinkedIn. And this can give you valuable insights into the interests and skills of people you're trying to recruit.
Key Benefits and Features of LinkedIn Talent Solutions
With LinkedIn Talent Solutions, you can:
Reach out to candidates via direct messaging
Share candidate profiles with your team for review
Recruit candidates on the go with the Recruiter mobile app
Apply skills assessment and screening questions to find qualified candidates
Engage with a pool of potential candidates with 150 InMail messages per month
Target your job posts to the most ideal candidates based on the job criteria
Promote your job post, which will take it to the top of job search results, improving its visibility
How to Use LinkedIn Talent Solutions
Recruiting using LinkedIn involves three basic steps.
Step 1: create a Project, which is basically a type of folder to keep recruitment organized. You should create a separate project for each role you're hiring for.
Step 2: create a pool of potential candidates using filters in the Recruiter Search.
Step 3: reach out to those candidates with a personalized InMail message.
Here's LinkedIn's video guide on how to follow them.
LinkedIn Talent Solution Reviews
The tool is rated 4.3/5 on G2 and 8.4/10 on TrustRadius.
Some users have complained about the tool's pricing, but most think it's the best aggregator out there. Features that have impressed users the most include:
easy interface
detailed candidate information
the organized structure of the platform
Here is what they say: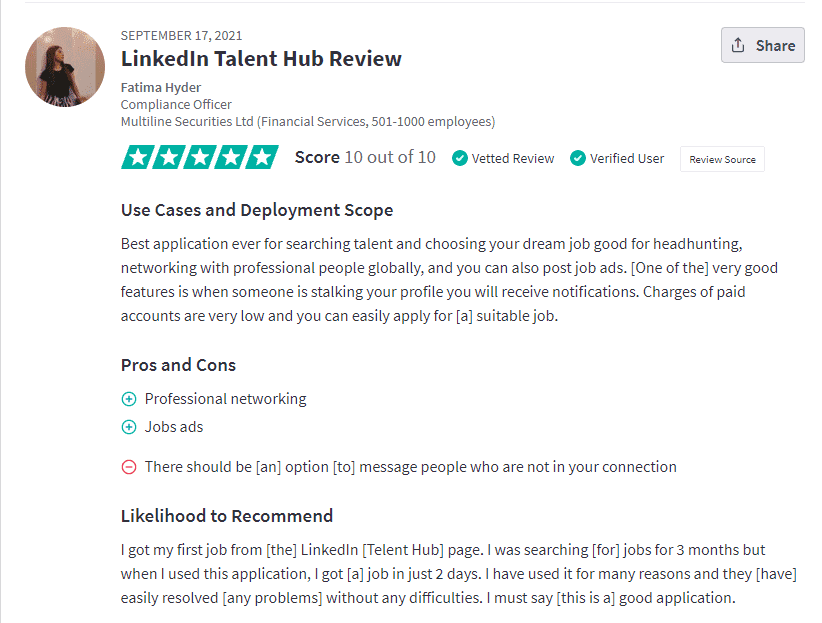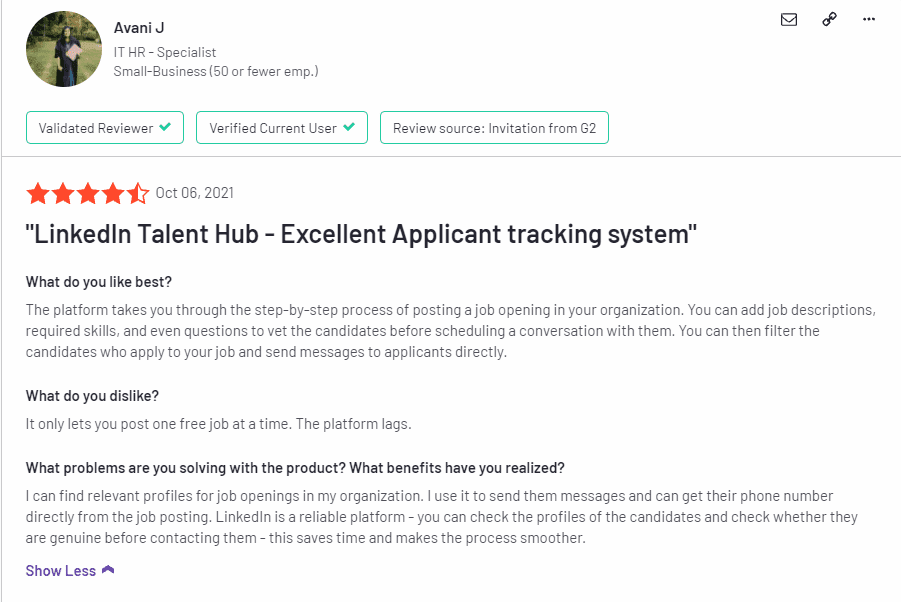 Alt (for both): LinkedInTalent review
LinkedIn Talent Solutions Pricing
Posting jobs using LinkedIn Jobs is free. For analytics, reporting, and InMail messages, you'll need to buy LinkedIn Recruiter. You can contact LinkedIn sales to find the prices of these products.
Application Tracking System: JazzHR
JazzHR is an application tracking system (ATS) that simplifies recruitment. It automates and streamlines the entire process, from job posting to interviewing and even onboarding. This can reduce the hiring time by 50%!
The best thing about the tool is that it's designed for small-to-medium-sized businesses. This means that, unlike other ATS, JazzHR is not ridiculously expensive. If your company is trying out an ATS for the first time, this is the tool you should begin with.
Key Benefits and Features of JazzHR
With clients like Mashable and Mailchimp, JazzHR offers:
A texting tool to communicate with the candidates
E-signatures to cut the paperwork and make onboarding efficient
Workflow analytics, which tell you how you can improve your hiring process
Collaborative hiring, which allows you to assess and rank candidates as a team
Automated interview guides and calendar syncs to streamline the interviewing process
Background checks, reference checks, and video interviewing. This is due to a wide range of third party integrations like Aurico and GoodHire
Automatic job posting to over 12 free and premium job boards and social media networks. Think Monster, Glassdoor, LinkedIn, and ZipRecruiter
How to Use JazzHR
Using JazzHR can be a bit overwhelming in the beginning.
You need to take care of a wide range of processes, including
posting a job
involving your team
reviewing analytics
scheduling interviews
onboarding
To get started, read JazzHR's beginner's guide. We also recommend checking out their YouTube channel that has many helpful videos about the tool.
JazzHR Reviews
JazzHR is rated 4.3/5 on G2, 4.4/5 on Capterra, and 8.6/10 on TrustRadius.
Users are impressed with:
good value for money
high customizability
analytics
the ability to collaborate with team members
Here's what they've said: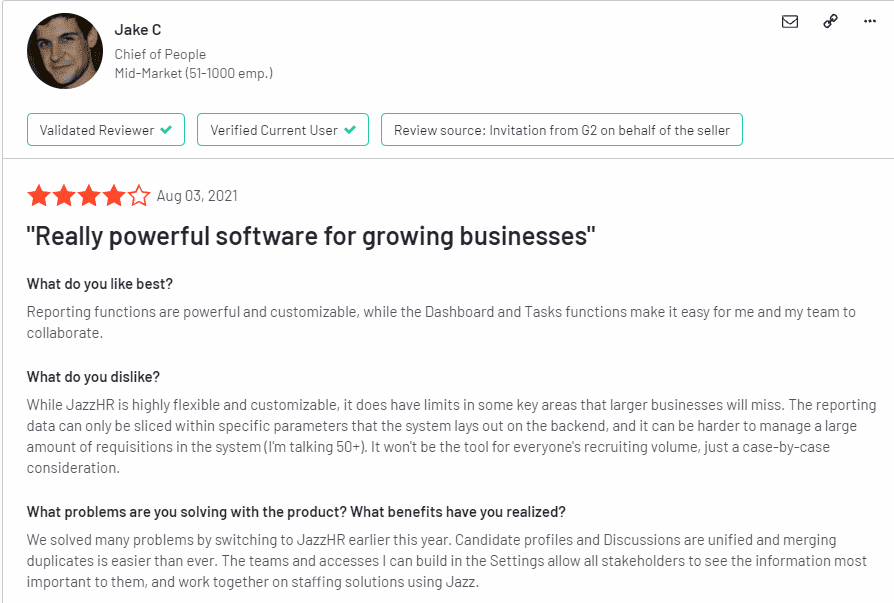 Alt (for both): JazzHR review
JazzHR Pricing
JazzHR offers three pricing plans:
Hero — you get to post 3 jobs at once for $39/month but can't use the application tracking system.
Plus — unlimited jobs plus the ATS and Interviews and Assessments feature at $229/month
Pro — all features of the basic packages plus eSignatures, reporting, and all-access Support at $339/month
Add-ons such as candidate texting and a dedicated account manager can be purchased separately. For a more detailed review of the pricing, check out this page.
Human Capital Management Software: Eddy
Eddy is an all-in-one HR suite. Designed by a former basketball player, Eddy's claim to fame is "HCM without the headache".
The two things that set Eddy apart from other HCM software are:
It's designed for small-to-medium sized businesses, which means it's reasonably priced
It has a special focus on individualized onboarding, which makes it very useful for recruitment
Eddy is a complete package. It allows you to not only hire people, but also onboard, train, track, monitor, and pay them using automated processes.
Key Benefits and Features of Eddy
Eddy offers:
Integration with job boards like Indeed
Document storage, allowing you to take all your paperwork to a safe and secure cloud service
Onboarding, which eliminates a whole lot of paperwork and lets you onboard new hires efficiently
Time tracking and payroll, which allows you to manage and complete payroll accurately and on time
Employee Directory, which allows you to create employee profiles and understand them better
Paid Time Off tracking, which helps you keep your workforce happy without compromising the needs of your company
An application tracking system, where you can post jobs, process candidate applications, and schedule interviews
An HR advisor, which gives you access to HR experts and a library of HR documents (containing job descriptions, forms, and more)
Training tracking, which helps you track any training or certifications your employees are taking. It also notifies you when an employee needs to renew their certification.
How to Use Eddy
Eddy can take up to a month to set up. But if you have a small company, it's going to be a lot quicker to set up the tool.
You can click here for a personalized demo that will help you understand how Eddy will fit into your company.
Eddy Reviews
Eddy is rated 4.6/5 on Capterra and 4.5/5 on G2.
Users have praised good onboarding features and helpful customer service.
But some customers think the user interface can be made more intuitive. Also, not all features of the tool have been launched according to a review. So make sure to discuss this with the company before purchasing it.
Eddy Pricing
On top of a base fee of $49/month, Eddy costs $8 per month per employee. But this doesn't include payroll management, applicant tracking, and HR advisor. Each of these services can be purchased as a separate add-on.
Recruitment CRM: Hiretual
Hiretual is an AI-powered talent sourcing hub.
A CRM and an ATS are kind of opposites. With an ATS, you post a job and candidates apply for it. But with a CRM, you identify potential candidates first and then engage them. Since Hiretual uses AI to do this, it's especially good at bringing you the right kind of people.
But what really sets Hiretual apart from other tools in the market is its holistic sourcing. Many CRM tools rely only on LinkedIn for talent sourcing. But that means you miss out on a lot of good candidates that might be active elsewhere.
Hiretual eliminates this problem by scouring over 750 million profiles. It crawls 45 web platforms including LinkedIn, Twitter, GitHub, Google Scholar, and Upwork.
Key Benefits and Features of Hiretual
With clients like PayPal, Nike, Visa, and Verizon, Hiretual boasts some solid features. You get:
A free Chrome extension that lets you test the service
Bulk email option, which lets you email 200 candidates at once
Contact-finder, which helps you connect with the candidates you like the most
AI-powered sourcing, which runs on specific criteria and lands you qualified candidates
Email sequences and conversion tracking, which help you engage with potential candidates effectively
Connects with your current ATS and job boards, which helps you enrich your current candidate profiles with more helpful data
Diversity Sourcing, which focuses on underrepresented groups. This helps you make your workforce more diverse and inclusive.
How to Use Hiretual
If you've used other recruiters in the past, using Hiretual won't be difficult.
You begin by creating a project and adding criteria for the job role you're sourcing for. You then calibrate Hiretual by rating sample candidates as Good Fit or Not a Fit for your criteria. Hiretual then uses AI to bring you a pool of potential candidates. And you can engage with this pool via individualized emails or an email sequence that you already set up.
For more information on how to use the tool, check out Hiretual's YouTube channel.
Hiretual Reviews
Hiretual is rated 4.7/5 on G2 and 9/10 on TrustRadius.
Customers think Hiretual is efficient and easy to use. Some users have complained about buggy integration with their ATS, but that will be hopefully fixed.
Here are a few customer reviews: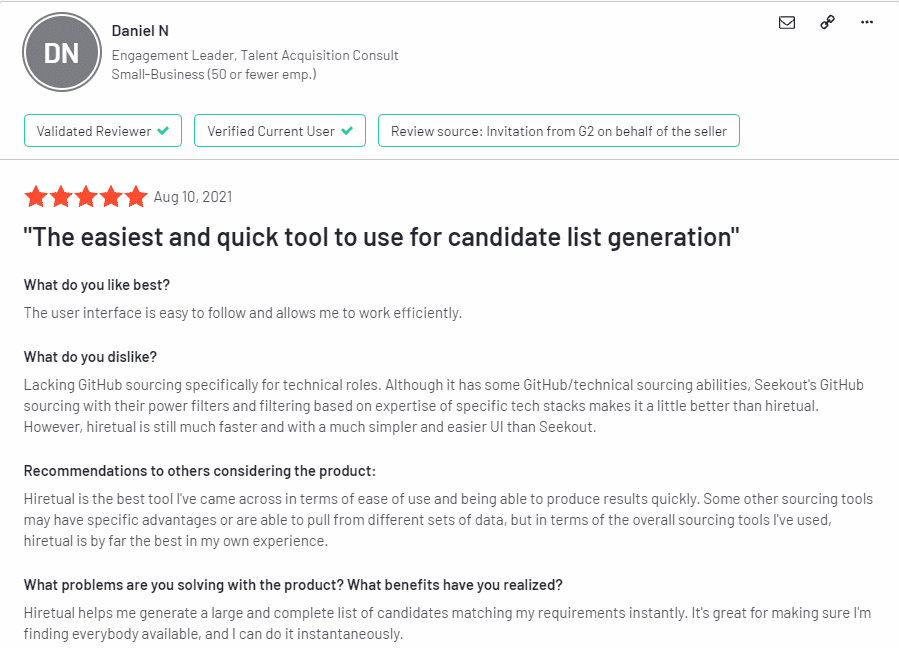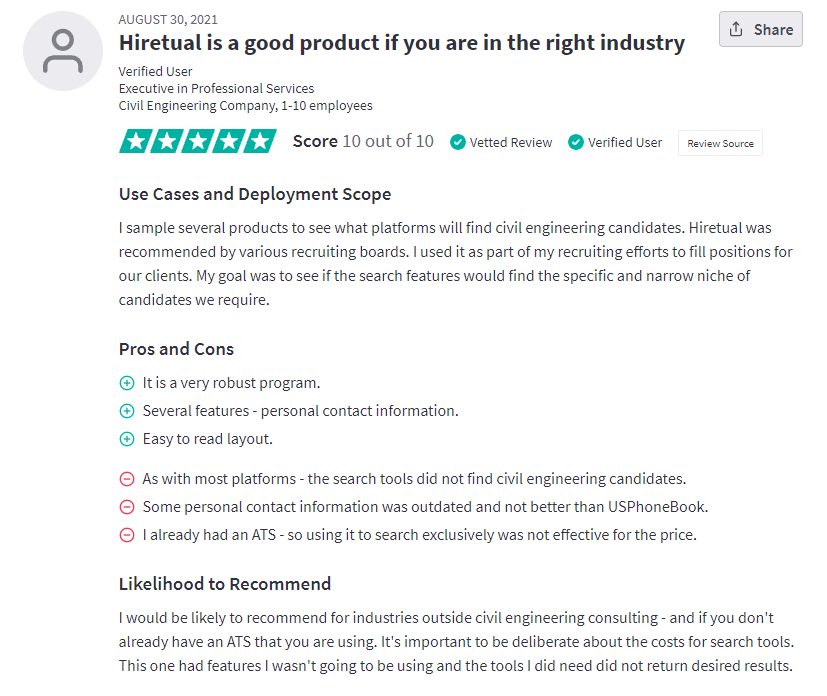 Alt (for both): Hiretual review
Hiretual Pricing
Hiretual currently offers three pricing tiers:
Free — for people who are just starting out with AI sourcing. You get 25 candidates per search.
Standard — at $79/month, you get 70 candidates per search, bulk email outreach, 100 contact credits, and 100 profile exports.
Professional — at $199/month, you get unlimited searches. You also get automated email sequences, performance reports, and more.
Talent Intelligence Systems: Ideal
Just like Hiretual, Ideal can be a very helpful addition to your ATS.
Ideal's job begins after your ATS is loaded with a plethora of applications. It saves you a lot of time by using AI-powered screening to find the most suitable candidates for the job role. This gives you a place to start and increases your chances of finding the perfect hire faster.
Ideal can reduce the time to fill a position by 70% and the number of interviews you do by 50%.
But what sets Ideal apart is its chatbot feature, which has a response rate of 90%. The chatbot allows you to go beyond the resume and qualify your candidates further. It also lets you engage with candidates at scale. And you make their experience better by communicating faster.
Key Benefits and Features of Ideal
Ideal offers:
Option to give feedback, which makes the tool more efficient with time
Diverse hiring, which reduces bias and improves your company's culture
Actionable insights, which help you improve your company's inclusion and equity
The ability to screen past candidates for a new job, which greatly increases the choices you have
Seamless integration with your current ATS, which means you don't have to master any new software or remember separate logins
Process optimization, which automates workflows, assessments, and stages within your ATS. This removes any bottlenecks in the hiring process.
How to Use Ideal
This will depend upon the ATS you use. To see how Ideal might integrate with your ATS, you can request a demo here.
Ideal Reviews
Ideal has been rated 4.9/5 on G2.
Not many reviews exist on the internet. But those that do praise Ideal for seamless ATS integration and an excellent project team that's easy to work with.
Here's what customers are saying: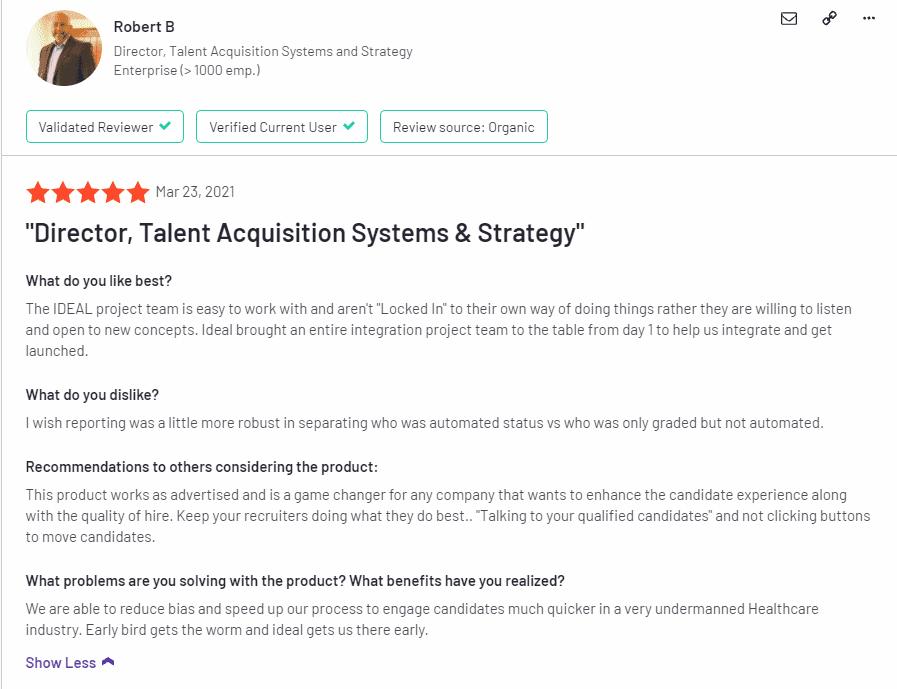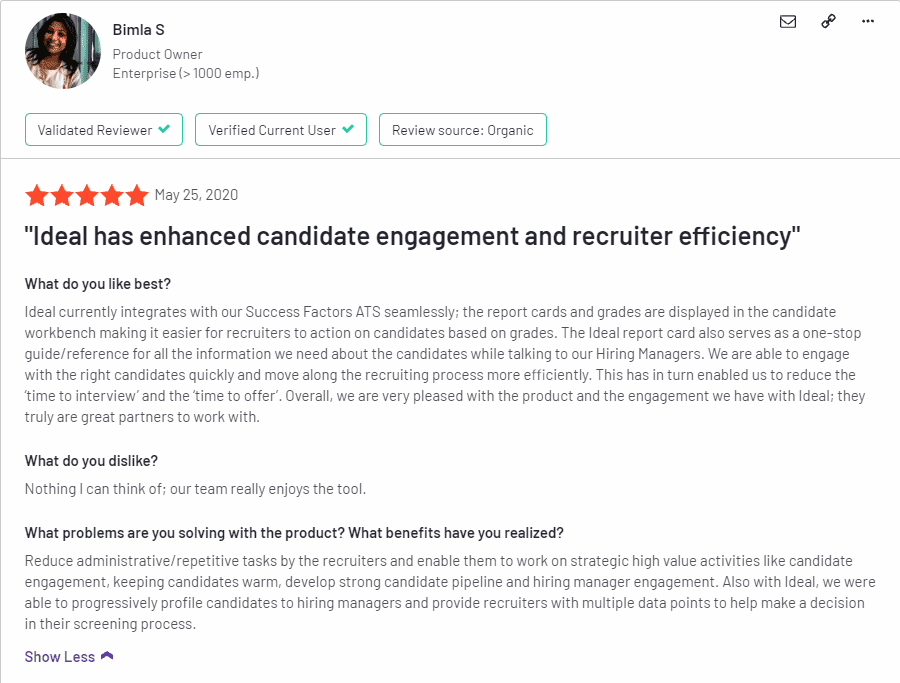 Alt (for both): Ideal review
Ideal Pricing
Ideal has not mentioned pricing details on its website. You'll have to contact the team for more information.
Background Check Tools: Intelius
Intelius is a background check tool that tells you the following about a candidate:
Full name
Age
Date of birth
Present address
Property records
Relationship records
Lawsuits
Bankruptcies
Criminal records
And more
But what makes Intelius special is the fact that it allows its customers to buy single reports.
This means you're not forced to buy a monthly subscription. And that makes the tool very cheap if you're not running background checks all the time.
Key Benefits and Features of Intelius
Intelius offers:
Anonymous searching, allowing you to stay private while looking someone up
Identity protection services, saving you from identity theft with the help of fraud experts
Intelius Connections, giving you information about the people your candidate is associated with
A huge database of 20 billion public records, allowing you to get accurate information almost every time
A mobile app for both Android and iOs, allowing you to run background checks on the go and identify any unknown numbers that call you
How to Use Intelius
Using Intelius is straightforward. Simply go to their website and enter the following details about your candidate:
First name
Last name
City
State
Intelius will then start scouring through federal, state, and county data sources. It will also ask you some questions about the individual to refine the results. You can answer with "I don't know" if you're unsure about a question. Once you're done with the questions, Intelius will generate a report for you.
Intelius Reviews
Intelius is rated 3.3/5 Trustpilot. And while some users have concerns about the tool's accuracy, there are a lot of reviews praising their amazing customer service.
Intelius Pricing
The company does not mention pricing details on its website. You can reach out to their customer support for more information.
Testing & Assessment Tools: Traifify
There are many assessment tools on the market but there's none like Traitifiy.
That's because the Traitify team believes that assessments are broken. Assessments take a long time to complete, which means many candidates don't bother going all the way to the end.
Plus, not every candidate has the same degree of education or technological access. This means assessments aren't a great way to judge someone's personality and work ethic.
Traitify eliminates these problems via image-based tests that can be taken on a mobile phone within 90 seconds. These tests are not only useful for hiring decisions, but they also provide a fun and valuable experience to your candidates.
Key Benefits and Features of Traitify
Traitify offers:
Easy integration with your current ATS
The ability to administer tests on any device, including mobile phones
API access, which helps you integrate the tool with other applications
The ability to apply personality data to a wide range of use cases such as team building for a specific project
Tests with a 96% completion rate, which means you don't potentially good candidates to long, tedious assessments
Candidate prioritization based on personality and performance data, which helps you quickly identify the best candidates
The chance to provide your candidates with insights based on the test they took. This improves your candidate engagement and builds reciprocity.
How to Use Traitify
How you use Traitify will depend on your ATS and the exact use case.
Traitify Reviews
Traitify is rated 5/5 on Capterra. But the rating is based on 3 reviews only. Customers have praised the company's sales team, which is easy to work with and very helpful when it comes to buying and setting up the tool.
But some users have complained about a lack of detail when it comes to the test results. For example, no details show up when you hover over the different trait points, which is something that can be improved.
Traitify Pricing
Traitify doesn't mention pricing details on its website. You can contact the sales team for more information on pricing.
Video Interviewing Tools: Zoom
This is no surprise. As the COVID-19 pandemic launched us into an era of virtual meetings and interviews, Zoom emerged as the top tool in this category.
What makes Zoom special is its ease of use. It not only works on just about every device but is also super simple to set up the first time you're using it.
This is why it's an ideal tool for hiring interviews. Candidates don't have to figure out complex software and can give the interview from literally any device.
Plus, the free version provides a lot of value, which is helpful if you're a startup looking to cut back on expenditure. The free version allows up to 100 participants, meaning group discussions can be held virtually, speeding up the hiring process.
Key Benefits and Features of Zoom
Zoom offers:
HD audio and video quality, which lets you communicate clearly with candidates
Screen sharing and annotation options, which let you conduct interactive interviews
Background noise suppression, which helps you conduct interviews in noisy environments
Note-taking capabilities, which create a transcript of the meeting in case you need to review it later
Passcode-secured meetings and waiting rooms, which help you conduct interviews without interruption
Calendar support with integration with Outlook and Gmail, which help you schedule interviews better
File sharing option, which comes in handy when you need to share something with a candidate during the interview (or vice versa)
How to Use Zoom
Using Zoom is pretty much explanatory (which is what makes the tool great).
But here's Zoom's Getting Started page in case you're stuck with anything.
Zoom Reviews
Zoom is rated 4.5/5 on G2 and 8.6/10 on TrustRadius. Most reviews are positive and praise how easy the tool is. Here are some customer reviews: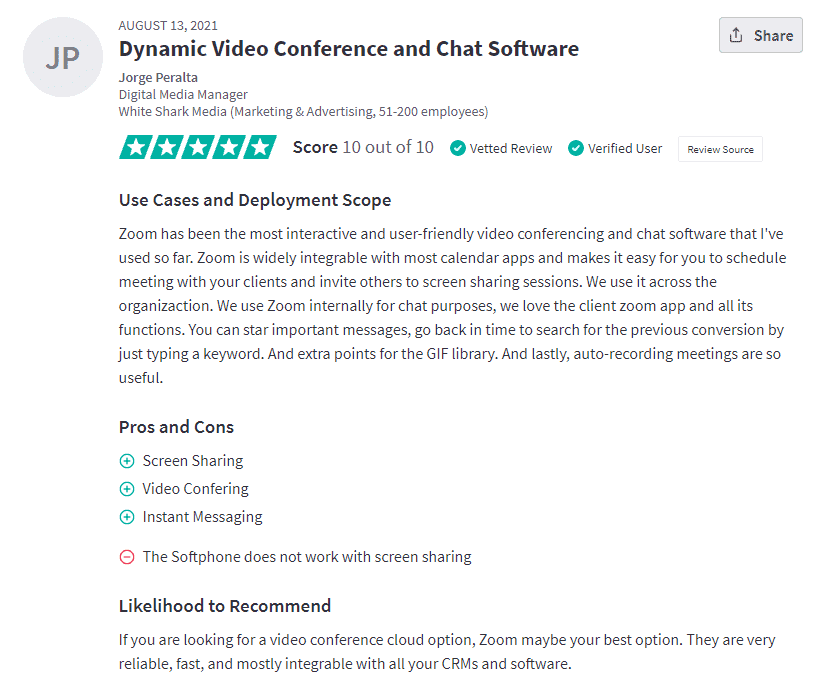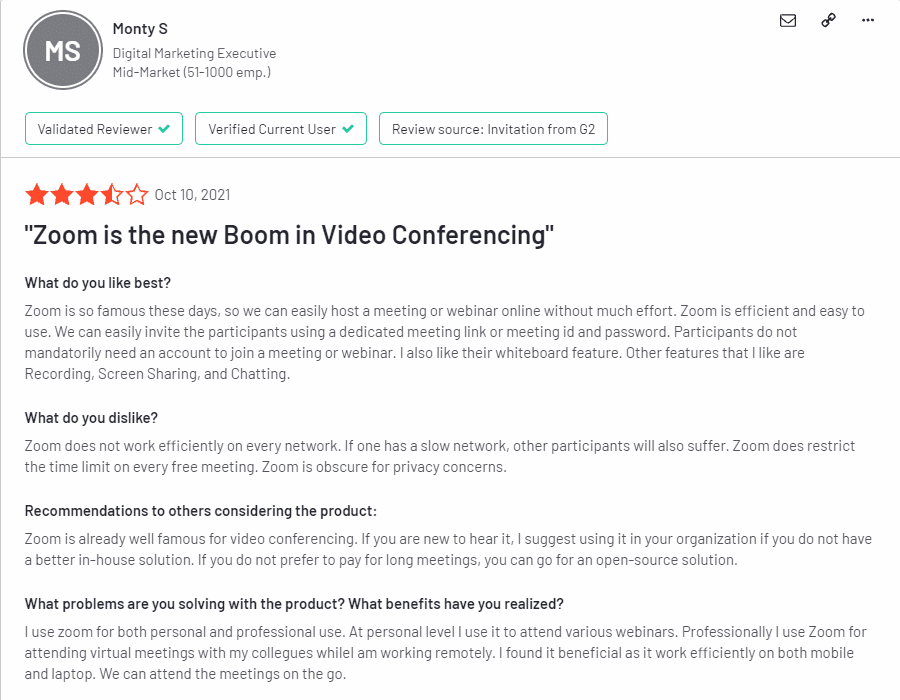 Alt (for both): Zoom review
Zoom Pricing
Zoom offers four pricing plans.
Free — you can host a maximum of 40 participants and conduct group meetings for 40 minutes max.
Pro — for $14.99/month, you can host up to 100 participants. You also get social media streaming and 1 GB of cloud recording.
Business — for $19.99/month, you get to host up to 300 people plus recording transcripts, company branding, and single sign-on.
Enterprise — for $19.99/month, you can host up to 500 people, get all the benefits of the lower tiers plus unlimited cloud storage.
HR Payroll Software: Keka
Keka HR is one of the best payroll management software loved by businesses.
Keka offers a tool for payroll management. While working remotely, your HR and finance teams can use automation to pay employees on time.
Keka HR helps your teams to adapt, evolve, and scale by working more effectively.
Key Benefits and Features of Keka
The tool offers:
Configurable rules based Salary components – Keka brought in a design revolution in the online payroll software market and has shown how easy the entire payroll process can be made and yet completely configurable.
Facilitation of easy participation of non-finance roles such as HR members in salary operations.
Previewing of the payroll period any number of times and review every aspect of the payroll before finalizing.
Releasing payslips digitally on their mobile app, email, or SMS for your employees. In case you prefer a paper approach, bulk print them and post them too.
Guidance with every aspect of payroll processing and recommends all possible actions, so you don't have to sweat.
How to Use Keka
To get started with Keka, check out this page.
The company also has a YouTube channel that can help you understand how the tool works.
Keka Reviews
Keka is rated 4.4/5 on G2 and 4.2/5 on Capterra
The reviews are good – mentioning the usefulness of the tool.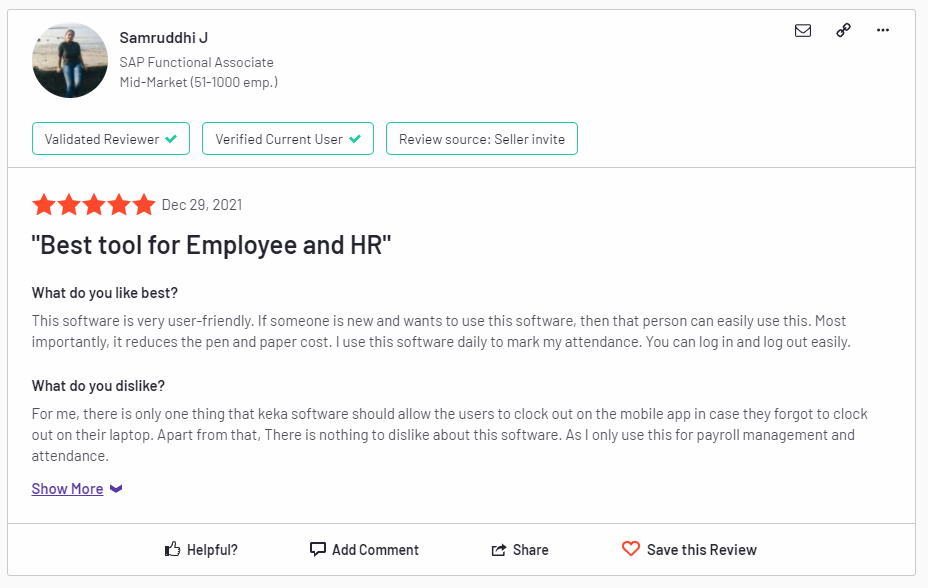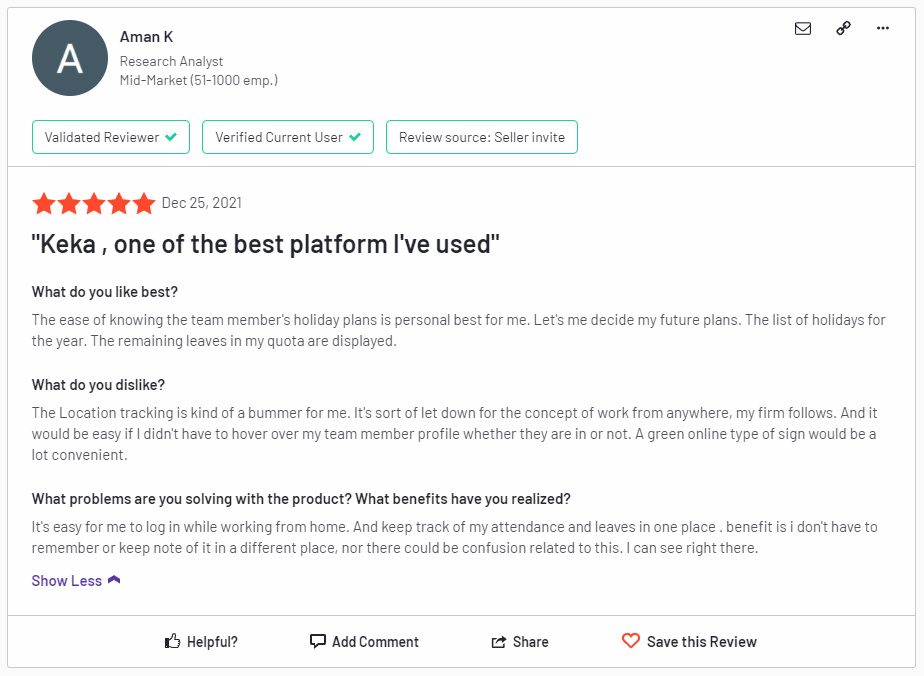 Keka Pricing
Keka's HR and Payroll Platform offers 3 pricing plans, which include:
Foundation – $500/month (upto 100 employees) + $5/month per additional employee
Strength – $800/month (upto 100 employees) + $8/month per additional employee
Growth – $1,100/month (upto 100 employees) + $11/month per additional employee
Recruiterflow- Applicant Tracking, CRM and Recruiting Automation for Ambitious Recruiting & Executive Search Firms
Recruiterflow is a dedicated applicant tracking, CRM and executive search software for recruiting and executive search firms.
What makes Recruiterflow different from other ATS and recruiting CRM products, is Recruiting automation, simplicity and ease of use. It allows you to:
Manage & maintain candidate pipeline
Manage clients and business development pipeline
Manage jobs and track candidates
Write personalized, well-crafted email sequences
Deliver candidate experience without extra efforts
Detailed insight into the performance of your team and recruiting efforts
Recruiterflow provides real-time statistics at a glance, so you can measure your performance, revise your strategy, and exceed your goals quickly.
Features of Recruiterflow software
Applicant Tracking
Assessment Management
Background Screening
Candidate Management
Candidate Tracking
Careers Page
CRM
Customizable Branding
Email Marketing
Interview Management
Interview Scheduling
Job Posting
Job Requisition
Lead Management
How to Use Recruiterflow
Using recruiterflow requires absolutely no training, it is very simple and easy to use. You just need to sign in with your work email ID and you are good to go.
Recruiterflow Reviews
The tool is rated 4.7/5 across all Gartner Digital Markets while getting featured in 8 flagship reports!
Recognized as Category Leaders in the Recruitment Agency category by GetApp.
Bagged the Front Runners badge in the Recruiting Agency category by Software Advice.
Got the award of Emerging Favorite Recruitment Agency Software by Capterra.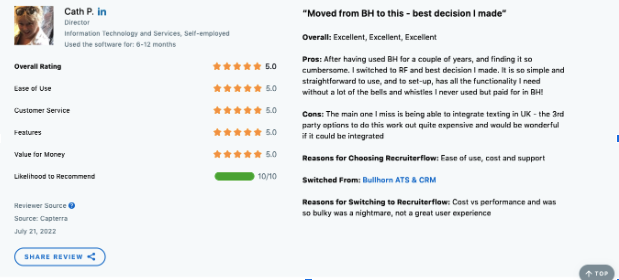 Recruiterflow Pricing
Recruiterflow provides three plans for its users –
Growth Plan – [ For 1-3 person recruiting team]
Price – $99 Per month, per user
Scale Plan – [ Ideal for mid sized recruiting teams]
Price – $109 Per month, per user
Enterprise Plan – [ Ideal for large recruiting teams ]
Price – $129 Per month, per user
Conclusion
At the end of the day, your business will grow more quickly with the help of effective recruitment. Streamlined, efficient recruitment procedures result in higher-quality, more enthusiastic workers, giving you a competitive edge that directly affects the success of your company. The benefits of hiring a project manager, an assistant or an accountant etc. lie in their direct contribution to your business.