Building trust with new prospects can feel like a daunting task.
But it doesn't have to be.
The key?
Creating a simple outreach process based on prospect behavior.
By creating a simple outreach strategy, you can automate prospect nurturing and nudge leads toward conversion without breaking a sweat.
So what's a straightforward process you can use to do just that?
One of our favorite methods is sending commitment-based emails based on user activity.
Email persuasion is a powerful technique. But when coupled with personalized marketing? You now have a true recipe for building trust and commitment with prospects.
Let's take a look at how to take advantage of this strategy using four basic steps.
Step 1: Add opt-in forms on your company blog and website
To nurture your prospects via email, you'll first have to collect opt-ins.
So, start by adding email opt-in forms throughout your company blog and website.
Here are nine creative places you can place email opt-in forms on your website and blog:
As scroll box call to actions (CTAs) throughout your blog posts
As a CTA at the end of your blog posts
Embedded into your blog comment form
At the very top of your blog sidebar
As the main event on your website's homepage
As a banner at the top of your website's homepage
As a footer at the bottom of your website's homepage
Embedded in a video on your blog and/or website
As an exit-intent pop-up when someone's about to leave your site
Placed in the middle and or/at the bottom of your About page
Step 2: Immediately send an automated welcome email to new opt-ins
Once a prospect signs up for your email list, you can start building trust with them immediately by sending a personalized welcome email.
A strong welcome email is pivotal to laying the foundation of a healthy relationship, so don't skip this step.
Here's what we recommend including in your welcome email:
Greet the prospect by using their first name (make sure you spell it correctly!)
Express gratitude for joining your email list
Share a brief company intro and your value proposition
Offer the prospect additional content resources with a CTA
Offer resources for getting in touch with a CTA
Thank the prospect again and sign off
End with an offer-based CTA (optional)
Here's an example:
"Hi Rachel,
Thanks so much for signing up for Project Nutshell Updates!
As a project management focused SaaS brand, we're passionate about helping project managers shave 10+ hours off their schedule every week.
To get the inside scoop on all of our best time-management techniques, check out our weekly podcast or head to our blog.
To get in touch with sales or to sign up for a free demo, click here.
We're honored to have you on board!
Speak soon,
The team at Project Nutshell
Psst: Can't get enough project management templates? Download our top five project management templates — completely free."
Step 3: Build trust with a company newsletter
Utilizing a company newsletter is an effective way to stay in touch with prospects on a consistent basis.
It's also pivotal to establishing trust since prospects can count on you showing up in their inbox at a specific time each week.
To build trust with a company newsletter, refer to the following steps.
1. Segment your opt-ins
While it's tempting to share the same newsletter with each of your prospects, that only works if you have one specific buyer persona you're targeting.
To get the most out of an email newsletter strategy, it's optimal to create a few different newsletters based on prospect segments.
For instance, if you own a B2B marketing firm, then you might have a newsletter for small businesses, a newsletter for mid-sized businesses, and a newsletter for enterprises.
2. Remain consistent
Show up in your prospect's inbox at the same time, on the same day every week. Before settling on a time and day, conduct research to gauge when your leads are most likely to check their emails every week.
3. Paint your brand story
To build an emotional connection with your brand, prospects need to connect with your brand story.
Be sure to share how your company came to be, your "why", and how your business runs behind the scenes. Bonus points for sharing user-generated content that highlights your brand story or videos of delighted customers beaming about how your company changed their lives for the better.
4. Highlight topics, news, and offers your reader cares about
Turn your newsletter into a reliable source of information by highlighting topics, news, and offers your reader cares most about.
For instance, Luxury Presence a real estate SEO expert positions its newsletters as a resource by providing market updates and real-estate advice
Step 4: Send commitment-based emails based on user activity
And finally! It's time to set up your commitment-based emails.
To take advantage of this strategy, start by segmenting your opt-ins by activity type.
Then, decide on your CTAs. When coming up with CTAs, focus on asking for a small sale first — also called the foot-in-the-door technique. This is an especially important method you can use to ease new prospects into working with you.
Alternatively, you can start with value-based CTAs and integrate sales-specific CTAs later down the road. This is an effective method to use if your target audience needs a bit more nurturing before they're willing to convert.
You can also integrate links to additional resources or ways to get in touch so prospects have more ways to engage with your brand beyond the CTA you chose.
As far as email copy goes, keep it short and to the point. If you're a fan of robust storytelling and longer copy, it's best to save that for a more appropriate email, such as company newsletters, which prospects expect to run longer.
Let's take a look at four user activity examples together — along with potential CTAs and commitment-based emails you can send each one.
Activity example one: Consumes tons of business content on your blog
If you have a prospect that can't get enough of your business blog content, consider using a resource download as your core CTA.
For instance, take a look at the following email from Tailor Brands: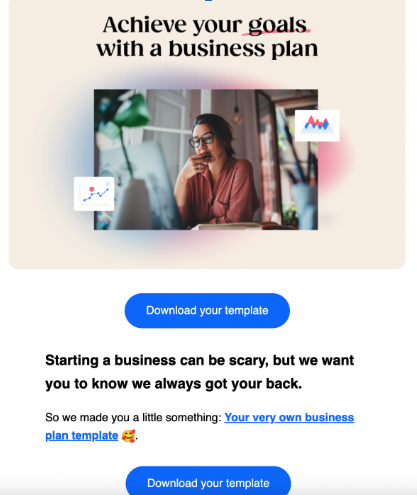 In this example, Tailor Brands offers a free business plan template as a CTA in its commitment-based email.
The email also includes empathetic language, such as "we always got your back", to further solidify trust with the reader and solve a real pain point.
Here's another example from Kristen Miller: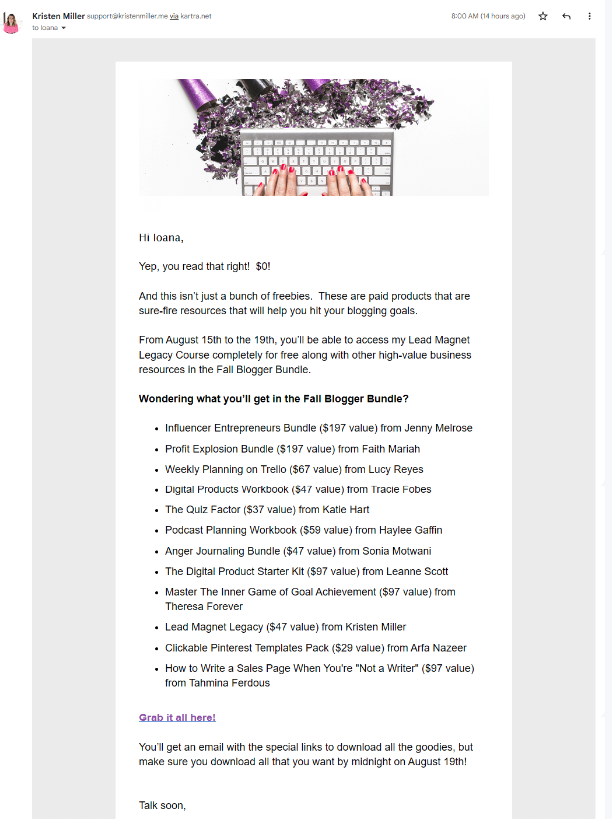 In this example, Kristen Miller offers a free blogger bundle as a CTA in its commitment-based email.
The email also stresses there's a deadline to claim the freebie which encourages readers to act quickly.
Here are some other CTAs you could use for prospects that love business content:
An invitation to attend your upcoming webinar on brand identity and logo design
A link to your latest business management blog series
A link to a podcast episode on the latest marketing trends
A link to download your ultimate guide on business systems and processes
Activity example two: Downloaded your free marketing guide
If a prospect downloaded your free marketing guide, why not take it a step further by sharing a generous discount on your company's marketing books?
Here's an example of the email copy you can use:
"Hi Mark,
Thank you for downloading our free marketing guide!
To express our gratitude, here's a 25% discount code you can use on any of our marketing books.
To devour more juicy marketing tips, head to our blog or sign up for our independent trends and industry report newsletter."
Activity example three: Attended your cybersecurity webinar
After a prospect attends your cybersecurity webinar, send them additional learning resources and ways they can integrate the lessons they learned.
Here's an example.
"Hi Judy,
Many thanks for attending our cybersecurity webinar. With cyber-crimes increasing faster than ever, we want to make sure our audience is equipped with tools to fight off cyber criminals.
As a thank you for attending our event, we'd like to offer you a free cybersecurity health check-up with one of our cybersecurity experts.
Click here to claim your free check-up.
For additional cybersecurity resources, download our cybersecurity health checklist and sign up for our upcoming webinar on phishing scams."
Activity example four: Can't stop eyeing your most expensive SaaS subscription package
When a prospect can't stop eyeing your most expensive SaaS package — but they're still not biting — they may need a gentle push forward.
To encourage them to take the leap, let them try out your most expensive package for free.
Here's an example:
"Hi Mick,
We've noticed you're interested in our Executive package, but you still haven't signed up yet. No problem! To test-drive our best package yet, we'd love to offer you a 30-day free trial — no subscription or credit card required.
What do you think? Claim your free trial, here, today."
Wrap up
Building trust with new prospects can feel like a daunting task without a solid strategy in place.
By creating a simple outreach process based on prospect behavior, you can build trust and commitment with leads over time.
That's why sending commitment-based emails is so important.
Ready to harness the power of email persuasion through commitment-based emails?
We hope the steps we shared today will help you get one step closer to building trust and nurturing prospects into becoming loyal, happy customers.
To your success!