Running an email marketing campaign that doesn't get engaged by your subscribers is the worst.
Hell, no business owner or email marketer wants to take the time and effort to craft emails or newsletters (even if they have amazing newsletter ideas) that a good number of subscribers won't bother to read, interact with, or even open.
But it happens, and quite a lot. Way too many people have way too many unread emails or emails they consider irrelevant just sitting pretty in their inbox.
92% of online adults use email. 99% of them check their email every day, as much as 20 times per day. So if you think your emails aren't getting checked well enough, you're probably right. Then that means you're not doing something right.
With the wide array of quality email marketing services out there, the access to tools that can construct top-notch email marketing campaigns is not an issue. Rather, it is the ability to apply the extra inspiration, coupled with brilliant email marketing sense that a lot of business owners struggle with.
Fortunately, there are brands that do it right, and they have their high engagement rates to show for it. These top brands can boast of such email marketing success because they have a working formula.
What I've done here is to gather the best email marketing examples from these brands and give you insights into the working formula they use to get their emails opened, interacted with, and remembered.
So, adjust your sitting posture, and maybe grab a pen or open your notes app cause you're about to get inspired by these 11 high-engaging email marketing examples:
Charm Offensive
Charm Offensive sent this welcome email to subscribers who signed up for a contest to win a free lifetime premium subscription to its service: a copywriting course.
Subject Line: MUHAHAHA! Welcome!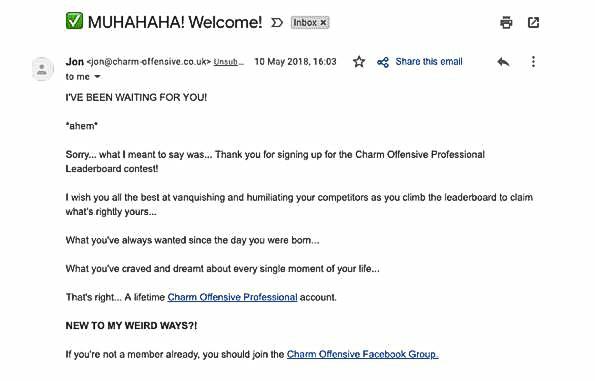 What makes this email engaging?
The Subject Line
To be honest, it's pretty hard to ignore such a subject line. No matter how self-controlled or sadistic you are, you would be tempted to click that email just to know what in the hell that was all about.
And that, ladies and gentlemen, is a textbook illustration of how to use the power of impulse to get your subscribers to complete the first process of email engagement: opening it.
As we all know, subject lines can make or break your email marketing campaign. What's the use of constructing an email if it won't even be opened in the first place? All your precious effort, thrown to waste in just one dismissive glance.
Charm Offensive made sure that will never happen with such a curious, unusual subject line. I think you might agree it was also quite hilarious, but I'd best leave that to your sense of humor.
But of course, that isn't the only thing they did right. You don't want people to open your email because of such a captivating headline only to see a bunch of tacky and non-corresponding nonsense. If that ever happens, off to the spam mail you go.
Exciting Content
Charm Offensive stays far away from the spam mail with what I think is one of the most exciting content I've ever read.
It's clearly very playful, but at the same time passes across the message and important info. Content like this has a better chance of creating an emotional bridge between the sender and reader. In fact, with content like this, you could get subscribers looking forward to your emails.
You certainly wouldn't disagree that it was humorous, conversational, and engaging. These are qualities you can employ to get your emails read to the last word. If you don't think you're this fun on paper, then don't hesitate to get a copywriter to perform the magic for you. Alternatively, you could use the help of a content writing tool.
What else does Charm Offensive do right?
The CTA Links
I like how the CTA links were embedded in the text. That blended well with the direction and intent of the copy, making clicking seamless for the reader.
What you should note, however, is that Charm Offensive's approach works well specifically for them. For one, it is applicable to their target audience. Secondly, they did it cleverly.
As a general rule, email marketers try to avoid using CAPs and exclamation letters for their subject lines. Reason being that a lot of businesses do this to try and generate excitement and subscribers have caught on to the practice. As a result, it's now a practice more likely to get you in the spam folder than anything.
But it still works sometimes, like in Charm Offensive's case. You just have to be clever at it like they were.
You also have to consider if your business really needs that type of approach. The nature of your brand and target audience might not support using a devilish laugh in your subject line, or using such a playful copy.
The idea is to derive ideas or formulas you can experiment with from these examples, not apply them outright. Going forward, consider the dynamics of your business when checking how the various examples could apply to your practices. That's very important.
Product Hunt
This is one of the daily newsletters containing featured trending products that Product Hunt sends to its subscribers.
Subject line: This is stomach-turningly good. Yikes. 👀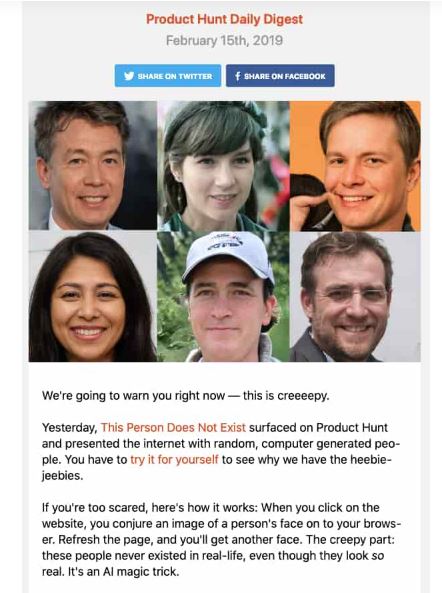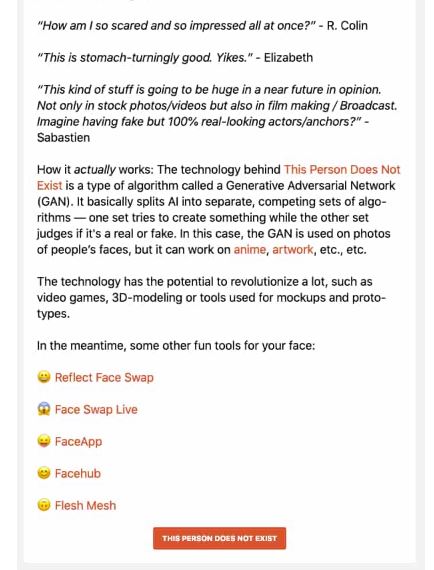 The Subject Line
Again, that is another captivating subject line. It doesn't matter the type of email, your subject matter should be able to get your subscribers craning their heads closer to the screen and squinting their eyes.
Or at least, it should get them thinking, "This looks interesting, I should check this out."
For Product Hunt, that certainly happened. The added emoji was a smart move. It's been found that using an emoji in a subject line can boost open rates by 4.2%. It makes sense when you consider the fact that the digital era is dominated by a generation that relies a lot on emojis to communicate, and they haven't exactly slowed down on that trend.
Admittedly, this practice of using emojis in subject lines might get exhausted when it becomes crowded by brands, but in this instance, it was effective for Product Hunt.
The Content
So, clicking to check the content, we're introduced to some pictures that confuse us at first, and then an opening line attacks us with suspense right away.
Reading further because we just must, we're presented with well-written content that sufficiently describes the exciting news and even gives us options to discover more information with cleverly linked CTAs.
So the content is not only exciting and engaging, it leaves no room for confusion. Ticks all the boxes for any newsletter. I especially like how it goes further to comprehensively describe how the product works.
What else does Product Hunt do right?
The Social Proof
Dropping the reviews and thoughts of people who had actually used the product makes the reader more eager to try it out.
They also cleverly advertise a list of other featured products. But of course, the majority of clicks would go to the main featured product.
Personally I don't see too many people deciding not to check out the product after reading something like that. It's like not wanting to see the end of an interesting movie. So engagement? Check.
Wool and the Gang
The thing about promotional emails is, they're not as difficult for giant brands. People are more susceptible to clicking for a popular brand they trust.
Starbucks for instance. I doubt many people will be able to resist a subject line that says "You can win Starbucks for Life!" There is certainly a great demand for that.
So what if you're not Starbucks, and you don't have the resources for such ridiculous discounts. So what do you do then?
Well, you can say offer a less ridiculous discount but you still aren't Starbucks, are you? And so many people do that already anyway.
Offering discounts is good practice by the way (you really can't do without offering discounts these days). It is now a demanded norm.
But what if you know your discount strategy is not exactly the strongest selling point? What if you want to stand out in an inbox filled with hundreds of discount offers and promotional sales?
Well, like Wool and the Gang here, you can thoroughly identify with your target audience and do things the way it's done in their world.
Subject line: Plans Tonight?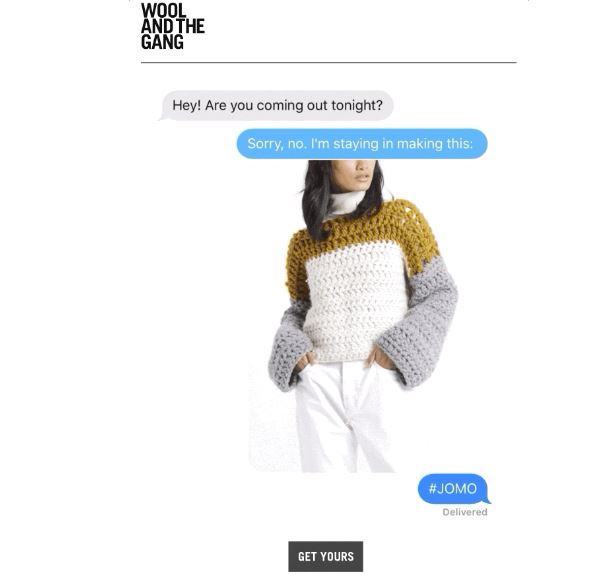 What makes this email special?
Relatable Subject Line
Starting with a subtle subject line that contains their lingo. "Plans tonight?" sounds like that text you get from a crush or hot prospect, or a very good friend. Would you click that? I think so. Or at least the brand's target audience would.
Relatable Content Style
The brand's target audience are obviously millennials and Gen Zs. It's even hard to miss this as the email opens up to the GIF of an iMessage text. A clever way of creating content that their subscribers will resonate with. By speaking their audience's language, Tuft and Needles increase their chances of not only being engaged, but being remembered, and in fact, anticipated.
They tap into the prevailing mentality of their subscribers by celebrating the culture of staying home to knit instead of going out. I know this works very well because I know a couple of knitters (truth is, I really didn't realize this pattern until I had to think of it now) and they would rather stay at home and knit all day.
They even use a cultural hashtag, #JOMO to brand this mentality.
Use of How-To Video
The subscribers' interests are fully invested at this point. So what next? Drop the sales menu of course! Right?
Right, but the brand uses even more tact and drops a video that explains how to use their product along with the list of recommended products.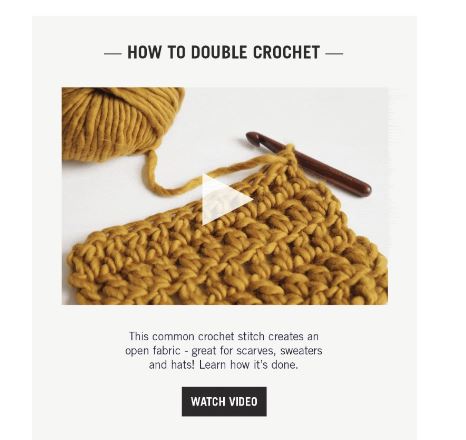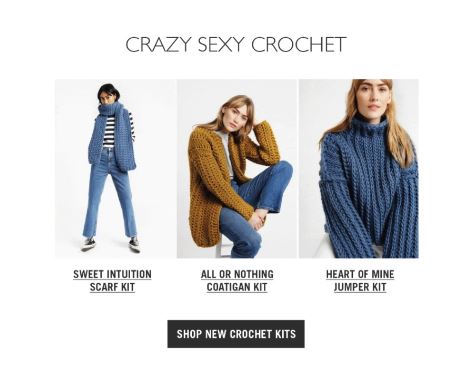 So not only do they get their subscribers interested, they also encourage them to indulge in the interest with an how-to video. And of course to indulge, they might need to use the brand's products so those naturally come in next.
For generating conversions to building an emotional connection with their customers by tapping into their psychology, this approach by Wool and the Gang does it all.
Backlinko
Okay, so you're probably itching to see a promotional email example from a company that offers professional services or a SaaS brand. Well here's one that Brian Dean of Backlinko sent to subscribers.
Subject Line: Ecommerce SEO: The Definitive Guide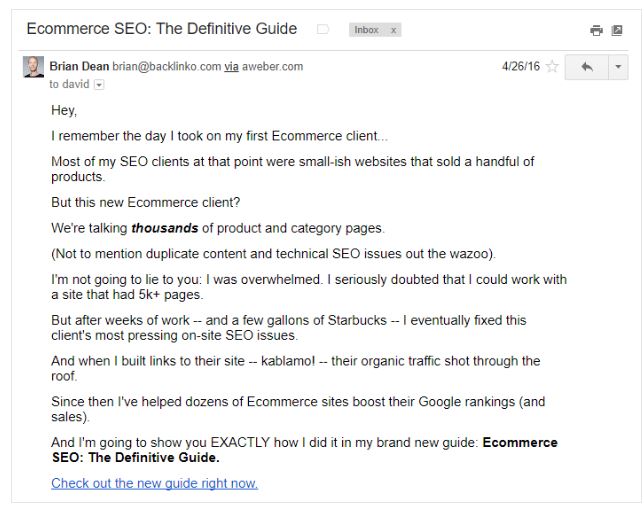 What's effective about this email?
Storytelling Format
It uses the power of storytelling to get readers invested in the email.
The narrative, honest structure of the copy will do to the readers what stories usually do: keep them holding on for the last word and waiting for the climax.
And the climax certainly comes, when he gets to the point where he overcame the test that had given him much fear and doubt, and very successfully too. That was a sweet way to prove his expertise and show his credentials. It practically laid the groundwork for him to drop his pitch, which he landed with finesse.
What I love about the story? It was short and intelligently structured: Intro – problem – solution – proof – pitch.
The CTA text at the end with the clear and assertive instruction did the final trick, which was of course, the most important one: getting readers to click after building their interest.
Grammarly
Grammarly offers a high discount promotion to its subscribers with this mail.
Subject line: Save up to 52% – offer ends tomorrow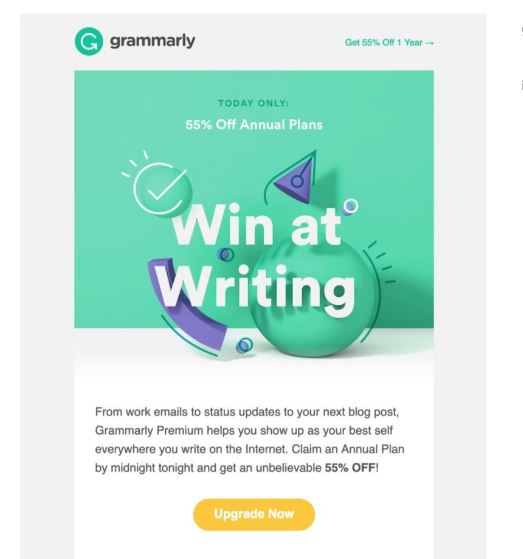 This email's formula:
Use of FOMO
Nothing like an enticing offer and the element of urgency to get subscribers clicking your email right away in immediate curiosity.
And when they finally confirm that you're not bluffing, the time-limit you set triggers their FOMO and they click their way to your landing page, partly based on impulse and partly based on premeditated assessment.
Of course, they wouldn't have done this without reading your copy, which cleverly states why they would need your service and properly explains how the discount works.
This is everything Grammarly has done in this email. "Enticing offer" is an understatement for "ridiculous discount". A 55% off discount for a full-year plan. That's the type of offer that makes customers start making up reasons why they need the product.
If you can afford such a discount strategy, you must plan and use it wisely. It would serve as a very unique value proposition to get your emails engaged, your products bought, and your brand remembered.
Making the discount last only one day was a brilliant strategy to further increase the engagement and conversion rates.
It is conceivable to see a limited-time discount and save your decision for later (and probably even end up forgetting about it). But one that only lasts one day? Not as much.
MVMT
If your company's anniversary is anytime soon, then you must surely be feeling the pressure to do something big and symbolic.
You might be thinking of running a massive discount. Well, that could work. Or, like MVMT here, you could give your subscribers something truly special, something emotional that they wouldn't forget in a hurry. In MVMT's case, it was a compiled film of videos generated from their customers.
Subject line: That one time we went viral…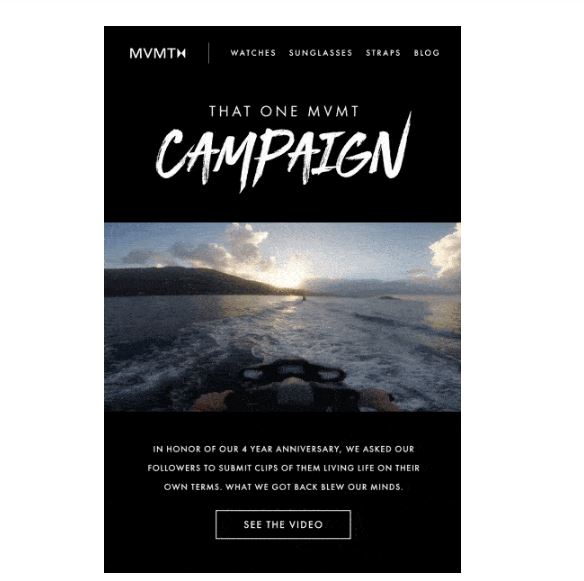 Practically everything about this email was intriguing, particularly the short film itself. Actually that was beyond intriguing, it was amazing. I watched it and I want to say all sorts of things about it, but let's focus on how satisfactory this email is:
The Subject Line
First the subject line. Very casual, exciting, and able to build a nice level of suspense. Enough to generate the clicks.
Use of Compelling Visuals
After the click, we see the best part of the email: the brilliant use of visuals. The images arranged and displayed in a GIF format tell you you're going to see something amazing if you click that link.
Images and videos will always work wonders when used well. Everyone knows that, but somehow, not everyone knows how to use them well.
MVMT's email is a great example of using visuals to guarantee maximum engagement. And how does it do that? By using images that can act as an exciting cue in the reader's mind. This builds a level of excitement as to what to expect.
I have no doubt that whoever designed that email had a vast gallery of images to choose from, but carefully selected those ones to pass a particular message across or derive a particular emotion. And I dare say the effort was a success.
Your visuals should clearly showcase your products or services in powerful HD, yes. But you should also know how to use them to communicate the right emotions and intent. Or at least hire someone who can.
The copy was certainly up to par, briefly describing the essence of the email and adding to the level of expectation.
Tuft and Needles
Cart abandonment is now a very popular word in the ecommerce world. So much so that even consumers are familiar with the concept. Everybody expects to receive an email when they abandon their purchase.
So, if you use an ecommerce platform, you must have a cart abandonment strategy, with the right cart abandonment software and email campaign to implement it.
Let's look at this cart abandonment email sent by Tuft and Needles to an "almost" customer of theirs.
Subject line: The Spookiest Bed Time Story Ever…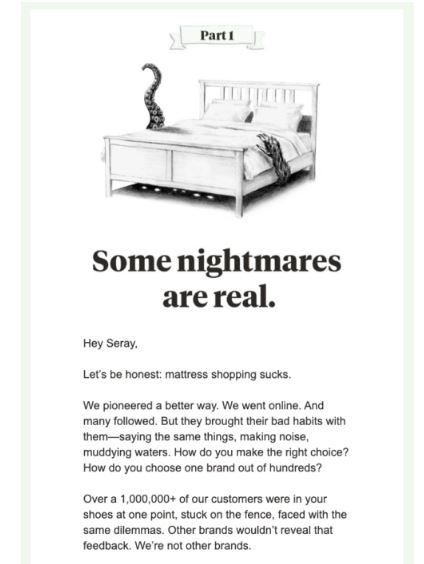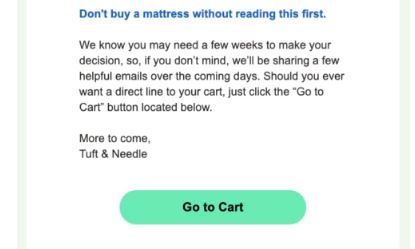 What makes this cart abandonment email a success?
The Subject Line
The subject line deviates from a regular abandonment subject line. No "Forgot Something?" or "You Dropped This". No, this subject line is pretty interesting and promises an interesting story, knowing most people find it hard to ignore that type of suspense.
Brilliant Copy
But that of course, is not the best part of the email. What truly engages the reader is the ensuing copy in the email.
The copy does a couple of things right. It starts with identifying with the customer's emotions by admitting that mattress shopping sucks. Then it passes across a strong message of brand authority, assuring the customer of the brand's quality.
The Social Proof
By mentioning their customer base of more than a million people, the brand provides social proof.
It then goes further to differentiate itself from other brands by mentioning it does something other brands don't.
Addressing Consumer Pain Points
But then, that isn't enough for Tuft and Needle. Understanding that the customer might have several reasons for not buying, they decide to answer the possible doubts. Realizing that the doubts might be too many to be answered in one page, they write everything on a separate page, then embed the page in a very persuasive CTA.
That link that says "Don't buy a mattress without reading this first" will take you to a page that describes a list of relatable reasons you might be holding back. The page also alleviates those doubts in trademark conversational and engaging style.
Quora
When it comes down to the raw basics, the best way to engage people is to tell them what they want to hear, or give them information they're interested in.
There's a name for that in email marketing. It's called personalization. And thankfully, any email marketer with any level of exposure knows it's an essential part of their strategy. Right?
So these days, it's about how well you use personalization. Some brands barely do it right. Some brands think it's all about using subscribers' names in the subject line.
Some brands are fantastic at it, like Amazon. The level of brilliance and resources the retail giant utilizes in its personalization strategy is one of the reasons why selling on Amazon is so profitable.
Any proper brand knows that a good personalization strategy entails collecting relevant information about your customers that pertains to their interest in your brand and accounting for this data in your email list segmentation and subsequently, your email marketing campaign.
You can generate specific customer data through several platforms:
Through channels that enable direct interaction with your customers. Naturally, this could be customer service channels like your help-desk software or agents, your social media, email address, or the live-chat software on your website.
Through consumer research platforms like online surveys or chatbot surveys or even website quizzes that can give you very relevant customer data based on your specific requests.
Through your online forms, email opt-in, and lead generation platforms.
Quora's Personalization Strategy
Quora is a good example of using personalization to engage subscribers.
I spend a lot of time on Quora, and through my behavior on their site, they managed to identify my major interests, which are boxing and mixed martial arts.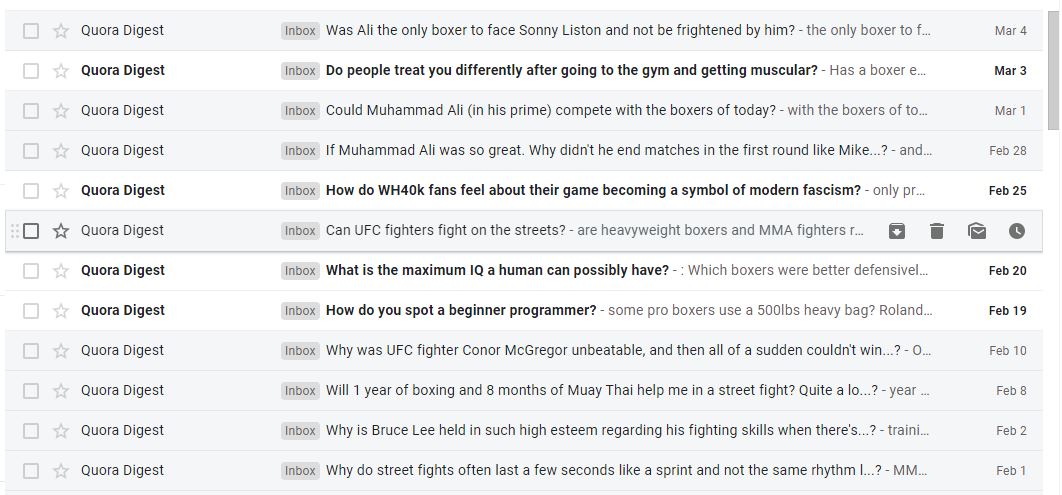 So it just so happens that on some days, I don't have any time for Quora. They notice I'm not online after a while, and then of course, send me lists of carefully curated posts they think I'll find hard to resist. And it works, most of the time, as you can see. I'm just not as interested in knowing what happens after I get muscular at the gym. Nice try, Quora.
This simple bit of an example is a good illustration of what will happen if you learn as much as you can about your subscribers and send content or offers very relevant to their interest. Most, if not all, of your emails will be checked in their inbox.
Loft
Still on personalization, since it's so vital to the idea of engagement. Ordinarily, you can get the basic information you need to customize your subscribers' emails through the online forms they fill when signing up on a website or for a service.
You can also get more sophisticated and use integrated tools that can track their behavior on your website and collect data from that process. Even your customer service is a good channel to learn more about your customers as they let their opinions and interests known.
These are all tried and true methods but another option you can add to your arsenal (and which you probably already have) is asking your customers directly through email to update their inbox preferences.
This method is really effective when it works, especially if you ask the truly relevant questions in your email preference center.
It also sends across the message to your subscribers that you actually care about their interests.
The challenge is creating an email that will motivate them enough to want to spend their time selecting their likes and dislikes on a web page.
This email by Loft is a good example.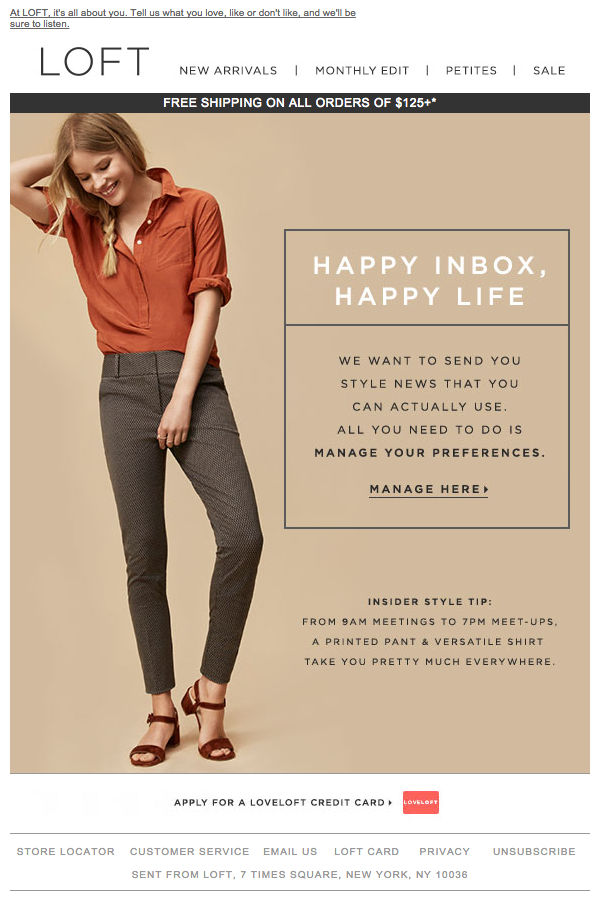 So how does it rank?
Good Design
I'll start with the design. The color tones and the image of the smiling woman have a calming effect. Light, but subtly effective.
Her well-planned and stylish outfit immediately sends the message that it's a fashion brand (see the power of communicating with pictures?)
The header text in the copy references the importance of a proper inbox to a happier life, and that is something a lot of subscribers would agree with.
Good Copy
The ensuing copy then builds on that idea with a straightforward promise to deliver only relevant news, only if the subscriber managed their preferences.
I like the extra tip given at the bottom of the email to build some level of appreciation in the subscriber, and in effect, a positive emotion. The idea is to keep the reader in a good mood so they are more open to taking action.
That might not have worked for everyone, but as someone who likes dressing good, I think it would have worked for most of their subscribers.
You don't necessarily have to use that approach for your brand of course. Some businesses offer discounts in exchange for updating email preferences, and they're strong incentives.
Beardbrand
We've spent the whole time discussing the importance of subject lines but somehow haven't really touched on an element that's almost, if not equally as important as an email subject line: the preheader text.
Your preheader text will also determine to a huge extent if your email will be opened at all. A preheader text that doesn't blend with or build on the message, intensity, and emotion of the subject line can be confusing and will throw subscribers off.
So the first challenge is choosing a preheader text that actually works with the subject line. But the preheader text can do much more than that.
It's another white line for your subscribers to read before deciding to check your email. It's an extra opportunity to convince them your email is worth checking. And well, you have to seize it. Like Beardbrand here:

Beardbrand is one of my favorite brands actually. And it's not just because of their awesome email campaigns. They also actually have great products. So overall, it's a really cool brand.
And they certainly met their trademark when I was scouring through my mail in search of perfect preheader examples:
Great Preheader Format
An effective preheader should give you a hint of what's to come in the email. It should work with the subject line to provide the perfect hook.
Beardbrand's preheader text achieves all those qualities and more, adding humor and a witty sarcasm that was employed by that hilarious subject line. See how it stands out in my inbox? That's what a preheader text should do for you.
In this instance, you can observe that the preheader text actually holds the valuable information. In fact, the subject line wouldn't make any sense if that preheader text was not there.
And that is usually the case with most unusual and engaging subject lines. The preheader text provides the context. That should tell you much about the value of a preheader text in your email marketing campaign.
Beardbrand's witty approach isn't just for show. They are clearly offering a solution to a problem (that I actually had, so the email was relevant too).
Of course, the content of the email itself didn't disappoint.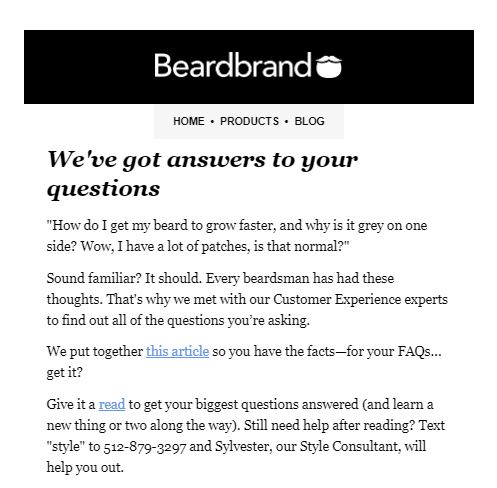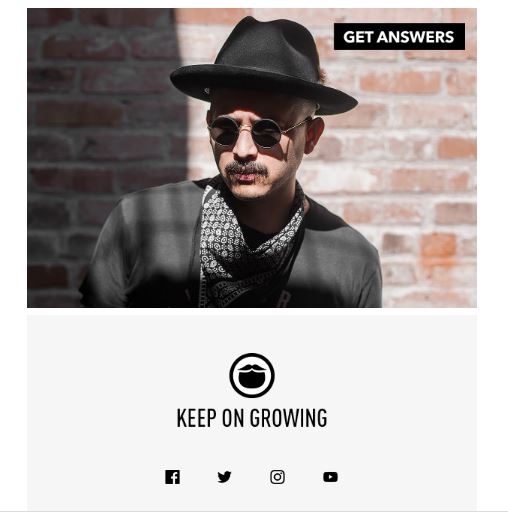 It contained compelling copy that was relatable and helpful, with a nice visual to boot.
Carnival Cruise Line
Let's take a deep dive, shall we? Carnival Cruise Line gives us an example of just how far you can go with creatively engaging your subscribers.
Subject Line: Deposits are taking a dive (See what they find down there!)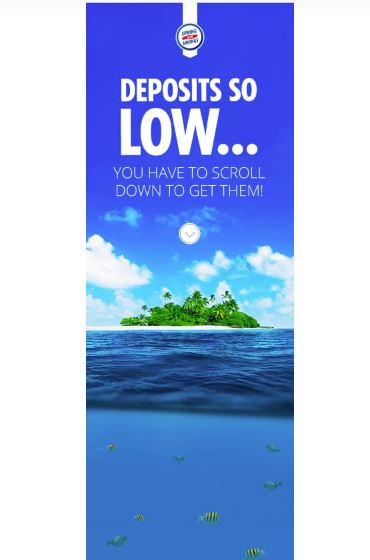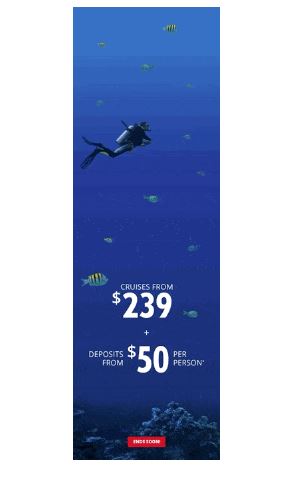 This promotional email is probably one of the most unique I've seen in a while. It's also pretty effective as far as ensuring engagement is concerned:
The Subject Line
The subject line does the job of getting subscribers to click. Even if they don't immediately understand the reference, they get the idea that they're about to be offered a serious discount, and even though I haven't included it here, the preview header reveals that. And it is indeed a serious discount, enough to lure any subscriber to click.
Unique Design
What happens after opening the email is the focal point. The witty header text that directs readers to the bottom of the email is brilliant.
By using an elaborate animation of the seafloor to complete the reference in that text, the email succeeds in producing a delightful and immersive experience for the subscriber.
So you scroll and get to the bottom of the seafloor (email) and there, you see the bonus offer, lying there in wait like a treasure chest.
I see a lot of gifs and animations used in several emails, but not many are these pleasure-inducing.
The email is the perfect blend of creativity and practicality, a great example of how you can achieve results by going outside the box.
Conclusion
At the end of the day, your consumer intelligence will play a huge part in whether your emails are engaged or whether they're dismissed with other unread emails in your subscribers' brimming inboxes.
Hopefully, these email marketing examples have inspired your creativity and intelligence to come up with eye-catching and practical emails that won't only get your emails opened but engaged and remembered.
But remember, an email A/B testing strategy is vital. You must validate your ideas before implementing them, or run the risk of losing even more of your subscribers and customers.
Author Bio:
Martin Luenendonk is a 3x serial entrepreneur with a deep passion in digital business models and marketing innovations. He is the Founder at cleverism.com and founderjar.com