Today businesses have a plethora of marketing channels to pick from, including email and WhatsApp marketing. Hence, it can be challenging to determine which ones are effective in reaching your target audience and driving conversions, especially when comparing email marketing vs. WhatsApp marketing, as both have their own strengths and weaknesses.
Email marketing has been a popular channel for many years because it's a cost-effective way to reach a large audience through newsletters and promotional messages.
On the other hand, WhatsApp marketing is a relatively new form of marketing that allows businesses to broadcast messages and have two-way communication with their subscribers. The question is, which one is more effective in terms of conversion rates?
In this article, we'll explore the pros and cons of both channels and provide tried-and-true practices to maximize your results. By the end, you will have all the insights to make the most out of your email and WhatsApp marketing campaign and, in turn, achieve better conversion rates.
What Is Email Marketing?
Email marketing is simply sending promotions and newsletters to people via email. These emails don't only have to be promotional in nature, they could also be focused on providing value to users. Though, the ultimate goal of these emails is still to encourage the recipient to take a desired action, like making a purchase or engaging with the brand.
Contrary to what most people think, it's still marketers' favorite digital marketing strategy, where 70% have seen an increase in email engagement over the past year. Even the Gen Z population agrees, where 58% of them check their email multiple times daily.
There are lots of email marketing strategies that brands use, including:
Newsletters
Welcome emails
Triggered emails
Personalized emails
Re-engagement emails
Abandoned cart emails
Essentially, the type of email strategy you use depends on what your business goals are and who your target audience is. For instance, if your business is an eCommerce store, abandoned cart emails that offer a special discount or deal would be an effective way to bring customers back to complete their purchase.
But what sets this apart from other marketing channels?
It's the ability to provide a direct and personalized line of communication with your potential customers. Unlike using social media platforms or display advertising, which can be more passive, email marketing allows you to send targeted messages directly to your subscribers' inboxes.
ShopSolarKits, a company that sells solar power kits, clearly illustrates this in its email marketing strategy. After joining their email list, they suggest trying out a solar kit test to find out which one would fit your needs the best. They even offer discount codes on the first offer – something exclusive for subscribers.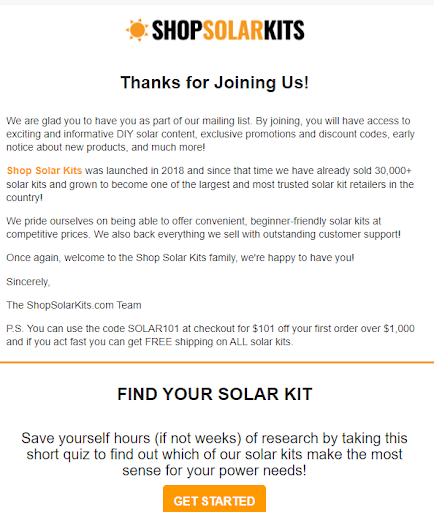 They've effectively used their email marketing to reach out to their target audience of solar kit enthusiasts. Essentially, email marketing's main goal is to communicate with your target audience in a more direct and personal way.
It's an easy way to send links to your brand's promotions or if you're launching a new product that requires a more in-depth explanation. Like this example, you can even target specific audiences with the help of ETL pipelines and send personalized messages accordingly to increase your sales. Essentially, these pipelines help analyze customer data (such as purchase history, browsing behavior, and demographic information) to help you make better-informed decisions about your email marketing campaigns.
You can then easily segment your email list and send targeted messages to different groups of subscribers. Whatever strategy you use, it will help you create a more personalized experience for subscribers that result in better customer engagement and conversions.
It may take time to master and identify the best segmentation strategy that works for your brand. You can work with an expert virtual assistant to handle this for you so you can focus on the more pressing concerns of your business.
Let's discuss some more benefits of email marketing as well as drawbacks to help you get a full picture.
Pros Of Email Marketing
Emails that feature storytelling techniques help to create an emotional connection with subscribers and ultimately inspire them to take action.
It's a highly cost-effective form of marketing where you can easily reach your target audience without spending tons on advertisements or direct mail.
You can easily measure your email campaigns, including metrics like open rate, click-through rates, and conversions, to know your customer's habits and improve your strategy.
It allows you to segment your audience based on interests and preferences and send personalized messages accordingly. So you can meet customers right where they are in their customer journey.
It's a great channel to engage with customers who look forward to receiving communication from your end. Your email marketing list will consist of people who have actively indicated their interest in receiving emails from you.
Cons Of Email Marketing
Over time, subscribers may become disinterested or fatigued by the volume of emails they receive from businesses.
Your unsubscribes will impact the size and engagement of your email list, so it will be harder to retain more subscribers if your unsubscriber rate increases.
Possibility of lower engagement and click-through rates (CTR) since you have to compete with a cluttered inbox and other distractions for the subscriber's attention.
It has the potential for messages to be caught in spam filters. If a subscriber's provider detects that a message is spammy, it will automatically be sent to the spam folder.
Let's suppose your email passes a subscriber's spam list, it still needs to be delivered to their inbox. Factors including the quality of your email list, the email service provider, and your business's reputation can all affect your email's deliverability.
There are laws you must comply with, such as the CAN-SPAM Act in the United States, which can result in fines and legal action. Essentially these laws require you to include specific information in your emails, like an unsubscribe link and contact information.
Now that we've explored the benefits and limitations of email marketing, let's turn our attention to its competing marketing strategy: WhatsApp marketing.
With its significant user base and instant messaging capabilities, WhatsApp marketing has become an increasingly attractive option for businesses looking to engage with their audience.
What Is Whatsapp Marketing?
WhatsApp marketing has gained momentum in recent years, where businesses use the popular messaging app WhatsApp to communicate with their customers. With 2 billion active monthly users, it's a powerful tool to reach customers instantly who are highly engaged with the app and prefer direct messaging.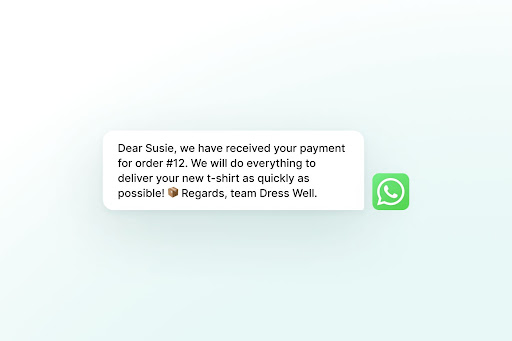 Essentially, this messaging platform allows you to send text messages, images, videos, and even voice messages directly to your customers' mobile phones. WhatsApp has 3 versions that help you use it for these marketing purposes:
WhatsApp Business
WhatsApp Business API
WhatsApp Business Solution Provider
WhatsApp Business is free and designed for small to medium businesses and has relatively fewer features. For instance, if you sell medical alert watches, you could use WhatsApp Business to send personalized messages to customers who have previously purchased from you.
It could go something like: "Hi [Name], this is a friendly reminder to replace the battery of your medical alert watch, or as a valued customer, we'd like to offer you a special discount code for 10% on your next purchase."
Additionally, you could use WhatsApp to send out medical alert watch reviews and testimonials from satisfied customers to help build trust and credibility with potential buyers.
As your brand grows, you could then update your app to the paid version – WhatsApp Business API to take it up a notch and automate your customer service responses and provide quick answers to frequently asked questions. If you work with a WhatsApp Business Solution Provider, you could benefit from additional features such as advanced analytics and reporting.
All 3 of these are designed to help you communicate with your customers more efficiently and effectively. Choosing the right version will help you leverage WhatsApp to reach and engage with your target audience effectively.
Let's see how WhatsApp can help you achieve this by discussing the advantages of this marketing channel.
Pros Of Whatsapp Marketing
WhatsApp's premium package allows you to automate tasks to help save time and improve the efficiency of communication with your customers.
It allows you to have direct communication with customers in real time, making it much easier to address their needs and concerns quicker. Essentially this helps to build trust as they feel more heard and valued.
WhatsApp is popular in many countries, so you have greater potential to tap into international markets and target a wide range of customers. The platform is also appealing to people of all ages and backgrounds.
Group chats and broadcast lists help to save time by sending bulk messages to people spontaneously. These can also be organized based on customer preferences, demographics, or buying behavior to reach the right audience.
WhatsApp has the added support of media, which helps design creative marketing campaigns. Its ability to share multiple media formats helps to create more appealing and exciting marketing materials that capture the audience's attention.
Compared to other marketing channels, WhatsApp has better conversion rates because of its high open and response rates.
Cons Of WhatsApp Marketing
WhatsApp has some privacy issues where customers feel that their messages are intrusive.
It can be less suitable for reaching a large audience quickly as it's more focused on one-on-one or small-group communication.
It doesn't support chatbots, so you can't automate your customer's interactions so it's hard to manage a high volume of queries.
The platform has strict guidelines for business use, and any violation could cause your account to get restricted or terminated. Hence you have to be cautious while engaging in marketing activities.
While WhatsApp does provide basic tracking tools, it lacks detailed analytics and reporting capabilities, so it's hard to evaluate your marketing efforts in detail.
Whatsapp VS Email: The Striking Difference
When comparing email and WhatsApp, one of the main differences is how quickly messages are delivered and seen by the recipient. Whatsapp is known for its real-time instant messaging, while email messages are sometimes delayed or not seen quickly due to the sheer amount of emails people receive daily.
The table below outlines the differences between both marketing channels.
| Features  | Email Marketing | Whatsapp Marketing |
| --- | --- | --- |
| Reach | 4 billion active users | 2 billion active users |
| Customization | Easily customizable | Limited (no support for HTML or rich media) |
| Open Rates | 20% | 100% |
| Conversion rates | 20% | 9% |
| Automation | Offers a high level of automation | No automation support except for WhatsApp Business API |
| Risks of being marked as spam | High risk of spammy content going unnoticed by the recipient | Risk-free |
Remember that each conversational channel has its advantages and disadvantages. Email marketing provides a larger reach, greater customization options, and more automation capabilities. However, it's more prone to getting flagged as spam which affects the visibility of your messages.
On the other hand, WhatsApp marketing offers real-time communication, higher open rates, and a risk-free environment when it comes to spam. But, it has a smaller reach, limited customization options, and lacks automation features.
Ultimately, try each communication channel and see which approach solves your needs more closely. Remember, diversifying your marketing efforts and utilizing multiple channels will help you reach a broader audience and improve your overall marketing success.
Conclusion
Both email marketing and WhatsApp marketing offer unique advantages and challenges, and the best choice for your business will depend on your specific marketing goals, target audience, and resources.
However, if you're looking to engage with your customers and drive greater conversions, email marketing is the better choice. It will provide a more direct and personalized communication experience for your subscribers with high returns on investments to help you save on budget too.
If you're looking to improve your email marketing efforts and need reliable email marketing services, Voila Norbert has the right tool for businesses of all sizes. With our accurate email finder, you can easily build a high-quality email list and reach your target audience. This will help you avoid deliverability issues and ensure your messages are delivered to the right people.
We also offer a powerful email verification service to enhance your email marketing strategy further. With our pricing starting as low as $0.003 per email and a 98% deliverability guarantee, you can trust us to help you achieve success with your email marketing efforts.
**** This is a guest post from Burkhard Berger. Burkhead is the founder of Novum™. He helps innovative B2B companies implement revenue-driven SEO strategies to scale their organic traffic to 1,000,000+ visitors per month.  ****