Whether you are new or experienced in email marketing, you probably heard a lot about deliverability, spam filters, or email reputation. It turns out, there are a lot of things that determine whether or not a letter reaches the reader's inbox. While the content of the letter can make or break your campaign, it's not the only variable that enters the game.
In this post, we'll take a closer look at the concept of reputation for email deliverability – you will find out how the IP address and the domain you are using to run campaigns influence email deliverability, what mistakes marketers should avoid, and the reg flags you need to pay attention to.
Types of Email Reputation
There are different ways for Internet providers to determine the reliability of a sender. Most ISPs keep track of two types of records – the IP and the domain ones. Let's compare them and analyze the impact of both on the success of email marketing campaigns.
IP reputation
As the name suggests, IP reputation has to do with the address you use to run campaigns. To maintain a good track record, be mindful of how often and how many emails you send. There are two types of addresses business owners typically use to run campaigns – dedicated and shared.
A dedicated IP is the one only your company will use. On the one hand, by choosing this type of address, you can be confident no other sender will compromise the deliverability of your campaign. On the other hand, a dedicated IP is expensive to maintain – make sure you have the tools and resources to maintain an address on your own.
A shared IP is cheaper though riskier. The reputation of your emails will directly depend on how other senders use the address. If someone is blasting irrelevant emails or sending too many campaigns at once, your marketing efforts will likely take the hit as well.
Domain reputation
Domain reputation filters email activities based on the domain a brand uses for email marketing, not the IP address. For this type of metric, the business' sending behavior is much more important than the number or the frequency of emails.
For instance, if too many of your letters are flagged as spam, the domain reputation of the company will drop – running campaigns from a new address will not make things better.
Since domain reputation is more precise, marketers believe that email hosting providers pay more attention to it. Having said that, it's recommended to check your overall sender reputation via Postmaster tools and other utilities.
Assessing the reputation of your address
Depending on your IP and domain reputation, Gmail and other clients usually evaluate the address with an overall sender score. There are four levels of email reputation – let's take a closer look at them one by one:
Bad. This score is typically assigned to addresses or IPs that generate high volumes of spam. If an address has a low reputation score, all emails coming from it will be flagged automatically or rejected at the SMTP level.
Low. Emails with a low reputation score are usually delivered to the end user's inbox. However, they are marked as spam and have low odds of ever being opened.
Fair (medium). Addresses with fair sender scores are mostly uncompromised, they reach the reader's inbox successfully. However, it's common for fair-scored emails to get into the 'Promotions' tab if there's too much sales-y content in the body of the letter.
High. These are the addresses with the spam rate nearing zero, that comply with Gmail's sender policy, and are well-received by the audience. Naturally, high-scored addresses are almost in the clear for spam and other types of sender filters.
Ways to Improve Email Reputation
Email reputation directly impacts the deliverability rate of your campaign. Even if a marketer has a large subscriber base, without proper sender practices, creating and sending emails will be a waste of time and money and can do you more harm than good in the long run.
To improve the reputation of your IP and domain, follow this simple transactional email FAQ:
1. Send emails in small batches
Before they dive into email marketing campaigns, most experienced teams start with an IP warmup. Since the volume and frequency of emails is highly important when it comes to IP reputation, make sure to not send too many letters at once. Instead, segment your userbase and send emails in small batches, with the moderate frequency (not higher than a few times a week).
2. Adopt a sender policy framework
Sounds vague? In reality, a sender policy framework (SPF) is an authentication process that helps ensure that no third party uses your email to send out campaigns. This protocol ensures that the domain name listed in the 'From' field matches the IP address from the database. If not, the authentication is considered a failure and an email will not be sent anymore.
3. Monitor your sender score
The biggest reason why people's sender scores fall through is that marketers don't take time to monitor email reputation thoroughly. There are plenty of tools online that help determine the sender score KPIs for every email. Typically, a sender score falls within the range of 0-100 – ideally, you should strive to keep it above 90.
Here are some of the sender score checking tools you should try out:
SenderScore.org
TrustedSource
ReputationAuthority
TalosIntelligence.com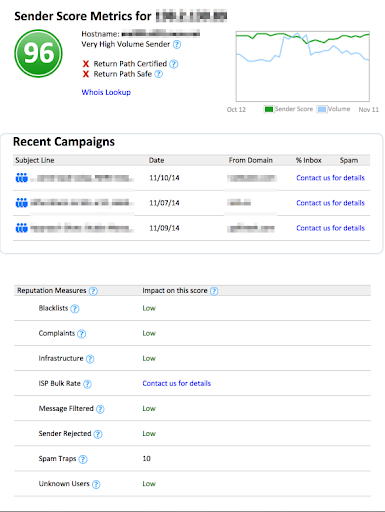 4. Adopt a consistent campaign schedule
Sporadic sending schedule is another reason why your sender score can fluctuate. Your audience is unhappy with the lack of inconsistency either – so adopt an established frequency for your email marketing campaigns.
This way, you will be able to connect with readers, make sure they have a habit of reading your newsletters, and avoid sending spikes that damage the sender score.
5. Make sure the topic of your emails corresponds to the domain category
All the domains are grouped by category depending on the content, type of product, or service they offer. For instance, a dating website will be listed in the 'Dating' database.
Whenever you are planning an email campaign or designing a content infographic, be sure to keep the domain category it belongs to in mind. Discrepancies between the topic of the domain and the content of the message will lower your sender score.
6. Review your email list
Another efficient way to improve sender reputation is by reviewing the subscriber base. Sending messages to non-existent or unengaged readers will increase your campaign's bounce score, taking the sender score down as well.
Make it a habit to review the email list every once in a while. Take a look at how every segment of the audience interacts with emails, who is more likely to flag your letters as spam, etc.
Then, there's a particular type of subscribers – contest participants. If you have run a giveaway as a part of Black Friday content marketing and still have users' addresses, don't mix them with engaged readers. Instead, start slowly warming these readers up by sharing tips, guides, and other valuable content before moving to promotional emails.
7. Be mindful of email frequency
In email marketing, the truth always lies in the middle – this applies to email frequency as well. Too many emails are an easy way to burden readers and gain dozens of unsubscriptions. Too few, on the other hand, will not allow you to stay in touch with the audience and connect with prospective leads.
Jeremy Boudinet Marketing Manager at Nextiva believes "one email per week is a good starting point for email frequency". As you grew a loyal user base, consider scaling the number of letters to two per week. Top email marketing teams can even deliver daily emails – however, this type of engagement takes years of audience warmup.
8. Warm your IP before a campaign
When it comes to warming up an IP address, it's helpful to have a consistent strategy. Most teams use a 30-day newsletter warmup that goes as follows:
Divide your monthly email volume by 30
Spread the desired volume over thirty days
Start sending out emails evenly based on the calculation
Start every campaign with a welcome message
Create a subdomain purely for email marketing
Have a 5:1 ratio of the newsletter and transactional emails.
Conclusion
Email reputation may seem a mystery and a hard-to-crack puzzle – however, in reality, it abides by logic and common sense. If you want to make sure every reader gets your email, get to know the types of sender reputation, make sure your content is relevant to your domain category and matches readers' expectations, and don't forget to track campaign analytics.