The sales efforts of a company are akin to the strategies of war. It involves spending a significant amount of time, energy, and resources. Without proper planning or execution, you might end up running in circles with no end in sight.
Your strategy may revolve around identifying key accounts, drafting account plans, allocating substantial resources – all this from prospect identification till post-sale service. But your goal is never met until you have found the right decision-maker(s) who can close the deal.
In this article, we will explore how to identify the key decision-makers in a B2B selling process and also how to reach out to them to seal the deal.
5 Steps to identify decision-makers in the sales process
Identify your decision-maker persona
In modern parlance, the definition of a decision-maker stated in the dictionary extends beyond roles and titles.
Today's changing business setting involves roles and titles of an individual that do not agree perfectly with organizational rank or powers.
Therefore it is important to draw up a clear decision-maker persona – which is to decide what qualities you would like your contact to possess when you are reaching out to them.
The following are qualities you should take into account :
Roles and responsibilities
It does include looking at the role but not entirely depending on them
      2.Budget Authority
The authority to make decisions on purchase either for the department or the company.
      3. Strategic Authority
The authority to decide on taking independent resolutions to solve a pain point or problem. It is more of a managerial role. It will also include making influential recommendations.
       4. Tenure
Although it does not have a direct bearing on the decisions or power, it certainly determines the institutional knowledge that will be considered for key decisions.
After this, you can segment the people with the relevant persona under various roles in the decision-making or demand unit.
Based on what you ascertain about them, you could call them the gatekeeper, initiator, decision-maker, influencer or champion, business user/end-user, economic buyer, etc.
The following is an exhibit that appeared in Harvard Business Review, specifically showing the upgrade/purchase of telecommunications equipment with the common roles associated with this selling process.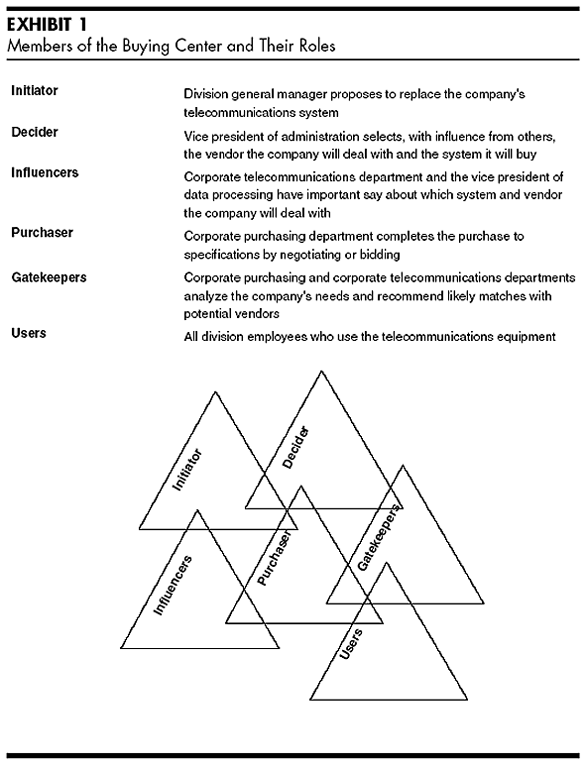 Sometimes, it is important to know and be wary of the fact that people with less formal power often somehow can pose a challenge to a successful purchase. A simple organizational chart reading won't cut it. It needs analysis of the powerful buyer center members.
Thomas V. Bonoma wrote in his HBR article – Who really does the buying? quotes
"A purchasing manager who will not specify a disfavored vendor or the secretary who screens one vendor's salespeople because of a real or imagined slight also can dramatically change the purchasing outcome".
This is also referred to as 'veto power'.
For this reason, it is important to first know the size of the organization, because a relatively smaller firm can have a single person doing the decision making while a fairly large-sized company has multiple people deciding based on reputed expertise.
Gartner survey reveals that in an Enterprise Sales, 7-8 people are actively involved in all of the activity streams (exploring, evaluating, engaging) of the buying process, with an additional 5-6 people occasionally participating.
Hence recognizing the different types of power associated with individuals can be useful in determining their level of influence in the decision-making process.
The thought of doing this exercise manually can freak you out. The good news is you can leverage the brilliance of AI-based tools to understand interaction, history of contact of salespeople with accounts. With this, it will be a lot easier to classify the decision-maker persona from the ground up.
Pro-tip: For persona classification, you can use AI tools such as People.ai or even take the help of your CRM to analyze commonalities that existed among decision markets with whom you have dealt with in the past.
2. Research for Information
When trying to get to the decision-maker it is important that you need to know well about the company to which you are planning to sell your product/service.
Understand the structure of the company by perusing its organization chart. Read up about the company on its website; research about its employees on Linkedin.
CSO Insights points out that 45.6% of B2B buyers want to hear new ideas at the beginning of a sales conversation.
So using tools such as Linkedin Search Navigator lets you use the advanced search to not only identify specific contacts inside the company network but also with company updates, job changes, and relevant information.
You can also find very useful information in:
Industry magazines
Industry-related forums on social media
Company website
Press-releases pertaining to the company
You can use common connections on Linkedin who could be current or ex-employees of the organization and can supply you with valuable knowledge about the company.
Pro-tip: Pay special attention to employees who make lateral moves or get promoted. They may have vital information about the company that you could possibly benefit from.
3. Lean favorably toward gatekeepers
"Don't just limit your research to the Decision Maker, get as much background as you can on their circle of influence"
Walter Rogers, Founder, and CEO, Cloudcoaching International
Gatekeepers could be the secretaries, executives, or associates who can help their bosses be efficient and are often considered valued partners. It is their job to do gatekeeping.
But they can be notably helpful when you want to get to the decision-maker.
It is a wise idea to resist the urge to discount the gatekeeper. Establish trust with the gatekeeper and you are sure to find yourself in a favorable position on closing more deals.
Asking questions such as "What from your perspective is the biggest bottleneck in production?", "Have you ever used a similar product before?" will help them get them talking, establishing a personal connection, and making them feel they have a part to play in your selling process.
Furthermore, to build trust with the gatekeeper, keep in the mind to :
Be respectful
Address them by their first name, e.g. "Thank you, Emily"!
Be honest and sound confident
Exhibit a positive attitude that guarantees a win-win situation.
Understand they can help you
Don't pitch or sell, make them feel you can provide value
Thank them for their assistance
4. Understand your strategic value bracket
In order to identify and involve the right set of people who can make the buying decision, it is imperative to draw up a strategic value bracket for your product or service you are offering.
The entirety of the buying process is decided by the strategic value of your product/service.
When you are dealing with a high-cost product (e.g. Machinery, ERP, Marketing Automation software, etc.,), points for consideration will include budget percentage, the importance of the product, usability, and the like. Consequently, the buying process will involve people who will be accountable for more than just themselves in the hierarchy.
However, when the strategic value of the product shrinks (e.g., office equipment, stationery, etc.,) the finance involved is usually low, decision making is rather fast. Once you determine the value bracket of the product, make sure you have the following points in place :
Outline the outstanding unique selling proposition of your product
Listing down clearly the value your product can offer
LoSasso points,
"34% of B2B buyers say their purchase decisions are driven most by features, while 27% say price and 39% say brand" – so make your brand image speak for itself.
5. Focus on the qualifying questions
Sometimes the easiest way would be to ask the right questions to identify who the decision-maker is.
John Barrows, CEO of JBarrows Sales Training points out that, asking the question that only a decision-maker can answer gives away enough cues for you to take the next step.
He quips,
"I'll ask them to sign an NDA, their response gives me some insight into if they're really the decision-maker or not. An NDA is one of the most universal things you can use to test for power regardless of industry or what you're selling."
"The last time you purchased something over $XXXXX, when did the legal team need to get involved?" – (Shake them a little to remind you about some historical purchases)
"What was it like raising your last round of funding?"- (Look for hints if they talk about a person above their powerline, and the events when they bring them up)
Tips to reach out to the decision-makers
Identifying the decision-makers is one thing, getting to them with the right attitude and message is another. Let's look at some tips that can help you be prepared when you reach out to them.
Reach out later during the day
The best time to reach decision-makers is later during the day. The reason being, they are usually held up in meetings and are buried in workload during the day and their attention will be divided or they could be unavailable.
Keep messages short
As it applies to any business communication, keep your emails and calls short and to the point. Highlight critical areas and add bullet points to make it attention-grabbing.
Use Direct Lines
The likeness of you having a conversation with the VP is 147% more when using a direct line. Direct lines also help to get past gatekeepers, increases the flexibility of calling windows, caller ID, etc.,
Making the most out of referrals
When the person you are looking to connect with is not available on Linkedin, then the next best way is to find someone who can refer you. InMail on Linkedin can be used to approach a person close to this decision-maker and ask them to introduce you to them. It works as it establishes trust and reduces the likelihood of the contact ignoring you.
Use Videos
You can establish credibility and strike a personal connection by using personalized videos when reaching out to the decision-makers (even inside your InMail).
It makes them feel valued, they will appreciate the novel idea and it also improves comprehension.
Using video hosting softwares, such as Hippo Video or StoryXpress can not only help you easily record videos but also allows for hassle-free hosting and personalization.
Tailor your message to each decision-making persona
After knowing the decision maker persona it is essential to tailor your message to fit the goals and interests of that particular contact. You will speak about how your product is going to be adding value in their department rather than as a whole.
You can use explainer videos, short demos, and even performance reports explained with screen recording function to make your pitch impactful.
Spell out what your product can fix
Any decision-maker is going to be interested only if you offer them a solution to their looming problem. Instead of raving about your product features tell them how it can help them.
E.g. You should be saying "Our software will help you save 40% of your time and will help double productivity" rather than "Our product costs only $500 per year and has XXXX features".
Conclusion
Looking back at the points we discussed on identifying and reaching out to decision-makers, do you recall the analogy we used for comparing selling process planning to that of war strategies?
Both are sensitive and involve plenty of people working day and night. Both demand defining a clear framework, identifying requirements, and articulating messages clearly. But unlike the latter, we can at least make peace with the former if we stick to planning, patience, and perseverance.
**Guest Post**
Author – Santhoshi Natarajan – Content evangelist
A communication specialist who researches and produces purposeful content for the target audience. She constantly measures results and amplifies content by curating and repurposing them to meet the needs of the audience.