'Influencer driven marketing' is a remarkable concept, but establishing contact with the 'influencer' still remains the biggest bottleneck in the process. You might have an excellent idea to pitch, but they might not even open your cold email!
Sounds familiar?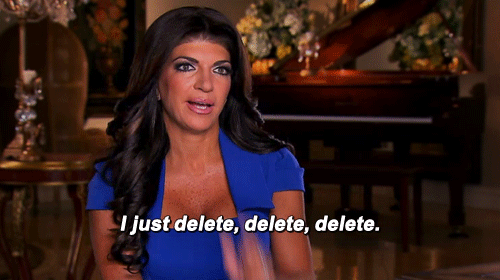 Not getting a reply to a cold email, especially when you've tried every trick in the book, can be pretty disheartening. Influencers are inundated with emails, most of which are ignored. That's because most of them lack context. Writing a cold email is an art, and the popular approach of first praising them and then asking your favor might no longer flatter them into a response.  Following some outreach best practices is a good place to start. 
Influencer Sujan Patel says:
"I get cold emails from all types of companies and people asking me to cover their launch, interview them, or help them in some way. I've received a few good ones, but – for the most part – they're pretty bad. And when I say bad… I mean horrible."
That's certainly not the kind of response you want for your cold email, right?
In this article, I'll share proven tips that will help you break the ice with influencers in your cold emails.
#Invest Into Relationships
Lesson number one in influencer marketing, which most successful marketers swear by, is the importance of building valid and authentic relationships with them over time. Influencers are experts, but they're humans, too, and they value interactions with people they know, have heard of,  and who support their work.
This isn't a one-day exercise. Building relationships takes time and involves investing in getting to know someone, which is key to winning an 'ask' when you need it!
It is ironic that despite so much information being available on the web, most people learn little or nothing about the influencer before they send them a cold email. Such ill-researched approaches lead nowhere. Here's an example:
How not to cold email: "Hello, Ryan. We came across your company 'PRODUCTHUNT' and we thought…" Lol

— Ryan Hoover (@rrhoover) October 5, 2015
Before you send that cold email to an influencer, observe them on their social accounts. Follow their social pages and profiles to get an insight into who they are in 'real life.' Of course, their profiles are going to be focused on their work, but once in awhile, you'll see something that will give you enough insight to connect with them and to build a personalized and relevant email.
Personalized emails have a higher chance of being read, and if your context is meaty, it is more likely to get you a reply. Influencers can smell spam and meek attempts at flattery from a mile away.
Templated flattery is outdated, and with influencers receiving dozens of cold emails every day, your email will not get a reply until and unless it is meaningful and exciting for the influencer while showing them that you've done your research.
Take the example of the email sent by Gregory Ciotti of HelpScout to Derek Sivers, an American Entrepreneur known for CDBaby, an online CD store. Gregory had penned an informative piece on customer service that cited both Derek and his company.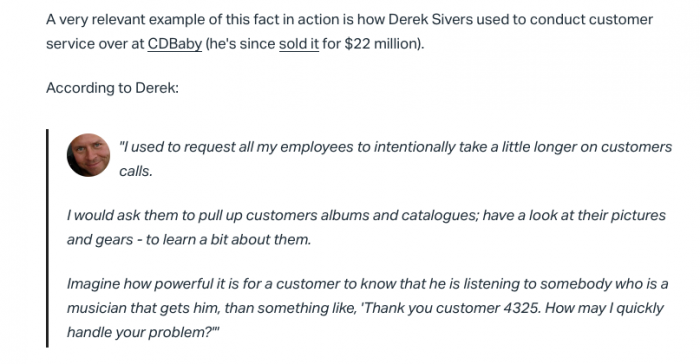 Like any good Content Marketer, Gregory was looking to cash in on Derek's popularity; a simple retweet or share from him would mean his article being exposed to Derek's  large following.  
Here's the cold outreach email that he wrote:

Take a close look. Gregory's email sets itself apart from others because:
It's personal

It shows that he has a CLEAR understanding of what Derek's company does.

He showcases his own passion for music – an awesome 'break the ice' element (

brownie points!

)

His praise is genuine and not over the top.

He uses language that's, well, man to man! (

instant connect

)
Gregory dissects his own approach:
"I made the mistake of sending the link in the first email (d'oh!), but he got back to me the next day, shared the post, and it took off with ZERO other outreach to reach thousands of visitors."
Key Takeaway
By researching and taking the time to get to know your influencer, you will gain genuine insights about them and get umpteen points to add more personality to your outreach emails. If you don't have the time to do adequate research, you may need to consider hiring an email marketing freelancer and delegating some of the workload.
#Build Your Own Personality
This isn't a cold email example per se, but it is filled with ideas and inspiration.
Soroush Ghodsi and Stefan Stokic, 14- & 16-years-old respectively, are the latest entrants to Y Combinator and Founders of Slik. One Friday, Ghodsi cold called Sam Altman on his personal cell to tell him about his product, and the rest is history. Today these two are the youngest Founders in the history of Y Combinator.
But that's just on the surface.
Their age is an interesting twist, but even before Ghodsi reached out to Altman, the two kids had invested in building their own personalities. They showcased their skills and drove an internal Twitter campaign to show their 'true worth' to industry veterans.
Ghodsi had also stirred up a mini storm with a Medium post adding dollops of credibility to their profile before approaching an influencer.
15-year-old @TheStefanStokic had a day off school so he coded this up without even asking us first. Pure hustle. https://t.co/vPhCDNWEjg

— Chris Sacca (@sacca) January 19, 2016
It's a crucial thing being in the business.
Back to cold emails.
With every cold email that you send – whether it is to request a quote, ask for a share or something else  – you are being evaluated. The influencer needs to know 'what's in it for me?' and, more importantly, 'who are you?. It is very rare that someone will extend a favor without a good answer to these two questions.
So, what do you need to do?
Of course, you can't make your personality shine in one day, but with consistent effort it's possible.
Participate in forum discussions to maintain visibility and build a sustained relationship.

Lurk in places where the influencers are active – look for FB groups, Slack communities, LinkedIn groups, affiliate marketing, affiliate programs and networks etc.

Sign up for their newsletters and refer to them in conversation. It's hard for an influencer to dismiss an email like that.

Keep your social media profiles updated. If they look for you, they should get all the info they need.

Make your social profile and website address a part of your signature, but don't go overboard: only use relevant social profiles.
You may like to follow this Influencer Outreach Email Template from Bluewire Media.
#Seek References
Influencers in a specific industry tend to move within common circles and know each other on a first name basis. That's because they are always building new relationships themselves. Getting an introductory email from a mutual connection is another way of building a credible cold email strategy.
How do you do that?
Simple. Six degree of separation is a reality in the online world, and most marketers miss exploring their own networks for common connections that can help them elevate their cold emails.
The simplest way of taking advantage of your own networks is by checking:
The influencer's LinkedIn connections – check for mutual connections and ask for a reference.

The Influencer's Twitter connections – check if the influencer follows someone you know.
Begin by reaching out to the mutual connection and see if they are willing to introduce you to the influencer.
Here's an example of Jason Quey, Influencer Marketer, connecting someone with Sujan Patel.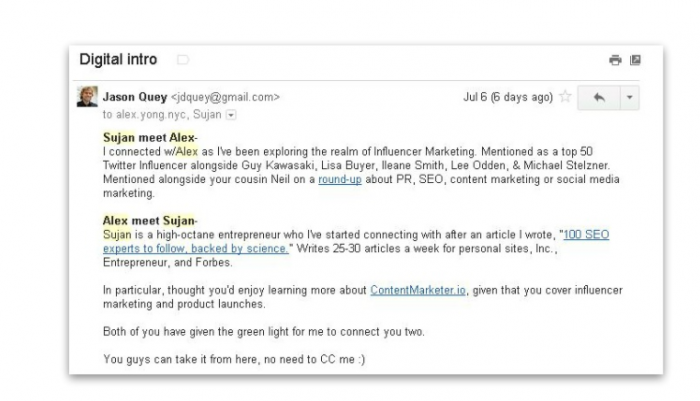 #Highlight the Mutual Benefit by Using Innovative Methods
It's pretty straightforward to send a cold email to an influencer seeking a favor. That's the way it has always been. However, coupling your ask with something beneficial for them is a great way to set your cold email apart, i.e. look into affiliate programs.
Not only will it help you build an authentic and long-term relationship with them, but it will also help you get the favor returned faster.
The team at GrowthScore used this strategy when sending cold emails to numerous brands and influencers to get massive traction for their Ebook. Here's a successful email sent by the GrowthScore founder to Brianne Kimmel, Growth Leader, Startup Advisor and Angel Investor.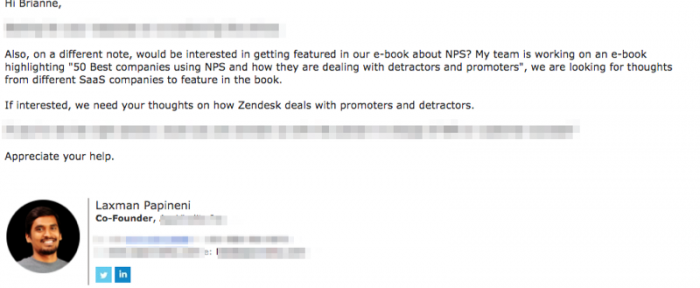 #Make Your Purpose Clear and Actionable
In a recent episode of the Startup Chat, co-host Hiten Shah questioned co-host Steli Efti, about his thoughts on cold emails.
While Efti is pretty gung-ho about cold emails and talks about them as a key business strategy, he is quick to point out that most of the tons of cold emails that he receives lack clarity in terms of expectations and that In most cases he is clueless about the actual 'ask.'. He is frequently left questioning the action item of the cold email.
"Cold emails make sense when you have something specific to offer and something specific to ask for." He adds that most people are not very thoughtful when they send cold emails.  
That's some insight from an influencer himself, and something that most of us miss. It's nice to tell a good story and draw their attention to your thoughtful copy, but without stating the real purpose of the email, your actions will remain in vain.
Influencers get numerous emails and they have no time for guesswork. So it is imperative that you make your purpose as clear and actionable as possible.
Be Strategic, Yet Inventive
In my opinion, there can't be any set rules for cold emailing an influencer. Sometimes a well-drafted email can make them hit the delete button, and sometimes a poor yet honest email will win their heart.
What remains constant is the approach that you adopt while delivering your message. It's not about reinventing the wheel every time, but remaining strategic and inventive in your approach.
What strategies have worked for you when sending an email to an influencer, and what made your cold email a flop? Share your secrets with us in the comments below.
ADD_THIS_TEXT