Nowadays, people conduct day-to-day and personal communication mainly via Social Networks. That is why you can think that email is no longer an effective tool for marketing campaigns. However, it remains a widely used tool for managing business correspondence, sharing documents, receiving information about financial operations and online purchases, etc.
So, if you are afraid of email marketing campaign failure, you shouldn't consider the irrelevance of email usage as a reason. As the statistical data show, the number of email users is growing and can reach 4.6 billion in 2025.
However, email marketing can often be ineffective because of such mistakes as:
incorrect definition of the email marketing campaign goals or target audience;
improperly developed verbal and visual content of the email;
not clear call to action;
inappropriate time for sending the email;
skipping the testing phase.
Generally, these points are simple, but sometimes we miss them. And to make your email marketing campaign successful, let's define the most necessary steps in its launching and different email marketing software you can use.
What Is an Email Marketing Campaign?
Step 2: Find Your Target Audience
Step 3: Choose Proper Technology
Step 4: Create the Email Content and Copy
Step 6: Test the Key Elements of Your Email
What Is an Email Marketing Campaign?
An email marketing campaign is a well-developed and planned email letter or a series of letters. It is sent to a specific list of people in a defined time. This type of strategy has advantages that attract marketers to choose it.
Firstly, email marketing campaigns are available for companies of different types, sizes, and scales. Why? Because they don't require the involvement of many human resources and high expenses. For this reason, email marketing can be used singly or easily combined with other strategies at the same time.
Secondly, email marketing can reach a wide range of target audiences you choose. The emails are used by people of different ages, statuses, professions, etc. Your task is to define correctly who your audience is.
Thirdly, email gives you the possibility to have closer contact with people and a sense of establishing one-to-one relations. It helps to build an atmosphere of trust among your potential clients.
However, before the start of the campaign, you need to design it properly. Without a good strategy, your emails can become ineffective, irrelevant, or repellent for your audience. Here are seven main steps, which will help you to launch an email marketing campaign and avoid simple mistakes:
Set Your Goals
Find Your Target Audience
Choose Proper Technology
Create the Email Content and Copy
Define a Timing
Test the Key Elements of Your Email
Monitor the Results
Let's see what is behind each step and which pitfalls await you.
Step 1: Set Your Goals
Why do you start an email marketing campaign? What do you want to get? Should it be new purchases, new clients, or just a reminder about yourself? You need to ask yourself these questions before launching a campaign and find the answers.
The most common goals are the following:
Greetings of a new subscriber. This type of email is sent to establish contact with a person from the very beginning. It is a perfect chance to let a "newcomer" learn more about you and remember you better.
Stimulation of purchases. The email can inform people about sales or new products or services available. So, it is intended to push the potential buyers to proceed with the purchases.
Increase of brand awareness. Even if a person isn't ready to buy something for the moment, you can build loyalty to your company by providing some interesting and necessary information to your subscribers. With this campaign, you let people know about yourself and build trust in your product or service. In particular, it will be a great fit if you intend to create merch for your own needs.
The defined goals should also be measurable: specify what you need to achieve and when you have to do this. For example, to increase the list of subscribers by 15% till December 2021.
Step 2: Find Your Target Audience
You need to figure out to whom you will send the email: to the whole list of your subscribers or only to a specific group?
Of course, if the email contains some general information, you can send it to the whole list. However, you still have to analyze who these people are and what their interests are.
Does your audience prefer long text with less visuals or vice versa? Are they more interested in listening to online podcasts or reading books?
If you want to send emails with more specific topics, the best way is to define the relevant audience. Why do you have to do this? Firstly, you don't need to overload your subscribers with unnecessary emails and become spammy in their vision. Secondly, you can create specifically targeted content, which sooner leads the reader to action either you're promoting your SaaS product, selling online courses, or just sharing some informational content.
How can you know which email addresses from your list of subscribers belong to the chosen target audience? Here Voila Norbert can help you. The tool can enrich your email list with the general data about your audience, like job title, company name, or location.

Besides, you can use Voila Norbert to check the relevance of addresses in your email list. You will see which of them are no longer valid and reduce the number of undeliverable letters. It will give you a better picture of responses to your campaign.
Step 3: Choose Proper Technology
An email marketing campaign is very automated today. You can use special tools for its implementation. There are plenty of them on the market today for affordable prices. Three of the most known are MailChimp, ConvertKit, Active Campaign. But remember, you need to find email marketing software that suits your campaign ideas and purposes. Pay attention to:
ability to integrate the work with your existing software;
ways of your audience segmentation;
easiness in use;
possibility to see the clear analytic conclusions.
If you find it complicated to choose a suitable tool, you can ask for help from professional web developers. And, of course, it is not recommended to use standard email services, like Gmail, for email marketing campaigns. They're not designed for mass email sending, and your messages can be automatically moved to the spam folder. And even you decide to proceed with Gmail, make sure that you've got the right Gmail extensions to make the most out of the campaign
Step 4: Create the Email Content and Copy
Now, you can move to the creation of email content. You should focus on four following points:
Subject line. This part of an email is crucial because it should interest the receiver and make open the message. Here you give people an idea about what the email is. You can analyze your subject lines leveraging tools such as Attrock email subject line analyzer.
Content of the email. Images, for sure, make your message more beautiful but don't overwhelm your email with them. Add the pictures, which are relevant and suitable. Regarding the email text, make it clear and understandable.
Copy. To make the results of your campaign better, write a copy in addition to your email. Keep it short but interesting: it can include a story or additional information to the initial email, surveys, video, etc. If you need help in this department, an expert copywriter can take care of this task, resulting in a highly converting and super engaging copy. Then, finalize your copy with the call to action.
Call to action (CTA). Usually, the email includes one CTA, which should be precise, and its button should be visible and accessible for the reader. If it is unclear, people can miss the main point and don't react to your message.
Opt-out. Create the option to cancel the subscription. If people don't want to get your emails, you cannot keep them by force. It will not give you a good image.
You can use personalization as well, which will help you to keep the people's attention. The simplest example is to add the person's name to the subject line or in the text of the email. However, some services develop more unique templates. For example, Grammarly provides a weekly report on your activity.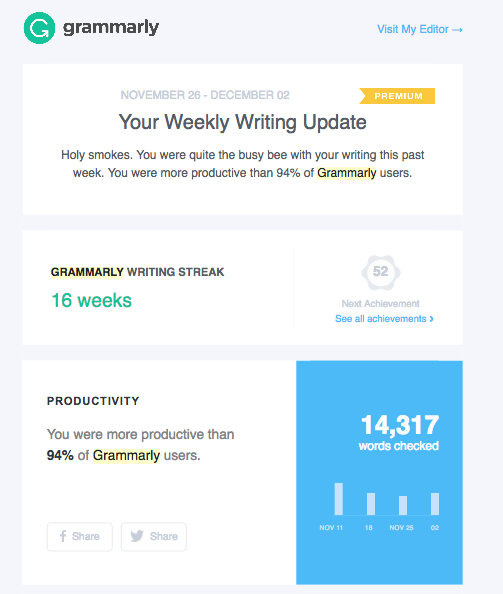 You also need to consider that many people read their emails on mobile phones. So your content should be designed for reviewing in this mode as well.
Step 5: Define a Timing
Some emails within your marketing campaign have already defined time for sending, e.g., notifications about Black Friday sales start. For the other, you will need to find a good time to ensure the best involvement of subscribers.
If we take the average data, we can see that Friday is the best day to send your marketing campaign, as it has the highest open and click rates.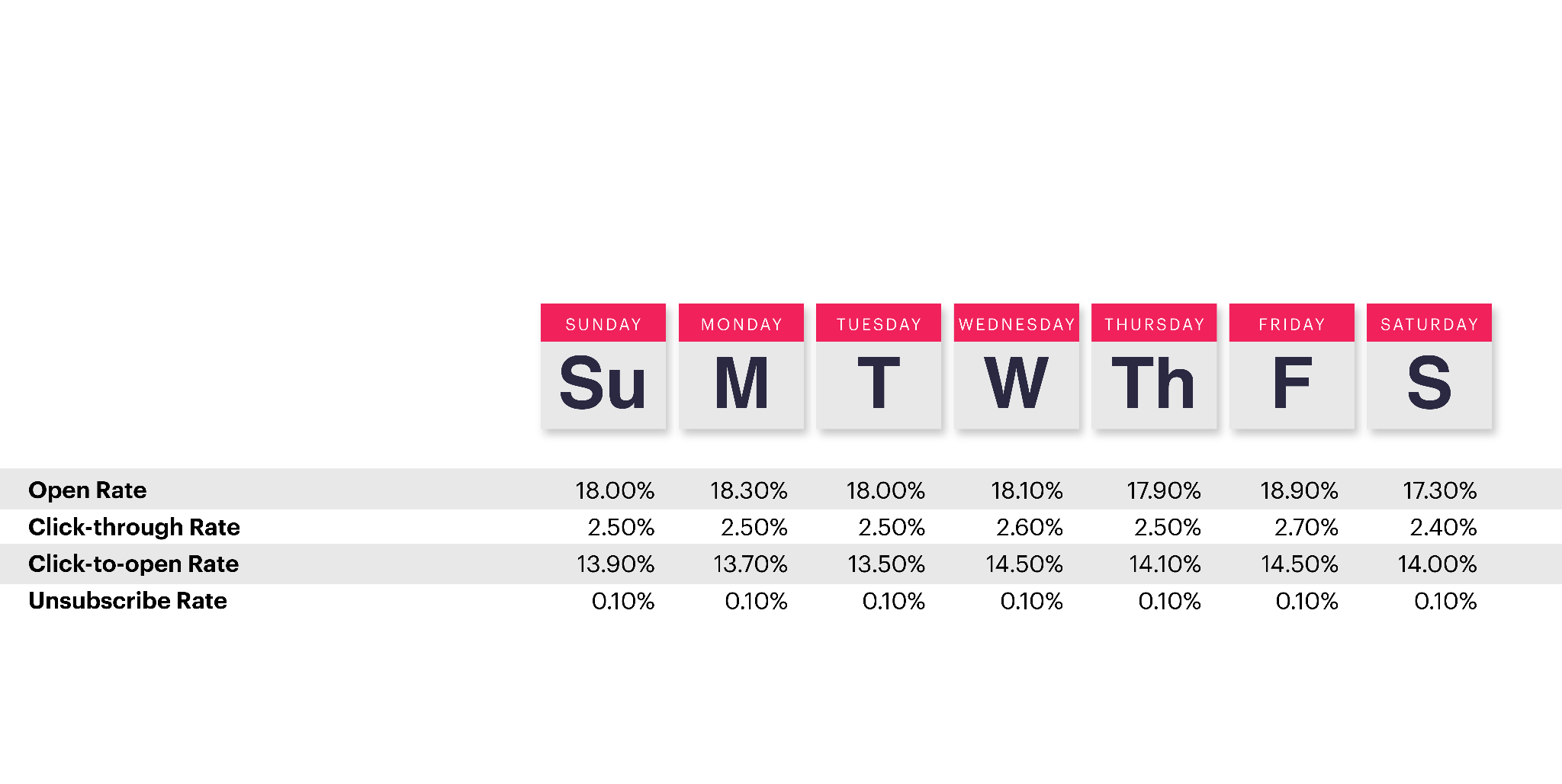 However, you need to define not only the perfect day but also the perfect time. To do this, ask yourself what time you read personal emails. Probably, you do this when you have work breaks. For the majority of people, it is near 8 AM, 1 PM, and 4 PM. So, the statistics show that these hours have the highest open and click rates.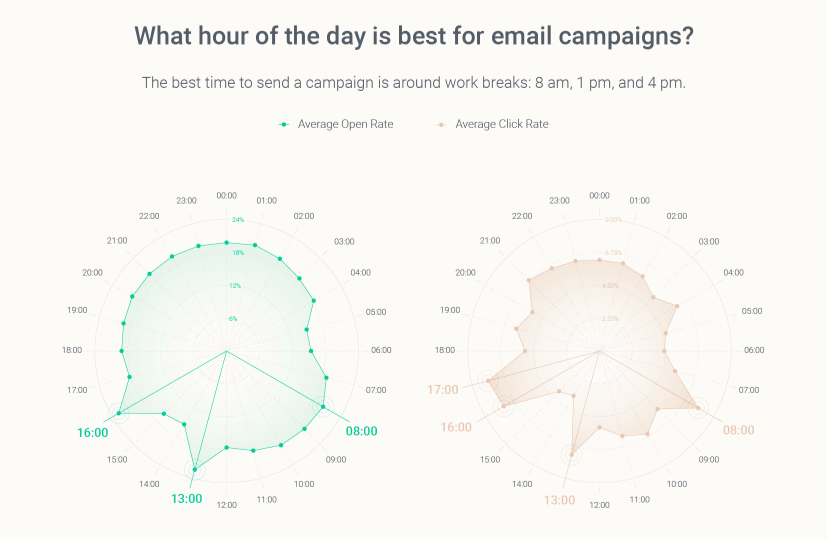 And for sure, we don't recommend sending the emails during the evening and night hours, as the majority of people take this time to have some rest.
Step 6: Test the Key Elements of Your Email
Not only the campaign creation is crucial, but also the testing. You need to ensure that your emails are readable on different devices and systems before sending them to subscribers. Check everything: subject line, design, call-to-action, grammar, links, etc. You may involve your colleagues to help with this stage.
If you have several ideas for the subject line or cannot define which time is better to send the email, you can use A/B testing. In this case, you send two types of letters and analyze which one gives more reactions. You don't need to use the whole list of subscribers, but only some part of it. After you have the results, you will send the emails with better measures to the rest.
Step 7: Monitor the Results
Congratulations! Your email marketing campaign is launched. However, it is not the end of the story yet. The analysis of the results is waiting for you. The following action can help you with it:
Check if the outcomes meet your expectations: open and click rates, selling, etc.;
Define what was done well, and don't forget to include these points in the next campaign;
Find the mistakes and eliminate them till the next time.
Checking the data is valuable for understanding your audience. It will give you visibility on what works and what doesn't and let you make your future campaigns more effective.
Final Words
So, these seven steps give you the vision of the email marketing campaign launching. Now you know where to start and which mistakes you need to avoid. Following these simple steps, you can make the process clear and easy for implementation. Just remember to be accurate on each stage of planning and realization and, for sure, be honest and open to your target audience.
Good luck!