If LinkedIn outreach sounds like something straight out of the mind of a spammer to you, perhaps you'll need to think again.
As we all know, LinkedIn is a popular networking website. It promises people of all statuses to bring them in touch with businesses, leads, or employers, and boost their networking chances on and off the website.
Here's why you need it: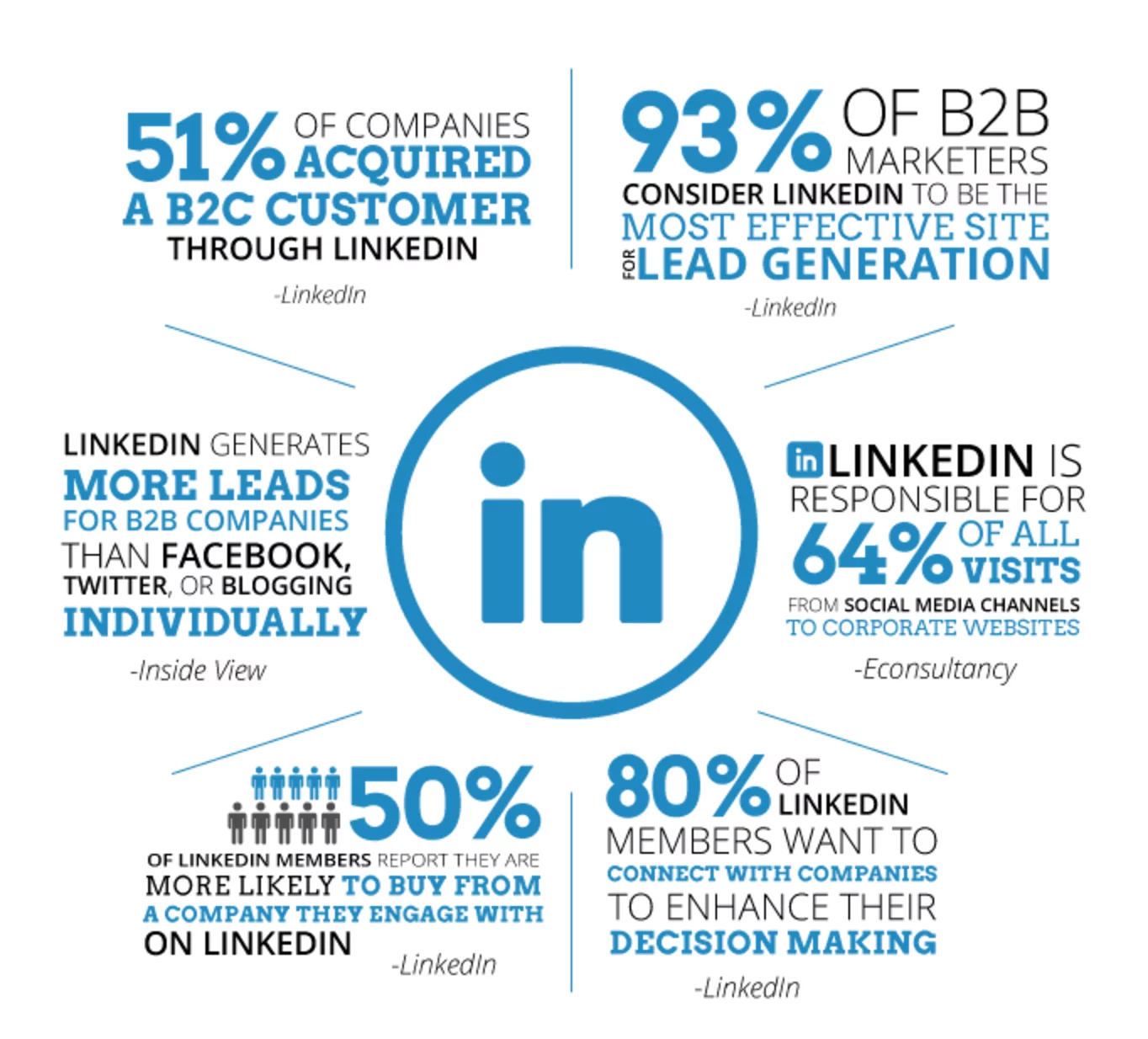 The numbers don't lie. LinkedIn is a fantastic source for lead generation, especially when you combine LinkedIn outreach with the potential of email marketing.
The general consensus is to use LinkedIn outreach to create the first point of contact with any LinkedIn profile you deem ideal. After that, you can go ahead and create a networking email that will be enticing enough for the prospect to continue messaging you.
The question is how you're going to achieve that.
First Things First: What Is LinkedIn Outreach?
Remember how you send connection requests to people who seem like a good lead and fit your customer persona? Sometimes, after they connect with you, you may use InMail or another personal communication method. This is LinkedIn outreach.
In other words, making use of LinkedIn's main form of communication to generate more leads and then using email outreach and some email marketing techniques to keep the conversation going can boost your prospecting. However, while the basis of your outreach message is more or less the same, there are some small but significant differences between email outreach – especially cold email outreach – and LinkedIn outreach that could boost lead generation.
As a brand, you need all types of features and automation tools to connect with prospects, create outbound messages, and follow up on these messages in a way that makes sense. For example, LinkedIn Premium is a fantastic tool to reach out to people you are not connected to or people you have nothing in common with.
Secondly: What Does Email Outreach Mean?
Email outreach is the act of creating and sending email campaigns as a means to contact prospects with a marketing message that will help you reach and sustain your ideal email marketing ROI or reach your marketing or sales goals.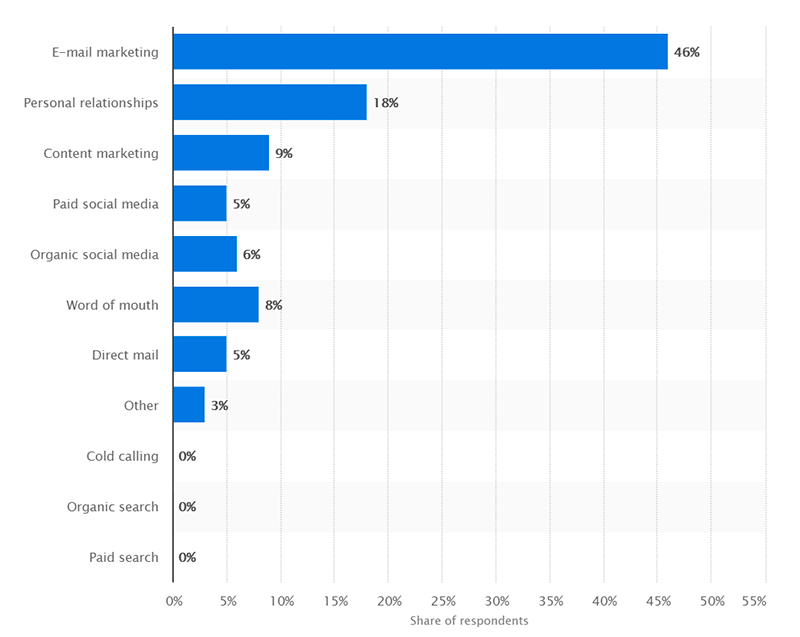 In the above example, marketing a live event for B2B is primarily done through email as a channel. Of course, to make it the most effective channel – by 46%, no less – marketers need to use various tools that have to do with their prospecting. And since we're talking about email outreach, we're talking about timely and relevant messages.
This means that marketers will need marketing automation and personalization tools, like email subject line testers, email template builders, and extensive template libraries. These tools will help them personalize their messages and make them appealing and tailor-made for each demographic. Another great addition to their outbound messaging is email autoresponder tools to send triggered messages to each prospect. Messages that are sent right after a specific action can gently nudge potential leads down the conversion funnel, whether you're targeting sales or marketing leads.
Not to mention that it will make your cold outreach more than a little warm. After all, targeted, personalized messages that follow a specific trigger are a way to tell your customers that you value them and that you're there to provide a valuable and useful product or service, not waste their time. Which, in turn, builds trust and authority and helps you penetrate your target market.
But how can you combine this with LinkedIn's cold outreach? And what is their common ground when it comes to new leads and your target audience?
Cold Outreach: LinkedIn and Email Marketing
In both cases, you will need to go forth with some steps:
First, you will need to identify your target audience.
Then, you will need to generate enough leads to help you speak to as many well-suited people as possible, to help you reach your goal.
After that, nurture your relationship with them and utilize the power of a mutual connection. Your sales team will know exactly how to handle that.
However, messaging and engagement on LinkedIn is a little closer to email than the rest of the social media platforms, as it's business-oriented rather than aim at social engagement to increase your conversion rate or your ROI, as with your LinkedIn outreach strategy, you can use email outreach techniques freely.
Connect First
This is the button you want to hit to gain more connections and broaden your circle. So, if LinkedIn outreach is part of your social media report and plan, and if your client or brand wants to use LinkedIn connection techniques to reach their potential customers and social selling goals – if any -, using the connect note can be a lifesaver.
The connect note will warm up the recipient to your idea, as you're letting them know why you're contacting them, as well as who you are. Just make sure to create a connect note that will get straight to the point, such as why their page caught your eye.
Use a LinkedIn Outreach Message
In other words, send a direct LinkedIn message to your prospects. Purchasing LinkedIn Premium is the only way to do that, so now would be the time, especially if your salespeople can work wonders with their LinkedIn account.
Since you'll be messaging multiple prospects and, essentially, building a brand on LinkedIn, investing in a LinkedIn automation tool would be a smart move. But you will need to compose those messages first. So, how are you going to do it?
A LinkedIn outreach campaign is not too different from an email outreach campaign. So, here's what you need to do:
Be careful of your subject line. It's the first thing a prospect will see, so make sure it's targeted and original. Don't "Hey John Doe" them. Not just B2C, but also B2B leads have had enough of this.
Introduce yourself and explain your position and the reason you're messaging them. Be brief about it and make sure your message is unique, can give a lot of value even if read in a rush, and will stick with the reader.
Provide your email address. It proves you're a real person and not just a persona, giving a more personal tone as it does so. That way, your prospect can reach you using any means they feel comfortable with.
The above techniques are valid if you're using LinkedIn outreach campaigns as a first to generate leads or reach your KPIs. So, we assume that outbound email campaigns go second, right?
But let's see what you can do if you've reversed those steps.
Can a LinkedIn Outreach Campaign Make Your Email Outreach Work?
This is where things get a little bit trickier. You see, seeing someone on social media and trying social selling or connecting techniques is one thing. Prospects – especially Millennials – are very much used to that. So much so that giving up their email to partake in a social media contest or keep up a helpful conversation with a customer support agent is part of their reality.
But what happens when social media outreach – in our case, LinkedIn outreach – comes as the follow-up?
Sometimes, email automation fails in personalizing cold email messages, especially if the email marketing platform can automate your message but cannot provide robust artificial intelligence and machine learning solutions. You see, these tools can figure out even the smallest of patterns and personalize messages in a way that won't sound generic at all.
When this can't happen, companies can't help but create generic marketing messages that could be characterized as borderline spammy. But when there is no way to acquire such tools, a follow-up message on social media – in our case, on LinkedIn – could be a great idea.
Think like a prospect here for a second. Someone following up on their email through a LinkedIn outreach campaign means that they thought of you, looked you up, and would like to talk to you. So, openers like "Hey John Doe, I wanted to make sure you saw my email." are more than welcome, as they can personalize your outreach marketing efforts.
Just don't be overbearing. If you see that the message was left unanswered… Well, message received, I'd say. They're probably not interested or want to answer on their own time.
Crafting the Perfect LinkedIn Outreach Campaign
It's not an easy feat, but it's not impossible either. You'll just need some ace automation tools, content that will resonate, and an email outreach campaign to go with it. Let's get into more detail.
Don't Go Overboard
LinkedIn outreach campaigns are common, sure, but going overboard and looking into quantity over quality can harm your CRO efforts and your brand's name as a whole.
LinkedIn outreach is fantastic when it delivers messages that are timely, relevant, and personalized. So, don't give these elements up, as they're the ones that will give you better chances at LinkedIn prospecting and a better response rate overall.
Are More Connections Always Useful?
The answer to that would be no. And while some LinkedIn influencers always need more connections to fulfill their metrics and establish their authority, your brand doesn't need to follow that lead.
So, make sure to allow people to get to you and connect with you. Don't push them into it; instead, ask them to check out your profile and brand. They'll figure out your value on their own. And if they do, you just know they're part of your user personas.
Don't Just Sell
Using authority and your tone of voice is bound to build a relationship, as the statistic below indicates: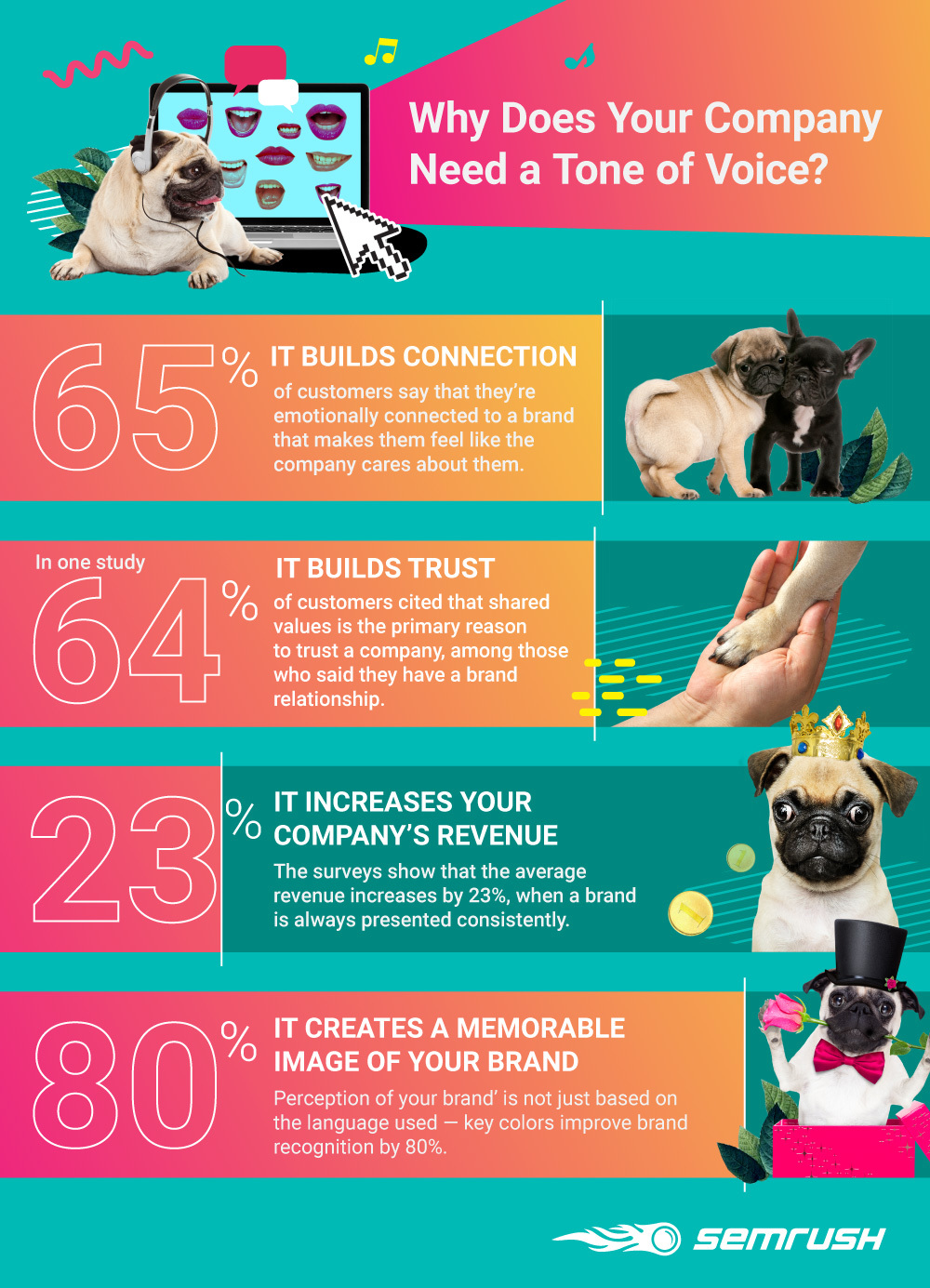 Building a relationship with your audience is imperative. After all those years of receiving spammy emails and parts of email blasts and listening to sales pitches from cold call scripts, prospects are suspicious of marketing messages.
Another reason is that LinkedIn is a social media platform centered around business and networking, rather than meeting people and spending time. Since it can bring this type of social media traffic, spam has no business in its messages. Introduce yourself, make sure they know your company name, and establish a relationship you can nurture. Be sincere and showcase the value you bring to the table.
On the Topic of Value
Your marketing message can't be bland. What are you bringing to the table? Why is your offer better than the offers your prospects receive every day?
Answering these questions may seem like a no-brainer to you, but things are a little more complicated than that. You need to point out the value according to your prospects rather than the value of your product as you perceive it.
If you're unsure how to figure this out, you can always share a survey with your existing audience and see what they love about your product. After that, craft a message that will resonate, introduce yourself, state your company name and position in that company. This will help your potential customers understand why they need your services.
And lastly, state what they have to gain from your connection. You already know what's in it for both sides, but do they?
Spice Things Up
You can always use unusual content and spice things up a bit. Draw and keep their attention with a personalized video message that will showcase what it was about this prospect that caught your eye. Invest in video editing apps for a result that your prospect would want to see, and treat them as you would an influencer. You'll see the magic happen.
You can also create some infographics that would interest them, depending on their position. Perhaps a lead magnet you can send directly to them. Nothing is too unusual if you do it correctly.
The Takeaway
LinkedIn outreach campaigns can't and won't replace a great email marketing campaign with a pretty template and a spot-on marketing message. But this doesn't mean that you have to pick and choose one over the other.
Invest in LinkedIn automation tools, connect with prospects, and incorporate LinkedIn outreach into your general outreach strategy. The results will be dazzling.
Author Bio:
Téa Liarokapi is the Senior Content Writer for Moosend, an email marketing and marketing automation platform, and an obsessive writer in general. In her free time, she tries to find new ways to stuff more books in her bookcase and content ideas – and cats – to play with.