Although networking remains a primary means for finding jobs, roughly 25% of professionals don't currently network at all, according to one study.
That's a huge missed opportunity, whether or not you're actually looking for a job. Networking is about more than landing new positions. It's used in other aspects of business such as internal networking. There is employee networking software that ensures employees work together more often, communicate on a regular basis and learn about how they can be of value to one another.
Networking is also valuable for finding a mentor, expanding your knowledge, organizing informational interviews, earning speaking opportunities or undertaking any other kind of professional development.
Even better, networking doesn't have to mean attending time-consuming – and often awkward – in-person events. You can network just as effectively by email, as long as you know how to do it. Networking email content is important, for example, according to Enterprise Resource Planning (ERP) software provider MRPeasy, they only work with 1 out of 10 proposals that they receive.
ADD_THIS_TEXT
50 Networking Email Subject Lines to Try
Sending great networking emails can make a big impact on your marketing efforts, especially in certain industries like Real Estate and Insurance. If you are an insurance agent looking to grow your insurance email marketing list then start mastering your networking emails now. Not sure how to get started with email networking? The following 50 networking email subject lines should give you plenty of inspiration:
"[Mutual acquaintance] suggested I reach out"
"Do you know [likely mutual acquaintance]?"
"Can you introduce me to [connection]?"
"Fellow [city resident] who would love to connect"
"Fellow [insert interest here] who would love to connect"
"Loved your contribution to [publication]"
"Fellow Chamber of Commerce member who would love to connect"
"Fellow [member of program] who would love to connect"
"Your recent article blew me away"
"Fellow [graduate of school] who would love to connect"
"Just caught your interview with [source]"
"Really enjoyed [recent blog post]"
"What a great post on LinkedIn"
"Saw you on Twitter"
"You were impressive"
"You surprised me"
"I think you'll love this article"
"New connection from [event]"
"Following up after [event]"
"Nice to meet you at [event]"
"This is [name] from [event]"
"Recovered from [event]?"
"Did you catch [occurrence] at [event]?"
"I hope you enjoyed [event]"
"Can we meet up before [event]?"
"Is [event] worth it?"
"How can I help?"
"Can you help?"
"I'm a little lost"
"What do you think about [news event]?"
"Do you have any advice?"
"Can I buy you a coffee?"
"Free drinks?"
"Free for lunch?"
"Let's grab dinner"
"Checking in since we last spoke"
"Do you have time for [meeting request]?"
"Happy [holiday]!"
"Happy birthday!"
"Any summer travel plans?"
"Congrats on the promotion"
"Just wanted to pass on my congrats on the award"
"Congrats on the nomination"
"Any recommendations?"
"Any recommendations in [city]?"
"Have you tried [this restaurant] yet?"
"What's your favorite [subject] book?"
"What's your best tip for [topic]?"
"How can I thank you?"
"Remember me?"
3 Networking Email Best Practices
Once you've chosen a subject line, keep the following networking email tips in mind:
1. Keep Your Subject Line Short
You'll notice that most of the subject lines listed above are short. Often, they're no more than 2-3 words. That's intentional. Take it from ThriveHive: "Don't force readers to dig through your subject line in order to determine whether it's relevant to them. This is true whether you're writing an email newsletter or promotional offer. Try to keep your subject line to 50 characters or fewer."
Extend this same respect for your recipients' time to the body copy of your email. Although you get more than 50 characters to work with here, don't beat around the bush or make multiple requests in the same message. Be direct and get straight to the point. The people you're trying to network with will appreciate your brevity.
2. Know When to Send
Research by Yesware found that 58% of the tool's cold emails go unopened. And although plenty of studies claim to have found the ideal time to send, the reality is that no predetermined "best" time is going to be appropriate for all people.
For example, one study says the time of day with the highest open rate is 2pm, while another says the best time to send an email is between 8am-10am, and 3pm-4pm. The puzzle gets even more complicated when you take time zones into consideration. Email scheduling tools allows you to write emails now and schedule your emails to be delivered at just the right time for recipients.
The best thing to do is to experiment and try to find the best time of day for your recipients – and again, there probably isn't a one-size-fits-all answer. Any good cold email marketing automation tool should offer you plenty of options for trying out different sending schedules.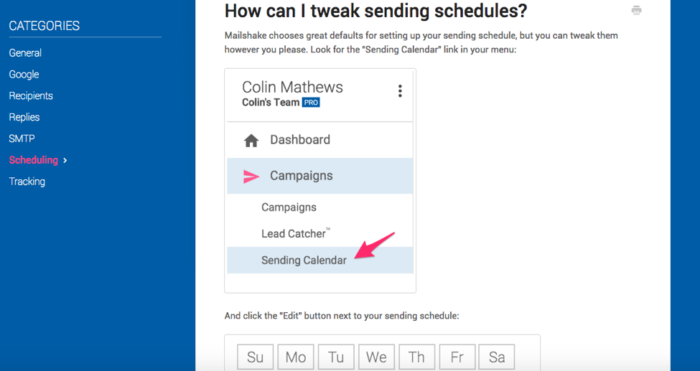 3. Make a Connection
One way to improve open rates of your cold networking emails? Make them a lot less cold. To get the most responses, design your email marketing strategy in a way that personalizes communication, humanizes tone, and acknowledges themes like special holidays.
Take the subject line example, "Have you tried [this restaurant] yet?" Using this line only works if you a) know the cities where your recipient lives or frequently travels, and b) know that they enjoy dining out. Ideally, you'd even know which kind of restaurants they enjoy so that your request reads as genuine.
Some of this information you'll earn through personal connections. Amy Copadis, writing for the Copper Chronicles suggests, "Let's say that you recently attended an industry event. Maybe a glance at the LinkedIn profile of your intended recipient shows they were also at the event. In that case, you could include the name of the event in your networking email subject line."
Keep an eye on their social media to find common ground. What kind of stuff they share or who do they mention most often ? You could use various social media analytics tools to quickly identify these patterns.
Use these insights in your outreach process so you can get the highest response rate possible.
But what about when you're sending to someone new? Do your homework by enriching your email addresses (either manually or using a tool like Voila Norbert). With a little research, you should be able to discover:
The name they go by
How they prefer to be addressed
Geographic information
Mutual interests
Events you've both attended
Topics they're interested in
Use this information to make your networking emails feel more personal – even if you've never actually met before. And if you struggle to get it right, try getting some professional email marketers to weigh in.
ADD_THIS_TEXT
Sending Better Networking Emails
Sending cold sales emails is a numbers game. Only a fraction of your recipients are likely to take you up on your offer – sending more increases the likelihood you'll reach these target customers.
Networking emails, on the other hand, are all about quality. Take the time to do your homework and determine the messaging that's most appropriate for your recipient. Your results will speak for themselves.
Got another networking email subject line to add to our list? Leave your favorite in a comment below: