As inbound marketers, we understand that the days of buying a lead list, loading the contacts into the CRM system, and blasting out emails are over.
Nevertheless, the concept of building a completely opt-in database right from the start can be a daunting task.
So, the question is: how can you quickly scale your database to nurture a list of opt-in prospects as soon as possible?
In this blog post, we'll explore what opt-in email marketing is, best practices you can apply to grow your opt-in database, as well as tools to help you do it. Let's dive in!
What is opt-in email marketing?
Opt-in email marketing means using a permission-based email-collection method to capture email addresses from willing consumers.
An opt-in email list is simply a collection of email lists with information that your subscribers have willingly given to you. That means they're aware that you are adding them to your list and consent to receive mass emails, newsletters, or other forms of digital communication from you.
With laws concerning the collection and use of personal data continuously changing, it's now wiser to employ an opt-in when growing your email list.
The importance of opt-in email marketing
Quick question: How do you often collect email addresses to add to your subscriber base?
Chances are you use a sign-up form.
That is the first step to implementing a solid opt-in email strategy. Giving people the option to volunteer their personal information is much better than buying an email list.
Below are 3 compelling reasons to keep opt-in best practices in your email marketing toolbox:
It is compliant with the CAN SPAM-Act, General Data Protection Regulation (GDPR), and other laws. Opt-ins are not technically needed under CAN-SPAM, but it is still recommended to avoid possible penalties. However, documented consent is practically required by the European Union's GDPR and Canada's Anti-Spam Legislation (CASL).
Your email list will be healthier because your subscribers are more engaged. Email recipients are more likely to read your messages when you send them your content. Having every single person on your list opt-in can decrease instances of spam reporting or email bounces. A healthy list means more efficient marketing campaigns and better performance metrics.
You don't need to worry about possible blacklisting. The fewer spam complaints and bounced messages, the better. If you've got too many of those, your email address can end up on a blacklist. And this eventually hurts your digital marketing efforts considerably. Most email marketing platforms will block you if this happens – and getting removed from a blacklist is no easy process.
It could be tempting to take shortcuts when you grow your distribution lists. This may produce faster results, but it may also impact your brand building.
And don't forget: Not following anti-spam regulations will have legal consequences.
Single vs. double opt-in
In the email marketing world, there are two types of opt-ins: single and double opt-in.
Email marketers keep debating which one is better, and to a certain degree, it is a matter of personal preference. We will not pass judgment, but rather explain what each is, as well as its pros and cons.
Single opt-in
Single opt-ins allow a new subscriber to join your email list simply by typing their email into a form and pressing "Submit." No additional action is needed on their part.
Once they enter their email, they're automatically added to your list with the understanding that they will receive all future emails from you until they opt-out.
Pros:
Your list will grow fast. Less time spent on fewer steps often means faster list building. Simple as that.
No subscribers are left in limbo. Without the possibility of forgetting to click the confirmation email, there is no risk of losing potential subscribers in the limbo of halfway-subscribed.
Cons:
Being marked as spam is possible. The absence of confirming that they've subscribed to your email list might make customers wonder why they're getting your emails at all. Or, they might even change their mind about getting your email and mark it as spam.
Misspelled emails can hurt your deliverability. Confirming an email with double opt-ins will ensure correct email addresses. Submitting information once does not. Sending to misspelled email addresses won't help anyone.
You have to be careful about legality. According to new compliance regulations, single opt-ins may not be approved in specific areas. Make sure to carefully check what your compliance requirements are for collecting information.
Double opt-in
On the other hand, a double opt-in requires an extra step for people to join your email list. They put their email address into the form and hit "Submit" just like in a single opt-in. However, once they've done, they need to take an additional step to confirm that they really want to join.
Generally, this means requiring them to open a confirmation email and click a link that says something like "Yes, I want to receive emails from this brand." Only once the recipient has clicked this link, will they be a part of your email list.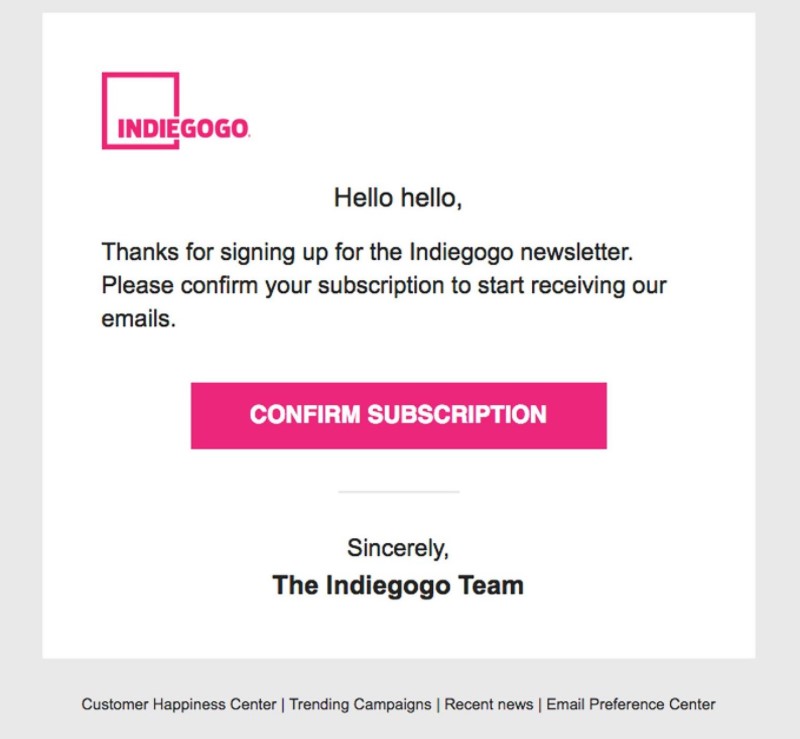 Double opt-in
Pros:
You will have a more engaged list. It is a safe bet that people complete the extra step to confirm their action. This gives you a much cleaner and more engaging email list.
You can see your deliverability improve. Sending emails to legitimately engaged people will actually enhance your sender reputation. The better your reputation, the better your deliverability rate.
You are less likely to be reported as spam. If they have taken the time to confirm, they probably won't be surprised when receiving your emails. No spam status for you!
Cons:
Forgetful people could mean unclicked links. With a lot of emails coming in every day, it is easy to lose some in the shuffle (including your confirmation link email). Missing this email would make the initial form sign-up worthless to them and to you.
It's more work for the customer. Everyone would love the easiest process possible, and the extra step of a double opt-in means extra work for them. To us marketers, it is just an extra email to click, but to customers, it is Everest.
List growth can be slower. More steps to subscribe would mean more time to build the list. Single opt-ins with only one step usually grow faster.
So, what's the better option for you? Actually, it heavily depends on your business. Just make sure that you take regulatory compliance seriously.
9 opt-in email marketing best practices
Now that you understand the basics of opt-in email marketing, let's look at how you can get more people to opt into your email list. Below are our 9 best practices.
1. Place opt-in forms throughout your website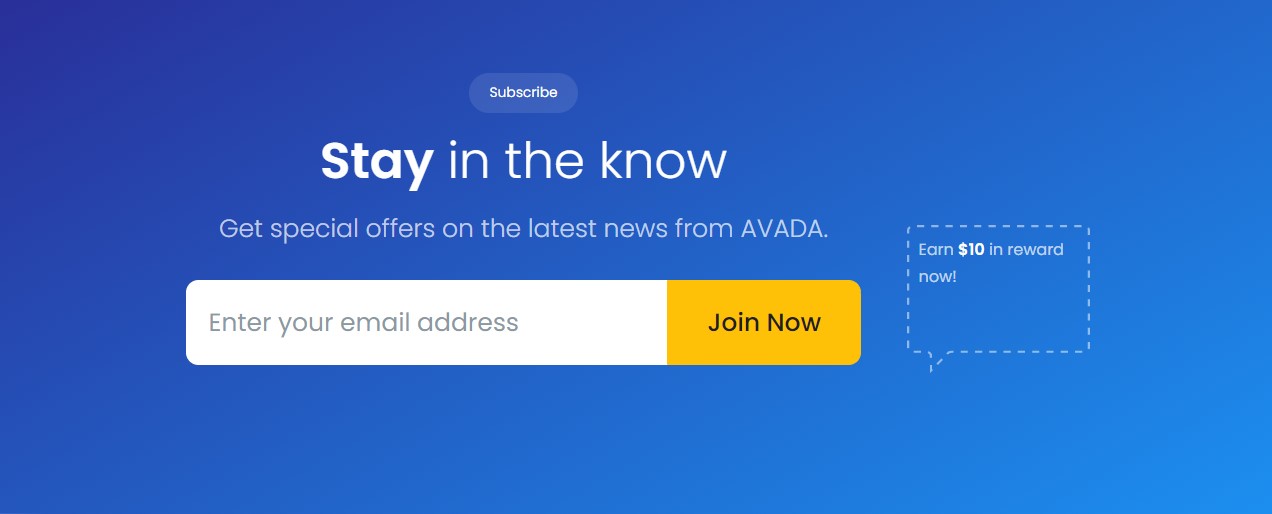 The opt-in form that AVADA Commerce uses at the end of blog posts
Anytime someone visits your website, it is a chance for you to invite them to join your email list. To ensure that a visitor has as many opportunities as possible to opt-in, place sign-up forms in the following locations on your website:
Blog webpage and blog posts
About page
Sidebar
Header
Landing page
And you should also feel free to A/B test placing the form in other places to see how it affects the number of opt-ins you receive.
2. Keep your form simple
Your opt-in forms should be short and sweet. If you ask for too much information, you can scare off people who don't have the time or energy to fill it out or who worry about their privacy.
Do your best to pair down your forms to the bare minimum information, such as first name, last name, and email address. When designing your forms, apply the golden rule "less is definitely more."
3. Give your visitors a reason to opt-in
Lead magnets are among effective strategies for collecting more email subscribers. They incentivize opt-ins by offering added value.

Give your visitors lead magnets
You could offer a free toolkit, checklist, cheat sheet, video, or anything else you think your audience would like. Make sure to communicate value on your opt-in form. Ideally, your lead magnet should answer the question: "What's in it for me?"
4. Set expectations
In your first email that you send to your subscribers, set expectations about 2 things: frequency and content.
Frequency. Make sure that you tell them how often they're going to receive emails from you. If you send a newsletter per month, tell them that. Remember that you want people to expect your email. You don't want anyone to be surprised or upset that you're emailing them, potentially triggering them to hit the "This is spam" button.
Content. Always let your subscribers know what type of content you're going to send them. If they signed up for your newsletter, give them a preview of upcoming content at the end of your current newsletter.
People are much more likely to open and read your emails if you tell them what's coming and when it's coming. If you have not set expectations correctly, you are likely to get spam complaints from people who receive unexpected messages in their inbox.
5. Let your subscribers manage their preferences

Let your subscribers manage their preferences
Let your subscribers select how often they want to receive your emails. Also, give them the ability to choose their favorite type of content. This will show your subscribers that you actually value their time and interests, and most importantly, their inbox.
By giving them control over what they receive and how often they receive it, you can significantly reduce your chances for spam complaints.
Keep in mind that, just because you're using a permission-based email marketing structure doesn't guarantee you won't have any spam complaints. Therefore, the more control you give to your subscribers, the less spam you send. It's a win-win.
Most email providers allow you to place a link in all of your emails to guide subscribers where they can select their preferences.
6. Keep offering value
Permission doesn't last forever. As a matter of fact, it must be earned with every communication. Therefore, even if you've established a good email relationship and allowed your subscribers to manage their preferences, you still have lots of work to do.
To stay welcome in your recipient's inbox, you need to ensure that all of your emails are interesting and timely. Make sure that your subject lines are relevant to what is in the body of the email. Plus, highlight things that are time-sensitive in your emails to stand out from other content.
7. Take advantage of social media
Social media can work very effectively, but only if you know how to use it to your advantage. Social media channels allow you to interact personally with your followers, engage with new people, and convert them into subscribers.
So, make your presence felt by giving special offers and deals or organizing contests for your followers. By doing so, they can share and bring in new people who can interact with your brand and sign up to your email list.
Remember, social media is a good chance to show your target audience the benefits of becoming your subscriber, and how existing subscribers have benefited from your service. Turn your social media post into a CTA (call-to-action) by giving new followers the opportunity to subscribe before a specified deadline for free goods and services.
8. Show social proof
People actually have a habit of following the masses. That is why you can find that once you get a certain number of followers on social media channels, the number continues to snowball, because new audiences start considering you both reputable and trustworthy, and determine to follow you too.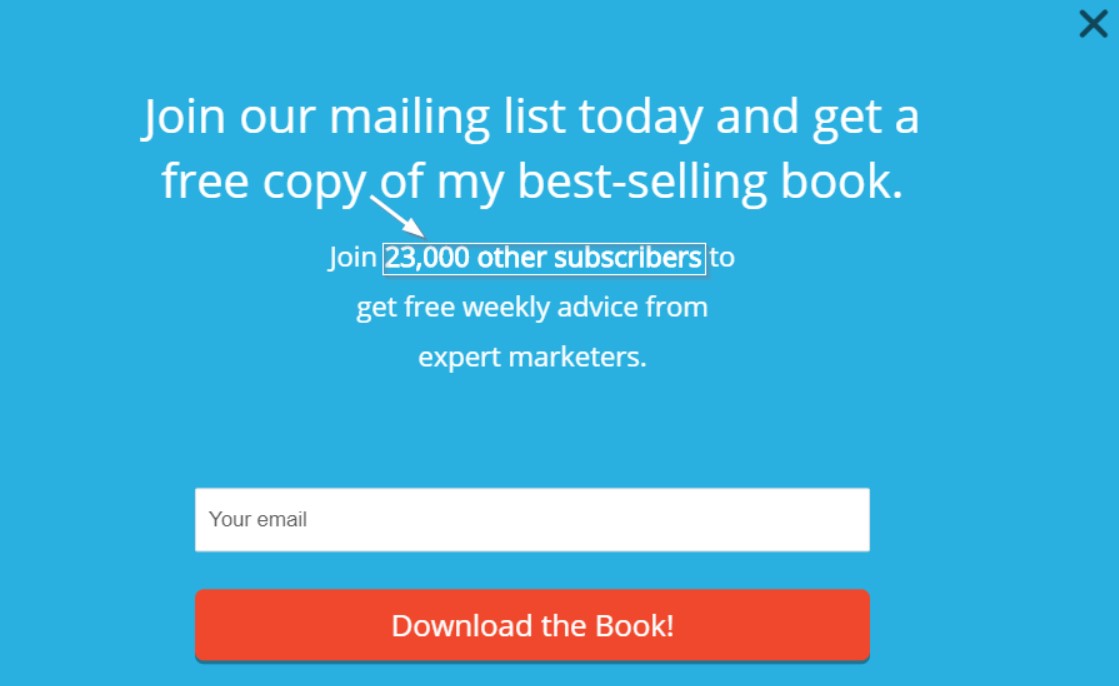 Show social proof
Don't hesitate to highlight social proof on your opt-in forms:
Show a ticker of how many subscribers you've got
Display testimonials and reviews
Post videos from influencers talking about your brand and products
Another idea can be to generate an infographic that illustrates how you started, what your journey was, and where you're now.
9. Enable subscribers to opt-out
You are probably asking, "Why would I need to allow people to stop receiving my emails?"
Yep, building an opt-in email marketing list is not easy, and you don't want to let your subscribers go too quickly. However, you have to give them the option to get out if they want to.
The number one reason for this is to avoid spam complaints. For those who don't want your emails and end up marking them as spam, allowing them a way out is an effective strategy.
Let them know that if they really want to opt out, it's as easy as clicking a link that you placed in your email that will lead them to the area where they can unsubscribe. Don't hide your "Unsubscribe" link in your regular marketing emails. The link should be easy to find in all of your emails.
And don't fret about those who unsubscribe. Because you've established an honest, open relationship with them through emails, you've earned their trust. And trust can build customers in the long run. There is a good chance that they'll come back.
5 opt-in email marketing services
1. AVADA Email Marketing
AVADA Email Marketing is a great solution to manage your opt-in email lists.
With this platform, you can create beautiful and professional emails without designing or coding skills. Plus, it's easy to segment your opt-in email lists, so that each email is personalized to get more opens and click-throughs.
And more than just collect emails, AVADA also offers various forms to deliver promo and useful content or updates to visitors. Some sign-up forms include:
Newsletter popup
Spin to Win
Add-to-cart popup
Inline form
Amazingly, the app offers a free plan along with a 14-day free trial for you to experience, so test it out right now!
2. MailChimp
MailChimp is a common email marketing platform you can use for your opt-in mail marketing.
With this software, you're able to choose your opt-in settings. This means you can decide whether your email list will be single or double opt-in. With the double opt-in setting, MailChimp will send an opt-in confirmation email every time someone subscribes to your email marketing list.
3. Constant Contact
With Constant Contact, you can use surveys, polls, dynamic sign-up forms, as well as events in your emails.
The platform uses email list-building tools like website sign-up forms, Facebook opt-in forms, automated welcome emails, and text-to-join forms. These tools can make building an opt-in list easy on several channels.
4. ConvertKit
This is an email marketing tool for online content creators. This means ConvertKit makes it easy to share your content, connect with your audience, and then convert leads.
You can build and use its sign-up form to start building your opt-in email list. In addition, you can enable double opt-in, so your subscribers can confirm that they want to sign up for emails.
5. Campaign Monitor
Campaign Monitor is an easy-to-use platform featuring the simplicity of drag-and-drop.
With this service, you can enable single or double opt-in for your email lists. Plus, this solution has great features such as smart segmented audiences, personalization options, and marketing automation.
The bottom line
Polishing your opt-in email strategy is necessary to increase revenue and conversion rates. It sets the stage for your audience to get better interactions with your brand, as well.
We hope this post has helped you a lot. So, what's your favorite method to collect email subscribers? Feel free to share it with us, and we can discuss it together.