I think we can all agree that Gmail is not perfect.
It doesn't give you enough features to streamline your email communications which affect your efficiency.
For example, as a busy salesperson, you will likely spend a quarter of your workweek managing your email inbox.
That is too much precious time getting wasted. What if you'd invest it in strategies to grow your business?
Lucky for you, there's a simple way out.
Today, we're looking at Right Inbox review, a robust Chrome extension for Gmail. It's packed with full-suite features to increase your Gmail experience and productivity.
What is Right Inbox?
Right Inbox is an email productivity and sales engagement tool. It plugs into your Gmail and gives you a wealth of features to make your time on Gmail worthwhile.
Once you've installed it – a quick process – you'll see several buttons added to your Gmail dashboard.
These buttons give you access to awesome tools like email tracking, email scheduling sequences, and a lot more we'll talk about.

Who Is Right Inbox For?
Right Inbox boasts a customer base of more than 250,000 professionals. Plus, it has won the hearts of big brands like Hubspot and salesforce.

That said, the tool would best fit someone who uses Gmail to operate a business but is looking for a way to improve his productivity.
These can be professionals in:
Sales
Recruiting
Marketing
Entrepreneurship
Freelancing
Furthermore, any Gmail user can leverage some of the features for regular use. For instance, you can track an email to your friend—no need to send another message asking if they saw your previous email.
Top 5 features of Right Inbox
Right Inbox has made it to the list of the most powerful email productivity tools today. And it's easy to see why. Thanks to its powerful features that take your Gmail experience to the next level.
You can check the Right Inbox website for a full breakdown of all its features. These five are my most favorite.
1. Email Tracking for Gmail
By the end of today, 306.4 billion emails will have been sent and received. 40% of these emails are tracked.
Why?
Businesses want to make more informed decisions from the insights they get from tracked emails. For example, a salesperson can send timed emails since he knows when the prospect is likely to open an email.
Or a marketer can choose the most qualified lead to follow up based on the number of times the lead has engaged with his previous emails.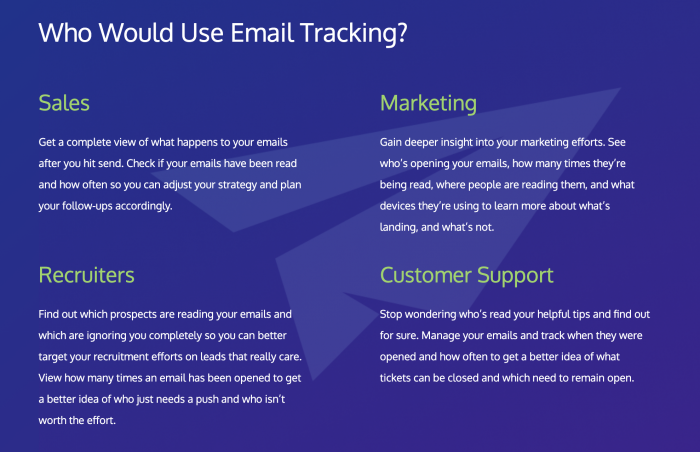 This is what Right Inbox's email tracking feature provides in real-time. You can see who opened an email, when they did it, and the number of times.
You also get to know if the prospect clicked a link you added in the email. To activate the email tracking feature, click the eye icon at the bottom of your email compose window.
2. Email Reminders for Gmail
He said that scraping through the emails to clear the overload is mind-numbing. He'd open random emails hoping to land on relevant messages.
But in most cases, the emails he opens have nothing to do with him since he's been cc'd.
As a result, a few messages that have important information disappear into the landfill in his inbox. This is the problem Right Inbox's email reminder feature wants to solve.

The feature helps you to overcome email overload by pinpointing the most important email. It will then give you a nudge to respond at the time most convenient to you.
You will never worry about missing important messages again or getting your inbox full of unwanted emails.
3. Recurring Emails for Gmail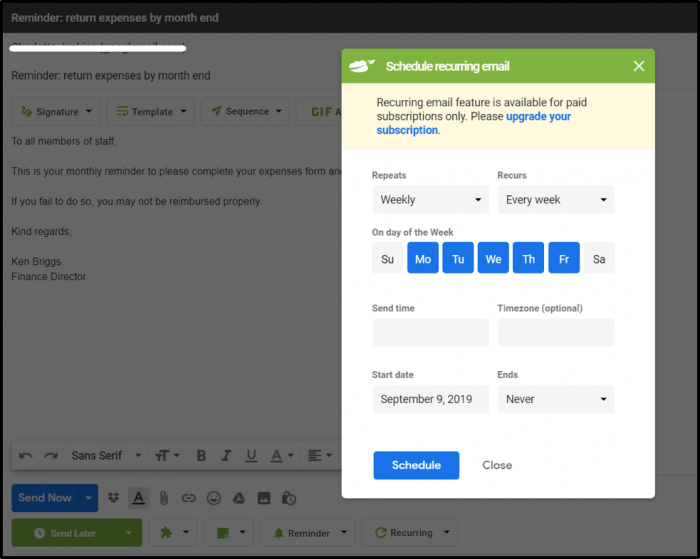 Recurring emails is a huge time-saver if your business involves sending similar emails over and over again.
For example, a business that sends weekly updates about its products to customers will find solace in this feature. Similar to a business that invoices clients with the same amount every month.
Right Inbox allows you to write an email then choose how frequently you'd love to send it. You'll then set specific days, times of the day, the start date, and the end date of the recurring emails.
This makes your business run on autopilot as you get busy with other important growth factors.
4. Email Templates for Gmail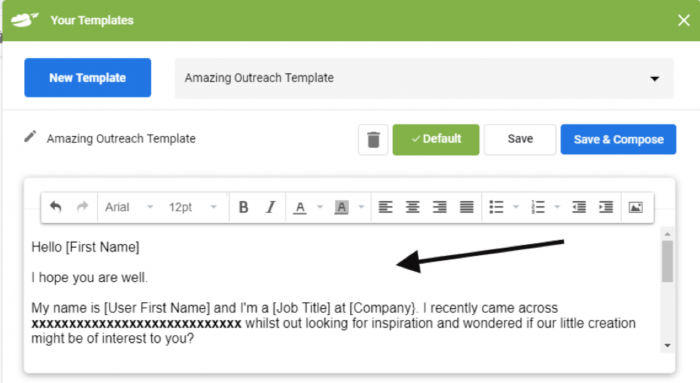 You don't have to write each email from scratch. To speed up the process, Right Inbox enables you to turn emails into templates for frequent use.
With the feature, you can save effective emails and use them as templates the next time you run an email outreach campaign.
You will save more time by sending more emails in less time. Moreover, it adds consistency to your email communication.
5. Email Sequences for Gmail

It's frustrating to keep track of who hasn't responded to your emails. If you're a freelance writer pitching for clients, you'll either have to drop the ball on your prospecting efforts. Or you'll have to do the follow-up process manually, which is tiresome.
Right Inbox email sequence makes this process easy through automation. This gives you more time to strengthens your relationship with the promising prospects while the robot does the hard job.
So how does it work? It's simple. Start by scheduling a follow-up on Gmail beforehand. Choose a trigger and the amount of time before it activates the next email.
The follow-up email will be sent without any involvement on your side unless the recipient replies. In this case, the follow-up is canceled.
Three Main Drawbacks of Right Inbox
While Right Inbox is undoubtedly a powerful email productivity software, it still has some flaws you need to know.
No Mail merge Feature – The mail merge feature allows you to send mass emails to different people while not affecting the personalization touch. There's good news, though. This feature is in the pipeline for Q4 2021, and test projects are already underway.
Limited integration – Currently, you can only use Right inbox on Gmail. It doesn't support other email service providers like Outlook, Yandex, or Zoho Mail. But it's not a big deal since Gmail has the largest market share.
Free Plan Limitations – As expected, Right Inbox's free plan doesn't give you many features. You'll get ten free reminders, ten private notes, five email templates, and five tracked emails per month. This is enough to see how great it is but not enough if you're serious about improving email productivity.
Right Inbox Pricing
It's common for tools with numerous and premium features to cost the top dollar. But Right Inbox price is incredibly low and flexible.
The first plan is free and gives you the basic features as talked about earlier. But you get an opportunity to familiarize yourself with the tool before subscribing to a paid plan.
The paid plans go for $7.95 and $14.95 per month billed annually. . If you want to purchase the software for teams, you get a $1 discount per month on all the plans.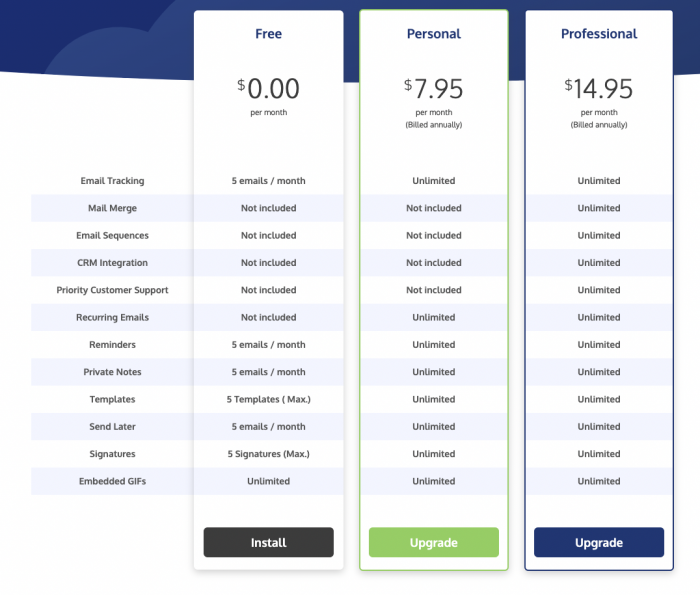 Conclusion
While Right Inbox won't make your email outreach campaign an overnight success, the tools it provides will help you get closer to your goal.
Your email outreach campaigns become easy and more productive if you have the right strategies.
Have you used Right Inbox before? How was your experience? Let us know in the comment section.