Neverbounce is an email verification tool that attracts thousands of users and verifies millions of emails each month.
And it's no wonder: email is one of the most important business tools of our time. In fact, over 306 billion emails are sent every day, to over half of the world's population with active email addresses.
Why? Because…
It creates new business opportunities
It helps companies advertise to their customers
It keeps people in touch for ongoing collaborations
But people change email addresses surprisingly often. In fact, a study from the Direct Marketing Association found that 1/3 of business professionals change their email once a year.
Because of that, over 10% of emails sent every day never reach their target.  They bounce. And a lot of marketers and salespeople waste a lot of time, money, and effort sending these unfortunate emails.
For that reason, Neverbounce developed an email verification tool that checks if the email address is valid before you send any emails to that inbox.
Now, although their solution is better than nothing, there are far better alternatives in the market…
And in this article, we'll explore one of them — Voila Norbert.
Why Choose an Alternative to Neverbounce?
Even though Neverbounce garnered a large online following, faulty verification has caused some users to begin searching for an alternative.
For true verification, you need a tool that delivers accurate results each and every time, something that, according to its users, isn't always the case with Neverbounce.
According to online reviews, Neverbounce has flaws that can unnecessarily increase bounce rates. Like:
The system is often slow and lags during the email verification process
The validity of the results is sometimes questionable
The cost of the tool is relatively higher than other competitors
There are issues with list importing that cause frustration for users trying to work quickly and efficiently
Fortunately, there are other options out there to combat these cons, such as Voila Norbert. Norbert is one of the most beloved email finder & verification tools on the market, with stellar reviews on G2 Crowd: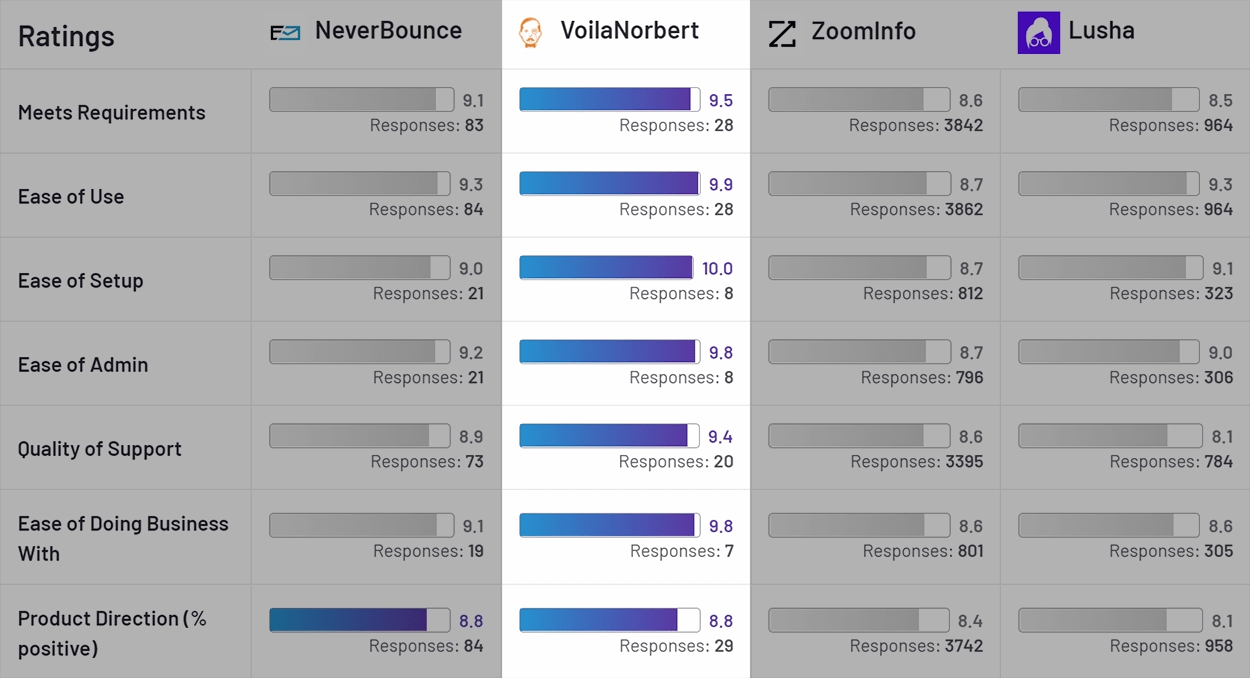 In essence, Norbert combines real-time email verification inside of your products and databases while reducing bounce rates by 98% – all in the time it takes you to get a cup of coffee.
…
Neverbounce Pricing Breakdown
Neverbounce has a simple pricing system based on "pay for what you use".
Before using their service, you're asked how many emails you want to verify. Each verification costs $0.008 and lowers at certain thresh-holds:
Norbert's verification, on the other hand, is three times as cheap. Each email verification costs $0.003, which lowers to $0.001 if you're verifying over 500 thousand emails.
On the other hand, Norbert's minimum price is $2, while Neverbounce's minimum price is $0.01. So if you're looking for the maximum return on your investment, it's best to verify at least 600 emails with Norbert at once.
Also note that to use the verify tool, you don't have to create an account with Voila Norbert. Simply pay as you go.
How Does Voila Norbert Work?
Voila Norbert's Email Verifier is very straightforward.
Simply go to app/verify and type or paste in all the emails you want to check.
If you're a high-octane individual and have a list of thousands of names, you can also import an entire CSV spreadsheet, like so:
All the emails will run through Norbert's special email identification algorithm that works by testing the connection to the mail server that owns the particular email address.
If the connection can be established and doesn't appear to be catch-all, Norbert will perform some additional secret process to ensure proper accuracy.
…
Why You Need a Good Email Verification Tool
Like many people, you could send all of your emails without testing them for validity first.
However, lack of email verification will lead to a higher-than-acceptable bounce rate, causing email service providers to look more closely at your email strategy.
Sending emails to invalid email addresses damages the authority of your IP address and plummets your Sender Score. Result: your emails go straight to spam.
(You can check up on your Sender Score with senderscore.org)
If your bounce rates are consistently high, your service provider may take steps to reject or block your emails, leaving you subject to bounces from legitimate emails, too. This could potentially derail your entire strategy, forcing you to start from scratch.
What Is a Good Bounce Rate?
Often, a bounce rate of 5% or higher is enough to cause your email service provider to take some form of action against your account.
However, this will also depend on your provider's unique regulations.
But in general, for an email inbox that remains efficient and effective, hard bounce rates should be below 1%, up to 3%.
Hard bounces and soft bounces both are often calculated together. As a rule of thumb, all of your bounces added together should be less than 10%. If not, you might be in for repercussions from your provider.
Reasons to Verify Your List Often
When sending an email, deliverability is subject to the recipient's email status. Email verification tools give you access to this status, helping you decide whether or not to include that email on your list. There are several reasons for verifying your list often:
Recipients could switch email service providers
Recipients might change positions within their company, causing a change in their email address
Some email domains are dead or no longer living on the internet, causing email addresses to reflect that change
Verifying your list ensures these email addresses are excluded, dropping your bounce rate to an acceptable level.
Email verification is critical to your campaign's success, but it doesn't have to be a grueling process. For example, Norbert offers a deliverability rate of 98%, with a whopping 227,569,484 bounces prevented and 1,456,234,098 emails verified to date. The perfect alternative to Neverbounce, Norbert puts the power of easy, seamless, and fast verification at your fingertips.
…
Have you used Norbert yet? If so, what are some of your successes? Share your experience in the comments below:
ADD_THIS_TEXT