Email finder tools differ by price, accuracy, and ease of use.
In addition to that, many email finder tools also have secondary features such as:
email verification
email enrichment
email drip campaigns
searchable databases
This means that each email finder is unique, but also that no email finder tool will work 100% perfectly for every company.
And that's why we compiled this list to help you narrow down your search for an email finder that best fits your specific needs.
In total, we've reviewed 33 tools. And we've written extra detailed reviews on the top 4 that stood out the most (Norbert, AeroLeads, Hunter, and Snovio). These reviews include:
Accuracy score
Price per email
Primary and secondary feature overview
Possible integrations
A how-it-works video
Pricing plans and how they compare
Pros and Cons
Reviews from real users
Ideal customer
The bottom line: if you're looking for the best email finder tool for your specific company, situation, and needs — this is where you'll find it 🙂
Are you more of a hands-on type of person? Instead of reading this article, you can try out our email finder for free — without entering your credit card info. Signup for Voila Norbert and get 50 email addresses for free.
1. Voila Norbert
✔️ Chrome Extension | ✔️ LinkedIn Email Search | A+ Tier Accuracy
Per Email: $0.05 Low-end Plan, $0.009 High-end Plan
Since we've written the list, we thought we'd introduce ourselves first.
Voila Norbert is a simple email finder tool with better accuracy and ease-of-use than any other email finder tool on the market.
That's a bold claim, but we have proof to back it up.
In 2021, Ahrefs conducted massive research testing the accuracy of the most popular email finder tools on the market. Here are the results: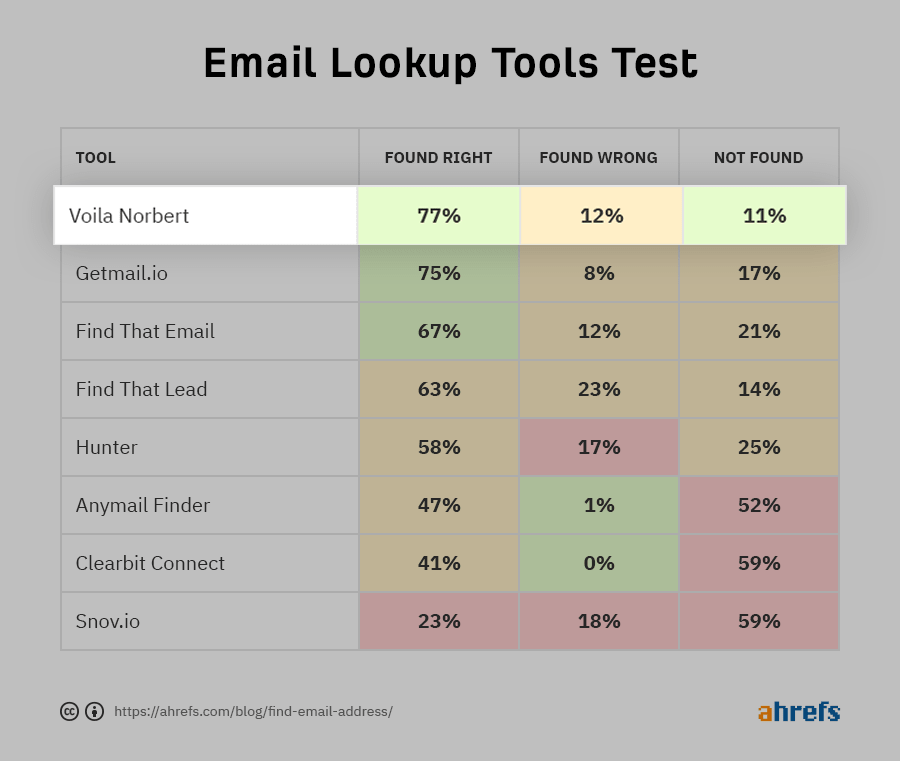 (Note, only tools with the bulk email search functionality are displayed on the list.)
We achieve superb email quality by using all the standard algorithms found in the industry in addition to our own secret cloud-based algorithm.
And here is a G2 comparison view for Voila Norbert, Snovio, Hunter, and AeroLeads – four giants in the email-finding space.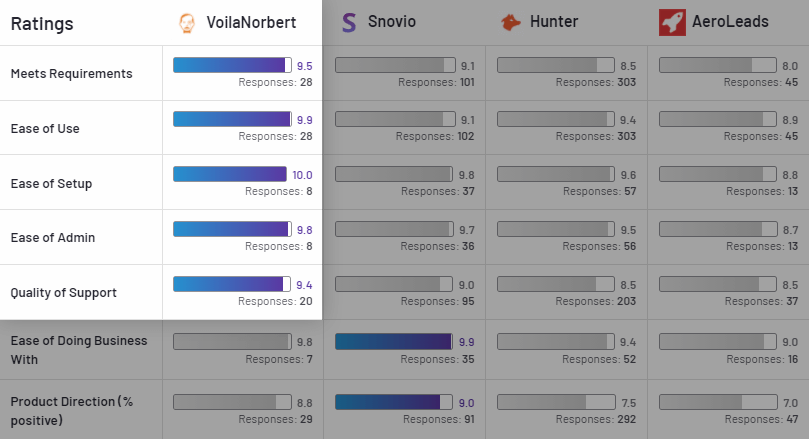 Voila Norbert was voted as the easiest one to set up and use. As well as the best one to meet the requirements of an ideal email finder. If you don't believe us, test it out yourself on 50 free leads 🙂
Some of Voila Norbert Key Features
As we've said, Voila Norbert is primarily an email finder tool.
Sure, it lacks features that other email finders may have (like email drip campaigns and searchable databases), but that's done on purpose. We'd rather focus all our brainpower on improving the quality of our core service — finding high-quality email addresses — than having a bunch of mediocre features.
Find individual or bulk emails by entering the name and company URL in the magic search box.
Prospect list export allows you to download your list of prospects to CSV, XLCX, or Google Sheets.
Integrations with 13 different apps including Zapier, MailShake, Salesforce, Pipedrive, and more.
Chrome extension that allows you to build lists of prospects as you're surfing LinkedIn or other company sites.
API that can be easily integrated with any other software (even Google Sheets!)
Integrations: Google Chrome, Zapier, Salesforce, Pipedrive, Close, GetDrip, ReplyApp.io, Hubspot, Mailshake, MailChimp, SendGrid, JotForm, FormStack
Secondary Features
That said, Norbert does have some secondary features. Mainly ones that are directly related to our powerful algorithm.
👉 One of them is a bulk email verification service, available with a "pay-as-you-go" model.
(Perfect for eCommerce companies or anyone else who needs to frequently clean large email lists and maintain a healthy sender's score.)
👉 And the other one is bulk email enrichment service, also available with a "pay-as-you-go" model.
(Perfect for anyone who wants to improve their cold outreach campaign with a multi-channel approach. Norbert enrichment service will fetch your prospect's current job title, company, location, and social profiles.)
👉 Finally, if you're looking to send drip campaigns and other automated emails, you can always integrate your Norbert account with MailShake, our sister company.
How Voila Norbert Works
To use Norbert all you need is the name and the company URL of your prospect.
You can plug them in through a CSV or manually through the Chrome Extension or the Webapp. Once done, Norbert will spit back an email in less than a second.
Each email will come with a "certainty" score that tells you how confident Norbert is in the email address.
If Norbert isn't confident in the email he provided, you don't get charged anything.
Now I wanna show you Norbert in action. (Or try it out yourself if you want.) But since I'm horrible on camera, I'll let our Hyper-extroverted Sales Maestro, Daniel Angel, do that 🙂
Take it away, Danny!
Finding Email Addresses [In Bulk]
Finding Email Addresses [One By One, Through Chrome Extension]
Finding Email Addresses [One By One, Through The Web App]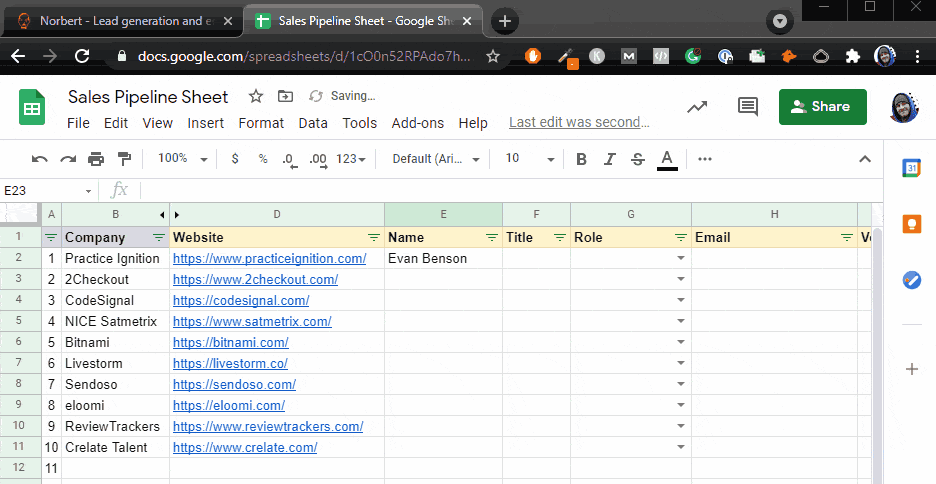 Verifying Email Addresses
Enriching Email Addresses
Voila Norbert Pricing
Prospecting — Find Anyone's Email Address
For prospecting, Voila Norbert offers four pricing plans: Valet, Butler, Advisor, and Counselor.

Each plan includes unlimited team members, API usage, and bulk email finding services.
The lower-end plans (like Valet) start out with 1000 leads at $49 per month. Which comes to about $0.05 per email.
The higher-end plans (like Counselor) offer 50,000 leads at $499 per month. Which comes down to only $0.01 per email.
As you can see, Voila Norbert supports fast scaling as each time you jump up a pricing tier, you effectively get a 50% discount on the price-per-email.
But if you choose to invest in a yearly plan, these prices go down even more.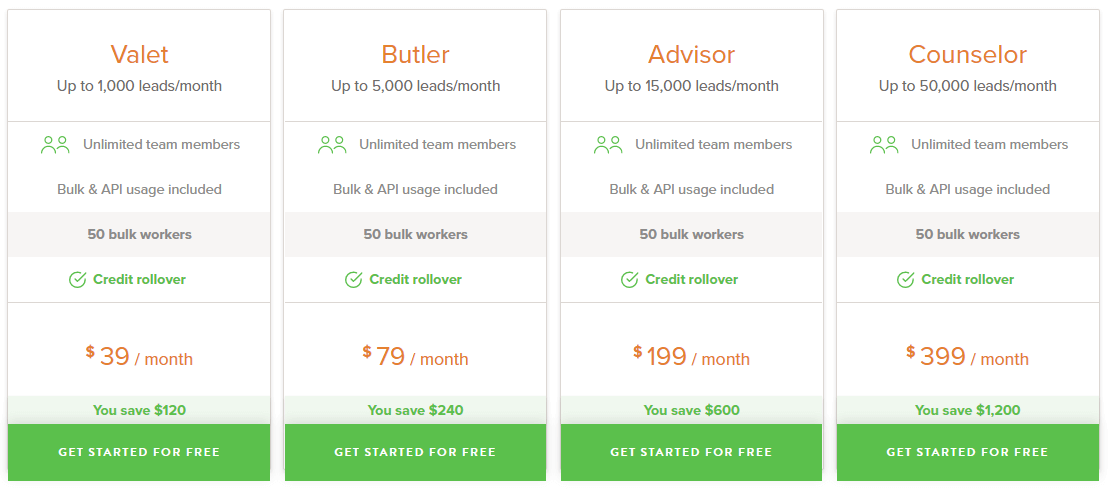 On top of that, you also get Credit Rollovers which ensure you get maximum value out of Norbert each month.
(Of course, you can also contact us and create a custom pricing plan.)
Verification — Ensure Your Emails Reach Real People
Email Verification is a separate service from prospecting, so you don't need a monthly subscription to use it.
It works entirely on a pay-as-you-go model.

If your list is smaller than 500,000 Norbert will charge you $0.003 per email. But if your email list is larger than 500,000 Norbert will charge you only $0.001 per email.
The final price is rounded down to the nearest digit.
And the minimum price is $2.
Enrichment — Enrich Leads With Powerful Data
Same as verification, Email Enrichment is also a completely separate service. So no need for a monthly subscription here, either.

For enrichment, you'll have to invest $0.04 per email up to 2000 contacts, $0.02 per email up to 50,000 contacts, and $0.015 per email anything above that.
The final price is rounded down to the nearest digit, with the minimum price being $4.
Voila Norbert Reviews — What People Say
G2: 4.8/5
Capterra: 4.6/5
TrustRadius: 9.2/10
Although Norbert doesn't have a lot of reviews (as we don't intentionally collect them) the reviews that we get are organic, spontaneous, and very positive.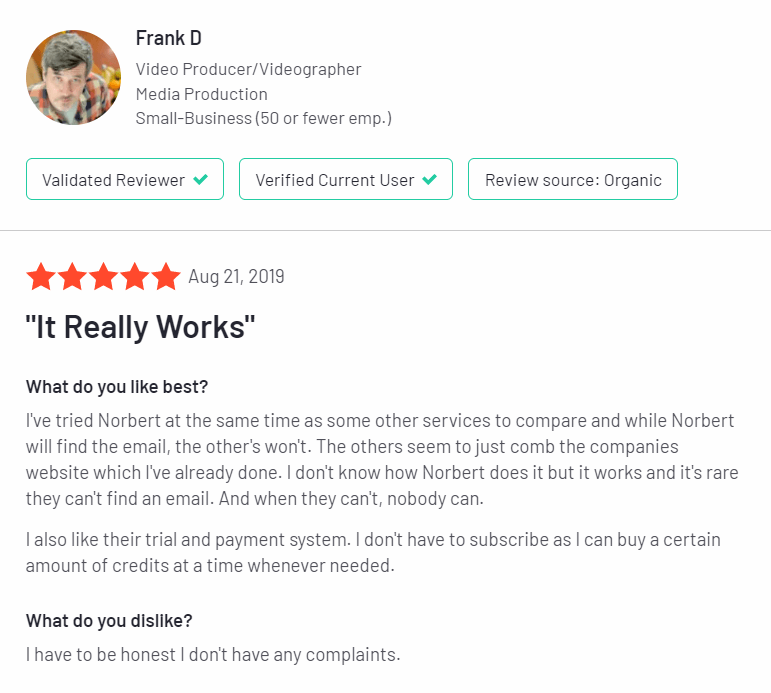 TrustRadius review by Vincent Nero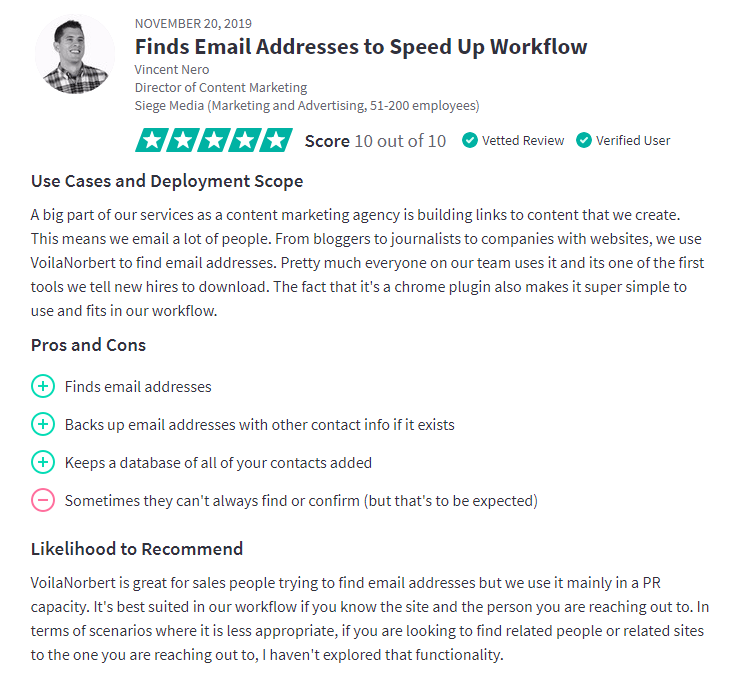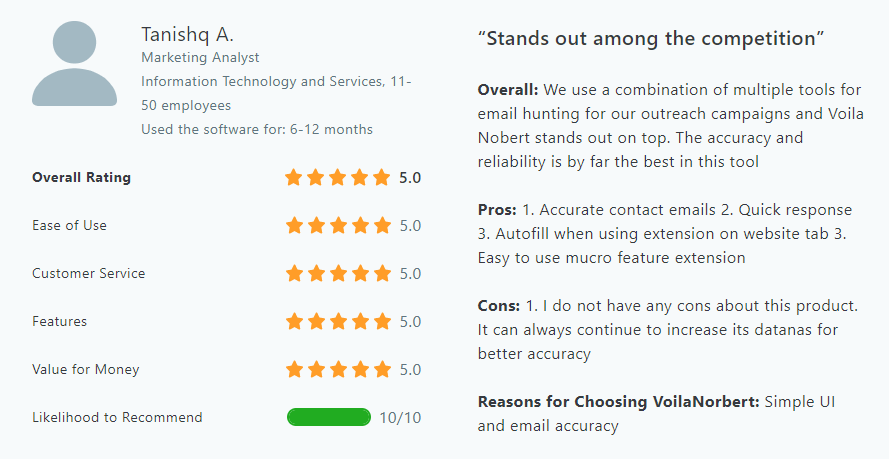 In fact, Norbert is so awesome we even have our competitors praising us!
"Norbert is a simple finder tool with great UI and features like email enrichment and powerful platform integration with other apps, including Zapier, Salesforce, Pipedrive, and others" — Natalie Sydorenko, Snov.io
"They've got a big database of B2B email ids against which they check all your requests. They also possess advanced integrations (with Google Chrome, Salesforce, Mailshake, Drip, HubSpot, etc.) and enhancements." — AeroLeads
"VoilaNorbert is one the best email-finding tools to come out in recent times. With only a name and company domain name, it can find anyone's email address and verify it." — Klenty
That's not to say Norbert is without problems… We'll go through some that our customers brought up in the next section.
Voila Norbert Pros & Cons
(The sentences in quotation marks "" are taken directly from reviews on G2, Capterra, ProductHunt, TrustRadius, SoftwareAdvice, etc.)
✔️ "A simple tool with a single purpose and it fulfills that purpose well."
✔️ "The most accurate results compared to other email tools in the market for lead generation."
✔️ "Easy to use, quick, accurate, affordable."
✔️ "Works in the background while I'm doing other tasks."
✔️ "Handy Chrome extension."
✔️ "Responsive customer support."
❌ "I'd like more than 50 free leads please."
❌ "Doesn't tell you the reason why the email search failed."
Voila Norbert Ideal Users
Voila Norbert is perfect for anyone who likes to build lists of names and company URLs first, and then find emails in bulk later.
(But with frequent updates, our Chrome Extension is getting better by the day. You're now able to scrape LinkedIn and other websites as well — building your list on the go.)
Besides that, Norbert is also perfect for anyone who values accuracy and ease of use above all else. If so, then Norbert is the best tool you can find.
But Norbert isn't ideal for people who want large, complex, customizable CRM-ish software. If you're looking to do 101 things in your email finder, then Norbert isn't for you.
Although Norbert is awesome for small and large businesses, the people who've left reviews on G2 are typically small businesses in the "marketing and advertising industry".

With that said, there's no reason not to use Norbert in large markets and other industries as well.
In fact, Norbert can be a wonderful tool for:
Influencer marketing
And more
Voila Norbert — Conclusion
Well, I think I gave you a thorough overview of Norbert… The only thing that would give you better insight now is if you could try out Norbert yourself.
Oh wait, you can.
You can signup for free and get 50 leads on the house!
And after you do, check this final video of Daniel explaining how you can get essentially unlimited credits.
Nice 🙂
2. AeroLeads
✔️ Chrome Extension | ✔️ LinkedIn Email Search | A-tier Accuracy
Per Email: $0.05 Low-end Plan, $0.03 High-end Plan
AeroLeads is a Chrome extension that combs through LinkedIn, CrunchBase, AngelList, and many more websites to find the emails and phone numbers of your prospects.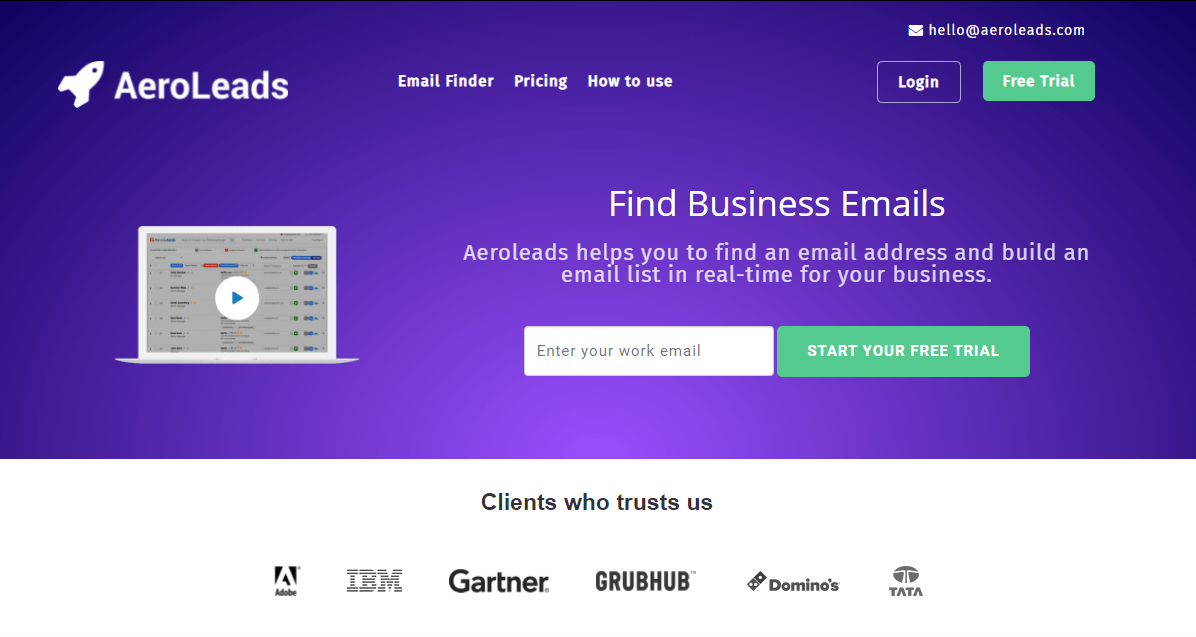 Some of Aeroleads Key Features
The main promise of AeroLeads is that you can quickly create a list of prospects with their contact information by simply exploring popular prospecting sites, like LinkedIn.
Chrome extension is a vital piece of software through which you "add" contacts through a LinkedIn search
Prospect list export that supports CSV format
Possible to integrate the service with your software through their API
AeroLeads Secondary Features
AeroLeads also has these features, though they're not as heavily advertised.
Email finder (single + bulk CSV)
Email verifier (single + bulk CSV)
Integrations: Salesforce, Zoho CRM, Mailchimp, HubSpot, FreshSales, Zapier
How AeroLeads Works
To use AeroLeads, simply add it to Chrome and search for someone on LinkedIn or a similar site.
Then, add that person as a prospect using the AeroLeads chrome extension, and AeroLeads will find their email, business phone numbers, and other information.
For each row of data, AeroLeads will claim one credit.
AeroLead Pricing
Aeroleads offers three different pricing plans: Take off, Climb, Cruise.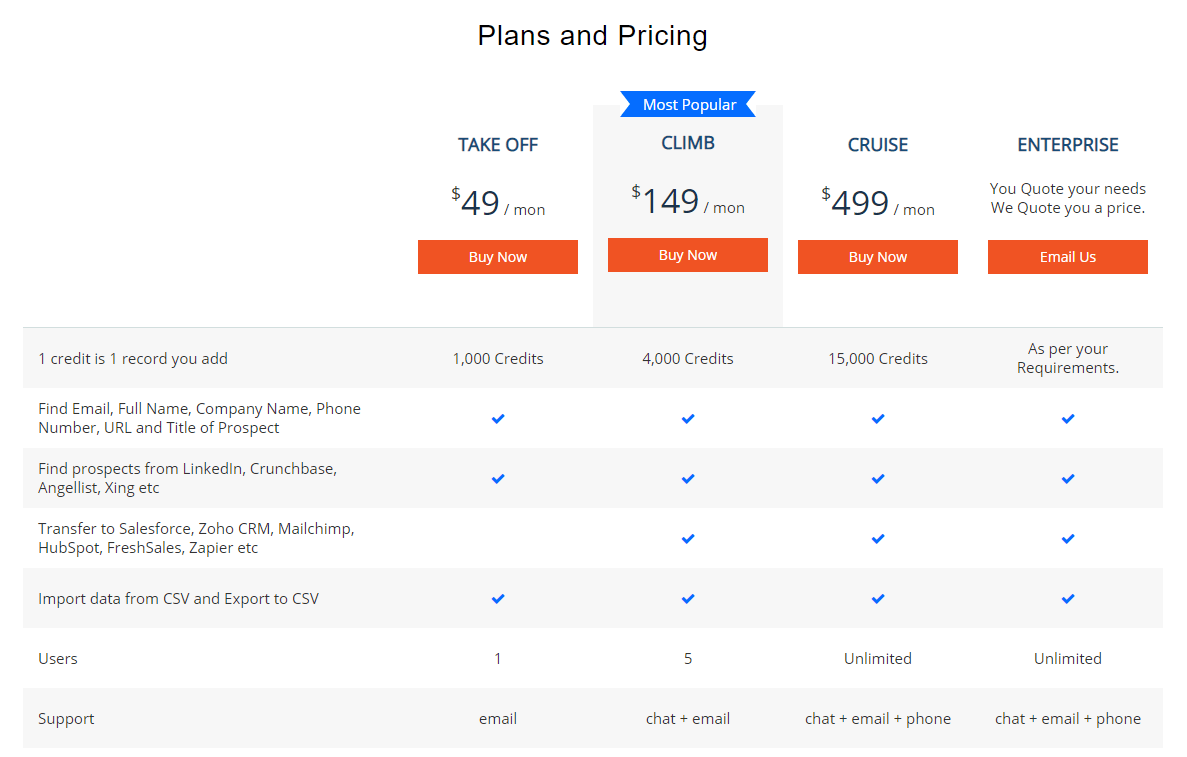 Compared to Norbert's pricing plans, AeroLeads' pricing is exactly the same on the low-end, but drastically different on the high-end.
For example, Norbert also offers a $499 monthly plan, but instead of 15,000 credits, you get 50,000 monthly leads.
Pricing Conclusion: if your monthly budget is $49, AeroLeads and Voila Norbert offer the same amount of leads. But if you're looking to scale your operations, then Norbert is the clear winner in terms of price per email.
AeroLead Reviews — What People Say
G2: 4.1/5 based on 56 reviews
Capterra: 4.6/5 based on 35 reviews
Software Advice: 4.6/5 based on 35 reviews
Using G2's compare option, we can see Norbert was voted slightly above AeroLeads in all aspects.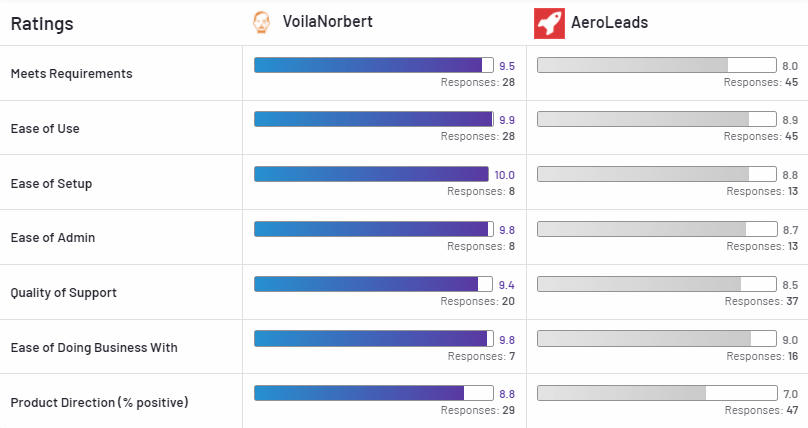 But besides that, reviews for AeroLeads are generally consistent and favorable. The only discrepancy that I've noticed is that AeroLeads accuracy varies depending on the niche.
AeroLeads Pros & Cons
(The sentences in quotation marks "" are taken directly from reviews on G2, Capterra, ProductHunt, TrustRadius, SoftwareAdvice, etc.)
✔️ "Can find phone numbers along with email addresses"
✔️ "Chrome extension is easy to use"
✔️ "Data is accurate and one can nurture and score leads easily"
❌ "The platform's UI appears somewhat dated and would benefit from an upgrade to something like a material design theme."
❌ "It charges free credits even if it gives no contact information or wrong contact information."
❌ "Aerolead will only be able to process the contacts that are visible to you after a LinkedIn Search. This is not an AeroLead tool limitation but your LinkedIn account type limitation."
👉 "To get maximum value out of this tool, you should be a very consistent LinkedIn user as well."
👉 If you want to use this tool efficiently, you MUST use their chrome extension. Unlike other tools, AeroLead's Chrome extension is not an add-on, but a core piece of software.
AeroLeads Ideal Users
Generally, the best fit for AeroLeads are users who have also heavily invested in LinkedIn or other prospecting sites and have reached proficiency with their search operators.
AeroLeads is also great for anyone who doesn't want to build lists of names "manually" in google sheets and want a CRM to do the heavy lifting for them.
Finally, from G2 reviews we can see that AeroLeads most common customers are small businesses in the IT space. With marketing, advertising, and computer software professionals being the second most common users.
✔️ Chrome Extension | ❌ LinkedIn Email Search | B-tier Accuracy
Per Email: $0.10 Low-end Plan, $0.013 High-end Plan

Hunter.io was one of the first email finders that hit the market.
Under the hood, Hunter crawls the internet every day and looks for the email addresses of people at specific companies. All this information is then stored in Hunter's database for further use.
To get the data you want, you either enter a domain into the web app or use the Chrome extension to pull every email from the website you're currently visiting.
Compared to Norbert and AeroLeads, Hunter.io is a lot less precise…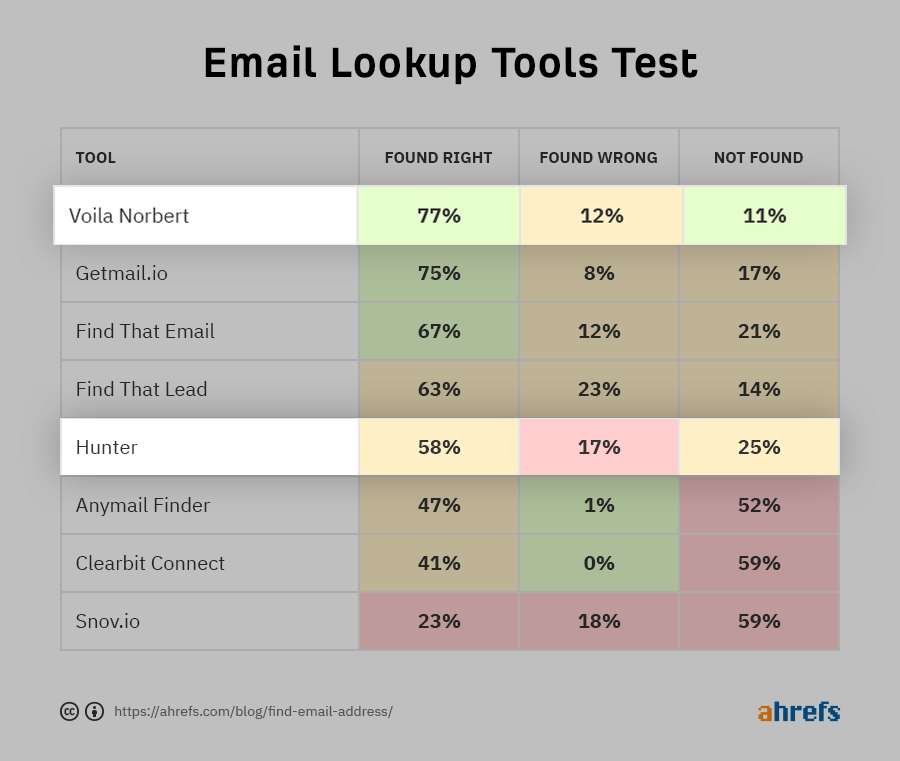 That said, it does serve a purpose: if you want to get a full contact list of everyone at a company, Hunter.io is your tool.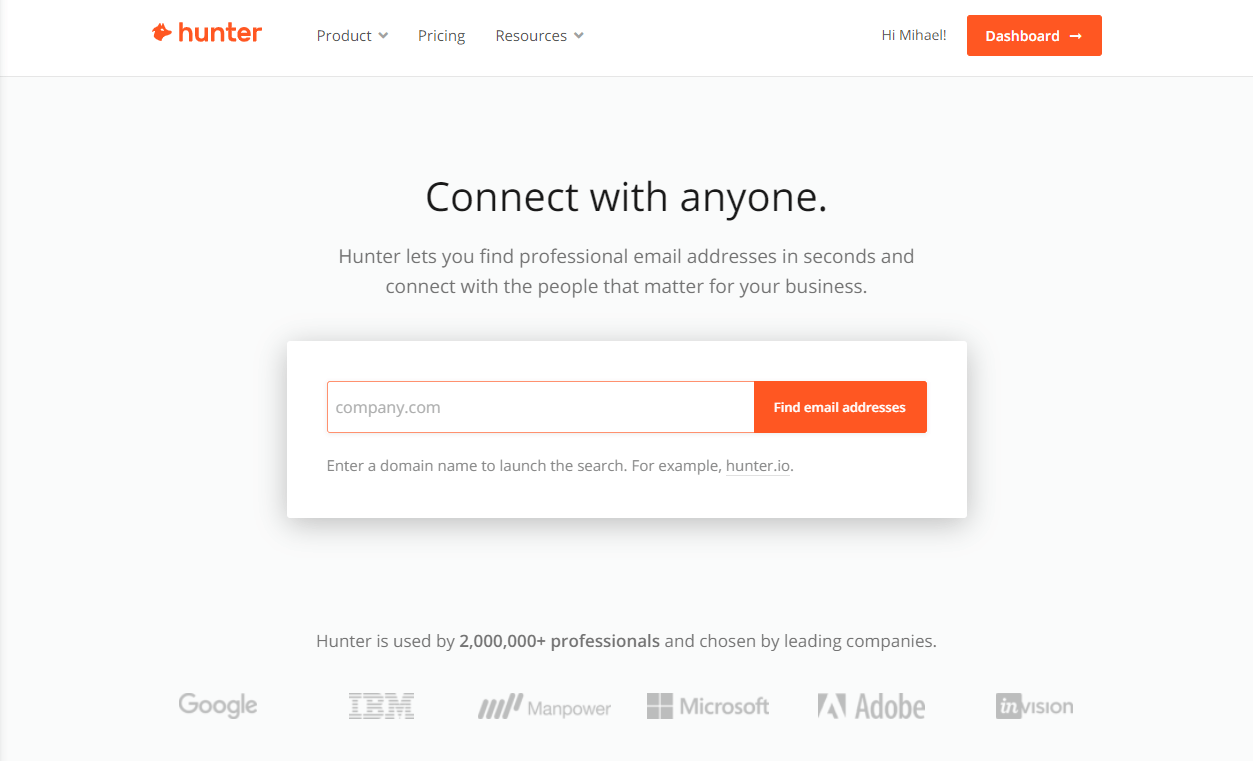 Some of Hunter Key Features
Hunter has a lot of features. But the one Hunter is most known for is its single search email finder.
Email search by company's website gives you a list of any professionals working for that company (if their email is set to public in any way)
Single email search equipped with confidence scores and sources where Hunter scraped these emails.
Chrome extension with all the same functionalities allows you to use Hunter without ever visiting the web app.
Simple API allows you to integrate Hunter with your software
Hunter Secondary Features
As said, Hunter is one of the most feature-rich email finders on the market. If you want your email finder to do 101 things, then Hunter is for you.
Author Finder helps you find the authors of specific blog posts
Email Verifier (single & bulk) verifies emails that you've scraped somewhere else.
Google sheet add-on allows you to find email addresses directly in your google spreadsheets.
Email campaigns where you can send initial and follow-up emails as well as track who opened your messages.
Integrations: Salesforce, Hubspot, Pipedrive, Zoho, Zapier
How Hunter Works
You can use Hunter's services through their website, Google Chrome extension, or Google Sheets add-on.
Once you've picked your preferred way and method, simply enter the company name and/or the name of your prospect in their search box and click enter.
Each time Hunter finds a valid email address, it will consume one credit.
Let's see each one in action:
Hunter Domain Search
Hunter Chrome Extension
Hunter for Google Sheets
Hunter Pricing
Hunter offers five different pricing tiers: Free, Starter, Growth, Pro, and Enterprise.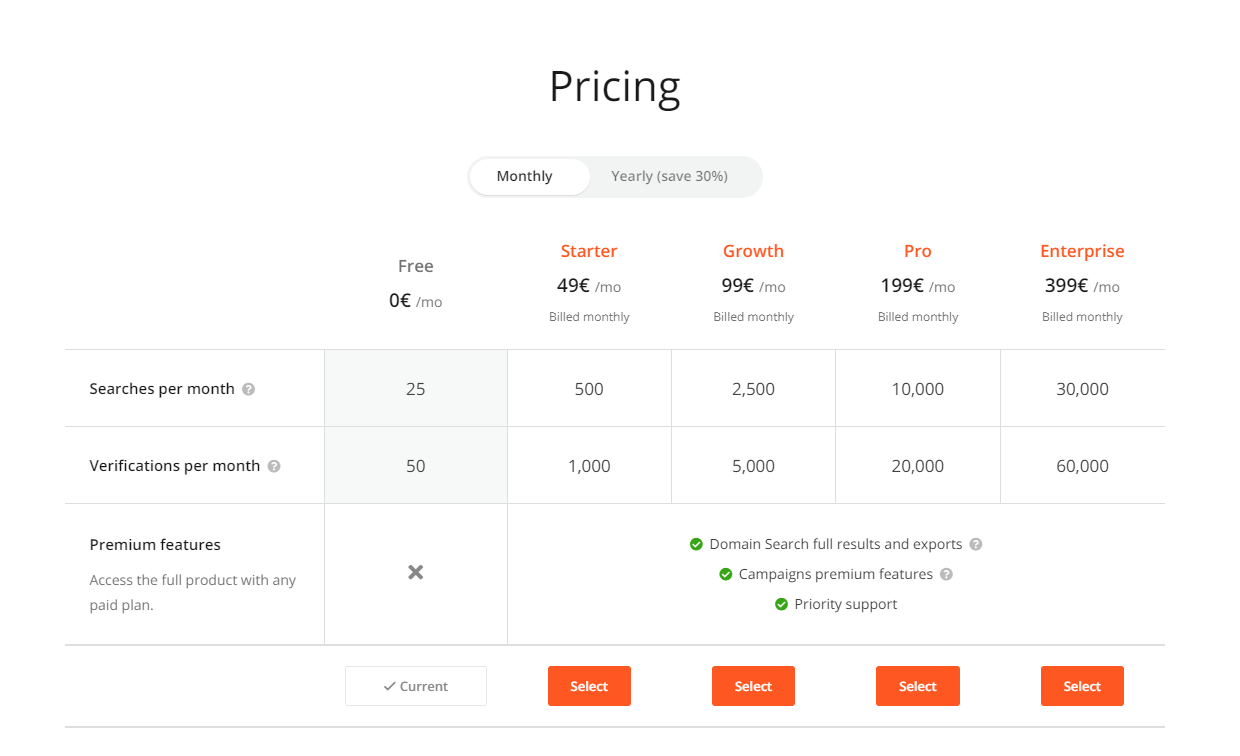 Compared to Norbert's pricing, Hunter's pricing on the low end is twice as expensive. For example, Norbert offers 1000 leads with its $49/month packet, while Hunter offers only 500. The same is true for high-end packages.
What's different is that Hunter offers verifications in their packages — but Norberts offers this service separately in a pay-as-you-go model.
This means that if you want to use Hunter only for verification, you'll still have to pay $49 for 1000 verifications. But if you want to verify 1000 emails in Norbert, it'll cost you only $3.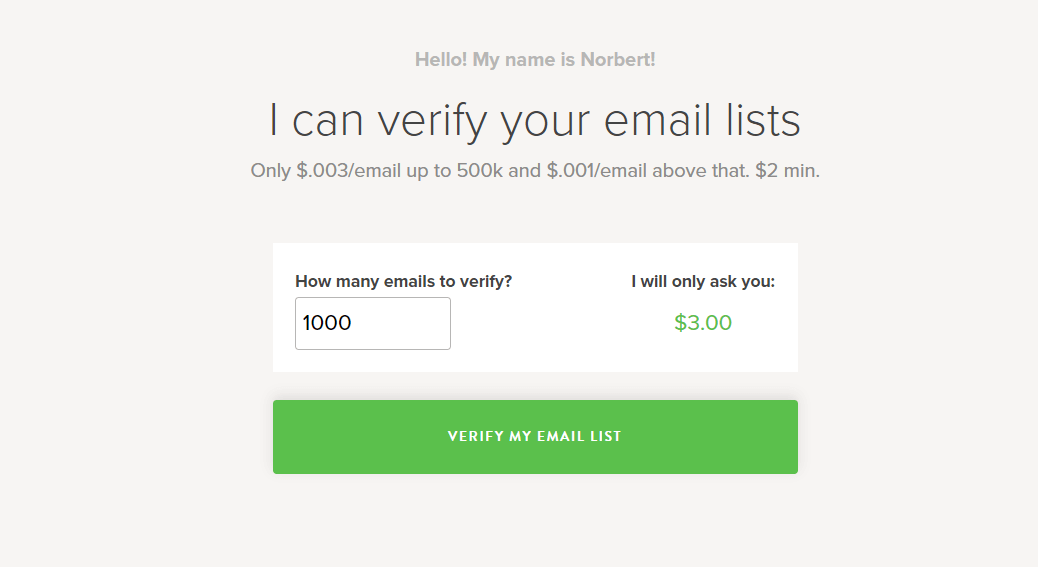 Doesn't matter how you look at it, Voila Norbert is two times less expensive and way more accurate.
Pricing conclusion: If you want to use all the extra features Hunter has to offer, go with Hunter. But if you want accurate and affordable email addresses and inexpensive verification: go with Voila Norbert.
Hunter Reviews — What People Say
G2: 4.3/5 based on 354 reviews
Capterra: 4.6/5 based on 466 reviews
Software Advice: 4.7/5 based on 35 reviews
Using G2's compare option, we can see Norbert was voted slightly above Hunter in all aspects.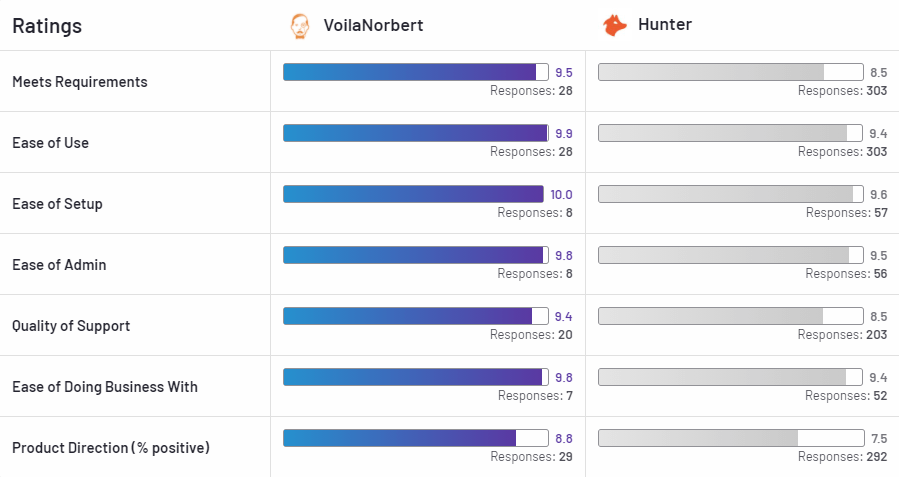 But besides that, reviews for Hunter are very favorable due to the fact that Hunter offers 50 free searches every month.
Hunter Pros & Cons
(The sentences in quotation marks "" are taken directly from reviews on G2, Capterra, ProductHunt, TrustRadius, SoftwareAdvice, etc.)
✔️ "Provides free monthly credits for its users"
✔️ "Hunter provides multiple emails and sources."
✔️ "An all in one solution for prospecting and reaching out to leads"
❌ "Sometimes it is unable to find emails that I can find manually."
❌ "No email addresses of most companies I look for, specifically those founded in the past few years."
❌ "Primely focuses on extracting leads using the website, and not all websites can provide adequate professional email addresses."
Hunter Ideal Users
Hunter's best users are people who favor convenience over the quality of results. (But if you prefer accuracy, ease of use, and more wallet-friendly pricing then Voila Norbert is the better choice.)
Hunter is also great for anyone who wants to find a list of everyone who works in a specific company and doesn't want to build lists of contacts manually.
Finally, from G2 reviews we can see that Hunter's most common customers are small and mid-sized businesses in the Marketing, Advertising, Computer software, and IT space.

✔️ Chrome Extension | ❌ LinkedIn Email Search | C-tier Accuracy
Per Email: $0.10 Low-end Plan, $0.013 High-end Plan

To call Snovio an email finding tool would be an understatement.
Snovio is more like an all-in-one cold outreach automation platform, packed full of different business essentials.
First, Snov.io offers both individual and bulk search functionality based on names and domains. (And if you're stuck at square one and still looking for a list of companies, Snovio also offers a searchable B2B lead database.)
Once you build your list, you can also use Snovio email campaigns to craft, send, and track your cold email campaigns.
But in terms of finding emails, compared to Norbert, Aeroleads, and Hunter, Snovio's accuracy rate is the lowest of them all: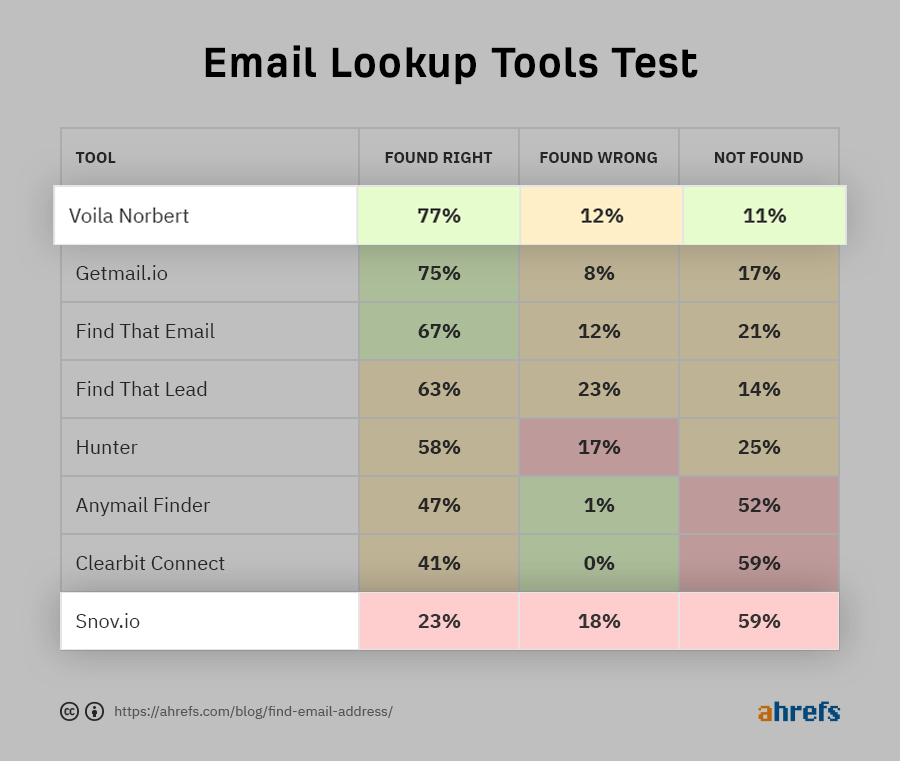 That said, if you enjoy working with a beautiful UI and have a ton of features available to you, Snovio is the tool to choose.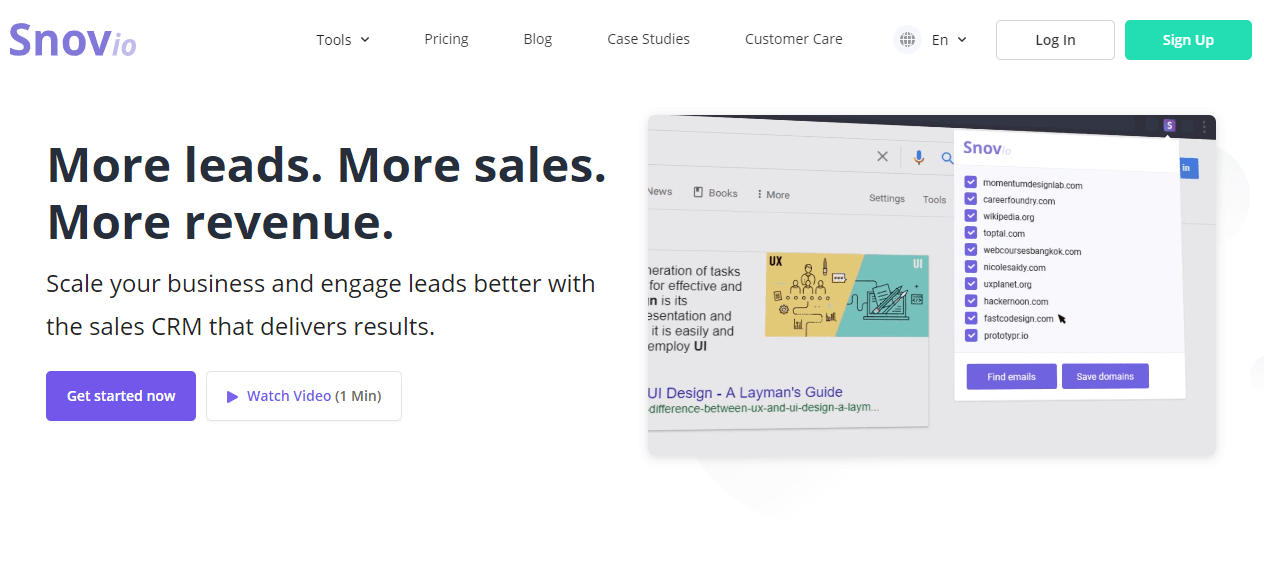 Some of Snovio Key Features
Although Snovio has many features, it is touted as an email finder.
Single and bulk domain search based on names, domains, and even social URLs of your prospects.
Highly praised Google Chrome extension that can scrape emails from any website or social media profile you visit.
API that allows you to integrate Snovio with your software or CRM
Snovio Secondary Features
Snovio is packed-full of additional features, including:
Searchable B2B database where you can easily get a list of companies that fit your desired parameters.
Email verifier (single & bulk) verifies emails that you think are questionable.
Techstack checker allows you to check which technologies a website is using
Email drip campaigns allowing you to create personalized email sequences for your new prospects.
Gmail email tracker allows you to see who opened your emails and when
Integrations: 45 integrations including Salesforce, Hubspot, Pipedrive, Zoho, Asana, Adapt, Close, Slack, Trello, Google Suite, and more.
How Snovio Works
Snovio has many modes of operation.
Their email finder works just like any email finder: enter the domain name and/or the name of your prospect and Snovio will spit back an email address.
But when it comes to other features, it's best to see them in action:
Snovio Searchable B2B Lead Database
Snovio Bulk Domain Search
Snovio Chrome Extension
Snovio Pricing
Snovio offers five different pricing tiers: S, M, L, XL, and XXL.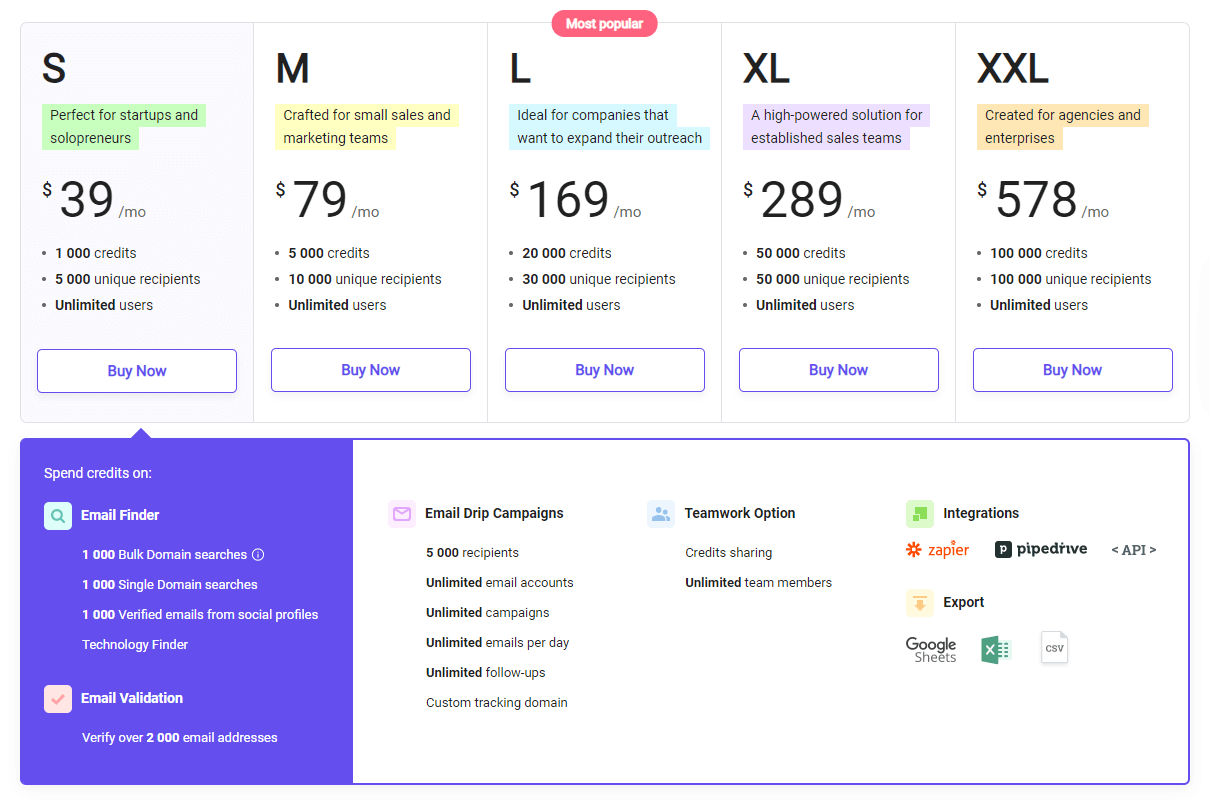 Snovio's pricing starts at $39 per month and offers 1000 email-finding monthly credits and 2000 email verifications. In addition to that, even on the lowest pricing tier you already get Email Drip Campaigns, Unlimited team members, and integrations.
According to these numbers, Snovio is the most affordable "email finder".
I say "email finder" because if you don't want to lookup new email addresses, you can also buy a standalone Email Campaign service for $33 per month.
Which isn't typical for a standard email finder.
Snovio Reviews — What People Say
G2: 4.6/5 based on 120 reviews
Capterra: 4.7/5 based on 99 reviews
Software Advice: 4.2/5 based on 68 reviews
Using G2's compare option, we can see Norbert was voted slightly above Snovio in all but two aspects: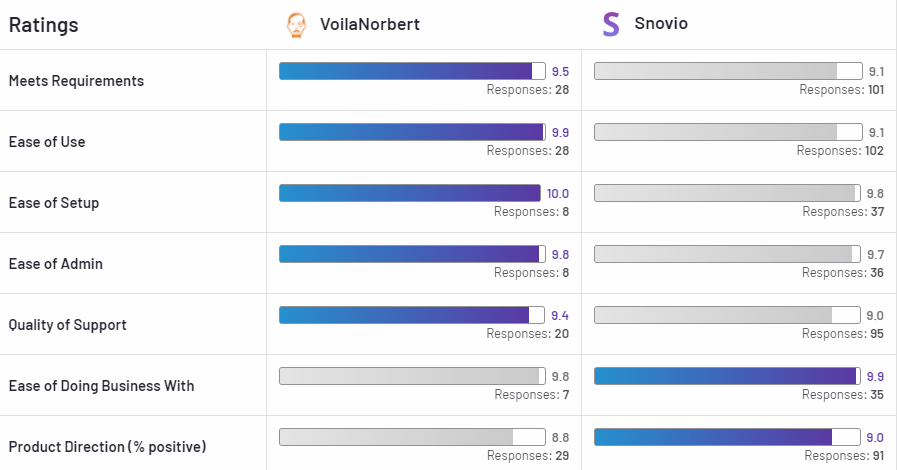 Nevertheless, Snovio still has stellar reviews due to its cheap pricing and feature-rich service.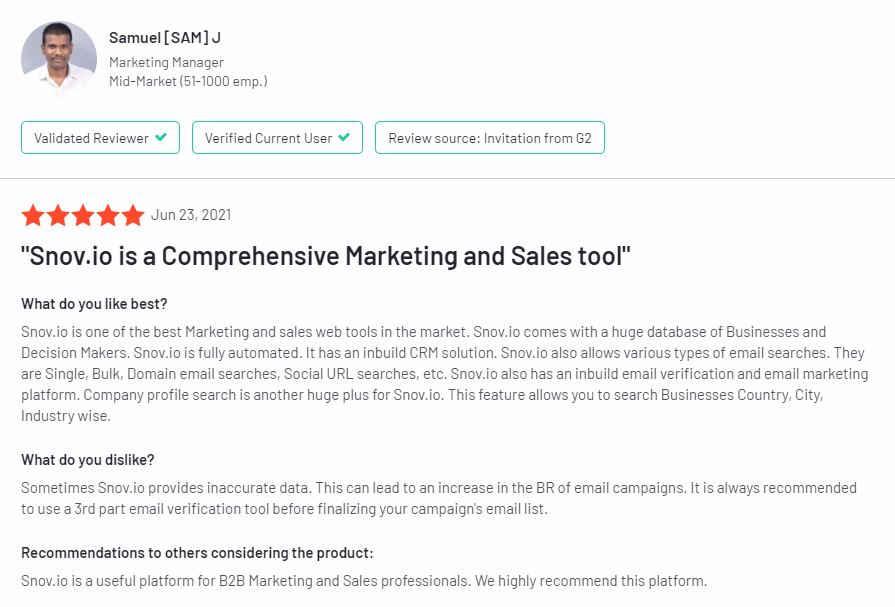 Snovio Pros & Cons
(The sentences in quotation marks "" are taken directly from reviews on G2, Capterra, ProductHunt, TrustRadius, SoftwareAdvice, etc.)
✔️ "Our team loves Snov.io for its versatility."
✔️ "The drip campaigns must be one of the best options on the web."
✔️ "You can split the monthly credits in any way you need."
❌ "Sometimes my IMAP settings for receiving emails get broken in the middle of a drip-email campaign."
❌ "CRM functions are a little bit chaotic (if you use additional fields you have limited possibility to toggle columns in a table view)"
❌ "They often provide emails of previous company's work emails. I believe they didn't update their email database for a while"
Snovio Ideal Users
Snovio's ideal users are people who, counterintuitive, don't need a good email finder — but would rather have Snovio for its secondary features.
(But for people who want a heavy-duty email finder, Voila Norbert is the better choice.)
Snovio is made for people who want a searchable B2B Lead database, CRM, and email automation software all-in-one.
From G2 reviews we can see that Snovio's most common customers are small and mid-sized businesses in the IT, Marketing, Advertising, Computer software space.

✔️ Chrome Extension | ✔️LinkedIn Email Search | B-tier Accuracy
Per email: $0.049 Low-end Plan, $0.0079 High-end Plan
GetProspect email finder is a prominent platform for finding prospects' email addresses. It provides a comprehensive solution for marketing and sales professionals – from searching prospects' data and qualifying them to managing prospect lists in a user-friendly CRM.
According to Ahrefs' latest 2023 platform testing data, GetProspect is among the top Email finder platforms:
Some of GetProspect Key Features
GetProspect software has many capabilities to boost lead gen, but let's start with the email-finding features:
GetProspect B2B database

allows users to search email addresses in bulk and single format using advanced 17+ filters.

There is a function to

search email addresses by domain

(up to 50k domains at a time).

Each company and contact has separate

CRM format pages

with detailed info.

With

Chrome extension,

users may search for leads on LinkedIn and any company's website.

API for the Email finder feature

is

available.
GetProspect Secondary Features
The above-listed functionalities are not all. Users of the platform also have access to such opportunities as:
Data enrichment.

Google Sheet extension for searching and updating data directly in the document.

Single and bulk email verifier.

Search for business mobile phone numbers.
Integrations: native with Zoho, HubSpot, Pipedrive, Salesforce, and 5000+ connections via Zapier.
How GetProspect Works
You can use the GetProspect Email finder in the web app, via the Google Chrome extension and the Email extractor add-on.
Just sign up, install the Email finder extension via the Chrome Web Store and the plugin for Google Spreadsheet via Google Workspace Marketplace. 
50 valid emails available for free subscription — an excellent opportunity to test the platform.
Here are some email search features in action:
GetProspect B2B database search
GetProspect Pricing
GetProspect offers different pricing plans:
At GetProspect, in the most affordable subscription for $49, a user can get 1,000 leads with email addresses with separate credits for email verification. 
Companies can choose a more favorable package – from getting 1,000 valid leads (Starter) to 50,000 (Growth 50k).
Additionally, in GetProspect, all paid subscriptions provide an opportunity to get up to 5 prospects' phone numbers for free with a separate option to purchase credits.
 GetProspect Reviews — What People Say
G2: 4/5 based on 38 reviews
Capterra: 4.5/5 based on 90 reviews
Software Advice: 4.5/5 based on 90 reviews
According to the G2 comparison, we see that Norbert was ranked higher than GetProspect on all metrics:
But despite this, a sufficient number of users are satisfied with the product, especially with the extension to find leads on LinkedIn.
GetProspect Pros & Cons
(The sentences in quotation marks "" are taken directly from review sites)
✔️ "GetProspect is intuitive, easy to use, and very effective in finding emails."
✔️ "The leads list export function is excellent."
✔️ "Easily integrated with Sales Navigator and works well."
❌ "Email finder credits reset every month."
❌ "We just have to use the GP Chrome extension very carefully within their limit; otherwise, LinkedIn will detect it and ban the account."
❌ "The small number of credits that allow you to save leads and get emails given for the free version."
GetProspect Ideal Users
GetProspect's ideal users are those looking to increase lead generation. They are primarily small to medium-sized business owners in Information Technology/Services, Computer Software, and Marketing.
Skrapp is a very "out there" email finder tool: it uses algorithms and public websites to model a company's email patterns and find emails based on those simulations. Essentially, it's more of an email predictor than an email finder.
Skrapp is a Chrome extension, and it allows for single, bulk, and domain search. Once you've found a list of prospects, you can export that list as a .csv or .xlsx file.
With the free version, you can get up to 150 email addresses. To get more than that, you'll need to upgrade to a paid plan, starting at $34/month for 1,000 emails per month.
7. Hiretual
Hiretual is, as its name implies, an email finder tool that's aimed specifically at the hiring and recruitment process.
To find email addresses, Hiretual combs several resources (LinkedIn, Twitter, and Facebook), which gives it a leg up on some tools that only check for contact info from one source.
However, Hiretual also grabs other information that is particularly relevant for recruitment purposes and candidate searches, like seniority, compensation range, and prior experience. Plus, the tool also features an AI component that can help you find candidates.
Hiretual offers a free version that provides three contact credits and two boolean credits per day. Paid plans start at $79/month billed yearly.
8. ContactOut
ContactOut is a Google Chrome extension that helps you find business email addresses. It currently features one billion addresses, which it claims count for 75% of the Western world's professionals.
Like Hiretual, ContactOut uses AI to make finding email addresses easier. All emails are triple-verified, and the tool touts a purported 99% accuracy.
Additionally, ContactOut has CRM features that make organizing your contacts and sending emails more efficient.
Pricing for ContactOut starts at $39/month billed yearly, which allows up to 1,200 contacts per year.
Lusha is designed to help you find contact info for sales prospects and job candidates. Like ContactOut, it takes the form of a Google Chrome extension.
Lusha currently features 36 million C-level profiles, 100 million business profiles, and 15 million company profiles. This makes it easy to find contact info for many top professionals and conduct company profile search, but it isn't as extensive as some of the other options out there.
However, Lusha does offer a free version, which makes it a good starting point for those who just need a few emails or aren't sure how many contacts they'll need yet.
Paid plans start at $79/month offering 100 credits/month for up to three users.
Anymail Finder is an email finder tool that promises 97% accuracy on all email searches.
Compared to other products, Anymail Finder has a few unique features. For one, it allows users to search by job title, even if you don't have a specific person's name in mind. This makes it great for prospecting and finding new leads.
Plus, it also offers an API, so developers can expand on its functionality or integrate it into other applications they are building.
Anymail Finder offers a free trial that allows up to 90 emails. Beyond that, you can pay for additional email credits, starting at $0.0149/email for 10,000 emails and going up to $0.049/email for 1,000 emails.
11. LeadFuze
LeadFuze is another tool that puts its AI features front and center. The tool currently advertises a repository of over 500 million profiles and over 10 million companies to search through. It was considered a G2 Leader in Winter 2020.
One of the unique features of LeadFuze is that you can search for profiles based on keywords, so you can run a search for any CEO that runs a company in Europe for a software company with less than 100 employees, for example.
Pricing for LeadFuze starts at $132.30/month for 500 monthly credits.
12. SellHack
SellHack is a tool that is designed to help sales, marketing, and recruitment teams with their prospecting efforts. The tool uses a 12-step real-time email verification process to help users find accurate contact information.
Users can also use SellHack to create lists and automate certain parts of their sales pipelines.
Pricing for SellHack starts at $3/month for 100 email credits.
13. Datanyze
Datanyze is a Google Chrome extension dedicated to helping sales professionals find contact information for B2B prospects.
The company currently advertises a database of 63 million direct dials, 84 million email addresses, and 120 million people. All of its data is ethically sourced, and it is both CCPA and GDPR compliant.
To help get conversations started, Datanyze also provides you with icebreakers based on recent events in a prospect's niche. You can also export your contact lists and use Datanyze for your whole team.
Datanyze offers a free 90 day trial that offers up to 10 searches per month. Paid plans start at $39/month billed yearly for 1,080 credits per year.
14. Find That Email
Find That Email makes its use case exceedingly clear: you use it to find emails. Referring to itself as "The Yellow Pages of Email," Find That Email can help you find contact on social media through its Chrome extension or with its bulk email finder.
The tool can also verify email addresses, and it integrates with over 500 different apps.
Find That Email offers a free plan that allows for up to 50 Find Credits per month. Paid plans start at $29/month for 500 Find Credits.
RocketReach is a Google Chrome email finder extension that boasts real-time verified data for 450 million professionals spanning 17 million companies. It allows users to search by position, location, keywords, and more.
Users can also perform bulk email searches, connect to its API, and make use of its integration with apps like Salesforce, Hubspot, and more. Phone number lookups are offered as an additional feature as well.
Pricing for RocketReach starts at $39/month billed yearly for 1,500 lookups/year.
16. Clearbit
Clearbit is another popular tool that helps companies get more out of email. It not only acts as an email finder, but also collects personal information and company information. The Clearbit Connect plugin is all that companies need to get started using their database.
To find an employee's email address, just type their domain name in and their name. Clearbit also comes integrated into Gmail. That means you will see it in the top corner or your inbox, and can use it without having to log into another app. The app is free, making it easy to implement no matter the budget.
17. Adapt.io
Adapt.io offers a chrome extension called LinkedIn Email Finder. This helps you collect email addresses from various prospects using their LinkedIn page. From there, you can simply export them to your CRM in a few simple steps. After installing the LinkedIn Email Finder extension, you'll see an option within your prospect's LinkedIn profile named "Get Email." 
Adapt.io has a chrome extension, LinkedIn Email Finder that can help you get email addresses from your prospect's LinkedIn page and export them to your CRM.
Once you install the extension, go to your prospect's LinkedIn profile and you'll see a new option called, Get Email. This feature can save teams a lot of time — allowing you to avoid switching out of LinkedIn for every contact.
Then, you can export the lead information from within Adapt.io's dashboard right over into whichever popular CRM you happen to be using at the time including Zoho, Pipedrive, Salesforce, or even an old-fashioned Excel, Google Sheet, or CSV spreadsheet file. Their freemium pricing model starts free of cost for up to 100 email lookups each month.
18. LeadGibbon
The chrome extension LeadGibbon helps you get email addresses for LinkedIn prospects as well. Using their lead database, you can identify your prospect with unique filters. Then, select the contact you want and add your leads to your CRM.
With the plugin installed, you can also use LinkedIn to search for prospects. Underneath a prospect's profile on LinkedIn will be the LeadGibbon button. Just click on it and you can get their remains quickly and easily. The pricing starts out free for a 7-day trial, after which their plans start at $99 a month.
19. Headreach
Similar to other tools in this list, Headreach allows you to find prospect emails using their website domain, company name, or prospect name. But there are additional features that Headreach has to help your team be more efficient when hunting for contact information.
There are advanced search options within HeadReach that let you search for email addresses using keywords, industry, job roles, and even their college name or country. Pricing for this tool begins at $29 a month.
20. Toofr
As far as email finder tools go, this one is relatively user friendly. It is in the form of a chrome extension that allows users to locate prospects' emails right in the same browser window. It uses AI to find the emails via mail servers and various patterns that would take a long time to do manually.One key feature is the Confidence Meter. This creative feature tells users how likely the email address is to be accurate. Of course, ideally you would simply have high accuracy within the tool by default, but at least they make you aware of inaccurate emails.
This email finder tool has search functions by domain, company name, prospect name, industry, location, and job name. You can use these categories to search in bulk and save hours of time. Pricing for Toofr starts at $19 a month for up to 500 credits.
21. Vocus.io
Vocus.io coins itself as a "full stack" email outreach tool. In that same vein, it offers a range of email services, but most notably it has an email finding feature of course. This gmail extension claims to be able to find the email address of any prospect. Its algorithm is efficient and fast.
The way it works is by looking for names and domains and running different combinations through its filter. Then, you can use its other features to actually send emails or mail merge so your contacts are better organized. While it may lack in accuracy of email finder tools farther up in this list, it does have some other features to make up for it. Its 30 day trial is free, after which it's just $5 per month.
22. SignalHire
SignalHire can find emails for both personal and work reasons. It's helpful for recruiters, marketers, and salespeople alike. It uses real-time verification during its email search, to help you have more confidence in the results.
The app is actually a plugin for Chrome — so you'll need to make sure you or your team are using that browser if you want to access the tool and its email finder features. The email addresses provided by SignalHire come from Twitter, GitHub, Facebook, LinkedIn, and other social media profiles primarily.
It's a bit unique in the fact that instead of just the email, it spits out handles for social media and other prospect information, such as Skype IDs. Its instant send feature allows you to reach out to prospects with the newly found email right within the search stage.
You can also export contact info to a CSV in little time. Their plans are as low as $29 per month if you pay annually in advance.
23. FOUND
FOUND is a chrome plugin that allows you to add prospects to different lists. You can perform outreach from the app as well. It is in line with other email finder tools in searching for addresses by categories such as job, name, company, or even social media profiles.
The pricing for FOUND is not set in stone, unlike some other tools on this list. Instead, they offer the service on a quote system. So depending on how much cold email outreach you need to do, you'll pay a certain price.
24. LeadMine
LeadMine goes one step beyond just providing emails. Sure, it is an email finder tool that lets you track down prospect information by company, industry, location, and more — a common theme in this list. However, you can save these leads with just a single-click. This one-click functionality helps teams save a lot of time when prospecting.
And saing time is key to being more productive as a salesforce. What's more, you can export your list into CSV file formats (Excel or Google Sheets, for instance). This helps you organize the leads better and make hte task of actually reaching out to them much less of a hassle. 
This is especially true given the fact that many CRMs let you upload CSVs at which point it converts them into your system. The pricing for this is $29 per month after you use up for the first 10 free credits.
25. Interstellar
Intersteller is yet another chrome extension. One of the key differentiators that it provides is the ability to very quickly grab emails from a number of platforms — not just email. For instance, whether you are on Github, Crunchbase, AngelList, or more, you don't need to leave that site and sign into a separate app.
Instead, what happens is you simply see a button on any of these sites and can generate the email of the prospect you're looking for. Then, you can add these leads into your automated campaigns for outreach.
This is made simple thanks to Intersteller's ability to integrate with common sales tools like Pipedrive, Salesforce, Hubspot, Greenhouse, bullhorn, and Zapier. This means you can have one dashboard for all of your contacts. The basic plan begins at $100 per user per month, although higher priced plans and features are available upon request.
26. Emailmatcher
Emailmatcher — as its name would suggest — matches peoples name or their domain name up to an email. It has an existing database that it runs the match against to see if it is valid and accurate. The service is available in app form or as an extension.
The app is relatively simple in comparison to other options. However, the price is fairly difficult to beat: Free.
27. Maildb 
Maildb is an email finder tool that offers search via prospect name or domain name. It also has an email verification feature. The first 10 requests are free each month. After that, they have paid plans starting at $9 that cover up to 1000 requests per month.
28. Discoverly
Many of the tools mentioned so far are focused on sales teams. And that makes a lot of sense. Much of the time, salespeople are those who spend the most time finding prospect information. However, Discoverly has a different focus. It is directed towards recruiters instead of sales teams.
With Discoverly, you can search social platforms like FB, Twitter, and Gmail and find out their information via a convenient sidebar. You can enter in a few possible combinations of emails and Discoverly will tell you which one is more likely. It starts with a free trial and custom pricing after the initial period.
29. LeadGrabber
Finding the names of VPs, CEOs, and other lead positions can be a hassle. LeadGrabber is one of the leading apps to find these emails and even LinkedIn IDs and phone numbers. These extra pieces of information make it a very popular tool for those who need to go a step beyond email.
Another important feature is the ability to integrate with Salesforce, which is the most popular CRM used in the sales world. As far as pricing, users start out with 50 records for free. After that, there are 10 cents for each email.
Nymeria is an excellent tool if you're trying to get emails on LInkedIn. It lets you scan each profile on LinkedIn. You can easily search verified email addresses. At that point, exporting to your spreadsheet of choice is a simple task.
From as little as $9 a month, you can start using Nymeria for up to 1,000 emails.
31. Name2Email
With Name2Email, things work a little differently than the others. You first must compose your email. Then, you need to add a full name and the domain name of the prospect. From this, the tool goes to work.
It will generate a list of corporate email formats that it believes are most likely to be a match. You can up your chances of finding the right email by hovering your mouse over the addresses. If someone's name pops up, then that means you've got the right one. Name2Email pricing depends on how many searches you generate each month.
32. LeadBoxer
LeadBoxer can be a useful email finder tool for saving time when going through your sales workflow. All salespeople need to identify potential opportunities, and it helps you do just that.
Features include email filtering of your lists, and a dynamic lead scoring — that means that your sales people spend only the most time on qualified leads. With the LeadBoxer tool, you can get notifications or updates when certain prospects engage with your funnel.
This could be as simple as engaging with an email or responding to a site message. In addition, you can get the contact information of visitors and get their emails that way. The price starts at $99 per month and goes up from there.
33. Orbitly
Many of the previous tools mentioned on this list automatically search for emails for you. However, with Oribtly, it functions a little differently. In this app, you need to upload a list of names, profile URLs from LinkedIn, or social media handles such as Twitter.
Once you have uploaded this information, Orbitly will attempt to turn these basic information points into a full-blown data info center. It will add data to up to 20 additional fields. That way, you can have not only an email but also a more comprehensive way to reach out in a contextual manner.  With Orbitly, it's pay as you go. So you just buy $9 for 100 leads each time you need to renew.
33. Find That Lead
Find That Lead finds emails by name, company name, and domain. Alternatively, you can find the Prospector tool to find new leads through the company profile search.
Find That Lead also lets users find email addresses through Twitter and LinkedIn profiles. Users can pull emails when visiting sites like LinkedIn by using Find That Lead's Chrome extension.
Find That Lead offers 50 credits (found emails) for free. Beyond that, it will cost you $49/month for 5,000 credits per month.
What Is an Email Finder Tool?
Put simply, email finder tools automate the process of finding and verifying email contacts for your cold outreach needs. It's a simple, easy-to-use tool that saves you a lot of time and gets your emails in front of the right people.
These tools are very useful for agencies and business owners that need to identify hundreds or even thousands of email addresses on a regular basis.
Email finder tools are also handy for solo-preneurs and small businesses that want to verify a dozen or more emails a month. They can be used for compiling email lists – which is helpful when you're starting from scratch – and for verifying already-existing email lists.
Why Should You Use an Email Finder Tool?
At the heart of it, you want to be using an email finder tool to ensure the right person receives your email. Why is this so important?
First, there's the obvious reason that you're sending your email for a purpose. You haven't spent time carefully crafting the perfect email just for it to lay, gathering dust, in the wrong inbox – you need it to land where you intend it to so that your recipient reads the email and takes the desired action.
And that's not all – consistently sending emails to the wrong addresses risks impacting your sender score. The lower your sender score, the more often your emails will be caught in spam filters.
This means that if you've been sending to incorrect addresses, even when you do have the right contact details, you can't assume your email is going to end up in their primary inbox. As you can imagine, a dwindling sender score dramatically impacts open and click-through rates too, skewing your metrics.
So whether you're sending to the wrong email address entirely, or have decimated your sender score by doing so in the past, the result is the same. Your emails aren't landing in front of the right eyes. And that's a problem.
In fact, these days, it's safe to assume if few of your emails are getting where you need them to, you probably won't have a business for much longer! Using email finder tools will also save your business time and money by automating what used to be a lengthy task.
How to Use Email Finder Tools
Using email finder tools is a pretty simple process. With the best tools, you'll simply need to enter the person's name and domain URL in order to generate results.
If you have a lot of email addresses to find at once, you can simply upload a list of names and domains and the most useful email finder tools will be able to perform a bulk domain search.
Once the emails are in front of you, you can simply click to send emails or add the contacts to your email list.
What Features Do the Best Email Finder Tools Have?
A bulk email finder: This is a must for companies that have a lot of emails to find as it drastically cuts down the time you'll spend on this task.
An API: This allows you to automatically validate email addresses through third-party platforms like Mailchimp, CRMs like Hubspot, and blogger outreach tools like Mailshake.
Confidence ratings: On Voila Norbert, for example, each email address comes with a confidence rating that shows you how confident the tool is that this is the correct email address of the person you're trying to find. You can then use this information to make an informed decision as to whether to go ahead and send your email.
Hotkey buttons: This makes the process less admin-heavy. The best tools will allow you to send emails or add to email lists without having to click around and copy and paste.
Additional information: Some tools will provide you with further information about the contact where possible. This is super useful for personalizing your emails.
Minimalist user interface: Email finding is a simple task, there's no reason to complicate it with added steps or clicks.
Further Reading: