When searching for the best email prospecting tool, you know the importance of reaching as many leads as you can, in as little time as possible. But it's not just the quantity of leads that's important.
With 73% of B2B companies choosing quality over quantity, you need to be able to trust that your email prospecting tool is searching for contacts in the right places, and also returning high-quality, accurate, and relevant details.
Prospecting tools such as Nymeria are popular with B2B salespeople who need to automate the process and reach the highest quality leads.
But is Nymeria everything salespeople need it to be?
Why Choose An Alternative To Nymeria?
Nymeria is a web extension email finder that finds the email addresses of prospects by searching their LinkedIn profiles. It lets you build your list and export it to a Google spreadsheet which can easily be shared.
While the tool itself is easy to use, Nymeria does have its limitations.
The first is that it's only available as a web extension by invitation. This means that you have to enter your email address to apply to use the extension.
Nymeria also isn't set up to do bulk prospecting, so it only searches for one contact at a time on social sites.
ADD_THIS_TEXT
Nymeria Pricing Breakdown
Nymeria's premium plans start at its "Kilo" tier at $39/month, which includes 1,000 requests. One level up is its "Mega" tier which, at $79/month, offers 3,000 requests. Then comes its high-end "Giga" plan, which provides 10,000 requests for $159/month.
Each tier allows unlimited users and, other than the number of requests offered, there's no difference in what's included from one tier to the next.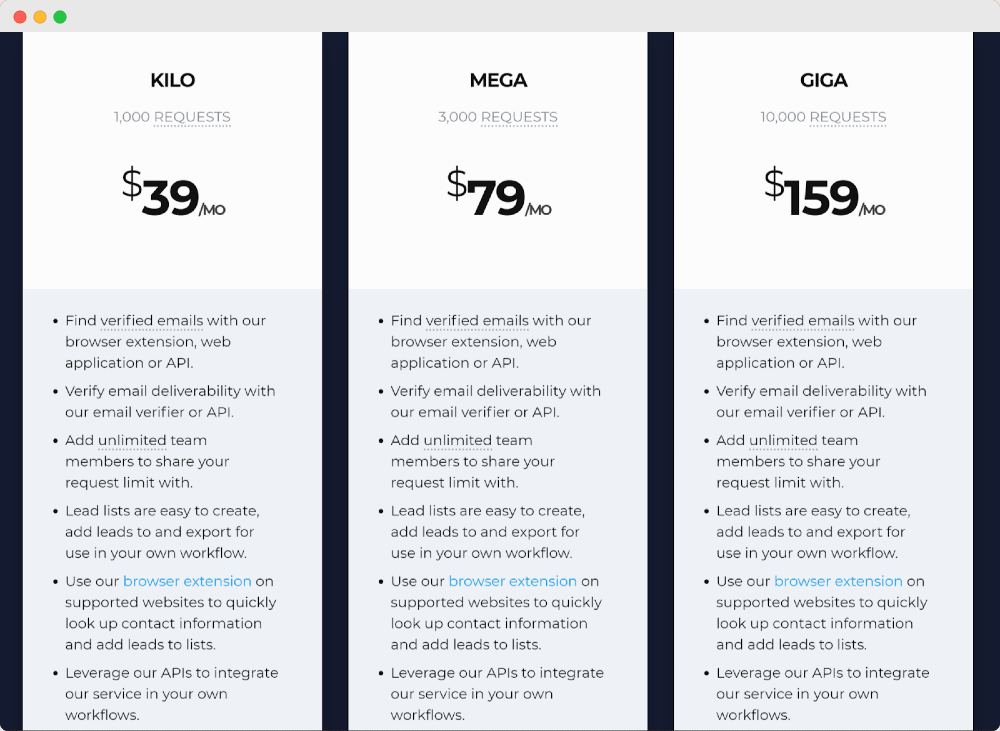 Voila Norbert as an Alternative to Nymeria
While there are some similarities between Viola Norbert and Nymeria, they do have their fair share of differences. For those shopping around for an alternative to Nymeria, Voila Norbert excels in the following areas:
Access to Higher-quality Leads
Voila Norbert, being a more bespoke tool, is more likely to return higher quality leads. For instance, alongside your monthly plan, you can also choose to enrich your leads and verify email addresses.
Voila Norbert's data enrichment add-on lets you control which data points you want information on (job title, niche, location, etc.) which helps to future-proof your lead generation campaign.
So, not only are the leads returned to you more accurate, but they are also accompanied by a full picture of your target market.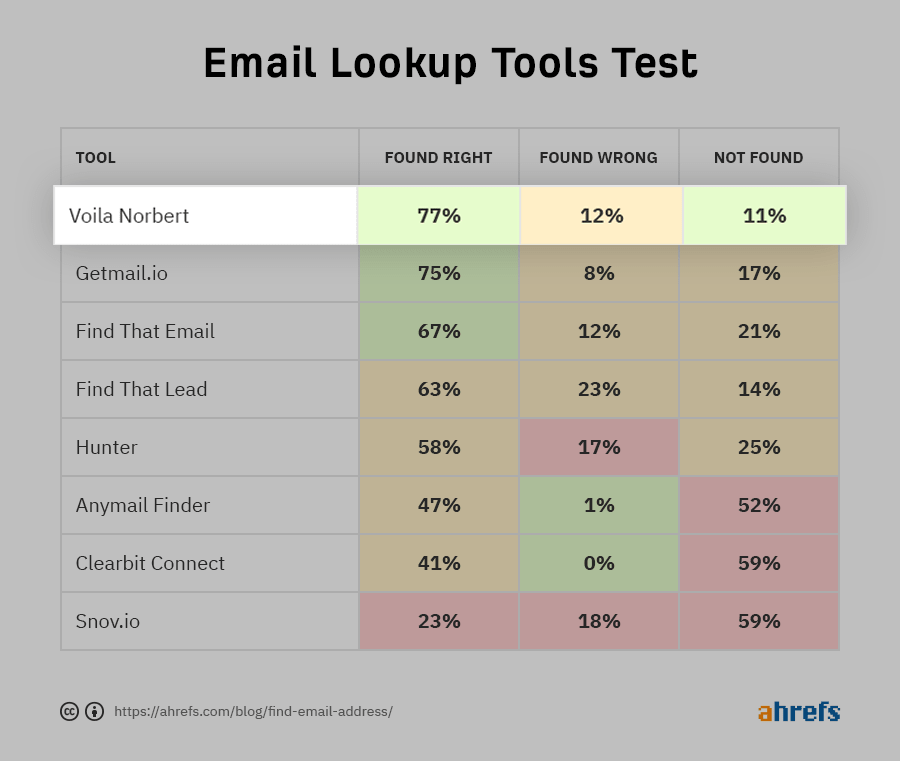 Integrations
Nymeria operates as a browser extension, so it doesn't come with any CRM integrations.
Voila Norbert, by contrast, has 12 direct integrations: HubSpot, Pipedrive, Salesforce, Zapier, Mailshake, Drip, ReplyApp.io, Close.com, Mailchimp, SendGrid, JotForm, and Formstack.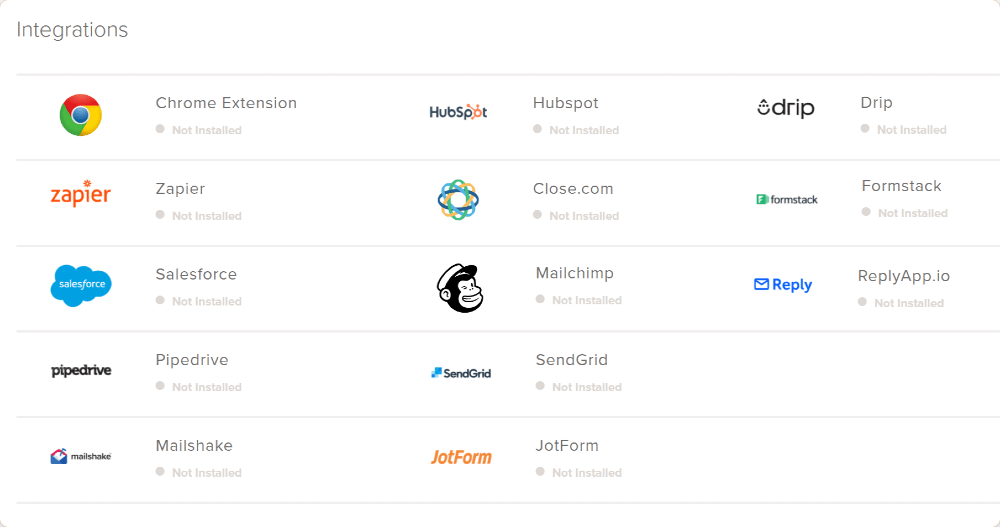 Voila Norbert's CRM integrations make prospecting campaigns much slicker because the lead generation works in synergy with your broader sales processes.
Text
Email Enrichment
Voila Norbert's email enrichment is priced at $0.04 per email up to 2,000 emails, $0.02 per email up to 50,000, and $0.015 per email beyond that.
The feature allows users to set certain data points that they want to pull up about their prospects, so that they can build a full profile for future sales and marketing campaigns.

Elements of a Good Email Prospecting Tool
It can be tricky to find the right email prospecting tool. To help you narrow down your search, here are 6 aspects of a quality tool that you should look out for:
1. Access to High-Quality Leads
It's not enough for your email prospecting tool to find you a long list of email addresses. You need to be sure that you can trust your tool to pull in the best quality leads to meet your prospecting objectives and your broader sales goals — quickly and easily.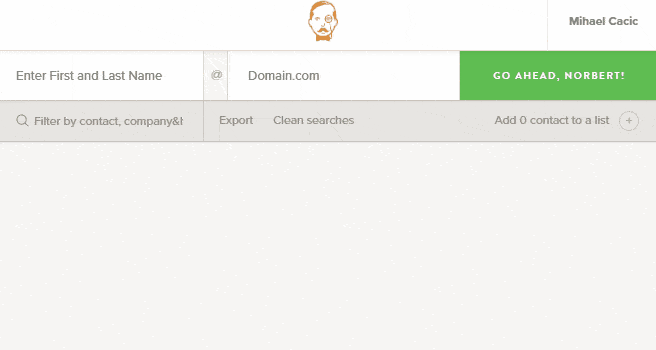 Voila Norbert has the specific technology – its email verification tool, data enrichment feature, and rich integrations – to ensure that you're getting top-notch results with every campaign.
2. Quantity of Leads Worth Purchasing
Quality is definitely more important than quantity when it comes to email prospecting. That said, you need to be sure of a decent enough list to ensure you're getting some ROI.
With Voila Norbert's bulk API feature, it searches en masse for quality leads so you're getting a mix of both quantity and quality.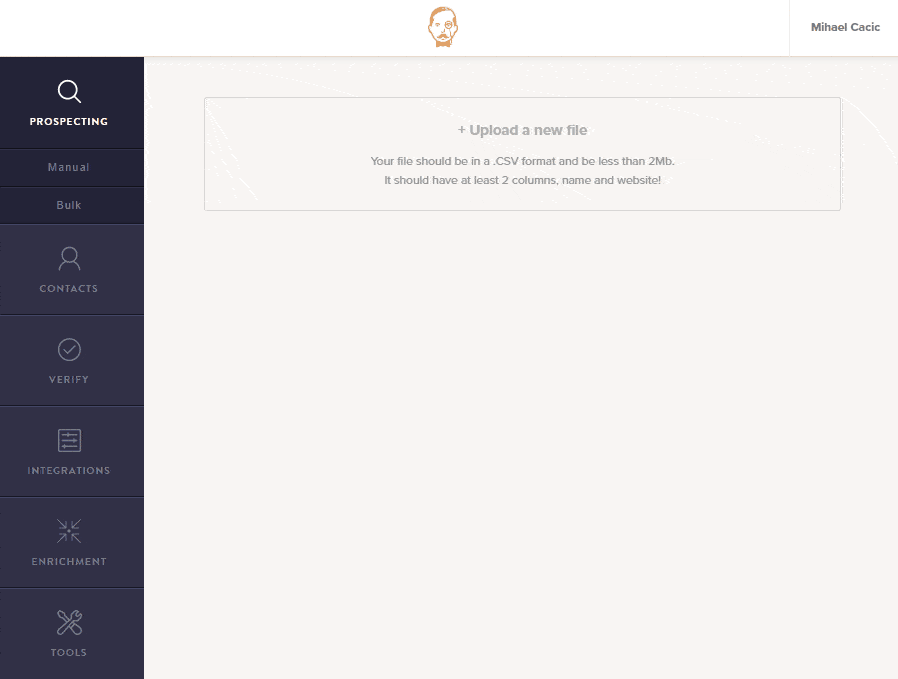 3. Email Verification
Not all email prospecting tools can promise that the leads it returns are trustworthy. Contact emails can be obsolete or irrelevant, which will lead to wasted time in the long run.
With Voila Norbert's email verification tool, you can spend a little extra each month to verify the quality of your leads in real time.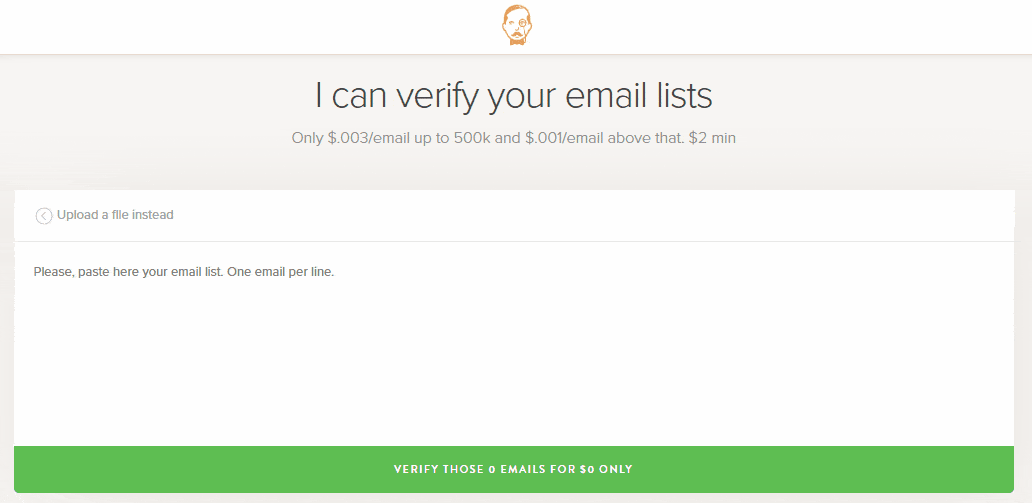 It, of course, allows you to import CSV for validating more massive lists: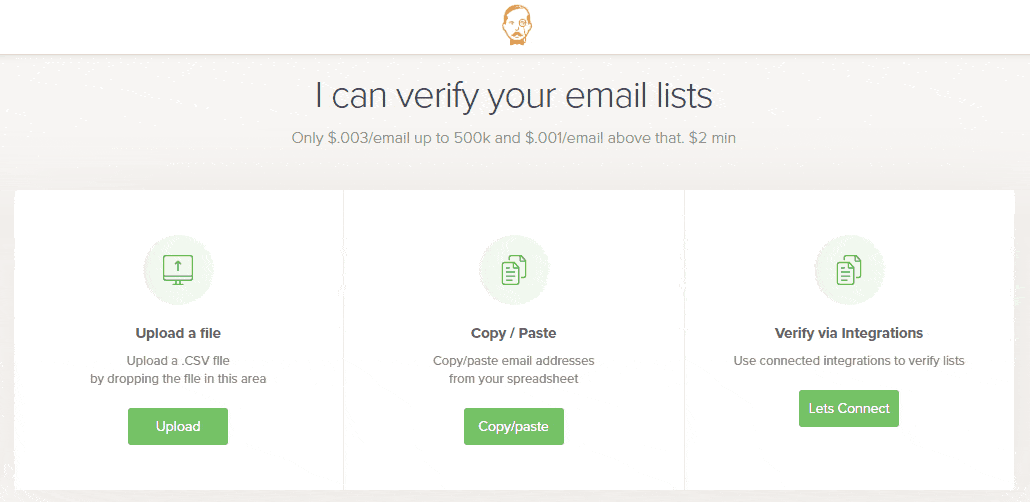 4. Data Enrichment
A proper email prospecting campaign will form the foundation of further sales and marketing outreach. A tool that can capture rich insights into your targets will help you to build a full picture of your prospects to save you time later on.
Voila Norbert's data enrichment tool does just this. At only a small extra cost per month, you get more insight into your targets for future use.
5. Easy Integration with Other Services
Your email prospecting work will be just a part of your broader sales and marketing campaigns. Because of this, a tool that integrates with your other systems, particularly your CRM, will mean you can streamline all your efforts, saving you time and effort.
Voila Norbert boasts several integrations, most notably with top CRMs such as HubSpot and Salesfoce.
6. Real Customer Service
When you're carrying out your email prospecting, you need to be sure your software is there to support you in your efforts. Central to this is a top-quality customer service team that's available when you need it.
Try Norbert Today (CTA)
Voila Norbert provides you with everything you need for quick & effective prospecting, enrichment, and verification. Click here to get started!
Text