We know it's hard to find the best sales tools for your business…
That's why we've reviewed 153 sales tools and presented the best 12 in this article.
Each sales tool has a description on its:
Pricing
Key Features
Pros and Cons
This way you'll be able to easily identify which sales tools would fit your needs the best and which ones you can afford.
And it gets even better:
We've sorted these tools into five categories. So feel free to jump to the one that grabs your eye the most:
The bottom line?
If you're looking for the best sales tools for your business you'll find them in this article — guaranteed.
So let's jump right in.
We all know that having a high-quality list of prospects and their email addresses is the most fundamental thing in sales. That's why we recommend using Voila Norbert — the most accurate and easy-to-use email finding tool on the market. Go give it a shot. Sign up with this link and get 50 email addresses for free!
Lead Generation and Sales Prospecting Tools
1. Voila Norbert
The Most Accurate Email Finder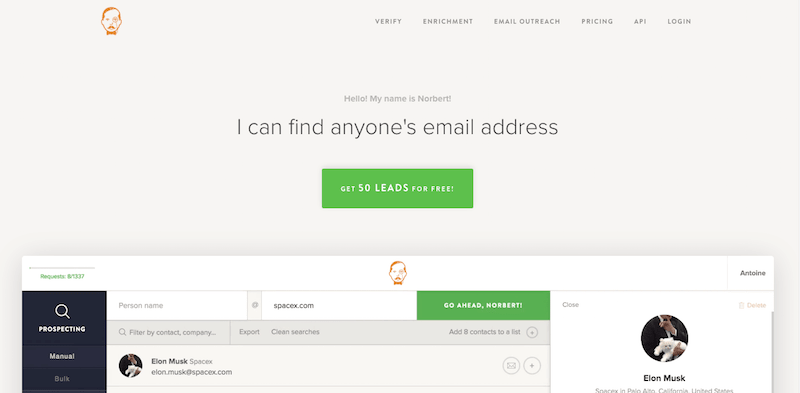 Prospecting is one of the most fundamental and laborious of all sales tasks.
So you need a sales prospecting tool that can find the right information with accuracy and ease.
Voila Norbert is an email finder and lead generation tool. All you need to know is the name of the person and the company name, and Voila Norbert will generate the email address of the person for you.
Key Features
Voila Norbert comes with a whole range of features that make it a cut above its competitors.
For one, it allows you to seamlessly generate the email address of your ideal prospect. And the best part is that it is not only an easy and quick process, but the email generated is sure to be right.
Just take a look at this chart from research by Ahrefs: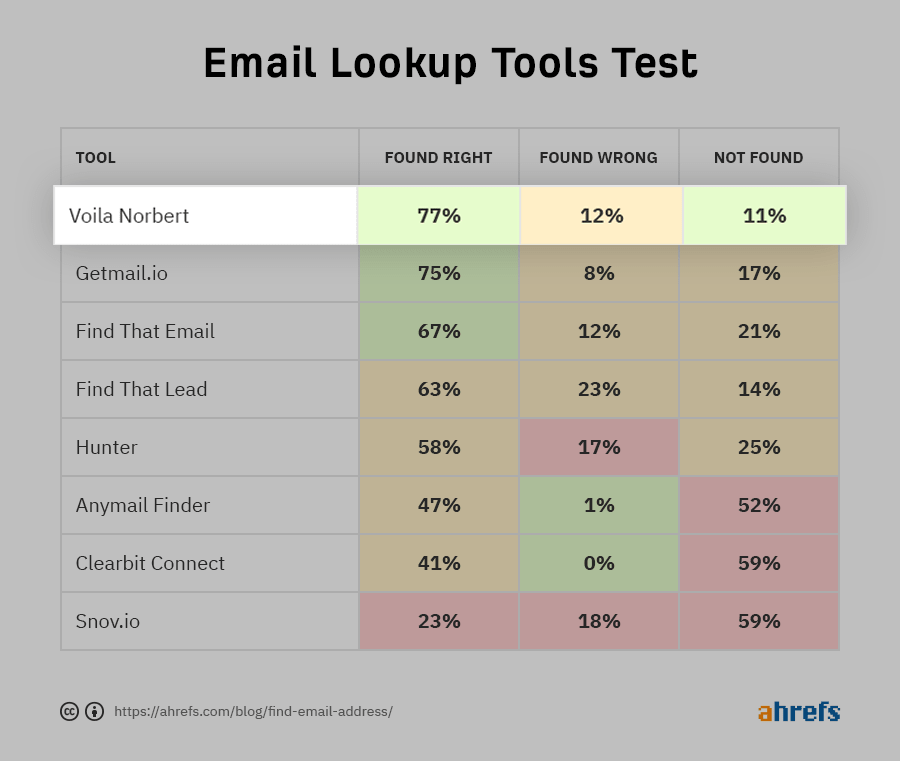 77% accuracy is by far the highest of all the tools in the market.
We were able to achieve this by making use of standard algorithms along with our very own secret cloud-based algorithm we're incredibly proud of.
To use Voila Norbert, all you have to do is enter the name of the prospect along with the URL of the company in the search box and click "Go ahead Norbert".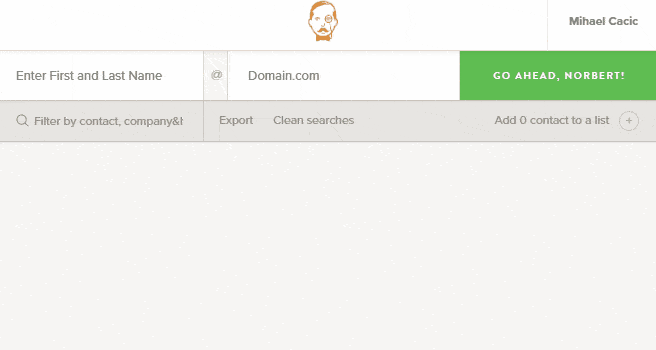 And you can do it in bulk, too. Simply drop your CSV file with the prospect's full name URL: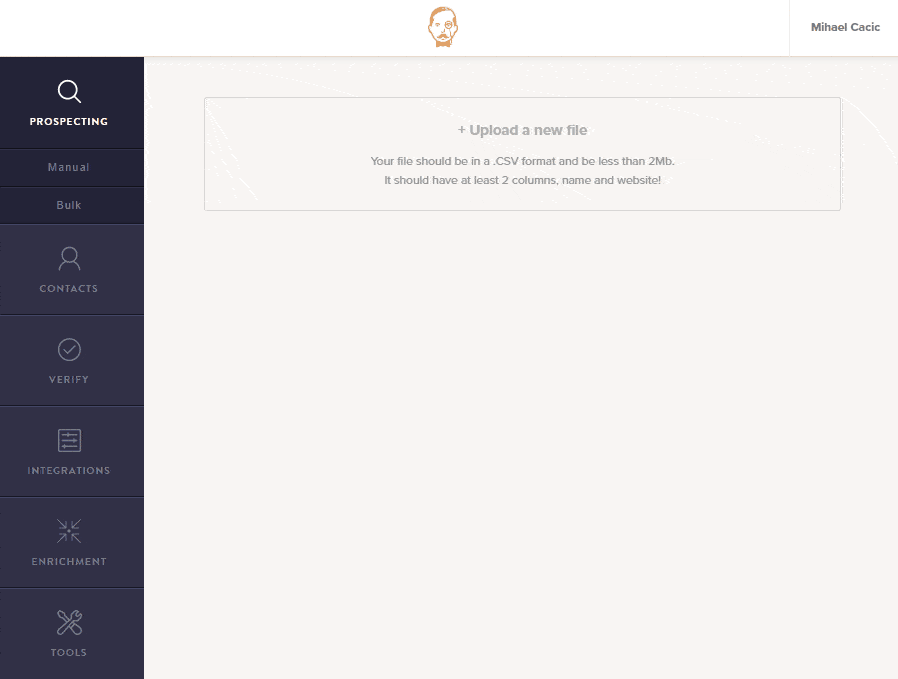 Once it's done, you'll be able to download your prospect list to CSV, Google Sheets, or XLSX.
Voila Norbert also comes with a chrome plugin, and it requires very little technical expertise to use.
With this chrome plugin, you can find email addresses on the fly while prospecting for leads on any website… Including LinkedIn!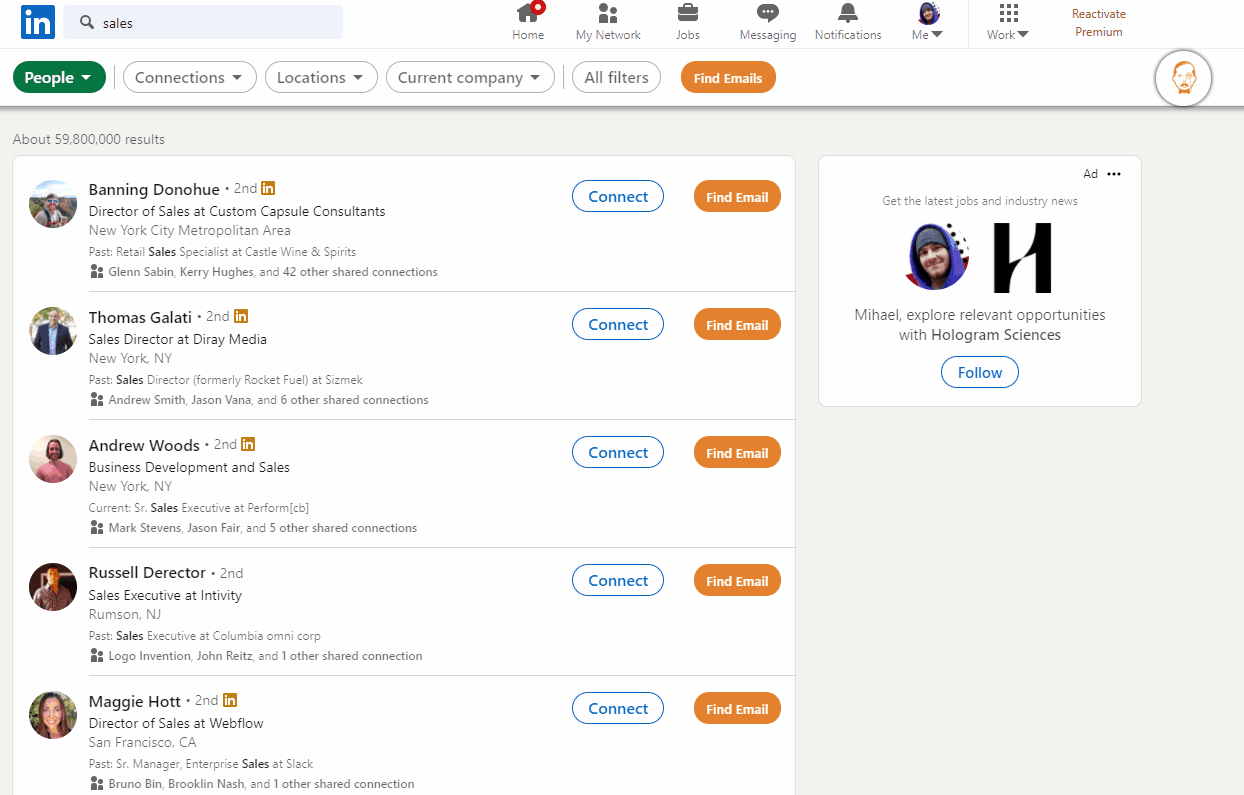 Once you've got your list built, you can send your prospects to all other major software as Voila Norbert offers integrations with 13 different software: Zapier, Mailshake, Salesforce, Pipedrive and more.
With this, users of Norbert can switch dynamically between the different software, thereby making their workflow smooth and efficient.
Pricing
If you like what you see, you can opt in for one of the pricing plans mentioned below.
Valet (49 USD/ month) — 1000
Butler (99 USD/month) — 4000
Advisor (249 USD/month) — 15,000
Counselor (499 USD/month) — 50,000
Voila Norbert offers four pricing plans at 1000, 4000, 15,000 and 50,000 leads per month.

To break it down even more, with the low-tier Valet plan, it would cost you around $0.05 for an email. Whereas, if you opt for a high-end Counselor you can get an email for a less than $0.01!
All of these plans come with API usage, bulk email finding, and unlimited team numbers.
Annual plans offer exciting discounts across all price tiers. The Counselor annual plan for instance will allow you to save $1200.
Plus, if you go with the yearly plan, you are automatically eligible for credit rollovers. This ensures no leads go to waste and you get the best value for your money.
User Reviews: Pros and Cons
G2: 4.8/5
Capterra: 4.6/5
TrustRadius: 9.2/10
(The user reviews were taken from sites like G2, Capterra, and TrustRadius- directly from people who have personally used Voila Norbert.)
"Most accurate email finder tool I've found".
"You can get business emails with a single click"
"Excellent contact research tool".
Even the best tools come with a few glitches.
"It doesn't allow you to search for companies"
"It does not tell you the reason why a particular email search failed".
Excited to give Voila Norbert a try? Sign up with this link and get 50 email addresses for free!
Leadfeeder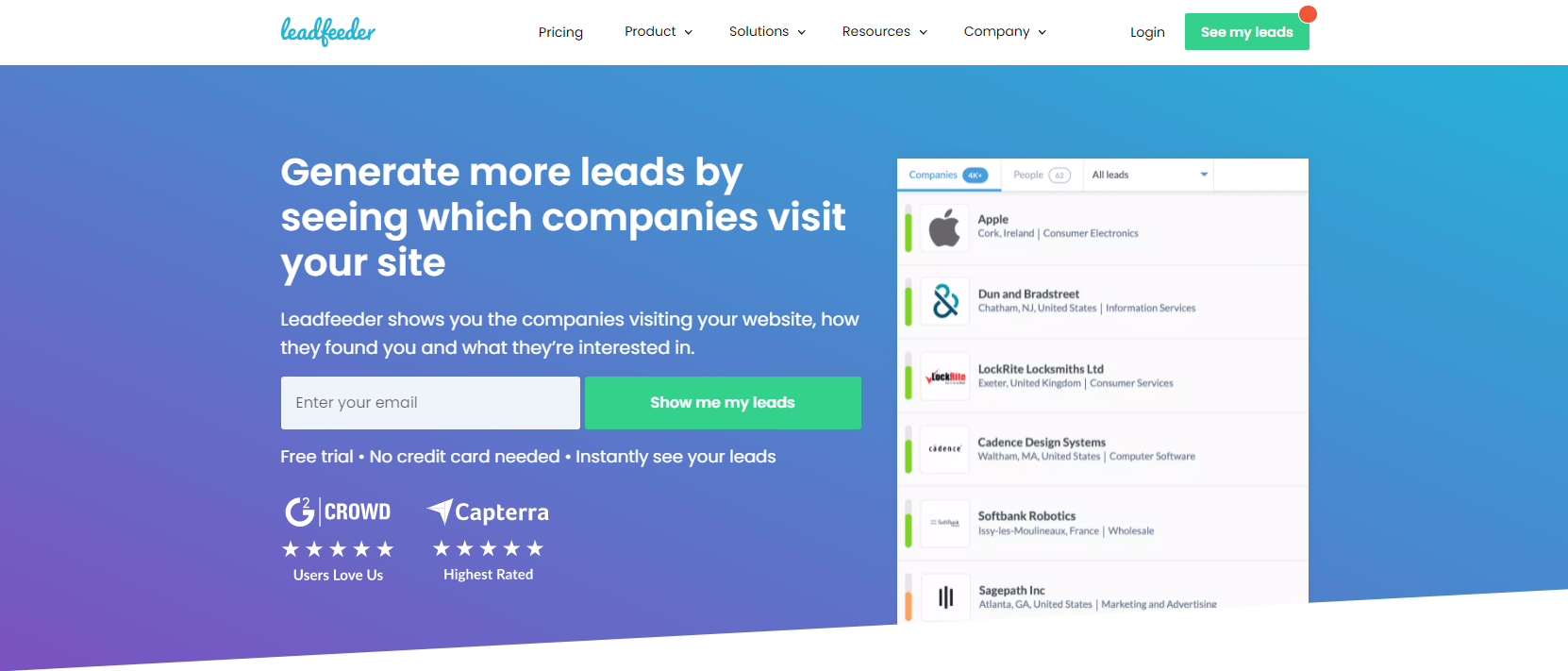 Realize that 98% of people who visit your site don't take the time and effort to fill out a contact form or contact you. So, how do you get to them and know all about them? Leadfeeder allows you to do exactly that.
Imagine a tool so awesome that will help you discover leads even if they never end up contacting you ever or even filling out a form on your page.
Key Features:
With Leadfeeder, you can uncover the companies and people visiting your site. Should any employee visit your site, you can discover the contact information like which company the person belongs to, the location, etc.
Realize that you need a google analytics account for this. These google analytics accounts will help to turn seemingly useless information into sales data you can make use of to study a lead's behavior and see what their interests are. Armed with this information, you can market the right product to the right person who is the ultimate decision-maker in the sales funnel. This will help you to craft outreach programs with the right sales pitch to win them over with the right products that offer a solution to their problem.
Pricing:
Leadfeeder has two pricing options from which to choose :
Lite (free)
Premium (different pricing tiers starting from 63 USD/month to 599 USD/month)
With Lite, you will get the last 3 days' worth of leads and this comes for free! You can generate up to a maximum of 100 leads with this plan.
If you choose the Premium option, however, you can get unlimited leads based on the price tier. The starting price is 63 USD for a month and you can generate up to 100 leads with this plan. The more leads you want, the more you will pay. If yours is a large company and you need around 300 to 5000 leads, you will be charged 599 USD. Get in touch with the company should you need more.
As always, you can opt for the annual plan if you are looking to use it long term and save some money for your company. You can save 20% if you go with the annual plan.
User Reviews: Pros and Cons:
G2: 4.3/5
Capterra: 4.3/5
TrustRadius: 7.8/10
"It is Integrated with Google ads and Google analytics to find better quality leads that are visiting the website"
"Can see who comes to my site and how frequently, so it's possible to contact without resorting to cold calling".
"What I do not like is how inaccurate the data is on the contacts within each company",
"Visitors from those countries are not our target market, so we filter out their information to avoid paying for it as an unqualified lead.
LinkedIn Sales Navigator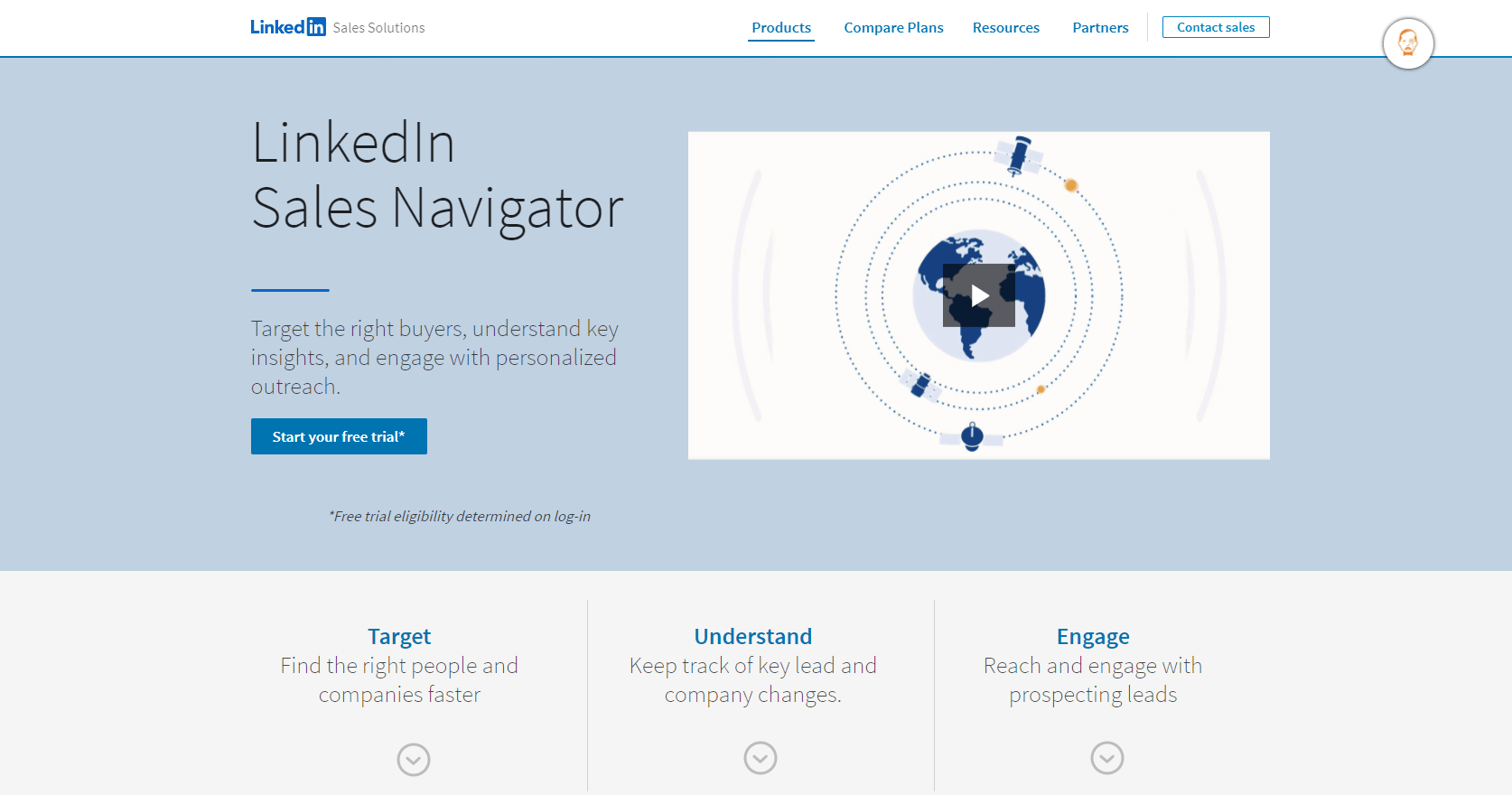 LinkedIn has skyrocketed to popularity in the last few years with over 450 million users from around the world! People use LinkedIn to launch their careers or take their careers to the next level. Can you imagine anyone in the professional sphere not having a LinkedIn profile?
It should come as no surprise then that such a widely used professional network will also be a great sales and marketing tool. If you are looking to make sales prospecting easier, then LinkedIn Sales Navigator is for you.
Features:
This sales tool has so much going for it. You can connect with any LinkedIn member you wish thanks to the InMail option. This way, you will get access to people who really matter to you and your business, and you can connect with them in a very meaningful and productive way. It comes with advanced search filters with which you can find the right leads customized to your specific business requirements.
What can be measured can be improved. With the dashboard, you can actually measure your sales results and tweak areas that need improvement. You can even save leads to work on later, get the recommendation of leads based on your business needs, and get updates from customers and prospective customers alike. The integration with quite many CRM apps will help you convert leads far more effectively.
When you have all the right information about prospects you can reach out to them with effective marketing campaigns, and this tool will go a long way in helping you achieve just that.
Pricing
You can choose among three pricing plans that LinkedIn Sales Navigator offers its users.
Professional – 99.99 USD/month
Team – 149.99 USD/month
Enterprise – not listed
With the professional option, you can reach out to only 20 people per month, whereas with a team you can reach out to 30 professionals. With the enterprise option though, you can reach up to 50 people through InMail. The higher in the price tier you go, the more advanced options you have like advanced outreach, making use of administrative tools, centralized billing, synching with CRM apps and more.
Like with other sales tools, selecting the annual subscription will help you save quite a bit. In this case, it is 25% less for the annual plan.
User Reviews: Pros and Cons
G2: 4.2/5
Capterra: 4.5/5
TrustRadius: 8.6/10
"Great for research and intel-gathering"
"If you are actively looking for business-focused leads, this is a great tool"
"Sales Navigator's advanced search allows you to see 2500 prospects in a single search. Sales Navigator can be used to connect with Decision Makers, collect accurate industry data, market research, job updates, company insights, relationship building, professional development, etc."
"Downloading or exporting the list of accounts and leads is not available"
"I don't like to have a 100 contact limit per week to add".
Communication and Conferencing
Skype for Business

There is no way on earth (okay, internet) that you have not heard of nor made use of Skype. Skype for Business is one of the easiest-to-use, free sales tools used by thousands of people since its inception.
Features:
Skype may not be all that user-friendly as some of the other video conferencing tools out there, but it is definitely one of the oldest. Skype is good for making business conferences, instant messaging, voice calls, sales calls, and screen sharing. You can even send documents, pictures, and screenshots across to other skype accounts, share documents like brochures, videos, contracts, pamphlets and more.
If you have a Microsoft account, you can very well use skype for your business conferences. It's a given that you can place voice calls with another skype account. What's more, you can even place calls to other regular phone numbers. But you need paid credits for this one.
Pricing:
It comes under the freemium model, if you have a Microsoft account, you can use Skype for Business for free. If you want advanced features like placing a call to a regular number or recording calls with third-party apps, then you will have to spend extra dollars.
User Reviews: Pros and Cons
G2: 4.2/5
Capterra: –
TrustRadius: 7.6/10
"The video option on Skype for Business works brilliantly. It instantly delivers the message to my colleagues and we can share long files and GIFs very quickly with the help of Skype for Business."
"You can send messages even when not logged in".
"If a person is presenting or in Do Not Disturb mode, messages will not go through. It would be good if these are saved and presented to the user when they complete presenting or come off Do Not Disturb mode"
"Interface is outdated and not intuitive".
Zoom

ZoomInfo is yet another video conferencing app that is super popular, thanks to the fact that it scores high on technologically advanced features while being super easy to use as well. Which sales rep wouldn't want that!
Features:
Zoom helps you cut the chase with prospects because you have the option to have a video conference with several prospects at the same time. Imagine the amount of time you get to save by conducting meetings and video conferences online to demonstrate your company's products and portfolio to several prospects at once, schedule meetings and presentations, clarify any doubts or queries they may have regarding your product or service through the chat option and share content through the content sharing features.
Find a presentation super engaging but you are on the road or busy with something? You can simply record it and view it later. Best of all? All that's needed is the meeting ID or the name of the meeting room, and you're all set! Some of the other features we liked are the voice sharing capability, mobile screen sharing which means you can conduct meetings with your marketing teams while they are on the road, and conduct meetings, presentations or webinars with or without video (yes, you read that right! It will be the use of just screens all the way!).
Pricing:
Zoom, like Skype, is free. Want to make use of advanced features? Then you have to select the paid plans, which start at 14.99 USD/month.
Pro – 14.99 USD/month
Business – 19.99 USD/month
Enterprise – 19.99 USD/month
The higher up the plan you move to, the more participants you can host. The three different paid plans give you the ability to host 100, 300, and 500 participants respectively. With the basic( free) plan, you can only conduct a 40-hour meeting, whereas the paid options allow you to organize even 30 hours meetings! Should you choose the annual billing option, you will end up saving a substantial 17 percent from your bill.
Contract Lifecycle Management
Proposify

If you want some assistance in curating exemplary proposals, then Proposify is a tool you can rely on. If you have been drafting proposals in Microsoft Word until now, you must seriously consider shifting to software like Proposify. There is every chance that a winning-looking proposal will win you the deal you always wanted to choose, and the proposal will greatly help with that.
Features:
Proposify is a handy proposal software to create and send beautiful sales proposals to your prospects they will find hard to say no to! The key feature is that salespeople can use this software not just to create and send proposals, but also to track proposals with a high possibility of converting into sales.
What we love best about Proposify is that there are plenty of templates available, and salespeople can make use of them rather than use the same old boring manual templates over and over again. Where Proposify really stands out is the feature allowing the use of numbers, price, videos and chat for the proposal you create.
What's more? These professional proposals can be saved in the cloud, making it super efficient to share them across when needed. Should the client have any changes they want to be made, sales reps can make the modifications without any hassle. To round up how efficient Proposify is, the proposal you send across can be electronically signed, which makes the contract legally binding.
Make your proposals polished and professional with Proposify.
Pricing:
You can opt for the free plan which is ideal for just one user and allows up to 5 documents per user. There are 2 plans in the offing:
Team Plan – 49 USD/month
Business Plan – 590 USD/month
In the team plan, you can send unlimited documents to the clients. This is ideal for a small sales team that is growing. If your team is rather big (say 10+ members), and you expect it to keep growing, the business plan will be your best bet. With the Team plan, you are entitled to chat support, send unlimited proposals, and create custom proposal fields. With the business plan, you have better capabilities, like salesforce integration, onboarding services, and other upgraded functionalities than the previous option.
User Reviews: Pros and Cons
G2: 4.7/5
Capterra: 4.5/5
TrustRadius: 8.6/10
"Being able to receive electronic signatures is huge. Also, like the presentation and navigation for the client"
"An impressive feature is the ability to create dynamic proposals where clients can add on options and the total sum is adjusted accordingly"
"Unable to search for contacts as it comes with a fault in the software. Unable to add duplicate contact emails."
"Some of the layout features, bullet points, and numbered lists are incredibly touchy, and not intuitive at all."
Hellosign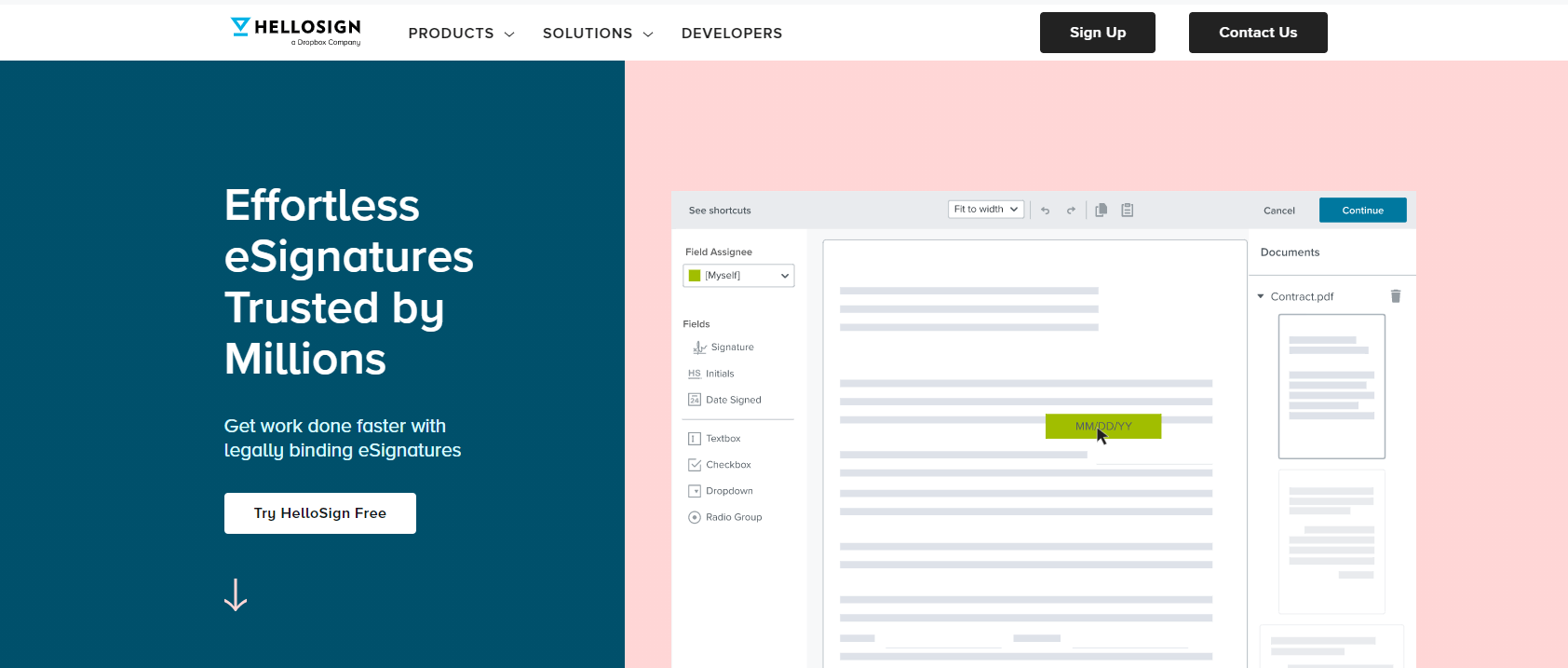 A proposal management software like Hellosign can make the whole process of getting a customer to sign on the dotted line once they show an interest in the product you have to offer a lot more easy and efficient. Salespeople will love this tool because they can do away with the mundane task of physically sending across a document or even scanning and mailing the proposal for your client to have them sign it, scan it and mail it back to you.
Features:
HelloSign is an e-signature software like Proposify that makes sending and signing proposals less time-consuming and seamless. It increases the likelihood of a soon to be customer likely to make a purchase as the sales team can follow up with a proposal once the prospect shows an interest in a particular product. These documents are legally binding. HelloSign goes as far as to provide bank-level security, get notified on the status of the proposal in real-time, along with offering integration with Gmail and other business software for sales.
Even if you are an individual owning a small business, you can still make use of HelloSign to send proposals to your clients. It's a great tool to cut back on paperwork! We love how decluttered and intuitive the interface is and how you can customize the proposal based on your needs.
Pricing:
You can use HelloSign for a month for free. Post that, the price varies according to the number of documents sales professionals need to send, the number of users, templates and more.
Essentials – 20 USD/month
Standard – 30 USD/month
Premium –
The Essentials plan is ideal for single users, the Standard one for 2 to 4 users, and the Premium one for more than 5 users. Under Essentials, you have the option to choose from 5 templates, whereas you will have more options with the Standard plan (15 templates). There is no dearth of template options with Premium – it's unlimited! The latter two options come with branding, bulk send and salesforce integration features as well.
User Reviews:
G2: 4.7/5
Capterra: 4.6/5
TrustRadius: 7.9/10
"It's so easy to use, extremely intuitive, and the integration with Salesforce is great."
"The only thing that we dislike is that if you try to use the browser when you're mobile on your phone there are sometimes issues with alignment or getting it properly uploaded/sent"
Customer Relationship Management
Copper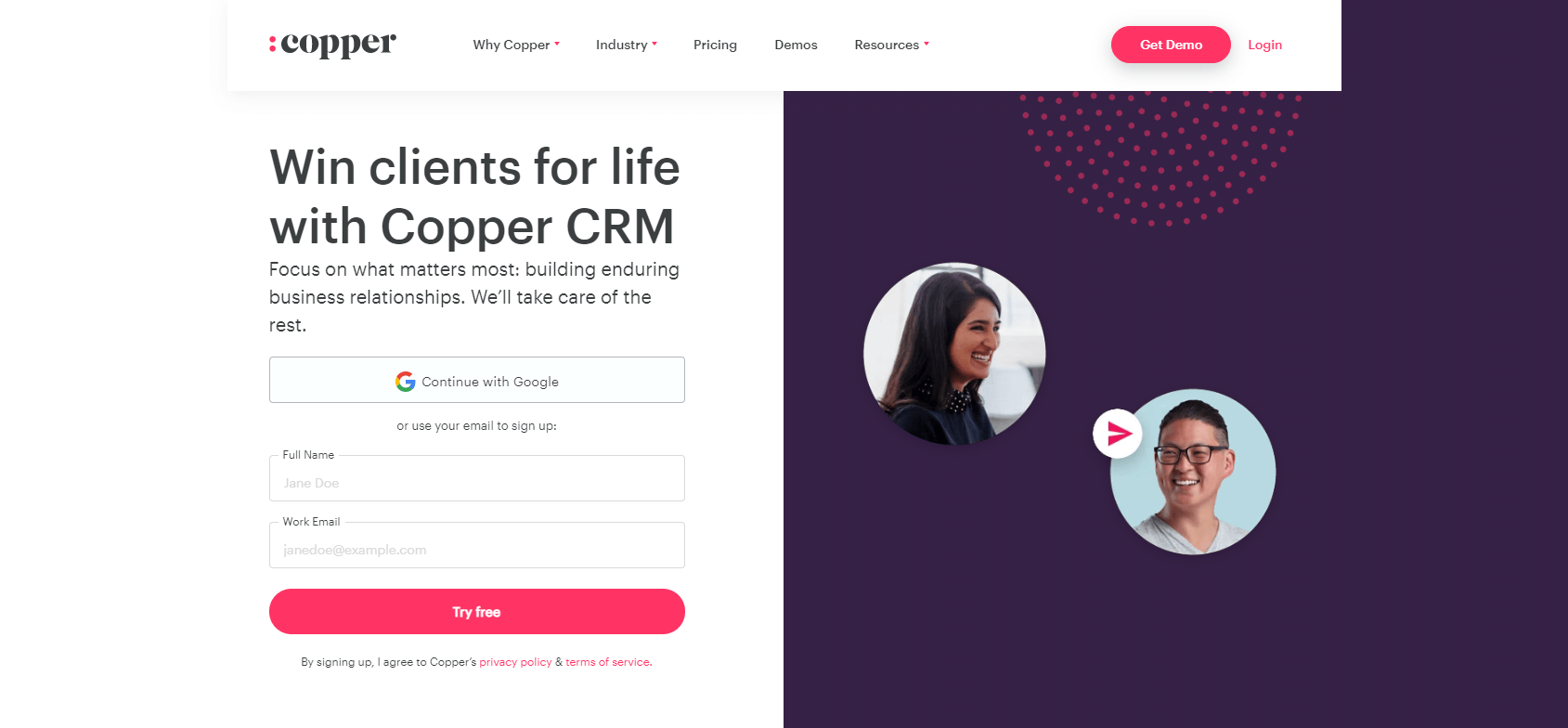 When the work tasks that do not directly contribute to sales, but things you have to get done anyway, are cut out for you, you can spend more time engaging in meaningful customer relationships. And that is what Copper brings to the table. Do you want a tool that can take hours off the routine tasks your sales rep performs so that they are productive elsewhere, engaging in client collaborations that are useful and lucrative? Then Copper will come to your aid neatly.
Features:
Can you imagine a CRM that is so versatile, yet so easy to use? That's Copper for you. It's easy because in all probability you are already familiar with G-suite apps. So, using Copper after that will be a breeze and your sales team will have absolutely no trouble adapting to the Copper environment.
You can track data you want in a jiffy – data that facilitates lead management, including names, occupations, and contact details of each of the qualified leads.
Pricing:
Copper comes with a 14-day free trial. The pricing tier looks like this (for an annual billing cycle):
Basic – 29 USD/month
Professional – 59 USD/month
Business – 119 USD/month
With the first plan, you get up to 2500 leads, whereas with the "Professional" option, you will get up to 15,000 leads. If you could do with an umpteen number of leads, you have to choose the final option because it comes with unlimited leads.
User Reviews:
G2: 4.5/5
Capterra: 4.4/5
TrustRadius: 7.4/10
" I like the different stages that are available and the different pipelines you can create. It is also very customizable to add your own fields for sales opportunities which are nice for data analytics."
"Love this CRM as it integrates easily with Gmail. Good ways to customize the pipelines and customer management options."
"Lack of Flexibility Outside G Suite"
Hubspot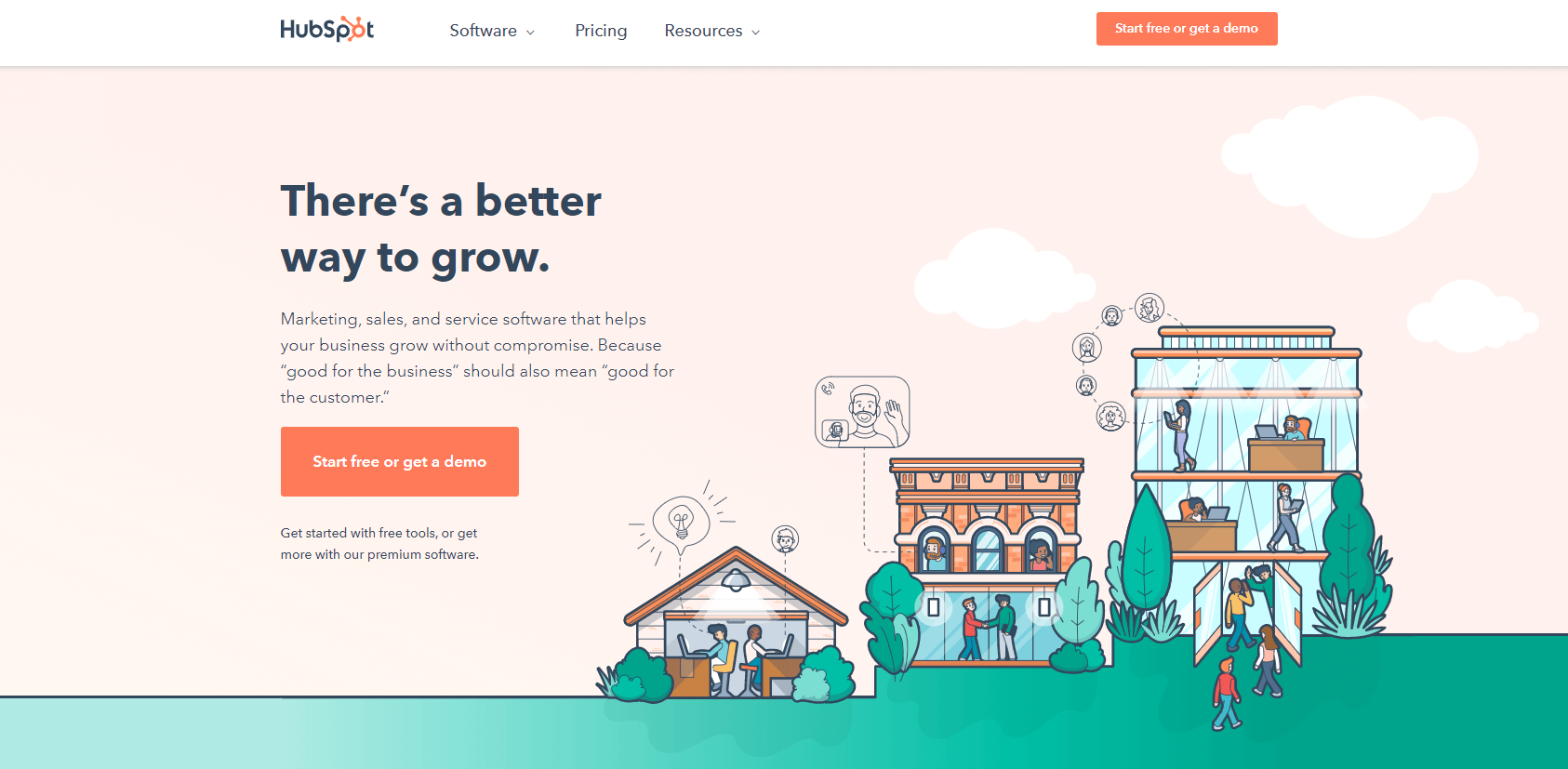 When it comes to CRM and sales tools, no list is complete without the inclusion of Hubspot. Whatever be the sales need, Hubspot is guaranteed to satisfy all those needs. Hubspot comes equipped with powerful tools to make the sales process more productive and efficient.
Features:
If yours is a company that relies heavily on content management and marketing campaigns by email. Hubspot will be a handy company to make the process so much easier and quicker. No sales rep likes dabbing around with software that requires a sharp learning curve because it's too technical. This is why Hubspot should be well received by most sales professionals and sales managers. It is because Hubspot is built to be automated, intuitive and easy to use.
The email templates and sales content will help to set up email marketing campaigns for the customers. For those who hated the cluttered emails and messy sheets, this tool is a godsend! And for those wanting to know all about their prospects should look towards the decision-maker feature. After all, once you get an idea of who calls the shots, tailoring campaigns towards them can be easy and lucrative.
Pricing:
Check out the pricing tier of Hubspot below:
Starter – 55 USD/month
Professional – 890 USD/month
Enterprise – 3200 USD/month
You will end up saving 10% of your bill if you commit to an annual plan. With a starter, you can lend up to 1000 marketing contacts. Want 10 times as many? Then go with the enterprise plan.
User Reviews:
G2:
Capterra: 4.5/5
TrustRadius: 8.4/10
"The automation is pretty awesome and works well"
"The custom report builder tool is pretty well made."
"Easy integration with all the other tools I use daily"
"Reporting capabilities are very limited"
"Some of the trackings can be frustrating because it'll just default to "Offline Sources"
Salesforce

If you are looking for a robust sales tool for your company's sales needs, Salesforce fits the bill perfectly. It is one of the top Customer Relationship Management Tools. The salesforce dashboard has a variety of tools for sales and marketing professionals alike. Equipped with these tools, you are more likely to meet all your sales goals.
Features:
Where Salesforce stands head and shoulders over the other CRM platforms is the ease of integration it offers. Sales teams can move seamlessly between different tools and the entire workflow is smooth and effective.
Salesforce offers numerous customization options based on the kind of work the salesperson is involved in, how large an account he's handling etc. It is very useful to know where in the sales pipeline an account stands, the probability of conversion etc. This is useful for driving customer engagement, drafting reports and a whole lot more. Sales teams can use these reports to up their performance and the sales managers can keep track of the activities going on within the team. This provides lots of room for continuous learning and improvement in the workflows. The search feature is just as robust as the reporting feature.
It has the cloud feature too, so you can take advantage of that! Finding and managing leads and customer information, customizing crucial information, and then sending it across your sales organizations has never been easier. Just try it out yourself!
Pricing:
The pricing tier has 4 categories:
Essentials – 25 USD/month
Professional – 75 USD/month
Enterprise – 150 USD/month
Unlimited – 300 USD/month
All of these are generally billed annually. The first one alone comes with a monthly subscription option. The first option is ideal for a small team that requires basic CRM functionalities. The Professional option is a complete CRM package in itself and is ideal no matter how big your team is. If your business needs a whole range of customization options, you would do well to go with the Enterprise option. Just imagine the same with even more CRM capabilities and support! You can get that with the Unlimited option.
User Reviews:
G2: 4.2/5
Capterra: 4.4/5
TrustRadius: 8.3/10
"What I like best about Salesforce is the user-friendly UI. Compared to other CRMs, Salesforce is a breeze to set up."
"The chat tool is excellent on salesforce. I have used the chat tool daily without facing any issue."
"Salesforce.com can integrate with 100s of third-party software, oftentimes creating efficiencies in processes."
"It's relatively expensive compared to other CRMs"
"Mobile apps and compatibility with their lightning components is sometimes lacking"
Sales Engagement
Salesloft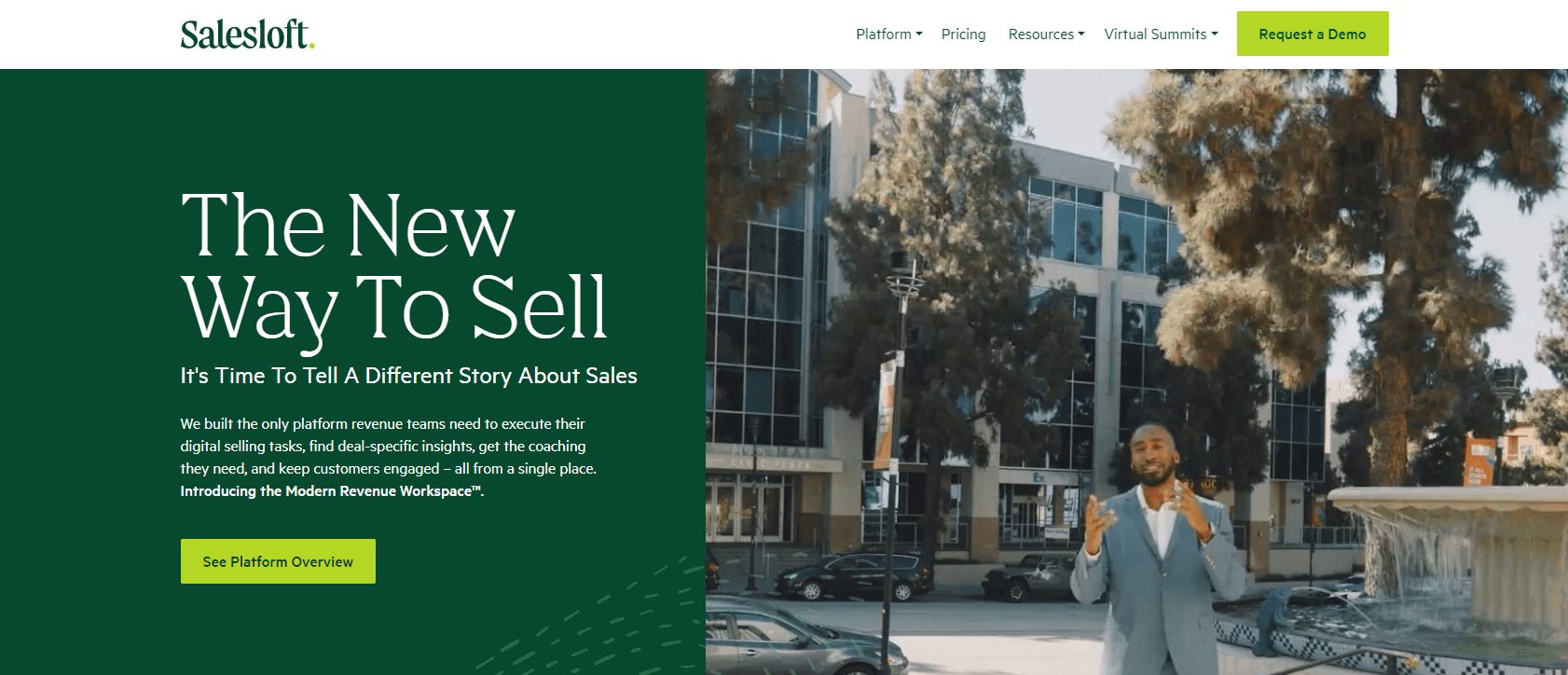 Salesloft is one of the best sales engagement tools that help businesses engage with their customers in meaningful, relevant and productive ways. Nothing beats creating close and intimate connections in sales, and Salesloft is your one-stop solution that will help sales professionals meet their sales needs.
Features:
Salesloft will help increase the demos and appointments a sales executive can get so there are high chances they will give the go-ahead to purchase a product. It increases the number of quality connections a seller can make and the chances of closing a deal increases tremendously!
Salesloft integrates well with other platforms and users can shift from one to the other as needed. With the ability to track emails in real-time, sales executives can ascertain the buying signals of a client and respond appropriately.
The Cadence+Automatic feature allows you to streamline all touchpoints, be it a meeting, a demo, an email, a chat interaction or a phone call so that the customers are happy throughout the entire sales process till after-sales. Implementing automated tools can make the entire process run smoothly and efficiently. There is the Dialer integrated within the platform, so it allows users to dial and record calls anywhere.
Salesloft is a top-notch tool to shorten the sales cycle and build winning customer rapport at the right time for increasing your business.
Price:
The Pricing tier of Salesloft depends on who you need it for.
The 4-tier pricing model is as follows:
Prospect
Sell
Engage
Enterprise
You will have to contact the company directly if you want more information regarding individual prices. You should know that the Prospect plan is for sales reps who are focused on generating leads, the Sell plan is for sales teams who are looking to close business deals effectively, the Engage (predictably) is for sales professionals who are looking to engage in productive ways with the customers and the Enterprise plan is for those teams that are involved in every stage of the revenue cycle.
User Reviews: Pros and Cons
G2: 4.5/5
Capterra: 4.3//5
TrustRadius: 8.3/10
"It's also easy to track communication like calls, emails, and also things like contacts, companies, team members."
"Very easy to set up individual or team templates and cadences. Good dynamic content and personalisation options."
"It should be simpler to modify a prospect's information (email, phone numbers, etc) from their profile page, currently you have to click through to edit their information."
" Lack of other integrations with my company for our day-to-day tasks."
Yesware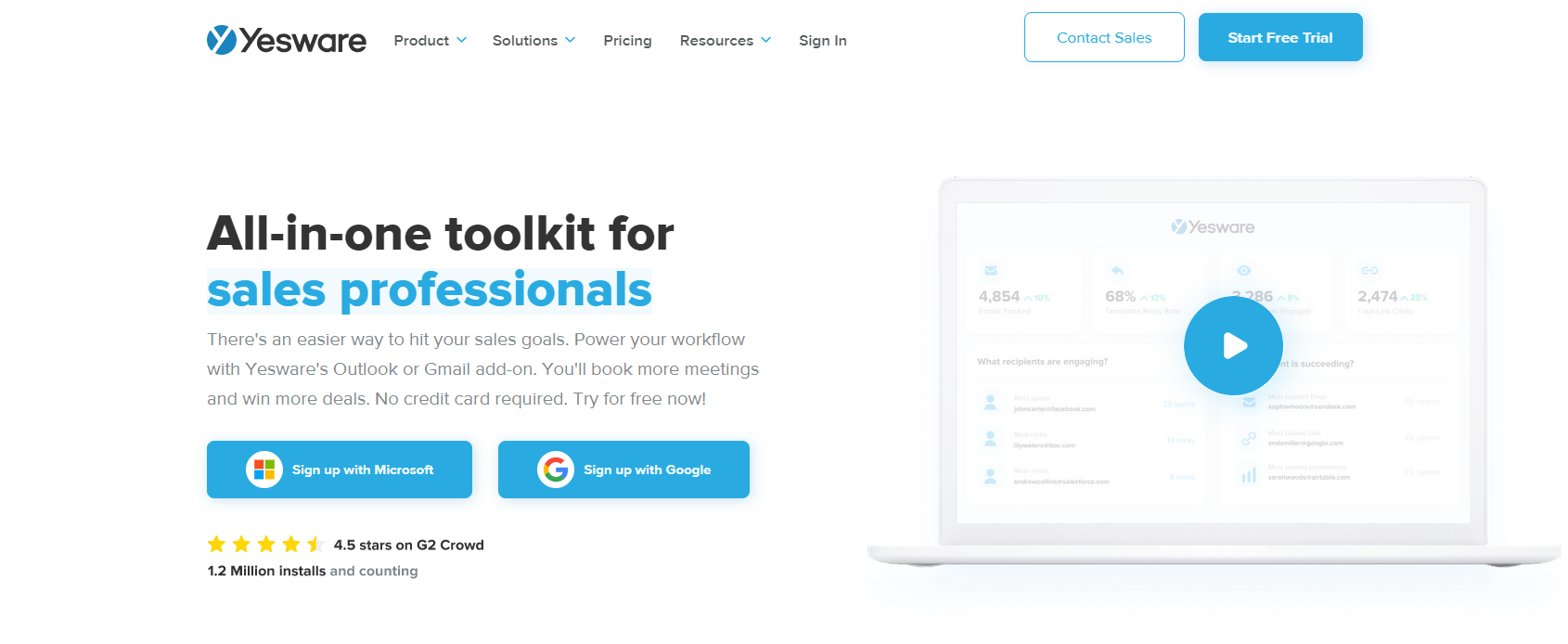 Yesware is a complete toolkit in that it has everything a seller needs to make prospecting highly worthwhile. When it comes to email marketing and tailoring email campaigns based on the target audience needs, interests, and behavior that will result in business relationships that last the distance. Once you unleash the full potential of Yesware (we admit it can get a little tough to start with), there is no way you can say "No" to it. Whether yours is a small firm or a large enterprise with over a thousand employees,
Features:
Yesware is predominantly an e-mail app. So, how does this app deliver what you are looking for to land that sale? And even if you have all the data in your hands, do you know what to do with them? With Yesware, you can get a deep insight into your prospect's preferences and then plan strategies and take appropriate action that will give results for sure. You can do away with second-guessing whether the mails you send land up in the customer's spam or not.
Once you see the results working for you, it's just a matter of sharing it with the entire team and replicating the success formula for all the other prospects. Imagine the right data in the hands of the right team member! This will save your team a lot of time and money while giving you the results you are looking for.
Moreover, you're able to A/B test aspects of your email campaigns, which will help in gaining clear analytics and insights into what's working and what isn't.
Pricing:
Yesware offers 3 different pricing packages:
Pro (19 USD/month)
Premium (45 USD/month).
Enterprise (85 USD/month).
This is for the monthly billing cycle. Note that you can save up to 23% if you switch to the annual payment option. The Pro plan is tailored towards personal reporting and you get access to unlimited email tracking. Where Pro is for personal reporting, Premium is for team reporting where you get access to unlimited campaigns. Enterprise offers whatever the Premium offers, but with the addition of Salesforce integration.
User Reviews:
G2: 4.4/5
Capterra: 4.3//5
TrustRadius: 8.2/10
"I love the tracking element of Yesware. It allows me to see how engaged prospects are customers are with the email content I send them i.e. how many times an email has been opened, where it has been opened etc.,"
"Great for team collaboration, sharing campaigns & templates; has both team-wide & individual reports to track results."
"Brilliant, huge time-saver, and love the insights."
"If you forward your emails to colleagues it counts them as people opening it."
Colleague tracking is annoying because it cannot specify which recipient opened the email if you sent it to multiple colleagues."
"I wish you could do more edits to email templates & actions in a campaign once started."
FAQs
What tools do sales reps need?
There are several types of tools every sales personnel needs. The different categories of sales tools are tailored for the specific needs of the business. For instance, the Customer relationship management software tools are used primarily for marketing campaigns and managing various aspects of the sales strategy.
1. Customer Relationship Management (CRM).
2. Sales and Market Intelligence
3. Lead Handling and Prospecting
4. Analytics and Reporting
5. Process and Training
6. Automation and Integrations
7. Communication and conferencing
8. Contract Lifecycle Management
9. BI Analytics and Dashboard
Etc.
Why do you need sales tools?
Primarily sales tools are there to increase the efficiency of the sales personnel workflow, increase their productivity, save time and money, and improve the company's bottom line.
The sales management tools will:
Help to make the most efficient use of time
Make prospecting – the most challenging aspect of the sales process – a lot easier.
Automate manual tasks like cold calling and sending cold emails
Manage and understand your potential customers better
Furnish new methods and ways to communicate
Gain deeper insights into the numbers so you can work on them.
How do you evaluate sales tools?
A Sales tool will be well received by the sales personnel, the sales team and the sales manager if it can make their job easier, so they spend time on what actually matters: delivering value to the potential customers and selling. You should ensure that the sales tool(s) you select for your business should check the following criteria.
Work seamlessly without the necessity for complex integrations.
Contribute to the business ROI, i.e: deliver a financial return.
Your sales team should find the tool effective and make their everyday tasks and workflows easy. Training and managing sales teams should get simpler with sales tools.
Valuable data should be accessible as and when needed. The sales team should be able to garner actionable insights from them.
Should automate repetitive, boring, and mundane tasks that eat up a lot of a sales rep's time. It should increase their productivity and efficiency.
Further Reading