Email scraper software differs by database size, user interface, and email quality.
A few email scraper tools also add extra features like email verification and email drip campaigns to stay on top of the competition.
As a result, it's getting harder to get a reliable tool that resonates with your business needs.
In this post, we've reviewed five of the best email scraper software currently in the market. We've analyzed their:
accuracy
email quality
unique features
and pricing
Hopefully, you'll get a convenient tool that will ramp up your email outreach by the end of this article.
Without wasting time, let's get started.
Table of content
Are you in a hurry? Instead of reading this whole article, why not try out the best email scraper in the market today – Voila Norbert? Sign up with this link (without your credit card) and get 50 free emails.
1. Voila Norbert
A+ Accuracy | Price per email: $0.05 Low-end Plan, $0.009 High-end Plan
Since we've written this post, we thought we'd introduce ourselves first.
Voila Norbert is primarily an email finder….
But it has better features than most email scrapers in the market.
As a simple email finder software, Norbert boasts better ease of use and accuracy than most top-tier tools in the market.
Here's Ahrefs' research confirming our claim:
While Norbert is one of the best email finders, it still lacks a few features that other tools have. These include searchable databases and drip campaigns.
That's on purpose, though.
We want to focus on the most pivotal thing that determines your business growth – extracting valid email addresses.
We don't believe in filling our cup with a bunch of unnecessary features.
That said, here's a list of our key features.
Prospect list export
Individual and bulk email finder
Integrated API
Huge list of integrations
Bulk email verification
Bulk enrichment service
How Voila Norbert Works
Norbert uses your prospects' names and company URLs to extract emails.
There are two options for extracting emails.
From The Website
This option allows you to do bulk or individual email finding.
For bulk email finding, plug a list of prospects into a CSV file and upload it to Voila Norbert. Match each column with the correct data.
Click "Go ahead Norbert." it will spit back a list of emails extracted from its broad database.
Each email comes with a "confident" score that tells you how sure Norbert is that the email is correct. Finally, download your list as a Google sheet or open list.
Here's a video tutorial guide from our ever-jovial sales maestro, Daniel Angel.
Via Chrome Extension
First, download and pin the Norbert chrome extension to your web browser. Next, log in and activate your account.
Open your prospect's website, type your first and last name on Norbert Chrome extensions.
Click "go-ahead Norbert." It will scrape through the website and give you the most valid email for your prospect.
Daniel Angel takes it away again in this video.
Voila Norbert Pricing
Norbert comes in four pricing plans when you want to use it for prospecting.

Valet ($49/month)
Butler ($99/month)
Adviser($249/month)
Counsellor ($499/month)
Norbert's pricing becomes more affordable as you move up
This is what I mean by that:
The first two lower-end plans charge you $0.005/email and give you 1000 and 5000 emails, respectively.
The top-tier plans, though they seem expensive, give you a discount of 80%. You get more leads going for a meager $0.01/email.
That positions Norbert as the best email scraper to scale with your business. For example, the "valet" plan will best fit a startup marketing agency.
The company will need more leads to grow…
Hence they'll have to jump to the "counselor" plan. Though the plan costs more, they'll get more emails and save $1200 if they sign up for the annual plan.
Reviews – What People Say About Norbert
(Instead of blabbering about *our opinion* of each tool, we take screenshots of reviews from actual users. These come from software review websites like G2, Capterra, and Trustradius).
G2: 4.8/5
Capterra: 4.6/5
TrustRadius: 9.2/10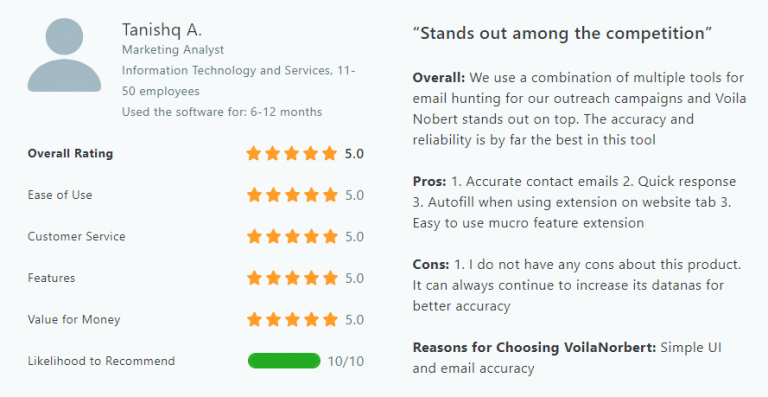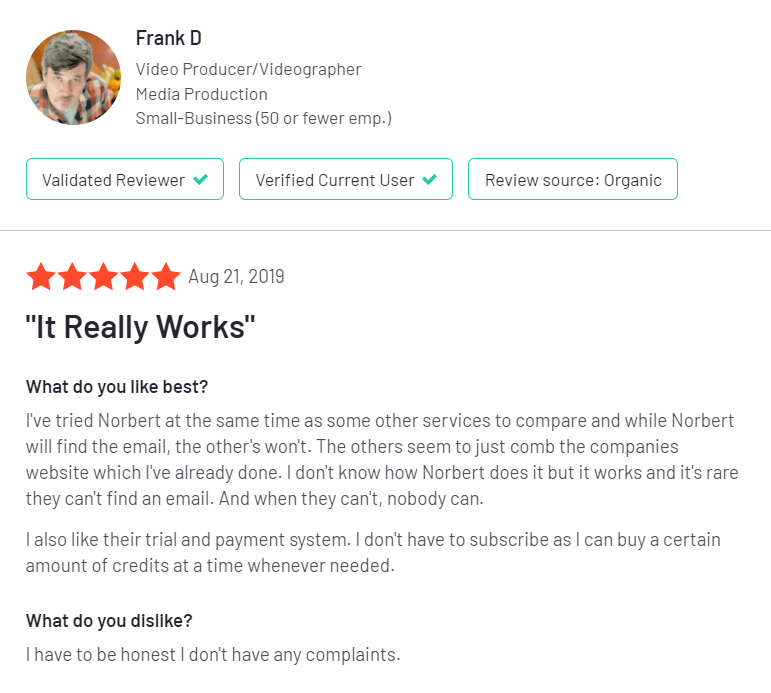 TrustRadius review from VIKAS TIWARI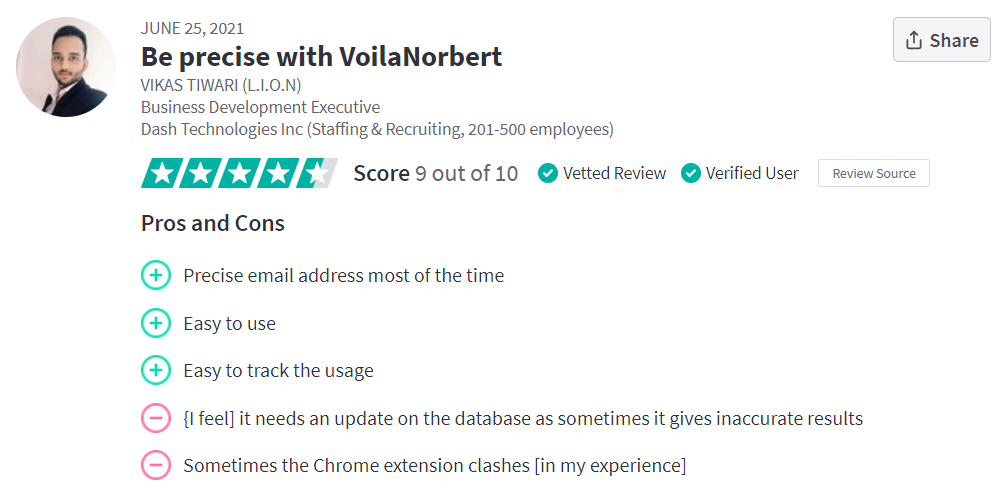 Pros
(The sentences in quotation marks "" are taken directly from reviews on G2, Capterra, ProductHunt, TrustRadius, SoftwareAdvice, etc.)
"The most accurate results compared to other email tools in the market for lead generation."
" Easy to use, quick, accurate, affordable."
"The accuracy is pretty good, and it has a clean user interface."
"These results are the most accurate compared to other email tools in the market for lead generation."
Cons
"It took me a while to realize you could upload in bulk. Made things a lot easier for me when I figured out that feature."
"Sometimes the email queries take a while."
Who Is Voila Norbert For?
Anyone who wants to extract emails using a list of names and prospect's company profiles can use Norbert.
Besides that, it best fits users who'll stop at nothing for email quality and ease of use. These can be professionals in sales, recruiting, PR and marketing, and business development.
However, Norbert isn't for you're looking for full-suite CRM-like software. It's built with busy professionals in mind who want less complex–but more accurate–software to extract emails.
Wanna take Voila Norbert for a spin? Sign up with this link (without your credit card) and get 50 email addresses on the house!
2. Aeroleads
A- Accuracy | Price Per Email: $0.05 Low-end Plan, $0.03 High-end Plan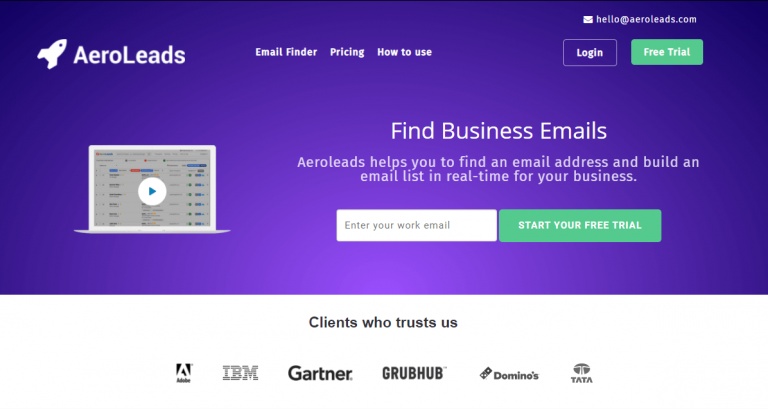 Aeroleads primarily works as a chrome extension.
You'll use it to extract email addresses, phone numbers, and more B2B data right from the extension.
And it doesn't limit you to prospect's company websites. You can also use it to get contacts from Angelist, Crunchbase, Linked In, Github, and Xing.
How Aeroleads Work
To use Aeroleads, first download and pin it on your browser extension.
Next, create an account or sign in if you have an account already. To create a new account, you'll need a business email address, your name, company name, and a strong password.
Once done, go to networking sites where your prospects hang out. We'll use Linkedin In this example.
On LinkedIn's search bar, search your prospects by title, location, or position. Click on the pinned aeroleads icon at the top right corner of your company.
You will see the prospect on the widgets extracted from the Linkedin page you're currently on. Beside every name, there's an "add" icon.
Click on it, and Aeroleads will find their emails and relevant data in a few seconds.
Finally, download the list into a CSV file. Aeroleads consumes one credit per row of data.
Here's a detailed video guide to help you out.
Aeroleads Pricing
The tool offers three pricing plans.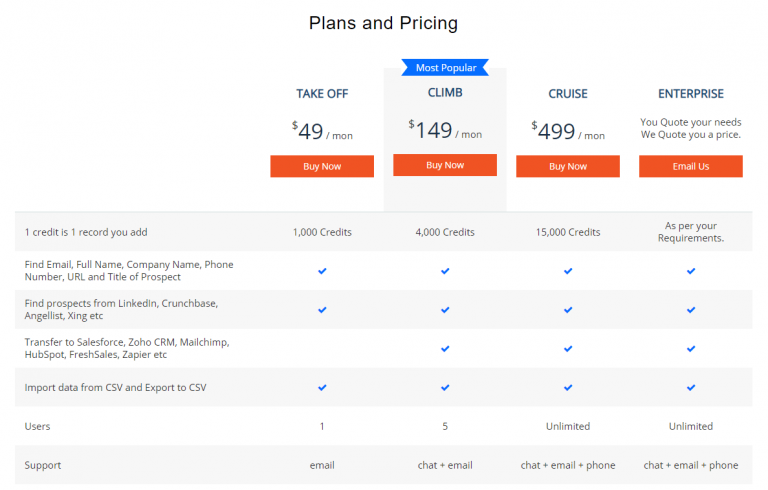 It's no doubt that Aeroleads has excellent features on all the plans.
The only downside is that the pricing plans are sporadic.
This is what I mean. Going for $49 a month, the first plan gives you everything you need for essential email outreach…which is excellent.
But the next plan is a bit overrated.
It's three times the first plan. Yet, they've added nothing significant. Of course, you get 3000 extra credits and the ability to transfer to CRMs like Salesforce and Hubspot.
When compared to Norbert's second plan, you can see that it's a rip-off. Why? For $99, Norbert gives you the same number of emails.
The top-tier plan follows suit.
It costs $499 and gives you only 15,000 leads. Norbert gives you the same number of leads for half the price.
Reviews – What People Say
G2: 4.1/5 based on 56 reviews
Capterra: 4.6/5 based on 35 reviews
Software Advice: 4.6/5 based on 35 reviews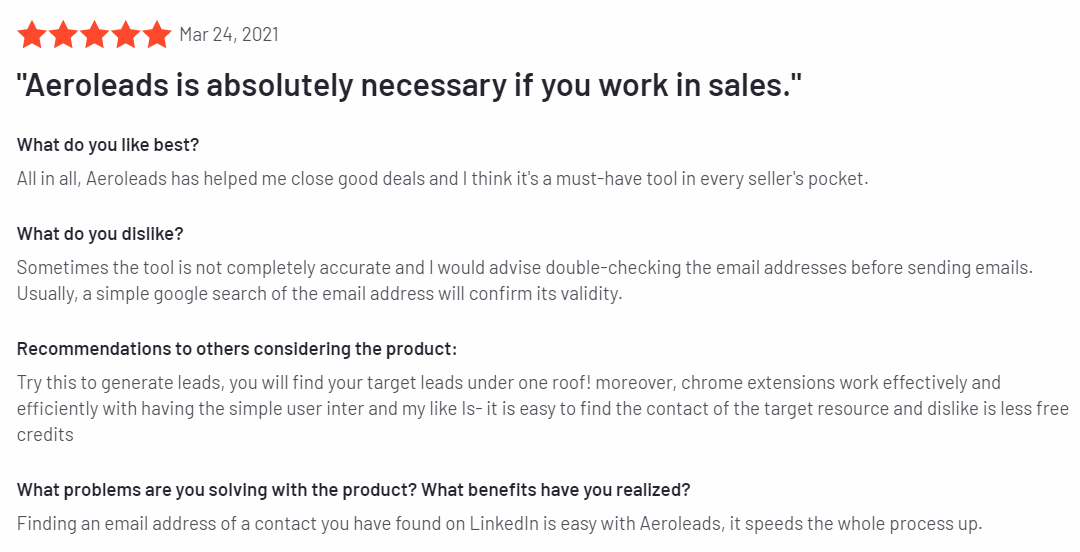 Pros
"Sales reps can easily connect this application to CRMs without any hassle."
"It captures all data very precisely and is useful for getting verified leads."
"Out of the 10 profiles, it pulled information from 10/10 of the email addresses were updated and accurate."
"Easy to use and very useful it has come in handy."
Cons
"Price is always going to be an issue."
"There is a lot of things you guys need to upgrade."
"Sometimes the email is incorrect and cannot find exactly the email address."
Who Is Aeroleads Best For?
Aeroleads is best for a business that depends on social sites like LinkedIn and Crunchbase to hunt down prospects and close deals.
Marketers and sales team managers from the companies will use it to get the valid contact information of decision-makers.
Plus, it's an ideal tool for recruiters looking to fill their lists with potential candidates for their hiring firm.
3. Skrapp.io
B- Accuracy | Price Per Email: $0.05 Low-end Plan, $0.006 High-end Plan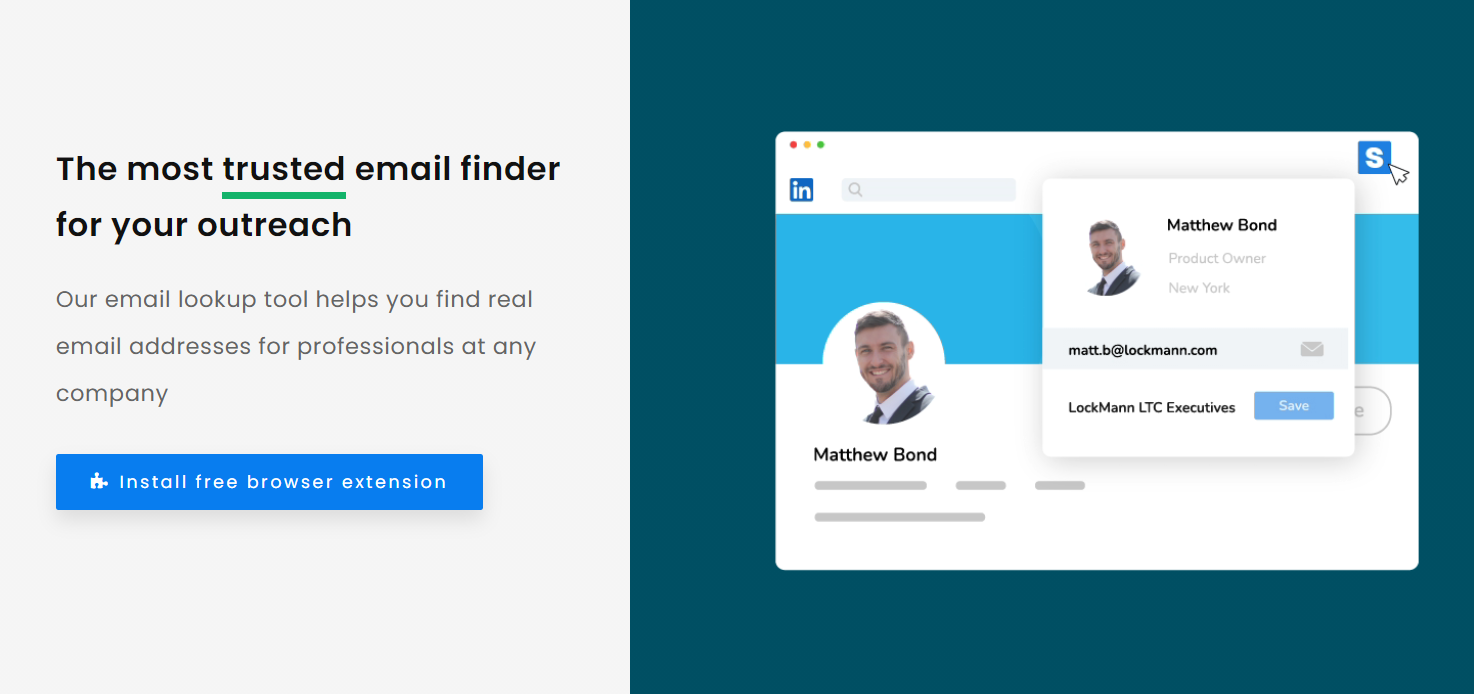 Skrapp has made a name as the best email lookup tool for B2B companies.
Why so?
It makes email outreach campaigns so easy. Thanks to the clean and easy-to-navigate interface that enables you to fill your prospect list in a few minutes.
Some of the key features include LinkedIn integration, synchronization, cloud storage, and management.
How Skrapp Works
Here's the process of extracting emails from LinkedIn using Skrapp.
To begin, sign up or log in to your Skrapp account and integrate it with Linkedin.
On the LinkedIn search bar, search by typing your desired keyword. It can be a prospect's name, company, industry, or position.
Select your prospects and click the extension from the top right corner of your browser.
A pop-up window will appear with different export options. Choose the number of search pages to save and click "search for email addresses." Skrapp will do the necessary.
Here's a detailed video guide on how the process works.
Skrapp.Io Pricing
Here's a breakdown of Skrapp's plans.

Skrapp has a free plan that gives you 150 leads.
To get more than that, you'll need to subscribe to the pricing plans, which start at $49/month.
Regardless of the plan you choose, you get all the features. These include:
Ability to download lists in CSV or XLSX formats.
Fast truck support.
Ability to clean your lists from duplicate entries.
Ability to save more than one page from a Linkedin search.
Sure, Skrap is very affordable.
But there's a catch.
It's not the best tool in email quality… Most users complain that they get a high bounce rate on their cold emails.
So if you want software you can depend on for email quality, Norbert would be a better fit. Test it out for yourself with these 50 free email leads!
Reviews: What People Say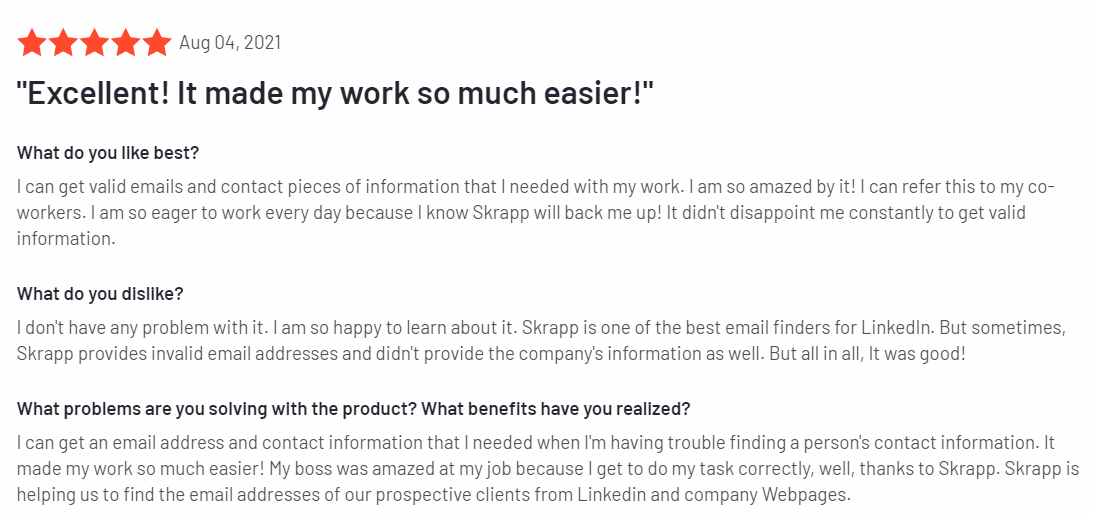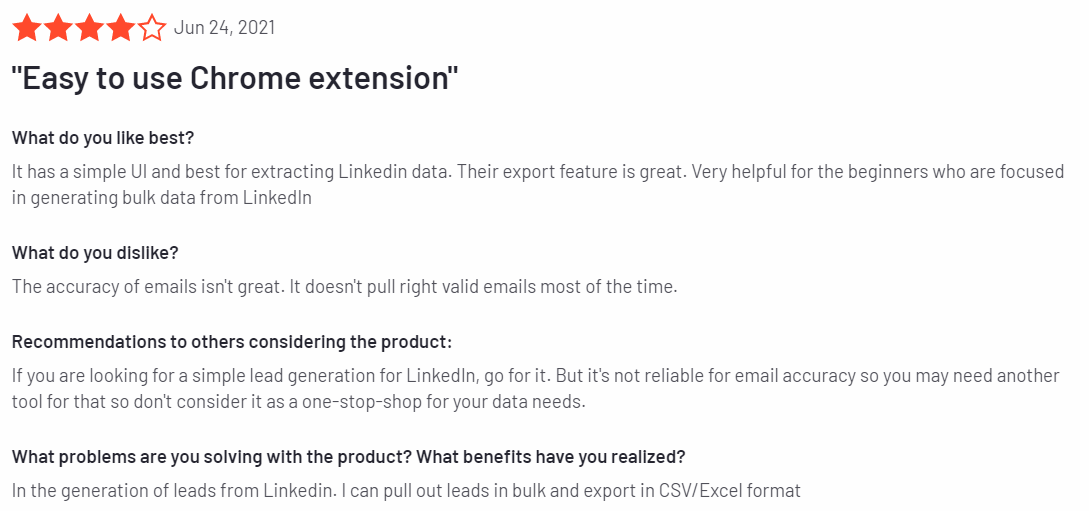 Pros
"Very easy to launch & generate data."
"Lots of parameters can be extracted in a single click only."
"Very helpful especially for a beginner who is generating leads."
"The pricing is also great!"
Cons
"The downside is that Skrapp only works with LinkedIn."
"Like other platforms it also give you multiple wrong set of data which is again a disappointing."
"The bulk email search doesn't work very well."
Who is Skrapp For?
Skrapp has a good rating on reviewing sites for its ease of use.
That's why it's famous for small-sized businesses that need a quick email prospecting tool to grow their business.
It best fits startups in the IT, Real Estate, Marketing and advertising, and computer software industries.
Two Best Free Email Scraper Software
Free email scraper tools don't have premium features.
Plus, they're not fancy and have old-looking cluttered interfaces.
But still, they're convenient if you don't want to spend a dime on email outreach. With a few runs, you might get valuable contacts that can overhaul the course of your business.
That said here, are our two best free email scraper tools.
1. Email Extractor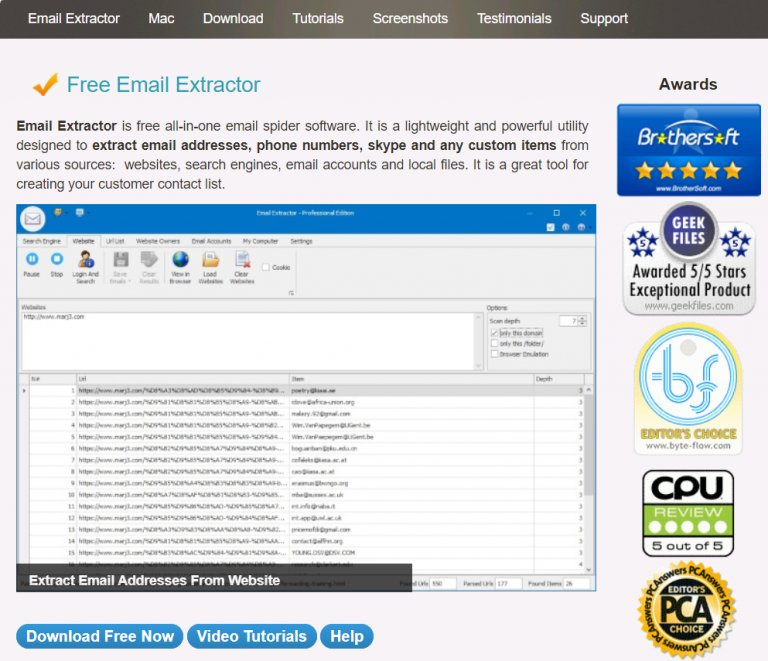 Email extractor works like any other paid email scraper tool.
The difference is that it only works on desktops as an application. It can find prospects' emails and phone numbers from search engines, websites, HTML documents, and text files.
How Email Extractor Works
To use an email extractor, first, download it to your PC.
Next, determine your search criteria. Choose among domain names, keywords, or search engines.
The tool's powerful engine will quickly extract email addresses from websites and search engines, like Google, Bing, and Yahoo.
It automatically removes duplicate emails. As a result, you can easily supplement your mailing
list with thousands of email addresses, eliminating the hours of tedious work.
Once you've collected your emails, store them in PDF, Excel files, or Word documents as it supports them.
Here's a step-by-step video on how to extract emails from search engines: https://emailextractorpro.com/video/search/
Email Extractor Pricing
As mentioned, email extractor is a free tool. It doesn't cost you a dime to use it.
Review – What People Are Saying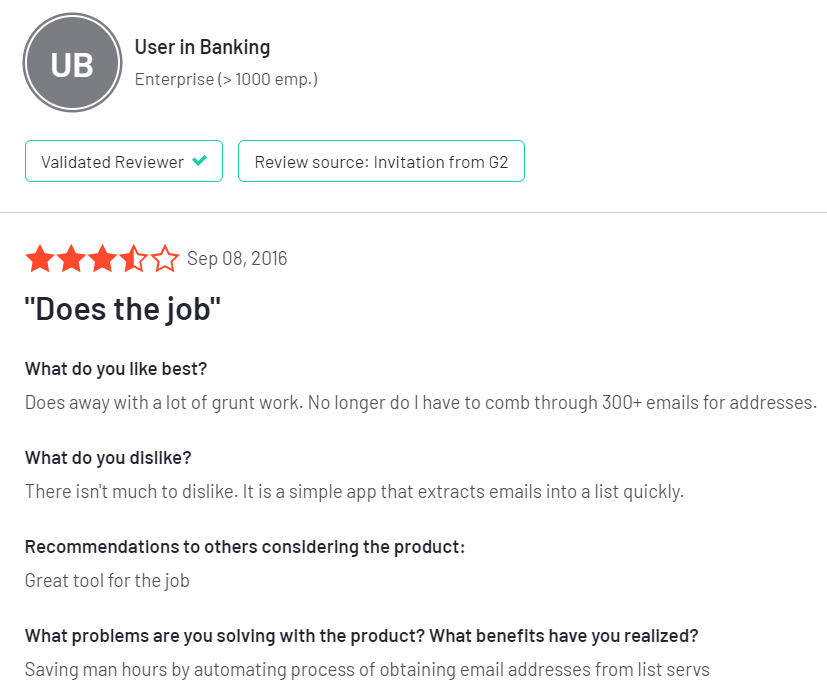 Pros
"Installation is easy, and it is easy to use also."
"After using email extractor, I can find full lists of emails after choosing keywords."
"It has great products- I love this program."
Cons
"The tool lacks robust features that can accommodate my lead generation needs."
"Missed a lot of emails."
"A very old interface."
Who is Email Extractor For?
Email extractor is best for users who prefer convenience to email quality.
What this means is that you can access it at any time to extract bulk emails. But it doesn't guarantee you that the email works.
2. ScrapeBox Email scraper

Scrapebox email scraper is a robust multi-threaded email scraper.
It can harvest emails from web pages, URLs like Facebook, websites, and files stored locally on your computer.
That said, here's a brief overview of how it works.
How ScrapeBox Email Scraper Works
As mentioned earlier, ScrapeBox email scraper extracts emails from many sources.
So I can't fit all that in this guide. Instead, I attached this ultimate guide video to see how it works from start to finish.
Nevertheless, I'll give you a short description of how to extract emails from websites.
The first thing to do is upload the software onto your PC. Next, upload a list of URLs you'd want to scrape.
Run the software once done. It will spit back a bunch of emails related to your websites. What's interesting is that you can control how deep you want the tool to delve into your prospects' websites.
The "depth" feature allows you to scrape the sites at different levels.
For instance, by running it in level one, it will only study the homepage of your prospect.
Level two will study an internal page listed on the homepage. Level three will go a little further to study every link listed on each internal page.
And you can go up to depth 20. The reason for this is to increase your success rate by covering a wide area.
Pricing
While we have listed this tool as a free email scraper, it's not exactly free.
ScrapeBox email scraper is one-time purchase software that gives you lifetime access. The thing is that the price frequently changes with massive discounts.
And because it comes with multiple features like keyword harvester, comment poster, link checker, mass link builder with more features, the tool is as good as free.
Reviews – What People Say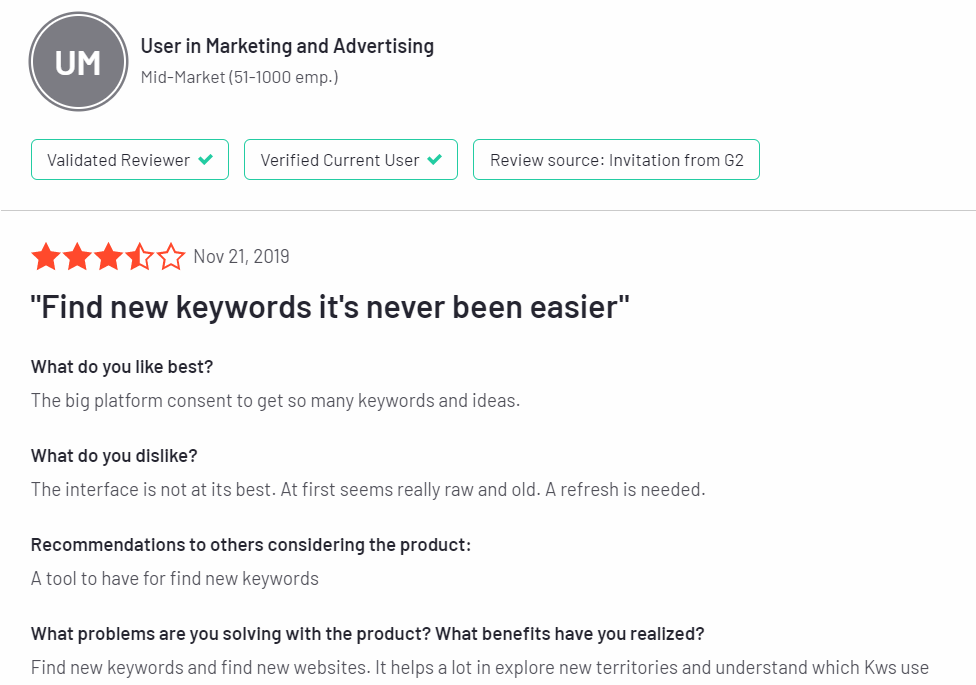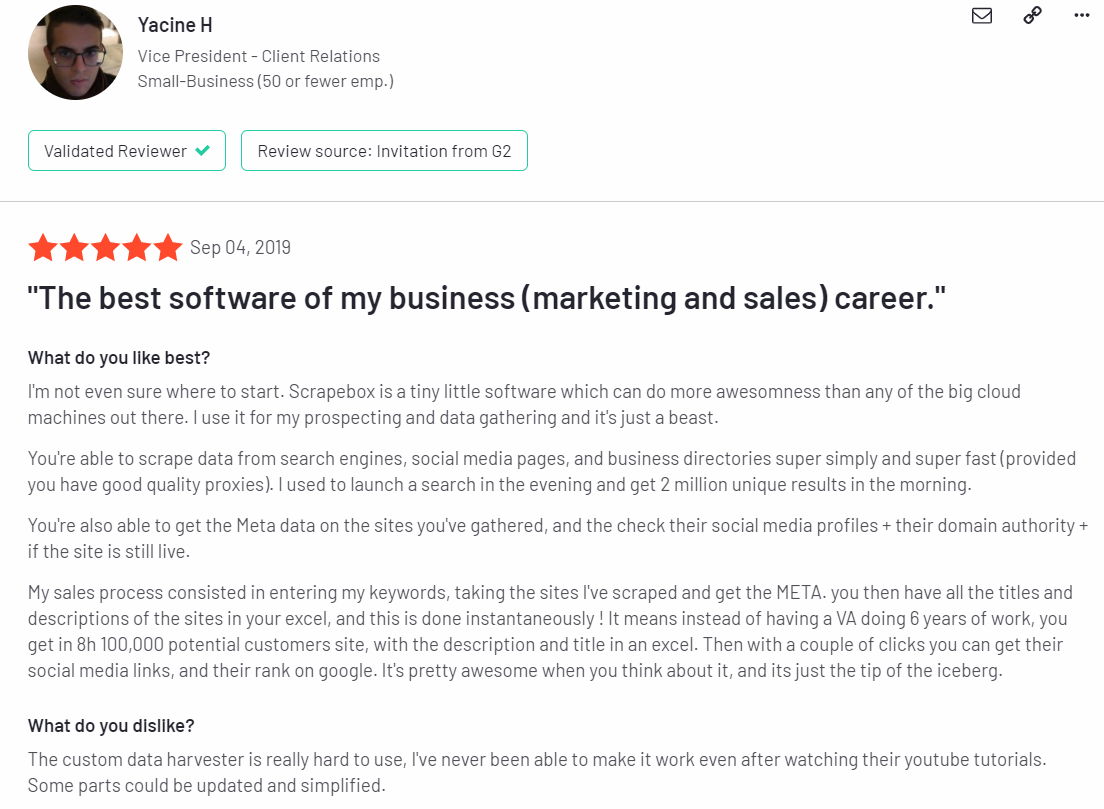 Pros
"The big platform agrees to get so many keywords and ideas."
"It can do more awesomeness than any of the big cloud machines out there."
"Great that I can detect CMS and find emails."
Cons
"It's nonsensical if you change laptops.. you are at the mercy of their tech support to authorize it to work on a new machine."
"The custom data harvester is really hard to use."
Who is ScrapeBox Email Scraper For?
The software says that a big portion of their customers is SEO companies and freelancers on their websites.
Their claim might be valid because it's a complete suite tool that does more than email scraping.
That said, it would best fit a business that is ready to get its hands dirty in learning how it works. It has a steep learning curve and sophisticated interface not friendly to beginners.
If you're looking for an easy-to-use tool that will take a fraction of your time in learning, Norbert would be an ideal choice.
What is Email Scraper Software
An email scraper software typically works like an email finder or email extractor.
All the tools find email addresses or other contact information that can help in your email outreach.
Email scraper software differs because they go deeper than email finders. Plus, it uses bots to find emails from multiple sources,
Some unique tools use different formats and send test messages to an email to make sure it exists. The tool will then automatically adds valid contacts to your list.
Common Features of an Email Scraping Software
Email Verification: It's one thing to extract emails and another to know if it's valid. An email scraper is only convenient if it can give you an accurate confidence score that the email it's extracted exists.
Social Networks Search: The perfect email scraper doesn't rely on search engines or company websites to extract emails. They go further to scrape social networking sites like LinkedIn and Twitter to extract the emails you need.
Chrome Extension: This is a powerful feature when you're more into convenience. You can use the plugin to search emails in real-time. It saves you time and boosts your productivity.
Bulk Email Finder: Most users don't prefer one-by-one emails. They need a tool that does the job in one go. Email scrapers offer bulk email finder features and allow you to export them into PDF or Google sheet files.
Further Reading: