Email plays a key part in many sales efforts — and for a good reason.
We'll have more than 3 billion email users by 2022.
People check email all the time, with 85% of Americans check their email at least once a day.
Besides being everywhere around us, email marketing is scalable, effective, and easy to implement.
Because of this, it has the potential to drive tremendous ROI. (To be precise, email marketing delivers an average return-on-investment of $44 for every $1 spent.)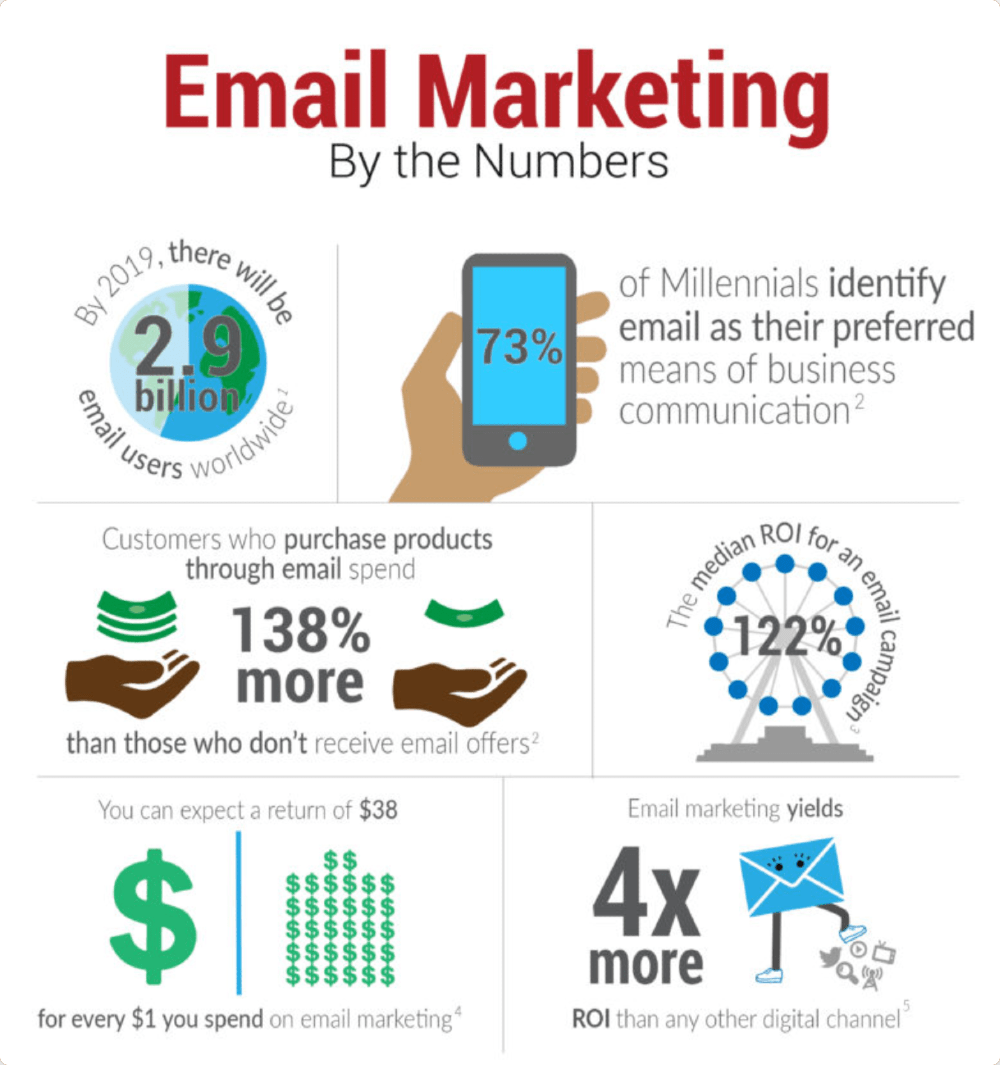 But why does it work so well?
Because rather than cold calling one potential buyer at a time, you can send emails and start conversations with many people at once, saving up a ton of time and effort.
However, before you can send emails, you need the correct email addresses of your prospects. The process of finding such emails is called email prospecting.
Sadly, more often than not, email prospecting is a time-consuming, expensive, and mentally draining task. Here's why:
Email data decays quickly because people move from company to company or because they're no longer interested in receiving business emails. According to one study, 2% of emails go bad every month. That means one-fourth of your email contacts will become outdated in a year from now.
Manually maintaining lists takes time. You have to check for duplicates and wrong addresses, remove unsubscribers, and delete those with companies that are no longer in business.
Even with a clean list, you still have to dedicate time to growing it. After all, at a 2% rate of decay, it won't be long before your entire list disappears.
Luckily, we have email prospecting tools like Snov.io.
Snov.io helps you find and verify email addresses, clean your email lists, and set up automated email campaigns.
But not all is as good as it seems…
Why Choose an Alternative to Snov.io?
While some customers find Snov.io to be a fit for their business, the product contains some features that aren't helpful for everyone.
For email marketers and salespeople who already use other tools to manage and automate campaigns, some of the features of Snov.io will be superfluous.
For example, running drip campaigns through Snov.io (rather than within your usual marketing automation or CRM platform) will create two different databases for results and prospect management, rather than keeping all your email outreach efforts in one place.
This increases the likelihood of making mistakes, and a greater possibility of sending redundant or conflicting emails to a client.
In addition, Snov.io users sign up for a subscription, rather than having the opportunity to use the service a la carte as needed. Depending on the size of your business and email lists, a subscription model could mean paying for more than you actually need or paying for a service monthly when you only plan to scrub your list every few months.
…
Snov.io vs. Voila Norbert
Despite the fact that Voila Norbert has fewer features than Snov.io, it generally receives more favorable customer reviews.
On G2's head-to-head comparison with Snov.io, Voila Norbert was ranked as being easier to use, having more important features, and having better customer service.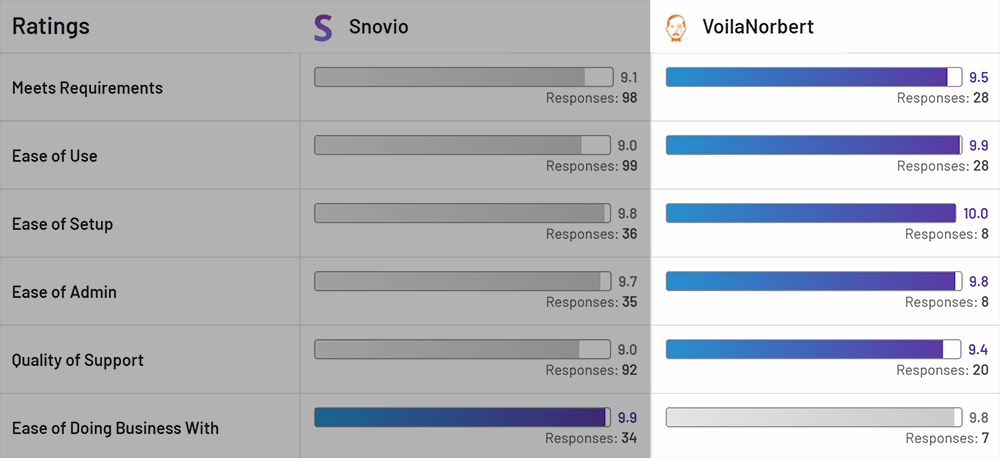 If you only need to verify emails, you can do so at a rate of $0.003 per email up to 500,000 emails and $0.001 per email over 500,000 emails, with a minimum payment of $2. You can also enrich emails for $0.04 per email up to 2,000 emails, $0.02 per email up to 50,000, and $0.015 per email above that with a $4 minimum payment.
Snov.io, on the other hand, does not allow you to buy credits outside of a subscription plan.
Snov.io Features
Snov.io's features can be broken down into three broad categories:
Email drip campaigns
Email verification
Email finder
Let's look at them one by one.
Snov.io Email Drip Campaigns
Snov.io's email drip campaign feature set allows users to create automated email campaigns, frequently referred to as drip campaigns. Users can create email sequences and create follow-up actions based on different triggers.
For example, you can instruct Snov.io to send the first email when a lead signs up for your mailing list and then automatically follow up with a second email a week later. Then, you can tell Snov.io to decide what to do next based on the actions the lead takes: if they open the follow-up email, you can send one email, but if they don't open the follow-up, you can automatically send another.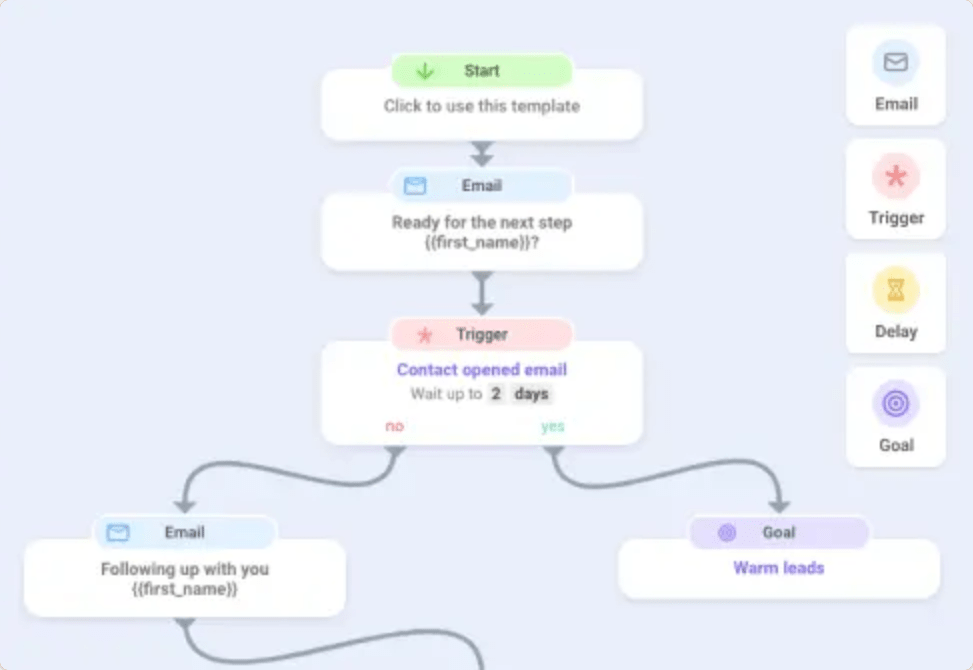 Snov.io Email Verification Tool
Snov.io's email verification tool allows you to upload lists of emails that you believe may not be accurate. Then, the tool verifies which emails are worth sending to, and which should be scrapped from your list. This can help ensure that you're only sending to active email addresses and help you avoid spam filters.
Snov.io Email Finder Tool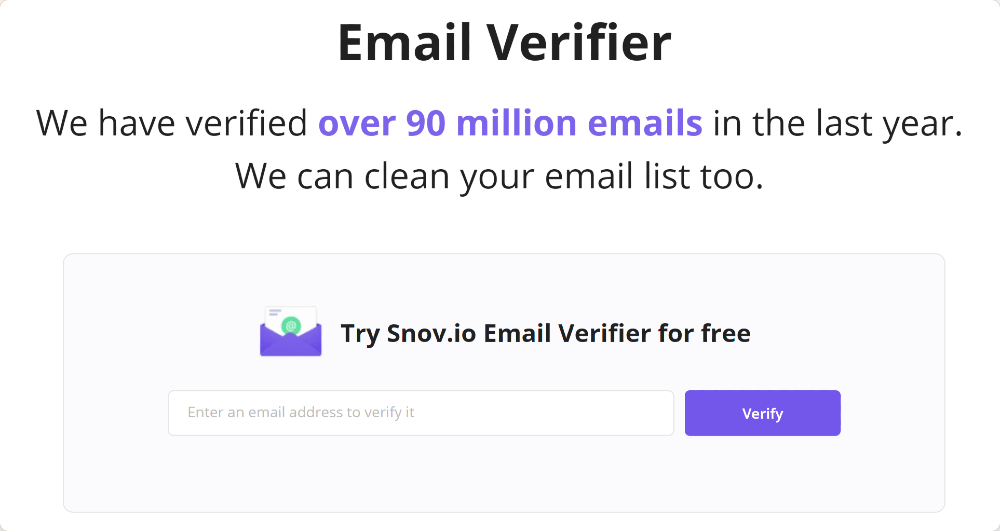 Finally, Snov.io's email finder tool helps you find emails for prospects. You can find emails by domain, by company, by name, and even with more complex boolean searches (a combination of variables, like name, location, and more).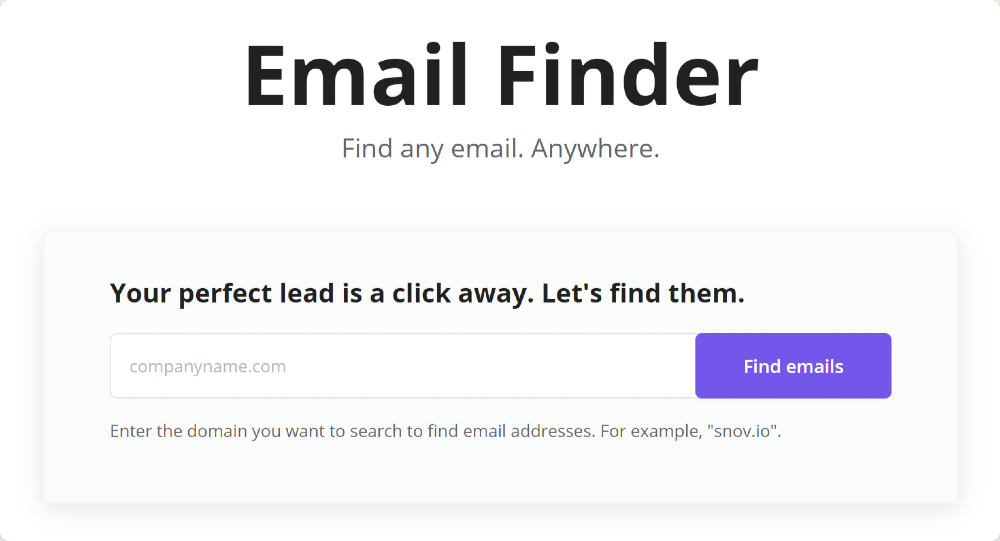 Snov.io Pricing Breakdown
Snov.io offers a freemium plan, with 50 credits per month, and five paid plans, each of which can be paid for on a monthly or annual basis.

S: $39/month or $33/month billed annually
1,000 credits
5,000 unique recipients
Unlimited users
M: $79/month or $66/month billed annually
5,000 credits
10,000 unique recipients
Unlimited users
L: $169/month or $141/month billed annually
20,000 credits
30,000 unique recipients
Unlimited users
XL: $289/month or $241/month billed annually
50,000 credits
50,000 unique recipients
Unlimited users
XXL: $578/month or $482/month billed annually
100,000 credits
Unlimited recipients
Unlimited users
Voila Norbert as an Alternative to Snov.io
For email marketers looking for a streamlined, affordable solution to find leads and verify emails, Voila Norbert can be a great option. In a recent test, Voila Norbert was rated the most accurate email finder against a full field of competitors.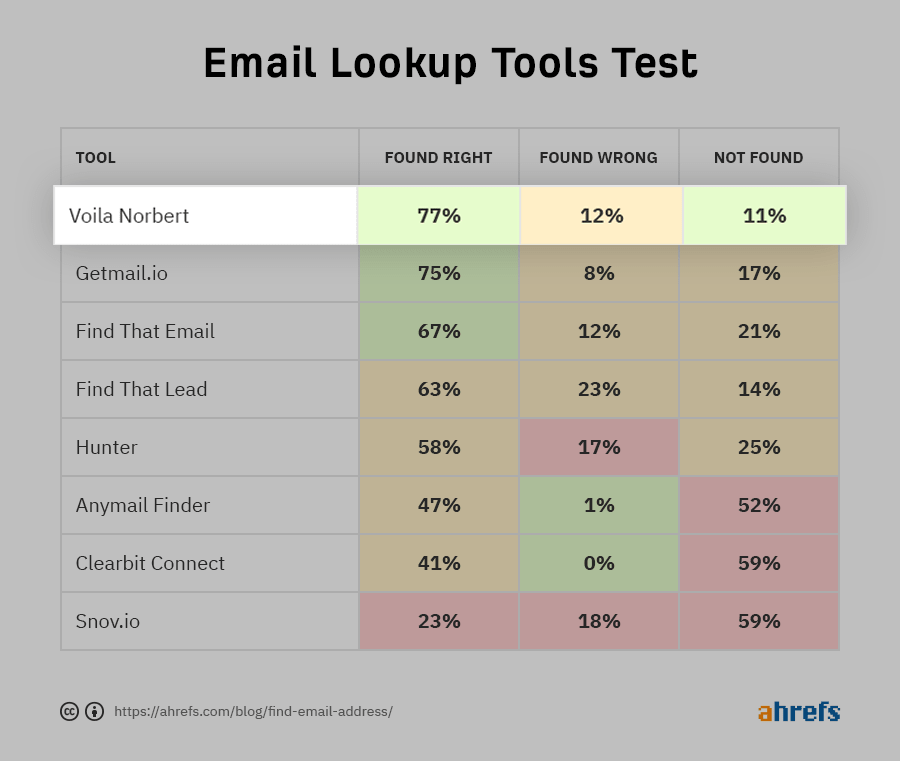 In addition to its stellar verification service, Voila Norbert can serve as the perfect complement to your suite of prospecting tools. You can use Voila Norbert to find leads (the service gives you 50 free leads to start your relationship), or use a browser plugin to collect lead data as you search online sites like LinkedIn for prospects.
…
In addition to emails, Voila Norbert also offers an enrich feature, which gives you access to supporting information about your potential connections. By providing data including job title, employer, and social networks, Voila Norbert empowers you to personalize your communications and increase your potential for success.

Elements of a Great Email Prospecting Tool
1. Ability to Create High-Quality Lists Fast
Email outreach is a number's game, but that doesn't mean you shouldn't care about quality.
With its powerful bulk email finder feature, Voila Norbert allows you to create high-quality lists with striking speed.
You can either enter the name and the domain of your target prospect one by one like so…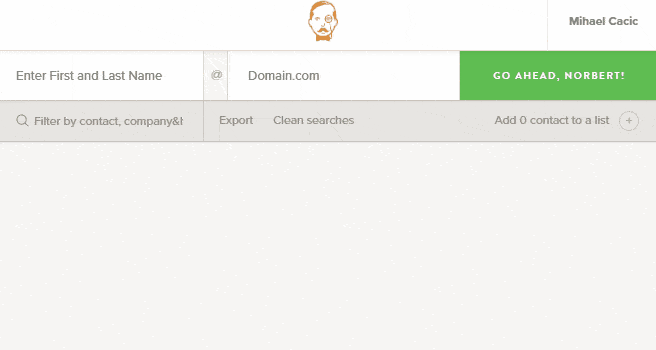 Or import an entire CSV list: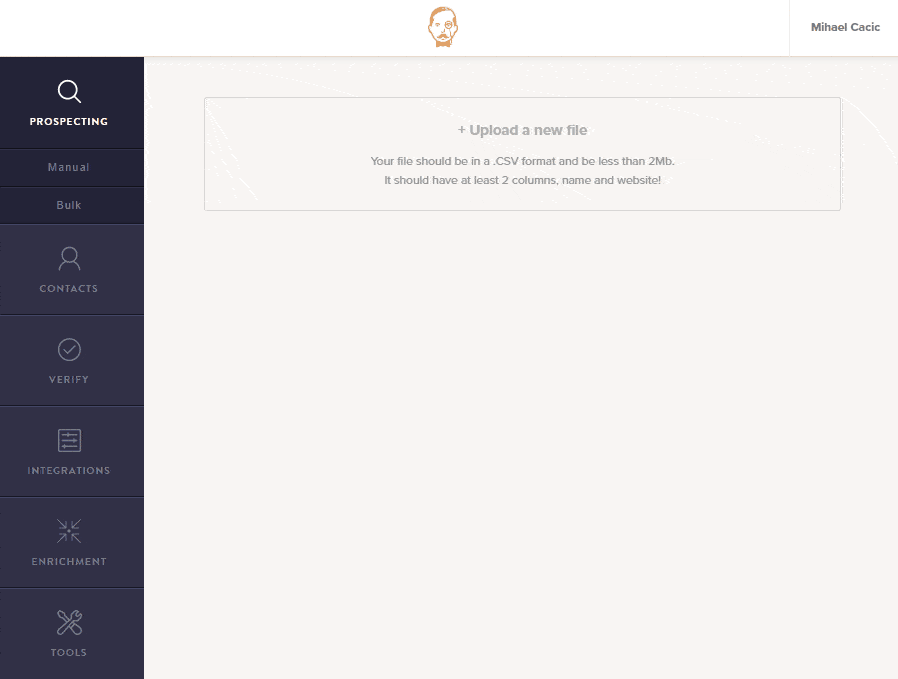 2. Built-In Email Verification
Sending emails that bounce can get you a penalty from Google: causing all your further emails to land in the spam folder.
To keep your sender's score high and ensure maximum ROI for your outreach efforts, Voila Norbert offers a built-in verification tool that makes sure you're only sending 100% deliverable emails.
It's super easy to use. Simply paste the emails you want to check in the magic box and click "verify"…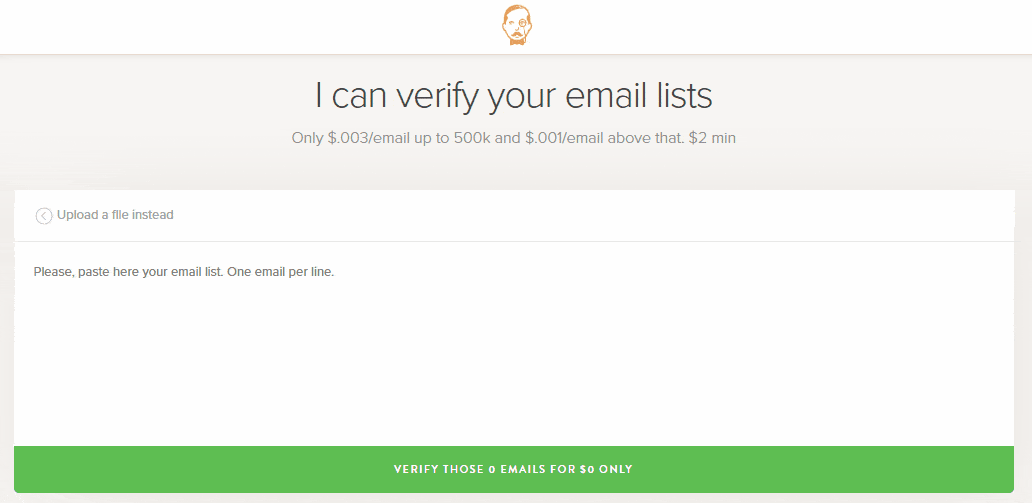 … Or import a large CSV list of prospects: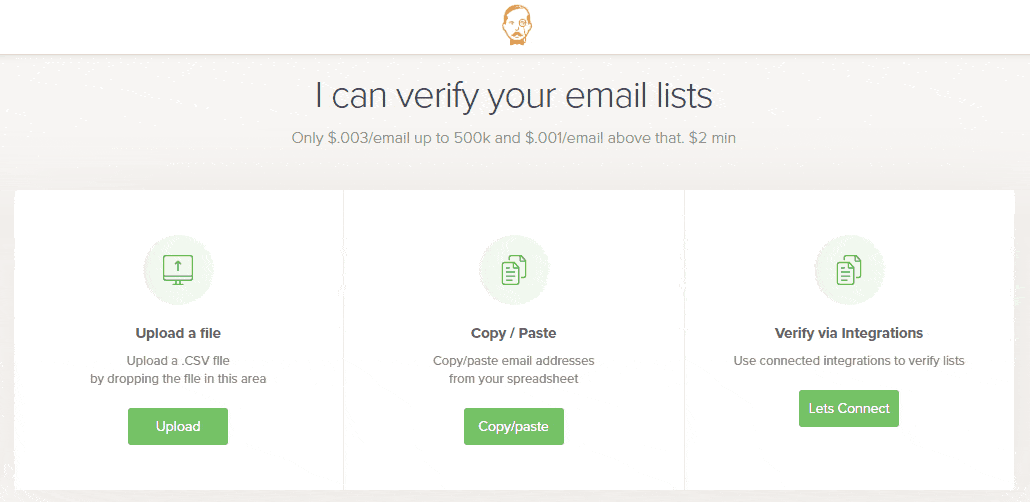 3. Easy Integration With Other Sales Tools
There's no worse thing than manually task switching between a plethora of different sales tools…
Luckily, Voila Norbert can be integrated seamlessly with thirteen most popular sales and marketing tools, like Hubspot, Zapier, MailShake, and more!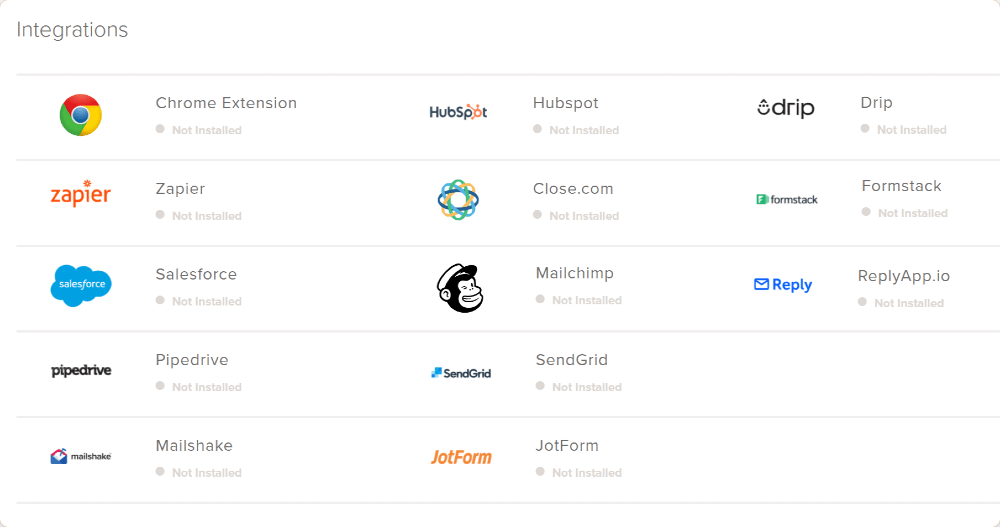 Try Norbert Today!
Time is money, and a good email verification tool helps you save time while helping you generate more revenue.
Voila Norbert helps you get into more leads and is an efficient alternative to Snov.io.
=> Take Norbert for a spin. Click here to get 50 free leads on the house!
…



Further Reading: