Email finder chrome extensions differ by accuracy, price, and ease of use.
Moreover, some tools add more features to stay on top of the competition.
The extra add-ons can be:
Email verification
Searchable database
email drip campaigns
Email enrichment
Lead management and outreach
This implies that all email finder chrome extensions are unique. Therefore, not all of them will be perfect for each company.
One may be the most affordable but have the lowest accuracy. Or one tool may have robust bulk domain search abilities but lack a verification feature.
So to help you get the perfect tool that resonates with your needs, we created this in-depth review article.
Since there are so many email finder chrome extensions in the market, we did extensive research and narrowed it down to the best five (Norbert, Hunter, Snovio, Aeroleads, and Skrapp)
What we will discuss in these five tools include:
Cost
Accuracy
How to use the tool
Third-Party Reviews
Pros & Cons
Who the tool is for
If you've been on the hunt for an email finder extension that meets your company's needs, your search will end by the time you finish this guide.
Now let's get started with our first tool.
Skip to Sections:
If you want more hands-on experience with testing out email finders, you can try Voila Norbert without entering your credit card info. Sign up with this link and get 50 email searches for free.
Voila Norbert Chrome Extension
👉 77% Accuracy | Price per email: $0.05 Low-end Plan, $0.009 High-end Plan
Since we've written the list, we thought we'd introduce ourselves first.
Our Voila Norbert chrome extension is a robust email finder and lead generation tool.
With access to a massive database of B2B email addresses, Norbert will search anyone's email addresses and verify those you already have in seconds.
The software is a top-tier tool because it boasts one of the highest accuracy rates for bulk email search than any other tool in the market. This is according to a study by Ahrefs.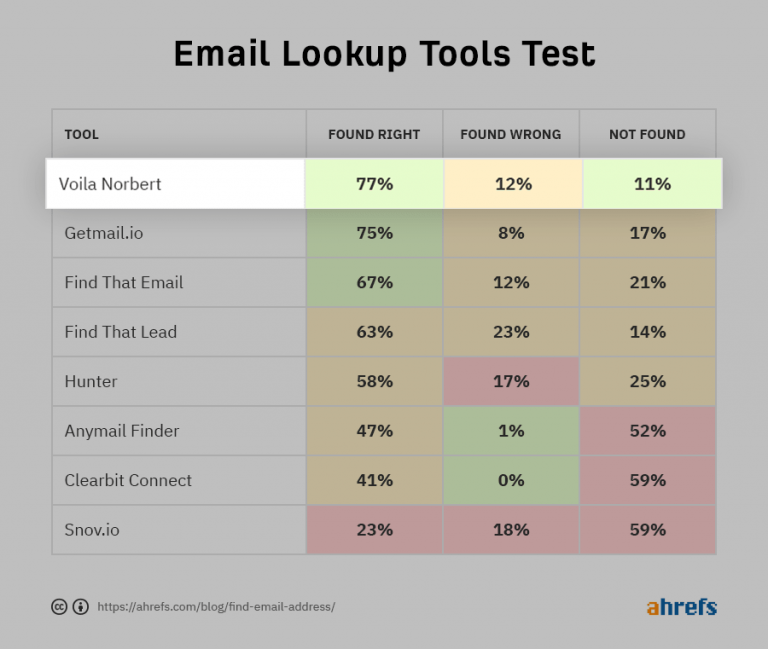 Furthermore, Norbert beat Snovio, Hunter, and Aeroleads in a G2 comparison takedown. Note that these three tools are giants in the industry.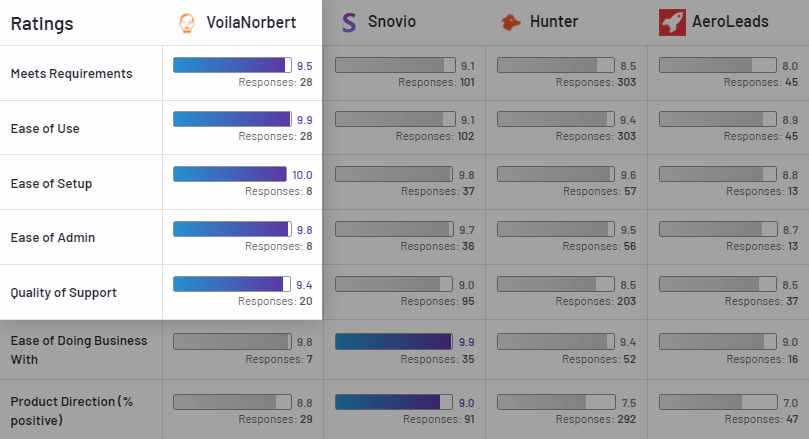 So how do we achieve such impressive results?
Like other email finder tools, Norbert uses the standard algorithms in the industry…
But we also leverage our private cloud-based algorithm to dive into the deepest part of the internet and retrieve valid emails.
In addition, we boast multiple excellent features to make your work easy. Some of these include:
Numerous integrations with software like Zapier, Mailshake, Pipedrive, SendGrid, Close.
Prospect list export allows you to download your contact list from CSV or Google sheets.
An API that you can integrate with any software, e.g., Google sheets.
How Does Voila Norbert Chrome Extension Work?
Using Norbert from the website requires that you import the names and company domains of your prospect manually. You then hit the search button, which brings back your emails in a few seconds.
This is effective, but not always convenient.
You need a quicker option that allows you to find someone's email on the website you are browsing or LinkedIn.
The quick solution is to use the Norbert Chrome extension, which extracts prospects' emails on the fly.
The process works in four steps.
Step 1: Go to your Google Chrome and type "Voila Norbert chrome extension."
Step 2: Click on the first result and pin the extension on your chrome.
Step 3: On the extension, log in and activate your account.
Step 4: Open your prospect's website and click on the Voila Norbert chrome extension. Write the first and second names of your prospect and click "go ahead Norbert."
Norbert will spit back an email address in less than a second. See, Easy-peasy!
Now, I'd love to show you how to do this in action.
And it's best if I let our hyper-extroverted sales maestro, Daniel Angel, do that for me in this video:
NOTE!
We've recently added LinkedIn functionality to our chrome extension. Now you can find email addresses with a click of a button!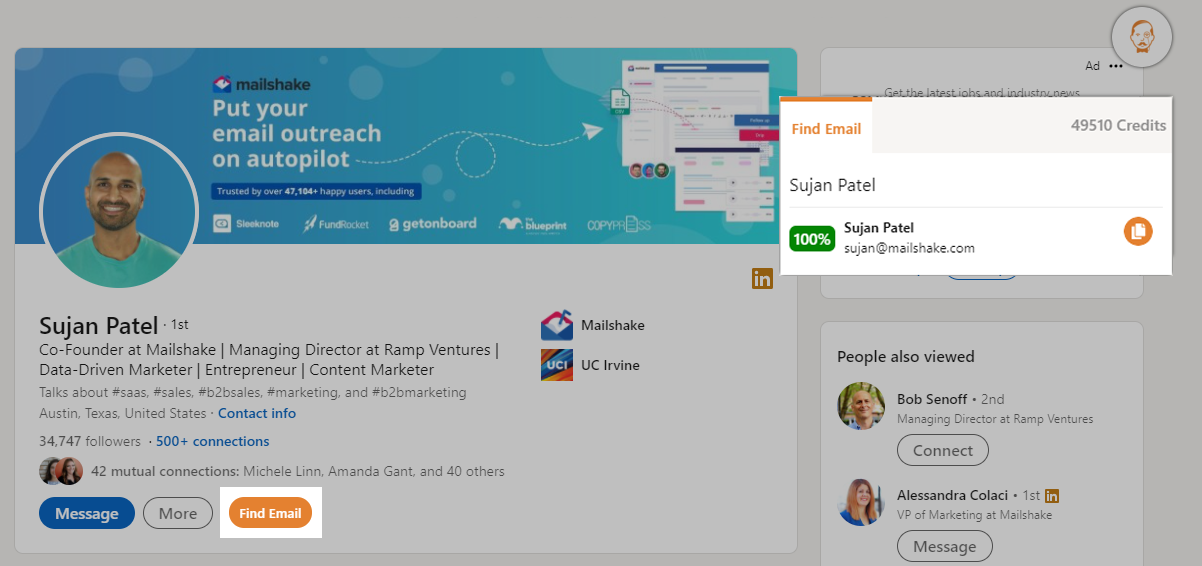 Voila Norbert Pricing
Now, you can sign up (without your debit card) and get 50 email addresses for free. And once you see how Norbert works, you can sign up for any of our pricing plans.
For prospecting, Voila Norbert comes in four pricing plans, namely.
Valet ($49/month)
Butler ($99/month)
Adviser($249/month)
Counsellor ($499/month)

The plans give you monthly leads of 1000, 5000, 15,000, and 50,000 leads consecutively. The lower-end plan charges you $0.05/email, while the high-end plan comes at about $0.01/per email.
This means that you get a 50% discount and more leads to ramp up your email outreach campaign if you jump to the high-end plans.
Also realize that all the plans include unlimited team members, bulk email finding, and API usage.
And when you sign up for the annual plan, the pricing is slashed with incredible discounts.
Just see for yourself.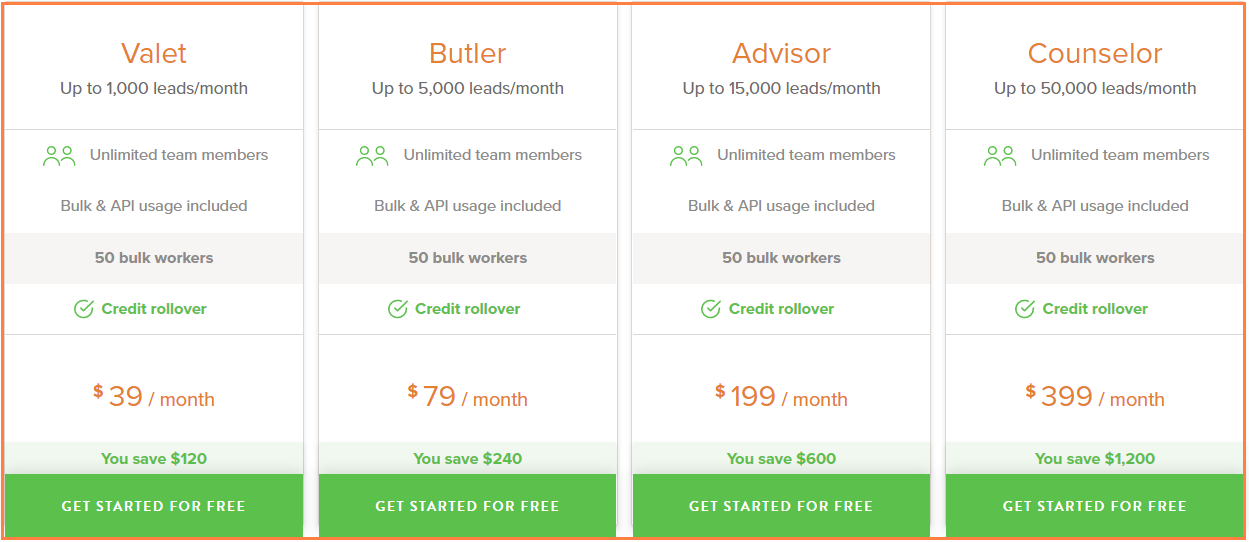 You can end up saving $1200 if you choose the counselor's annual plan.
And that's not all. With the yearly plan, you qualify to get credit rollovers to avoid wasting your leads and money.
Reviews – What People Say
I'll be honest – we don't collect reviews on third-party websites like many other email finder tools.
Our reviews are purely organic and come from over 58,000 customers who are happy with our tool.
With that said, here are some reviews we've got from reviewing sites like Capterra, Trustradius, and G2.
G2: 4.8/5
Capterra: 4.6/5
TrustRadius: 9.2/10

TrustRadius Review by Vincent Nero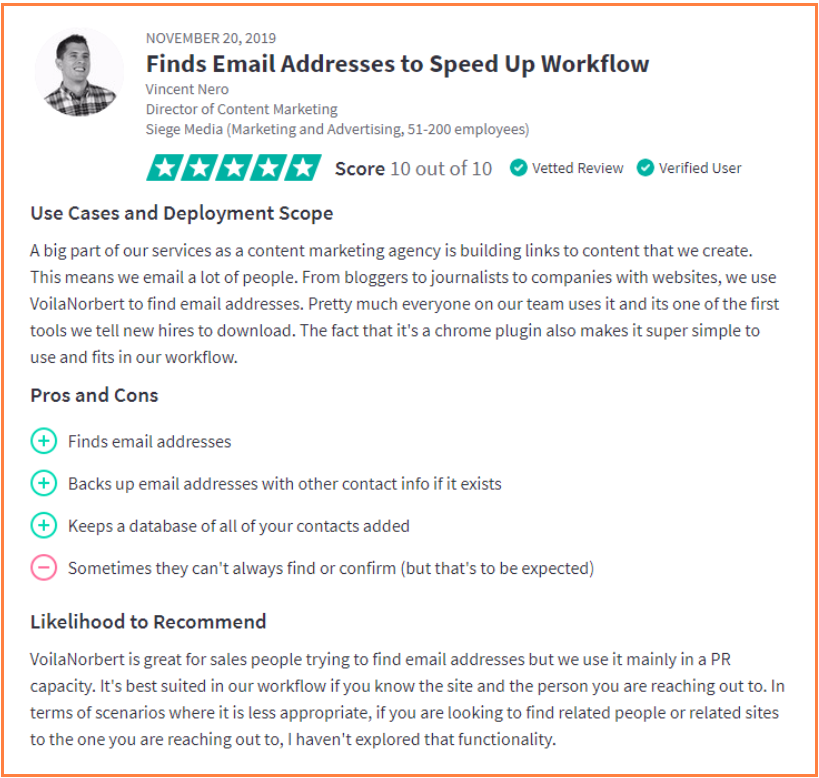 Voila Norbert Pros and Cons
These pros and cons aren't what we paraphrase after doing research.
We've directly lifted them from the review sites mentioned above. We've done this for all the tools in this review.
Pros
"The pay as you go price is very reasonable."
"This is a simple tool to use to find hard to reach email addresses."
"Easy to use and accuracy of emails found. Good value for money as well."
"Backs up email addresses with other contact info if it exists."
"Keeps a database of all of your contacts added"
Cons
As they say, even the ever-shining sun has dark spots. And Norbert isn't an exception.
"I'd like more than 50 free leads please."
"It took me a while to realize you could upload in bulk. Made things a lot easier for me when I figured out that feature."
"Didn't really need their tracking abilities. to track who/when you reached out to."
Conclusion – Who is Norbert For?
Norbert would best fit any professional looking to start an intensive email outreach campaign. They should be looking for a tool with a high deliverability score at an affordable price.
These can be content marketers, sales reps, and professionals in PR and marketing.
However, Norbert may not be for you if you are looking for a large and sophisticated CRM-like software for complex tasks.
We are trying to make email outreach simple for small-scale businesses or startups that want to get a slice of the $7.5 billion industry.
But that doesn't mean huge enterprises can't use Norbert. If companies like Facebook, Intel, and oracle trust us with email list enrichment, no company is too big for us to handle.
Would you love to try Norbert out? Sign up with this link and get 50 free credits now!
Hunter Chrome Extension
👉 58% Accuracy | Price Per Email: $0.10 Low-end Plan, $0.013 High-end Plan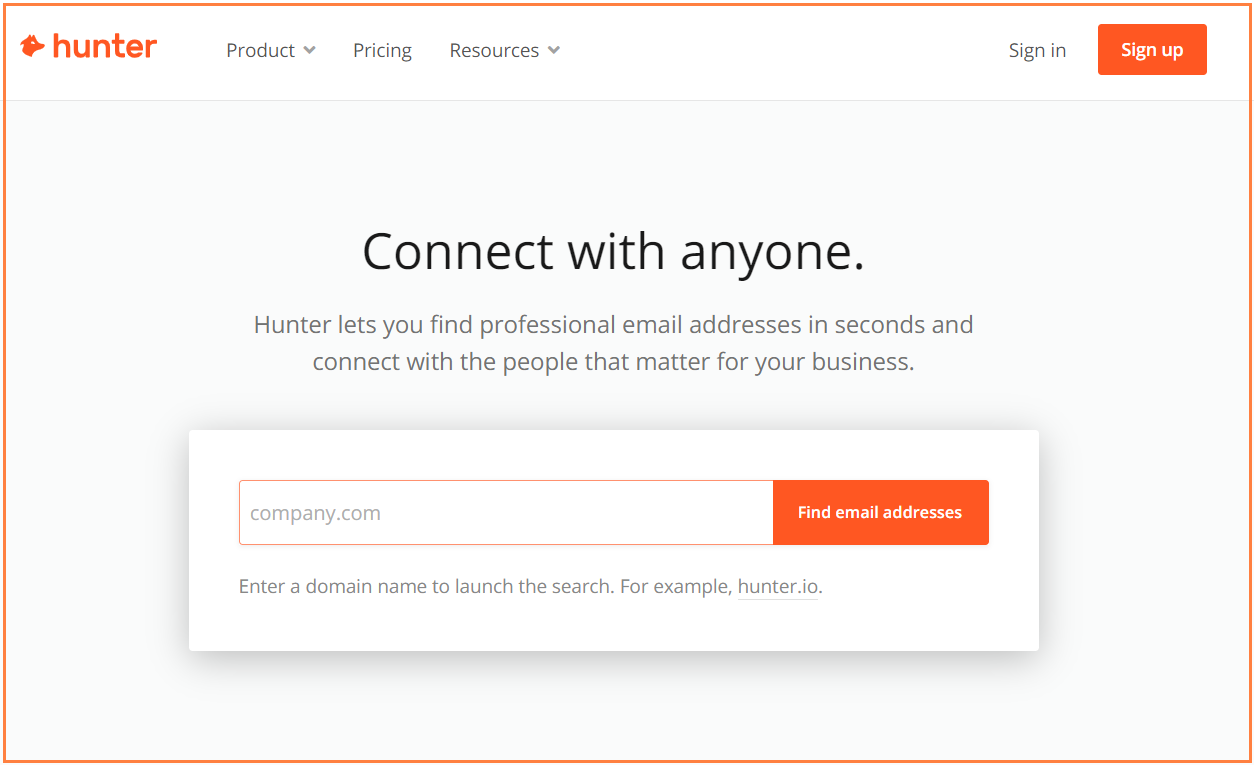 Hunter.io is a popular email finder tool. It was one of the first companies to hit the market and made a name in 2015.
Like any other email finder, it uses your prospect's name and company URL to search for a valid email address.
For a long time, Hunter has been a close competitor of Voila Norbert. But in the last few years, Norbert's email finder has grown stronger as Hunter got weaker.
In the Ahrefs email finder accuracy stand, you can see that Hunter is way below Voila Norbert.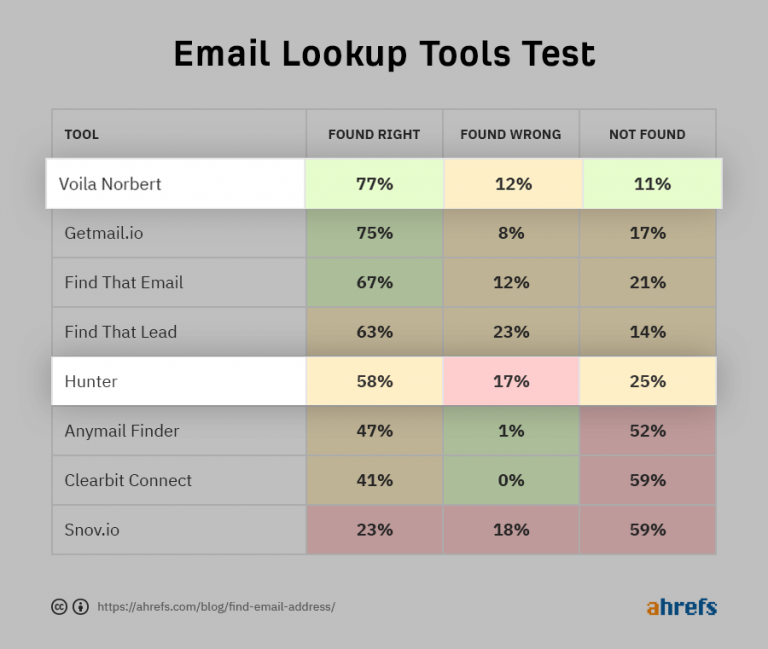 But truth be told – Hunter does have its purpose. It's a well-built tool and can source a complete contact list from everyone in a company at once.
The domain extension is equally powerful. It sources emails from websites you are currently visiting in real-time.
How Hunter Chrome Extension Work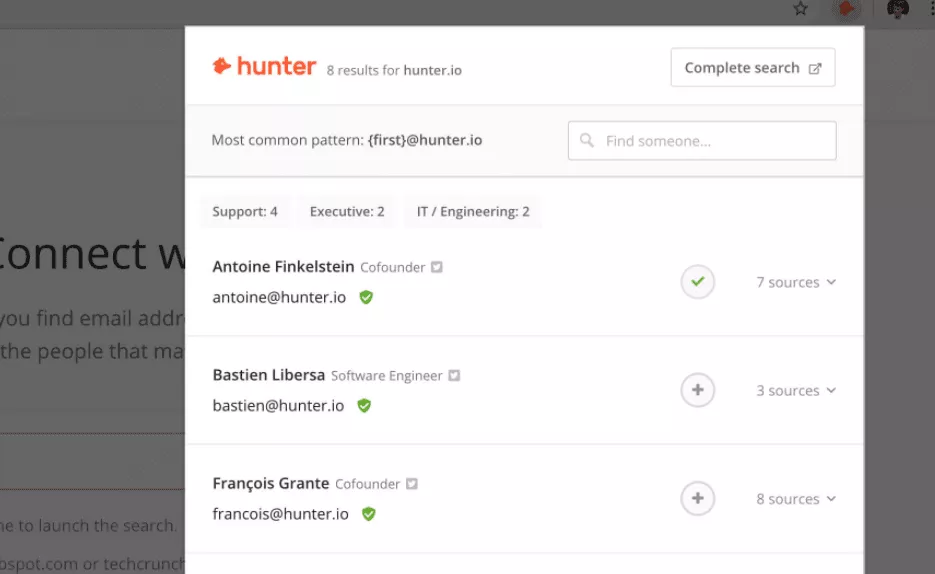 To use the Chrome extension paste the two names of your prospect on the search button. Hunter will scrape through the domain and provide the most relevant email. It consumes one credit each time it gets a valid contact.
It also gives you the accuracy score to know how relevant the email is. If you want to save any person as a lead, click the "plus" to save. You can access the contacts at any time.
Moreover, you can add the email to a list from the chrome extension itself, making it simple to search for bulk prospects.
But note that you can't send emails directly from the chrome extension. You have to stick to the website to manage your campaigns.
Here's a video guide to help you.
Hunter Pricing
Hunter comes in five pricing plans. The first is free and gives you 25 searches and 50 verifications every month.

The first two paid plans have the same price and features as Norbert. But on a deeper look, you'll find that it's twice as expensive.
For example, Norbert will give you 1000 searches every month for $49, but Hunter only gives you 500 searches for the same price.
Similarly, the high-end packages are cheaper than Norbert. But they also give you fewer searches.
Considering that Hunter is less accurate than Norbert, you will easily choose the latter as it's cheap by half.
Hunter Reviews- What People say
G2: 4.3/5 based on 354 reviews
Capterra: 4.6/5 based on 466 reviews
Trustradius 7.7/10 based on 10 reviews

Trustraidus review from a verified user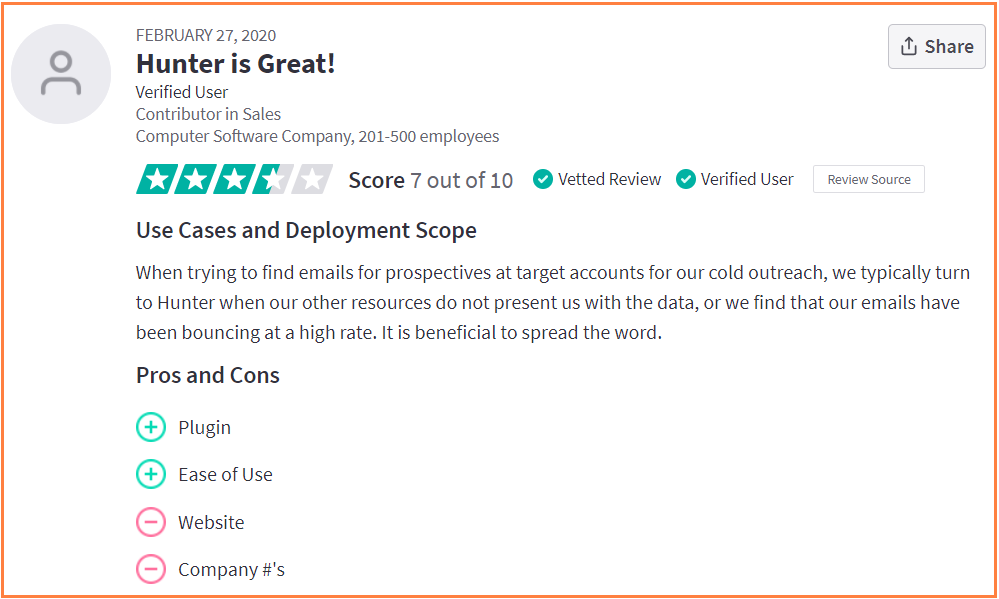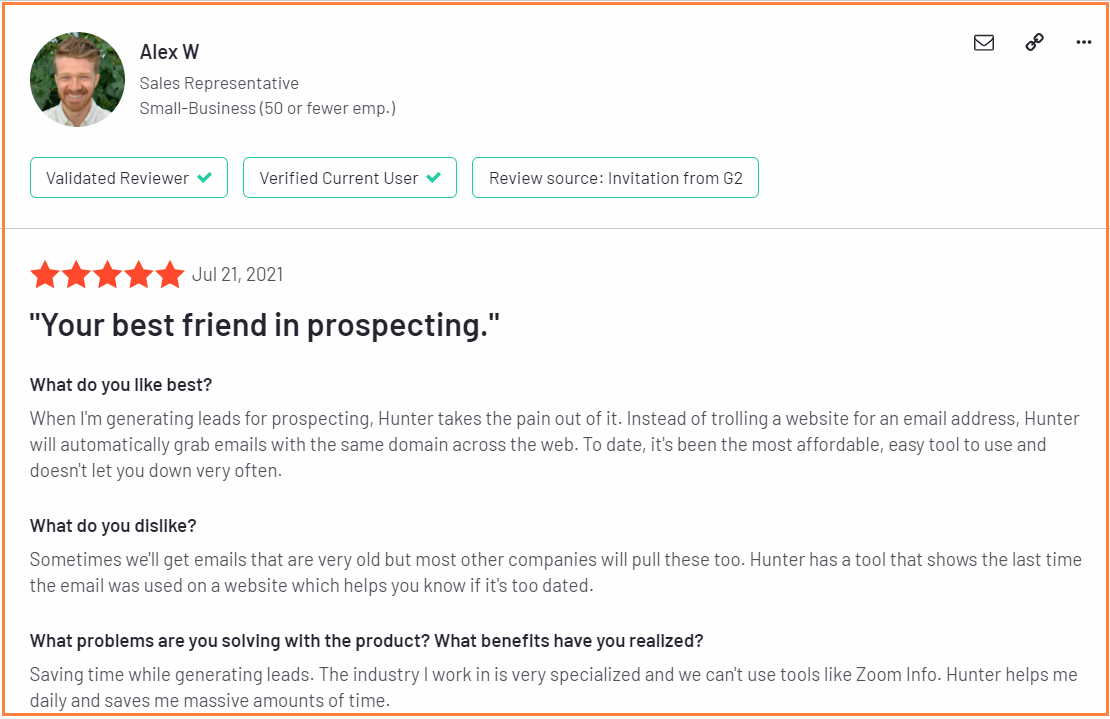 Hunter Pros
"For American contacts in particular it is very good at finding personal phone numbers."
"Awesome tool for all levels. Was very useful for creating a database of potential clients."
"Suggesting contacts within an organization."
"Offering a Chrome extension to find contacts."
Cons
"The only thing that I disliked about using Hunter is the inability to search beyond the domain name."
"It primarily focuses on extracting leads using the website, and not all websites can provide adequate professional email addresses."
"It's impossible to find certain organizations unless you're totally accurate with the typing."
Conclusion – Who can use Hunter?
Hunter is mainly famous for small and mid-sized companies in the marketing, IT, computer software, and advertising industries.
It also fits users who don't have a problem investing a huge amount on email finder tools. Or anyone more into convenience than quality.
If these are the things that will turn you away, Voila Norbert would be an impressive alternative.
3. Snovio Chrome Extension
👉 23% Accuracy | Price Per Email: $0.10 Low-end Plan, $0.013 High-end Plan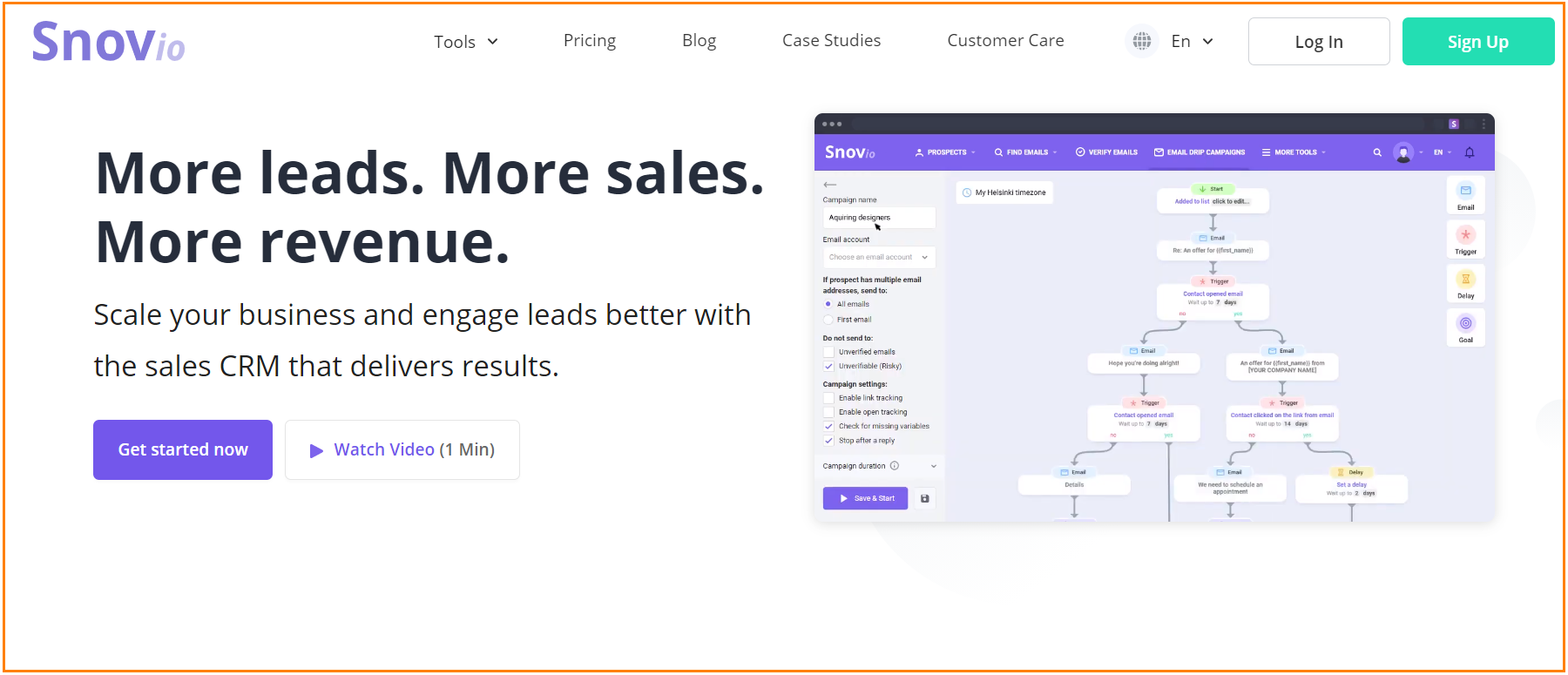 Snovio wears many hats.
On the one hand, it's an email finder tool. On the other hand, it's an email verifier, email tracker, and an email drip campaign tool.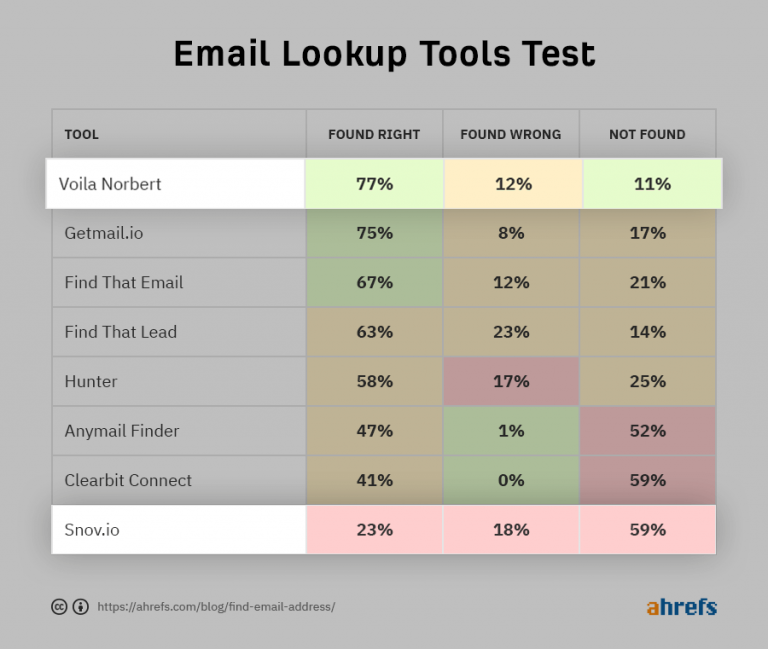 Due to the multiple features it offers, Snovio has spread itself too thin, compromising the quality of some parts. Unfortunately, one of these features is the email finding feature.
It's easy to see why it has the lowest accuracy rate.
There's one Snovio feature, though, that no other email finder can beat. This is the beautiful UI that you will enjoy working with.
How Does Snovio Work
The process is similar to all the chrome extensions. But Snovio has more functionalities that make the process easy to collect fresh targeted lists from any website.
What makes the tool special is that you don't need to search email addresses using your prospects' names.
By launching Snovio inside the website, it automatically scrapes all the emails from that domain. Your task is to select the prospect you want and save them into a sales CRM contact list.
If you want to save more emails, you'll click the company profile, where you can view all the company's staff contacts.
Here's a step-by-step video guide.
Snovio Pricing

Snovio pricing spans five plans S, M, L, XL, XXL.
The first plan is $39 per month and gives you 1000 credits and 2000 email verifications with 5000 unique recipients.
The succeeding plans go for $79, $169, $289, $578. You get more features as you climb up the rank. Overall, Snovio seems to be an affordable email finder when you compare it with Norbert.
(But remember — Norbert is 3.6x more accurate than Snovio.)
In addition to all that, Snovio also offers a standalone email campaign service that goes for $33/month.
Reviews – What People Say
G2: 4.6/5 based on 120 reviews
Capterra: 4.7/5 based on 99 reviews
Software Advice: 4.2/5 based on 68 reviews
Capterra review by Anastasia. M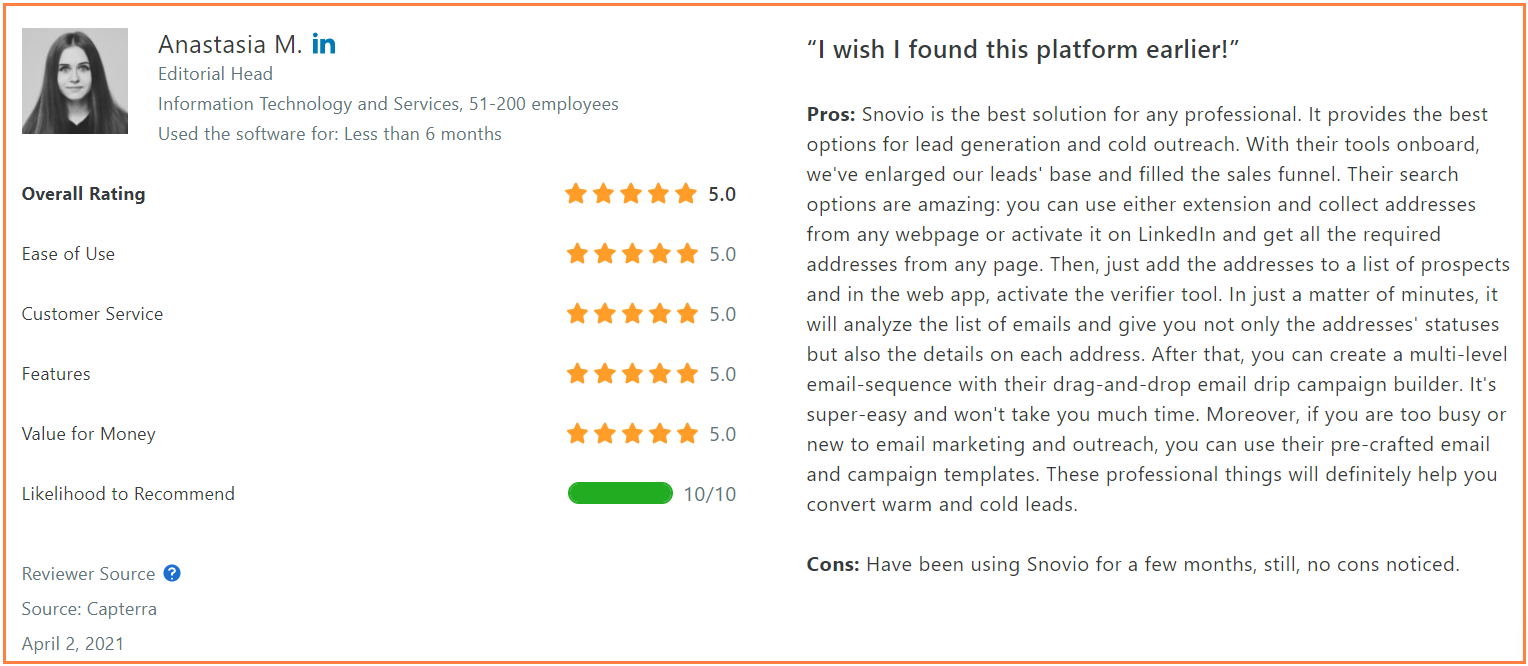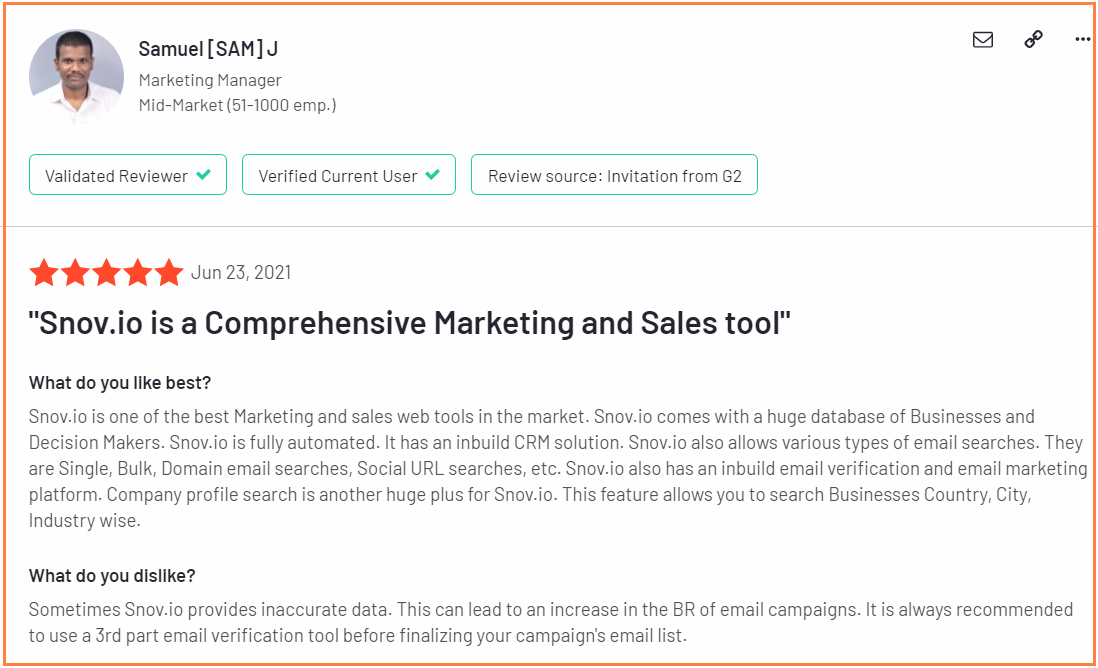 Snovio Pros
"It provides the best options for lead generation and cold outreach."
"Yet, the drip campaigns must be one of the best options on the web. It's worth every cent spent and I'd like to highly recommend it to all start-ups."
"You can split the monthly credits in any way you need."
Cons
"CRM functions are a little bit chaotic (if you use additional fields you have limited possibility to toggle columns in a table view)."
"The quality of email, there are updates to be made, people who left a company 2 to 3 years ago still find themselves attached to it."
Conclusion – Who's The Tool For?
Snovio is the right tool for people not primarily looking for the best email finder chrome extension, but for those who'd use Snovio for its' secondary features.
It's for people who are looking for an "all-in-one" marketing suite that want to use Snovio as a CRM, sales automation software, email tracker, and drip campaign tool.
But if you want a robust tool that has entirely focused on email outreach that guarantees high deliverability rates, Voila Norbert would be the better choice.
4. Aeroleads Chrome Extension
👉 70% Accuracy | Price Per Email: $0.05 Low-end Plan, $0.03 High-end Plan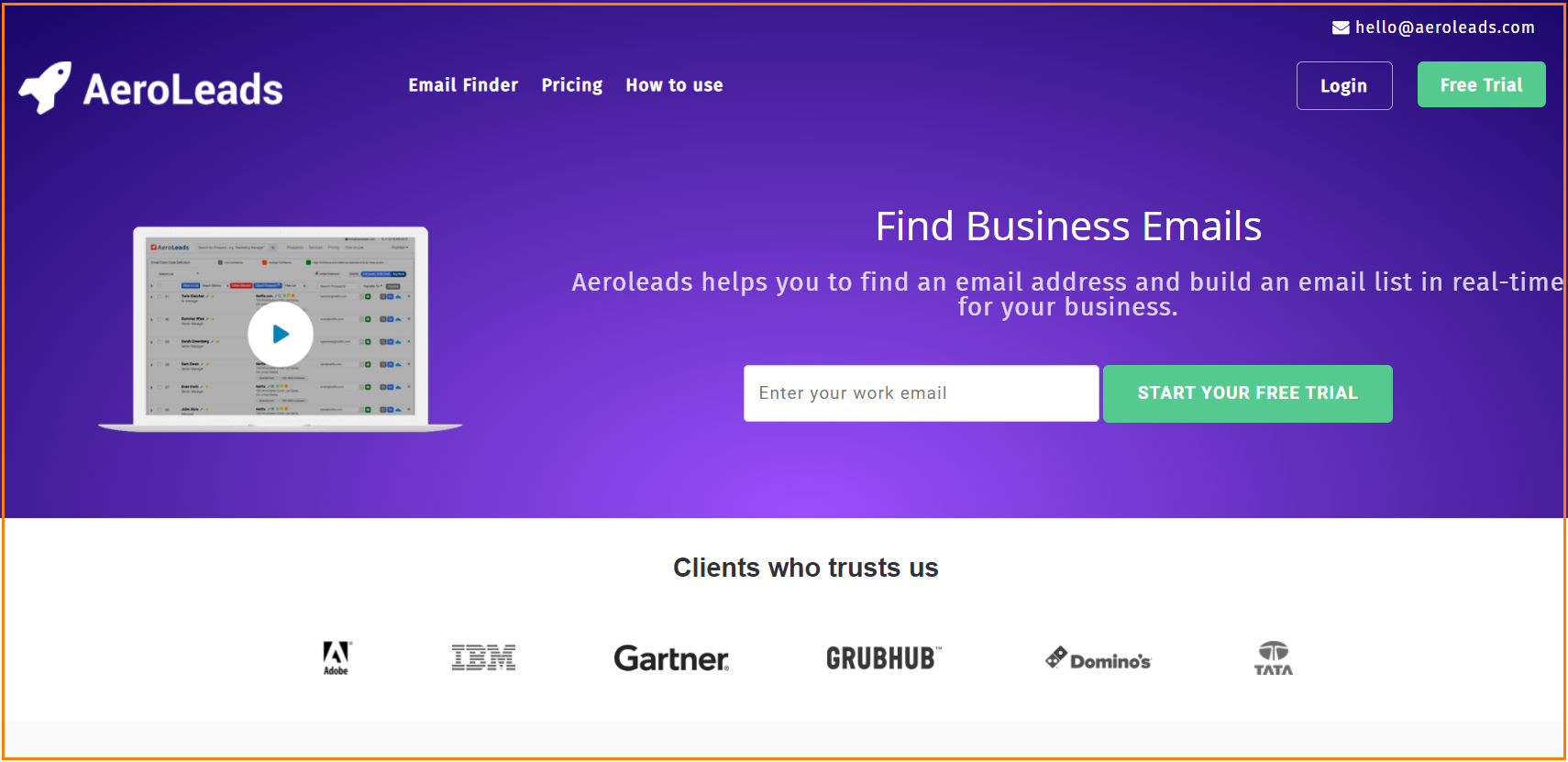 Aeroleads Chrome extension allows you to extract email addresses from websites, LinkedIn, Angelist, and Crunchbase.
But it doesn't stop at giving you emails. You can also use it to search prospect's phone numbers where available.
The contacts you retrieve come with a confidence score. This shows you how confident the tool is that the email is correct.
How Aeroleads Work
To use aeroleads, you first create an account with them. Next, search the chrome extension on your browser and pin it.
Then go to your prospect's website or Linkedin. Type your prospect's first and last name on the Aeroleads extension and search. It will comb through the website or Linkedin and return with valid contacts.
Here's a video tutorial on how it works.
Aeroleads Pricing
The tool comes in three pricing plans, as shown below.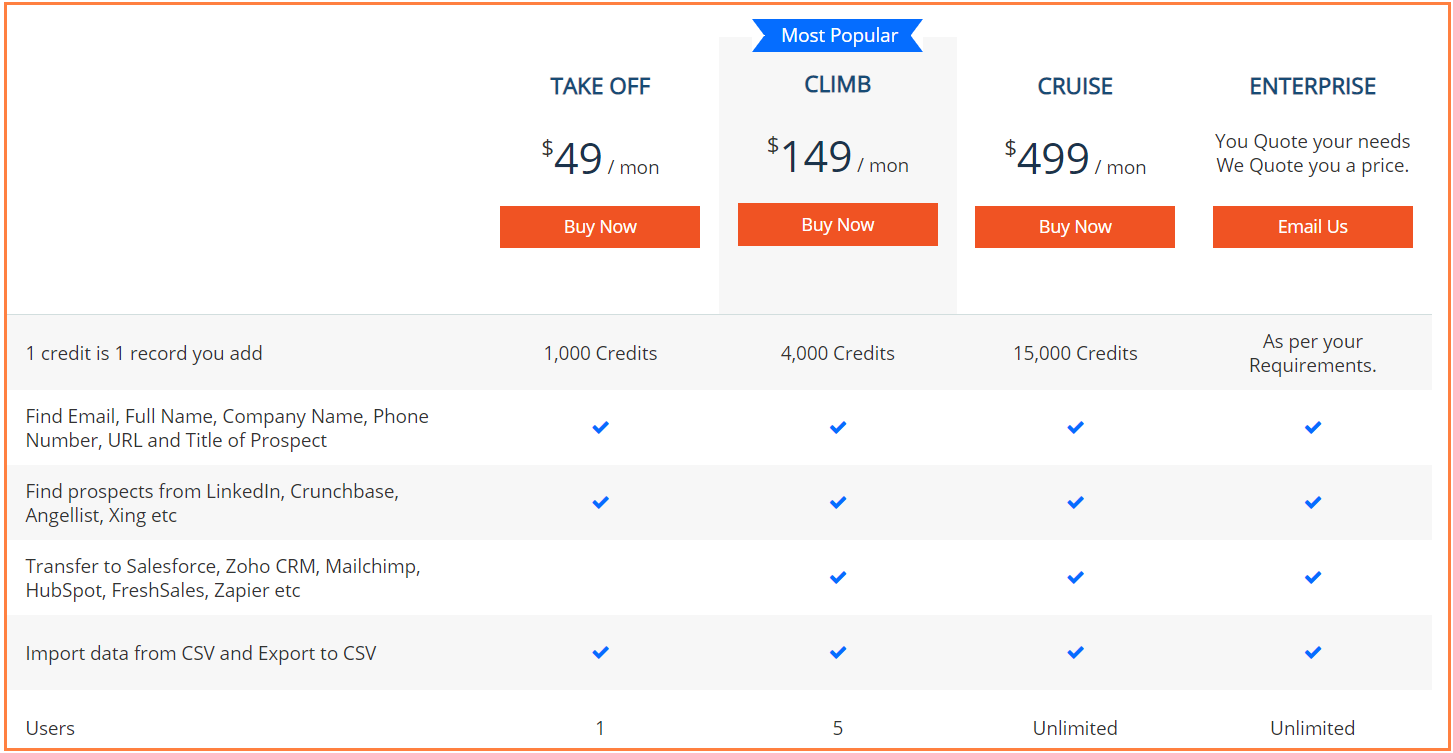 As you can see, Aerolead's pricing is similar to Norbert's on the low end, but vastly different on the high end.
For instance, Norberts's popular plan goes for $99 and gives you 5000 leads…
But Aeroleads most popular plan is almost twice as costly. The same goes for the top tier plans on the top tire plans.
So if you have a monthly budget of $49, you're good to go with either of the tools. But Norbert is the tool to choose if you want to scale your operations and not break the bank.
Reviews – What People Say
G2: 4.1/5 based on 56 reviews
Capterra: 4.6/5 based on 35 reviews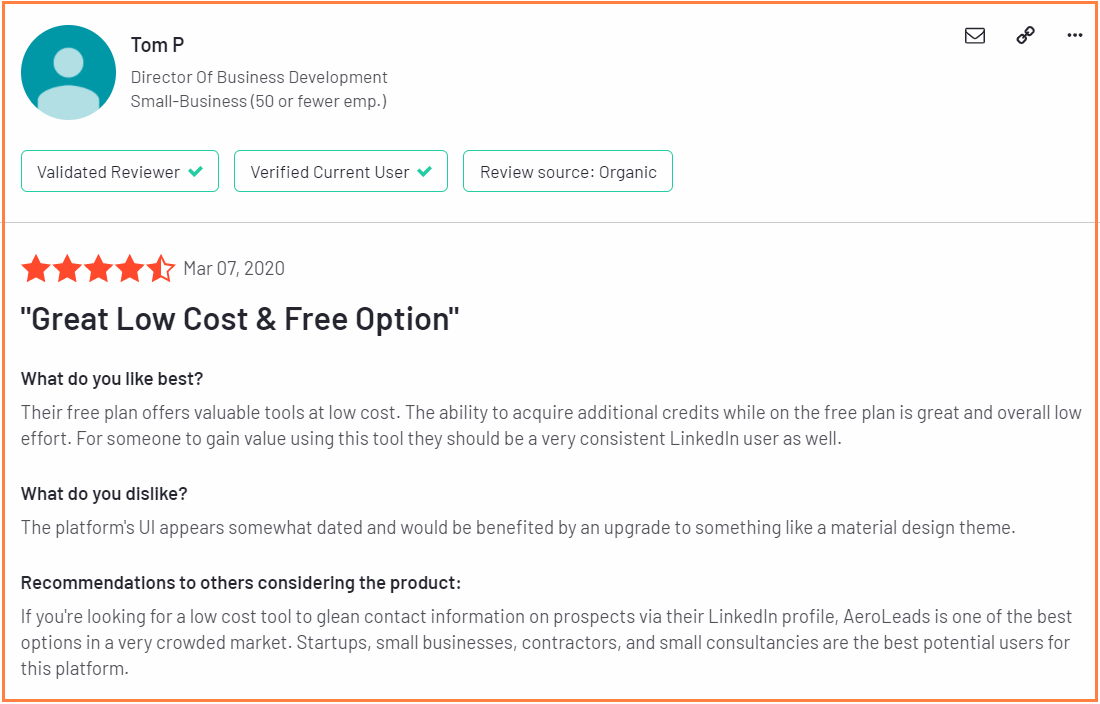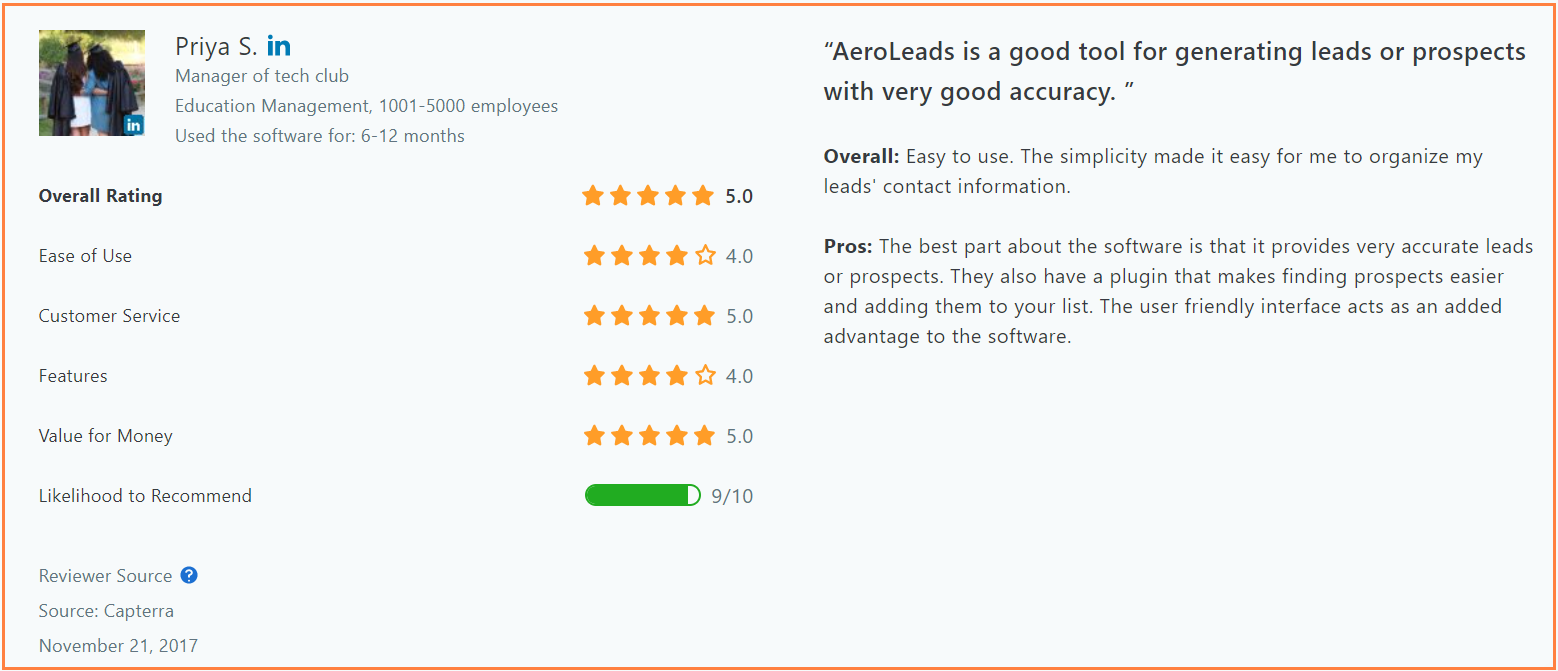 Aeroleads Pros
"The simplicity made it easy for me to organize my leads' contact information."
"Reliable customer service"
"It is easy to use and get expected results."
"It captures all data very precisely and is useful for getting verified leads."
Aeroleads Cons
"Sometimes displayed wrong email and inactive email."
"There is lag time every once and a while."
"If you are using the basic version, you will be limited by the no. of contacts you get from LinkedIn."
Conclusion – Who is This Tool For?
Aeroleads can fit any business looking to improve its marketing strategy through lead generation and email outreach.
In general, these businesses should have invested heavily on LinkedIn or other prospecting sites and reached out to search operators.
5. Skrapp Chrome Extension
👉 20% Accuracy | Price Per Email: $0.05 Low-end Plan, $0.006 High-end Plan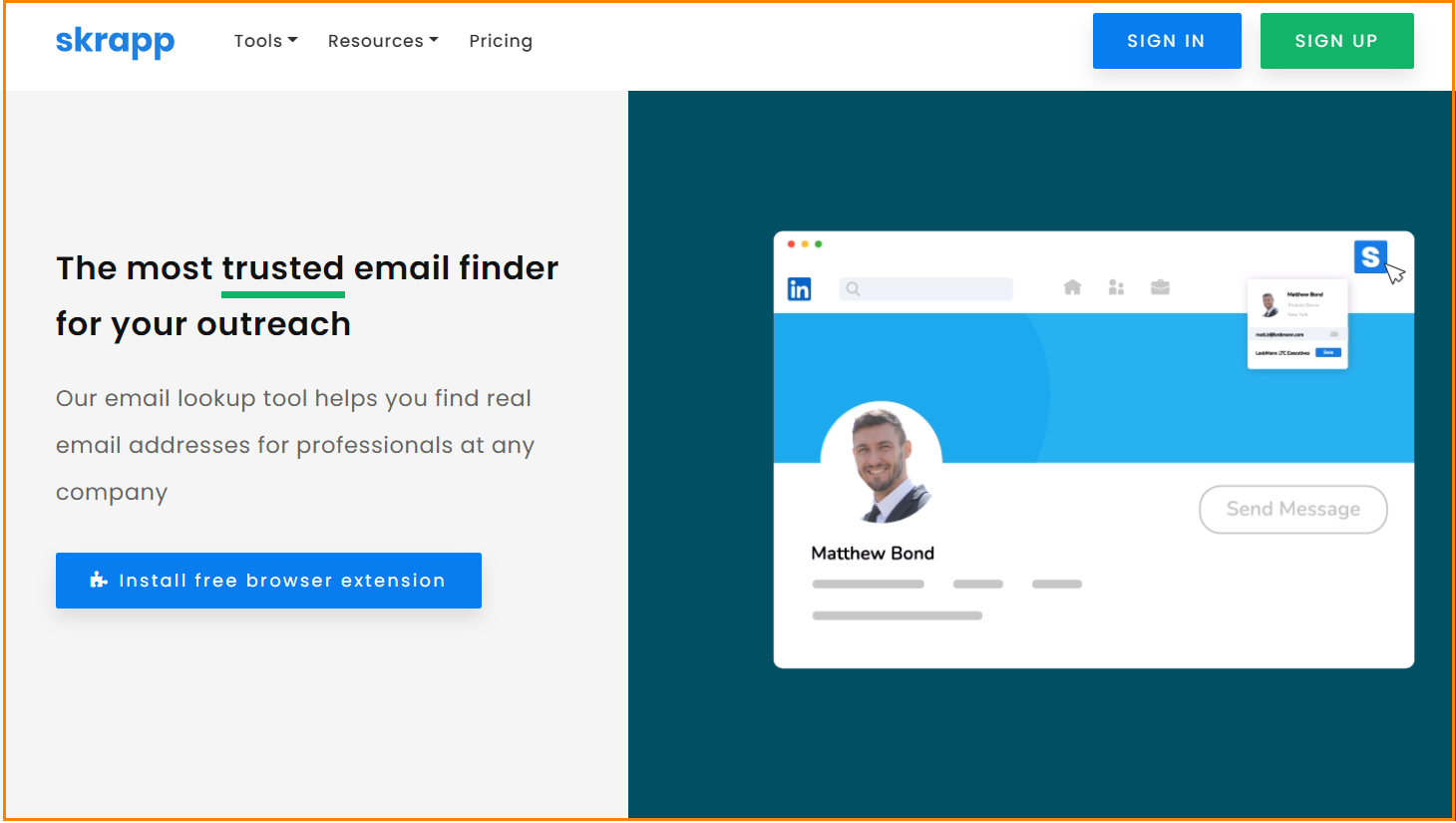 Skrapp.io functions both as a chrome extension and a web app.
It will help you extract emails from LinkedIn, company websites, sales navigators, and in-app features.
The tool also offers domain search to find emails of the most relevant staff within the organization. You're able to get at the center of the business and begin nurturing your prospects.
How Skrapp Works
First, to use Skrapp, you need to install the skrapp extension into your browser from their website. Next, go to your Linkedin page. You'll now see three different buttons on LinkedIn.
Find email
Export Members
Export results
Next is to search your prospect on LinkedIn by name. Once you get the prospect's profile, press "find email" on the extension.
Skrapp will automatically do a data search and present you with the most relevant email.
Skrapp Pricing
Pricing starts with a free plan which gives you 150 email addresses for free. Once you've tested it, you can choose any of the four pricing plans.
The low-end plans cost $49 and $99. To get more leads, sign-up for the high-end plans costing $199 and $299 every month.
Choose the annual price if you have a big budget, which saves you 20% on each plan.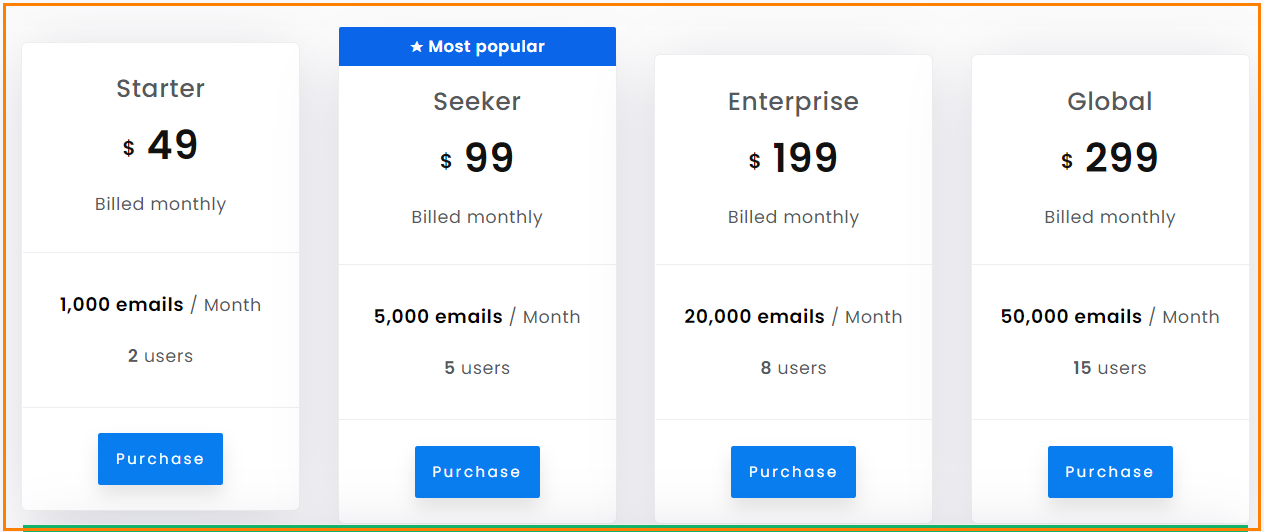 As you can see, the low-end pricing plans cost the same as Norbert. The high-end features are a bit cheaper than Norbert and give you more credits. Plus, they give you the same number of leads.
While this may seem attractive, Skrapp's accuracy is a hit and miss… So much so that it's not even on Ahrefs' comparison list.
Furthermore, there have been so many complaints about the tool's reliability. Users frequently report technical problems, which can be frustrating.
Reviews – What People Say
G2 score: 3.4/5
Capterra score: 4.4/5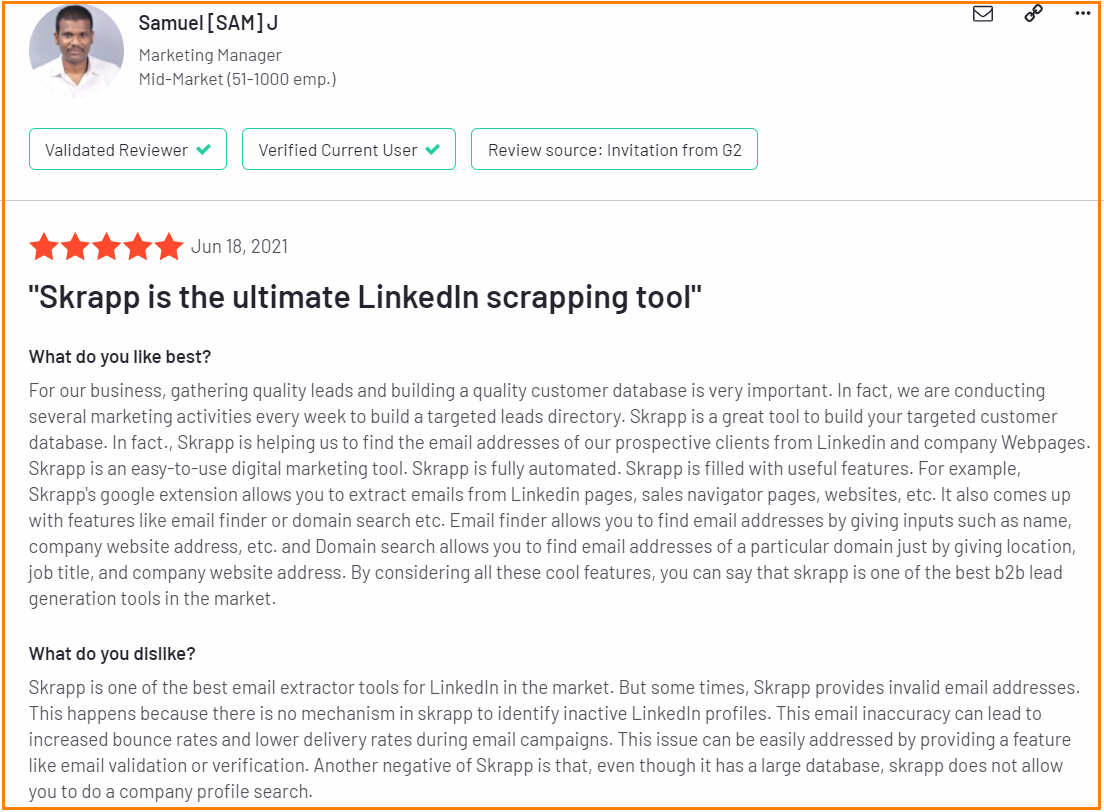 Skrapp Pros
"Using this software it was really easy to scrape leads from Linkedin."
"Easy to get data of the concerned person, that helps to connect the correct person to." approach."
"The segmentation of the parameters is amazing."
"Simple User interface and easy to use."
Cons
"50% of the search is excluded because it's invalid."
"Ui/ux. Not easy to understand in terms of user."
"Email inaccuracy can lead to increased bounce rates and lower delivery rates during email campaigns."
Conclusion – Who is The Tool For?
Skrapp best fits small to mid-sized enterprises that don't entirely depend on email outreach to grow their business.
Big companies looking for large quantities of emails might not find Skrapp reliable. It doesn't provide the features to support an extensive email outreach campaign.
But if you want a tool built for heavy outreaches with a reasonable accuracy rate, Voila Norbert would be the tool to consider.
What is an Email Finder Chrome Extension
An email finder chrome extension is a plugin specifically designed for Chrome. A few extensions can also accommodate other platforms like LinkedIn, Anglelist, and Crunchbase.
Using your prospect's first and last names and company's URL, the chrome extension scrapes through the website and extracts a valid email address.
You can use the email you've got from the campaign to send targeted emails. Armed with a good product, generating $42 for every $1 you spend on email marketing becomes a reality.
Should You Use an Email Finder Google Chrome extension?
The purpose of email-finding tools is to get correct emails that land your message in your prospect's inbox.
You don't want to spend time crafting killer emails only for them to get in the wrong inbox. Or worst of all, to get back a message like this.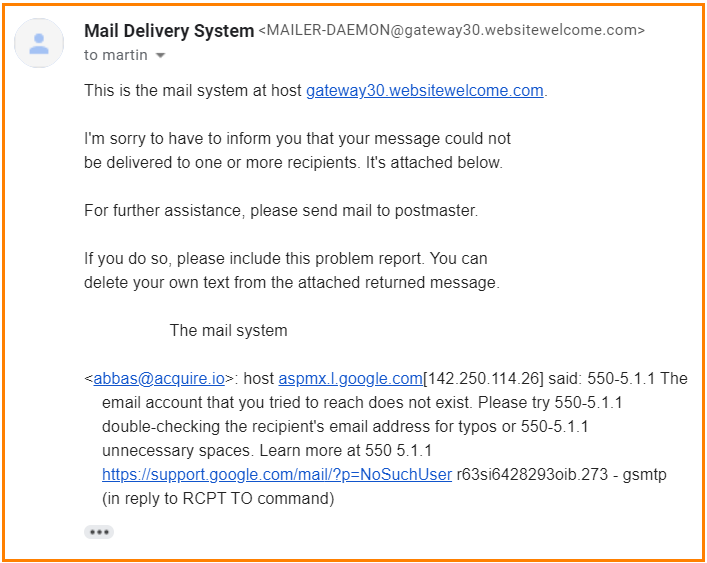 Now, searching a prospect's email addresses from an email finder tool is time-consuming. Typically, it involves importing contacts to the website and exporting them back to a CSV file or google sheet.
But that process is getting less popular.
Chrome extension email finders make the search process quicker and in real-time. It works like magic.
You can go to any website or LinkedIn and immediately get email addresses – complete with a confidence score. This saves you hours and loads of frustration.
What Features Do the Best Email Finder Google Chrome extensions Have?
Accuracy score: An accuracy score is like Google maps. It shows you how confident the tool is that the email is the correct contact for your prospect. You don't want to assume that every email will land in your prospect's inbox. With the score, you can decide whether to proceed to send the email or not.
Email Verifier: When you keep sending emails to invalid addresses, you'll be trapped by spam filters and risk getting blacklisted. The tool should verify emails on the go right from the extension to keep your deliverability high.
An API: The feature enables you to confirm the email addresses you've found through platforms like Hubspot CRM, Mailchimp, and blogger outreach tools like Mailtrack.
Domain Search Service: This is an advanced search feature that allows you to extract all emails from the website you're currently visiting.
Social Network Search: This feature comes in handy when you can't find contacts from your prospect's website. It can extract emails from social platforms like LinkedIn, Angelist, and Crunchbase.
Conclusion
Hopefully, this guide will help you find the best email finder chrome extension. With the right software that resonates with your needs, hunting for leads becomes faster and more enjoyable.
If you'd like to try out Norbert for free, sign up with this link to get 50 email searches on the house.
Further Reading: