What's currently your biggest pain point in your sales role?
Maybe you feel like there just aren't enough hours in the day to get through your workload? Perhaps you don't have capacity to go above and beyond for your clients? Or are you spending most of your time trawling through the internet for contact details?
Whatever your pain point, in this brave new world of rapidly advancing tech, you can bet there's a Google Chrome extension that will address your specific challenge, allowing you to get back to building relationships and closing deals.
Here are 8 Chrome extensions that salespeople shouldn't be without in 2021. Trust us – you'll never look back.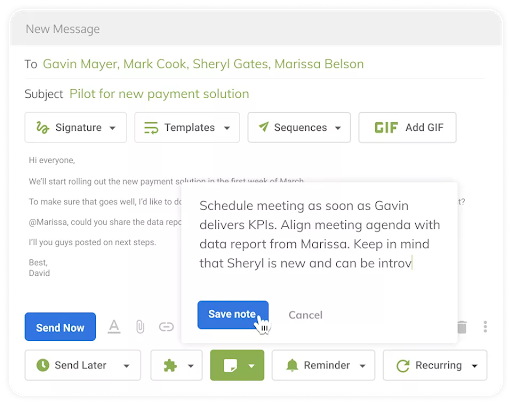 The number one Gmail extension for salespeople, Right Inbox's Chrome extension enables you to send emails later, schedule recurring emails and follow ups, use templates, and add multiple signatures.
Other features include reminders, email tracking, sequences, private notes, GIFs and CRM-sync.
Simply put, it makes everything around emailing much quicker and easier.
Why this extension is valuable for salespeople
Right Inbox empowers sales reps to spend less time in their inbox, and more time getting on with the job at hand. Its send later and sequencing features mean you can block out time to work on emails, and then get on with the rest of your day without repeatedly checking your inbox, safe in the knowledge that the reminders feature will ensure you've not forgotten anything important.
Despite its multitudinous features, Right Inbox is simple to use, with a low learning curve that means you can install and start using it immediately.
Voila Norbert is a powerful email finder that helps salespeople connect with almost any prospect, no matter how big or small.
Simply input information like the person's name and the company they work for, and Voila Norbert will present you with their email address.
The tool's handy chrome extension, meanwhile, adds a button to popular websites and search pages – including Angel.co, Crunchbase, and Buzzsumo. Users can then simply click the button to discover their lead's email address and contact information.
All of the leads gathered by the extension can then be exported and added to custom-made lists. Users can also contact leads directly from Norbert, which boasts advanced tracking tools that tell you if the lead opened or clicked on your emails.
Why this extension is valuable for salespeople
Sales reps typically spend a large portion of their time digging around for contact information. Voila Norbert's chrome extension massively accelerates this process, empowering salespeople to spend less time researching, and more time contacting prospects and leads. Watch your productivity levels rocket.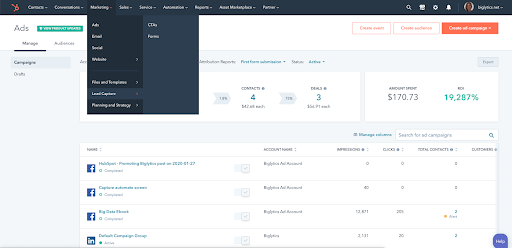 Hubspot Sales' Chrome extension offers CRM for Gmail and email tracking – and inserts a variety of super useful sales productivity tools into your inbox.
Other free features include the ability to create and share email templates, a meeting scheduler, and a mobile app, while paying customers can also access automated personal outreach, significantly boosting their productivity.
Why this extension is valuable for salespeople
Hubspot Sales is carefully tailored to meet the demands of a sales role. Its features are designed to help you uncover more leads in a shorter period of time, and then connect with those leads.
With so many contacts to keep straight from one day to the next, this extension also enables salespeople to manage their contacts in one central database that is connected to their inbox. Simply put, it makes your job a lot more seamless.
Modern salespeople are expected to be able to use and navigate countless tools on a daily basis. Not only do we have to use internal platforms, but many of us also have to work across the preferred tools of our clients.
With so many different platforms to check on an hourly basis, the admin can become overwhelming and confusing.
That's where Taco comes in.
This super popular tool streamlines tasks from over 40 other productivity services, including Asana, Basecamp, GitHub, Gmail, OmniFocus, Trello, Zendesk, and more. Taco's Chrome extension lists all of your tasks across these platforms on Chrome's "new tab" page, allowing you to see them all in one place at the click of a button.
It allows users to drag and drop tasks, tickets, starred emails and chats, and other work, all on one screen.
Why this extension is valuable for salespeople
It's obvious – with so many to-dos scattered across different platforms, Taco consolidates your tasks into one simple list, making it easier to prioritise your day without missing anything.
It's also a time saver. Taco users can say goodbye to needless clicking from tab to tab to check if projects have progressed, and it means you don't need to manually create and update a centralized to-do list.
If you're a Trello disciple, then Add To Trello is an extremely useful time-saver that enriches the experience of the popular productivity platform.
The Add To Trello Chrome extension is based on a simple yet effective concept. It allows you to add tasks to your Trello boards via a single click from your browser, using the page title as the title of the card, and inserting the URL into the description.
When you visit your Trello board, all the cards you have added from your browser will be listed as tasks.
Why this extension is valuable for salespeople:
How many times have you been browsing the web and vaguely thought that you should send this piece of content to a lead, your boss, or your team – before inevitably getting more distracted by a more pressing task?
Add to Trello turns these vague thoughts into actions that you can come back to when you have five minutes to spare.
Skim AI uses machine learning to fulfil the wish that everyone has surely made at some point. Wouldn't it be amazing if, instead of trawling through endless text, the most important points would be pulled out of the copy and presented to you?
This Chrome extension uses AI-enabled search to cut through the noise and bring you the data you need, from over 500 of the world's top resources. Sales reps can then save, organize, and share this data on one simple platform that allows for improved team collaboration.
Why this extension is valuable for salespeople:
With data at the heart of what sales reps do, it's vital for you to be able to absorb the information that will bring leads in and close deals. But with so much data out there, salespeople risk information overload.
Skim AI does the reading for you, presenting you only with the most pertinent information that will delight leads and clients, and free you up to get on with building relationships.
The Google Keep Chrome extension enables sales reps to save webpages, images, or quotes to a centralized platform with one click.
As well as quickly saving URLs, text, and images to revisit later, users can also take notes on their saved content and organize their clippings by labels.
Google Keep is synced across all platforms, including Android, iOS, and Wear.
Why this extension is valuable for salespeople:
Salespeople are used to juggling numerous tasks, but this means that often bright ideas can fall by the wayside. If you see an article or image online that sparks an idea, or that you think a client or lead would appreciate, Google Keep allows you to save it.
You can then revisit your Google Keep when you've got a free hour, and send off all the content to the relevant parties. Ultimately, this should boost client happiness, giving them an extra level of service.
Think of Grammarly like a superpowered spell check or writing assistant. This Chrome extension aims to eliminate writing errors and improve copy in real time across platforms including Gmail, Google Docs, Twitter, LinkedIn, and many more.
Not only does this tool check the basics like spelling and grammar, but it makes real time recommendations on other written elements such as sentence structure, which helps to ensure you're getting your point across in a clear and concise way.
If you'd like to improve your writing skills, Grammarly provides users with a personalized writing report each week so you can track your progress.
Why this extension is valuable for salespeople:
Let's just state the facts: salespeople are not always the best writers. This is not necessarily due to a lack of expertise when it comes to spelling, grammar, or sentence composition – but often because they're so busy that emails are rushed out without a second thought.
What's more, if you do struggle with writing composition, it can be difficult to effectively get your point across in an email, which is likely to damage your results.
Poor spelling or grammar can be extremely off-putting to clients and leads, denoting a lack of professionalism or care. Paying clients want to feel like they're your top priority, and an email littered with mistakes won't do the trick.
Grammarly addresses this pain point, without taking up much more of sales reps' precious time.
Additional Reading: 20 Gmail Extensions That'll Turbocharge Your Inbox