Although most email extractor software works the same, they have vastly different secondary features, such as:
Bulk email export
Auto-saving and recovery
Email extraction from websites
Email owner country identification
Email extraction from social networks
This means there isn't one email extractor that is a best fit for everyone…
And that's why I've gone out of my way to review the 7 best email extractor software currently available on the market — and have tested their accuracy, pricing, and other distinctive features.
(So you don't have to.)
So instead of testing each email extractor yourself, you'll get a damn good feeling for which one is a best fit for your business just by reading this article.
Let's get started.
Table of Content:
If you'd like to try out an email extractor yourself, we recommend Voila Norbert — the most accurate email extractor tool on the web. Sign up for Norbert with this link and get 50 email addresses for free!
Best Email Extractor Software for Browsers
We've divided the seven tools into two. Kicking us off are email software for browsers.
They're the tools to consider when extracting emails from websites, social media platforms, and web pages.
1. Voila Norbert
Since we wrote this piece, we thought we'd introduce ourselves first.
Voila Norbert primarily functions as an email finder tool. Because it's the most accurate email finder (proof below), Norbert has also won a spot in the best email extracting software.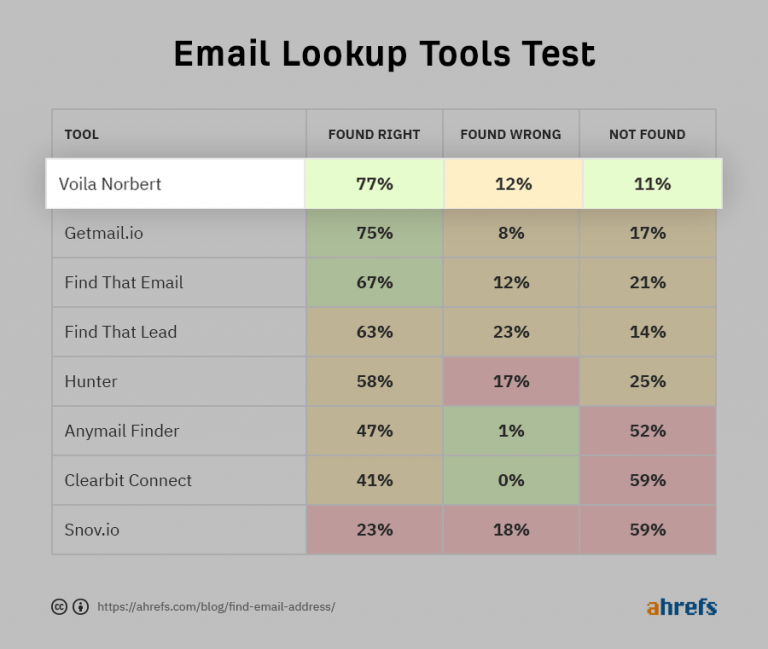 As you can see, the software comfortably beats all its competitors without breaking a sweat.
(Note: This was research done by Ahrefs.)
Norbert also achieves an incredible email quality. Thanks to our secure cloud-based algorithm for extracting email addresses.
As a result, we help users get the most valid emails in a seamless and fast process. Below is a G2 comparison review against four of our largest competitors.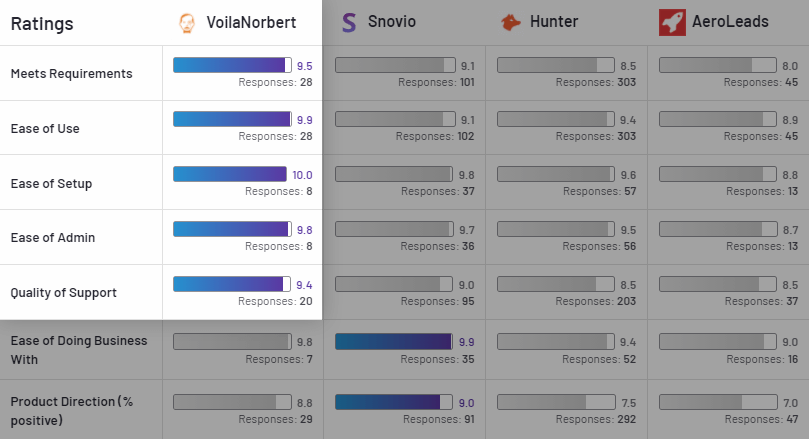 So why do we keep trampling our competitors? Of course, we've developed top-tier features to make email prospecting less of a hustle for all users.
Here's what you need to know.
Norbert Features
The Bulk Email Finder feature allows you to verify as many emails as you want. It works out perfectly if you have a huge email list but aren't sure if they're genuine. For up to 500k emails verified, you'll pay $0.003/email and 0.001/email above that.
Our email enrichment service builds your list with additional data points like job roles, companies, and social media profiles. Such information builds strong relationships with prospects and increases conversion rates.
The Prospect List Export feature lets you download your contacts from Norbert into Google sheets, CSV or XLCX.
Perhaps, the most exciting feature you get from Norbert is the ability to integrate with multiple tools to increase your productivity. A few of the integrations include Mailshake, Zapier, Pipedrive, and Salesforce.
Norbert has a convenient extension feature that allows you to find emails from websites you're currently visiting in real-time. Our new extension functionality gives you the ability to extract emails from LinkedIn. Try it out for free.
Norbert Pricing
Norbert offers four pricing options for prospecting as follows.
Valet ($49/month)
Butler ($99/month)
Adviser($249/month)
Counsellor ($499/month)

As you can see, the price per email reduces as you climb up the ladder.
The lower-end pricing plans charge you $.005/email. The high-end plans charge $0.001/email while giving you more leads.
Since you're likely looking for an email extractor with a vast database to extract bulk emails, the high-end plans will suit you better. They give you more leads and are 50% cheaper.
Also, note that we have an attractive annual plan that comes with incredible discounts.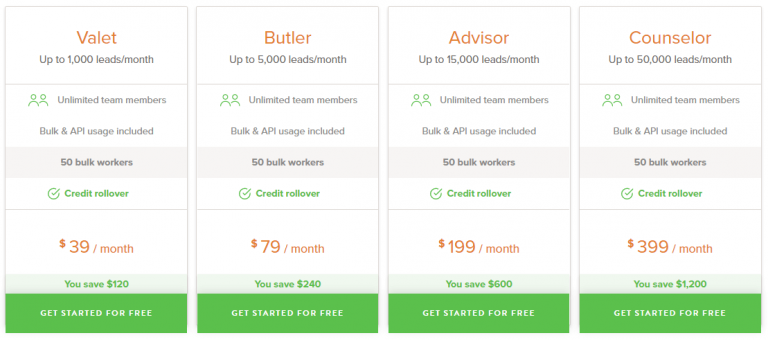 By choosing any plan on the annual model, you get the coveted credit rollovers. This couldn't be any better!
Reviews
G2: 4.8/5
Capterra: 4.6/5
TrustRadius: 9.2/10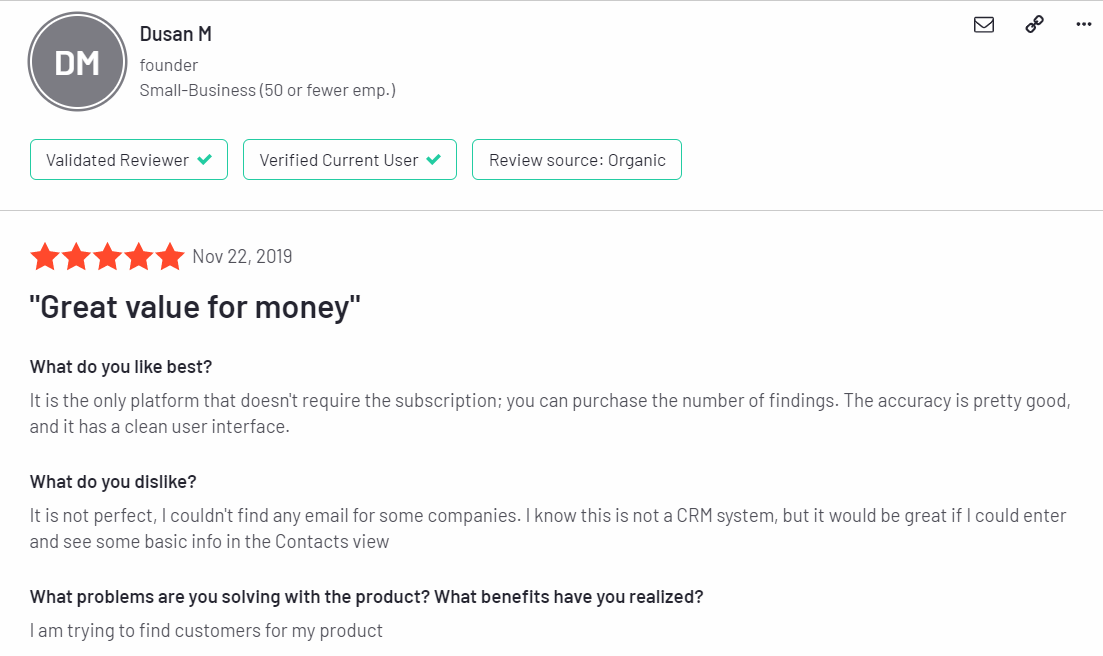 Pros
(We pull out pros and cons from actual users who've reviewed the tools from third-party websites. These include G2, Trustradius, Capterra, and Software Reviews. That's why we put them in quotation marks).
"Backs up email addresses with other contact info if it exists."
"Keep a database of all of your contacts added."
"The accuracy is pretty good, and it has a clean user interface."
"These results are the most accurate compared to other email tools in the market for lead generation."
Cons
"Unfortunately, sometimes the email queries on VoilaNorbert take a while."
"I'd like more than 50 free leads, please."
Who's Norbert For?
In general, Voila Norbert would be ideal for anyone who wants to find emails for their lead generation campaigns.
These can be from freelancers searching for gigs to sales professionals looking to close more deals. Furthermore, Norbert would be perfect for anyone who values accuracy and ease of use above anything else.
2. Hunter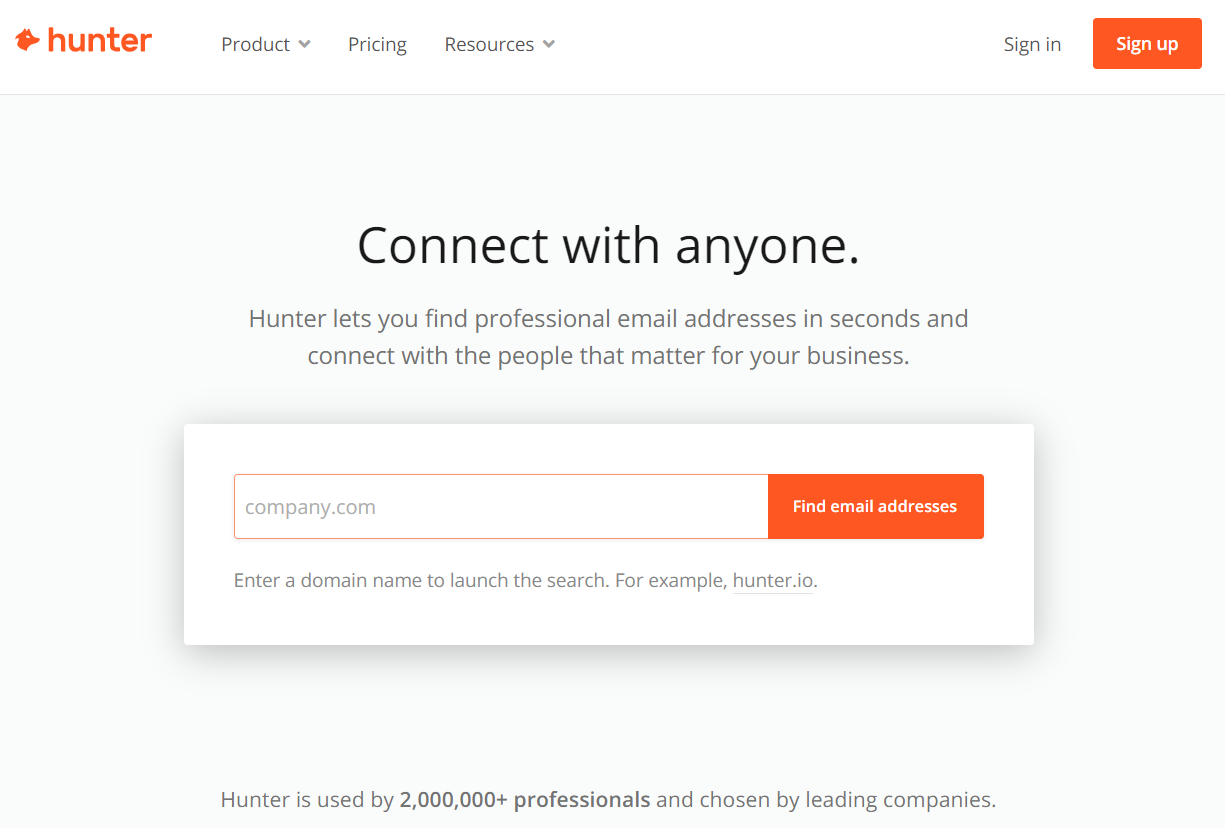 Hunter is one of the more popular email extractor tools in the market.
Thanks to its rich database and robust algorithm that can crawl the internet and extract contacts in seconds. To use Hunter, enter your prospects' names and company profiles into the web app and search.
The domain extension works differently. It extracts emails from the website you're browsing in real-time.
Now, the only qualm users have with hunter is not offering a guarantee on its data. Indeed, it can verify all your emails, but the confidence score sometimes is inaccurate.
When compared to Norbert, you can see that it doesn't nearly stack up in terms of accuracy.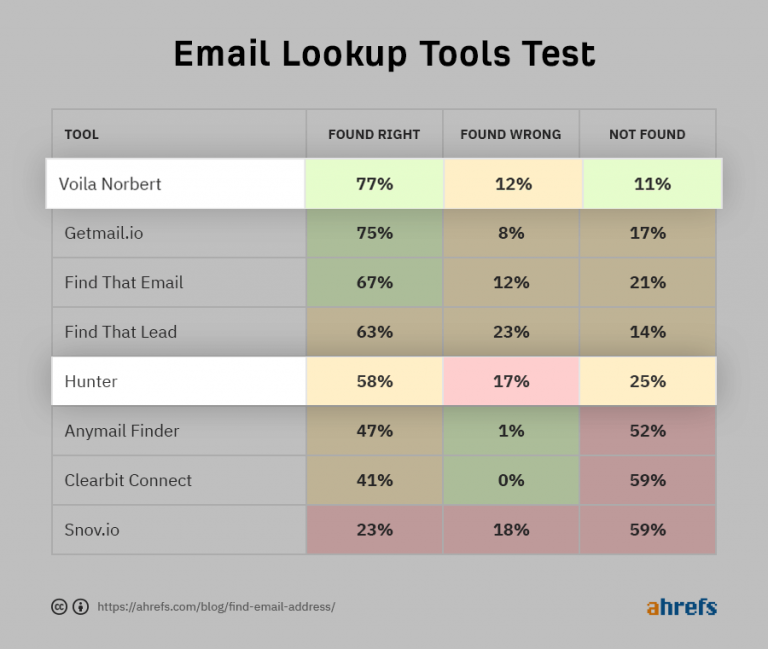 Hunter Features
Hunter has a database that stores your emails for future use. Moreover, you can synchronize them with your favorite CRM.
Hunter's extension can enrich your data with bulk emails and verify them. It will also get your prospects' professional information like name, job title, social network, and phone number.
Along with every successful contact found, hunter shows you the public sources with the last discovery dates.
The domain search feature is a quick way to find out who to contact in a company. By typing your target company URL on the web app, it extracts all possible emails available on the web along with confidence scores.
Hunter Pricing.
Hunter has progressive pricing spanning five plans:
Free – $0/month
Starter – $49/month
Growth – $99/month
Pro – $199/month
Enterprise – $399/month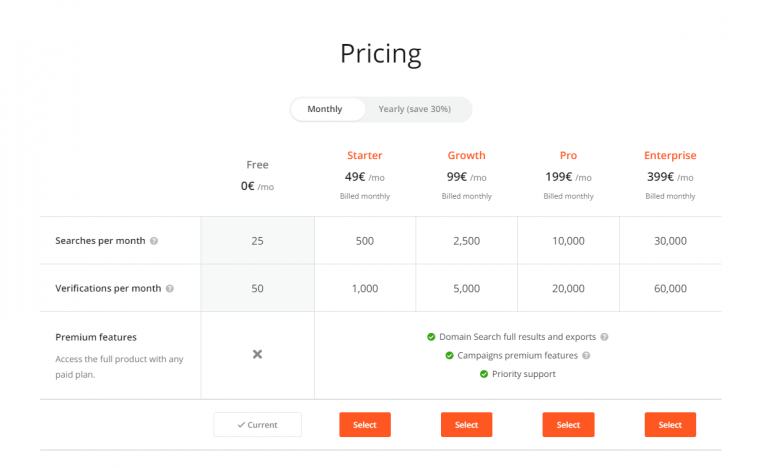 Hunter is a bit of an expensive email extractor tool. This is a concern because most email extractors in its category are pretty affordable.
For example, you will pay a whopping $49 to get 500 leads using Hunter. With Norbert, the same price gives you 1000 leads.
However, there's one thing I have to mention. Hunter does offer verification features in all their packages. Norbert provides the service too, but on a pay-as-you-go model.
Reviews
G2: 4.3/5 based on 354 reviews
Capterra: 4.6/5 based on 466 reviews
Software Advice: 4.7/5 based on 35 reviews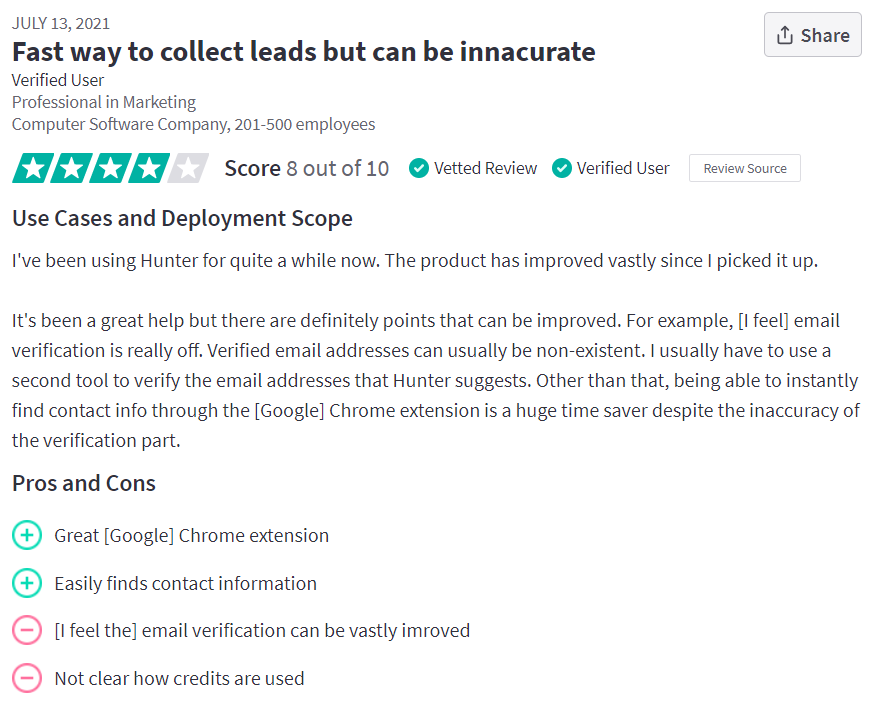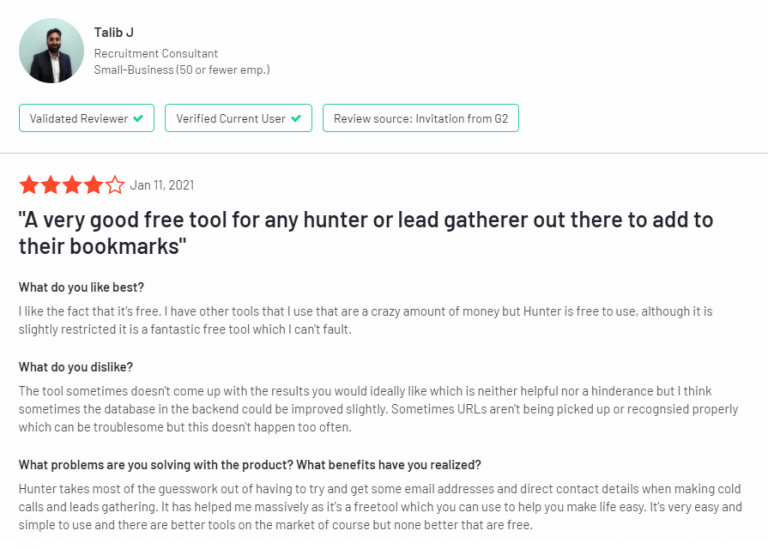 Pros
"Locates patterns of how many times that contact's name comes up online."
"Hunter allows you to upload a bulk list of emails and verify them easily."
"Chrome Extension is handy."
"Create lists of lead semi-qualified for outreach campaigns using other tools like Typeform or Salestools."
Cons
"Sometimes we'll get emails that are very old."
"The free version is limited to 50 searches per month."
"I feel like it's giving me fewer leads for the price I'm paying."
Who Is Hunter Ideal For?
The most common hunter users are mid-sized companies…….
Who are specifically from the computer software industry and prefer convenience to quality.
In most cases, these users have a considerable budget set for lead generation.
Hunter is also great for users who don't want to spend hours learning how to use it. It has a flat learning curve powered by an intuitive design to accommodate all users.
3. Uplead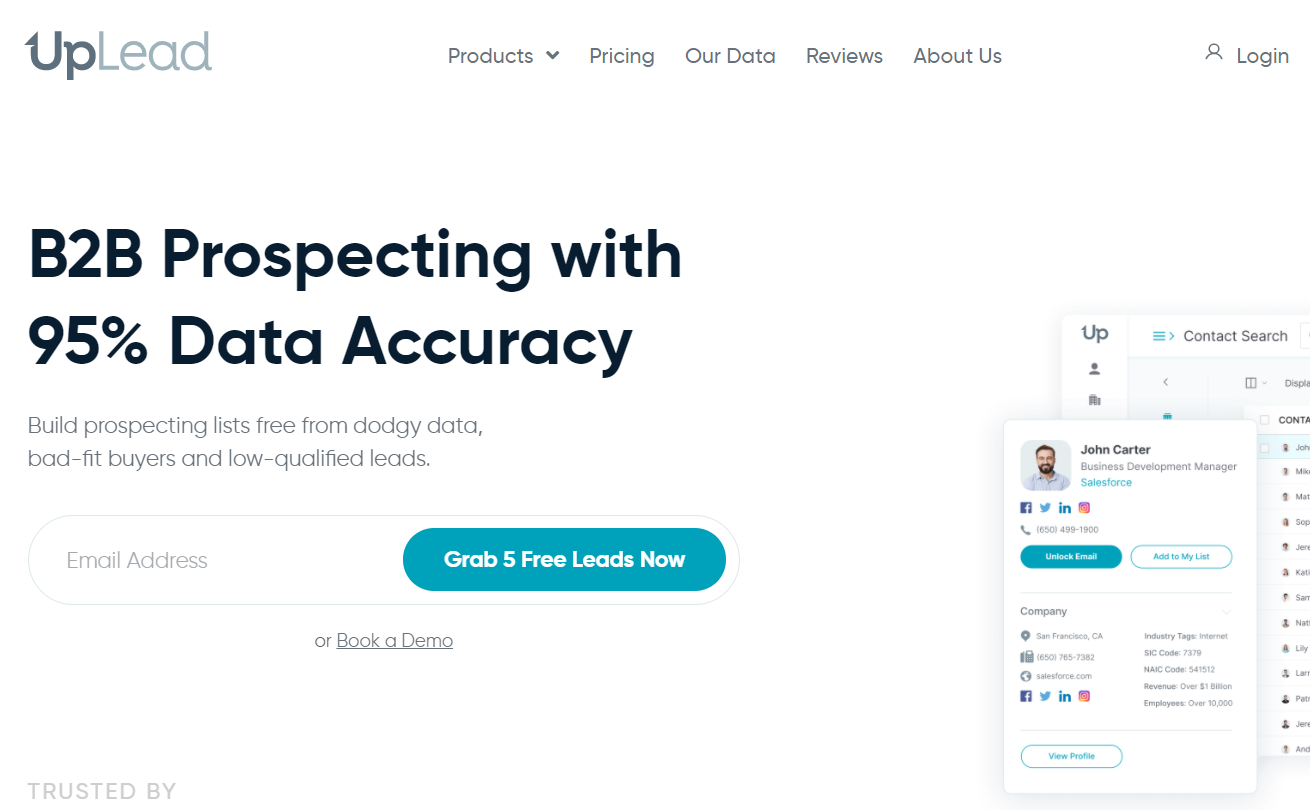 Uplead generates lists from multiple users who meet a specific area.
It will then bulk export them into a text file or CSV.
And to be honest, it's fair to say that the tool has premium features which you will only find in top-tier email finders voila Norbert.`
It has over 50 criteria to make your search effective. You can filter through industry, age, location, job title, gender to get qualified contacts.
Key Features
Uplead offers a real-time email verification feature to ensure your emails are accurate and improve your chances of closing sales.
The tool's main selling point is its comprehensive data coverage. It can scrape profiles of qualified individuals from 200 countries.
Unlike most email extractor tools, Uplead has primarily focused on social network profiles. That's why they guarantee a 95% success score since it's pretty quick to extract emails from such platforms.
The software has one of the most vibrant profile displays. It's therefore easy to study a prospect and determine if he's a potential qualified lead.
Uplead's Pricing
We ought to expect Uplead to be affordable. Hey! It doesn't do a hard job like other tools (i.e., extracting emails from websites).
That's what I thought too, but I was very wrong.
Uplead turns out to be the costliest email extractor tool in this guide. It comes with four plans as follows.
Free trial $0) – 5credits
Essentials $(99 ) – 170 credits
Plus ($199) – 400 credits
Professional ($399) – 1000 credits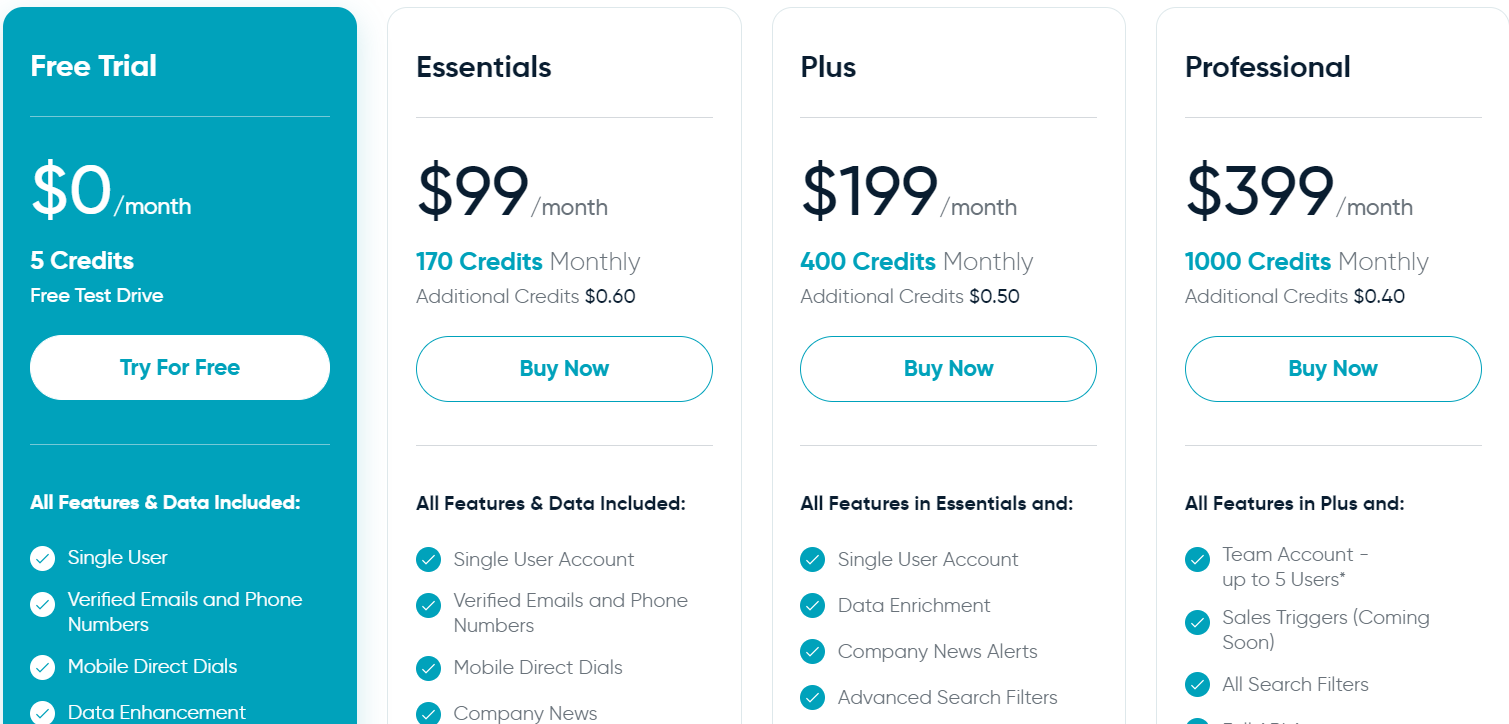 They have tried to justify their high pricing by adding more features.
For instance, you can integrate it with a CRM tool, get API access, competitor intelligence, and even the latest news from the company.
As an expert in lead generation, you'll see that there's no need for extra add-ons. You'd instead use Norbert, which does what you need it to do accurately and gives you more leads to expand your outreach campaigns.
Reviews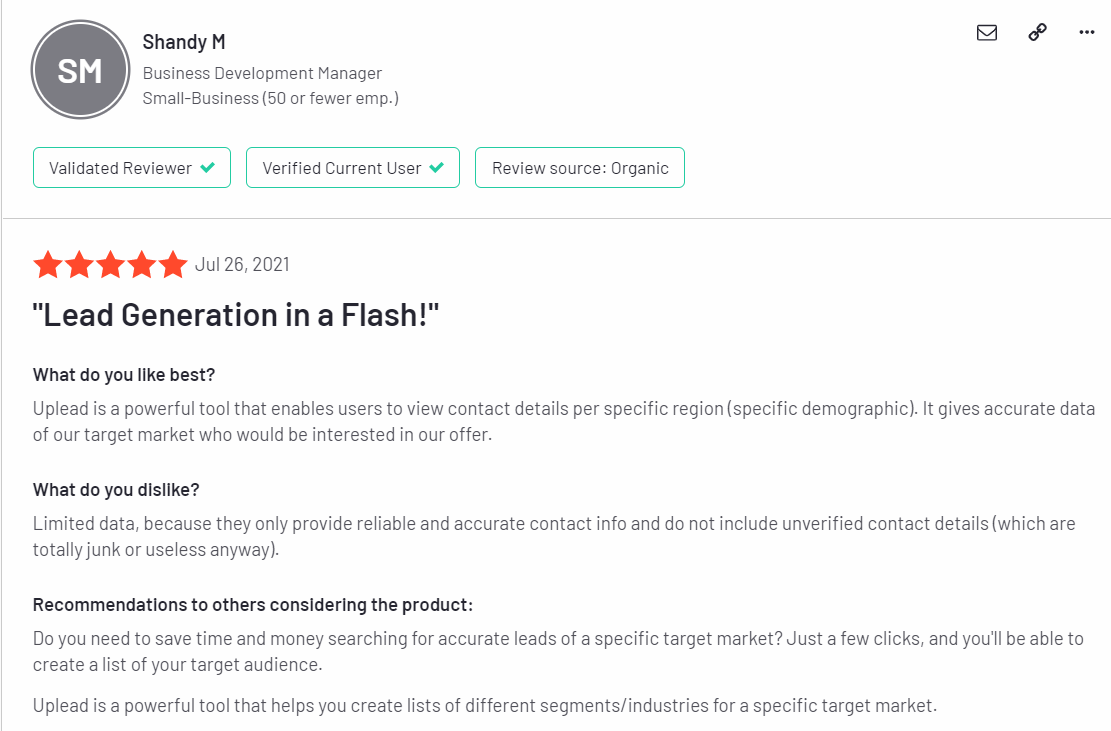 Capterra review from Melody. C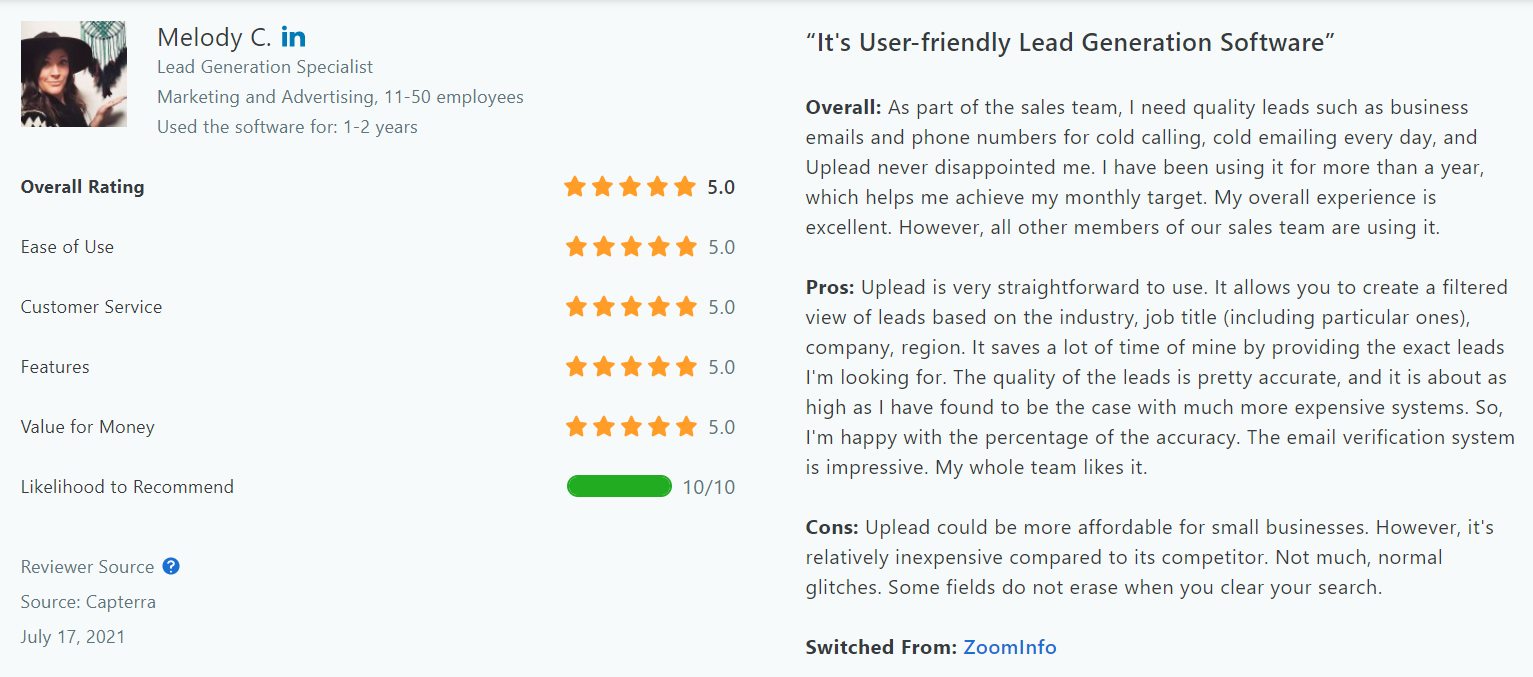 Trustradius review from Clare Dunn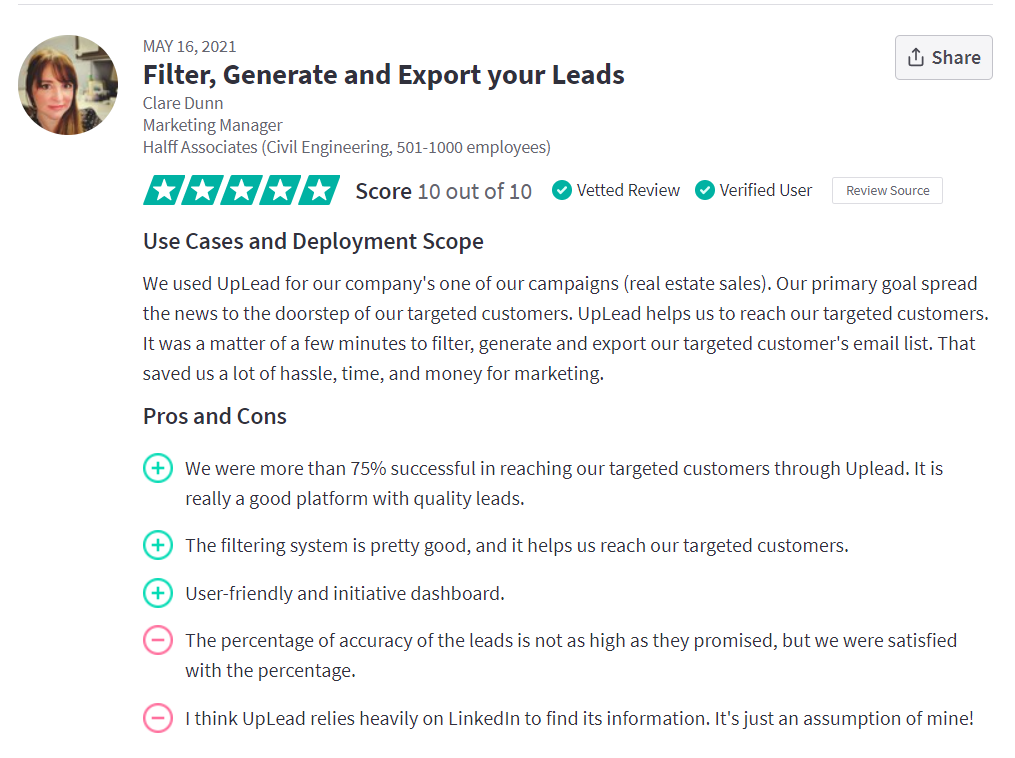 Uplead Pros
"Ease of use with intuitive menus."
"It constantly updates their list and adds new people, companies and removes bad leads."
"We especially appreciate the real-time email verification feature of Uplead."
"Gives true contact information with job titles, so you know you are calling on the right person."
"Uplead has a knowledgeable support team."
Cons
"Wish it was cheaper."
"The database is not as comprehensive as some of its competitors."
"Uplead isn't too keen on URLs that don't end in the standard .com format."
Who's Uplead For?
Considering the numerous tools Uplead brings to the table, it can best fit a B2B startup looking to proliferate and has allocated a big budget for marketing.
You'll surely pay more, but you will get value for your money since it brings all the marketing tools under one roof.
Nevertheless, Norbert would be a viable option if you're looking for an email extractor tool that is explicitly positioned for lead generation at an affordable price.
4. Lusha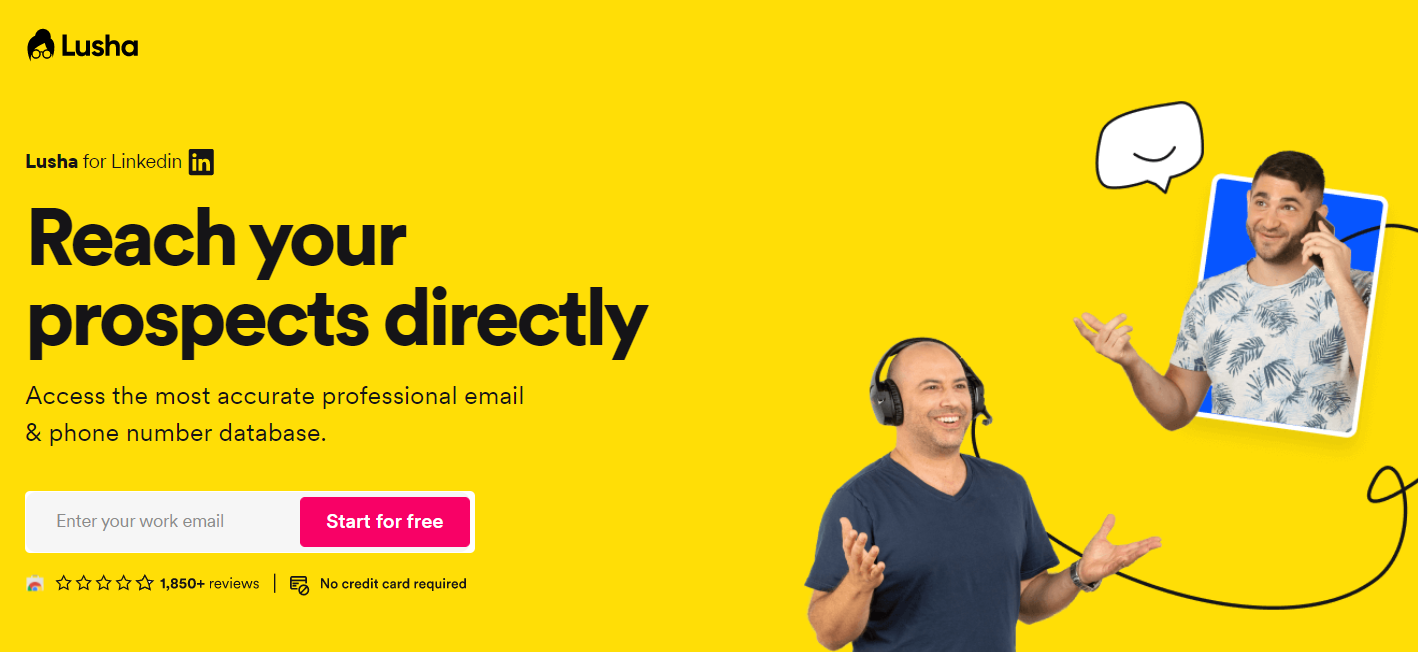 Lusha is a chrome extension that allows you to extract emails from its huge database of businesses.
The tool gives you access to 36 million C-level profiles,15 million companies, and over 100 million business profiles.
So if you have a good search strategy, you can't fail to get qualified leads to strengthen your cold email outreach campaigns.
Features
Lusha's most prominent feature is the ability to transport your emails into a ready CRM of your choice. It allows for multiple integrations with tools like Salesforce, Hubspot, Pipedrive, and Zoho.
Lusha's interface is easy to navigate for any user. It simplifies the extraction process.
The tool eliminates the complex task of manual selection and email verification. Thanks to its ability to gather a bulk list of contact details by the click of a button.
Lusha's new feature is the ability to search mobile phone numbers and call customers on the fly.
Pricing
Pricing starts with the free plan, which gives you five contacts (emails or phone numbers).
The other three plans following cost as shown.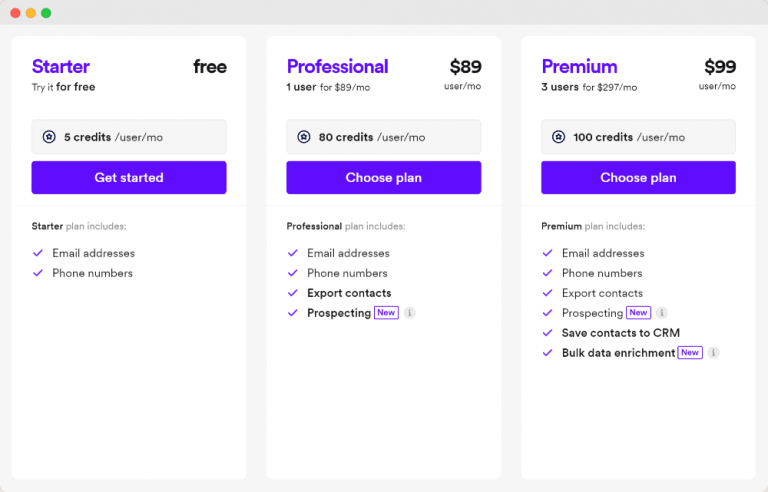 Like Uplead, Lusha is another costly email extractor. You will purchase the premium plan for a whopping $199/month only to get 300 leads in return. The initial plan goes for $89 and gives you 80 credits.
Now, let's compare that with Norbert's pricing.

For the same amount of $99, Norbert fills your list with 5000 contacts while Lusha gives 100 contacts. That's 50 times more.
And you should note that most of Lusha's premium features are only available in top-tier plans. These features include bulk data enrichment, AOI access, and saving contacts into a CRM.
Review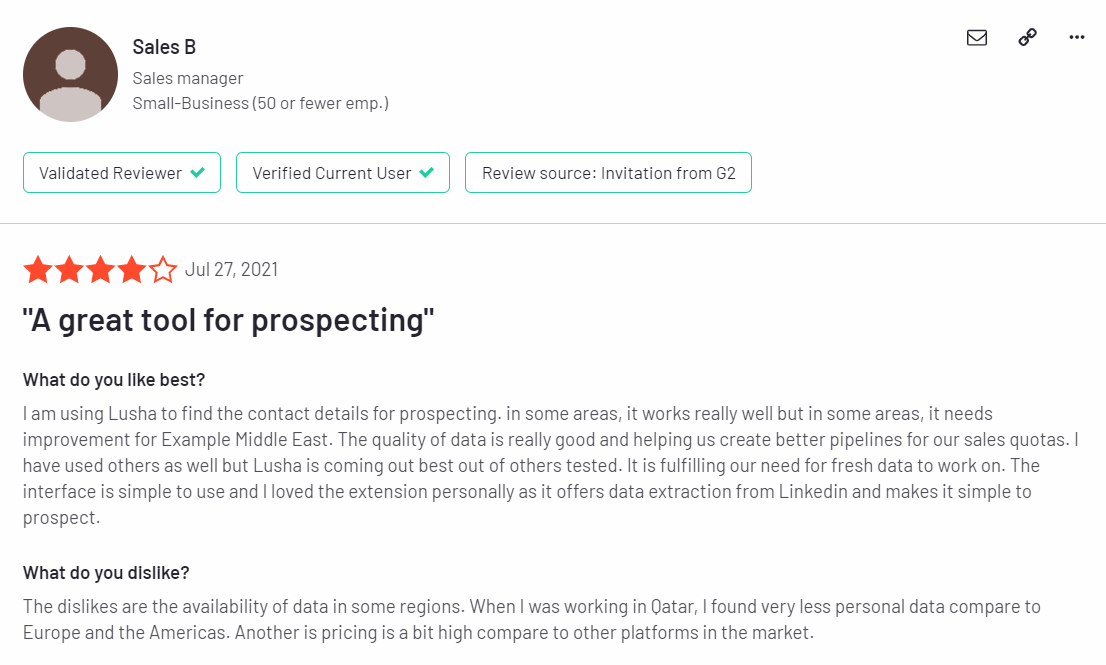 Trustradius Review from Joseph Gillespie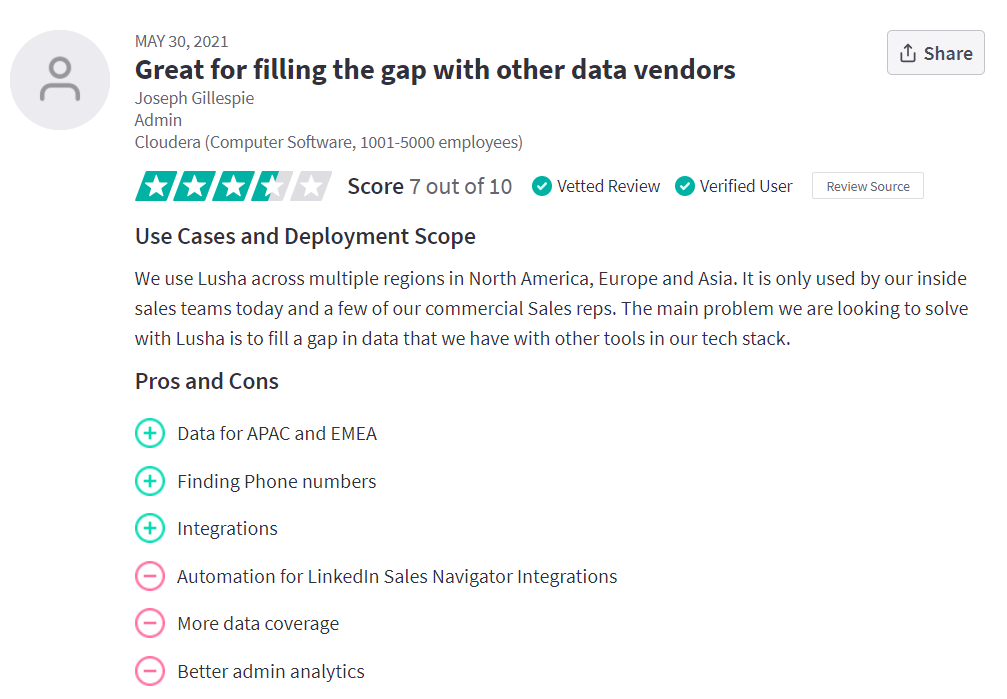 Pros
"Fast and easy to use. It works simply through my Chrome browser and is easy to set up and start using."
"I can often find multiple contact points. Sometimes even multiple phone numbers for a specific person."
"It has personal emails which many others don't."
"Extensive number of mobile numbers which enable texting and are more likely to be picked up."
"Integrated well with LinkedIn."
Cons
"Sometimes Lusha is not able to provide a contact number and email of a particular contact."
"Lusha is a little bit expensive compared to other tools. Sometimes it is difficult for my small startup to afford it."
"Lusha should improve the dashboard for their users."
Who's Lusha For?
Due to the high cost of the tool, it would best fit sales pros boasting thousands of followers with huge budgets.
Why? It doesn't make sense to pay almost a dollar per lead and not get essential features like bulk loading and CSV importing.
But if you're looking for a single tool to handle all your lead generation in one platform, it's something you can consider.
Best Extractor Software For Desktop
Email extractors software for desktops are not popular now….
They were ten years ago when desktop applications were all over. However, technology has brought more robust software with intuitive designs which are easy to use.
Still, if you want to relive the good ol' days, here are our two recommendations to check out.
5. Email Grabber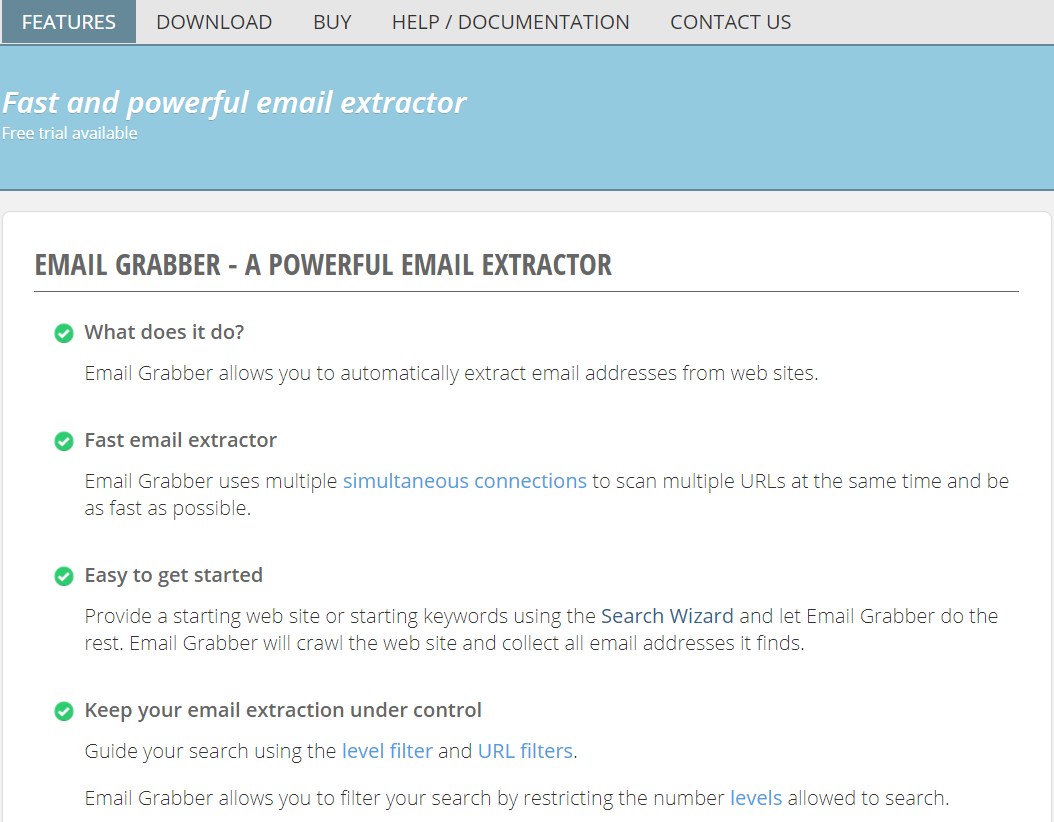 Email grabber extracts emails from websites using an HTTP protocol.
It uses multiple connections to scan more websites simultaneously, making it one of the fastest email extractor tools.
The tool is flexible and very easy to use. To get it into action, type your prospect's domain address into the search bar. It will crawl through the website and extract all emails related to that site.
Email Grabber Features
Email grabber's email search feature is different from all email finder tools. The search wizard gives two search options;
Finding emails from websites
Finding emails by keying a keyword to a search engine. It crawls the websites and spits back all emails related to your keyword.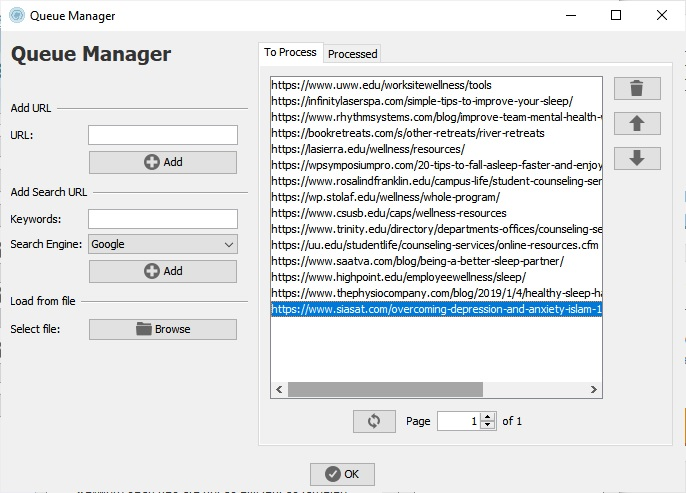 You can export email addresses you've collected using formats that work with apps, spreadsheets, email clients, and databases.
Email grabber uses a level filter and URL filters to keep your email extraction under control. These features filter your search and restrict the number of levels you're allowed to search.
You can merge email addresses from several local files, remove duplicates, and perform syntax validation.
Email Grabber Pricing
Whether you're using Windows or macOS, you can download the tool to take advantage of its free trial. Once you have tested it, you'll purchase it for a one-time fee of $16.95.
Reviews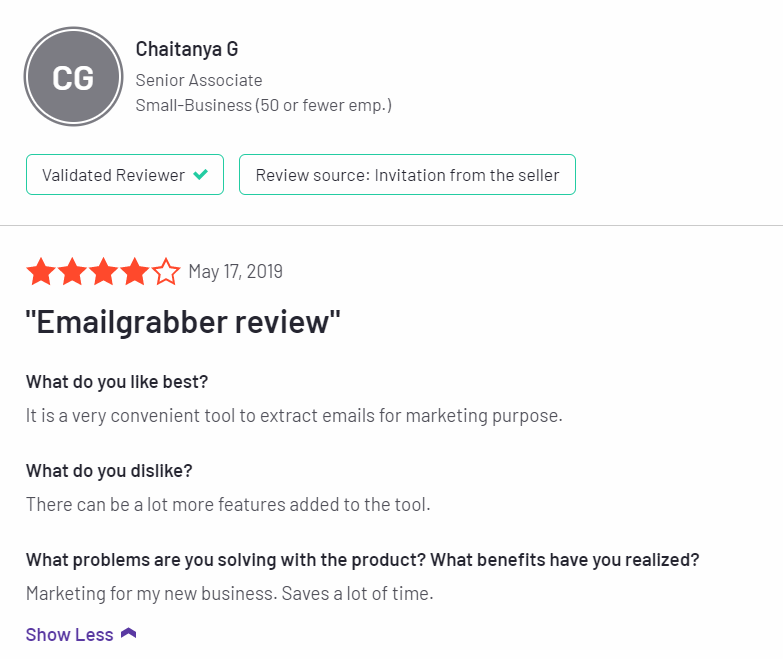 Pros
"It is a very convenient tool to extract emails for marketing purposes."
"The keyword search feature provides decent flexibility and full marks to the functionality."
"The extraction speed is impressive and permits the processing of tons of URLs simultaneously, thus saving time."
Cons
"The tool can't use a proxy when searching for emails."
"The tool misses a lot of emails."
Who is Email Grabber For?
Email grabber will best fit a user who's into getting loads of emails in a short time. Plus, it can fit someone who wants an affordable tool and get access to a massive list of emails.
Note that email grabber does not verify the emails it gives. So it might not be the best option if you want to launch an accurate email outreach campaign.
6. Email Extractor Pro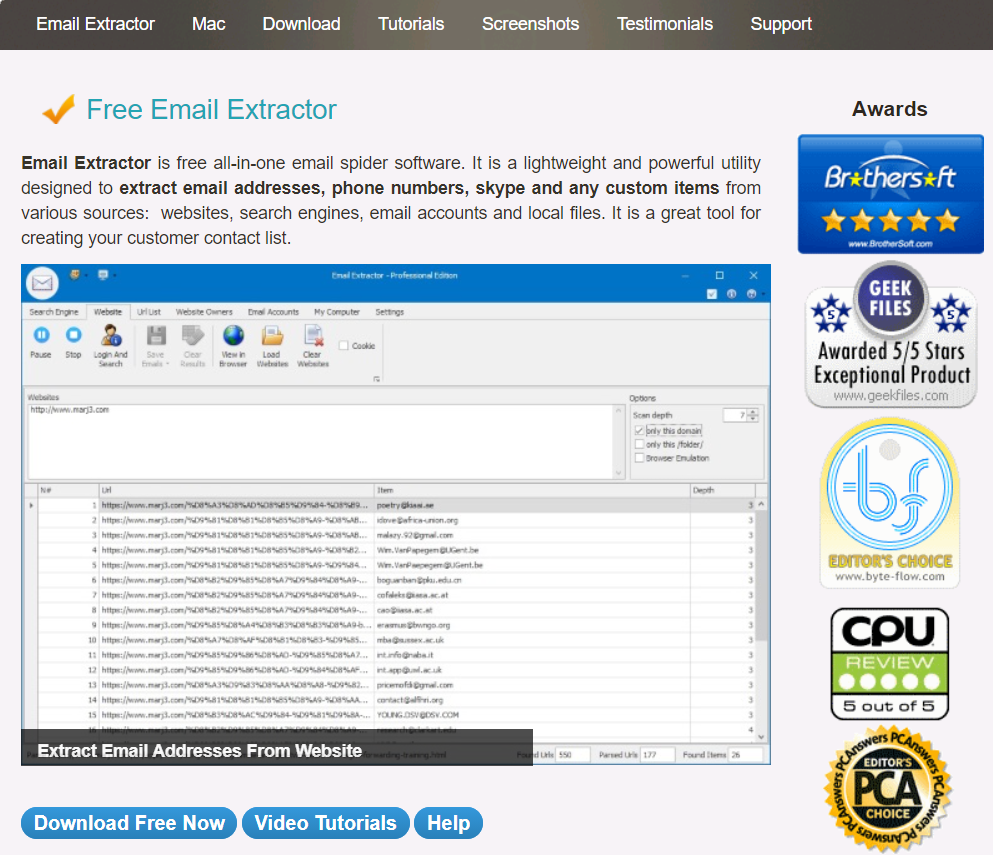 Email extractor pro is a fully functional free program for desktops.
It will help you find emails, phone numbers, or other information needed to gather qualified leads' contacts.
Features
The software can extract data from various sources like email accounts and websites. Plus, it fetches data from all the search engines.
The tool supports PDF, Excel files, and Word to store all your contacts.
It has an email verification feature that confirms the validity of your emails to avoid bouncing.
Email extractor tool offers bulk email software that allows you to perform bulk email campaigns.
Email Extractor Pricing
As hinted earlier, email extractor pro is a free tool. You just need to download it from its website and start using it.
Reviews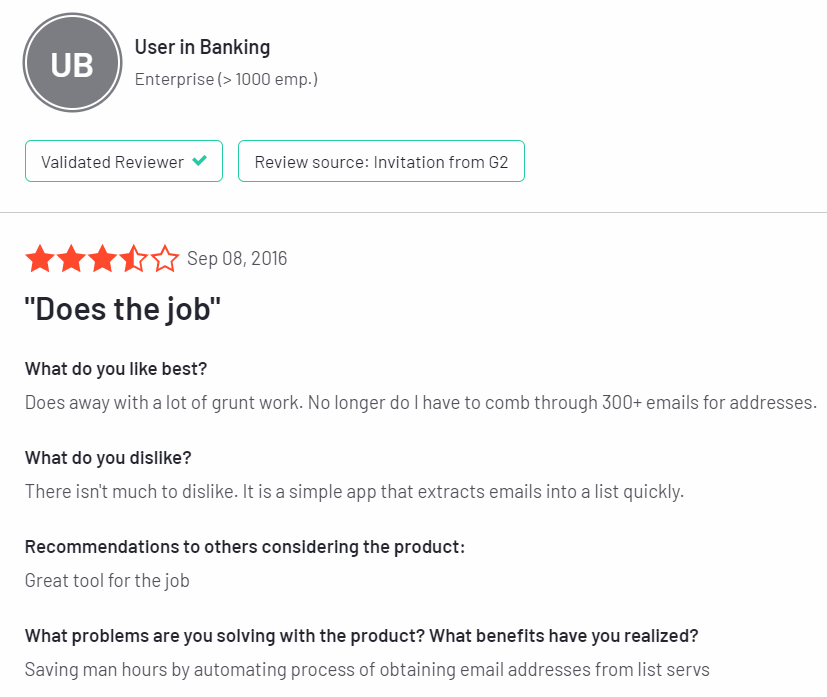 Pros
"By using this, 23% of my sales increased. It is a powerful software to contact many more people."
"After using email extractor, I can find full lists of emails after choosing keywords."
"Installation is easy, and it is easy to use also."
"It has great products- I love this program."
Cons
"The tool lacks robust features that can accommodate my lead generation needs."
"Email Extractor Pro has no option to return only one email per website."
"Emails missed by Email Extractor Pro."
7. Top Lead Extractor
The top lead extractor has made a name for itself when it comes to extracting emails from the windows operating system.
Users love it because it doesn't just stop at finding emails. It further extracts important prospect information regarding Yahoo, Google, MSN, AOL, and ICQs from the web.
Features
Top lead extractor has a great multithreading power, meaning it does the searching process quickly.
Though the software doesn't provide an additional plugin to save your precious time by searching the same places again, it comes with an option called, "Don't allow re-crawling the pages already crawled in new searches.
It offers internet connection detection and has Unicode support.
To Lead Extractor Pricing
Top lead extractor is highly packed with excellent features and has a bunch of customization options.
Despite its promising functionality, the top lead extractor barely goes past $7/month. If you want an annual plan, you'll pay $79.99 per year.
Pros
"The application saves the fetched data automatically, which is a huge time-saver."
"I love the product because it's very affordable."
Cons
"The tool has an old-looking interface."
The software does not support data extraction from images, AJAX, and sites requiring authentication.
Who is it For?
Top Lead Extractor is mainly aimed at businesses that need to acquire contact information from various sources as quickly as possible. It best fits marketing consultants looking for an easy way to find leads for their companies.
What's an Email Extractor Tool?
An email extractor tool is a digital software or web application that extracts emails from websites and social media profiles like LinkedIn.
Once you've collected your emails, the tools should allow you to export the contacts into an integrated lead generation software.
They are different from email finder tools. You'll have to put professional names, domains names, or any other identifying information to get contacts emails with the latter.
Furthermore, email extractors tools find a more significant number of emails in a shorter time than email finders.
Common Features of An Email Extractor Software
Domain search – This is the main feature of any email extractor tool. It enables the software to crawl through a website and get all emails associated with that website.
Bulk Export – With the feature, you can export your bulk contact list into a CRM tool. It makes you more productive as it gathers all the data in one place.
Social Network Search – Ideally, the main goal of this feature is to help you leverage social media networks like LinkedIn and Facebook to extract emails. Not all tools possess this feature, though.
Email verification – It's useless to find a thousand emails that aren't qualified. Email verification enables you to confirm that the emails you've discovered are valid.
Chrome Plugin or extension – You can use the email extractor extension to find emails from a website you're currently browsing in real-time. No need to go back to the website to do the whole process.
What Are The Uses of an Email Extraction App?
Email lead generation is the most crucial step in marketing. 79% of B2B marketers concur with this.
The extractor software commences a lead generation campaign. And the tools will not only extract emails. Most software go further to verify emails and export the most suitable ones into integrated CRM apps.
Email extractor tools are effective because they do bulk work in a few minutes which other email finders can't do. In short, they automate the whole process of lead generation.
Benefits of Using Email Extractor Tools
Here are five reasons why email extractors tools are essential to your business.
Time-saver: You don't want to visit every website and spend a whole hour searching for a reliable email on the contact page. An email extractor does the job in seconds. Plus, it does a bulk email search to get loads of emails from multiple sites in a few minutes.
Bulk leads – The success of lead generation depends on bulk leads. The more contacts you have, the more conversions you're likely to get. That's what email extractors are suited to do.
Quick Access: This is a benefit brought by an email extractor extension or plugin. It allows you to access the extractor tool without going to the tool's website. You're able to extract emails on the fly. It is a big time saver if you're busy and want to collect emails quickly without jumping from your prospect's domain address to the email extractor's website.
Integrated API – Developers smile when they hear about this feature. It is because an email extractor tool allows you to integrate with a SaaS platform. It opens the door to more features like email quality verification and email collection saving in one forum.
Further Reading: