There are thousands of options when choosing a digital marketing tool…
And they mainly differ in functionality, ease of use, and strategy execution. In addition, some tools perform multiple tasks from one platform. Like…
Email marketing
Customer Relationship Management
Analytics
Keyword research
But since you're busy developing strategies to scale your business, it might be difficult going through each option and finding the most appropriate tool.
That's why, in this article, we've rounded up 30+ of the best digital marketing tools on the market today.
We've divided them into multiple categories to quicken your search and ease your decision-making process.
So instead of spending your precious time testing out tools for yourself, you'll hopefully get a ready-to-go tool when you complete reading this article.
Let's go!
Table of content
Would you like to try a digital marketing tool fully groomed for prospecting? Try out Voila Norbert, the most accurate email finder in the market. We give out 50 free emails to new users.
Prospecting & Cold Outreach
Email prospecting & cold email outreach are still a crucial part of any outbound lead generation strategy.
And since many companies still use outbound strategies to generate the majority of their business, having an accurate email finding tool is smart investment.
Voila Norbert
Norbert is the most accurate email prospecting tool in the market.
Here's some proof to back our claim.
We're also the easiest tool to use and set up.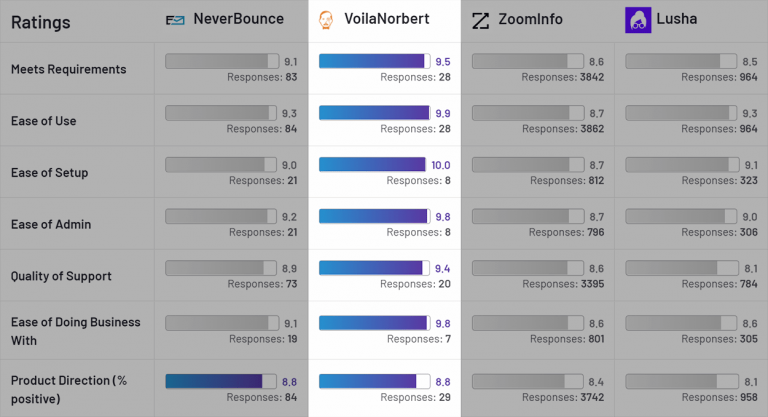 Norbert finds prospects' emails using their first and last names with company domains.
And since we have access to a massive database of email contacts, we guarantee a 98% success rate for all email outreaches.
How Norbert Works
Norbert works in two ways:
This option comes in handy when you have a small prospect list. You use it to find one-by-emails.
First, type your prospect's information into Norbert's magic search bar. Next, click "go ahead norbert."
It will spit back the most possible and current emails. Along with the contacts is a confidence score which shows you how sure Norbert is that the email is correct.
Norbert doesn't charge you if it's not confident about an email.
Here's a video guide from our sales king Daniel Angel.
This option is ideal if you want to launch an extensive email outreach campaign.
First, upload your list of prospect's contacts into Voila Norbert. The list should be divided into three columns: first name, second name, and company domain.
Make sure the list is in CSV format.
Upload it into Norbert and match each column as required. Click "validate." Norbert will run in a few minutes to extract a complete list of email addresses.
Download the list once done.
Norbert Pricing
Norbert comes in four pricing plans, as shown in the screenshot.

Valet – 1,000 leads for $49 / month.
Butler – 5,000 leads for $49 / month.
Advisor – 15,000 leads for $249 / month
Counselor – 50,000 leads for $499 / month.
You can jump to any of the above plans if the 50 emails in the free plan aren't enough. Norbert gives you more emails as you climb up the ladder.
2. Hunter
Hunter is one of the earlier email finders to hit the market.
As a result, they had the time to master the craft and amass a huge customer base. Currently, 2 million professionals from all over the world use it.
The downside is that Hunter is very costly.
Sure, the free plan will give you 50 leads every month. But if you want to upgrade, you'll have to part with $49/month to get 500 leads ONLY.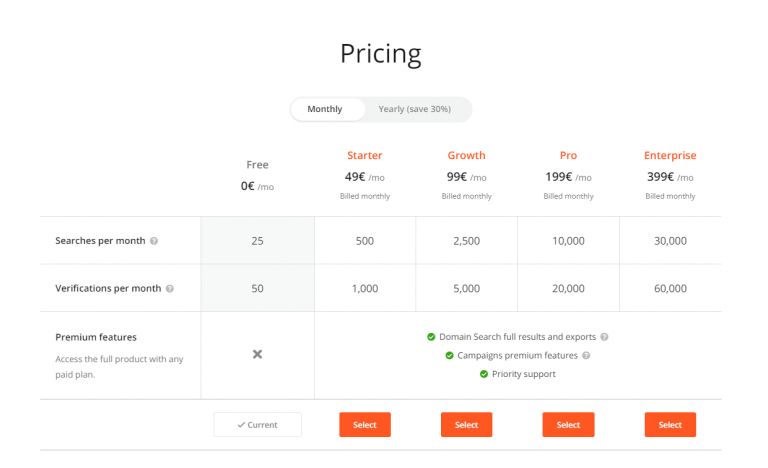 When compared to Norbert, you'll see that it's twice as expensive on the lower end.
That aside, how does Hunter work?
Well, it typically functions like any other email finder tool, I.e., using your prospects' two names and company domain to extract their contacts.
Here's a video guide on how the process goes.
3. Snov.io

Snov.io wears many hats.
You can call it an all-in-one sales automation platform to accelerate your growth. And while Its primary function is email finding, you can also use it for:
Email tracking
Drip campaigns
Website technology checking
Email verification
Gblast
The downside is that most of its features are weak since it has spread itself too thin. And, uUnfortunately, their email finder tool took the hardest hit.
Here's how it stacks up with Norbert.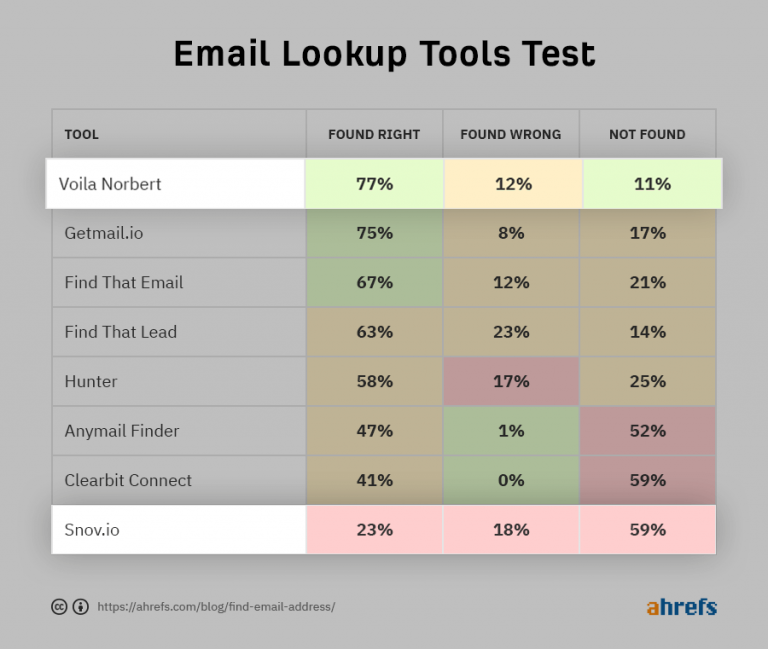 Snovio's email finder feature works the same as other tools.
Again, you simply need your prospect's name and domain address to get their contacts. Here's a video guide on how you can use it to extract emails from a bulk list.
It also has a chrome extension which you can use to find prospect emails in real-time when visiting a website that has a clean website design.
When it comes to pricing, you'll choose between five different plans.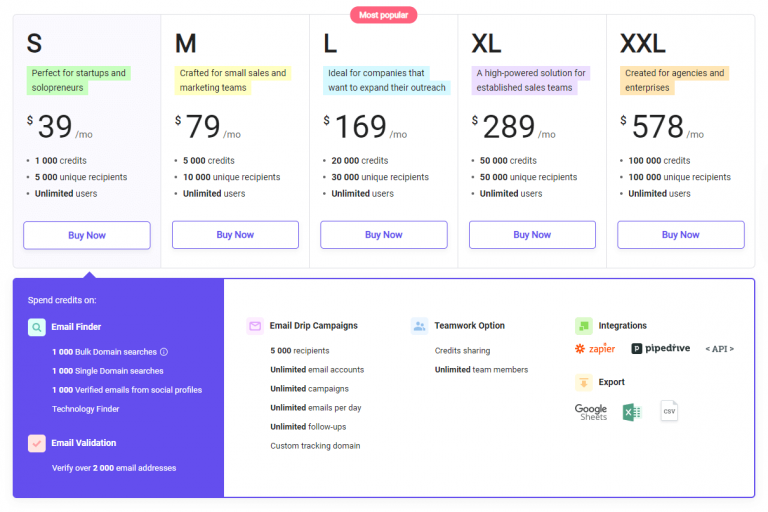 Social Media Marketing
The tools in this category help you stay on top of your social media marketing game.
They can streamline your workflows, post on autopilot, and make sure your content reaches your target audience quickly.
4. Buffer

Price: starts with a free plan then goes to $5/per social channel per month.
On their website, Buffers says that it is the most intuitive and authentic way to reach more people on social media.
That's a bold claim. But, unfortunately, the only way to find out is to take a spin on the free plan.
As a full-suite social media management solution, you can use Buffer to plan, create, schedule, publish blog posts, and engage with followers.
This means it will keep your social media page swamped with relevant posts as you focus on building your brand.
It also provides analytics to measure the impact of your social media campaigns. The insights help you know what to post, when to post, and how often to post.
Here's a short guide on how a buffer works.
Buffer: All-you-need social media toolkit for small businesses
5. HootSuite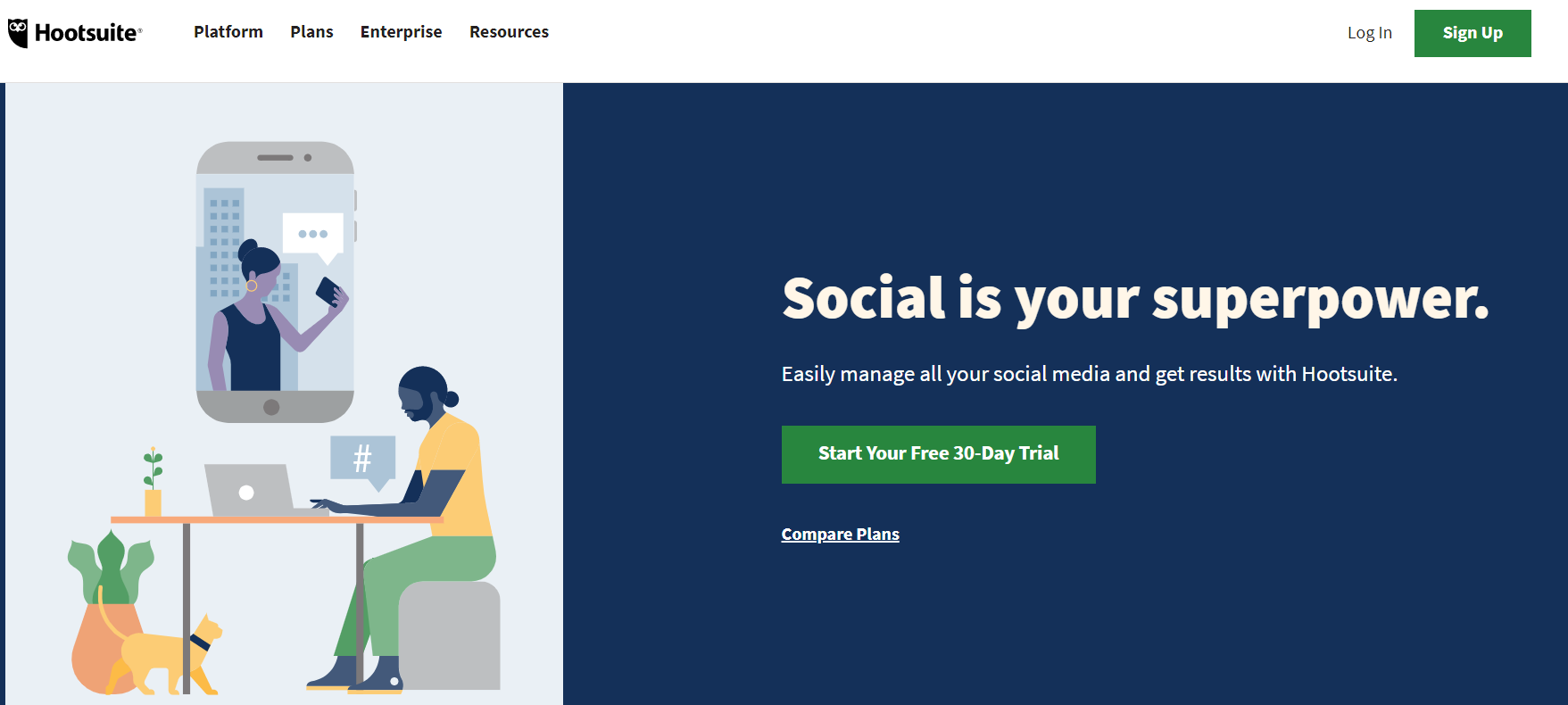 Price: It starts at $19/month to $599/month. You can also contact them for a customized pricing solution.
Hootsuite is a leader in social media marketing, boasting a customer base of 18 million social marketers.
The first thing it does so well is scheduling posts on all your social channels from one social media platform. This saves you time so that you can focus on other stuff.
With the analytics, you get frequent updates on audience engagement, latest social conversions, brand mentions, and trends.
Furthermore, it shows you the most performing content with personalized insights on why it's performing better than other content.
Consequently, you'll know the type of quality content that will strengthen your brand if you invest in it.
6. Social Pilot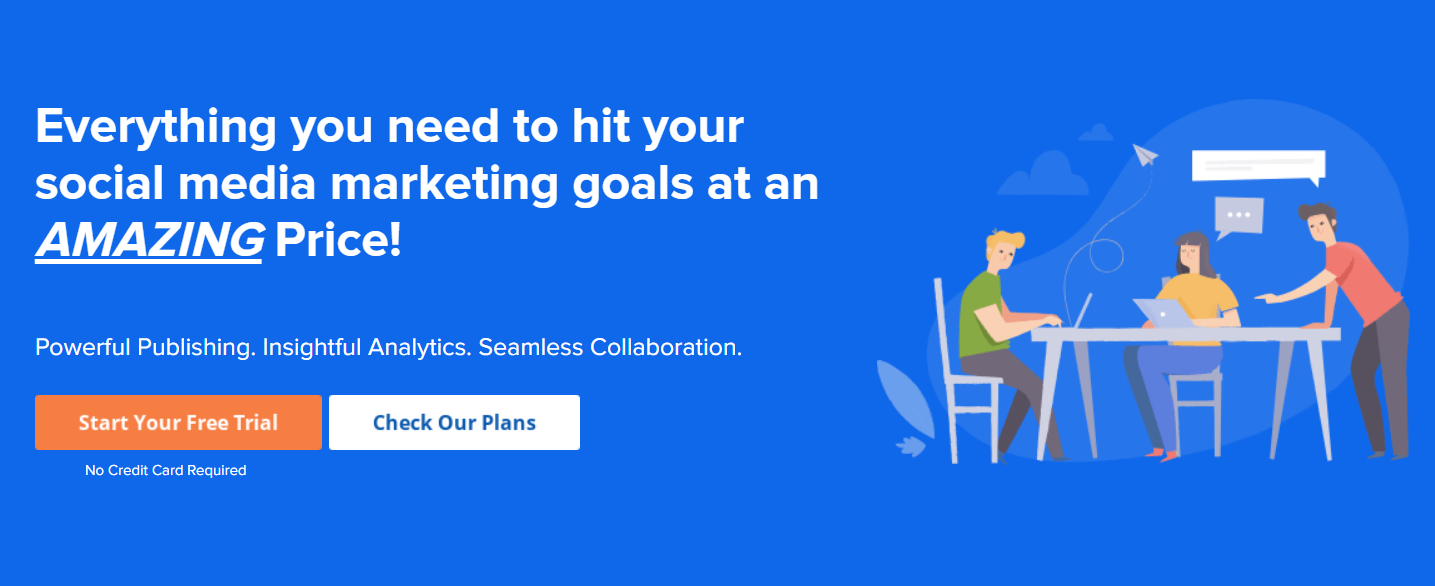 Price: You're good to start from as low as $30 per month to $150/month.
Over 5500 people and brands use social pilot, not only because it is a complete suite tool….
But it's also an affordable tool that supports all social media platforms. Its pricing is different too.
While most social media marketing tools price their services per social channel per month, Social pilot charges per month.
Whatever plan you choose, you get the following features:
Publishing
Content creation, including curation and post scheduling.
Robust analytics
Social inbox
Facebook ads
Integration and Apps
The tool can also curate and suggest content from various industries.
This is a big deal because it helps you find relevant content without the lift of a finger. Furthermore, it has robust white-label reports, which come in handy for agencies.
Here's a video of a social pilot in action.
https://www.youtube.com/watch?v=dRPwwt0sF_8
Email Marketing
The average ROI of email marketing is $42 for every $1 spent.
Of course, this depends on the product and your email copy. Either way, you still need an email marketing tool that does the actual work.
Here are three tools that took the trophy in this category.
7. MailChimp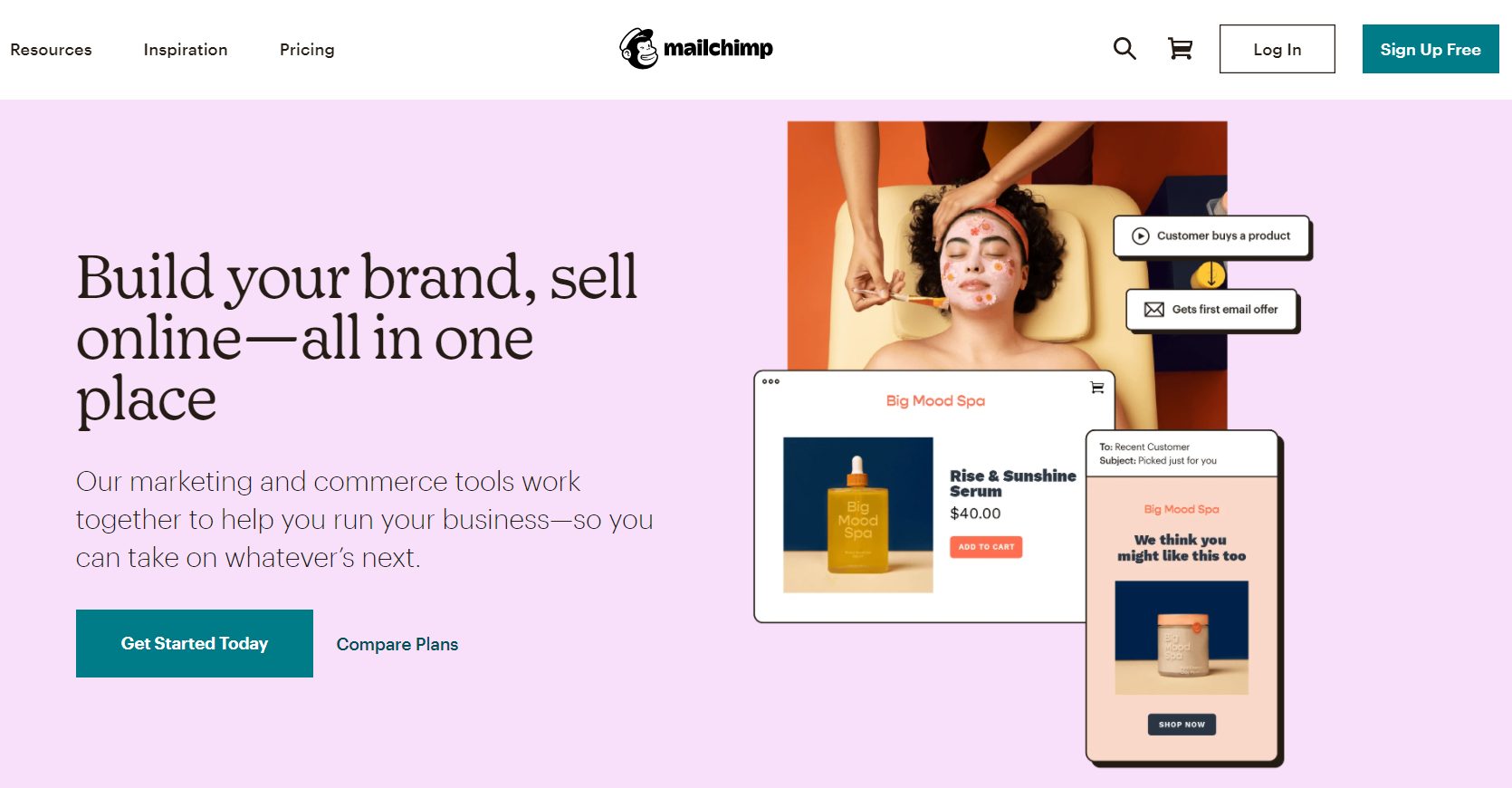 Price: Free plan available. Paid plans start from $9/month to $299/month.
Many digital marketers consider Mailchimp as the face of email marketing. The reason is that it offers full-suite features at an affordable price.
The first thing to note is the form builder. It's a built-in feature that collects subscribers' emails.
Once you've got your list, you start creating campaigns. The tool makes it easy as it gives you four campaigns:
Regular
Automated
Plain Text
A/B testing
These campaigns have a similar mission – to help you create robust email copies that target your subscribers' needs.
The only difference is that each campaign has different automation levels.
Another nifty feature is the personalized product recommendations which come in handy for e-commerce brands.
Mailchimp automatically creates a list of recommendations as you design your emails depending on your customer's purchasing history.
https://www.youtube.com/watch?v=tZKYiiQP57I
Aritic Pinpoint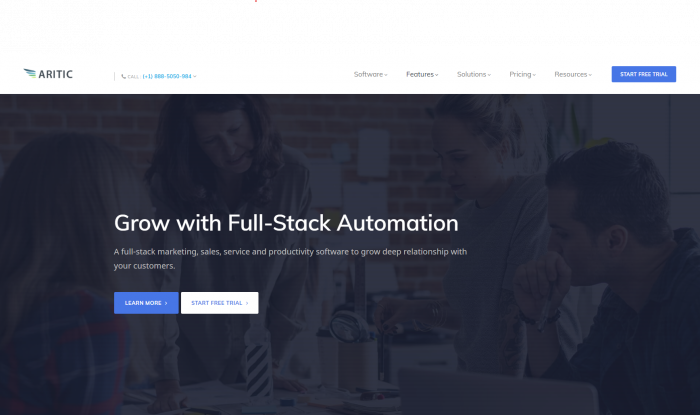 Price: Starts from $19 to $99 per month
Aritic PinPoint is a full-stack marketing automation software platform for marketing operations teams or SMEs. It helps you to build relationships with leads, automate marketing campaigns and convert leads to paying customers easily.
PinPoint is designed and developed to be mobile-friendly. You can keep a tab on your leads' activities without having to sign in from your desktop only. PinPoint works seamlessly and with equal ease on any and every device.
With PinPoint, you can build customized landing pages using the landing page builder feature. Other features like lead scoring, lead tracking, lead nurturing, give a better insight into user behavior and actions.
In Addition, this CRM Tool has features such as
Email campaign management
Email campaign automation
Marketing campaign builder
A/B testing
Website tracking features with marketing file and library management
PinPoint integrates with Salesforce, SugarCRM, Zoho CRM making it easy to transfer your leads to the CRM when they become your paid customers. It also allows integration of Social platforms like Facebook, Twitter, Linked In, Google Plus, Foursquare, Instagram.
With social media integration, you can collect more leads via various groups and communities.
Sign up with PinPoint to reach out to a broader and bigger global market. This automation tool is surely going to be perfect for your business.
8. ConvertKit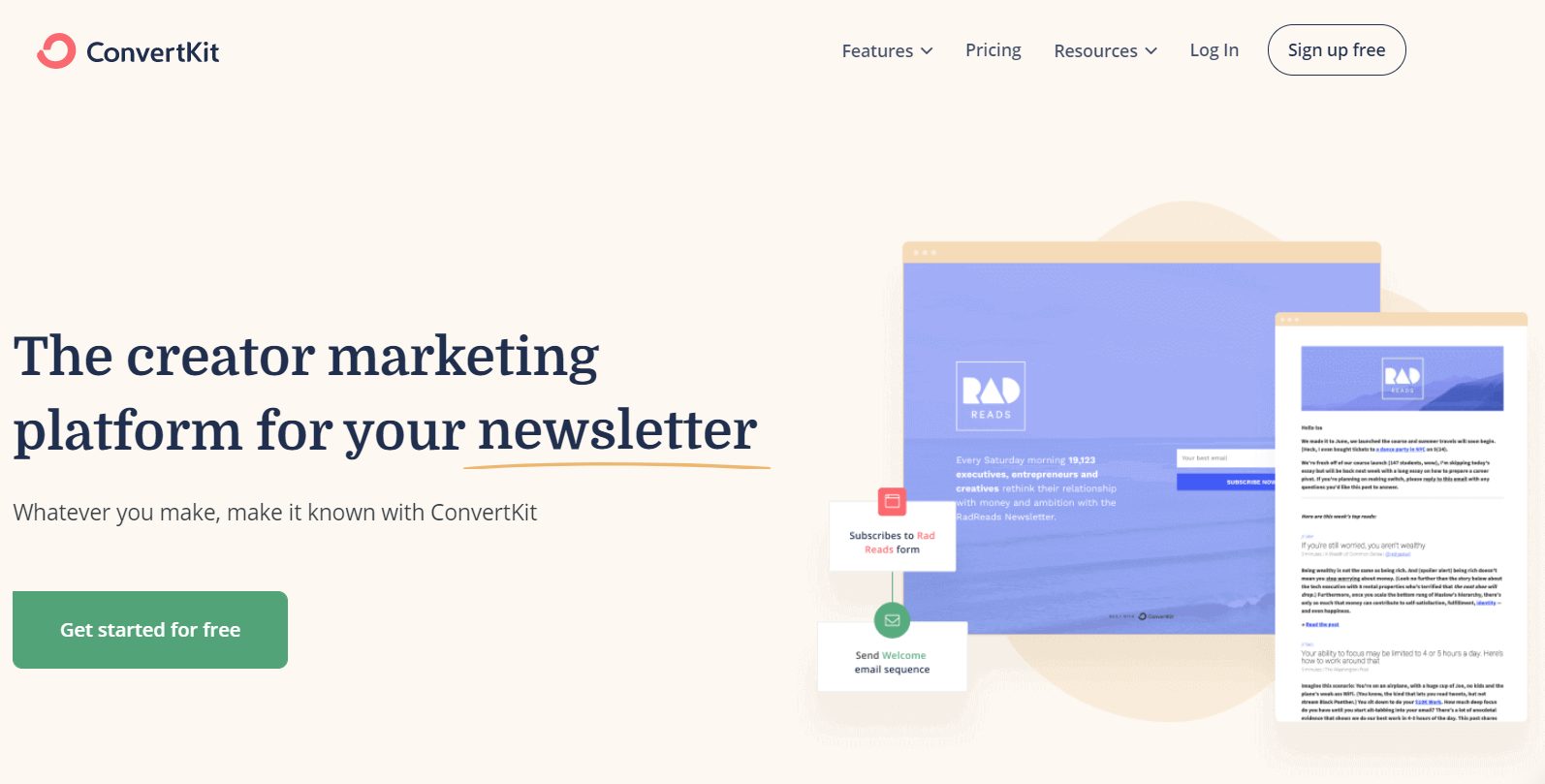 Price: Customized pricing plan depending on the number of subscribers.
While ConvertKit is termed the most expensive email marketing tool, it's got some remarkable features that justify its pricing.
These include:
Landing page builders
Email designers
State-of-the-art email automation
And since it's subscriber-centric, creators like bloggers, Youtubers, podcasters, and vloggers have a soft spot for ConvertKit.
If there's a feature worth mentioning, that's the ultra-targeted campaigns.
This allows you to conduct automated campaigns that focus on specific contacts to increase the chance of purchases.
You'll also love the email autoresponder feature.
Creating one for the first time might be challenging when using another tool. But ConvertKit provides a series of autoresponder templates that are easy to customize.
9. ActiveCampaign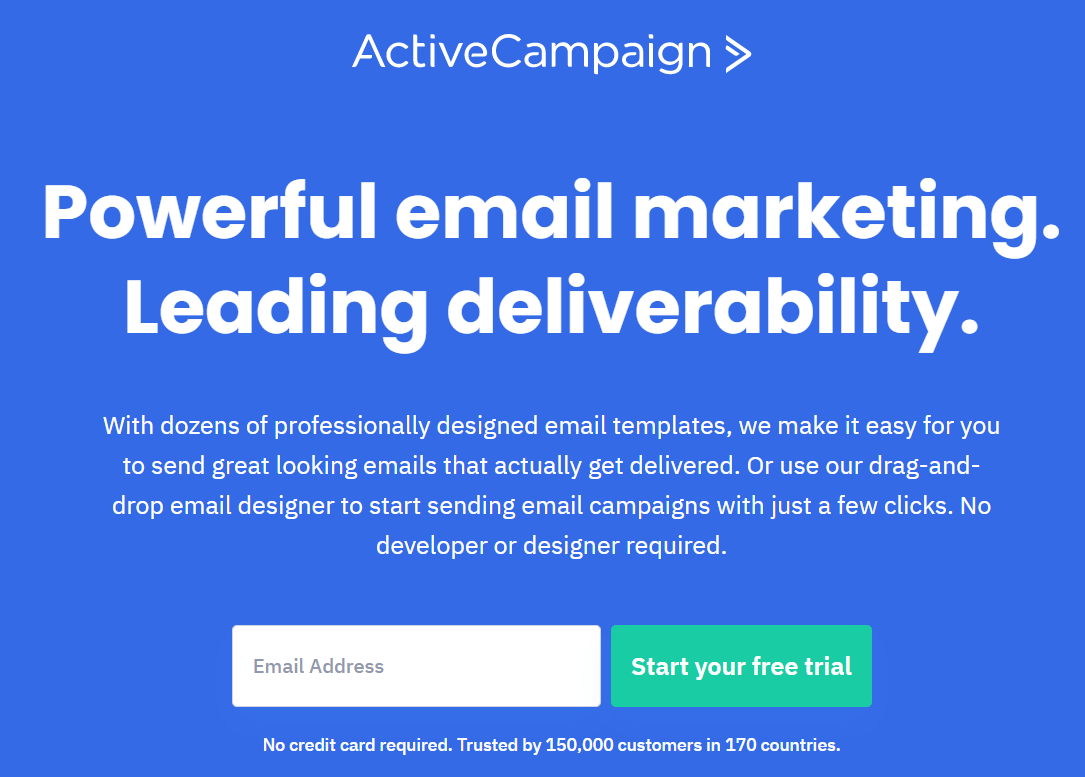 Price: For 500 contacts, the custom price starts at $7/month to $139/month. Price increases as you add more contacts.
When searching for an email marketing tool that lives and breathes automation, Activecampaign is your guy.
With a vast customer base of 150,000 brands, there's no reason why you shouldn't trust this tool for your email marketing efforts.
Talking about marketing automation, here's why ActiveCampaign is the king.
To begin with, it allows you to automate your list management, CRM system, and contacts.
The goal is to help you create personalized campaigns based on the information you have. And when you send personal emails, more people engage with them, which strengthens your lead nurturing.
The tool also has an eye for reporting analytics. For example, you can do split testing to increase your open rates by knowing how your emails perform.
Want to see how the tool works from start to finish? Here's a video tutorial.
https://www.youtube.com/watch?v=02vOK9UZBbY
SEO
Most often, people think SEO and digital marketing are two different marketing strategies.
But in reality, SEO is under digital marketing. It's just that SEO is so powerful that it's considered the most effective form of digital marketing.
That said, you need a powerful SEO tool that will take charge of your visibility on the SERPs. The following are some of the most effective SEO or digital marketing companies that will assist you in targeting specific groups of consumers, tracking customer journeys on the website, generating quality reports, and creating better content for social media platforms.
10. Ahrefs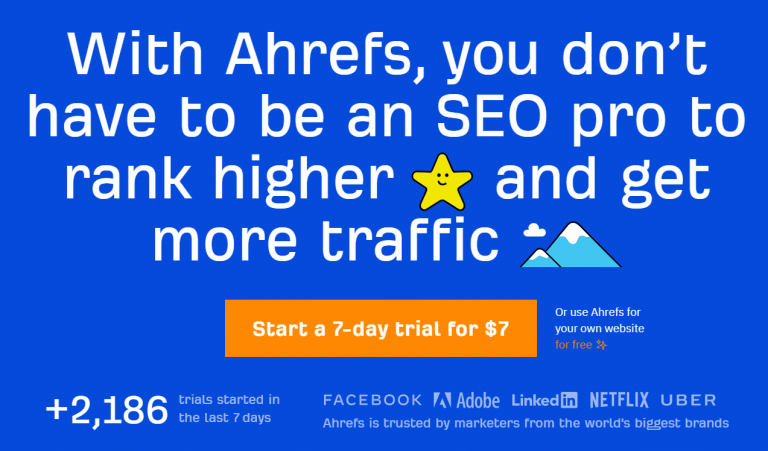 Price: Four pricing plans: $99/ month, $179/month, $399/month, and $999/month
Ahrefs has been called the King of SEO numerous times…..
Not because it has a big customer base, but because of its competitive analysis. It has access to 150 million keywords in the USA alone and even more in 15 countries.
While it entirely focused on links a decade ago, Ahrefs has spread its wings wide to accommodate new features, which gave them an edge over competitors.
These include:
Keyword competitor analysis.
Rank tracking
Technical site audit features
Keyword competitor analysis
Ahrefs is the best fit if you're looking for a complex tool to ramp up a brutal SEO campaign.
It will provide you with all the data you need.
It will study your site and give you "suggestions" to help you rank higher.
It will even go further to spy on your competitors and show you their ranking keywords.
In a nutshell, the tool is groomed to give you an unfair advantage in the challenging world of ranking.
11. SEMrush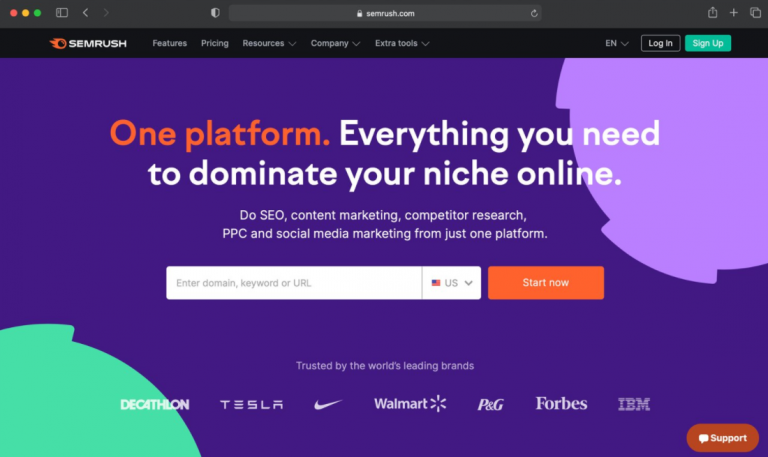 Price: Three pricing options: $119/month, $229/ month and $449/month.
On the red corner, we have Ahrefs. On the blue corner, we have Semrush.
And SEMrush is determined to throw its arch-nemesis out of the ring at whatever cost. So they already have a plan. That's leveraging Ahrefs' weakness.
Unlike Ahrefs, which has focused on SEO only, SEMrush goes on further to provide 48 solutions divided into 6 toolkits. These include:
Advertising toolkit
Content marketing toolkit
Social Media Toolkit
Management ToolKit
Competitive research toolkit
SEO toolkit
Talk of PPC, brand monitoring, social media campaign monitoring, and management.
And, of course, SEMrush prides itself on numerous features to help scale your SEO campaigns. It also performs well in competitor analysis, domain, and competitor research.
12. Yoast SEO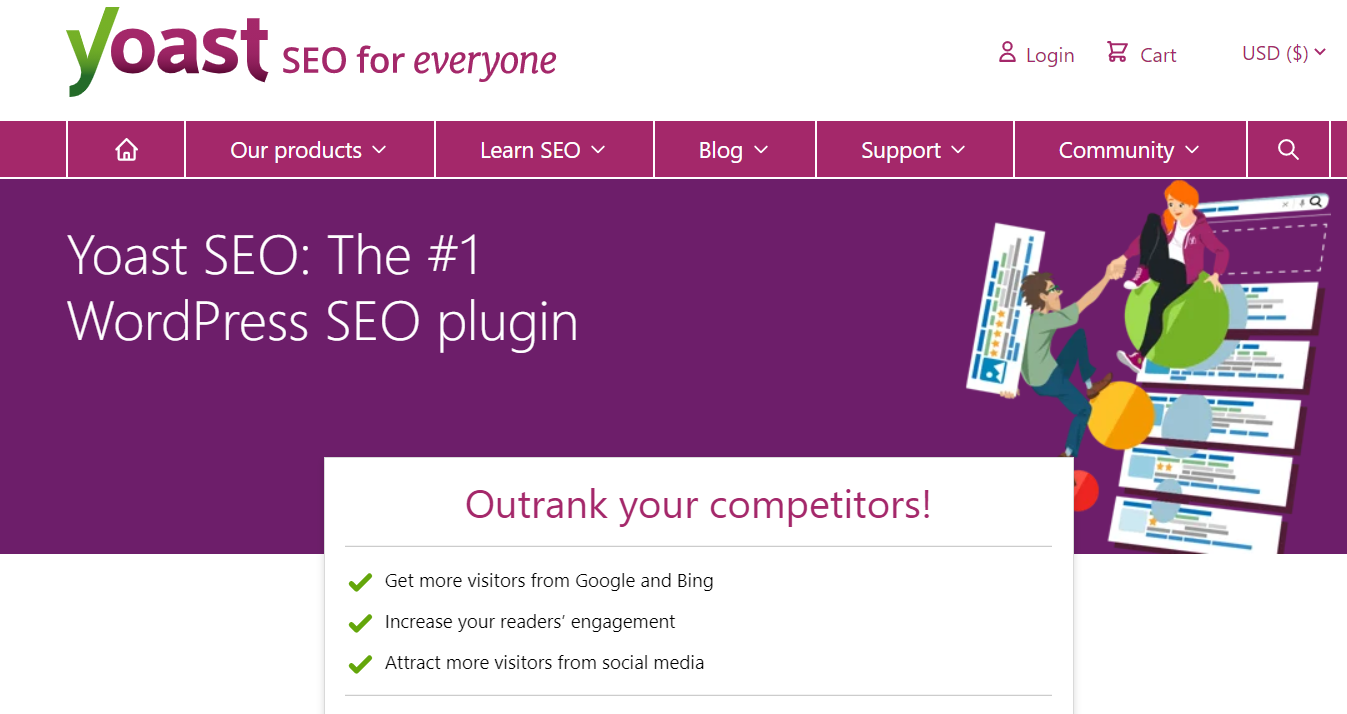 Price: $89 for one site. Price increases as you add more sites.
Yoast SEO is a WordPress plugin that attaches to your WordPress.
The tool can come in handy when you've just started your website and have entered the "content production mode."
It entirely focuses on optimizing your content for the SERPs.
You can use a different tool for technical stuff like keyword or domain research. Yoast comes into action when writing your content. It will analyze your post based on your keyword and give you an SEO score.
It also gives you a few recommendations on how you can make the article better optimized for SEO.
Here's a video guide that goes a little deeper into Yoast SEO.
https://www.youtube.com/watch?v=uNL82kDhG3w
Conversion Optimization
Converting visitors to leads is the heart of inbound marketing.
Why?
It makes no sense to have mountainous page views with nothing to show in form submissions and purchases.
Here are three tools that increase your conversion rates.
13. Unbounce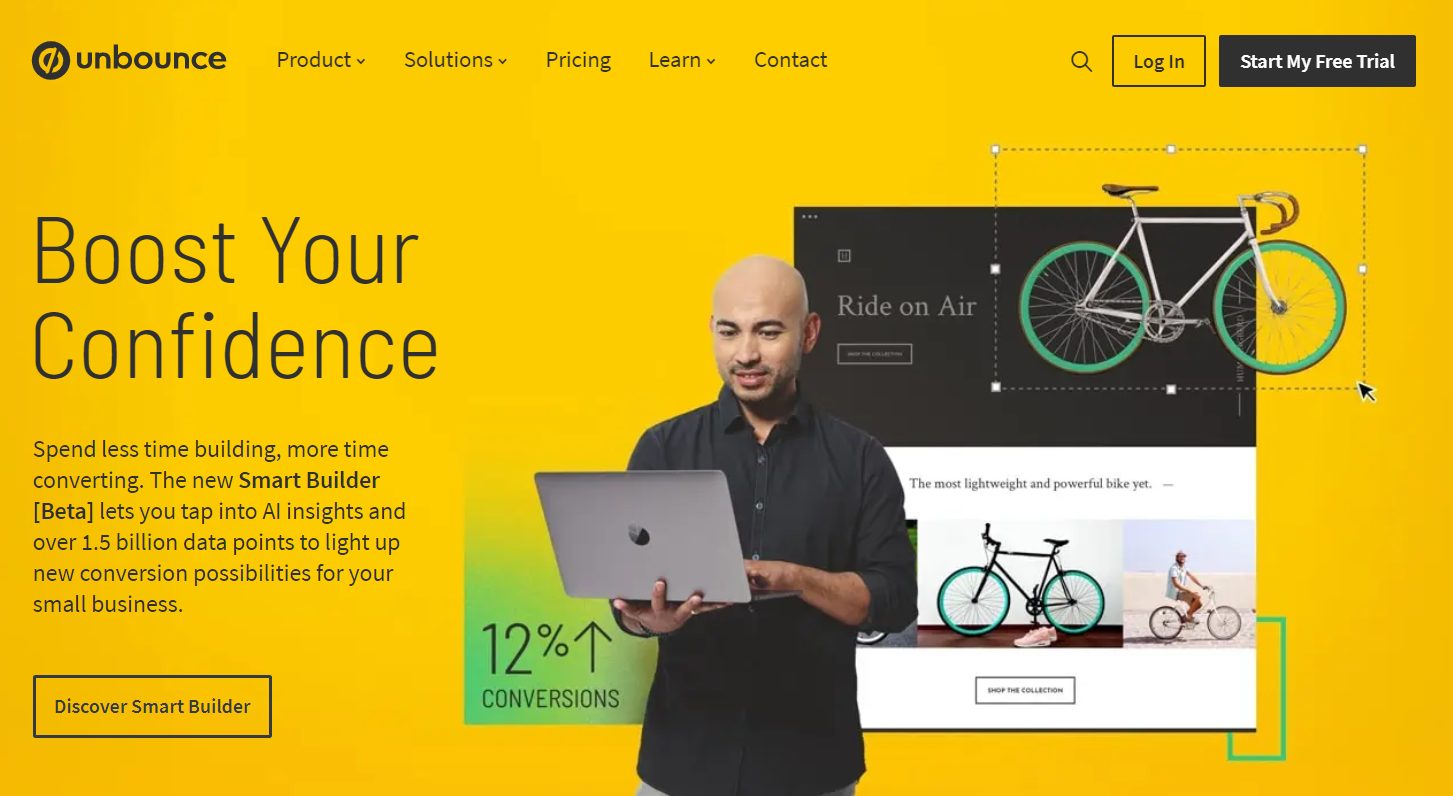 Price: Offers a free trial. You can upgrade to the paid plans that cost $80, $120, $200, and $300 per month.
Unbounce primarily functions as a landing page builder.
While your site is positioned to bring traffic, Unbounce will turn them into paying customers.
Boasting an average conversion rate of 18.2% across all industries, the tool is the real deal when you're looking for software focused on hyper-fast growth.
The impressive conversion rate is a product of Unbounce's conversion intelligence. This feature marries machine learning and marketing IQ to identify conversion opportunities that you can't see on your own.
Unbounce is also popular for its ease of use.
It comes with hundreds of templates that are easy to customize using a drag and drop editor. So, you won't need a developer to create your landing pages.
14. Crazy Egg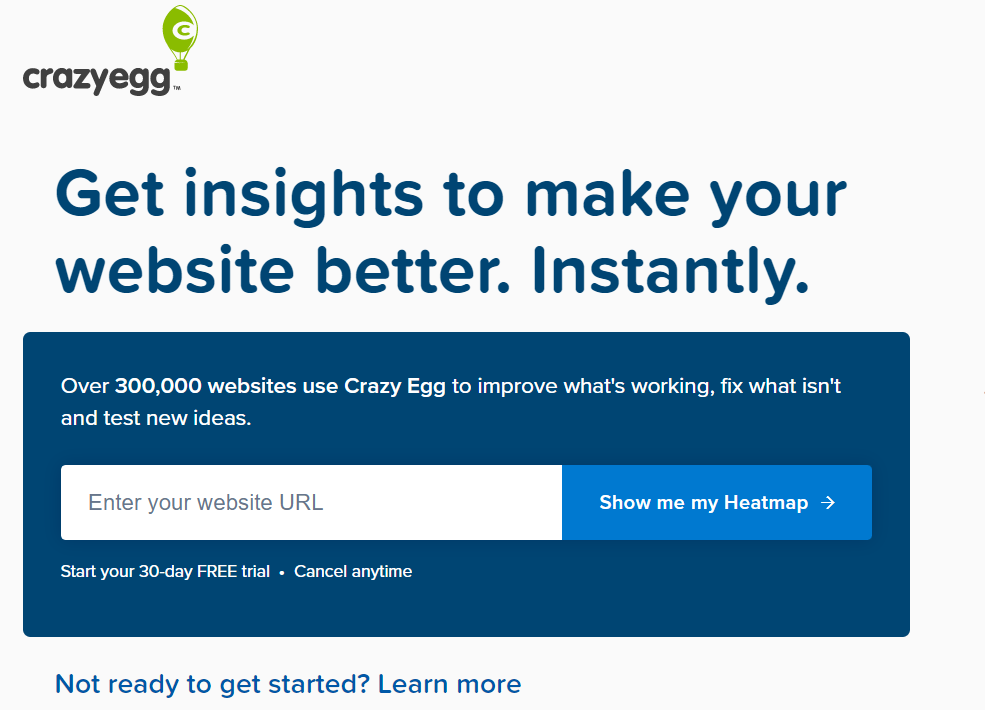 Price: Free plan available for all plans. Pricing starts from $24 up to $249/month.
Crazy egg is a marketer's toolbox to improve what's working, fix what isn't, and create new ideas to improve conversion.
The tool's primary function is checking how visitors interact with your website. Some of the things it will track are:
Where your visitors come from.
The parts of your page they click most.
Your page's elements they read or interact with.
It uses a series of heatmaps and clicks tracking to give you the data above. The insights allow you to perform robust A/B testing.
As a result, you can determine which of your optimization works the best and fix those that don't.
Not to forget that Crazy egg is easy to use.
It will take you a couple of minutes to set everything up. And in case you get stuck, the customer support team is only a chat away.
Check out this video on how the tool works from A-Z.
https://www.youtube.com/watch?v=r1-qrVAA-Ak
15. Sumo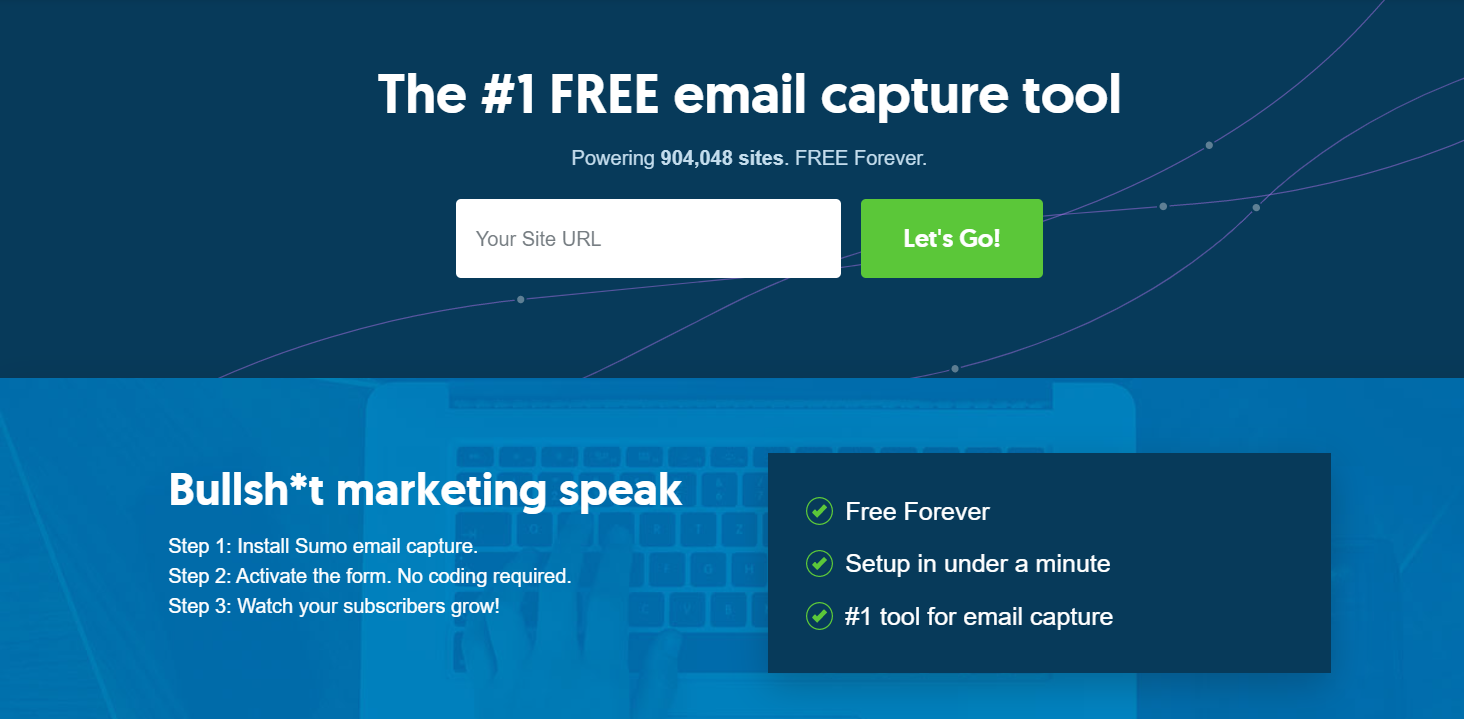 Price: Two plans. One is free, and the paid plan goes for $39/month.
Sumo does more than any other lead conversion tool.
It's the software to consider when you want to increase your site traffic, build an email list, take social media by storm, and convert like crazy.
What's interesting is that it plays nicely with other marketing tools.
And if you need to integrate it with a powerful analytics tool, Google analytics is right by your side. You get your reports from inside your Sumo dashboard.
It also has a WordPress plugin that is easy to install and use, meaning you can use it from any website.
Sumo added a new feature known as the smart bar. This enables you to increase email subscribers. It's also a quick way for visitors to sign up for your courses and webinars.
Lead Enrichment
Lead enrichment gives you more data about a prospective customer.
You use these insights to understand how qualified they are and how you can engage with them to close more deals.
Here are three tools to consider.
16. LeadFeeder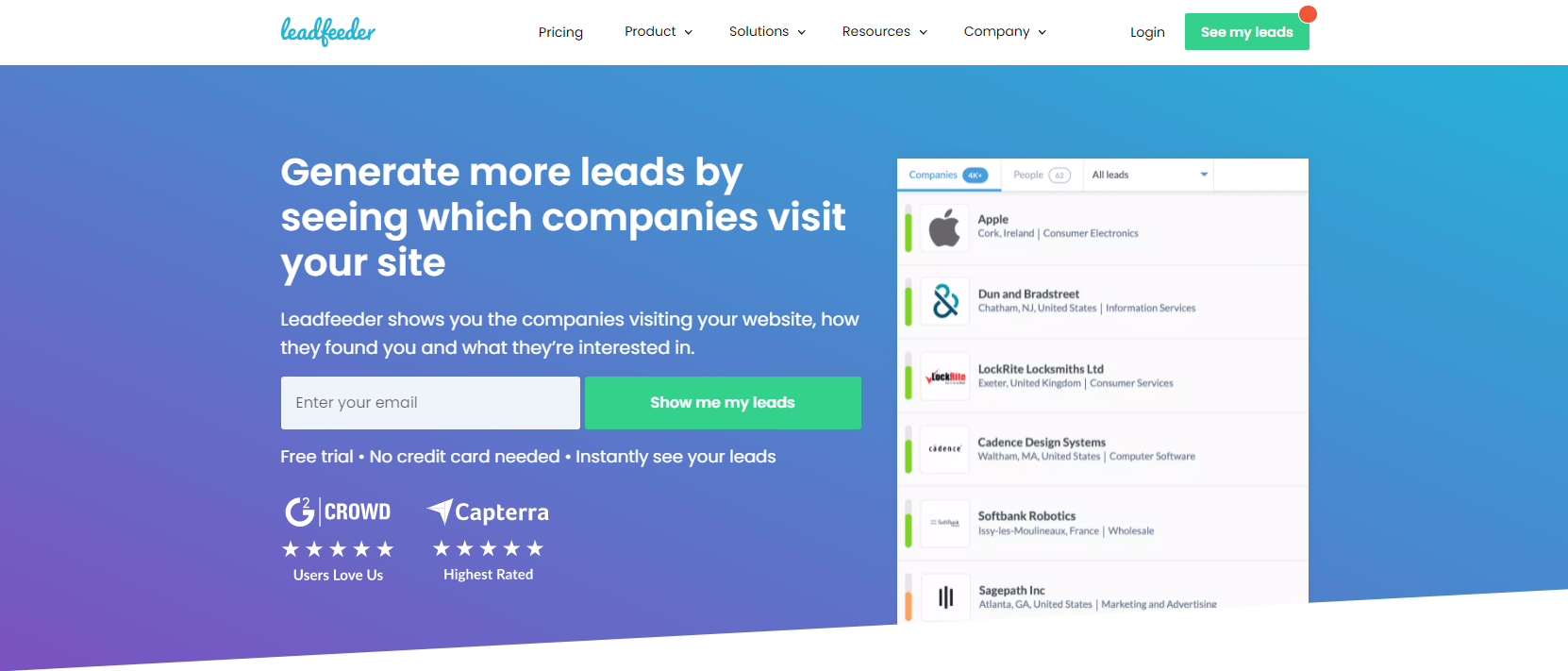 Price: Free plan and paid plan costing $63/month
Lead feeder is a website visitor tracking software.
In short, it informs you about the companies that have visited your website.
It reveals potential customers whom you haven't identified. This is crucial data you need to leverage.
Why?
The prospects cruising through your website are likely to be doing the same to your competitors too.
But you get the upper hand when you contact them early. As a result, you'll close multiple deals by the time your competitors figure out what's going on.
Another cool thing is that Lead feeder gives you contacts of the right people in the company "stalking you." You also get to know the pages they visited and the time they browsed your site.
17. Prospect.io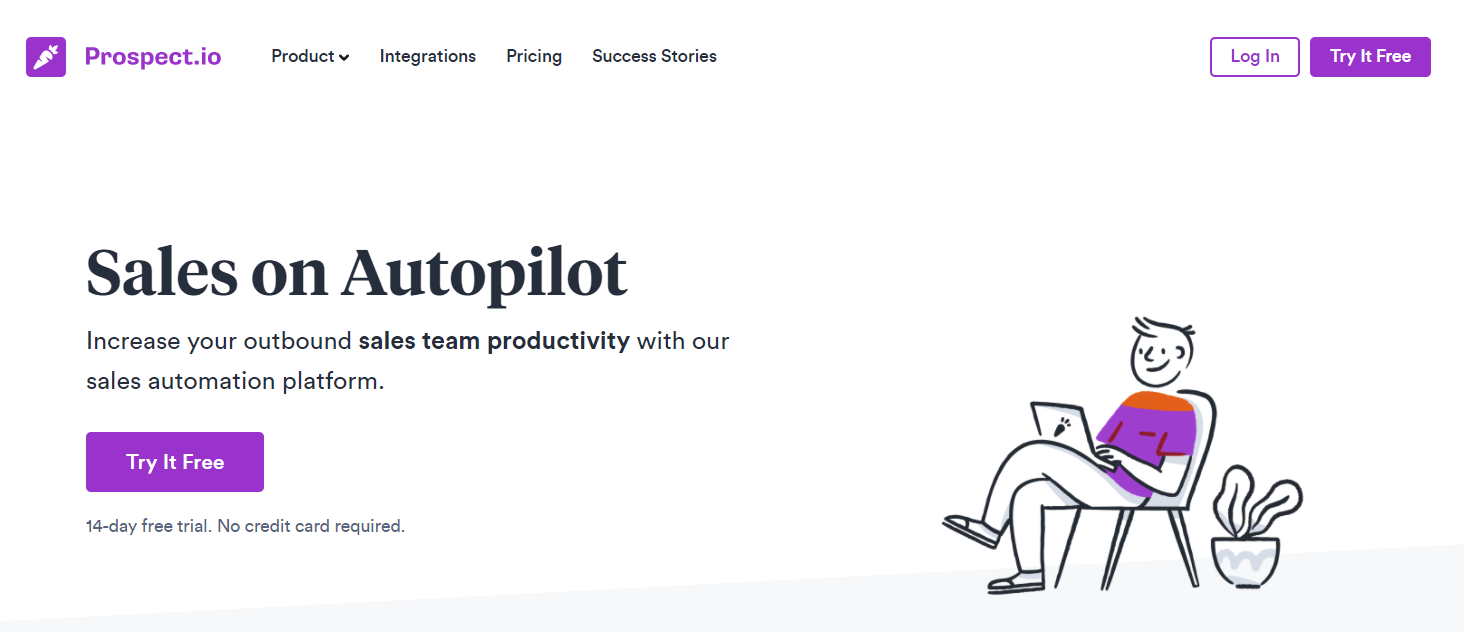 Price: Tiered pricing starts at $19/month and goes on to $99/month.
Prospect.io is a robust sales automation software used by hundreds of companies to enrich their prospect information.
The tool is a combination of a web app and chrome extension; meaning you can use it to track their prospect's engagement.
Consequently, you can create targeted follow-up campaigns and collect information at any time.
The tool uses a "lead filter," which throws out unnecessary contacts to ensure you've got quality leads.
For that reason, you get the right people on your list who can quickly fall into your customer basket.
This brief description is just the tip of the iceberg of what the tool can do. You can watch this video to see how it works.
https://www.youtube.com/watch?v=jMt9CDrk6s0
18. Clearbit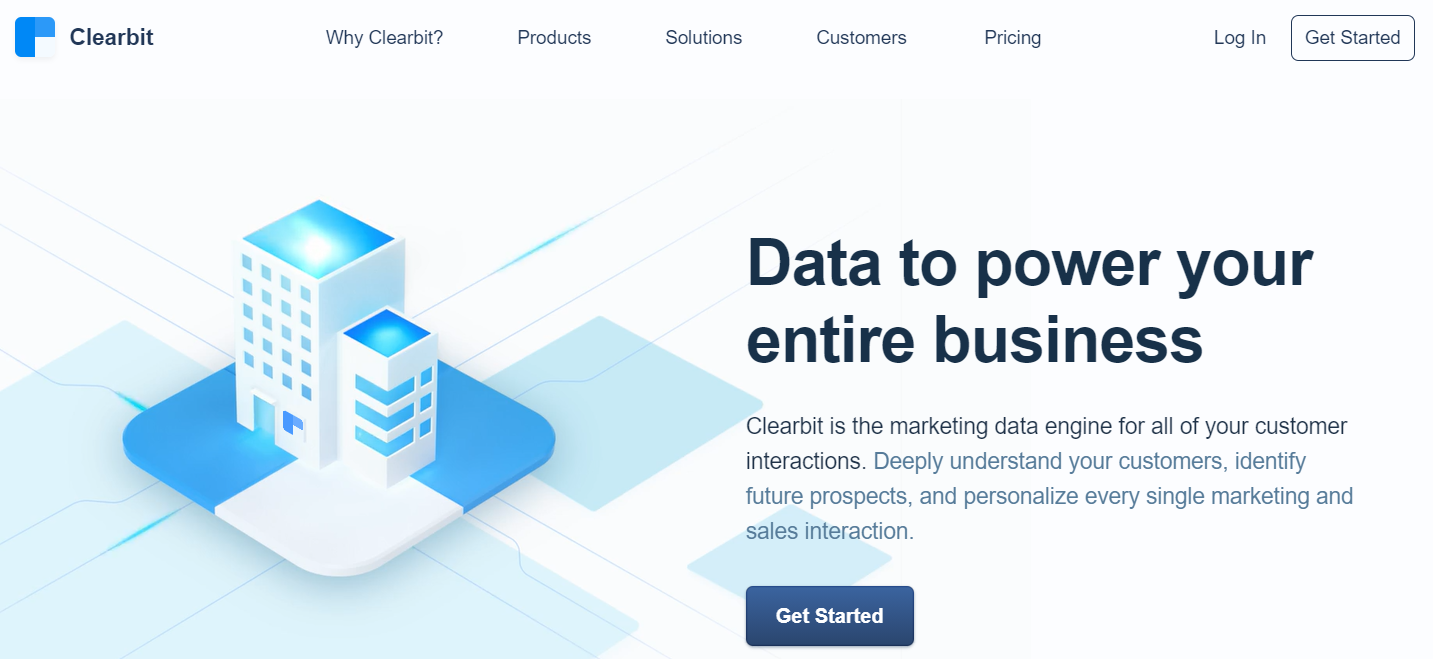 Price: Customized pricing based on monthly traffic, CRM database, and contract creation.
ClearBit's goal is to help you create personalized marketing that targets your prospects' needs.
In addition, the insights assist you in identifying future prospects and understand their problems.
The tool uses a wide data coverage of 250 private and public data sources to make this happen.
These sources have access to 20 million companies, 395 million personal contacts from 165 countries.
While Clearbit might seem intimidating for beginners, they have chrome extensions that make anyone's experience with it less of a hustle.
With over 100,000 users who have given it stunning reviews, there's no reason why you shouldn't use the tool to fill your leads list.
Lead Capture
The goal of lead capture tools is to enrich your subscriber list.
They will collect visitors' contacts like names, emails, or phone numbers. Your marketing team then analyzes the insights to take the immediate best action.
The tools that took the trophy in this category are as follows.
19. Hubspot Marketing Hub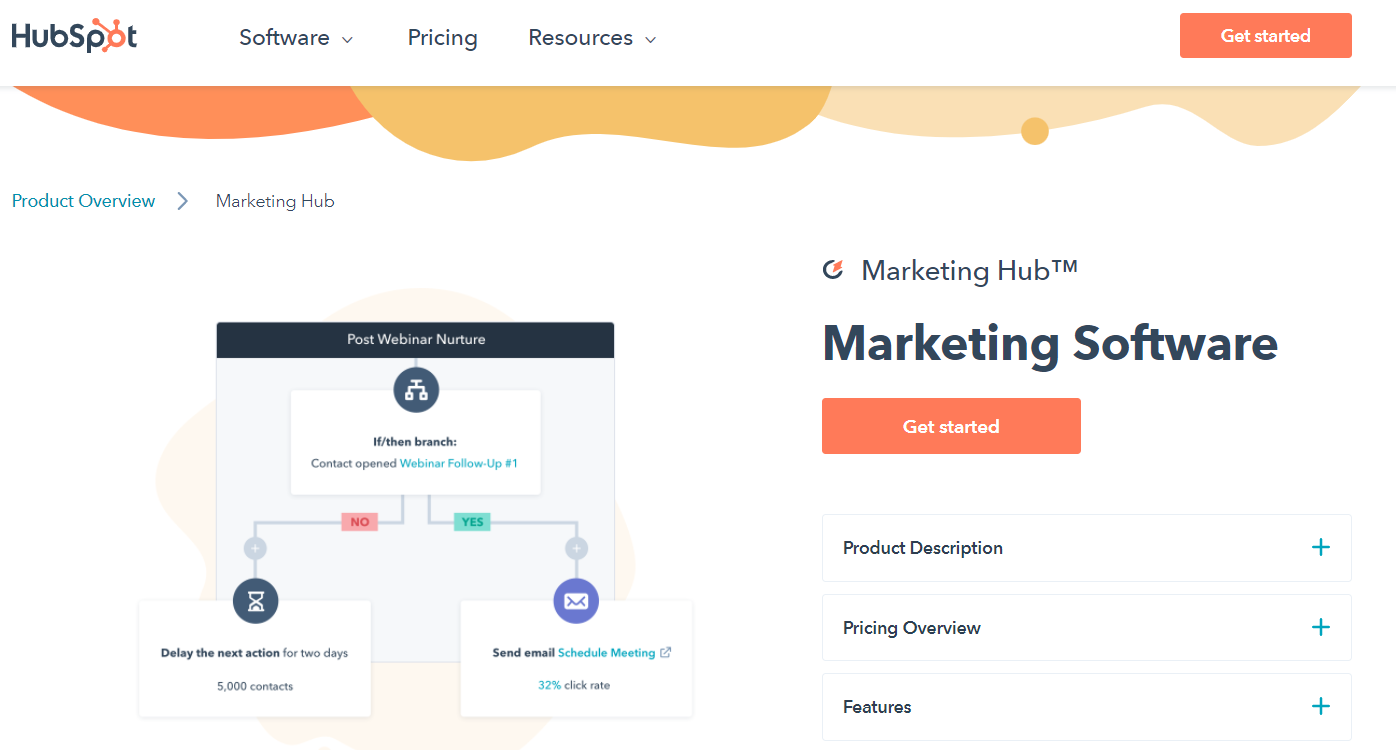 Price: Tiered free plan starting with a free plan. Paid plan starts from $45.
Hubspot should be in your toolbox if you're thirsty for a full suite marketing tool under one roof.
Whether you're looking for lead capture, contact management, live chats, analytics plugins, and email marketing campaigns, HubSpot marketing has all of it one platform.
So why did HubSpot develop such an "inundated" tool? Well, digital marketing is becoming harder for every marketer.
It's either you're juggling multiple tasks, or the tools you've integrated are too complicated to use. As a result, you end up with a lacklustre marketing campaign that doesn't yield ROI.
Things are different with the HubSpot marketing hub.
By bringing all the tools under one umbrella, you end up with a powerful platform that's easy to use. This saves you time and money.
20. Intercom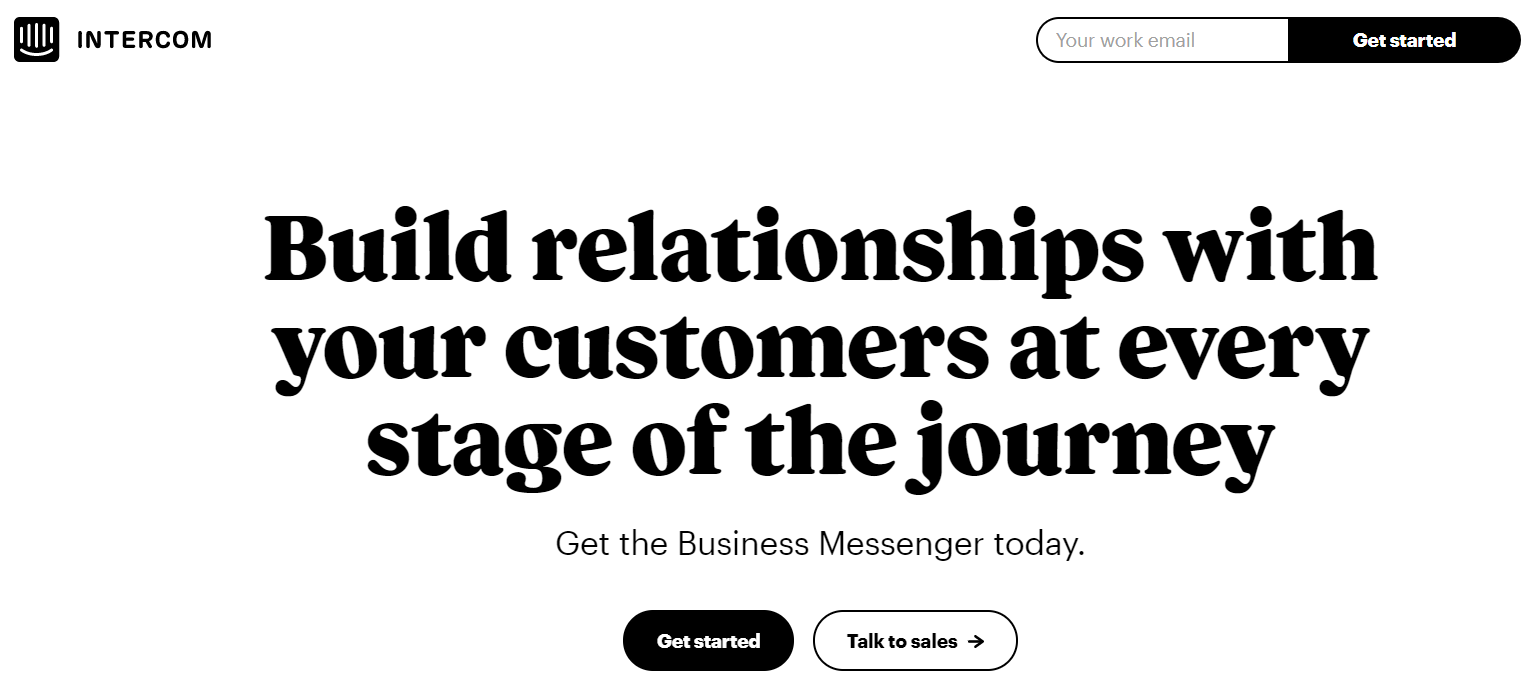 Price: Get customized pricing from their website
Intercom is a business messenger tool used by big brands like Amazon, Shopify, Facebook, and Microsoft.
So, it's an ideal option if you're looking for a trusted lead nurturing tool for your digital marketing campaign.
Intercom offers three solutions:
Conversational support.
Conversational marketing.
Conversation engagement.
As a live chat support system, the software aims to capture leads that visit your site in a personal and conversational manner.
The key feature it offers is the business messenger, which targets website visitors. It then automatically sends them a personalized welcome message.
The other feature is the customer data platform. It divides your message based on your site visitors' data. This arms your sales teams with the information they need to bring more leads.
21. Mobile Monkey
Price: Check their website to get customized pricing.
Just like intercom, Mobile Monkey is also a messenger tool.
There is a difference, though. Intercom is very good at customer support.
But Mobile Monkey is good at getting people interested by sharing high-level data through conversation that doesn't require a real person.
The tool has received many endorsements. In 2019, it won the Martech Breakthrough awards as the best marketing bot.
Even Neil Patel says that using Mobile Monkey as your chatbot automation tool drives the most engagement.
And it has so many features that prove these claims.
One such feature is the chat blasts. Well, you may be familiar with email blasts if you run digital marketing campaigns.
Chat blasts work the same but record better engagement rates. That's around 70%-80% within the first hour.
It has a landing page feature that collects website visitor information when it comes to lead capture. Plus, it has sign-up forms to collect emails.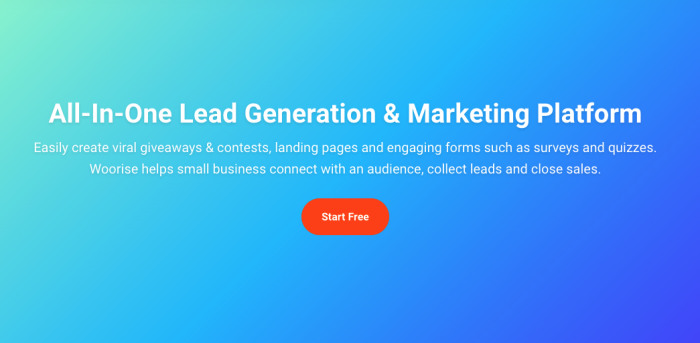 Price: Free plan is available. Premium plans start from $29/month.
Woorise is an all-in-one lead generation and marketing platform that allows you to create a wide range of interactive campaigns such as viral giveaways & contests, landing pages, forms, surveys, quizzes, accept payments and more to collect leads and engage your audience.
Features include a modern landing page and form builder, 40+ fields and thousands of social actions, 100+ interactive templates, conditional logic, real-time email notifications, multi-language support and built-in analytics.
If you're looking for to create multiple type of campaigns such as viral giveaways & contests to reward users for taking actions (follow, sharing etc.), landing pages, surveys, quizzes, simple or advanced forms, calculators, accept payments and subscriptions, event registration and application forms, referral campaigns, Woorise has all of it in one platform.
Woorise also integrates with popular marketing platforms such as Mailchimp, Hubspot, ActiveCampaign, Aweber, Google Analytics, Bitly, Zapier, PayPal, Stripe and many more.
With their campaign and form builder and hundreds of templates available, Woorise allows you to create beautiful campaigns easily and without the need of a developer.
Graphic Creation
Graphic design is a modern type of art that has added a fresh contemporary flair to digital marketing.
And it's not just meant to beautify your website, research by Adobe found that websites with a compelling design obtain a 1.5% market share than their competitors.
So if you want to tap into this sleeping giant, here are three tools to consider.
22. Canva

Price: Starts with a free plan that jumps to $12.99/month.
Canva is a popular graphic design tool for inexperienced designers.
This has made it the go-to tool for small businesses and marketers who want to do things quickly.
You can create a bunch of things in Canva. Talk of social media posts, images, blog feature images, ebooks design, logos, and flyers.
What's mindblowing is that it has half a million customizable templates. With a short tutorial video, you can create your designs in a few minutes.
But it's not totally meant for newbies.
Users with vast graphic design experience can still use it to bring new ideas to life. The drag and drop features make it easy to create stunning designs from scratch.
Finally, you can integrate Canva with social channels like Facebook, Twitter, and Instagram.
This means you can share images directly with your audience on social networks. Your social accounts will be running on autopilot with fresh designs posted every day with the content planner.
https://www.youtube.com/watch?v=V9LtRF6EbyY
23. Pablo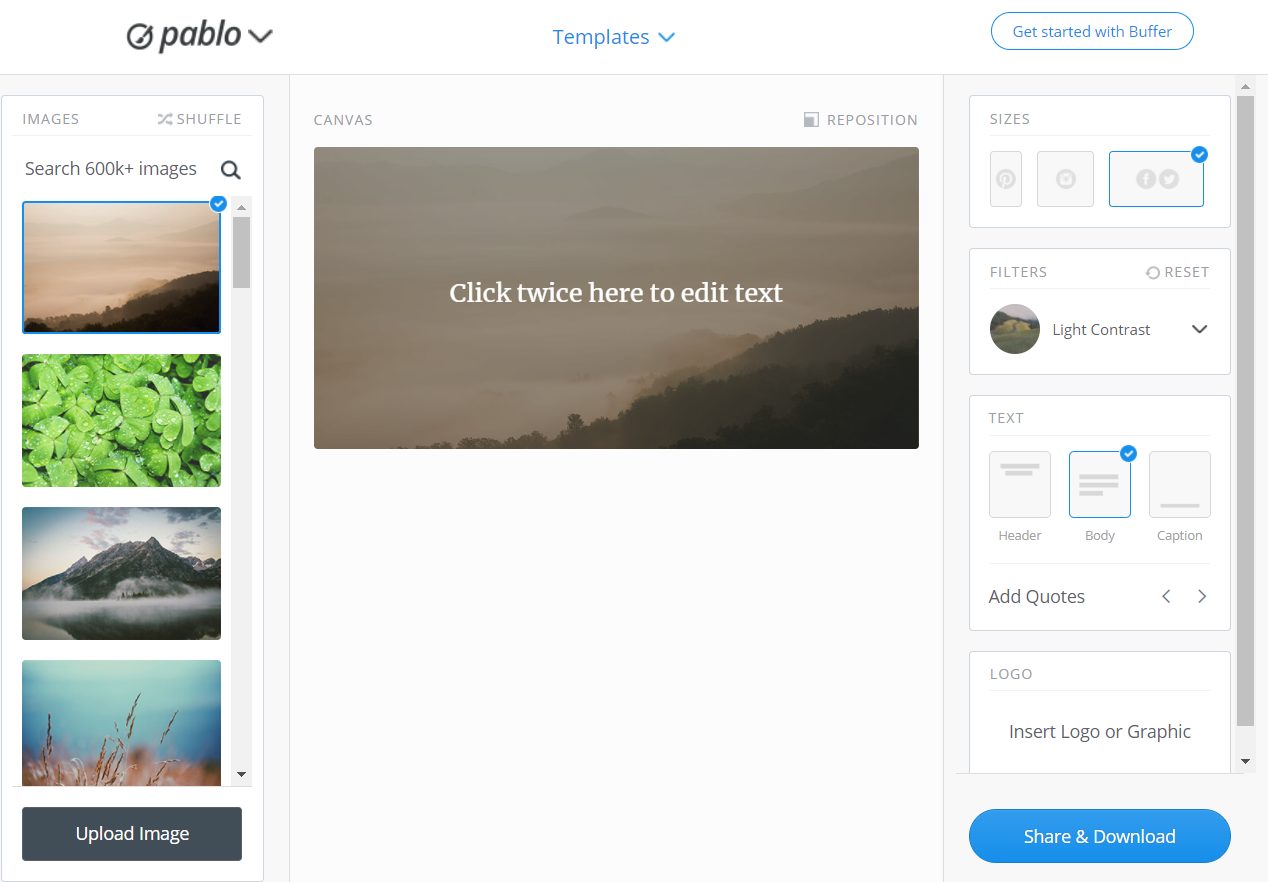 Price: Free tool
Pablo is a graphic design tool created by Buffer.
Unlike Canva, it's available as a chrome extension; hence you can use it right from your browser. This also makes it one of the most secure graphic design tools.
The tool comes with thousands of templates and over 600k images that you can customize to your liking.
With the templates, you can create postcards, brochures, animated Instagram posts, and gift certificates.
Thanks to the editing filters, your task will be less of a hustle.
The filters allow you to correct exposure, complement your images with different colors, and blur parts of your images.
The downside is that Pablo is best for digital marketers who have some experience in design. Newbies will have a hard time navigating through the features.
24. Adobe Spark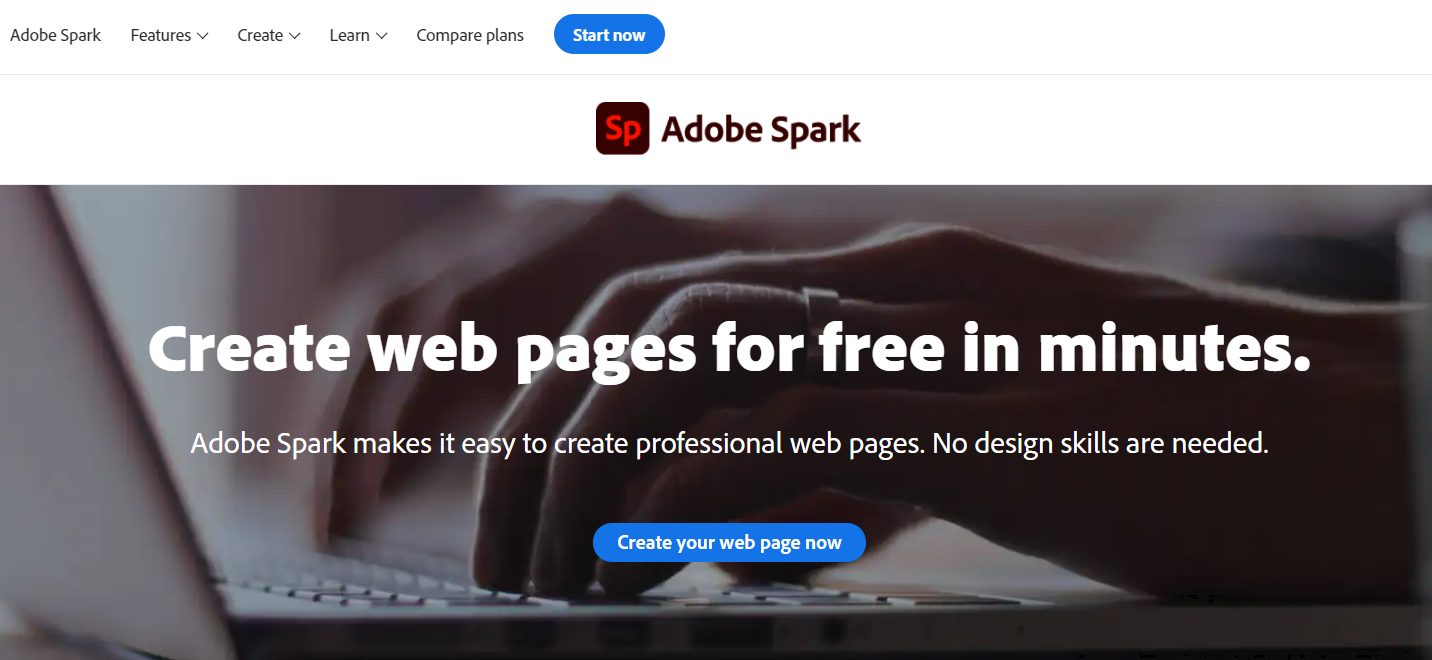 Price: Free plan available. The paid individual plan starts at $9.99/month.
It would be false to say that adobe spark is a complete graphic design tool.
It's an app that primarily creates stunning one-page websites. But it practically works like any other design tool.
They claim that it's not a must for everyone to have websites to pass their message across on their website. One-page websites are just as powerful if you have the right messaging.
Riding on this, the tool allows you to create one-page websites that can advertise your product catalogs, special offers and regulate newsletters.
First, choose a theme, pick a beautiful image, and add elements to use the tool. It's as simple as that.
25. Desygner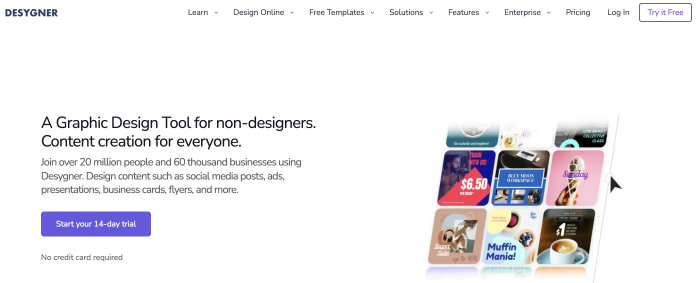 Price: Free, $4.95 and $9.96
Desygner is an easy to use design tool that gives you access to millions of royalty-free images. It also allows users to build professional-looking designs using their own or stock photos. Users may directly import photographs from any social networking channel or cloud storage, including Facebook, Instagram, and Google+, which we like. it is available on Macos, Android, PC.
Key features:
Commercial use of photos is permitted.
Monthly stock photo downloads are unlimited.
Integrates a Shutterstock stock photo library with over 125 million images.
Access to Unsplash, Pixabay, and Photodexia is included.
Analytics
As a marketer, data is your best friend.
You're able to know what's working and what's not working. You can even diagnose problems and find out a way to fix them.
That said, these are the most powerful analytic tools in the market today.
26. BuzzSumo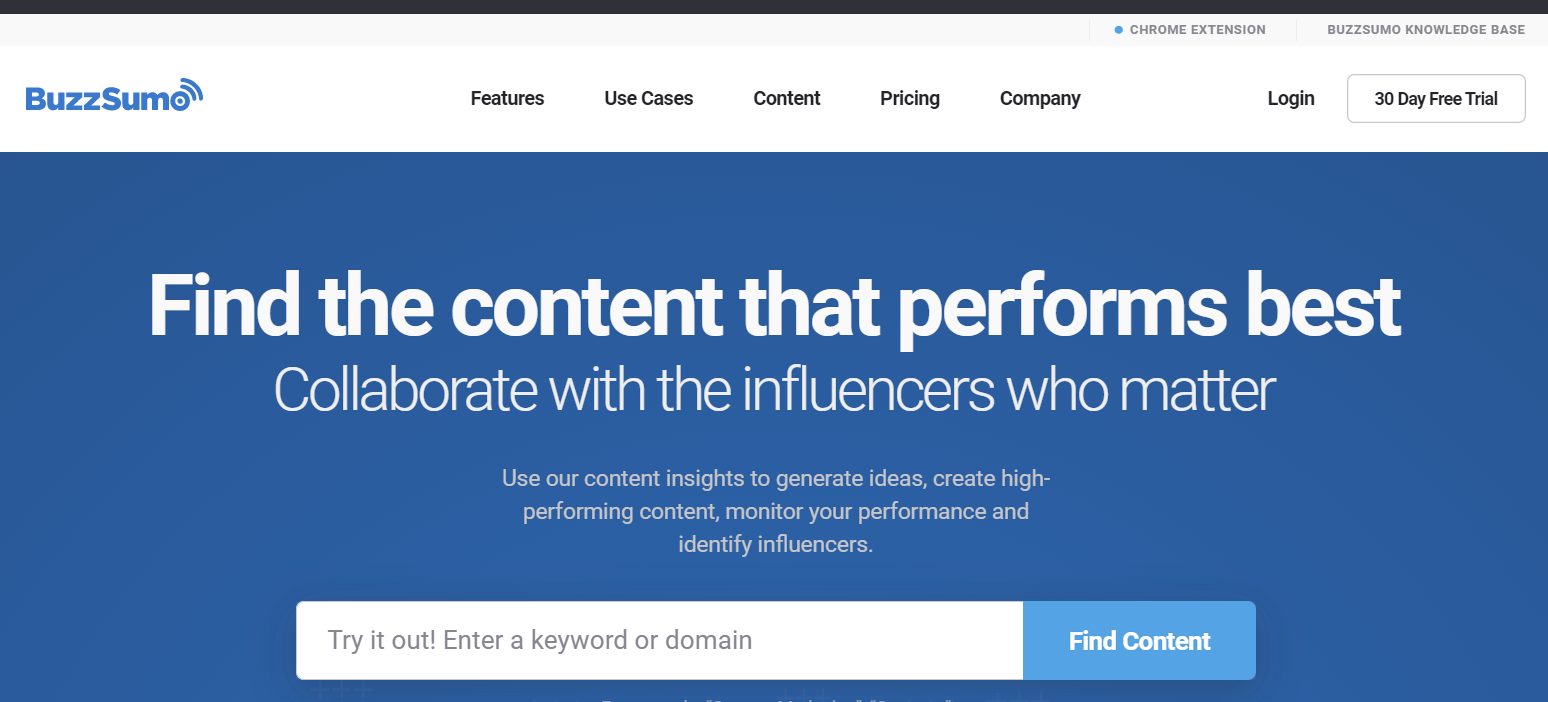 Price: paid plans start at $79/month
Millions of marketers want to know the best content that works and which doesn't.
Buzzsumo answers this question with four components:
Discovery – Studies best-performing content on your niche.
Influencers – Identifies influencers that you can use in your influencer marketing.
Research – Studies billions of data points to ramp up your digital marketing strategy.
Monitors – Track comments for faster response.
The tool has many features to bring these components to life. One such feature is brand monitoring.
Buzzsumo will monitor your brand and check out its mentions on the internet.
The "trending now" feature makes it possible to extract current hot topics. It comes in handy for media companies who want to create up-to-date, relevant social media content.
The tool has so much that it may be impossible to grasp everything in a single experience. So here's a video that goes a little bit deeper.
https://www.youtube.com/watch?v=JcWN9nXqQ60
27. HotJar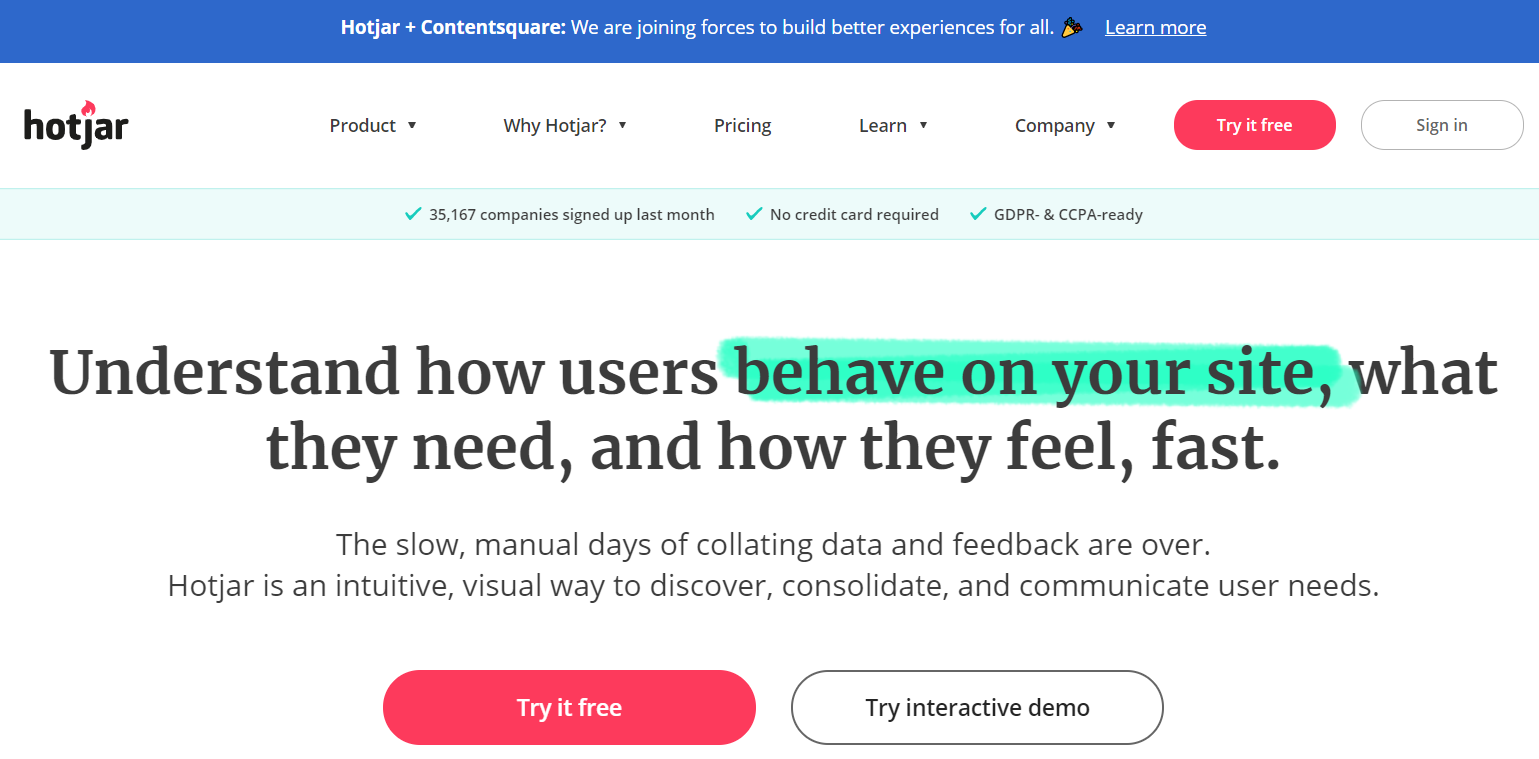 Price: Paid plans start from $39/month to $389/month
In simple terms, Hotjar is a heatmap analysis tool.
It connects to your website and spies on your visitors. It will try to understand what your visitors care about, what they want, and the pages they like visiting on your site.
The heatmap features give you access to:
Move heatmaps
Heatmaps split by device
Shareable heatmaps
Click heatmaps
Scroll heatmaps
These heat maps show how site visitors interact with your site on a huge display. This gives you a little understanding of your user's desires and motivation.
If the heat maps aren't enough, you can ask your visitors questions about your website. The answers give you insights into how you can improve your user experience.
You also get new insights on how you can optimize your site for better conversion.
28. Google Search Console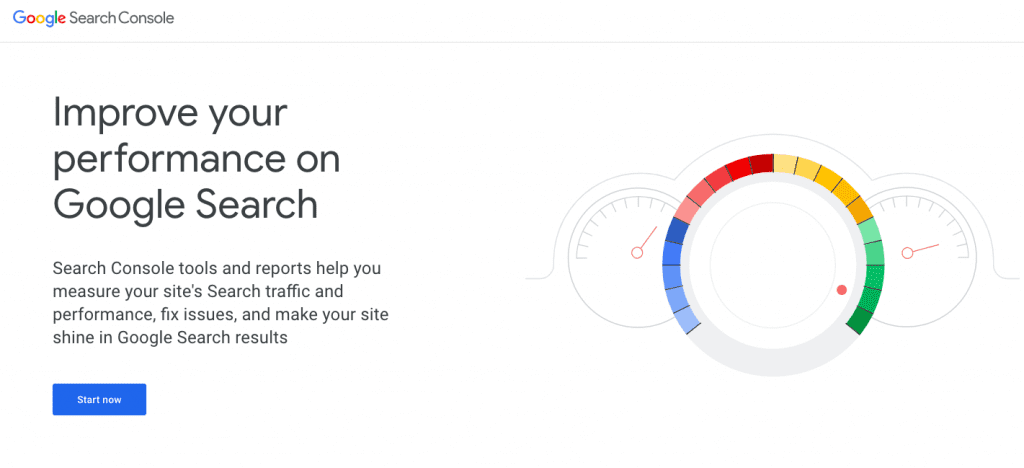 We couldn't talk of analytics without mentioning Google. And the tool that leads their analytics department is Google's search console.
Google search console is ideally an SEO tool with an eye for analytics. But unlike most SEO tools that focus on other sites, the tool focuses on your website.
It offers powerful reports and analytic features about your website. This is crucial when conducting on-page SEO strategy.
It also comes with features to measure your site's traffic and performance. With the data on your hands, you can fix issues that make your site not shine on the SERPs.
Productivity
You need productivity tools in all your operations.
Digital marketing isn't an exception. Productivity tools help you implement your marketing strategy among your team and reduce the time spent on a task.
In this category, we discuss three productivity tools to help in your digital marketing.
29. Trello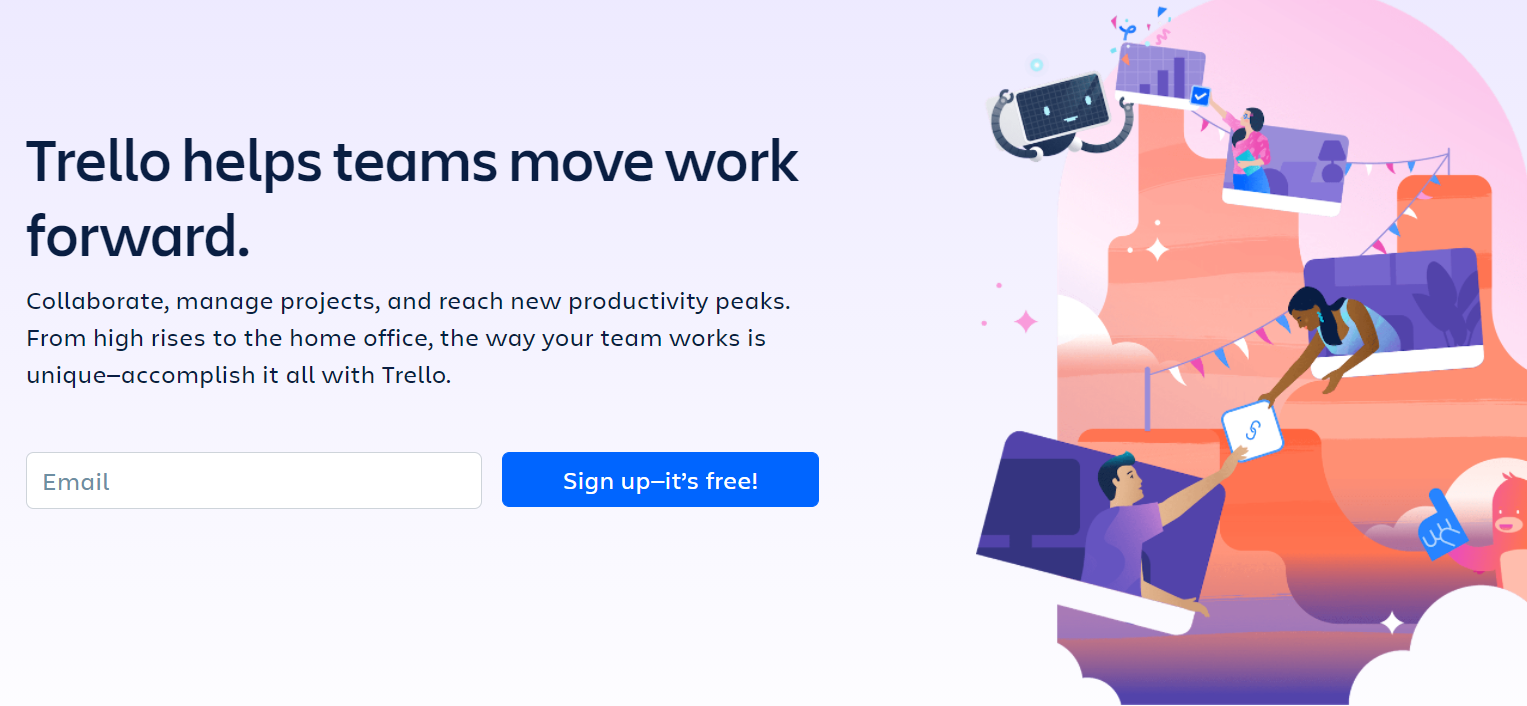 Price: Free plan. The paid plan starts from $5/ user/month.
Trello is built for marketing teams that want to streamline their workflow.
It's the right option if you're looking for versatile, mobile-friendly, and simple software that will smoothly drive your team operations.
It divides your dashboard into cards. The card is where you'll manage, share, and track your tasks with teammates.
For example, you can have a card for blog content ideas. You'll assign the tasks to different writers. Other cards can show the tasks in progress, completed, or published.
Finally, it offers a wide array of power-ups – integrations with other applications. These include tools like dropbox, Slack, Mailchimp, Jira, Zendesk and more.
30. ActiveCollab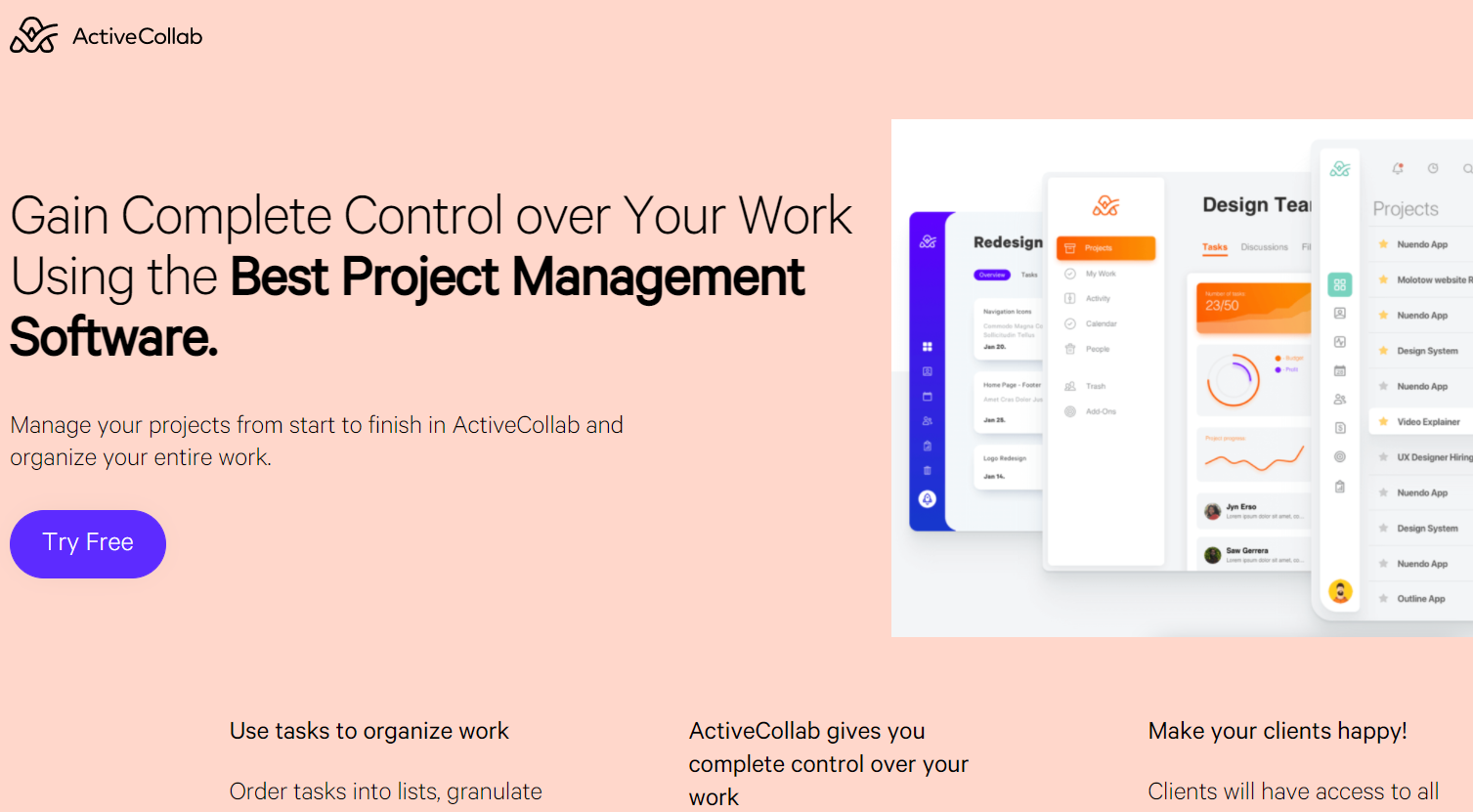 Price: $7 per person per month
ActiveCollab is an all-in-one project management software to help manage your projects or client's work.
It's best for digital marketing agencies that manage a variety of clients or projects simultaneously.
Like Trello, you can break your tasks into different subtasks.
The task lists are categorized based on your project's phase. You're also able to label tasks as "assigned," "in-progress," or "completed."
The tool has an eye for visualizations. It allows you to view your workflow based on your experiences. For example, you can choose Gannt for timeline view or Kanban view for columns.
This gives everyone on your team an opportunity to view how much they have on their hands and when it's due.
31. Slack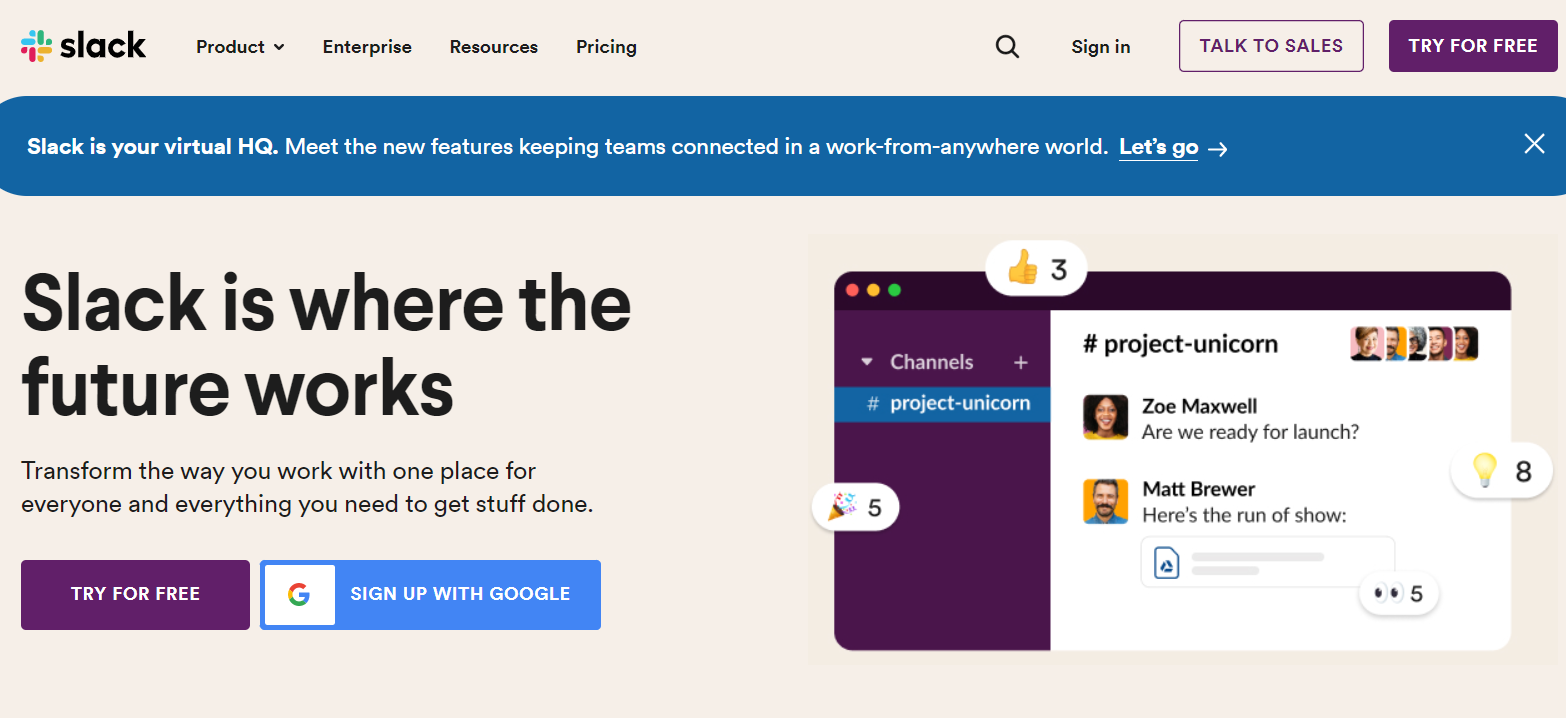 Last on our list is the $27 billion company that's becoming a collaboration haven for teams.
Unlike most productivity tools that primarily function as project management systems, Slack is also an in-house messaging app.
The cloud-based tool has become a hit at a time when businesses are looking for tools that can reduce their timeline and ease collaboration.
Therefore, it's no surprise that Slack has taken over the market, boasting 10 million users daily,
At its core, it hosts additional plugins which assemble all the moving parts of your communication in one place.
You can have your team hold a meeting to discuss your next projects, assign duties, and even monitor each team member's progress.
Here's a tutorial on how it works.
https://www.youtube.com/watch?v=m2JuAa6-ors
32. Proofhub

Price: The Ultimate Control plan is priced at $89/month, billed annually.
ProofHub is a powerful team collaboration and project management software that helps teams to improve productivity through a suite of advanced features under one virtual roof.
Using ProofHub, users can manage various aspects of their work from one place while seamlessly collaborating with others. Not only do you get to save a lot of valuable time but also be more efficient and productive at work.
It's best for teams who have to manage multiple projects while working from different locations. Project managers can have ultimate control over their teams and projects as they can have a Bird's eye view of all activities within a project.
You can have three views of your workflow – Kanban view, Table view, and Gantt view, to organize and prioritize your tasks.
Inbuilt communication tools, like Group Chat, Discussions, @Mentions, and Real-time updates enable team members to send and receive vital information timely, which minimizes the chances of communication loopholes.
Other productive features include Smart task management, Time tracking, File management, Online proofing, Scheduling calendar, Custom fields, and much more.
A tool with a simple learning curve, intuitive and multilingual interface, ProofHub offers affordable, fixed pricing plans, which make it an ideal productivity solution for small businesses and team with a limited budget.
33. Scribe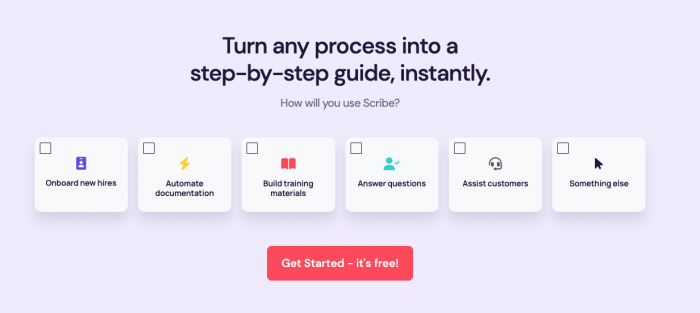 Price: Scribe offers a Chrome extension that's free for unlimited users and unlimited guides. Its Pro plan costs $29/month per user.
Scribe is a process documentation tool that captures any workflow in seconds. It's both a browser extension and desktop application that automatically creates a how-to guide of your activity, complete with written instructions and screenshots. 
Once done, you can easily share it via a link or embed it in any knowledge base. Streamline your efforts and cut training time in half. Scribe strengthens your growing team by making sure everyone who needs to know is in the know. 
Further Reading: