There's more to PR than nuclear-blast crisis management and press fan-fare.
That's why you need tools that go beyond basic features.
Lucky for you, in this guide, we've researched the best 11 public relations tools on the market.
Whether you're looking for a tool that monitors your brand, creates and distributes press releases, or connects you with relevant journalists and influencers, you'll find it all here.
We hope that by the end of this article, you'll have a ready-to-go option that'll help you create a beneficial relationship with the public.
Without wasting time, let's get started.
Table of Content
Do you need our first choice that will get you up and running? Choose Voila Norbert – an email finder tool suited for PR campaigns. Take a test ride today and get 50 free emails using this link.
Voila Norbert
Norbert comes in handy as an email finder when you're looking for prospects to launch a PR campaign.
The tool has a track record of finding valid emails that result in little to no bounce rates. This means you're able to make communication better, stronger, and faster.
Here's how we measure against some of our top competitors when it comes to accuracy.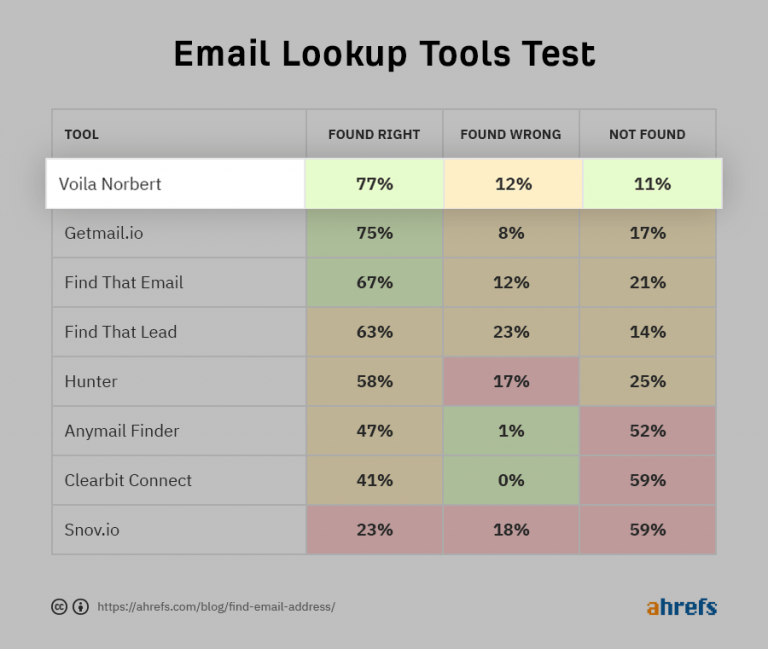 And as you know, the PR profession is the least evolving when it comes to technology.
For example, this Global PR Survey in 2020 found that most public relations professionals still use basic tools like Microsoft Excel as their contact database.
What's more disturbing is that 4/5 of PR pros use manual research forms like reading newspapers and news websites to get contact details.
This is the headache Voila Norbert wants to get rid of.
Key Features and Benefits of Voila Norbert
Here's a brief breakdown of what Norbert has to offer.
Finding bulk email addresses or individual emails using your prospect's company URL and names.
A chrome extension that allows you to find emails on the website you're currently visiting.
The bulk enrichment feature comes in handy when you want to boost your cold email campaign with a multi-channel approach.
The prospects list export downloads your contact list into a CSV file or Google sheet.
Tens of integrations that allow you to do a lot more in a short time.
The bulk verification tool verifies a list of contacts to make sure you still record an accurate score.
How to Use Voila Norbert
You can use Voila Norbert in two ways: From the web app or chrome extension.
Either way, what you need to get started are your prospects' names and company URLs.
When using the web app, manually type your prospects' information into Nortber's search box or upload a CSV file with multiple contacts.
Once done, click " go ahead, Norbert." It'll do its magic and spit back a complete list of emails. Each email has an accuracy score to tell how sure Norbet is that the email is correct.
To get the most out of Norbert, take advantage of our free chrome extension. It's reliable and fast.
Side Note: We recently ramped up the chrome extension to find emails on Linkedin. Check how it works.
Voila Norbert Reviews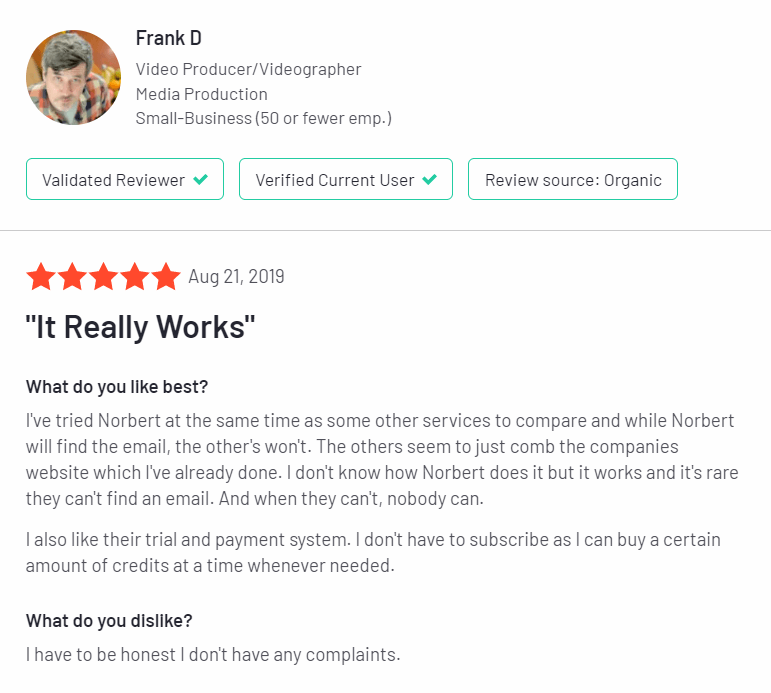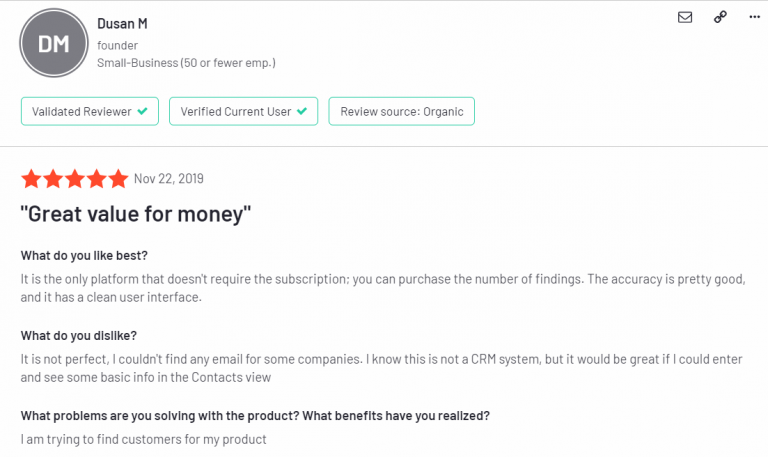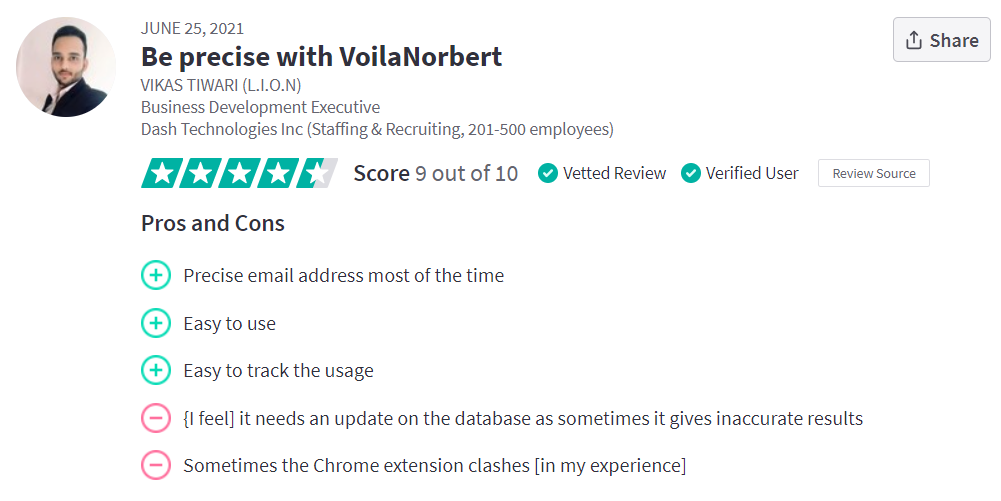 Voila Norbert Pricing
Norbert gives you four pricing options to choose from as follows.
Valet ($49/month)
Butler ($99/month)
Adviser($249/month)
Counsellor ($499/month)

As you can see, our tiered pricing system is flexible.
This way, you get to choose the right plan depending on your PR campaign size and the number of contacts you want to reach.
Do you want to take Voila Norbert out for a test drive? Sign up now, and get 50 free emails today?
HARO (Help a Reporter Out)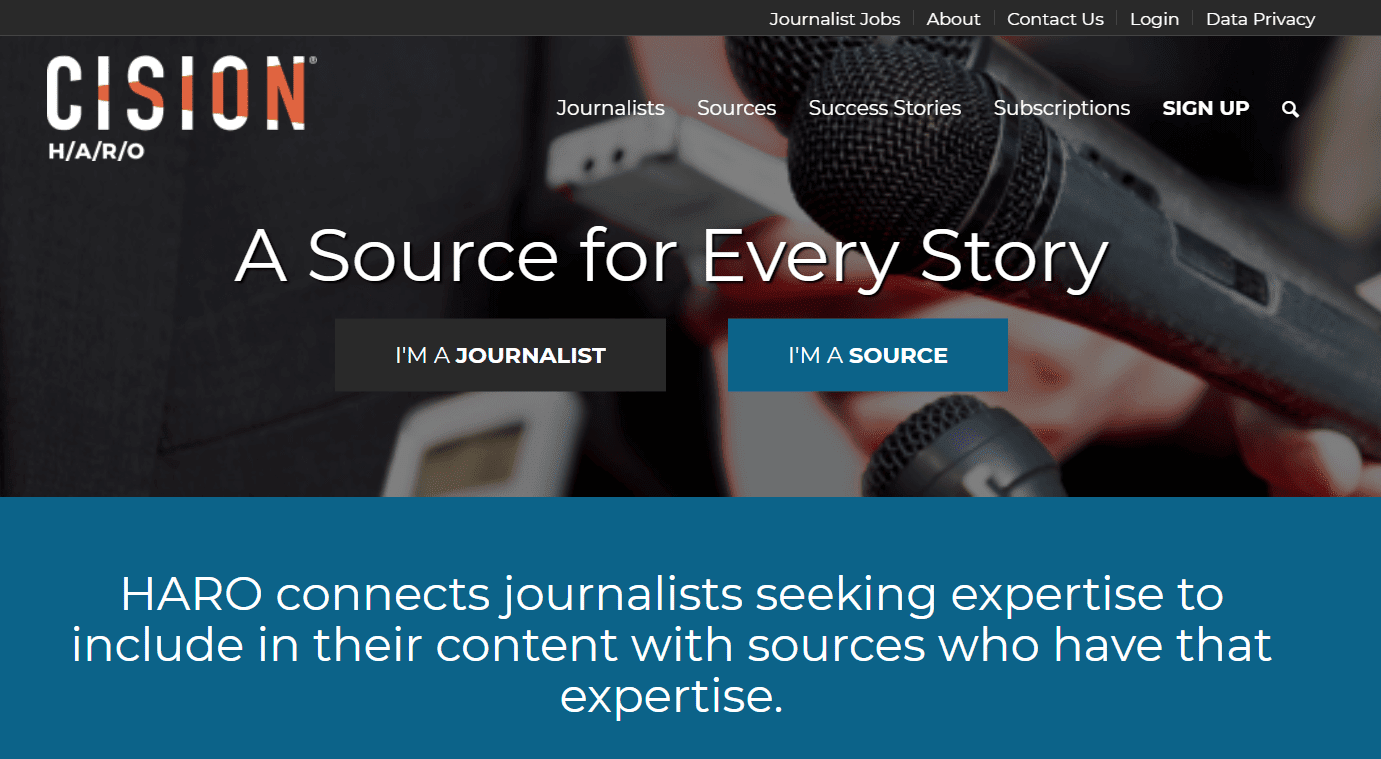 You can't talk about PR and leave HARO out.
It's the most famous PR platform, boasting 1 million sources and 75,000 journalists who can help you get media coverage in relevant publications.
So if you are utterly blind on where to start, look no further.
HARO Key Features & Benefits
Since HARO is more of a networking platform, it doesn't work as a web app.
Nevertheless, its functionalities are suited to help PR professionals build high-quality backlinks and help establish their brand.
For example, as a two-sided marketplace, HARO allows you to get sources for press coverage as a PR professional.
On the other hand, it provides journalists looking for subject matter experts (like you) to quote in their stories. This is a win-win for both parties.
Furthermore, HARO delivers media opportunities three times a day to your Gmail inbox or through text alerts.
How To Use HARO
The first step is to register, which takes a few minutes.
Once you've done that, they'll start sending you three daily emails. Scan each email alert carefully.
Do that as soon as the emails land in your inbox. Why? Thousands of other people get the same emails, and journalists end up overwhelmed with pitches.
Check for sources that are relevant to your personal experience or industry.
Once you've identified the perfect opportunity, respond by writing a killer pitch. Note that this is a numbers game. You have to send multiple pitches to increase your success rate.
HARO Reviews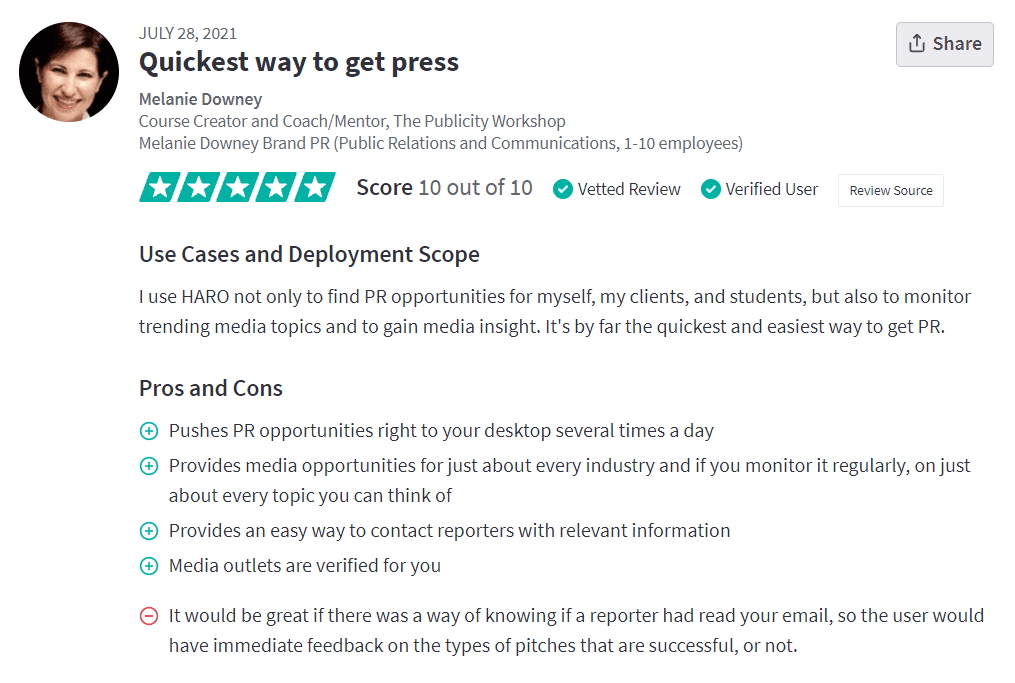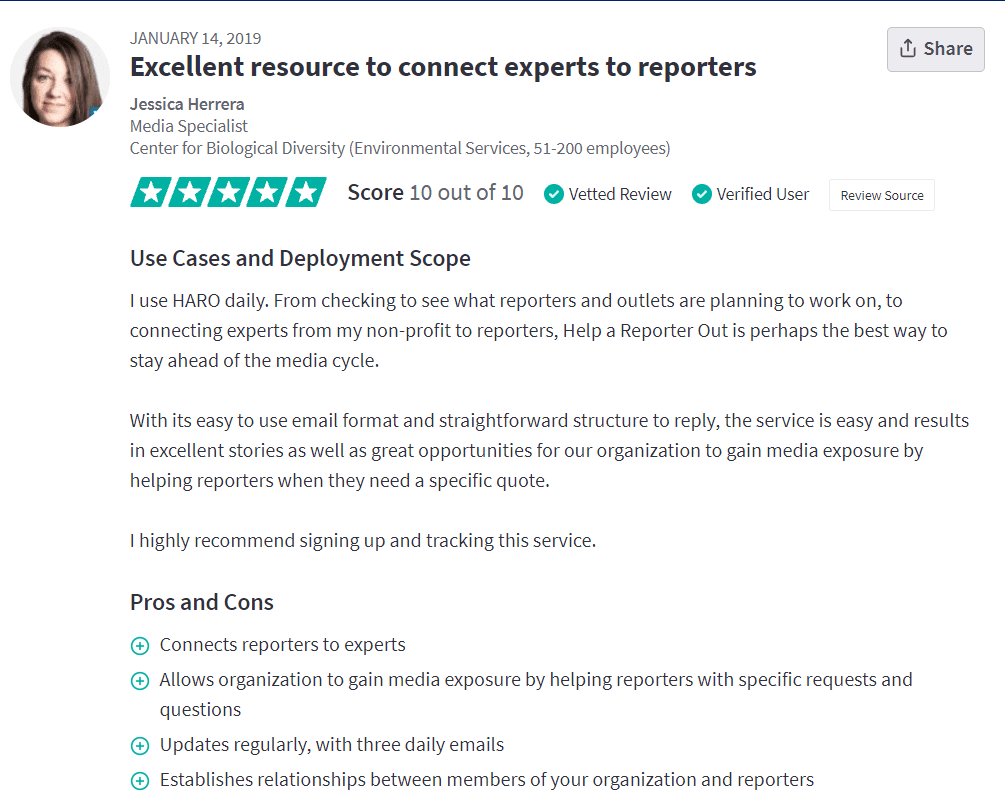 HARO pricing
HARO's pricing plans come in four subscription options.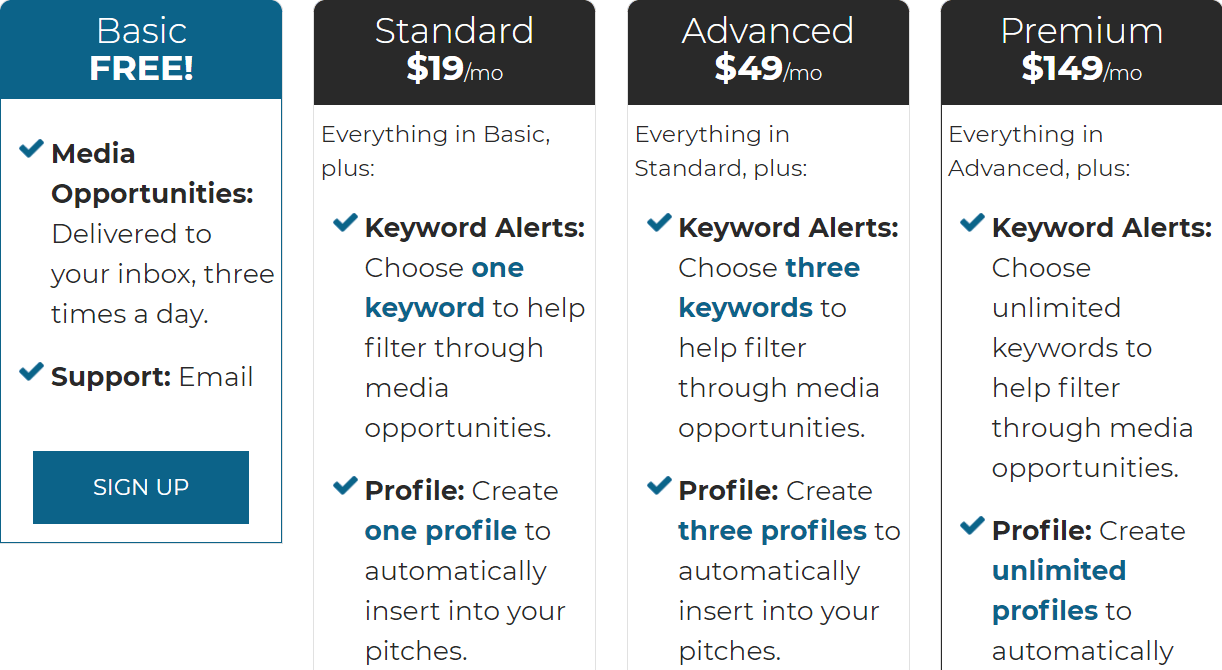 The subscriptions add more functionalities as you climb up the ladder.
The difference is mainly in the number of profiles you can create, keyword alerts, and mode of customer support.
JustReachOut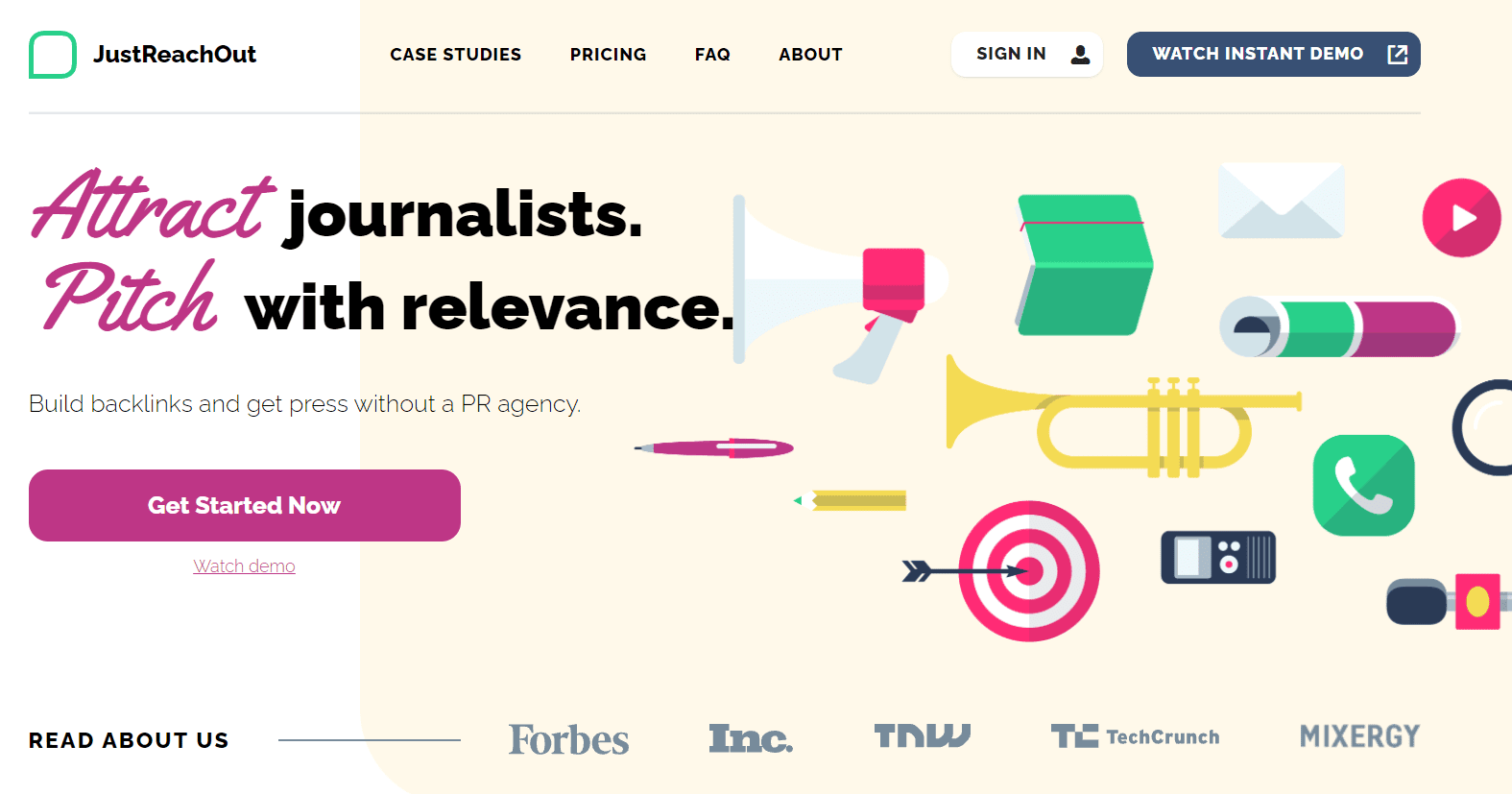 As a full-suite PR outreach tool, JRO helps you in essential stages of a PR campaign – talk of searching, outreach, and guidance.
You'll use it to surface journalists and press opportunities relevant to your brand.
This is possible because it indexes millions of articles daily on specific topics, industries, niches, and companies. With the data, it's easy to get journalists based on their past writing.
JustReachOut Key Features and Benefits
JRO sends you daily, weekly, or biweekly email notifications on new press opportunities most relevant to you.
The broken link finder helps you to find potential broken link opportunities that you can get mentions.
With the labels, you can sort and filter your campaign outreach.
The analytics section measures your open rate and response rate. You'll adjust accordingly based on the data.
How to Use JustReachOut
JRO works in three steps, as described below.
Step 1: Build a list of targeted, relevant influencers, and journalists
This step involves creating an action plan that rhymes with your search results.
With a targeted search process, you can get press opportunities with journalists seeking experts in your industry.
Step 2: Send Your Pitch
JRO gives every user a personalized conversation starter.
You also get subject headlines and email tips for each prospect that are proven to get positive responses.
Step 3: Just Reach Out
The final step is all about optimizing and redoing what you've already done.
This is where you get analytics for your campaign. You can benchmark your close rates across all campaigns. Try different options and see what works better.
JustReachOut Reviews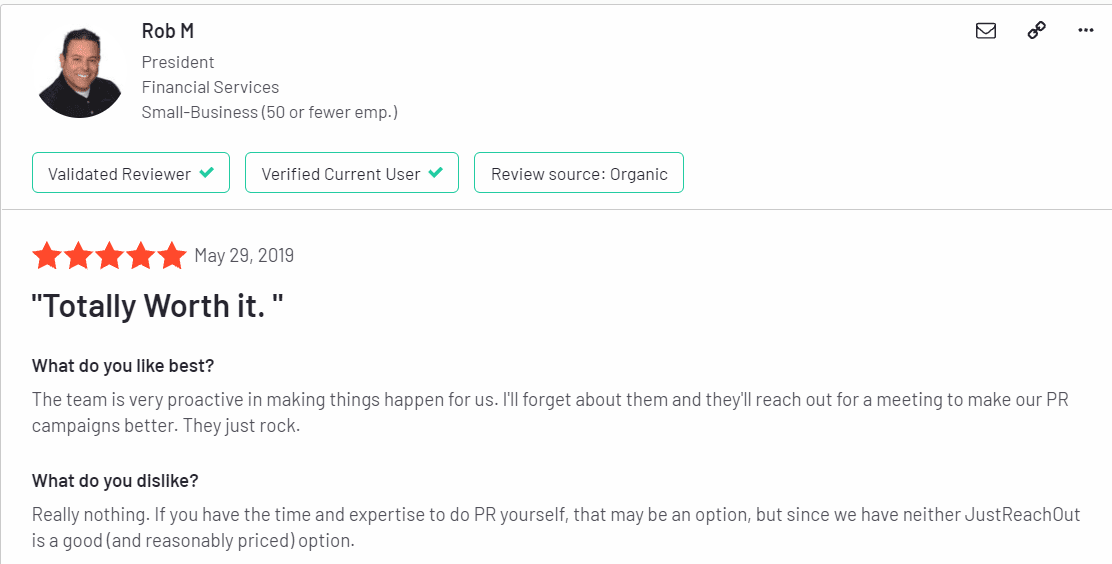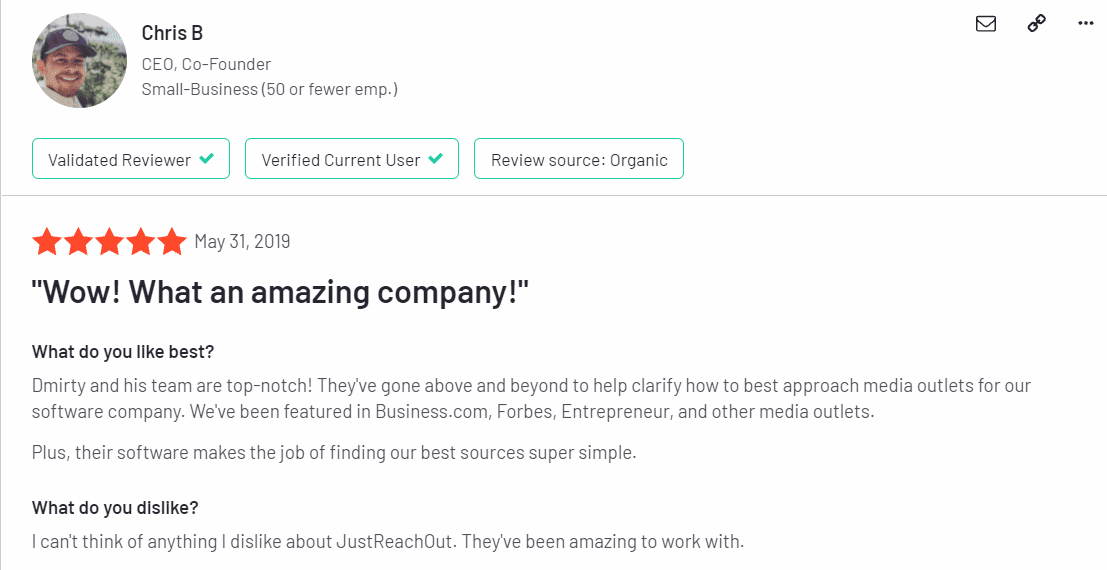 JustReachOut Pricing
The tool's pricing is one of the most expensive in this guide.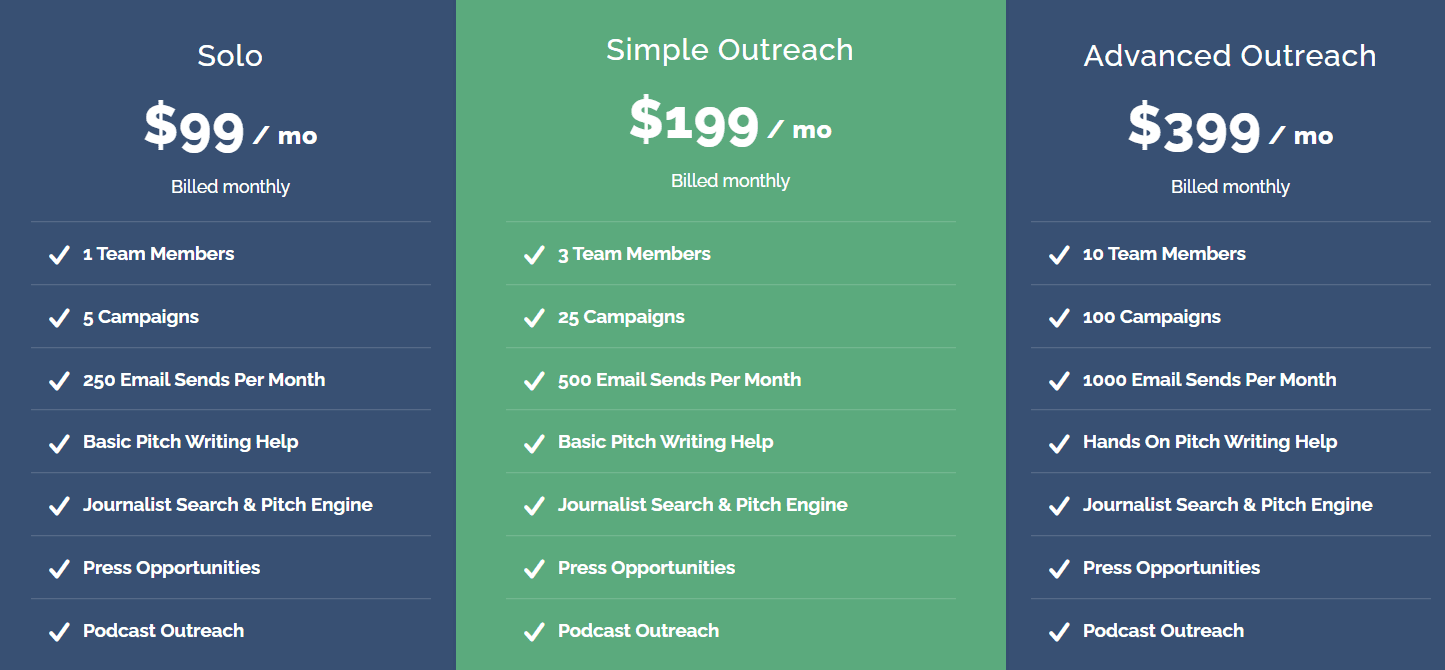 For $99/month, you can launch 5 PR campaigns with basic pitch writing help. While that's on the low side, you still get 250 email sends every month.
If the "Solo" plan isn't the right fit, you can jump to the "Simple Outreach" plan costing $199/month. It comes with additional features like three team members, and 500 email sends each month.
The final plan goes for $399/month. It has all the features you'll need, hence perfect for huge companies and marketing agencies.
BrandsEye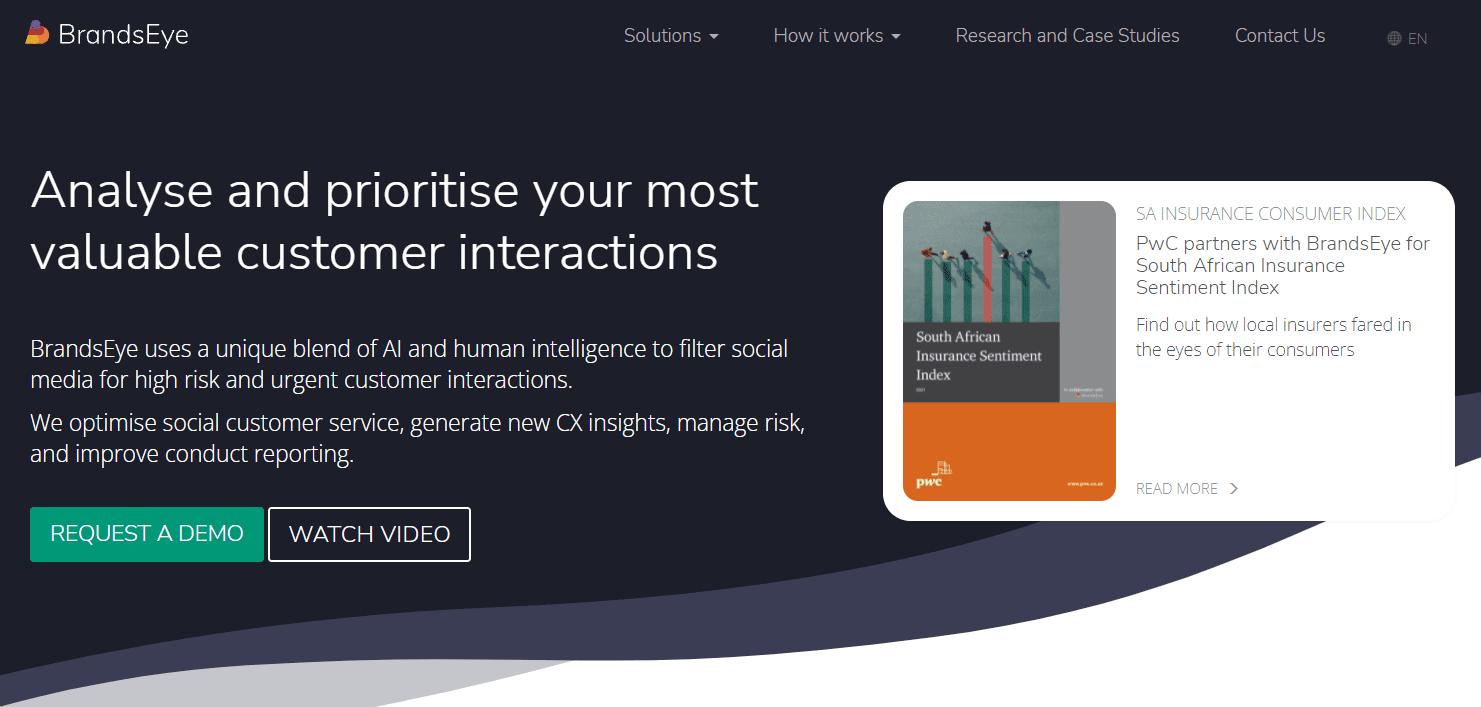 Brandseye is a powerful PR tool that scans media feedback about your brand.
What's exciting is that it merges human intelligence and AI. This way, you can quickly identify high-risk conversations about your brand.
And since you know how damage control is essential in PR, you can swoop in quickly with the right solution.
BrandsEye Features and Benefits
As a damage control tool, Brandseye features are all channelled to maintain your brand's reputation.
The customer experience feature is an insight-based solution that identifies areas of friction in your customer journey.
The risk and management reputation protects you from organizational and reputational damage. It does this by identifying potential damaging social media conversations in real-time.
It provides opinion-based insights with detailed metrics and reporting.
How to Use BrandsEye
The tool's driving force is known as crowd members.
These are real people that work together to review, categorize and contextualize tweets, Facebook posts, blog posts, and other online data.
Whenever you have a query, you'll request the tool to analyze public sentiments about your product. The AI will do the hard job of sourcing the data.
And since AI can't understand human conversation like sarcasm or slang, the crowd members come in to review the data provided by the AI.
BrandsEye Review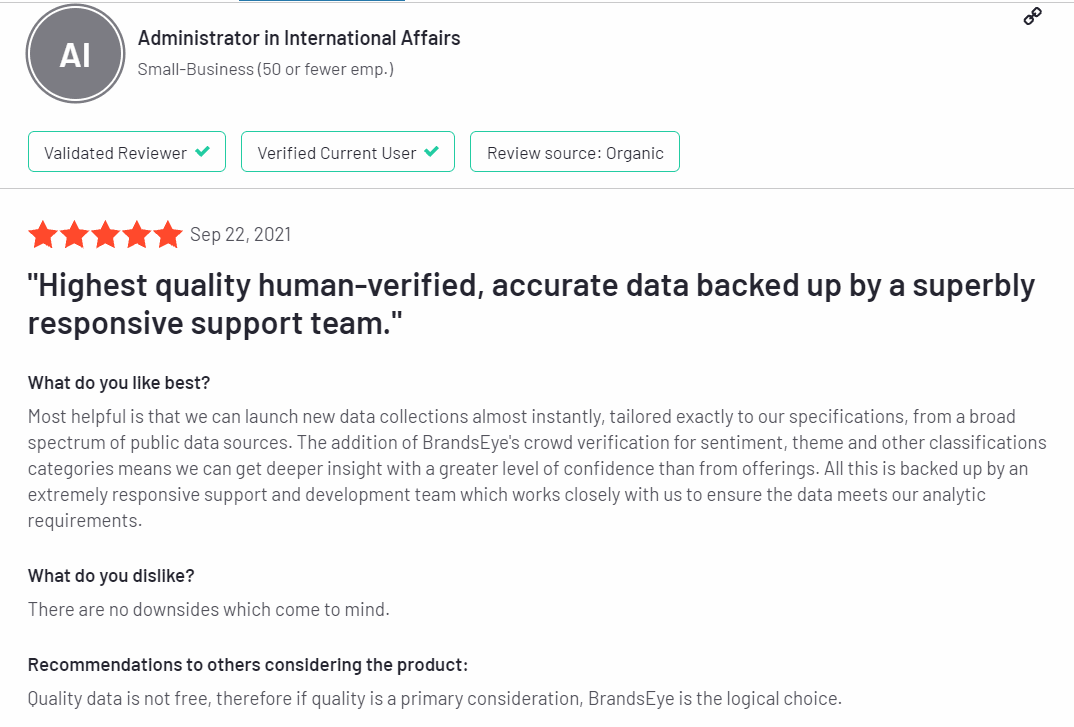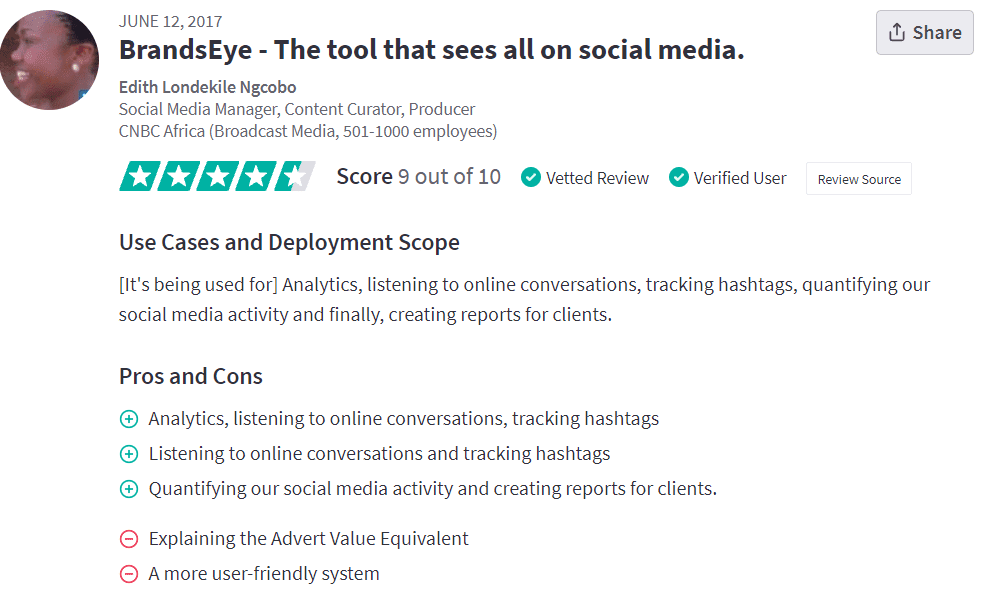 BrandsEye Pricing
The only downside is that Brandseye doesn't provide pricing for potential customers. You have to reach out to them to get a plan.
Prowly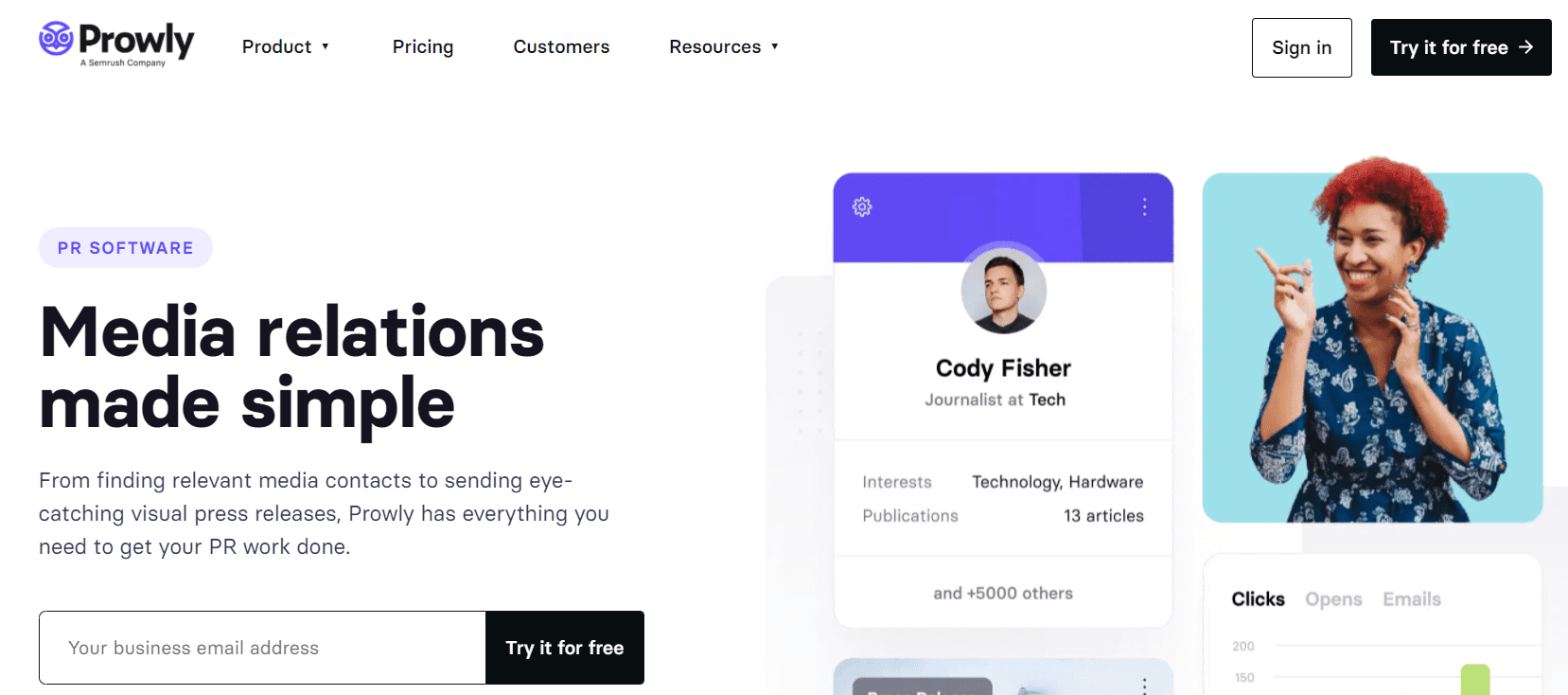 Prowly just made the big announcement that it got acquired by SEMrush.
The acquisition just came at the right time. Now Prowly can get analytics and insights to help users run more effective PR campaigns.
Nevertheless, the tool is still modern and user-friendly. Plus, it got what you just need to find relevant media contacts.
Prowly Features and Benefits
Since Prowly is a full-suite tool for all your PR needs, it has multiple features for each step in your PR campaign.
Here's a brief breakdown of the essential features.
The press release software allows you to create and distribute your press releases in a straightforward workflow.
You can email your press releases directly from Prowly to multiple contacts without losing personalization for each recipient.
You get actionable analytical insights for your campaigns.
The online newsroom software allows you to establish one source of information for anyone looking to learn more about your brand.
How To Use Prowly
You can do a bunch of stuff with Prowly.
Talk about managing media relations in one place, creating interactive press releases, and personalized email pitches for prospects.
But that's not everything. To get the most of the tool, consider setting up a newsroom.
This comes in handy when you're dead serious about media relations. It's the perfect place to put all your information that might interest journalists looking for experts in your industry.
Some of the content you can store here are reports, press releases, contact details, and branded content.
Prowly Reviews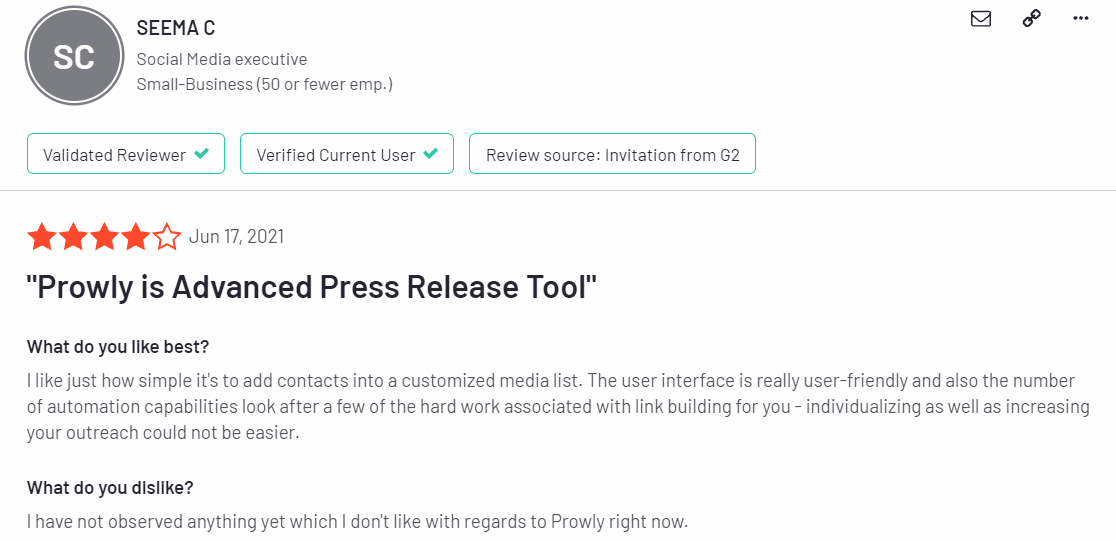 Ellie GI review on Capterra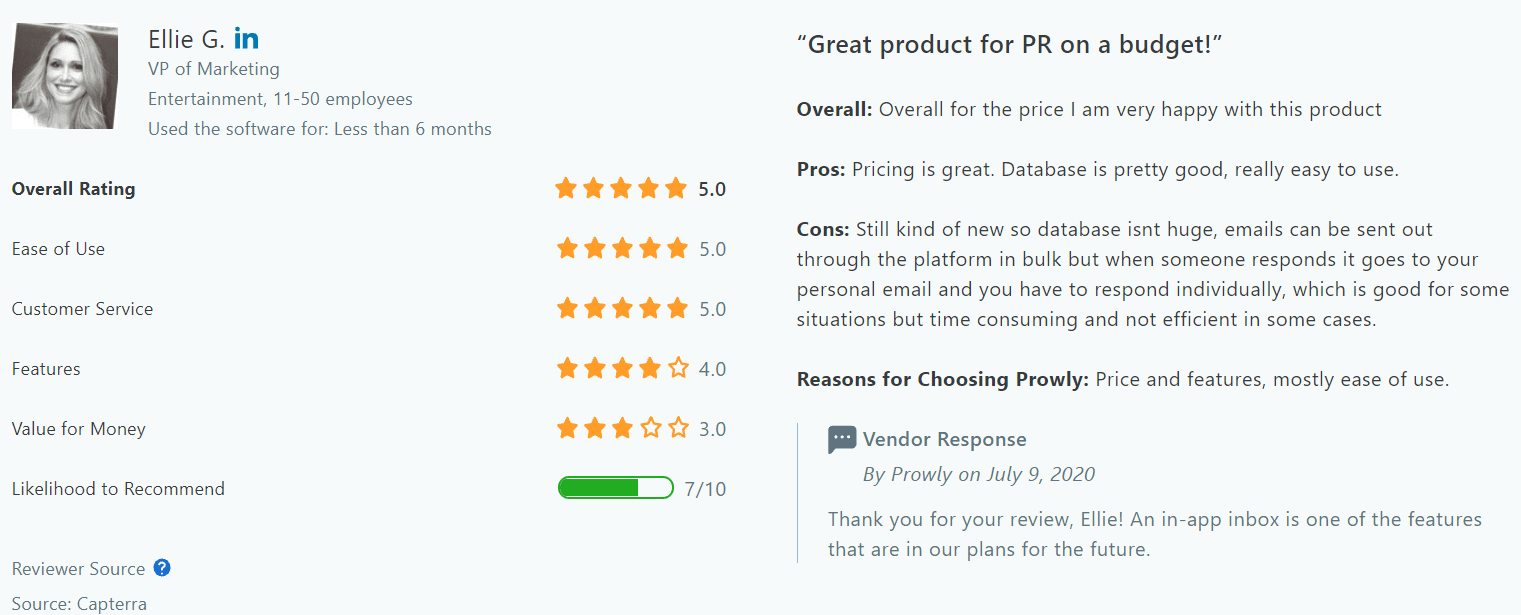 Prowly Pricing

Prowly starts with a free pricing option that gives you a test drive for seven days.
Once it's complete and you're sure the tool is the right fit, you can upgrade to the "essential" plan going for $189/month billed annually. It gives you access to 1000 media contacts and a couple of essential features.
The final plan costing $259/month, allows you to send up to 15,000 emails per month. Moreover, you can bring four more users onboard to consume the advanced features.
PR Web by Cision
PR web is a product of Cision and a sister company to HARO.
A little history takes us back to 2004 when PR web was a powerhouse. You could use it to publish a press release at night and get ranked #1 on Google the following morning.
But the tool's prowess began to subside when Vocus acquired it. Not extremely bad, though, as Vocus came with an enormous number of PRweb releases.
Things completely changed for the better when Cision acquired Vocus in 2014. They added new features that significantly improved PR web's performance.
The tool can now boost your online awareness, reach new customers, and drive traffic to your blog on the fly. This is a proven way to impact your bottom line.
PR web Features and Benefits
You get 24/7 customer support.
More than enough resources for PR with best practices.
Content proofreading for press releases.
The tools' communications offer cloud integration for subscription customers​.
How to use PR web
The tool works in a three-step process.
You start by creating a story. There are more than enough popular tools to help you create compelling stories.
The next step is to share your content using the tool's multiple distribution channels. You can quickly reach 1000 websites, industry-specific journalists, and bloggers in your niche with a good strategy.
Lastly, you get to measure your campaigns using the analytics and performance section. It can calculate your ROI and optimize your communication strategy.
PR web Reviews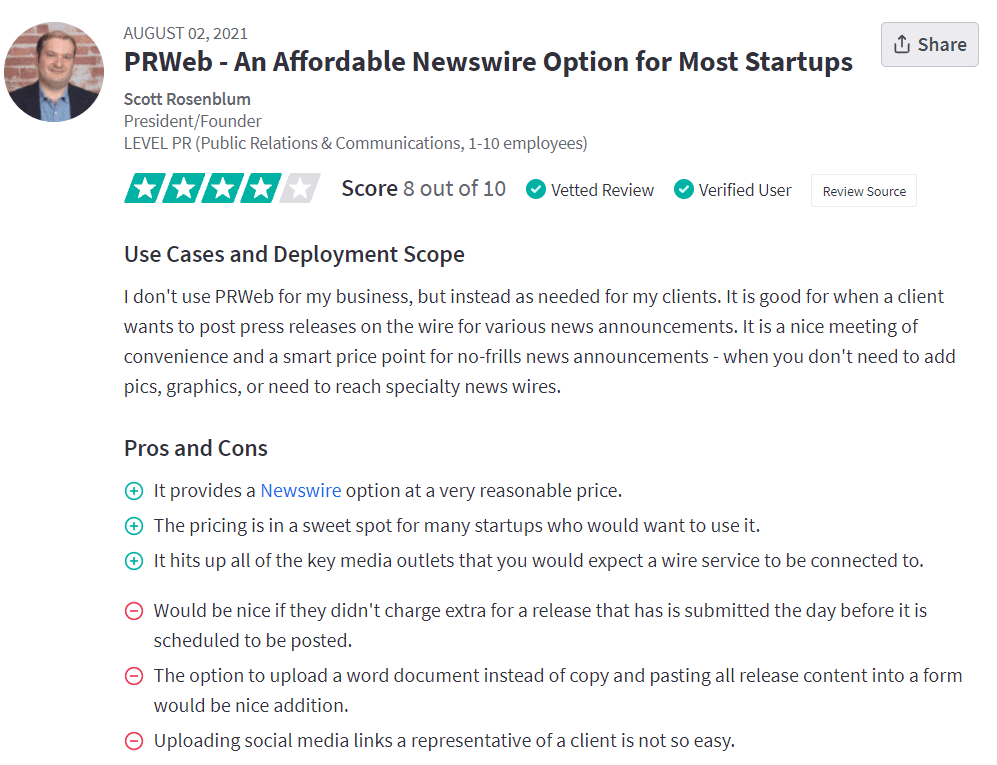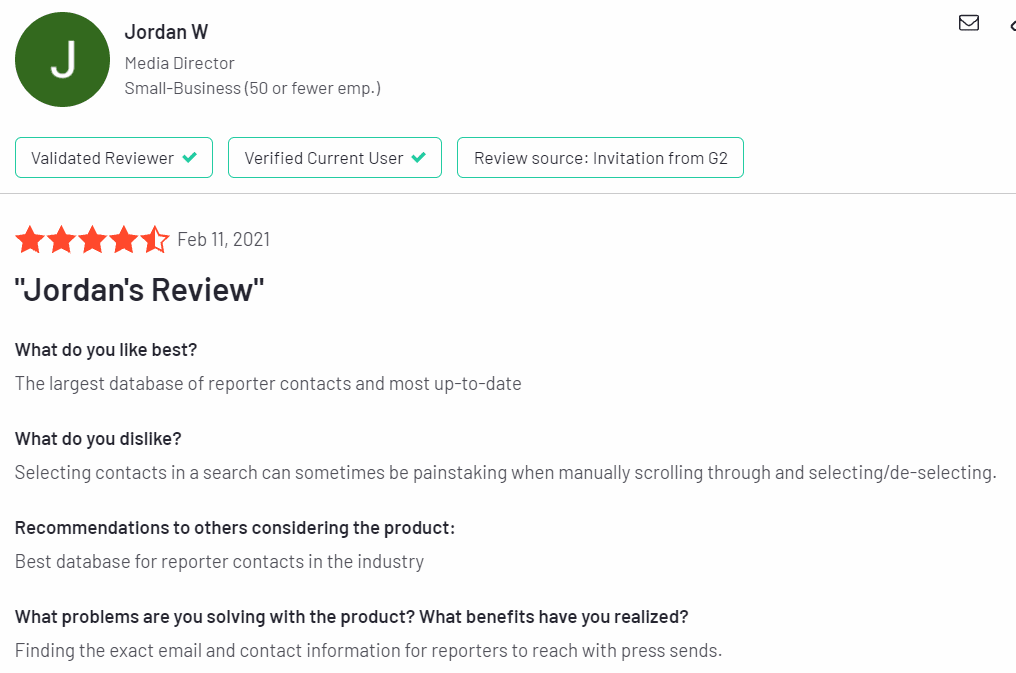 PR web Pricing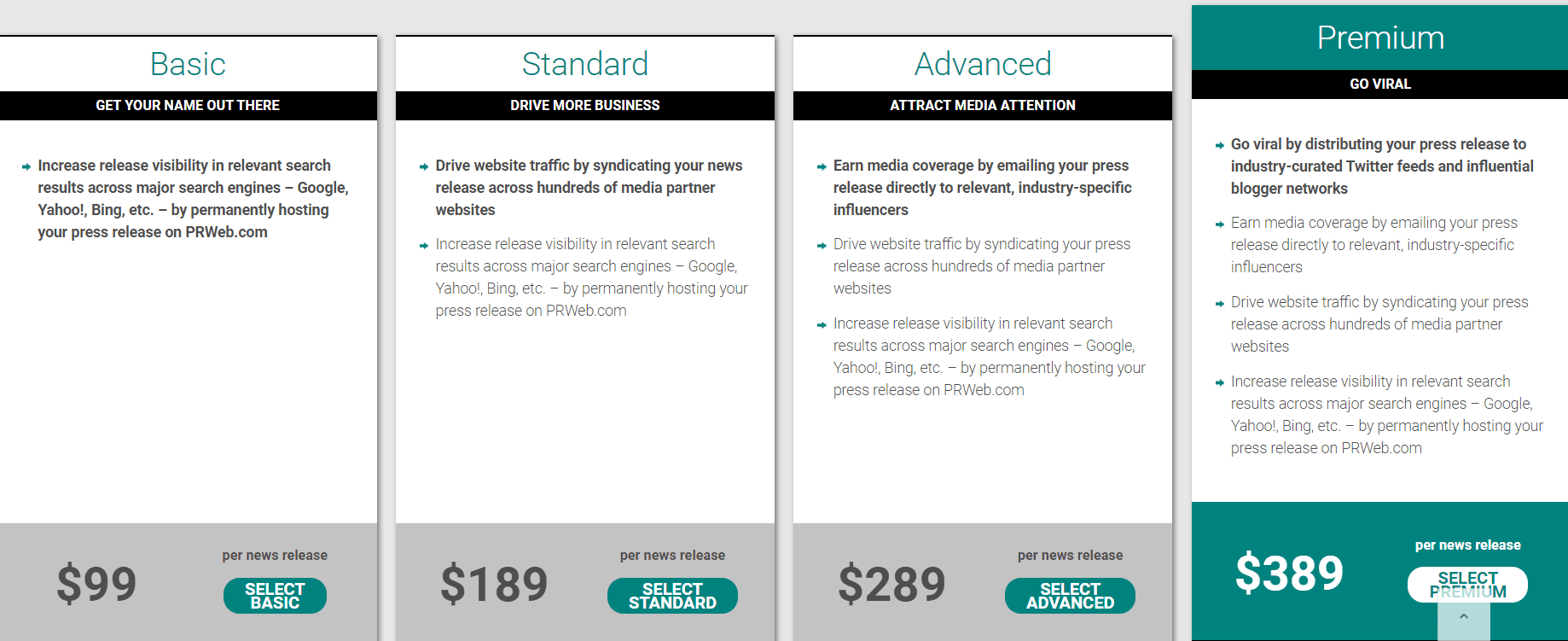 PR web's pricing is divided into four packages.
The basic option doesn't offer much. It aims to get your name out by increasing your visibility on search engines.
The second price is twice as expensive, and it's meant to drive you more business.
When you want to take your PR campaigns to the next level, the "advanced" plan is what you need.
While it comes with numerous features, what stands out is the media coverage feature. This gives you direct access to industry-specific influencer lists.
The final plan costs a whopping $389/month. No worries though, the features it comes with are suited to make you go viral.
BuzzSumo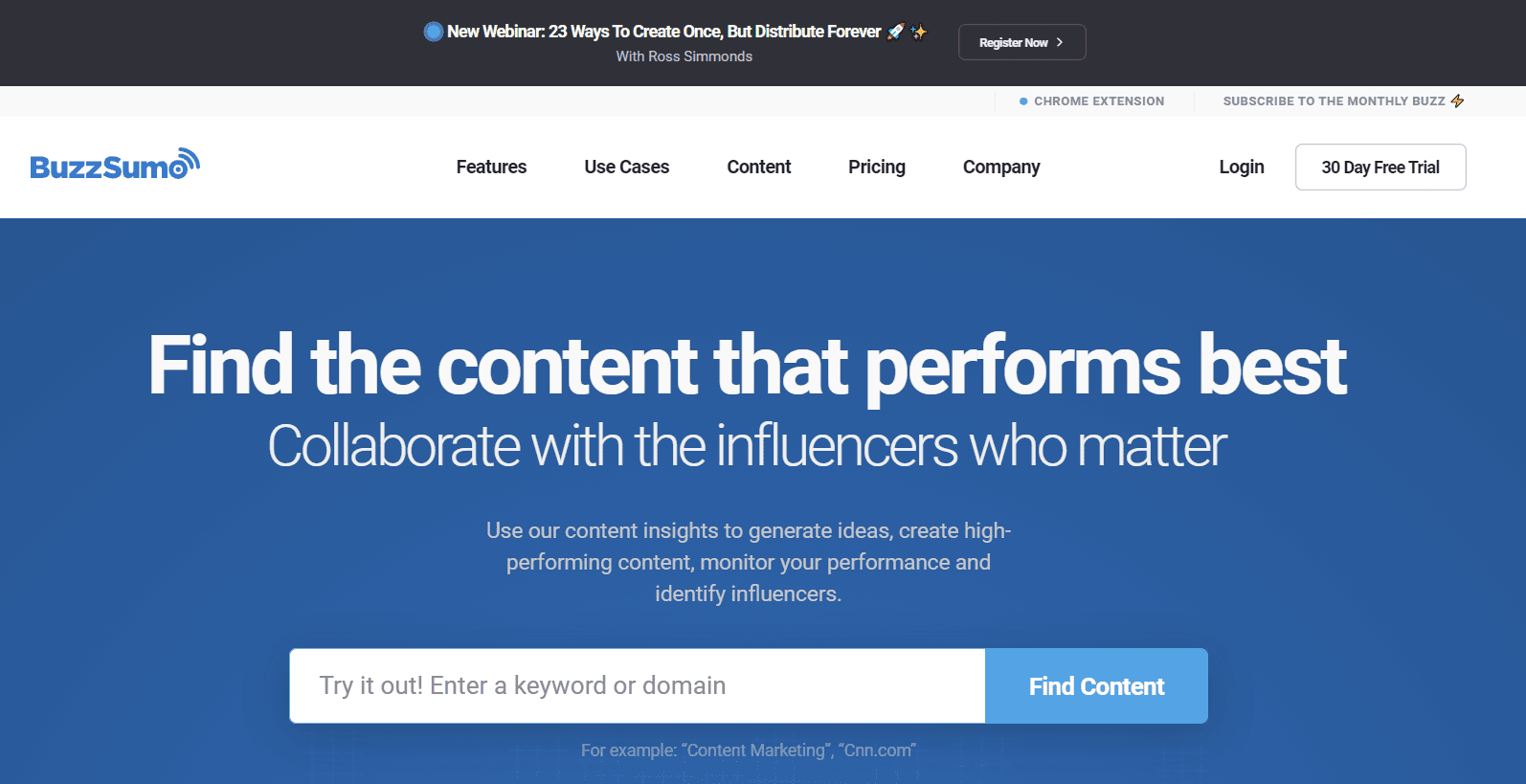 BuzzSumo is a multi-talented tool.
Whether you want a link-building tool, digital marketing maestro, or PR warlord, it got you covered.
That's why it's become so popular and commands a vast customer base, including big names like BuzzFeed and Ogilvy.
But this is just the tip of the iceberg. Here's more.
BuzzSumo Features and Benefits
BuzzSumo has access to 8 billion articles from the web. You can hone on this data to find the most effective mentions for your brand.
The brand monitoring feature helps monitor your brand and check any mentions online. You can also use it to compare your brand's mentions against competitors. This way, you can prioritize your most vital mentions with social media engagement.
The find influencers feature makes it possible to identify authors and creators with engaged social audiences.
While Buzzsumo has a lot you can leverage, the chrome extension makes your work even easier. You won't need to run to the web app every time.
How to Use BuzzSumo
As already mentioned, there are a gazillion things you can do with BuzzSumo.
But in this guide, we'll just show you how to use it to monitor your brand's mentions across multiple channels.
To start, head over to the Monitoring section and click the "plus" icon. Create alerts about your brand with anything related.
Since you're one of the first people to get alerts on mentions, you get to do some first-rate-fire fighting (if it's negative news).
BuzzSumo Reviews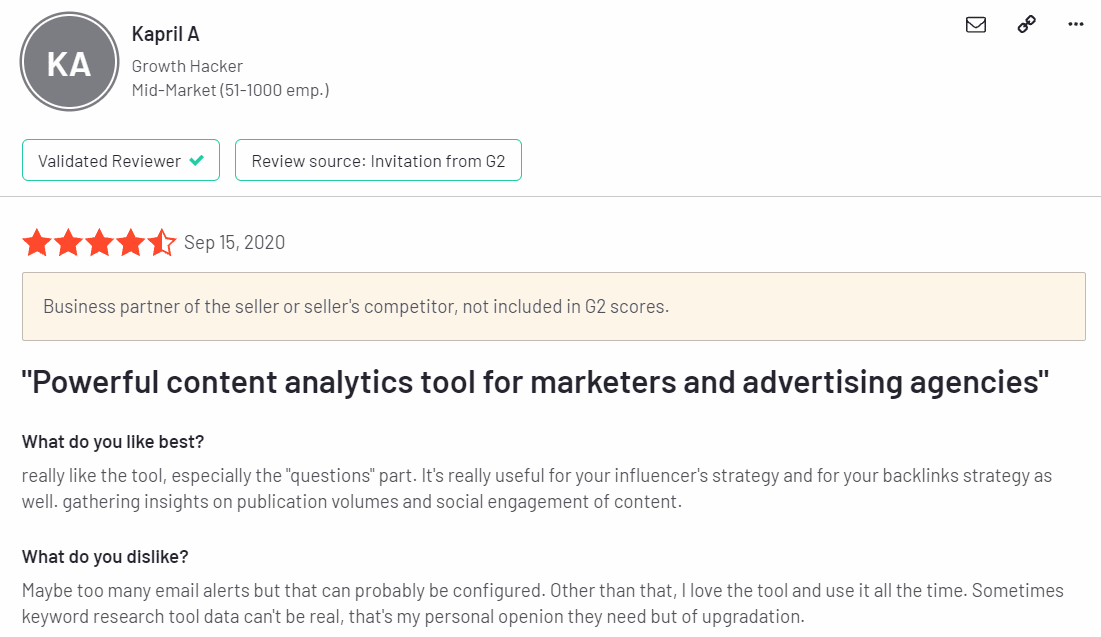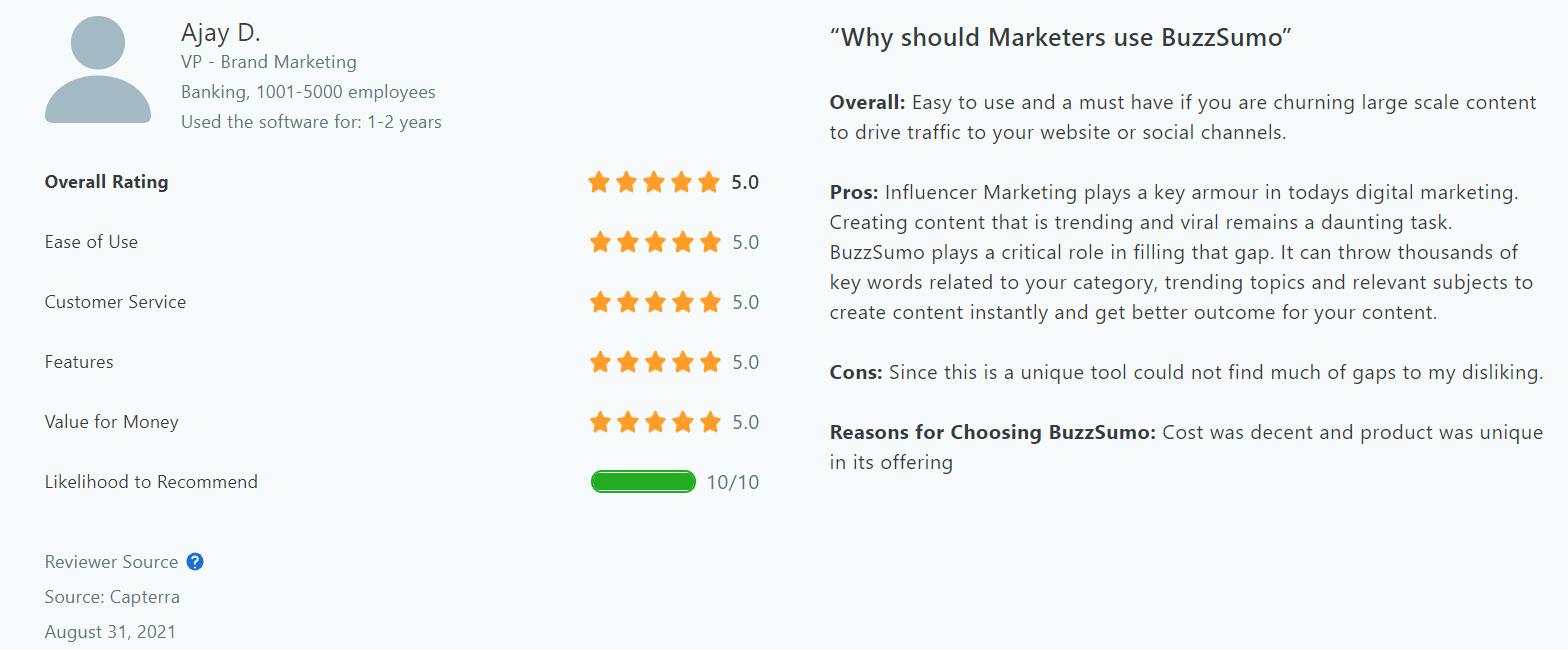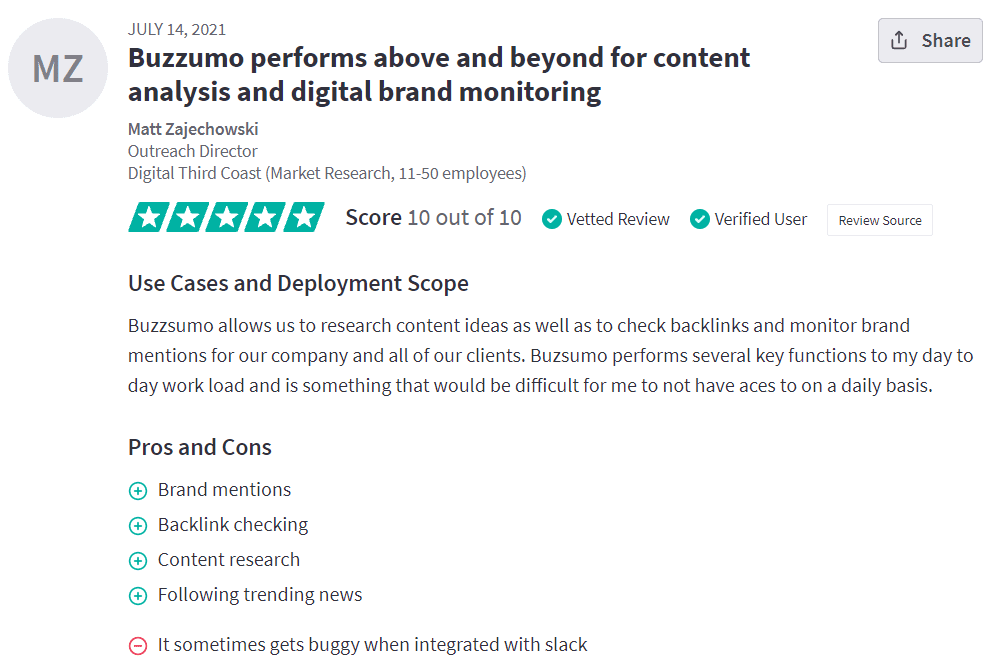 BuzzSumo Pricing
BuzzSumo comes with a free plan for primary use.
But if you want to experience its full potential, upgrade to the pro plan for $99/month. It allows five users, five alerts, and one year of data.
While that's the most popular plan, you can jump to the top-tier plans costing $179/month and $299/month. You get additional features that allow you to do much more.
Google Alert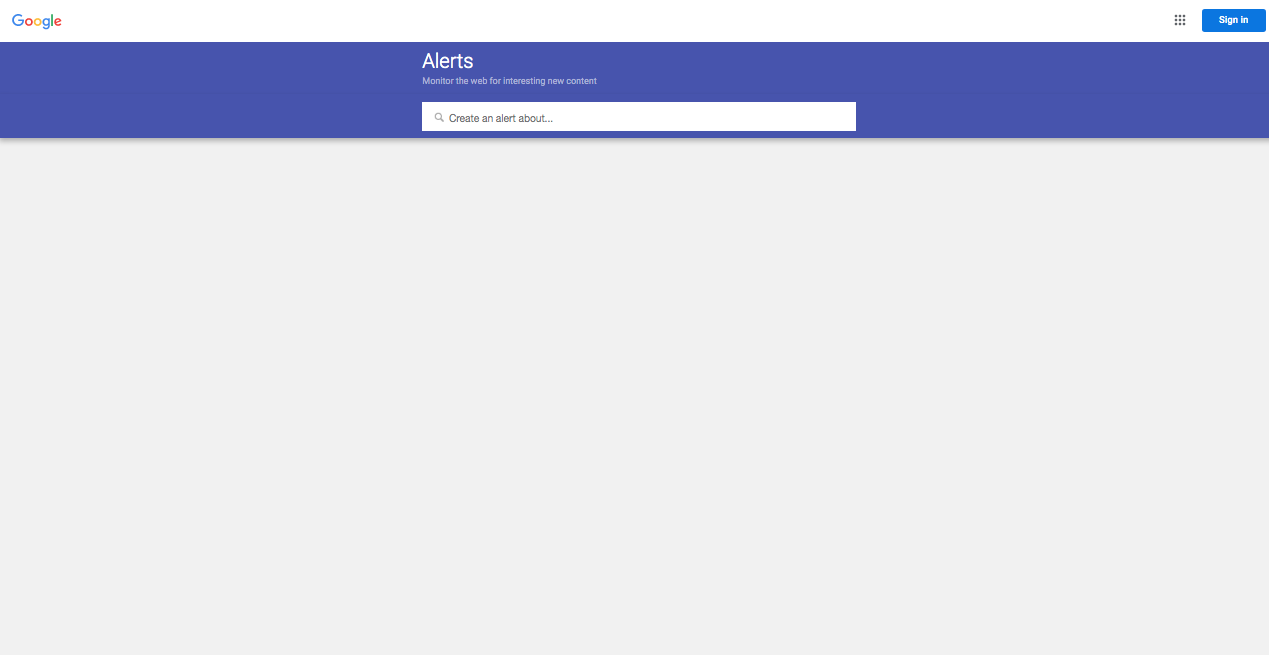 There's no doubt that Google alerts is superb for PR, especially for brand monitoring.
That's why it's the first competitor to Buzzsumo in terms of speed, precision, trend insight, and prioritization.
While Buzzsumo clearly wins in feature comparison, Google alert is still great, considering it's a free tool.
Talking about features, here's what Google alerts have to offer.
Google Alerts features and Benefits.
You can use the tool to monitor the web for content and terms relevant to your industry.
The filters make it easy to narrow down your search. You can remove any noise so that you get notified with the perfect available opportunity.
You can change and customize the alert frequencies. You can also compile all the data you want into a single email which you can open at your convenience.
How To Use Google Alerts
The first step is to go to google.com/alerts and ensure you've logged in with our default Google account. Next, choose keywords and your desired frequency of receiving notifications.
You'll also need to fill in basic requirements like your region, preferred language, and sources. Once done, select the email address you want the alerts to be sent to and hit "create alert."
Google Alerts Review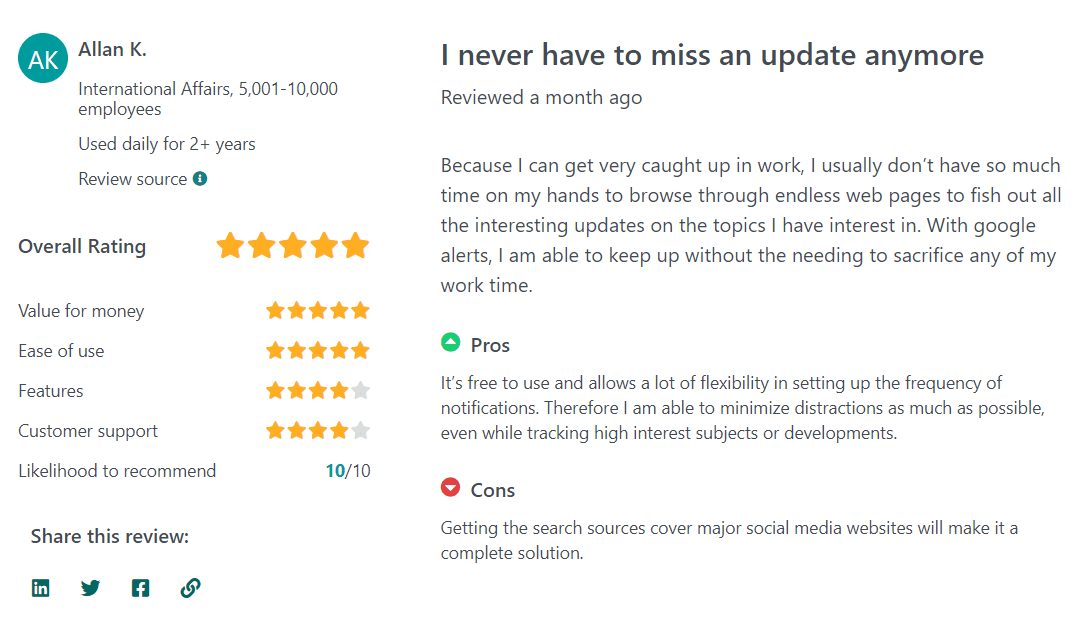 Google Alerts Pricing
As mentioned earlier, Google alerts are free.
9: Mention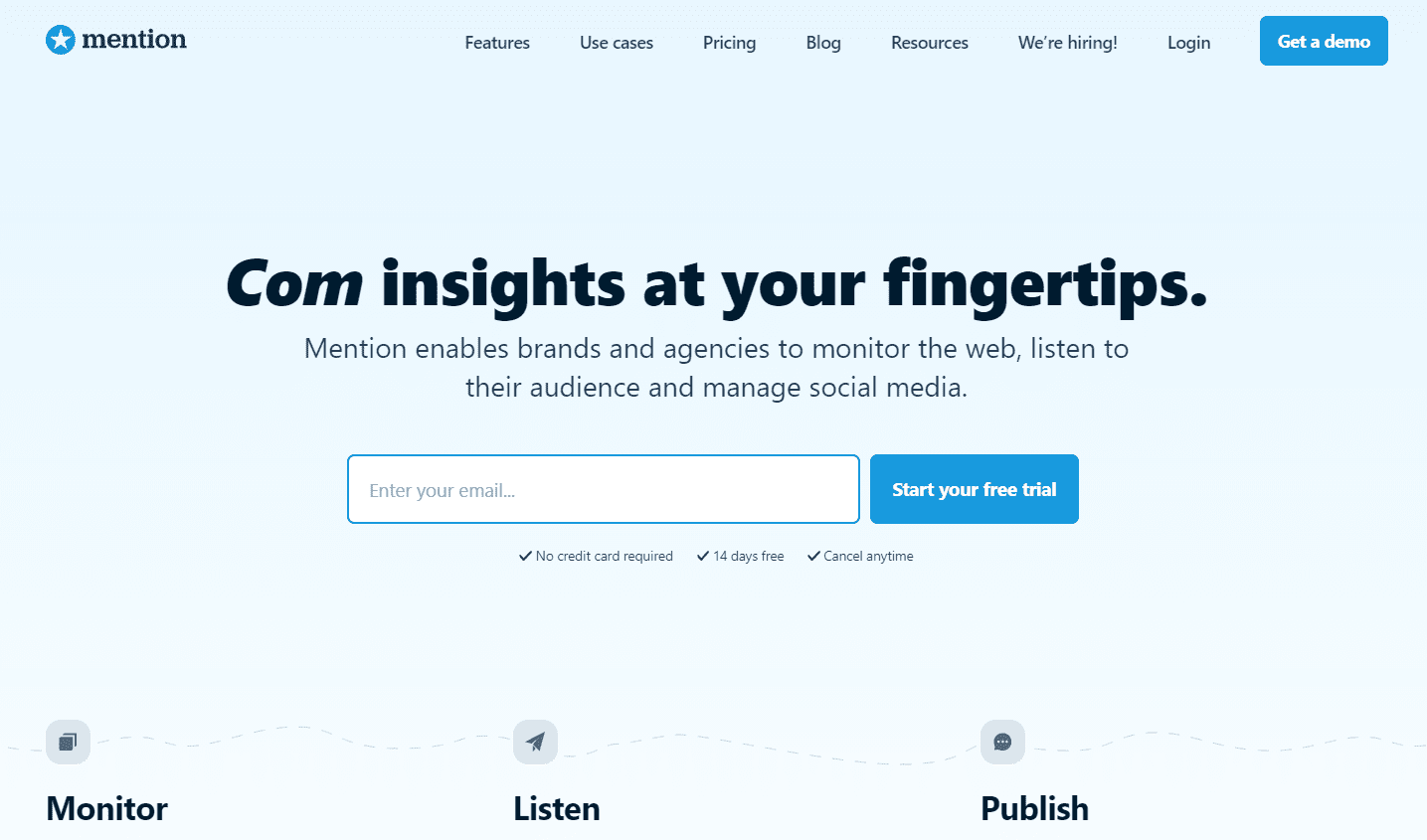 Mention is all about giving you insights from the most crucial group of people.
These are your audiences, market competitors, and, not to forget, your brand. With this monitoring tool, you can monitor the web, listen to what your audience is saying, and adjust accordingly in real-time.
Furthermore, Mention helps you to identify and pick up on trends before they go on mainstream media.
Mention Features and Benefits
You can't launch any PR campaign blindly. You need to be insight-driven. Mention's "listen" feature gives you data from social media to improve your strategy.
Mention comes fully equipped with a special alert system from Boolean operators that's precise and flexible.
The "publish" feature is more of a social media management tool as it allows you to share relevant content with your audience.
How to Use Mention
To use Mention, input your brand's name, executive's name, or other information onto the search icon. You'd also specify the sources you want to get the data from, depending on your preference.
Run the analytics tool once done.
It will do its magic and spit back all the data you need. Of course, there are a few tricks to get the most from the tool.
One of those is to respond directly to mentions in real-time using the Mention app.
Mention Reviews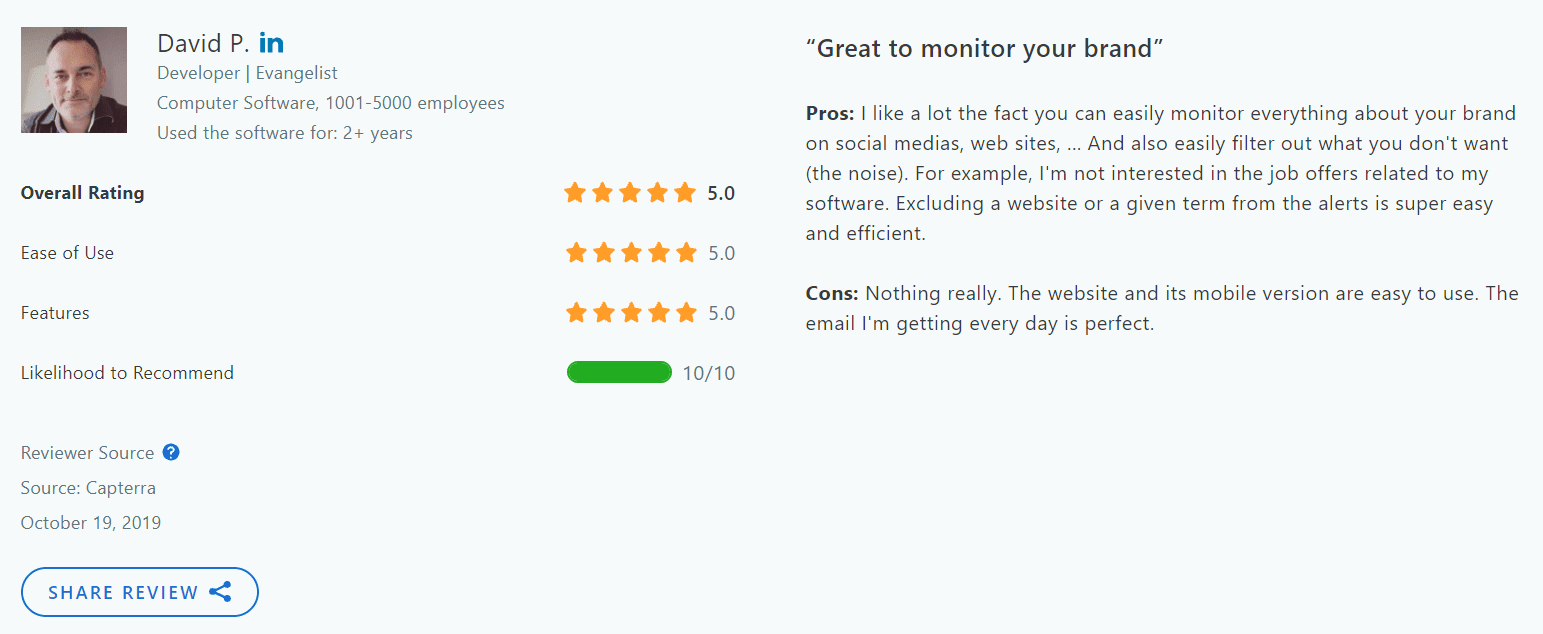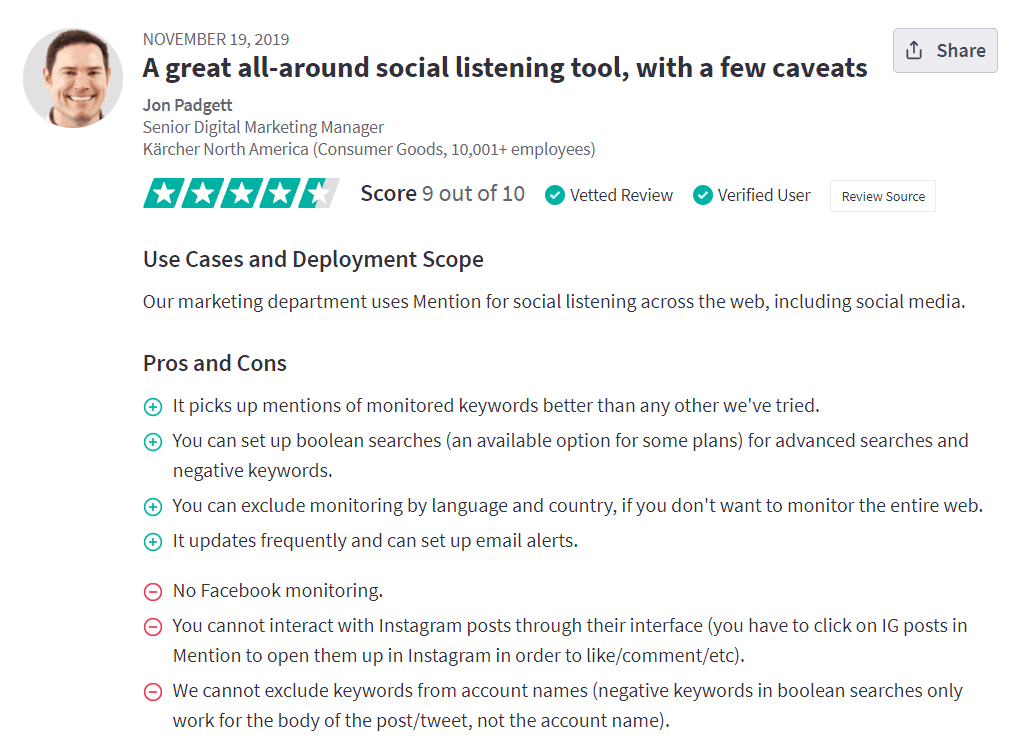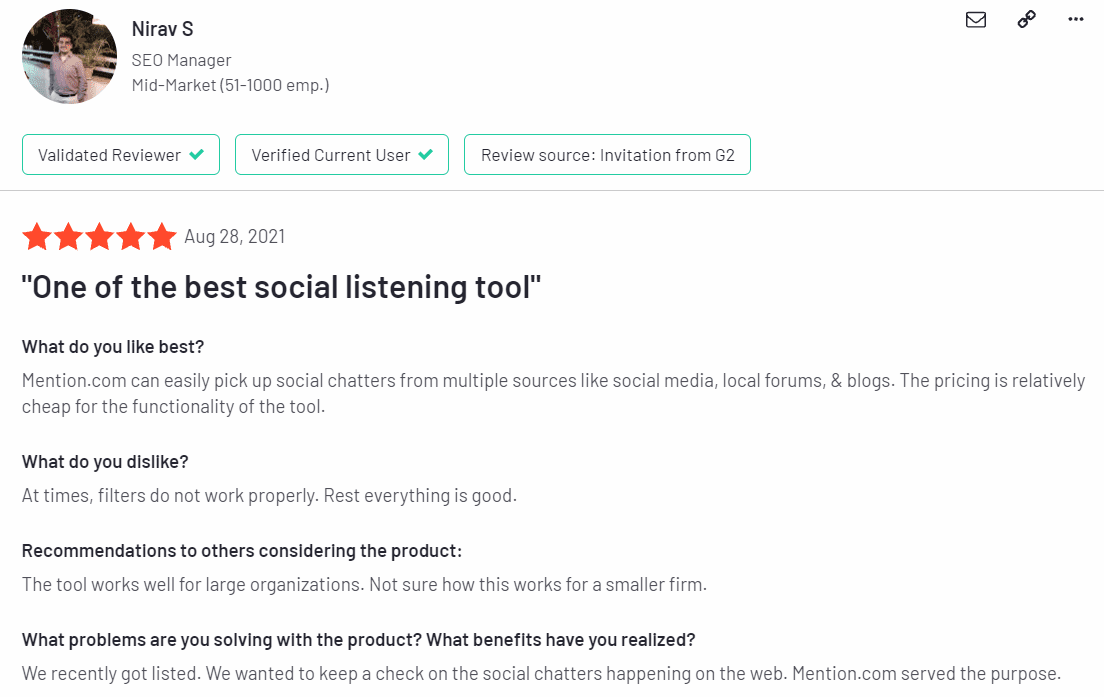 Mention Price
Mention's cost is quite fair.
Plus, it's tiered too. This is to make sure none isn't left out regardless of their budget.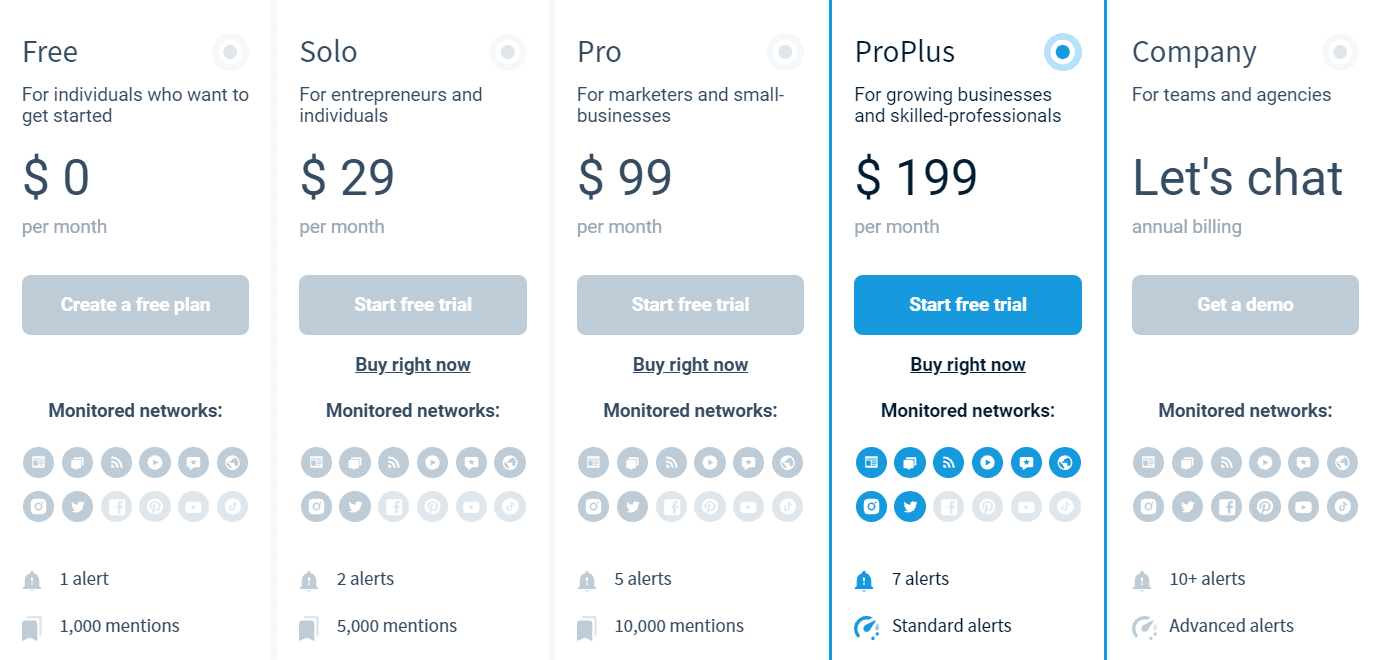 The free plan isn't great (what do you expect?)
Once you've taken the free ride, you can jump to the preceding three options – the most popular being the "solo" plan.
Being able to track 5000 mentions across five social accounts is dependable if you're a small brand. But if you're a big brand with a massive online presence, you better go for the high-end plans.
They cost much more but are worth every penny.
10. Prezly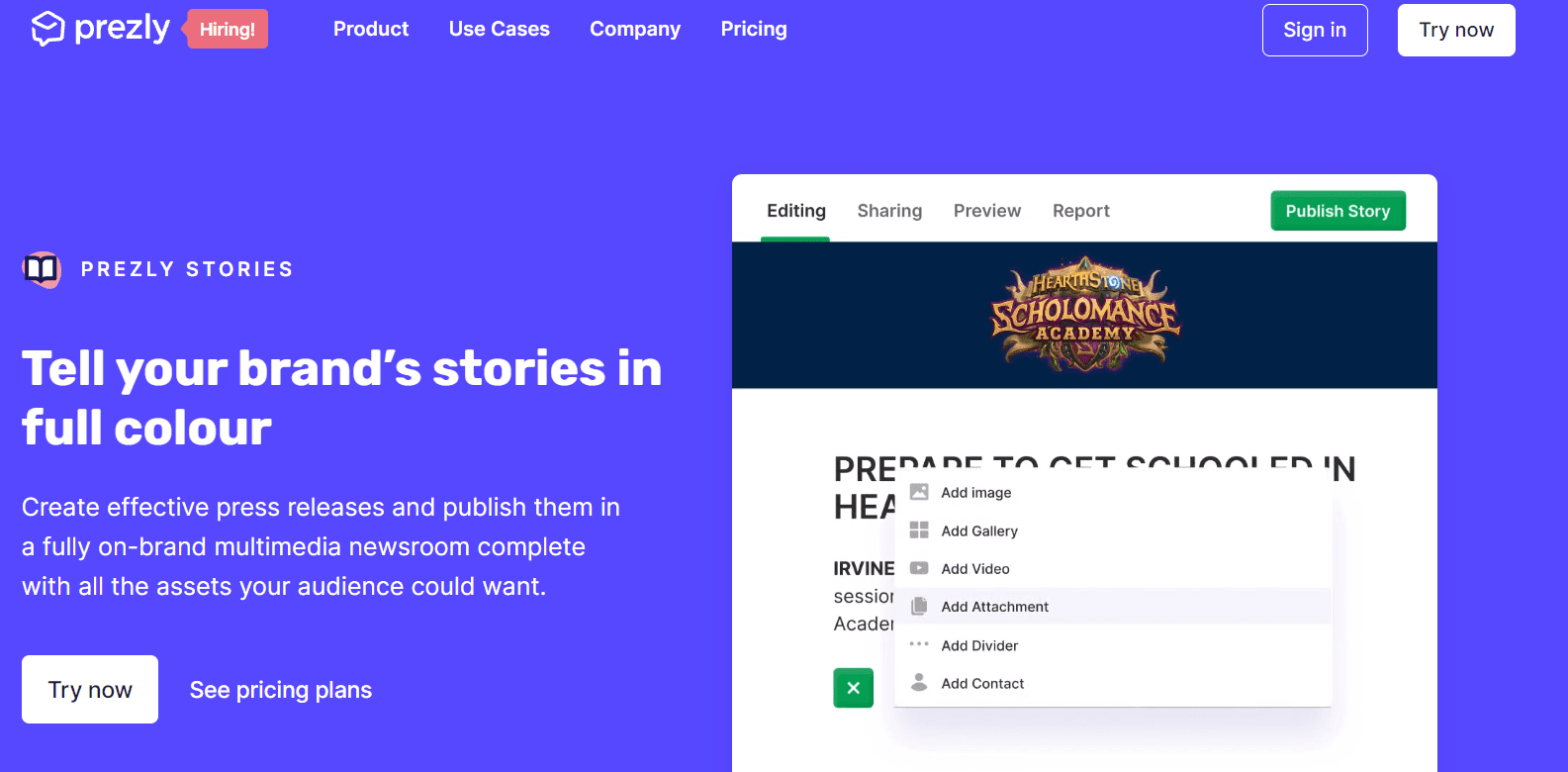 Prezly shines at one thing – creating visual press releases.
That's not all. You also get a PR CRM, story editors, and an online newsroom. In short, it's a one-stop shop for all your media coverage needs and a robust PR publishing platform for all professionals.
Currently, Prezly boasts thousands of users, including big names like Reebok, Shopify, and Redbull.
Here is a brief description of its features.
Prezly Features and Benefits of Prezly
Prezly offers more than 40 languages. This comes in handy when you need to localize your news release.
The tool's classroom is perfect when you want to keep your content consistent. Plus, Prezly will soon launch classroom themes that would make it easy to style your classroom.
It allows you to embed virtually any media in your press releases.
The categories and search options on the tool help organize your content. This way, it becomes easy for journalists to get what they want by narrowing down their search terms.
How To Use Prezly
Mastering how to use Prezly from A to Z isn't a one-day thing since there's a lot to cover.
Lucky for you, they have a whole section on their blog with everything you need to know before you start using it.
We'll just give you a short glimpse when creating a newsroom. Before you start, you need a name, brand style, theme, and language.
You can do this from the newsroom settings page that's easily accessible from the stories page. Also, note that you can create multiple classrooms depending on the plan you choose.
Prezly Reviews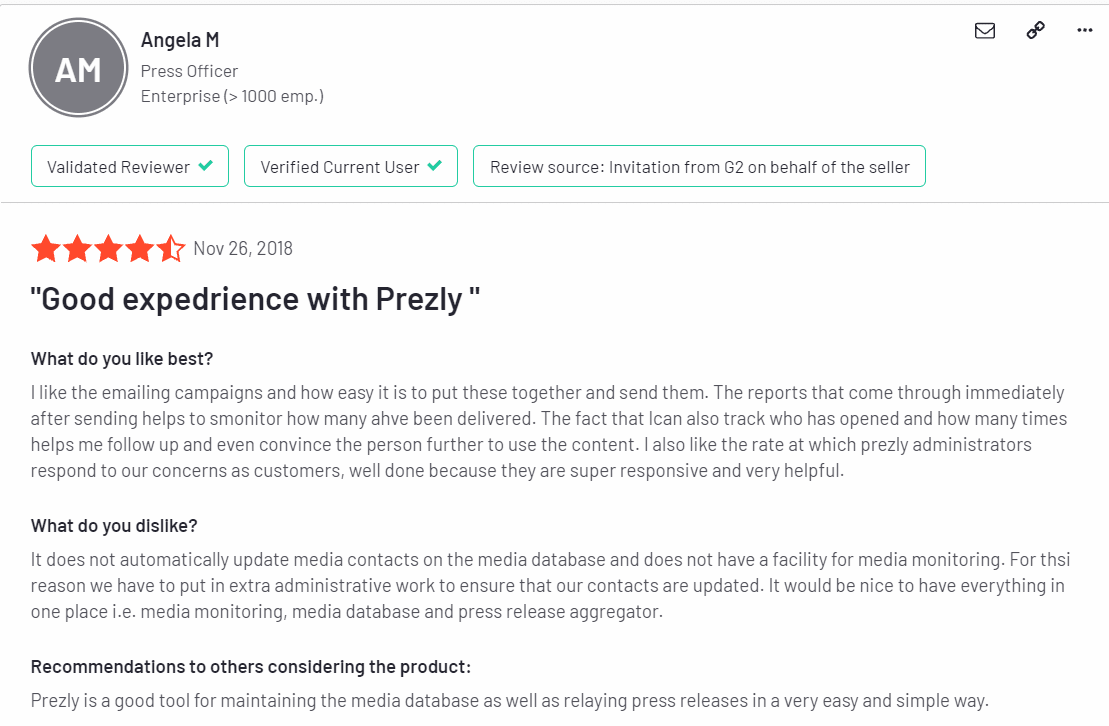 Prezly Pricing
Prezly comes in three pricing plans, as shown on the screenshot.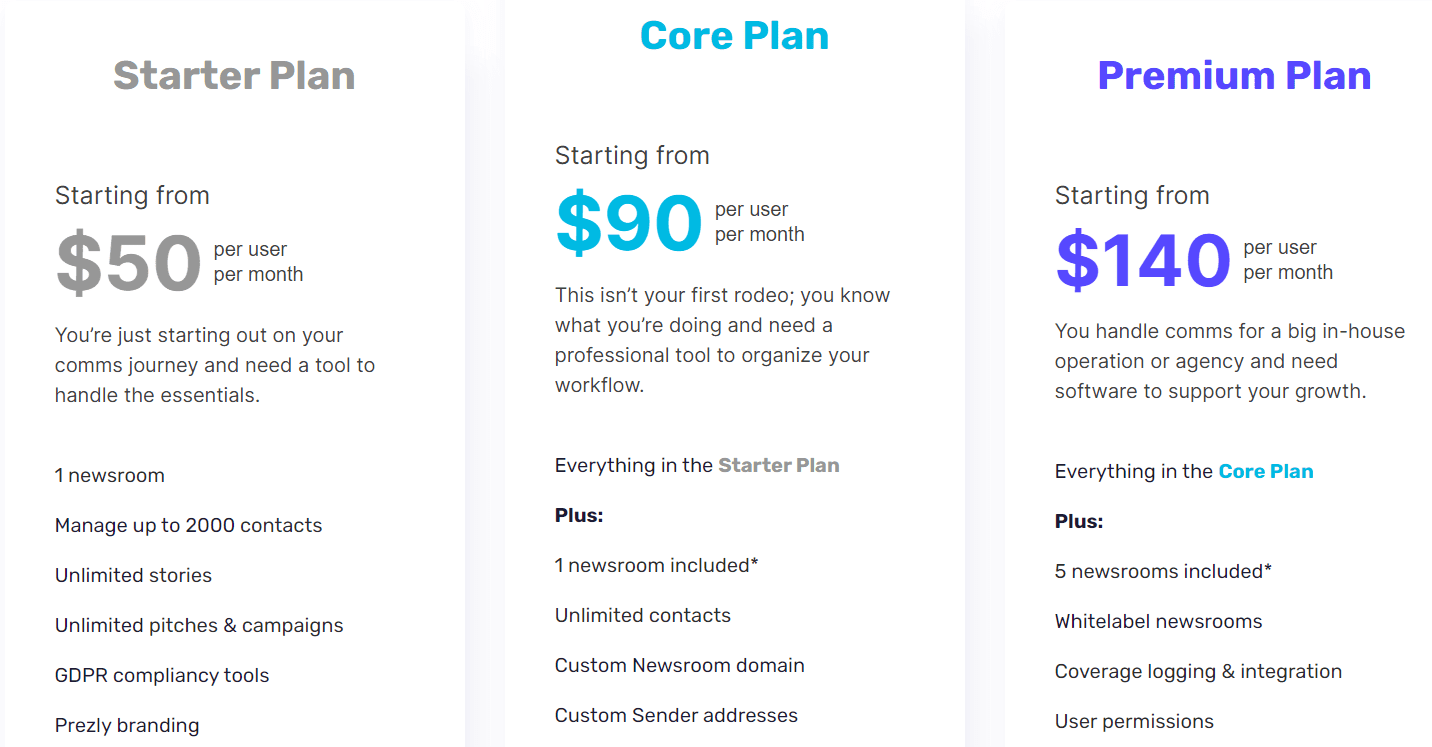 The first plan is ideal if you're just starting your comms journey and need a tool to handle basic needs. You get basic features for $50, which is reasonable.
The second plan is almost twice as expensive, and it gives you six-plus more features you get from the first plan.
The final plan is the perfect option for a big company or agency that's all in on PR. It comes with endless juicy features, but you have to fork out $140/user/month.
Further Reading