The best link-building tools have a strong foundation on metrics.
That way, you can filter and sort the list of sites based on audience size, domain authority, and relevance to your niche.
But some tools go a little bit deeper to make your link-building process effective and easy. They add more features like:
Brand mention checker
Advanced search
Link prospecting
Bulk link building
We've researched nine of the best link-building tools in the market. We've analyzed their unique features, price, and ease of use.
So, hopefully, by the end of this guide, you'll find a tool that will skyrocket your content upwards the Google SERPs.
Let's go.
Skip To Section:
If finding email addresses is your weakest link, then I suggest you try out Voila Norbert — the most accurate email finder on the web. Sign up now using this link (without your credit card) and get 50 emails for free.
Voila Norbert — The Most Accurate Email Finder
Norbert is primarily an email finder and prospecting software…
And that's what makes it an essential link-building tool.
Sure, you can't use it to analyze competitors' backlink profiles or discover backlink opportunities… However, it still does the most essential job – finding accurate email addresses for your prospects.
Here's how we measure against some of our top competitors.
Not only that, we did a cold email campaign in our last link-building outreach using Norbert to source for emails.
We sent a total of 154 emails and got an average of 81% open rate and 33.5% reply rate. This brought us 36 super-high quality backlinks with DR between 65 and 85.
(This is worth $30,000 in the link-building economy.)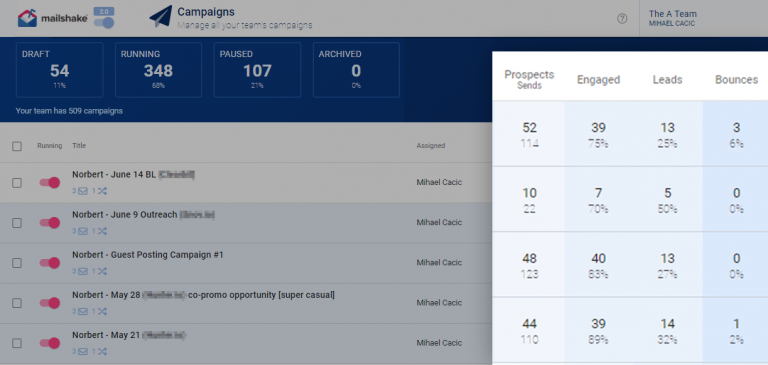 As you can see, Norbert walks the talk.
How Norbert Works
Norbet comes into play when you've already generated a list of link-building prospects. In short, it's the final step of your link-building efforts.
To find emails, Norbert needs your prospect's first name, second name, and website domain. Type these into the search box and click "go ahead Norbert."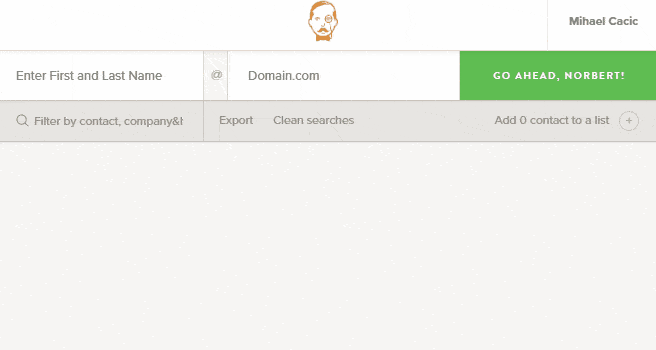 It will scrape through a vast database of contacts to extract the most accurate emails based on your data. Wait for a few seconds for Norbert to do its magic.
The found emails have an accuracy score to show Norbert's confidence that the email is correct.
Norbert Pricing Plan
For prospecting, Norbert has four pricing plans: Valet, Butler, Advisor, Counselor.

Each plan gives you unlimited access and bulk email-finding features. But with the lower-end plans, you get 1000 and 5000 leads consecutively.
The higher-end packages are much more cost-effective. They offer more leads at an 80% discount rate per email.
That's not all; you get incredible discounts when you choose the annual plan.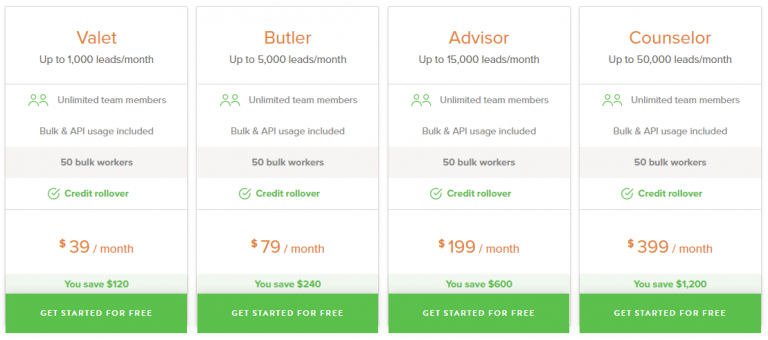 Favorite Feature
Norbert is armed with numerous features, including:
Bulk email finding
Prospect list exporting
Numerous integrations
Email enrichment
Norbert chrome extension
Among all these, our most loved feature is the chrome extension.
It's because most of our users are busy professionals who are always on the move. Therefore, they prefer a tool that finds prospects' email addresses on the fly.
With the chrome extension, you can build a list of prospects in real-time from the websites you're currently visiting.
To add a cherry on top, we added a new LinkedIn functionality that allows you to extract emails from LinkedIn profiles.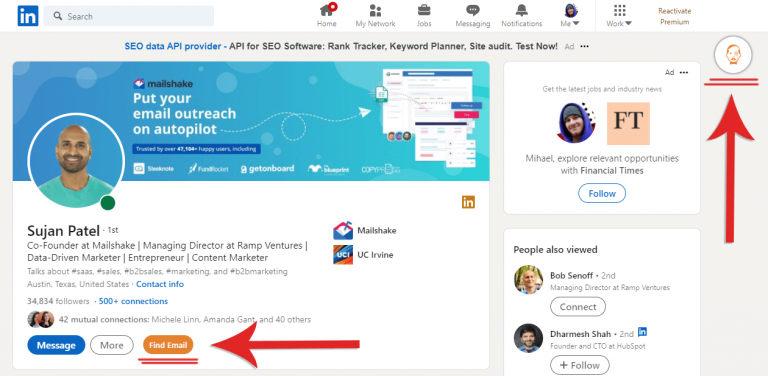 Here's a gif on how to use Norbert's chrome extension through LinkedIn's search.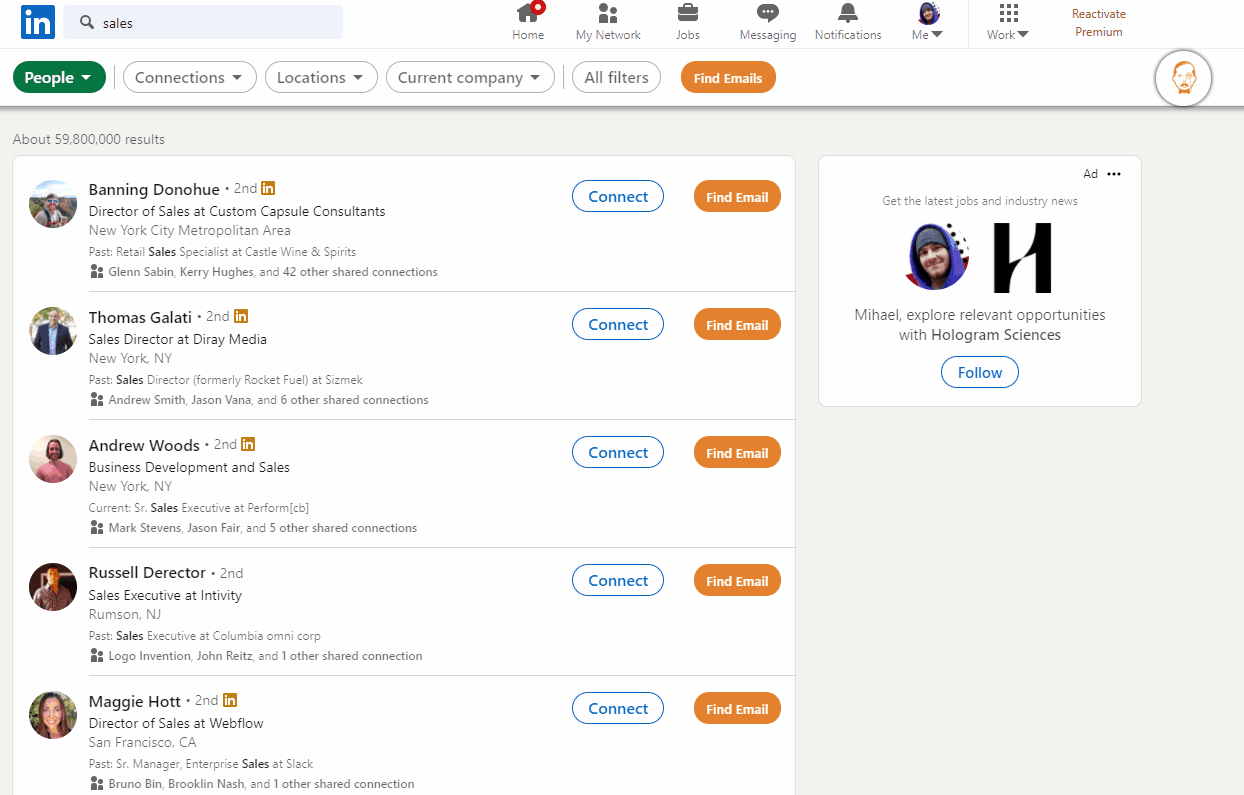 The Takeaway
Norbert is the first option to consider when you've already identified a qualified link-building prospect.
With the contact information from Norbert, you can start to develop a relationship with the prospect and later ask for backlink opportunities.
We've done an in-depth guide on creating an effective link-building outreach from scratch. Be sure to check it out.
Nightwatch.io — Best For Local SEO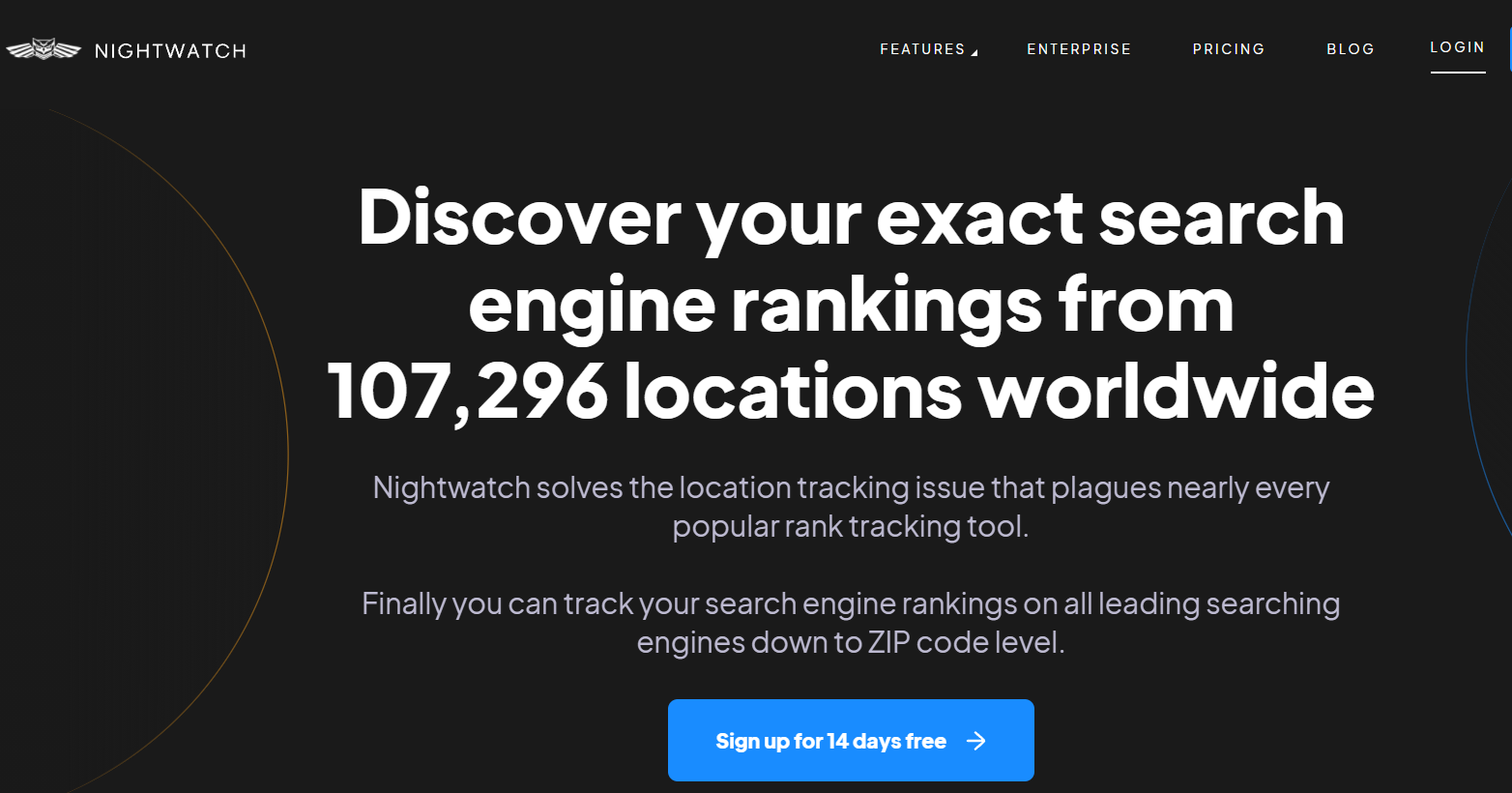 Local SEO is rising.
More people search for services and information in their specific geographical area. While other link-building tools haven't given much attention to this, Nightwatch is armed to solve this problem.
The tool allows you to track your search engine rankings down to the Zip code level on all leading search engines.
It comes loaded with multiple features to help in local SEO link building. But one that stands out is their reporting capabilities.
You get multiple customizable templates. You can also configure the elements you want to include in your reports and even schedule when to receive your reports.
Nightwatch Pricing
The tool comes in three pricing plans, as shown in the screenshot.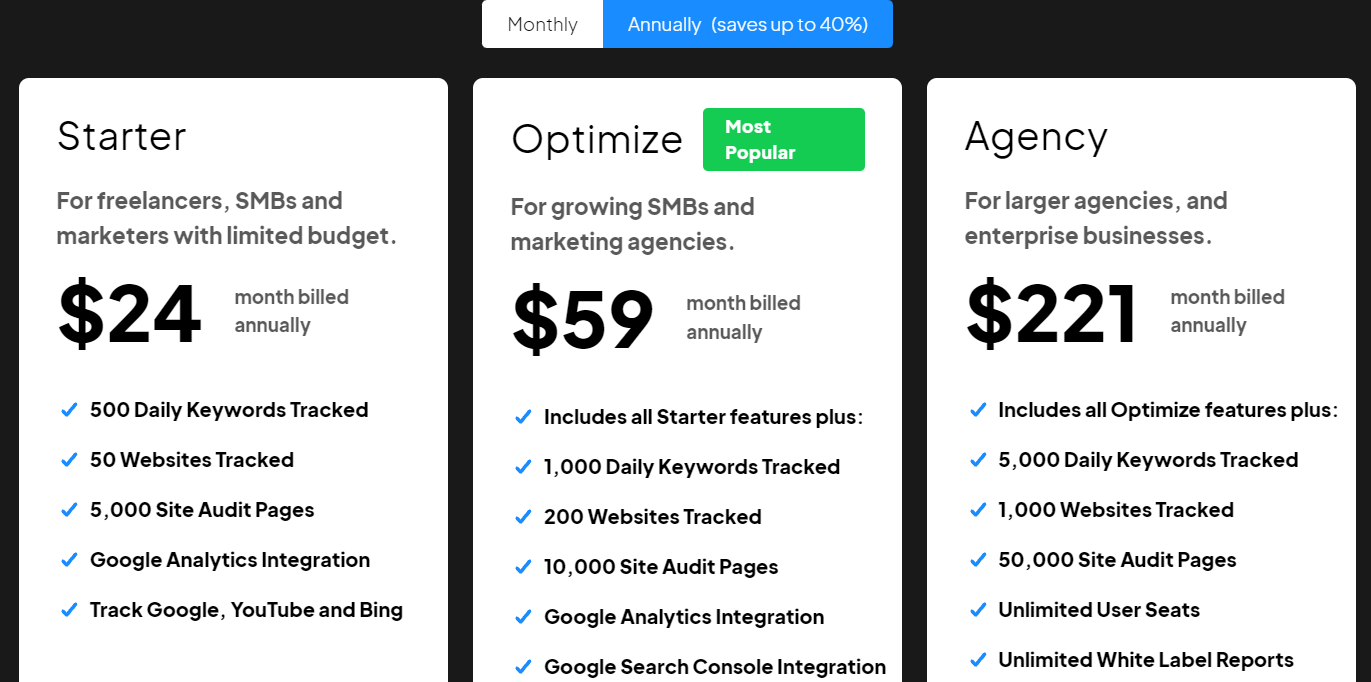 The starter plan is ideal for freelancers looking to get clients through guest blogging. It lets you track 50 sites and 500 keywords.
The other plans are best suited for growing link-building agencies or larger enterprises. You can track thousands of keywords daily from hundreds of keywords.
Nevertheless, Nightwatch comes in handy when you're on a budget and want to try something new.
Favorite Feature
Our favorite feature is the dashboard.
Well, it's not about the information it portrays but the graphics they've used. Without a doubt, Nightwatch has the sleekest dashboard compared to any other link builder.
It has an attractive visual that looks like the dashboard of a pilot's cockpit. Just look at it.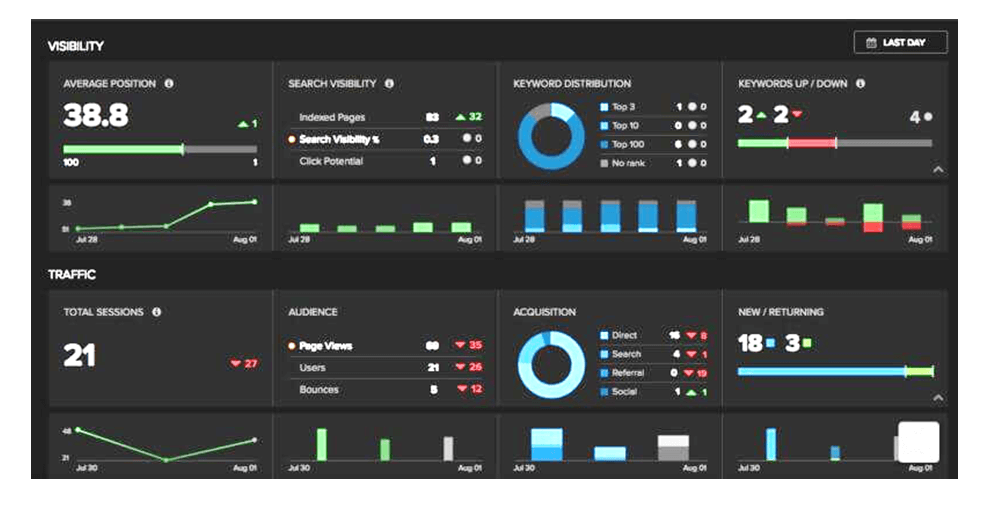 Here, you'll view a site's backlink profile, each backlinks quality, and their current status. It also allows you to filter your search by characteristics.
The Takeaway
Nightwatch isn't an all-inclusive SEO tool.
But it's nonetheless powerful to build to make local link building easy. If you use it well, you can find quality prospects for link-building opportunities in your geographical area.
Ahrefs — Largest Backlink Index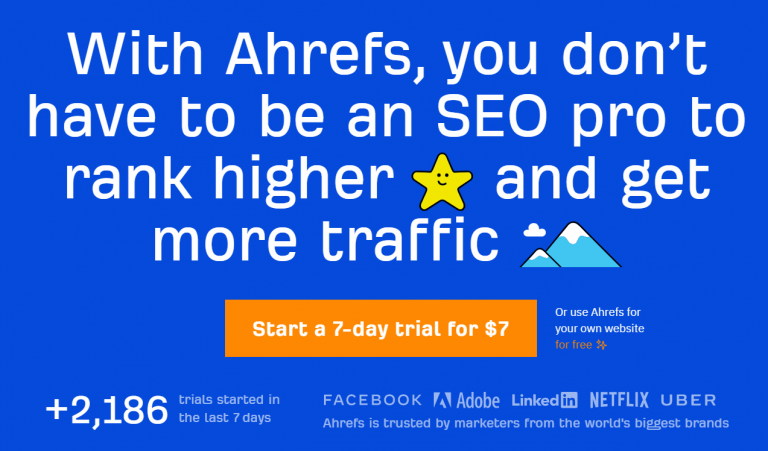 Ahrefs currently has the world's largest backlink index built for link-building opportunities.
With Ahrefs, you can:
Track how your backlink profile changes.
Extract link opportunities for different terms.
Perform a complete backlink analysis.
Get broken links from websites.
While these features are backlink-related only, Ahrefs still boasts some good qualities if you want a tool to handle all your SEO needs.
The link-building magic happens in Ahrefs site explorer. To use it, open it and type the site you want to analyze.
The result gives you a data-rich overview of the site's SEO health. For instance, you'll see the site's total traffic, backlinks from other sites, and the number of referring domains.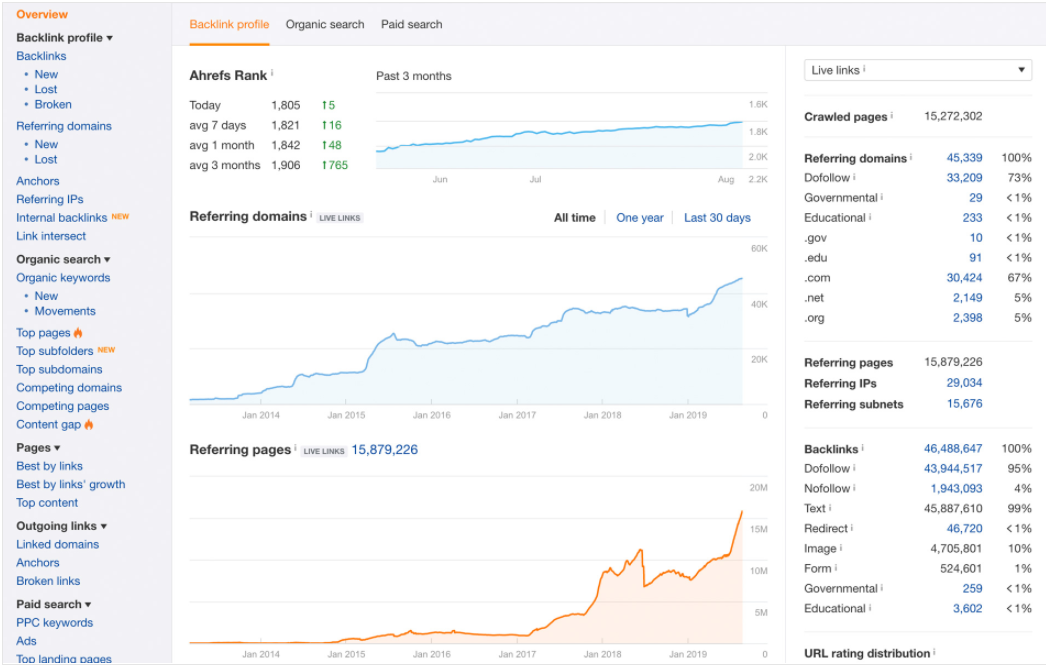 Ahrefs Pricing
Ahrefs has tiered pricing plans that start from $99 – $999.

All the plans give you access to the same backlink index. But you get a different number of reports for each plan. Of course, the higher you climb the ladder, the more data you can retrieve.
Favorite Feature
This would be the link intersect. So basically, what it does is to show you the sites linking to your competitors but not you.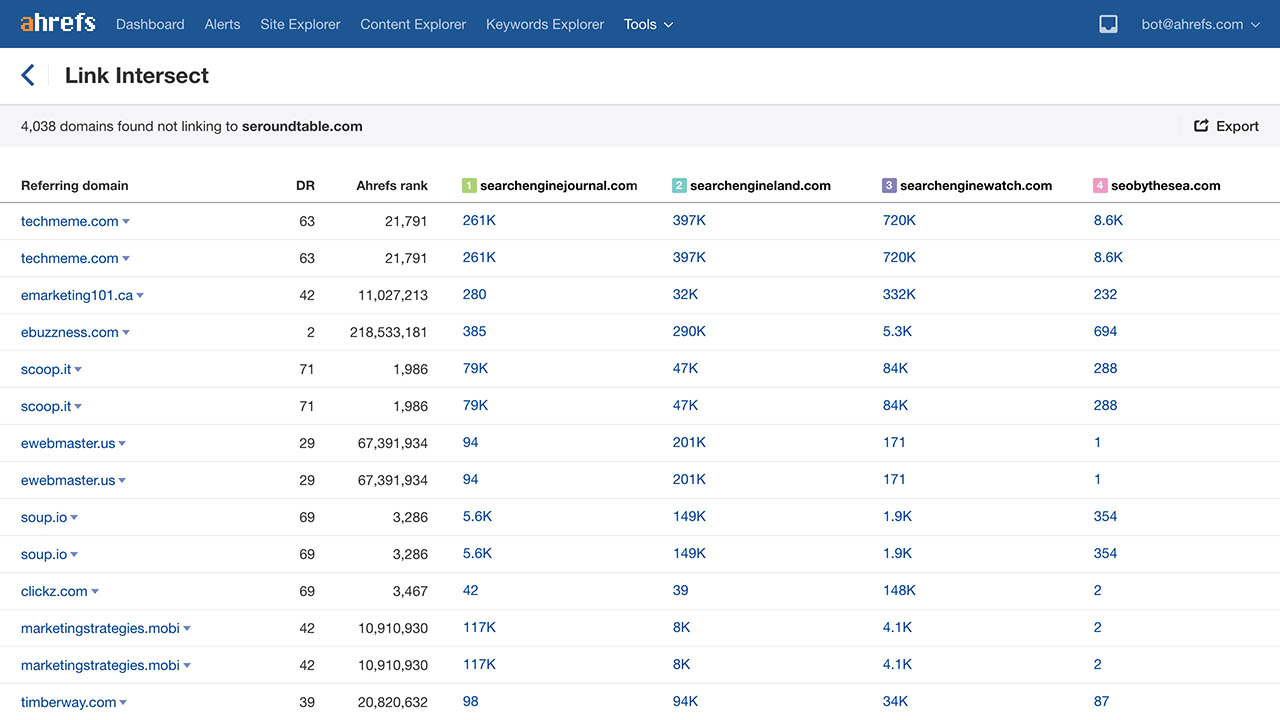 It comes in handy as it allows you to target generous sites likely to accept a collaboration.
The Takeaway
Ahrefs is feature-rich and built for SEO pros. If you need a do-it-all SEO tool with an eye for backlinking, it's undoubtedly the first option to consider.
Majestic SEO — Most Affordable Link Builder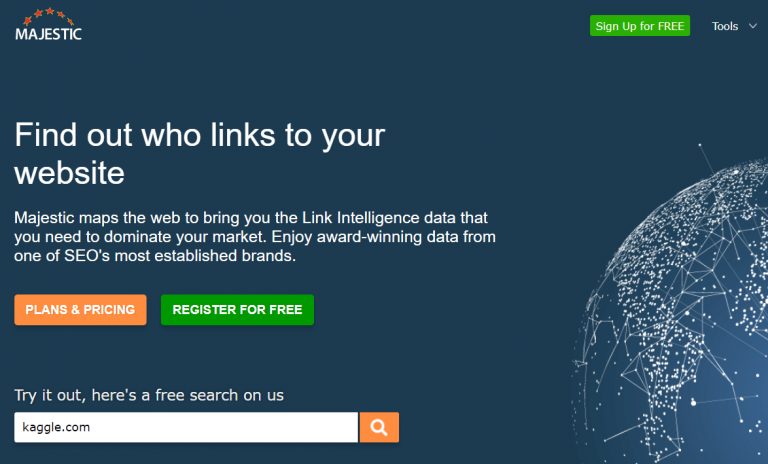 Majestic SEO has a reputation as a strong SEO tool dating back to 2008.
Currently, it's become the go-to tool for pro link builders on a budget. It boasts a robust link intelligence database that maps and crawls billions of websites.
Like any other tool, Majestic SEO allows you to study your competitors' backlink profiles, analyze anchor texts, and refer domains.
Price
As you can see in their pricing, Majestic SEO is an affordable link-building tool. It comes with three pricing options.

Whatever plan you choose, you get the bulk backlink analysis.
But the difference is that the top-tier plans give you more features for a comprehensive backlinking strategy.
For example, with the pro plan, you can extract a 5-year history index from any site. Plus, you can analyze a competitor's backlink growth gap.
Note that essential features are only available in the top-tier plans. So, unfortunately, this means that you have to upgrade to get the best experience.
Favorite Feature
Majestic SEO's most notable feature is the topical trust flow.
It's a metric tool that measures the number of links a site has from trusted and high DA websites.
It's the same as Google's trust rank, which measures the so-called "trust signals." These signals determine if important ranking signals (like links) are legitimate.
Here's an image of Trust flow in action.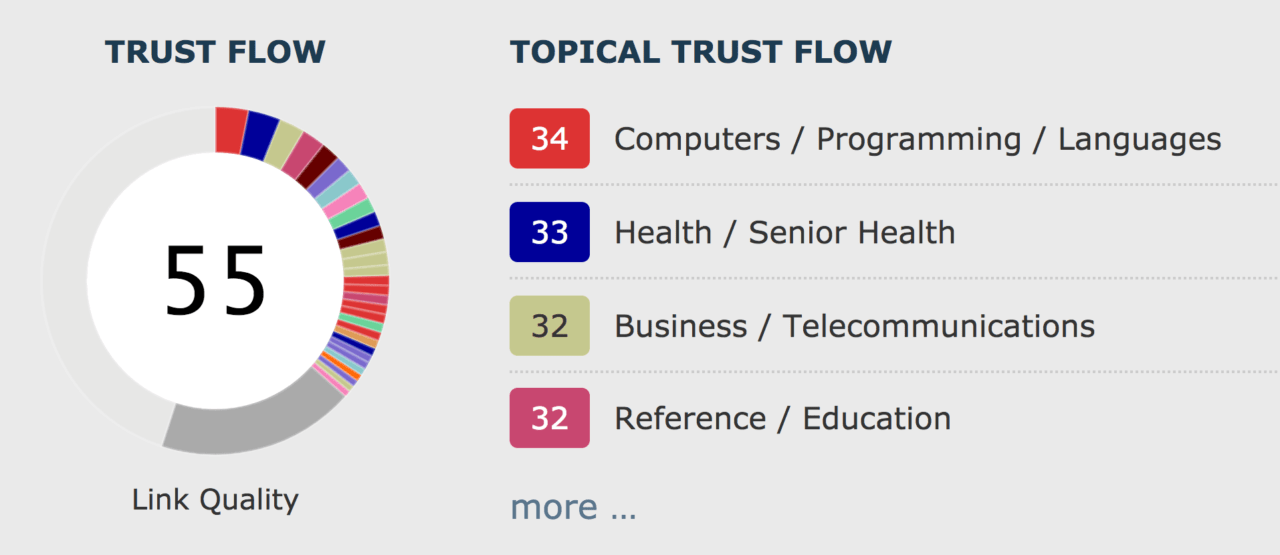 The Take-Away
While Majestic SEO seems to be the most affordable link-building tool, you'll only see its full potential by jumping to the top-tier plans.
Moz Link Explorer — Builds Links Fast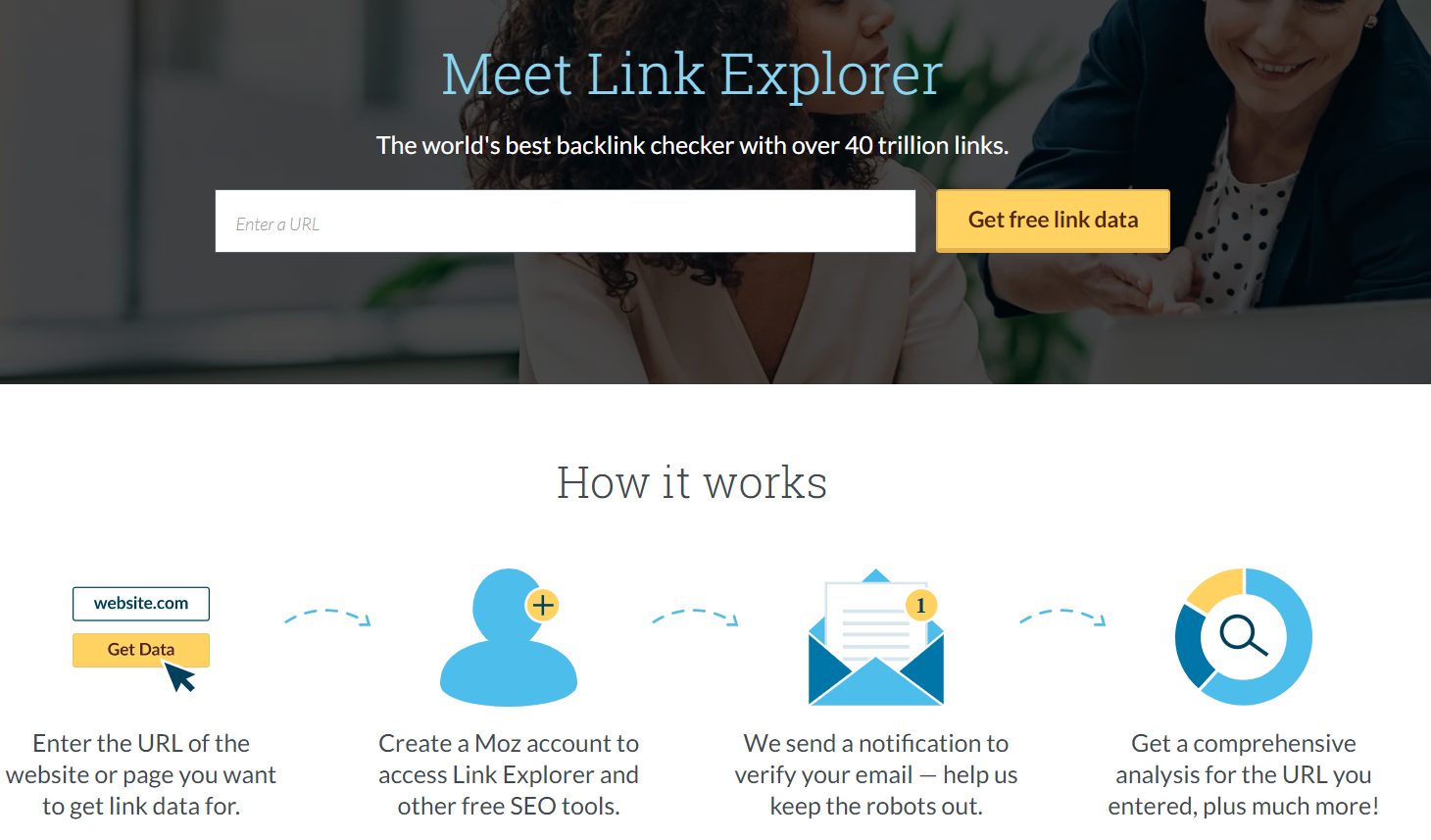 You get Moz Link explorer when you upgrade to Moz premium.
And Moz, being one of the most popular SEO tools in the industry, is aimed to provide quality links that'll give you traffic, attention, and traction.
With a targeted outreach, you'll surely land valuable prospects that are open for a link-building collaboration.
All the action takes place in the explorer overview.
Here, you can monitor your site's backlink efforts, plus your competitor's backlink profiles on the same platform. And thanks to the easy-to-read analysis, making decisions is a quick process.
Moz Link Explorer Pricing
Moz is a little less costly when you compare it to other tools in its rank.
(Well, that's on the high-end plans).
The low-end pricing isn't cheap. Like Ahrefs, it starts at $99. If you're a large SEO company with many customers, you'll choose the top-tier plans that cost $249/month and $599/month.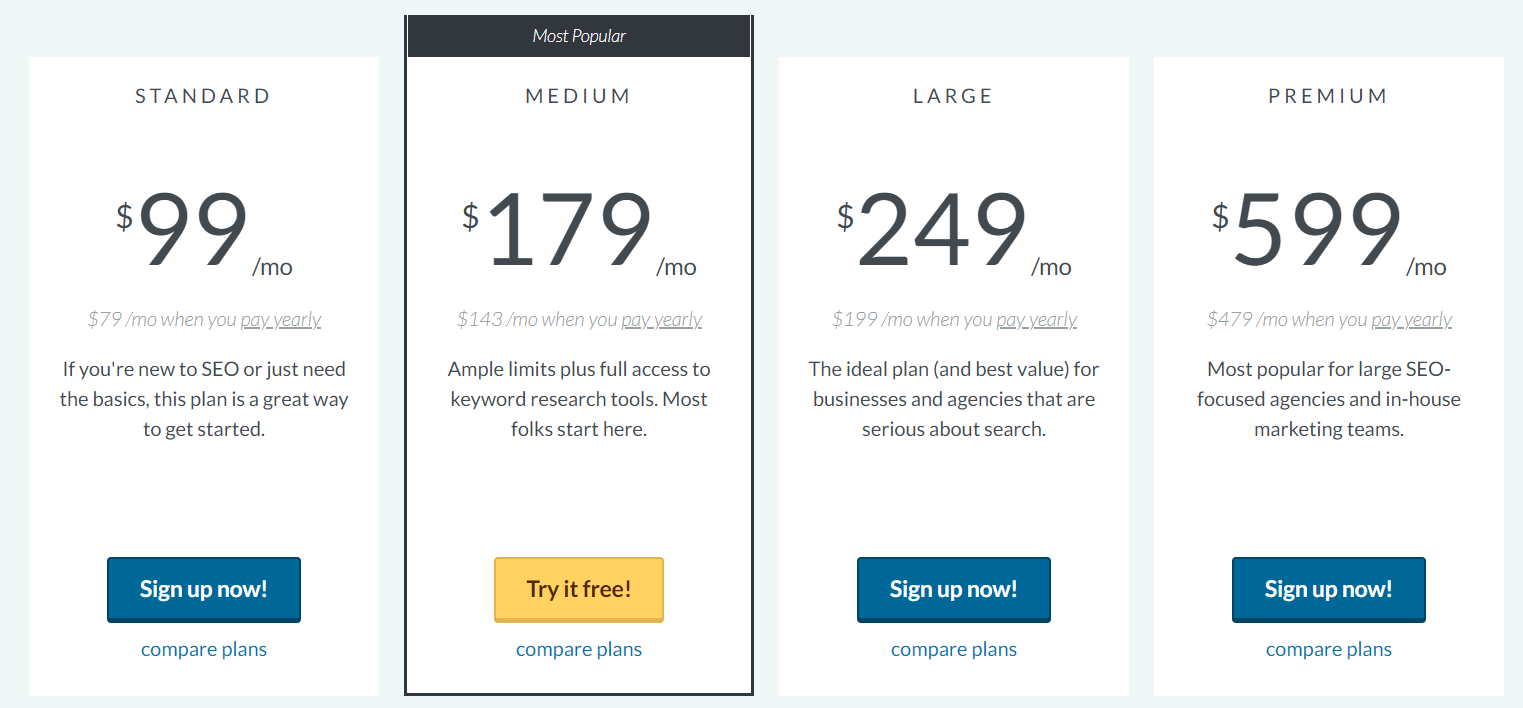 Favorite Feature
My favorite feature is the comparison link profiles.
You can enter up to four sites and compare them with yours. This way, you get a side-by-side comparison display of multiple backlink profiles, including metrics like spam score.
Here's an in-depth video on how the Moz link explorer works.
Analyze Your Link Profile With Moz's Link Explorer – Moz
The Takeaway
Moz is fantastic for users who prefer an all-rounded SEO tool.
But if you're a sensitive SEO pro looking for a tool that gives nitty-gritty details on link building, it might not be a reliable option.
Still, it gives room to small businesses searching for a vital tool that can offer credible metrics On Competitors' Backlinks Profiles.
Linkody — The Easiest-To-Use Backlinking Tool
Linkody doesn't have many features that might reduce its overall quality. Here are some of the link-related things you can do with Linkody.
Monitor competitor's link velocity.
Track new and lost links
Study your backlink profile
Manage backlinks and referring domains in one place.
Now, when I said that Linkody doesn't offer other SEO services, you might think that the link building metrics it provides are not accurate,
If you thought so, you're badly mistaken.
Linkody uses metrics from other SEO tools like Majestic SEO and Moz. This way, it can give you flexible and accurate reporting from multiple tools.
Linkody Pricing
Linkody is one of the most affordable link-building tools. Below is its pricing screenshot. And this is understandable since it doesn't offer many features like other full suite SEO tools.

You'll also find the pricing plan very flexible.
Each package gives you different numbers of domains and links you can monitor per month. For example, the low-end plans, i.e. webmaster advanced and pro, are ideal if you want to launch a basic link-building outreach.
Users who can benefit from these plans are bloggers eyeing guest post opportunities from their role models.
However, you'll have to upgrade to the last two high-end plans if you need extensive data for robust link-building campaigns.
Favorite Feature.
The new link discovery takes the trophy.
Linkody will notify you by email whenever one of your competitors or your website gets a link.
This feature comes in handy when your competitors get backlinks from one site, but you don't. You can reach out to the site since you also have a better chance of getting backlinks.
Conclusion
Linkody is the ideal tool if you don't want to be overwhelmed with too many features.
Plus, it resonates with beginners who don't have big budgets for SEO. The best part? You get a 30-day free trial before you sign up for a plan.
SEMrush — Best For Managing Link Outreach Campaign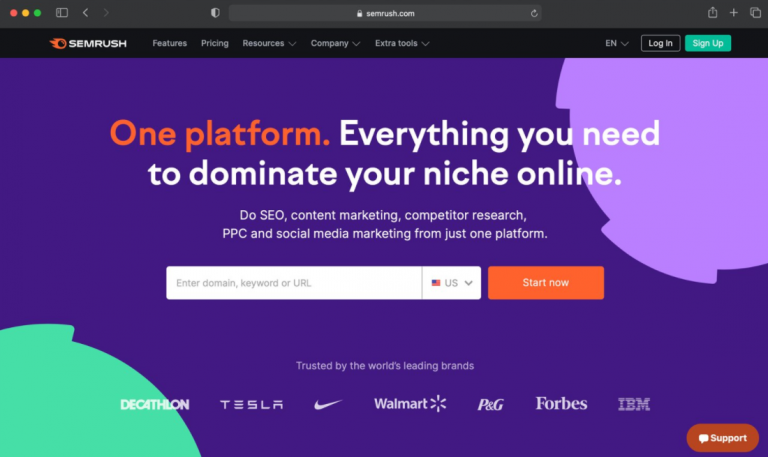 SEMrush is a powerhouse in keyword research.
But it barely reaches Ahrefs in link building. Moreover, according to Brian Dean, though it has a link analysis tool, it doesn't stack up with top link building tools.

However, you don't have to worry if you're a SEMrush die-hard fan. Most SEO pros have had success with it.
SEMrush link-building feature is the backlink gap tool. It allows you to compare your backlink profile with competitors.
That way, you can uncover unnoticed link-building opportunities lying on your dashboard.
To use the tool, type your domain and four competitors you want to analyze. Then, click "search" once done. The result gives you loads of websites that link to them but not yours.
SEMrush Pricing
SEMrush's pricing plan is divided into three. First, it starts from $199, jumps to $229, and stops at $449.

As you can see, the prices are modeled depending on your business and traffic size. Nevertheless, you get the backlink analysis tool regardless of the plan you've chosen.
So you don't have to upgrade to the top-tier plans if you are only interested in the link-building analysis tools.
Favorite Feature
While SEMrush is considered a "weak" link-building tool, it has a powerful feature that would send chills to its competitors.
That's the link-building email outreach automation tool.
After you've identified backlink opportunities, this feature enables you to automate your link outreach via emails. As a result, you can reach multiple prospects via email, which increases your chance of success.
And even better, you get tons of customizable templates for outreach.
So how do you use the outreach automation feature?
After you've identified a list of link-building opportunities, you will connect SEMrush to your email provider.
Next, write personalized emails for your outreach to make it specific to every prospect. It works in a three-step process:
Choose the people you want to send an email to.
Drop a placeholder for items like your domain and formatting
Add bold texts, headers, lists to your emails.
Here's an insider video guide of using the SEMrush backlinking feature.
https://www.youtube.com/watch?v=A3SsbmWjF3I
Raven — Backlinking Tool for SEO Beginners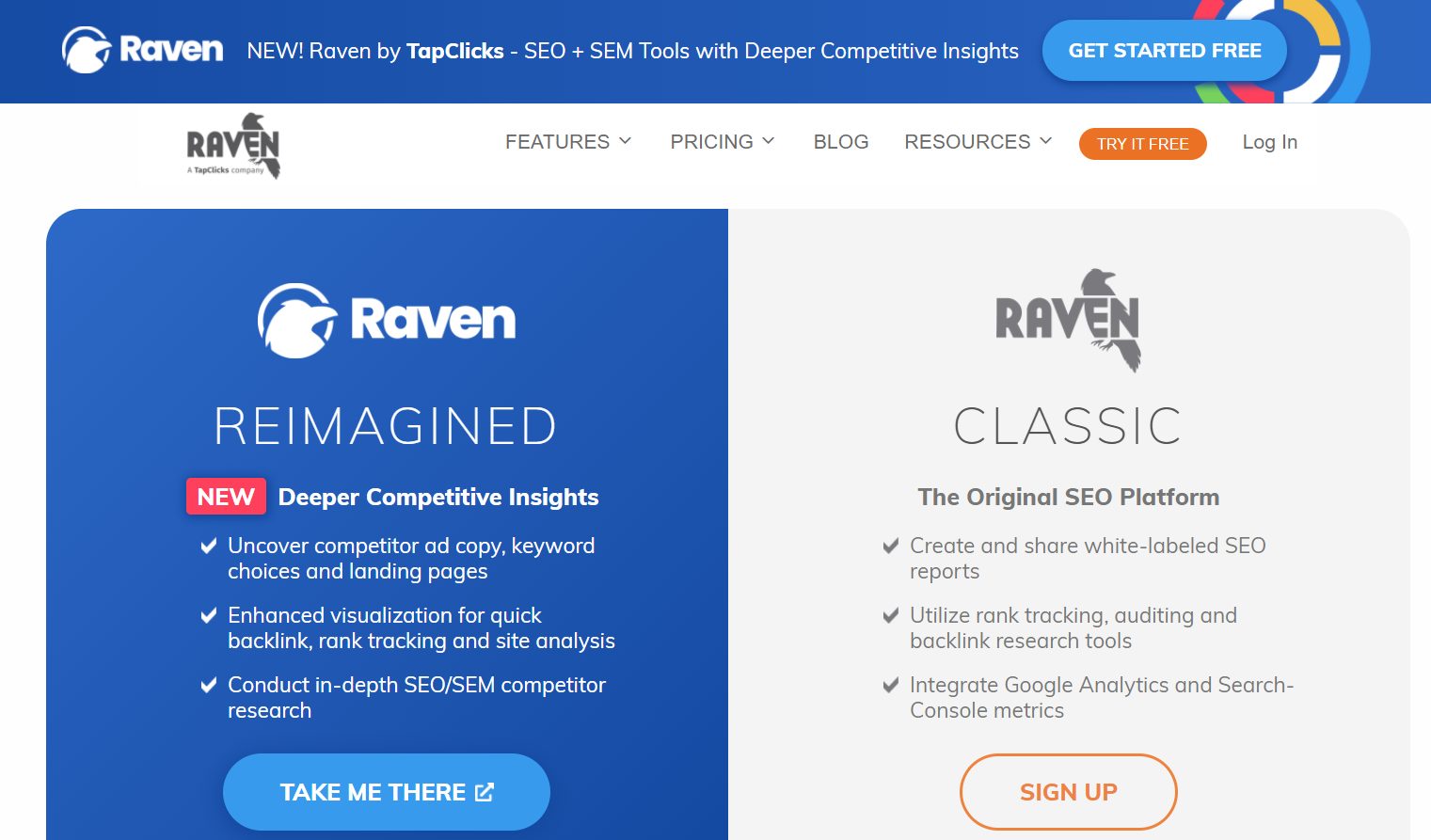 Raven is another tool built for link-building purposes.
And like Linkody, it uses a third-party website to extract metrics. The tools it uses are Moz and Majestic SEO which can reveal 50,000 backlinks from any URL.
A few of the features Raven offers related to backlinks are as follows:
Backlink Checker
Link spy
Marketing reports
Competitor Domain search
All these features are tailored to identify links and categorize them according to link type, anchor text, and authority flow.
Raven Pricing
The tool has a progressive plan starting from $39 per month to $399. Here's a screenshot of all the packages.

So, how does it work?
Well, you start by opening Raven's backlink explorer. You'll then analyze your site's backlink profile.
This shows you your backlink strength. In addition, you get to know the sites linking to your website and the pages they're linking to.
Once done, head back to the menu. Here, you'll analyze and locate keywords your competitors are ranking for.
I know you are saying every other SEO tool can do this.
However, Raven is different. It also gives you a complete list of your competitors (even the ones you didn't know) and who's linking to them.
Here's where my favorite tools come in.
Favorite Feature
This is the link spy.
After identifying your competitors, link spy generates a list of results of domains linking to your competitors.
It also shows you what is called a citation flow. This indicates the right websites worth adding to your prospect list. This way, you don't end up with 1000 websites from the late nineties that won't skyrocket your ranking.
The Takeaway
Raven isn't a top-tier tool like the big three (Moz, Ahrefs, and SEMrush).
But some of its features almost stacks up against them.
BuzzSumo — Link Opportunities From Search AND Social
Link building isn't only about searching for high D.A websites.
If you're not an SEO guy but still want to create backlinks, BuzzSumo is the perfect option. As a content discovery tool, you can use it to research, identify influences, and monitor the performance of your content.
When it comes to link building, Buzzsumo offers two features:
Identifying influencers
Content analysis tool
The first feature gives us a hint of what Buzzsumo is primarily built for. In short, it identifies influencers in your industry who have shared your competitor's work.
The second feature works like any other SEO link-building tool.
You'll type a keyword you want to rank for in the Buzzsumo content analysis. Then, it shows you high-ranking posts for the keyword.
With the backlink analysis tool, you get an overview of the site's backlinks with their referring domains.
BuzzSumo Pricing
BuzzSumo has four pricing plans as follows.

As you can see, it isn't cheap.
But we recommend it since it's feature-rich. And it gives you everything you need to launch an effective link-building campaign. No doubts t's worth the investment.
Favorite Feature
What we love about Buzzsumo is the social shares and engagement feature.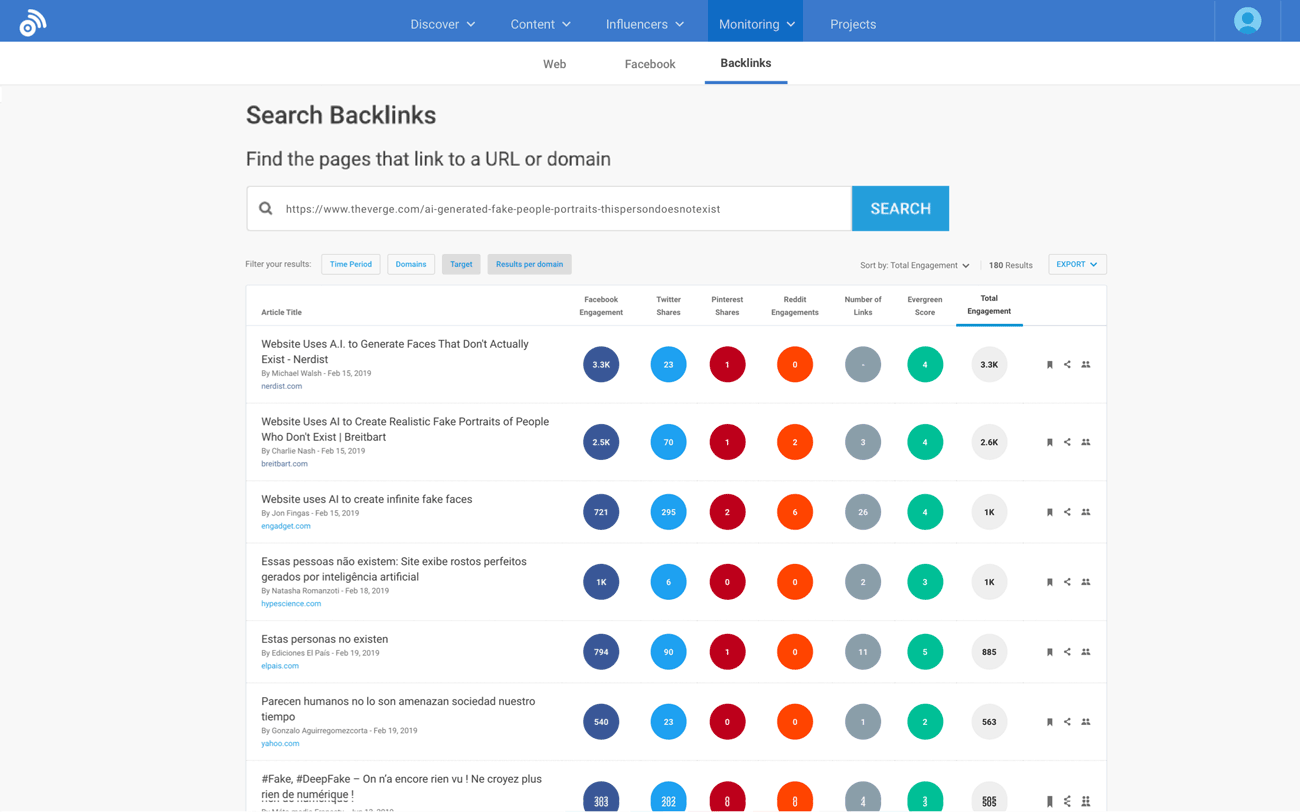 The feature shows you the social platform where your keyword has more engagement and promotions.
It's helpful because you get to know the places you can share an article so that like-minded people can link to it.
The Takeaway
Buzzsumo brings a whole new idea of link building – content discovery.
So if you're not into technical SEO terms, it can be the perfect tool to bring a fresh breath to your link-building outreach.
Image Prospector – Reverse Image Search Link Builder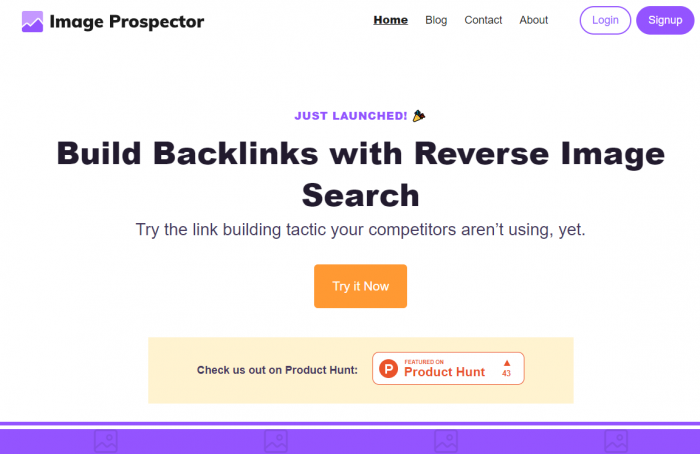 Image Prospector is a new SEO tool for building backlinks with reverse image search.
If you create original images, there are lots of sites on the web that will use them without including proper attribution. With Image Prospector, you can quickly find these sites and email them to request the necessary attribution link.
This is a creative and currently underutilized tactic for building in-content backlinks.
Price
Image Prospector includes a free tier for tracking 10 images and three paid plans.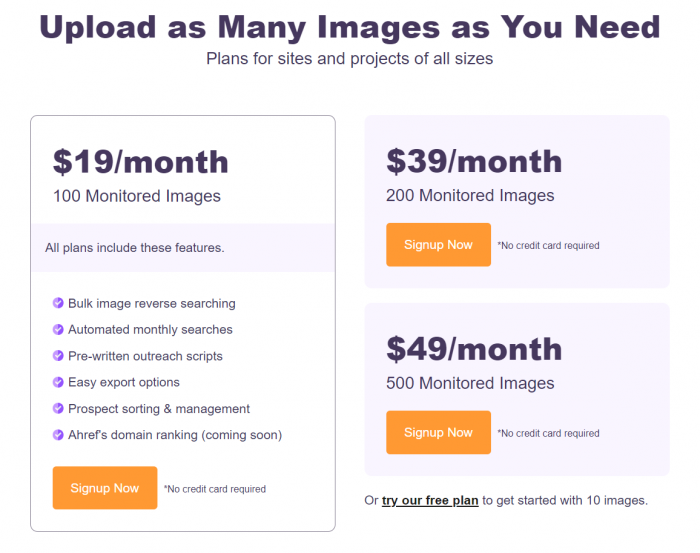 You get the same features in every plan, so it's simply a matter of how many images you want to search and track every month.
In general, the more images you add, the more backlinks you are going to build each month, but ultimately, it depends on how many original images you have to track.
Favorite Feature
One of Image Prospector's best features is that it re-scans your images every month.
You could manually reverse search your images, but the problem is that you won't know if someone copies one of your images tomorrow. Since websites are constantly publishing new content and using your images, you need a tool that can find them as they show up.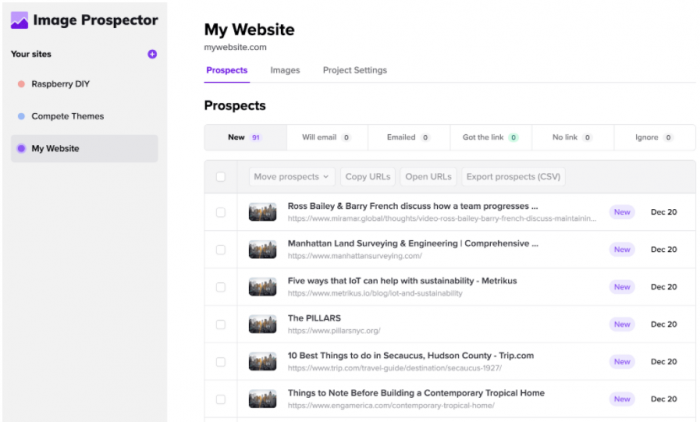 Not only does this save you a lot of time, but it also means you can continue finding new backlink opportunities over and over again from the same group of images.
The Takeaway
Image Prospector is a creative new link-building tool, and it could be highly effective for websites that publish original graphics or photographs.
Further Reading