While all top SEO tools and software can help you rank on Google's first page, they differ in data quality, analytics, and ease of use.
Not only that, but some best SEO tools also have a wide variety of special features such as:
Mobile optimization
Technical SEO crawler
On-site titles
User-friendly interface
As a result, not every SEO tool will resonate 100% with your goals.
For that reason, we have reviewed seven of the best SEO tools and created an SEO tools list that will quickly scale your SEO game. We've tested their keyword research accuracy, ranking impact, pricing, and unique features.
So instead of choosing your favorite tools based on recommendations from a random SEO guru, this article will go deeper into each option so that you make the best choice.
Let's get started!
Table of Content:
If you want to scale your off-site SEO efforts with link-building campaigns, try out Voila Norbert to search for email addresses of key decision-makers. Signup for Voila Norbert and get 50 email addresses for free!
0. Voila Norbert
Voila Norbert is popularly known as an email finder software…
So you can't use it to track ranks.
But it's the ONLY tool to pick when you want to collect emails for potential link-building partnerships.
As an expert in SEO, you probably know how link building is critical in determining your page's rank in the SERPs.
But, why Voila Norbert?
Well, it's the most accurate email finder in the market.
That's a bold claim, but we have proof to back it up.
According to Ahrefs, Norbert is more accurate than Hunter and Snov.io.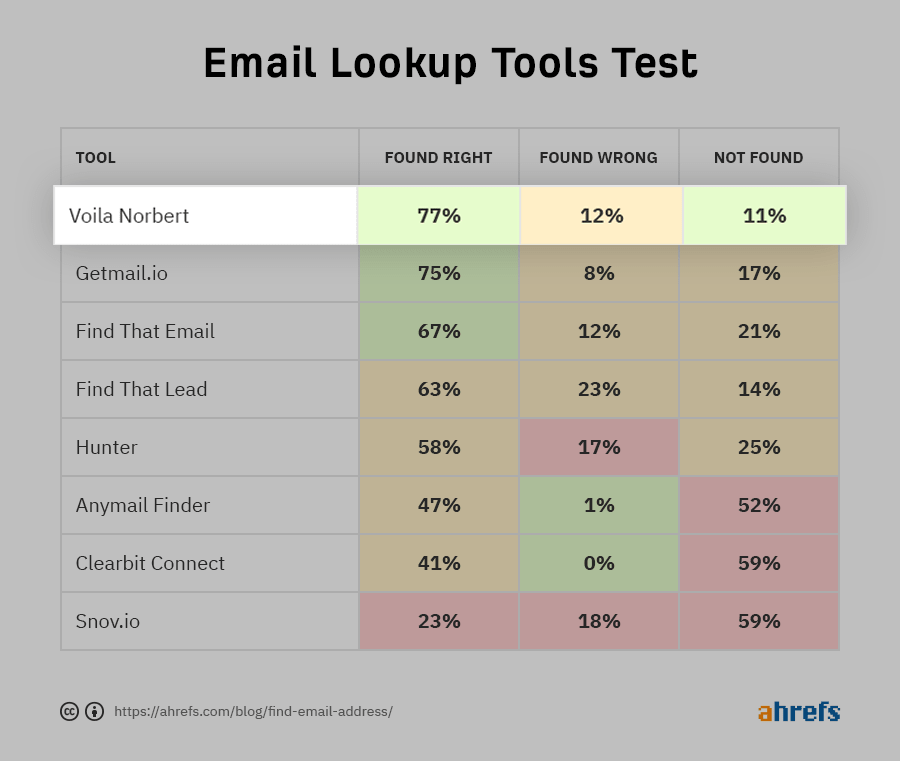 In addition, Norbert is super easy to set up and use. As a result, we got some good ratings on G2 compared to our fiercest competitors.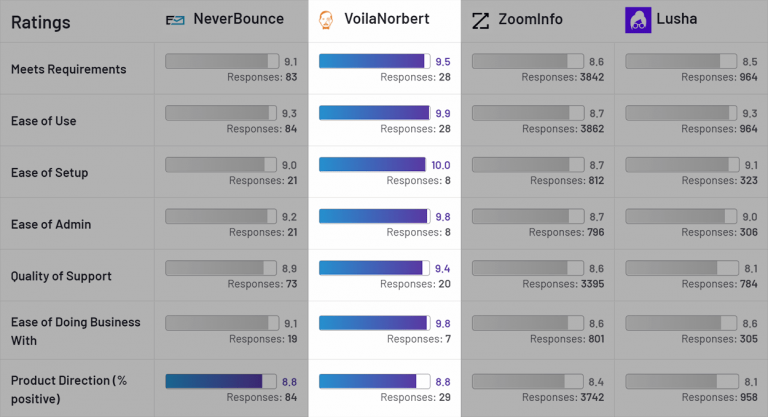 Norbert Key Features
The single and bulk email search allows you to search individual prospect emails for link building. To use it, enter your prospect's names and company URL on Norbert's search feature. When you click the "Go-ahead Norbert," it will spit back the most relevant email in a few seconds.
If you have an email list ready for link-building outreach, you'll use the verifying feature to validate if the emails are correct.
The chrome extension allows you to build a link-building list of prospects when surfing through websites or LinkedIn profiles.
If you want to send automated cold emails or drip campaigns to prospects, you can integrate with our sister company, Mailshake.
Finally, the bulk enrichment service will help you send cold emails to potential link-building partners with a multi-channel approach. The service extracts your prospects' website, location, current job title, and social media profiles.
Reason to Buy Voila Norbert (Pros)
*All points are taken from review sites like G2, Capterra, TrustRadius.
"The pay-as-you-go price is very reasonable."
"Backs up email addresses with other contact info if it exists."
"Keeps a database of all of your contacts added"
"This is a simple tool to use to find hard-to-reach email addresses."
Reasons to Avoid (Cons)
"Not a full-suite SEO tool."
"The 50-free leads isn't enough for a satisfying test drive."
Norbert Pricing
Norbert's Pricing depends on whether you need it for prospecting or verification.
For email finders, you'll choose among these four pricing plans.
Valet ($49/month)
Butler ($99/month)
Adviser($249/month)
Counsellor ($499/month)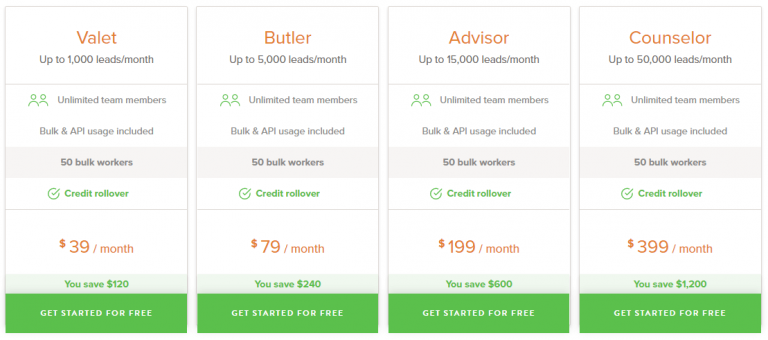 Norbert gives you unlimited team members, bulk email finding services, and API usage, whatever plan you choose.
As you can see in the screenshot, Norbert charges you around $0.05/email on the lower end.
The higher-end plans slash the pricing by 80%, which gets you to $0.01/email. You also receive more leads.
Email verification is a separate service with a different pricing plan.
It works entirely on the pay-as-you-go model.
If you have a list smaller than 500,000, you'll pay $0.003 per email. A list above that number goes for $0.001 per email.

The price is then rounded off to the nearest digit.
Who Is Voila Norbert Best For?
As hinted earlier, Norbert is not a full-suite SEO tool.
It doesn't give you the technical features that will help you win the SEO game.
But it's good when you want to find emails for link building. You'll use it to search for contacts of website owners with high DA sites.
With the contacts on your hand, you can create relationships that you can leverage later for link-building opportunities. For an in-depth guide on how to do this, check out this article.
Wanna try out Voila Norbert? Signup with this link and get 50 email addresses on the house!
Three Best Paid SEO Tools
In this section, we've ranked and reviewed the best paid SEO tools in 2022.
1. Ahrefs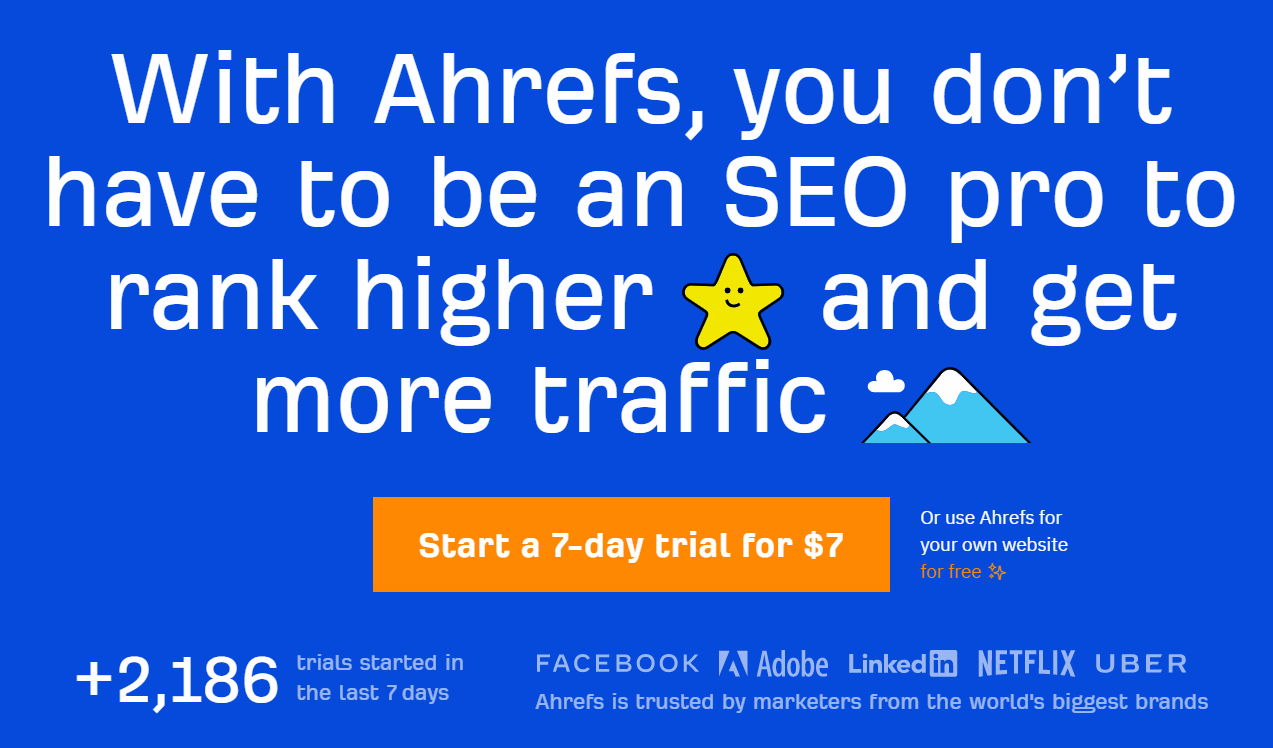 Ask any digital marketer if they've heard of Ahrefs and the answer will be a resounding "yes".
The tool is undeniably the king of SEO software and the most recommended tool online.
Experts can't get enough of its competitive analysis, keyword research feature, backlinks audits, and organic search reports.
Due to its competitive features and abilities, it's become the go-to tool for top brands — talk of Netflix, Facebook, Adobe, and Shopify.
It's also got a space in the hearts of thousands of SEO professionals from all over the world.
Ahrefs Key Features
Ahrefs provides millions of keywords and their keyword rankings from a single search query. The feature helps assess whether a keyword is worth targeting or not.
The content explorer allows you to do a content search that contains over a billion web pages.
The site audit feature allows you to scrutinize your website to identify any SEO issue that can prevent you from ranking.
The tool's outbound link monitor will keep track of your outbound links to ensure your guest posts direct visitors to the valuable resources.
Most SEO keyword tools only show data metrics for Google. But Ahrefs goes further to do keyword research for the top ten search engines. These include bing, youtube, Amazon, Yandex, Baidu, Daum and Naver (South Korea) and Seznam.
Reasons to buy Ahrefs (Pros)
"It provides us with detailed keyword research with monthly search volume, CPC, and other information."
"Domain rating (domain authority) and Url Rating for metric to measure site performance."
"Great filtering options."
"Easy to export reporting functionality."
"Easy to set up recurring site audits for multiple sites."
Reasons not to buy Ahrefs (Cons)
"Ahrefs learning curve is steep, and the software can feel overwhelming at times."
"Cost of this tool is a bit high and maybe prohibitive to some."
"Site audit tool is a little hard to navigate compared to other crawl tools."
Pricing
There are four paid pricing options to choose from.

The first two pricing plans allow you to try the tool for $7 for one week. Then, after the test drive, you can decide to make a purchase.
All the plans give you all the features as discussed above.
But they are limited depending on the plan.
For example, you can crawl 10,000 sites per month with the lite plan while getting 250 times more from the agency plan.
Again, you can track 500 organic keywords on the lite plan but 10,000 keywords on the agency plan.
And the trend is the same across all plans. In short, Ahrefs lets you choose a plan depending on your SEO goals and company size.
Who is Ahrefs For?
Ahrefs is clearly not for beginners.
It might take you some time before you master how to maneuver through loads of features.
But in their defense, they have put up a free SEO course to teach beginners the basics of SEO and how to use the tool…..
Which is fair enough.
A professional SEO who knows what he's doing will highly benefit from the tool. It's sophisticated and gives you all the technical details to grow your website.
That said, the tool is best for top-level SEO agencies and companies who don't mind paying the top dollar for a full-suite SEO tool.
2. SEMrush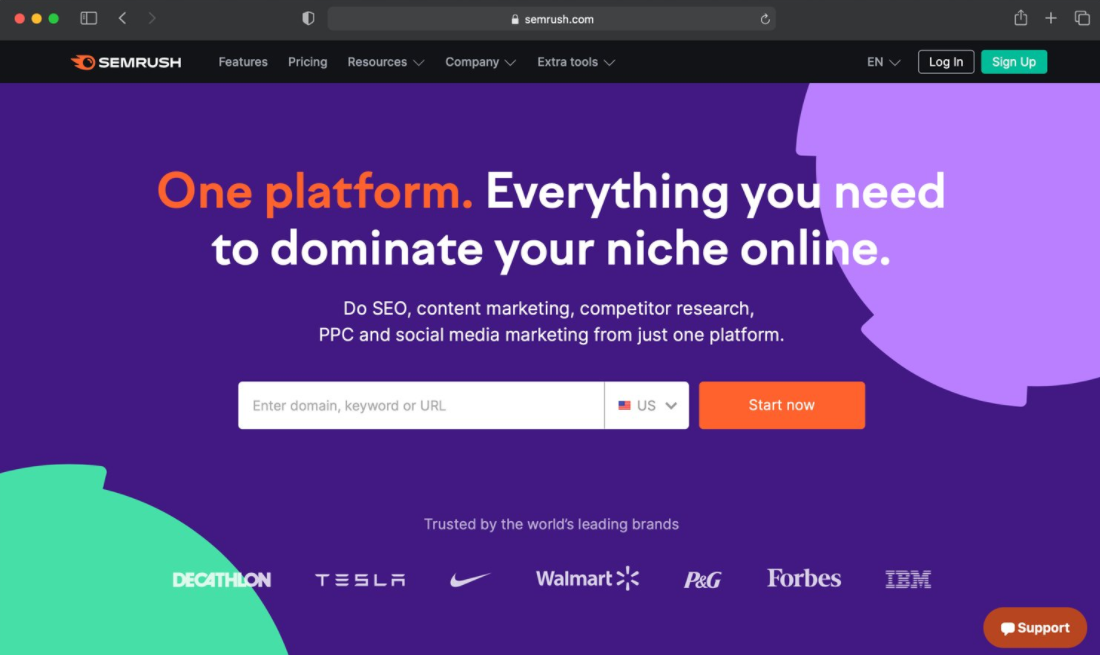 If you're looking for a robust SEO tool primarily built for competitor analysis, SEMrush is your tool.
The tool was created in 2008 by Dmitry Melkinove and Oleg Shchegolev. Currently, it has 471,000 active users…
67,000 of those are on paid plans which contributes to $125 million in annual revenue.
Unlike most tools that have just focused on SEO, SEMrush has 48 solutions – covering areas from SEO to social media marketing.
Now, don't think they've spread themselves too thin by offering many tools on one platform. According to Brian Dean, SEMrush is still the leading competitive research and SEO tool on the market.
It's become famous for small and mid-sized businesses. Thanks to its top tier feature,
SEMrush Key Features
The domain overview allows you to go deeper into competitor research. For example, you can detect their best-performing keywords to get keyword ideas for yourself, as well as the performance of the domain on phone and desktop devices.
The on-page SEO feature allows you to study your page and improve its health and SEO performance.
With the backlink analytics tool, you'll discover the broken links and backlink opportunities right up your alley. You can also audit backlinks, master your outreach campaigns and track your progress.
It comes with loads of backlinking tools. The tools will determine who your competitors are and examine your site's content.
It then resurfaces a list of prospects which it thinks is worth asking for guest post opportunities. You can use an email finder like Norbert to extract the prospects' emails.
Reasons to Buy SEMrush (Pros)
"The Backlink Audit/Analytics tool makes it easy to see, at a glance, whether there are any toxic links to disavow."
"User-Friendly Interface."
"Facebook Group is GREAT!"
"SEMrush is a nice tool for digital marketing and analytics. The keyword research tool is very helpful and one of the best parts of this system."
Reasons not to Buy (Cons)
"I don't like some of the pricing structure especially as it relates to the On-Page SEO Checker."
"It could use a little more work in the keywords area."
"There are too many "additional packages" you can purchase for ridiculous amounts of money."
SEMrush Pricing
SEMrush comes in three pricing plans, as shown in the image below.

The pro plan gives you essential features good enough for a one-person website.
For instance, you can track 500 keywords and get daily updates. It also gives you domain authority and backlink analytics.
By jumping to the Guru plan, you can track 1500 keywords and perform 14 projects.
The business plan gives you all the features you might need in a full-suite SEO tool.
It also comes with pretty awesome add-ons like a content marketing platform that has more features on its own.
Who is SEMrush For?
Half of the companies that have reviewed SEMrush on reviewing sites like Trustradius are small-sized businesses.
And it's easy to see why SEMrush is popular for businesses on that level. Apart from being super-easy to use, it has all the tools to expand your business with organic search traffic.
Now, that doesn't mean mid-sized and large enterprises can't use SEMrush. It's scalable, meaning it can adapt quickly to the growth of your company.
3. Majestic SEO Tool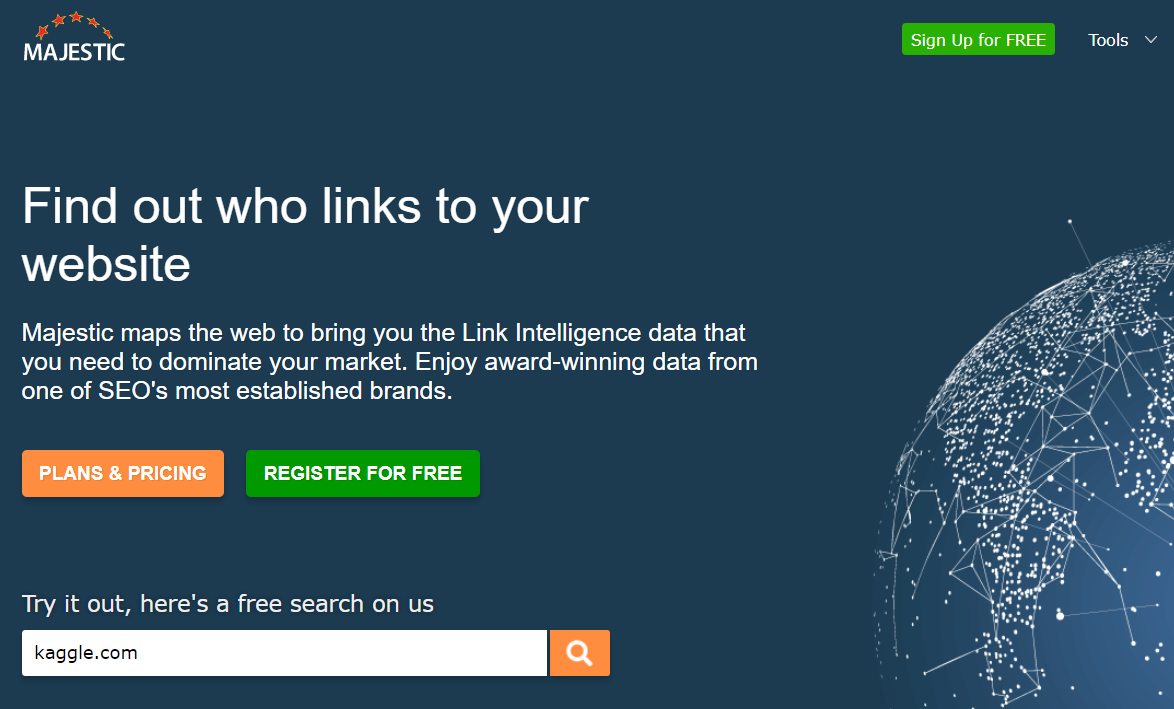 Majestic SEO tool has been in the market for a decade now.
Although a low-profile SEO analysis tool, it's also a powerful backlink analysis tool.
And yes, it doesn't offer many features as compared to other tools in this list…
But you'll have a hard time looking for a tool that analyzes a website from a macro to a micro level for backlink opportunities than Majestic.
Majestic SEO Key Features
The site explorer summary is where all the magic happens. The feature allows you to get a high-level overview of your website's backlink profile. You can see a list of instant SEO metrics like referring domains, crawled URLs, and citation flow.
The tool's functionality resides on the site's explorer, which reveals your broken links or competitor's backlinks profile.
With the pro plan, you get access to site comparisons which helps you benchmark and extract backlink opportunities.
Reasons to Buy Majestic SEO Tool (Pros)
"The new link graph feature is amazing."
"Majestic has a lot of historical data, as a long-standing company in this space they have a very large database."
"I like the fact that Majestic is quite simple."
Reasons Not to Buy Majestic SEO tool (Cons)
"It is a bit clunky."
"Pretty archaic user interface – Won't be the SEO standard forever – Not sure if it's worth the price point."
"It seems like the Majestic SEO team just throws a bunch of pointless features to see what sticks."
Pricing
Majestic is the most affordable SEO tool on this list. It comes in three pricing plans as follows.
As you can see, the lite plan is almost half of SEMrush and Ahrefs'.
The most popular plan goes for $99 and gives you all the features you need for creating comprehensive backlinking SEO strategies.
The top-tier API plan is almost four times the pro plan.
While that's a shocking jump, Majestic SEO tries to justify the high pricing.
One is that it allows up to 5 users and analyzes up to 100 million units. Secondly, you get all the features in the pro plan plus custom monthly data and open apps.
Who is Majestic SEO tool For?
Majestic SEO is cheap, but it's not feature-rich.
This means it's the perfect tool for a beginner looking to wade the murky waters of backlinking. These can be new affiliate marketers, new media specialists, and online marketing experts.
If you're hungry for more, you'll have to purchase the top-tier plan, but be ready to dig deeper into your pockets.
Free SEO Tools
Free tools are excellent, especially when they give you traffic.
If you're working on a lean budget or don't want to spend a dime on your SEO campaigns, you might get help with these free SEO tools.
As expected, these tools are not as effective as the paid ones…
But they're still slick, intuitive, and relevant to your SEO campaigns.
4. Google Analytics
Honestly, this tool deserves to cost the top dollar.
But it doesn't. And you can use it to your advantage.
Users love Google analytics because it provides vast high-quality data. Some of the paid tools even aggregate data from it.
With the insights, you can do basic stuff like monitoring your SEO campaigns and keyword research for free.
Google Analytics Key Features
The campaign measurement enables you to determine which campaigns are sending you traffic. As a result, you can cut on guesswork and develop strategies that guarantee results.
The goals feature allows you to track the essential critical metric conversions.
The audience report shows you a colorful picture of your audience from demographics and geo-location.
The flow visualization feature graphics allows you to follow every step and spy on your website visitors.
Reasons to Use Google Analytics
"Ready Reports Generation."
"Real-time analysis of a website."
"Analysis of a variety of sites."
"The main thing to like about GA is it's free!"
Reasons not to use Google Analytics
"The only issue I had was getting acquainted with navigating through and learning all the features."
"Can't accurately track returns/fraud orders."
"Can be difficult to set up correctly sometimes (especially in the new interface)."
"Mainly uses last click attribution."
Who is Google Analytics For?
Being the best and free SEO tool, Google Analytics is ideal for new bloggers and small-sized businesses.
It can work for keyword research, track conversions, creating a mobile-friendly website, and improving website speed.
But it's constrained in technical issues like SERP analysis, current search rankings, link building and competitor research. If you need these features, we recommend "full stack" SEO tools like Ahrefs.
5. Google Search Console

The Google search console (formerly webmaster tools) is a nifty tool that has become the go-to keyword research tool for newbies looking to shine in Google search results.
Like its sister tool, Google analytics, Google console rides on analytics too.
The only difference is that the former is search-engine focused. The insights it provides will help improve your site visibility and presence in the SERPS.
Google Search Console Key Features
The performance tab is the most robust feature in the tool. You can see which pages and keywords your website ranks for (aka. rank tracking).
You receive email alerts when the tool identifies issues that may affect your site's performance.
The URL inspection tool comes with tools that provide detailed crawls, index and serving information about your pages directly from the Google Index.
Reasons to Use Google Search Console (Pros)
"It is a good tool to keep on top of multiple websites and the possible issues that might arise on them."
"It also shows the progress my site has made over a course of time and how I can improve it further."
"Rank tracking provides search engine rankings for where my websites appear in search results."
"Convenient dashboard format of information."
Reasons Not To use Google Search Console (Cons)
"Not user-friendly for non-technical individuals or people with more basic SEO knowledge."
"Doesn't always provide specific examples of errors identified."
"The sidebar within Gmail where chat comes up is sometimes hard to see."
Who is Google Search Console For?
Google Search console is best for small-sized businesses that are not into in-depth SEO campaigns.
However, the user must still be versed in basic SEO practices to make the most use of the tool.
6. Ubersuggest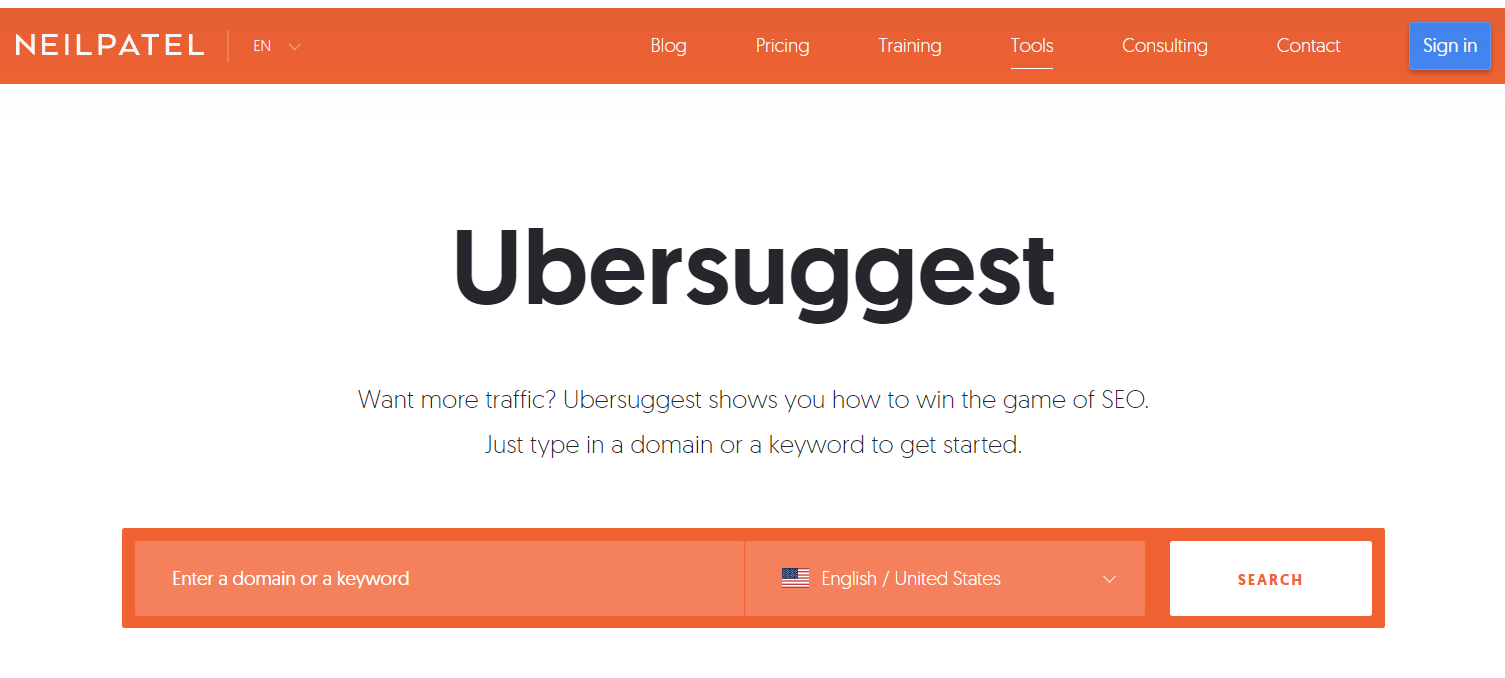 You can't talk of SEO without mentioning Neil Patel.
He's on one of the most accomplished SEO experts today with a massive fan-base.
Neil Patel bought Ubersuggest in 2017 for $120,000. Back then, it only generated organic traffic of about 117,000 with 38,000 backlinks.
With Neil's inputs and more robust features, Ubersuggest has become a game-changer in SEO. The keyword "ubersuggest" commands 700k visitors. Currently, hundreds of thousands of people use it daily.
Ubersuggest Key Features
The first feature to identify right from the dashboard is keywords ideas. Typing a seed keyword on the search bar treats you to a long secondary list of keywords related to your primary keyword.
The keyword overview gives you in-depth details of your keyword. These include the traffic generated from the keyword gets, the number of external links, and social shares.
To narrow down your search terms, you can filter by setting additional parameters so you can extract relevant keywords with enough volume to move the needle.
The free Chrome extension enables you to use Ubersuggest right from the SERPs on the fly.
Reasons to Use Ubersuggest (Pros)
"Nice clean and clear layout, that's easy to use"
"All the functions you need for basic SEO research."
"Researching hashtags and keywords for websites and social media to keep relevant."
"Content strategy ideas for long-tail keywords."
"Data charts and stats on each keyword we are searching."
Reasons Not To Use Ubersuggest (Cons)
"The three searches provided in free version per day isn't enough."
"Some limitations on the target market."
"Backlink analysis section of the dashboard is slow and difficult to use."
Who is Ubersuggest For?
Ubersuggest is the tool to think about when you're a total newbie in SEO.
It has a user-friendly interface and doesn't dive deep into technical SEO aspects. Therefore, it can be the best option for an affiliate marketer or an online business that doesn't focus much on SEO.
Nevertheless, a major SEO agency or enterprise won't find much help with the free plan. Instead, they'll have to subscribe to the paid plans which are incredibly affordable.
7. Sitechecker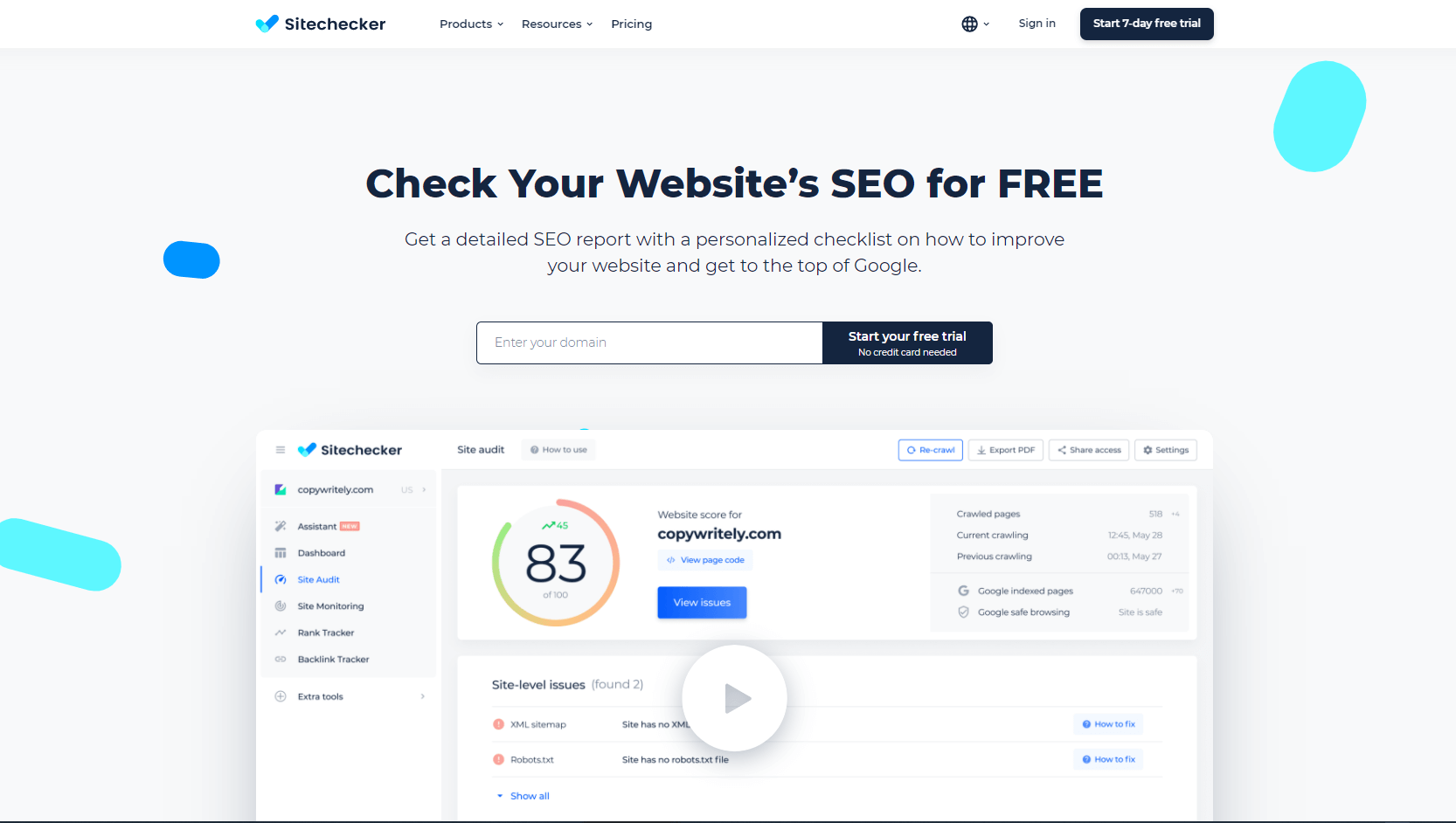 Don't have much time for SEO? Feeling intimidated by complex SEO tools with their advanced functionalities? We've got a solution for you!
Sitechecker is an easy-to-use tool that will help you get your site in shape and improve your organic search results without any SEO skills.
With Sitechecker, you'll be able to check your site for all major SEO metrics. Plus, the tool offers detailed tutorials on how to fix common SEO issues.
Sitechecker: Key Features
All-site and on-page audit. Check your site's SEO health for 100+ parameters. Whether you have a big site or just one landing page, this free on-page checker is just what you need.
Save time by keeping data from your Google Search Console and Google Analytics accounts in one place. Additionally, you'll get recommendations on how to analyze the obtained data.
Sitechecker has an SEO monitoring tool to keep track of your website changes 24/7
Track your TOP keywords. Tracking your keyword dynamics is vital to monitoring your organic growth. Add TOP keys in a few clicks from your GWT.
Track your backlinks. Keep tabs on your backlinks so as not to lose them.
Extension for Chrome. Save time and check any page for technical issues right in your browser in just a few seconds.
Why you should use Sitechecker (Pros)
"A great all-in-one website monitoring tool for SEO."
"Sitechecker is a solid SEO tool. It offers the possibility to try it for free, without a credit card, so you should test it yourself and see if it is the right tool for your needs."
"Software is simple to use and gives a broad feedback of actions to take on improving site SEO."
"Easy Navigation and detailed instructions based on Google Search Console on how to fix errors. Not just canned garbage like most companies, but very detailed."
Why you shouldn't use Sitechecker (Cons)
"It doesn't show as much detail about issues in the code, particularly CSS problems."
"The backlink tool is manual. I would love this to be automatic."
"There is no tool for keywords searching inside."
Pricing Plans
Choose from 3 pricing plans: Basic, Startup, and Growing.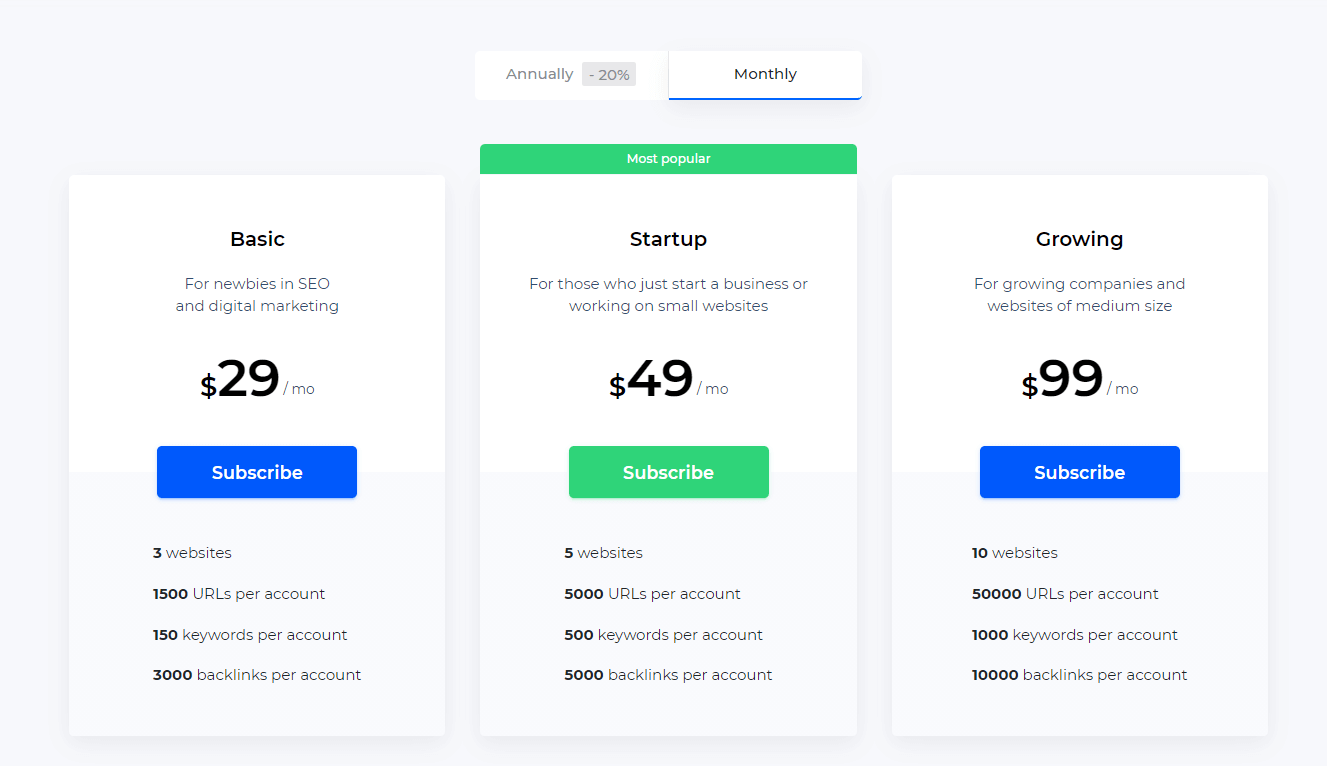 All plans offer the same features. They only have different limits on how much you can use these features.
Basic Plan is recommended for SEO and marketing newbies. The plan allows you to manage 3 websites, 1500 URLs, 150 keywords, and 3,000 backlinks per account.
If you're starting a business or have several small websites, be sure to choose Startup Plan. The plan includes 5 sites, 5000 URLs, 500 keywords, and 5,000 backlinks per account.
And last but not least, the Growing Plan whose name speaks for itself. The plan includes 10 websites, 50,000 URLs, 1,000 keywords, and 10,000 backlinks per account.
Be sure to capitalize on our special offer! Purchase an annual subscription to any plan and get 20% off! Compared to other similar services, Sitechecker has very attractive prices. If you check out other tools, you'll find out that their basic plans cost as much as Sitechecker's most expensive plan.
Who can benefit from Sitechecker?
Sitechecker is a powerful and versatile tool for a wide spectrum of needs. Even if you consider yourself an SEO expert, you can still find this tool helpful.
While Sitechecker can't help you with market analysis, it's a great tool for managing SEO for your sites. Whether you're a beginner or professional, Sitechecker is a smart solution that allows you to improve your website's SEO health, monitor changes, track keywords, run regular audits and page checks.
Also, Sitechecker is available at advantageous prices which is especially important for online projects which are not generating income yet. Why spend money on costly services with advanced functionalities that you might not even need right now? Sitechecker is your best choice!
What is SEO?
SEO stands for Search Engine Optimization.
It is the practice of increasing the quantity of your website traffic through organic search results.
In simpler terms:
SEO is all about improving a website's ranking in the non-paid or organic section of the search results.
Standard practices involved in SEO include building backlinks, creating valuable content, and optimizing your content around specific keywords.
What is an SEO tool?
An SEO tool is a software that helps you rank higher.
The goal of an SEO tool is to provide data and alerts about your website's overall success and health. Examples of such data are backlinks and keywords analytics from your competitors.
Why Use SEO tools?
A complete suite SEO tool should provide all features needed to monitor the following:
Keywords: An SEO tool allows you to perform keyword analysis, determining common phrases famous in your industry.
Domain Search: An SEO tool delves deeper into what's behind a CMS platform like WordPress. You're able to search through a site and get to know the site's content, the keywords it's ranking for and the best-performing pages in terms of traffic.
Website Traffic: SEO tools help you measure the flow of organic traffic to a site from search engines. It lets you know how often users visit your site, which keywords land and the referring platforms that lead them to your site.
Saves Money and Time on SEO audits: With a complete suite SEO tool, you get a wealth of knowledge identifying website issues. Unfortunately, most SEO agencies charge the top dollar to do this. But with the help of an SEO tool, you'll cut the costs and time by half.
Rank tracking, SEO progress, and KPIs. Most websites owners look at their ranking to measure their SEO success.
But there are other things to consider like traffic and conversions. All these and others are difficult to calculate yourself. However, an SEO tool can easily calculate your SEO success level and "advise" the best strategy to employ.
What is an SEO crawler?
An SEO crawler is also called an SEO spider, web crawler, or website crawler.
In simpler terms, it's a bot that does the "searching" when you search for something on a search engine.
It works by exploring the web whenever you command a search. It does this to get the correct information that resonates with what you wanted.
What are Backlinks?
Backlinks are like internal links, but from other websites to your website.
Search engines consider backlinks to be votes. Why? They tell a reader (and search engines) that the links lead to valuable, credible and informative sources.
If you get many backlinks from different websites, the higher you'll rank in Google or any other search engine
Want to make your off-site SEO efforts more effective? Signup for Voila Norbert with this link and try out the best email finder for free!
Further Reading: