Blogging in 2021 is anything but easy…
The competition is fierce, there's saturation on the market, and the quality of the articles is reaching insane heights…
So you need every single edge to outrank your competition and get the blog traffic that you deserve.
And one of those edges is the blogging tools that you use.
(After all, better tools = better results)
And that's exactly what this listicle will help you discover.
We took blogging and deconstructed it into 10 important parts: from SEO and content strategy all the way down to productivity…
Then we identified the best blogging tool for each category and described, in detail, the key features of the tool, how to get the most out of the tool, and the tool's pricing.
This way you can find perfect blogging tools for your business without wasting your time and money testing out each tool for yourself.
Let's get started.
Skip to Sections:
1. Cold Outreach: Voila Norbert
With an accuracy rate of 98%, Voila Norbert is the most accurate email finder tool on the planet.
But don't take it from us — take it from Ahrefs. Here's what Ahrefs concluded after studying the accuracy rates of all major email-finders in 2021: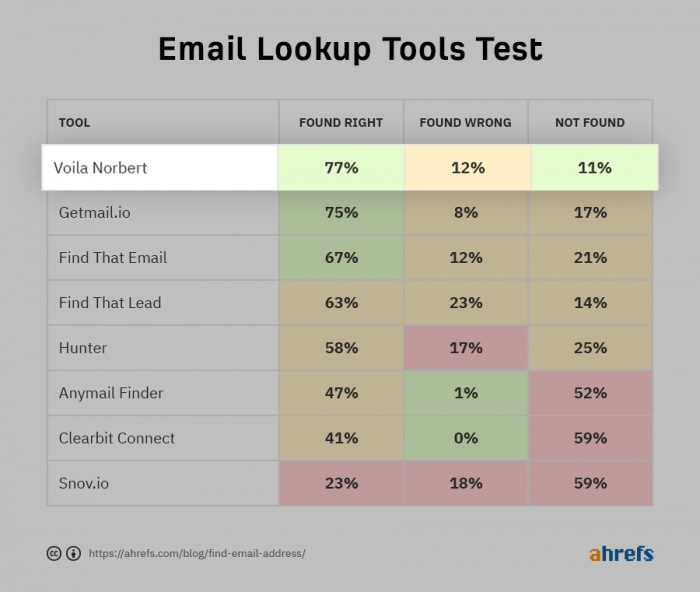 We make sure we hit the bull's eye every time thanks to our huge database of B2B email addresses that we run every request through. There's no guesswork, which is what our 60,000 customers love.
Voila Norbert Key Features & Benefits
A 50-leads free trial for you to test the waters
A wide range of integration options: Salesforce, Zapier, Hubspot, Mallshake, Drip, and many more.
Email verification option, which allows you to verify your current leads
Option to find bulk emails by importing a list of names and company URLs
A fully-documented API that allows easy integration with other software
Email enrichment. Enriching your contact list with additional info such as job title, location, company, social media profiles, and more
Scalability — you can use Norbert with any team size
Most bloggers we know have a hard time finding the correct email address of key-decision makers in a company. This causes bloggers to spend a ton of time prospecting instead of doing more productive things such as SEO and content strategy… On top of that, the email addresses uncovered with other tools or methods have a high chance of being flukes.
The solution?
Voila Norbert — a tool that's simple to use, accurate, and integrates with a wide range of other blogging tools.
How To Get Most Out Of Voila Norbert
To get the most out of Norbert, all you need to know is the name and company URL of your prospect.
Here's a gif on how to find an email address using the web app: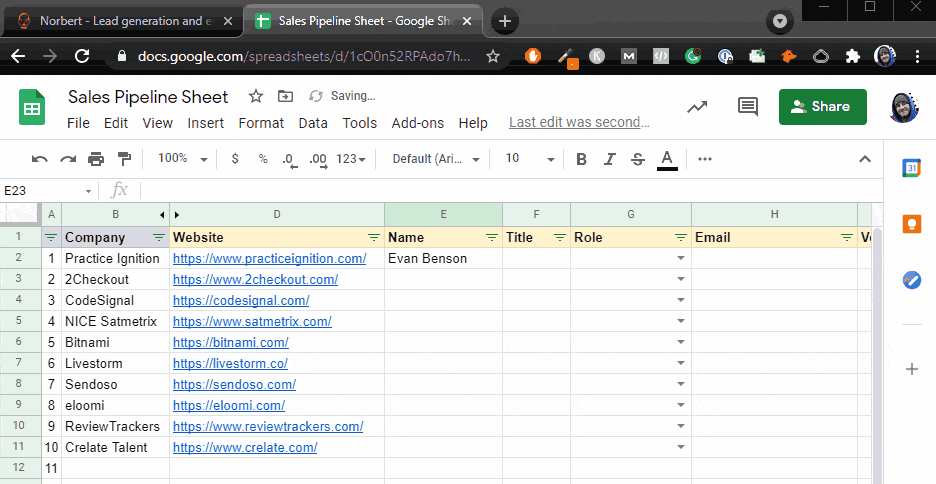 There are three ways to feed the name and email address of your prospect to Norbert:
Via the web app
Through a CSV
Through the Chrome Extension
Before you blink, Norbert will give you an email address equipped with a certainty score. The certainty score describes how confident Norbert is about the email's accuracy. If Norbert fails to find an address, you don't pay.
Voila Norbert Pricing
Once your 50-leads free trial is over, you can choose from four pricing plans:
Valet. For $49 a month, you get 1000 leads, which comes down to $0.049/email.
Butler. For $99 a month, you get 5000 leads at $0.019/email.
Advisor. You get 15,000 monthly leads for $249 a month This comes down to $0.016/email.
Counselor. This is for advanced users. You get 50,000 monthly leads for $499 at $0.009/email. All features of the more basic packages are included.
All plans also include the bulk email finder, unlimited team members, and free API usage.
Note: for email verification and enrichment, you don't need an active subscription. Verification costs $0.003/email and enrichment starts at $0.04/email.
Wanna test out Norbert's accuracy yourself for free? Sign up with this link to get 50 leads on the house!
2. Content Strategy: Ahrefs
Ahrefs is the best keyword research tool out there. And the best thing about Ahrefs is that it's very comprehensive so you get all your relevant content strategy needs covered under one roof.
These include keyword analysis, keyword rank tracking, competitor research, and on-page SEO analysis.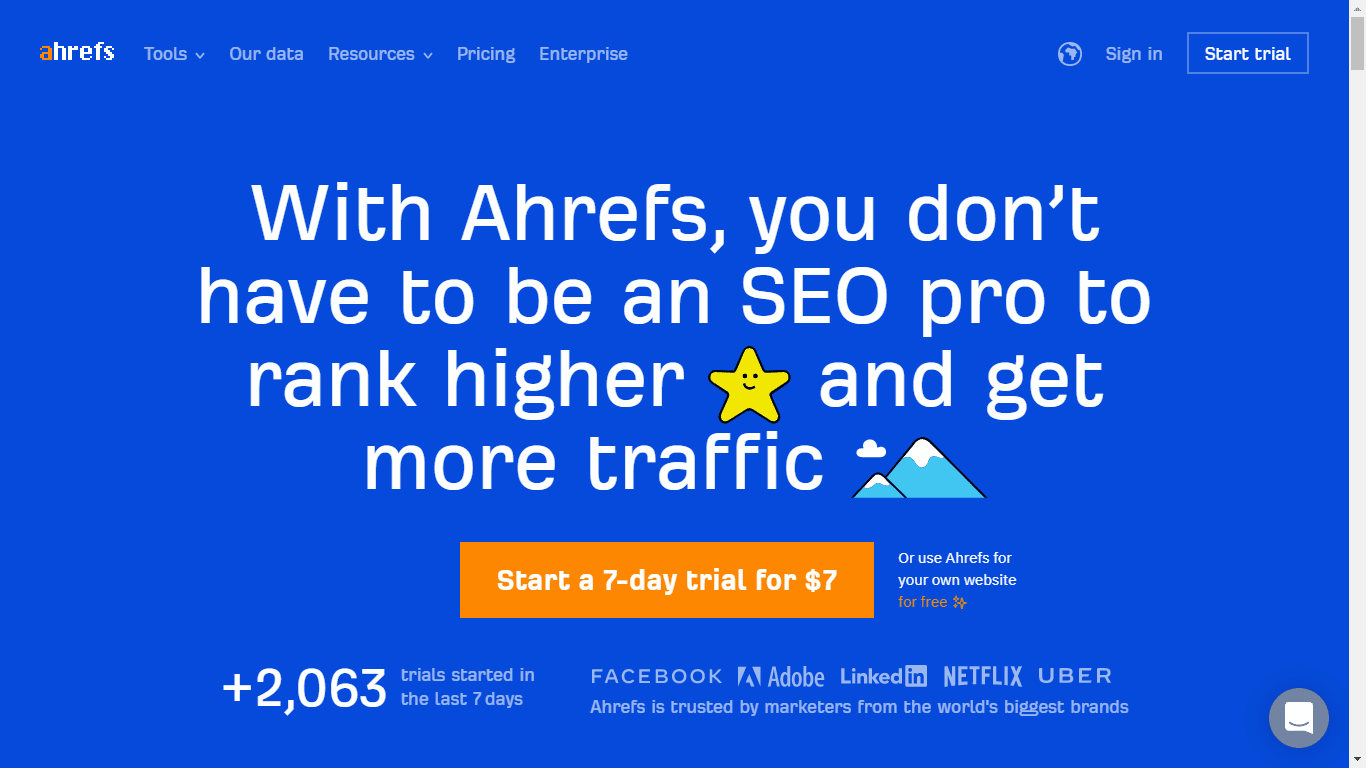 The tool also allows you to track your and (your competitor's) backlinks: new links, no follow/follow links, similar links, and more.
In a nutshell, Ahrefs will tell you which keywords to target and how your post is doing after you publish it.
Ahrefs Key Features & Benefits
Features that set Ahrefs apart include:
A 7-day trial for $7
Content explorer — helps generate blog post ideas based on what's hot in your niche
SEO site audit, which helps you identify 100+ possible tehnical SEO problems. Solving these problems is an easy way to boost your website ranking
Keyword data for 171 countries
Keyword data for platforms other than Google. These include YouTube, Bing, Amazon, and Baidu.
A keyword difficulty score. Ahrefs keyword difficulty score has become the industry standard, which is why it's the #1 choice of most big websites.
Clicks data. Ahrefs is the only tool that tells you how often a keyword gets clicked through. Just because a keyword has high search volume doesn't necessarily mean it's clicked a lot!
How To Get Most Out Of Ahrefs
As a blogging tool, Ahrefs is too complex to be explained in just a single paragraph. If you're a beginner, you should focus most of your attention on the Keyword Explorer and get it right. The basic goal is to target long-tail keywords with high search volume and low competition.
Also, keep in mind that Ahrefs will take time to master but once you're done, it will give you invaluable data. There are plenty of guides on the internet on Ahrefs, but nothing beats its own Ahrefs Academy.
Ahrefs Pricing
There are four packages to choose from.
Lite. For $99 a month, you get 175 Keyword Explorer reports, 350 Content Explorer reports, 500 tracked keywords, 10,000 site crawl credits, and 1 user seat.
Standard.  For $179 a month, you get 700 Keyword Explorer reports, 700 Content Explorer reports, 1500 tracked keywords, 500,000 site crawl credits, and 1 user seat.
Advanced. For $399 a month, you get 1400 Keyword Explorer reports, 3500 Content Explorer reports, 5000 tracked keywords, 1.25 million site crawl credits, and 3 user seats.
Agency. For $999 a month, you get 7000 Keyword Explorer reports, 17,500 Content Explorer reports, 10,000 tracked keywords, 2.5 million site crawl credits, and 5 user seats.
There are many more features listed on the Ahrefs website. All four packages offer more or less the same features with only differences in quantity.
3. Onpage SEO: YoastSEO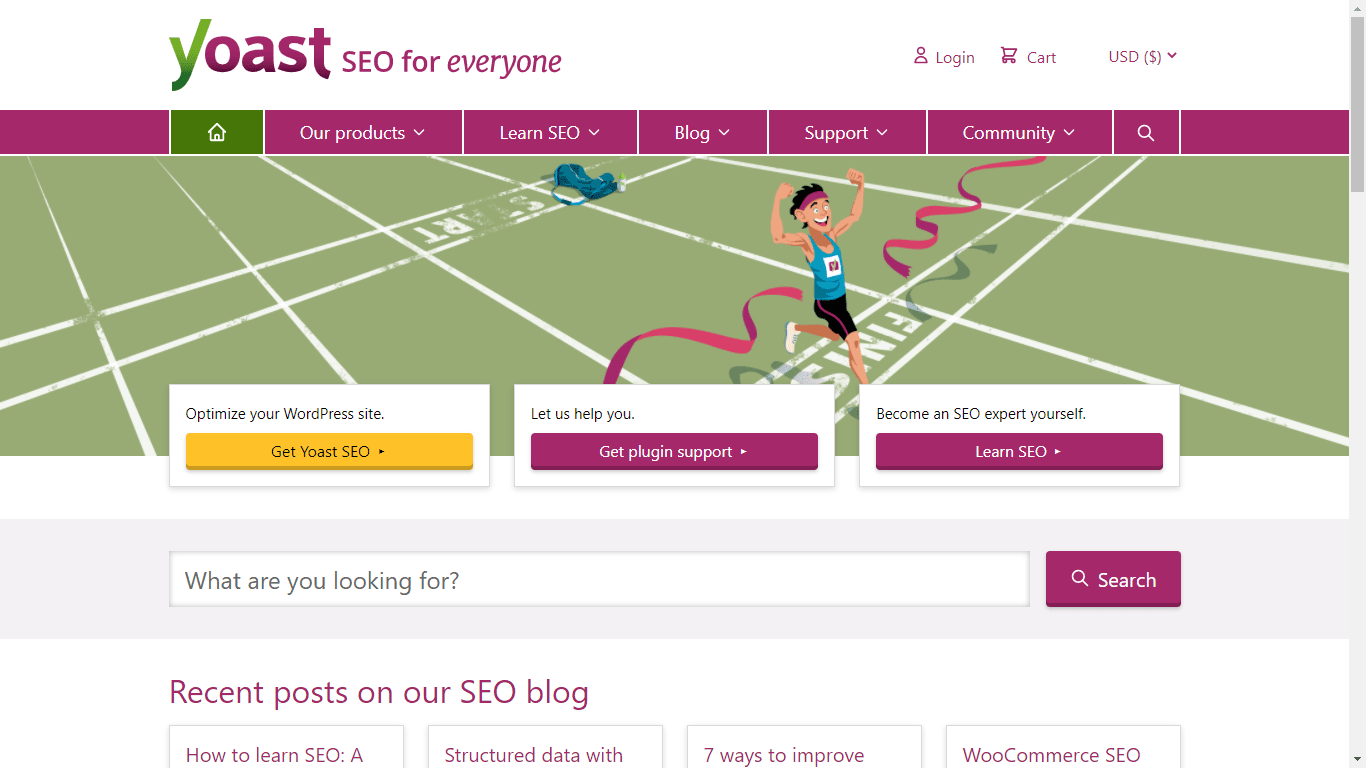 If Ahrefs is the king of OFF-page SEO, Yoast SEO rules over the ON-page SEO kingdom.
Essentially, it's a blogging tool that helps you write your post according to the best SEO practices — a post maximally optimized for a keyword. This ensures that Google will better understand what your article is about and rank it for the appropriate search phrase.
To do this, Yoast SEO tells you:
the number of times you should include your keyword in your post
the number of links your article should have
how to write an optimized headline and meta descriptions
the optimal article length according to the target keyword
and more
Ahrefs and Yoast SEO complement each other. Ahrefs helps you find blog content ideas and target keywords. Yoast SEO helps you make the most out of that keyword.
YoastSEO Key Features & Benefits
Additional features that set YoastSEO apart from other SEO tools include:
The Yoast SEO plugin, which is the most downloaded WordPress plugin out there. It adds an SEO dashboard at the bottom of the post editing window in WordPress. Simply enter your target keyword and follow Yoast's recommendations while writing.
Video SEO for WordPress plugin, which allows you to optimize videos on your blog for search engines. If you run a video-heavy blog, this plugin can significantly boost your internet visibility.
Local SEO for WordPress plugin, which optimizes your website to show up in local search, improves your Google Maps results and your Google Maps SEO
SEO academy, which helps you make the most out of the tool.
How To Get Most Out Of YoastSEO
Unlike other SEO tools, YoastSEO is pretty much self-explanatory and simple to use. The most widely used YoastSEO tool is the YoastSEO WordPress plugin. All you need to do with YoastSEO is, well, install it.
Some advice: YoastSEO's #1 goal is to satisfy search engines (machines). Sometimes, this may leave your human readers unsatisfied because your posts may sound robotic. Robotic posts might improve your SEO but they will hurt your business.
So while it's good to have YoastSEO guide you along the way, make sure your posts remain easy and fun to read.
YoastSEO Pricing
YoastSEO is free to use, although the pro version costs $89 a year for 1 website, which includes free updates and support. The Video and Local SEO plugins cost $69 each for 1 website, free updates and support included.
You can also get all premium YoastSEO plugins by paying a monthly fee of $199. The bundle is billed annually and includes the following plugins:
WordPress
video SEO
local SEO
news SEO
WooCommerce SEO
4. Team Management: Trello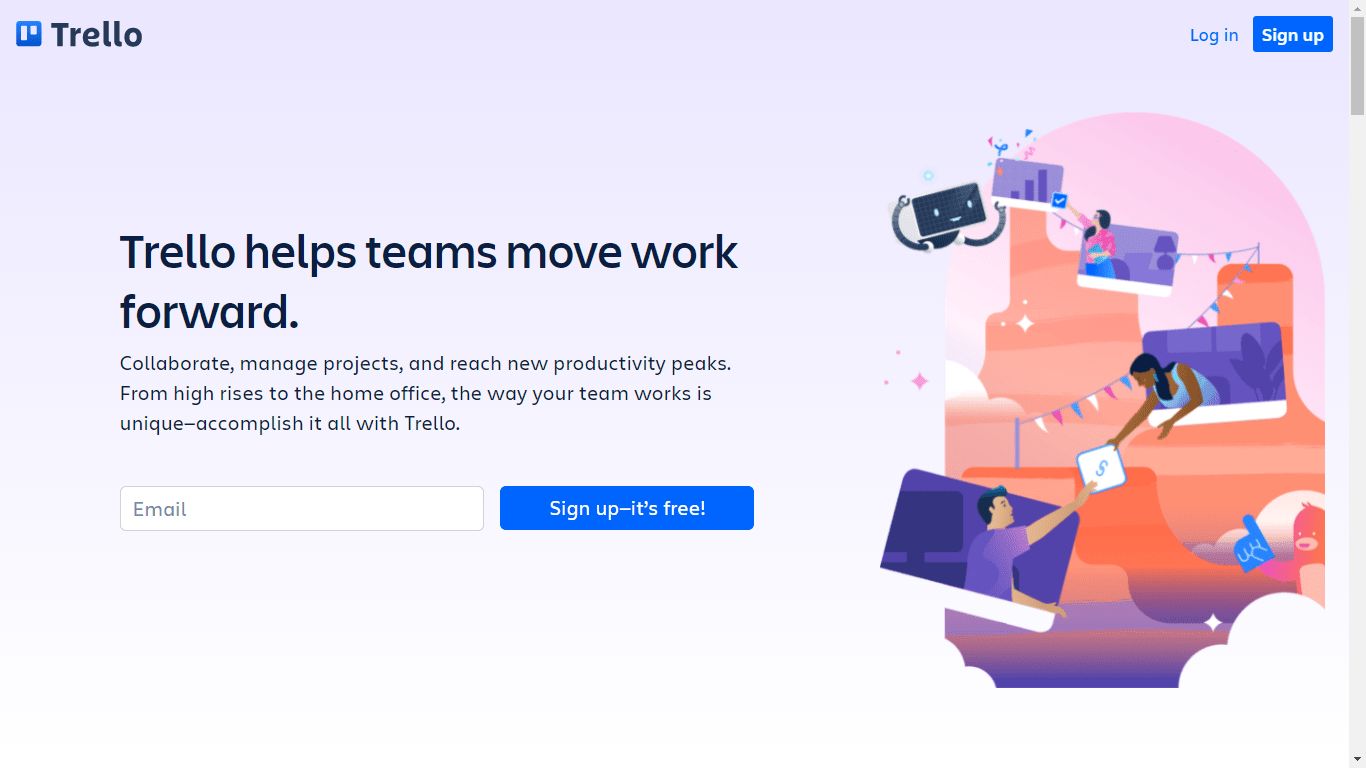 Trello is a team management and collaboration blogging platform. And it's the best collaboration tool out there because of its intuitive user interface and unmatched ease of use. Trello is a "visual-heavy" tool, which means you and your team get a holistic view of your projects in an instant.
As a project management tool, it tells you what tasks need to be done, who is working on a particular task, and how close to completion a task is.
Each task in Trello can be visualized as a sticky note. Each sticky note can have a great amount of detail about the task such as:
the due date
pictures
feedback comments
attachments from different data sources
documents
Trello Key Features & Benefits
With more than 50 million users, Trello offers:
A task prioritization system, which allows timely completion of the most important tasks
A project map to give you an overall picture of the project's progress
Automation of redundant, basic processes, which allows your team to focus on real work
Integration with other top tools such as Google Drive, Evernote, Dropbox, and Slack
Support for Android and iOS to help you manage your team on the go
Premade organizational templates in case you're confused about tackling a project
How To Get Most Out of Trello
Using Trello is straightforward. You get started with a Trello Board, which is where all your tasks are displayed as sticky notes.
Within a board, you can create multiple lists. The most basic (and popular) is a combination of three lists — to-do, in-progress, and completed.
Once a team member begins working on a task, its sticky note can be dragged from the to-do list to the in-progress list. When the task gets completed, it gets dragged to the completed list. You can then provide feedback right on the sticky note.
Here's an overview video created by Trello to help you get started with the tool.
Trello Pricing
Trello offers four pricing tiers.
Free. You get unlimited cards, unlimited members, up to 10 boards, unlimited activity log, 250 automated command runs a month, iOS and Android apps, and 2-factor authentication.
Standard ($5 per user per month). This includes every feature in Free plus unlimited boards, advanced checklists, 1000 automated command runs per month, and more.
Premium ($10 per user per month). This adds dashboard view, timeline view, unlimited command runs, priority support, workspace-level templates, and more to the package.
Enterprise ($17.50 per user per month). This includes everything in the lower tiers plus improved security and powerful features (like organization-wide permissions) that help teams across an organization connect easily.
5. Writing: Hemingway App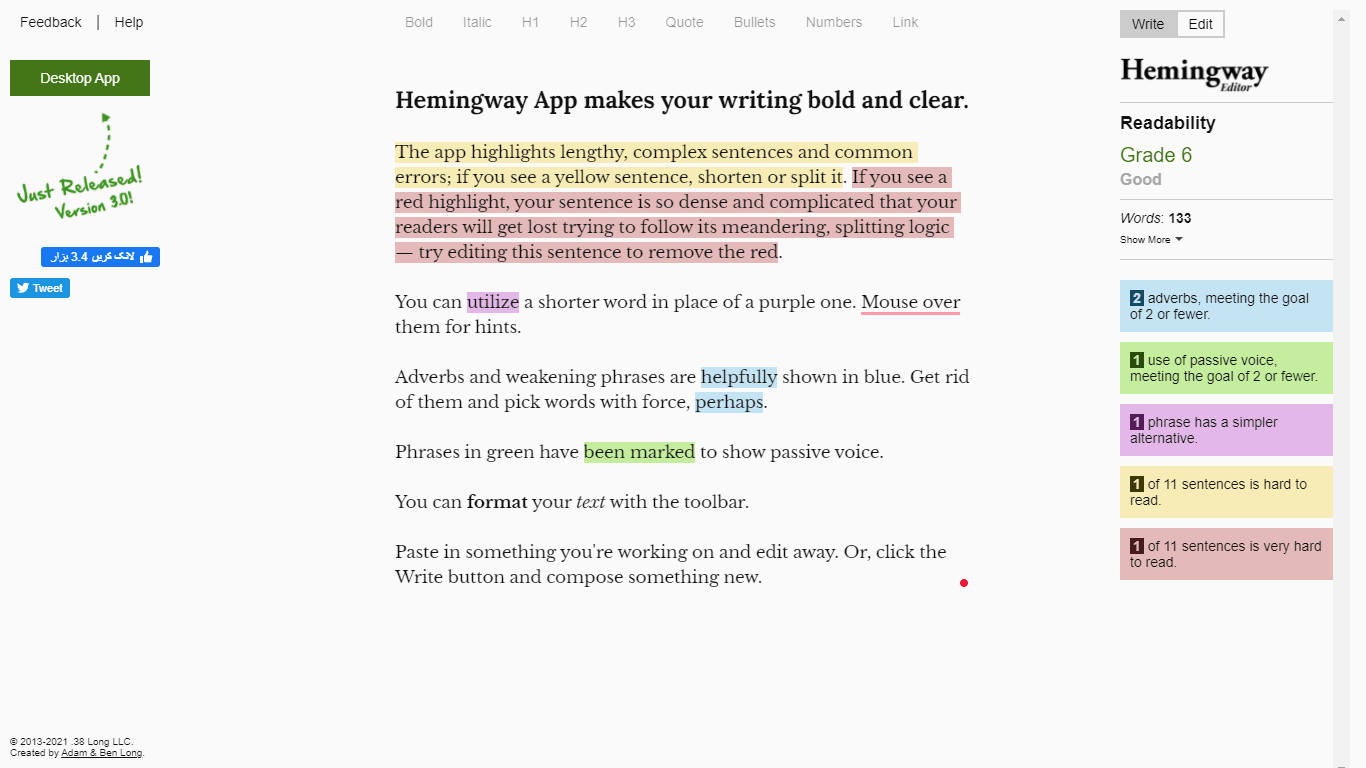 Hemingway App is a powerful tool for editing to "make your writing bold and clear".
Unlike other editors in the market, Hemingway is minimal and responsive. This eliminates distractions and helps you write better.
Hemingway weeds out common problems like excessive use of passive voice and adverbs and long, difficult sentences.
But what seals the deal about Hemingway is the color-coding. Each problem is given a color code, which makes it pop out of the text in an instant. For example, sentences that are hard to read will be highlighted with yellow. Those that are very hard to read will turn red and so on.
Hemingway App Key Features & Benefits
A super-minimal writing mode — this mode offers basic text editing options such as:
making the text bold
formatting H1, H2, and H3 headings
writing bullets and quotes
adding hyperlinks.
Advanced editing options are unavailable to help you focus on writing.
An editing mode, where all issues in your writing are highlighted and color-coded according to the type of problem.
The editing mode tells you the readability level of your content, the word count, and the reading time
Ability to export your write-up, including publishing directly to WordPress and Medium
Importing content from Microsoft Word files for editing
How To Get Most Out of Hemingway App
We recommend using Hemingway for editing only. That's because it doesn't save your writing progress, which means your work will be lost if you close the browser window.
While editing, you'll notice a Readability Score on the right. This is the most important metric to optimize your post for. At Norbert, we strive for a readability level of Grade 6 or below.
Hemingway App Pricing
Hemingway can be used for free via their website. For advanced options, you can buy the desktop version, which costs $19.99 (one-time purchase).
With the desktop version, you get the ability to:
Use Hemingway offline
Publish directly to WordPress and Medium
Export your edits as HTML or Markdown for your CMS
Export to Word, Text, and PDF
Share Hemingway highlights with colleagues
6. Images: Canva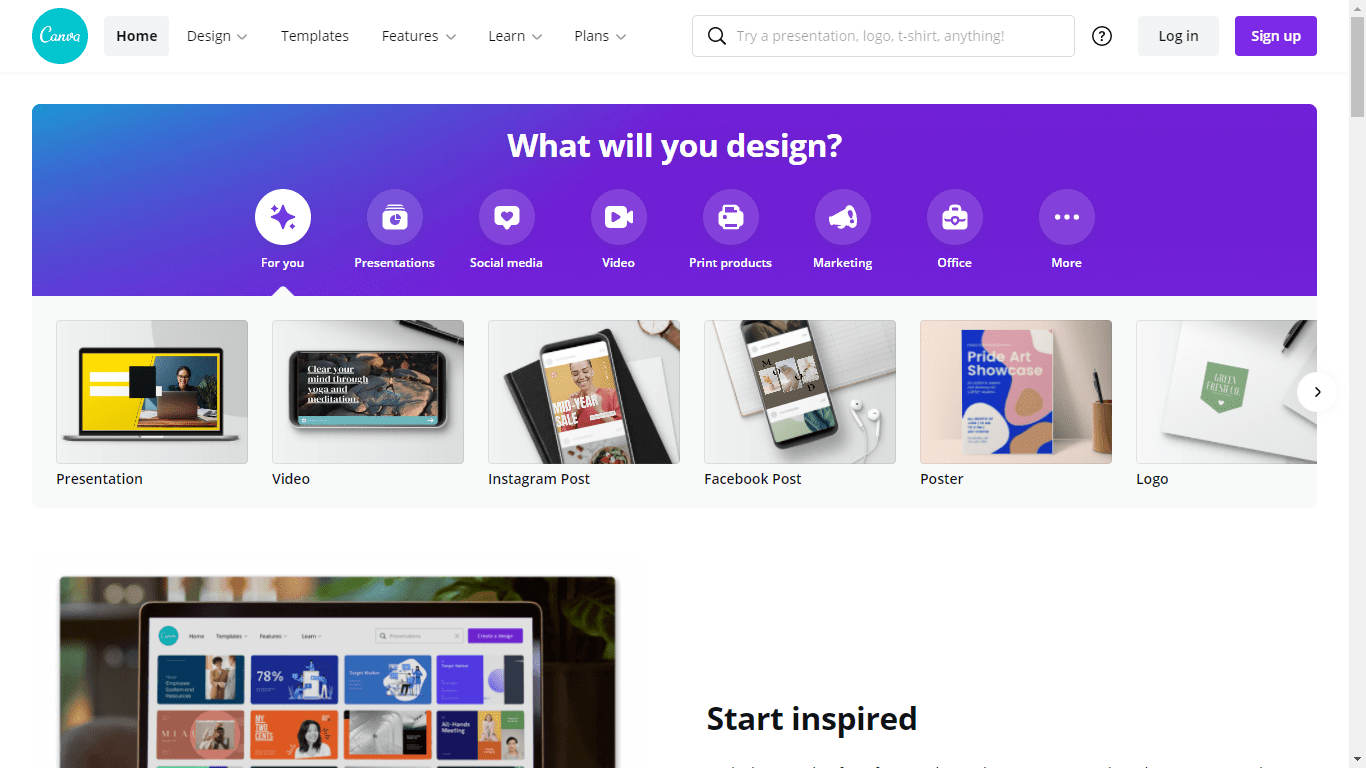 Canva is a graphic designing tool. But, unlike other designing tools, Canva is made for "non-design" people which makes it simple and fun to use. It offers a wide range of templates and stock images that allow you to create thumbnails, infographics, social media posts, posters, videos, and other visual content in an instant.
Canva Key Features & Benefits
An intuitive drag-and-drop user interface, which makes it easy to use (especially for non-design folks)
A vast library of fully customizable templates for just about every type of blogging image
A wide range of fonts, stock photos, and audios to choose from
Integration with Google and Giphy, which makes adding content from other sources a breeze
Option to collaborate with your team on design projects
Directly publish social media posts
How To Get Most Out of Canva
Canva's fully customizable templates make it powerful and are a good place to start.
You can change the colors, fonts, images, and dimensions of a pre-made template to customize it according to your vision. Pre-made templates are a great way to start with design because you're not starting blank and already have something to build upon.
Once you get comfortable with templates, try designing something from scratch. Here's Canva's guide on how to do that.
Canva Pricing
Canva offers three pricing tiers.
Free. You get 250,000+ free templates, 5 GB of cloud storage, the ability to collaborate with your team in real-time, and more.
Pro. For $119.9 per year, you get everything that Free has plus 100+ million premium stock photos, 100 GB of cloud storage, instant background removal, infinite design resizes, the ability to schedule social media content to 8 platforms, and more.
Enterprise. This is for larger teams and allows greater team collaboration and control options, unlimited cloud storage, 24/7 enterprise-level support, built-in workflows, and more. Contact Canva for the price of this package.
7. Lead Capture: Sumo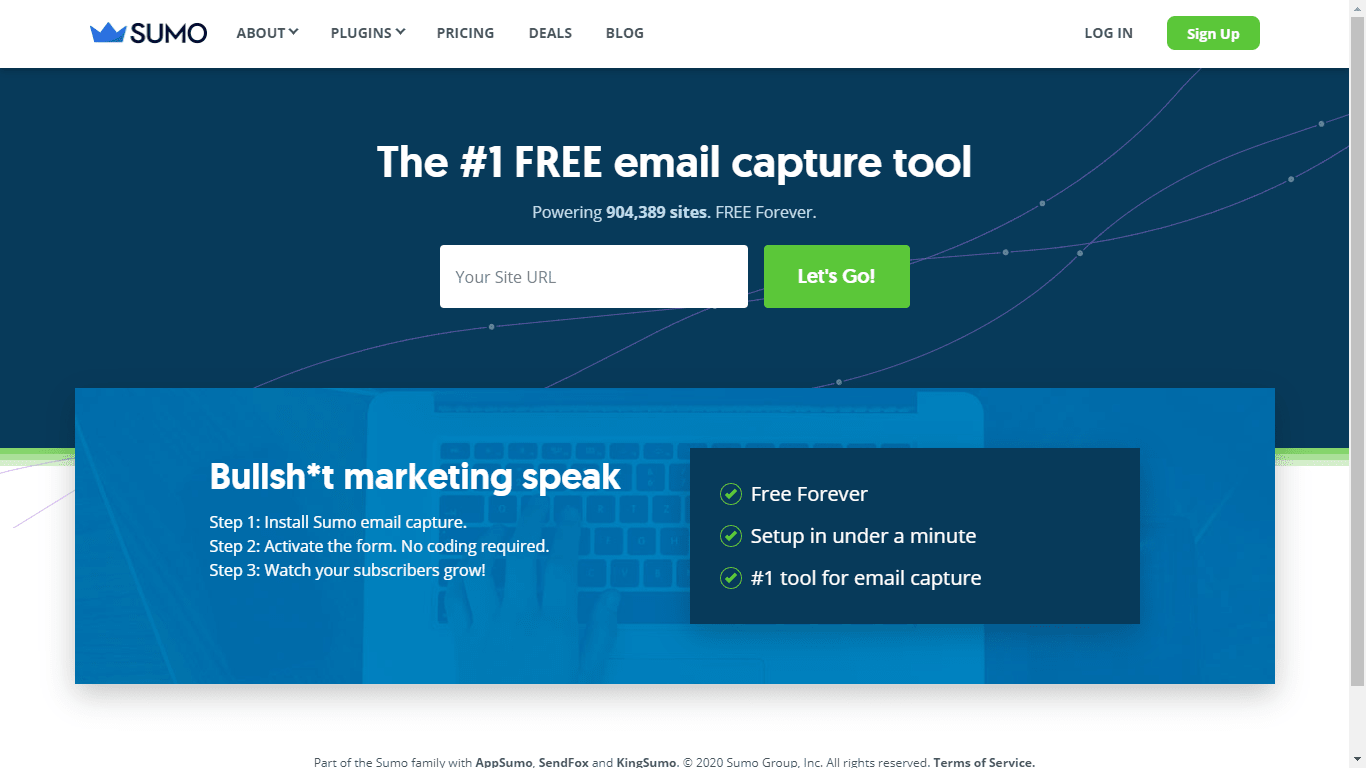 Sumo is a lead capture tool. It allows you to add welcome mats, smart bars, scroll boxes, social media sharing buttons, and content analytics to your blog.
But what makes Sumo infinitely better than other lead capture tools is that it's super easy to set up and full of value even in the free version, making it perfect for beginners.
Sumo Key Features & Benefits
Sumo offers:
More than twenty different blogging tools
Content heatmap to help you see which areas of your blog are getting the most attention
Scroll tests, which tells you how far readers are scrolling through a blog post
Plugins for WordPress and Shopify to simplify your workflow
Extensive customization options. You can customize almost every aspect of your welcome mats, scroll boxes, and click triggers to the exact page they're displayed on
Built-in A/B testing to help you experiment and improve your efforts
How To Get Most Out of Sumo
One great way to tap Sumo's power is to use its scroll tests, which tell you how much of a blog post is being read before visitors bounce off.
When you've determined the exact part of the blog post people are bouncing off, you can throw in a relevant scroll box or a pop-up at that point to capture their attention better.
It's also a good idea to spend time learning how to make CTAs and pop-ups effective.
Sumo Pricing
While the free version offers a lot of value, you can pay $39/month to unlock A/B testing, remove Sumo branding, get e-commerce design templates, and 40,000 more emails than the free version to keep your list engaged.
8. Social Media: Buffer
Buffer is one of the best social media tools to take your social media game to the next level.
Once you're done with a blog post, you can use Buffer to automatically share it on various social media accounts. You also have the option of sharing a blog article multiple times with updated images and headers.
But here's where Buffer stands out: it analyzes your existing posts to determine what's working. It then gives recommendations on the type of posts you should make, when you should post, and how often you should post.
Buffer also goes a step further to help you engage with your audience. It allows you to navigate quickly to the posts that need your attention and engage with the comments.
In a nutshell, Buffers helps you share blog posts to a social media platform, increase their reach, and engage with the comments on your posts.
Buffer Key Features & Benefits
Support for all major social platforms like Twitter, Facebook, and LinkedIn
Automate posts to send them out at the most effective time, which helps drive more traffic to your blog
iOS and Android support
Helpful analytics including clicks, mentions, potential reach, and retweets a post gets
An easy user interface, which makes it great for beginners
How To Get Most Out of Buffer
To make the best out of Buffer, make sure your posts are worth sharing on the internet. The right timing and frequency will only get you so far — if your content is a bland wall of text, it's bound to die.
Also, if you're unsure of when to post, you can use an option called "Add to Buffer", which lets the app decide the post timing.
Buffer Pricing
There are two pricing options.
Free. You get basic publishing tools and 3 social channels. You can have 10 scheduled posts per channel.
Essentials. For $5 per channel per month, you get unlimited scheduled posts, analytic tools, the ability to work with more users (with Team Pack Add-on), and more.
9. Blog Analysis: Google Analytics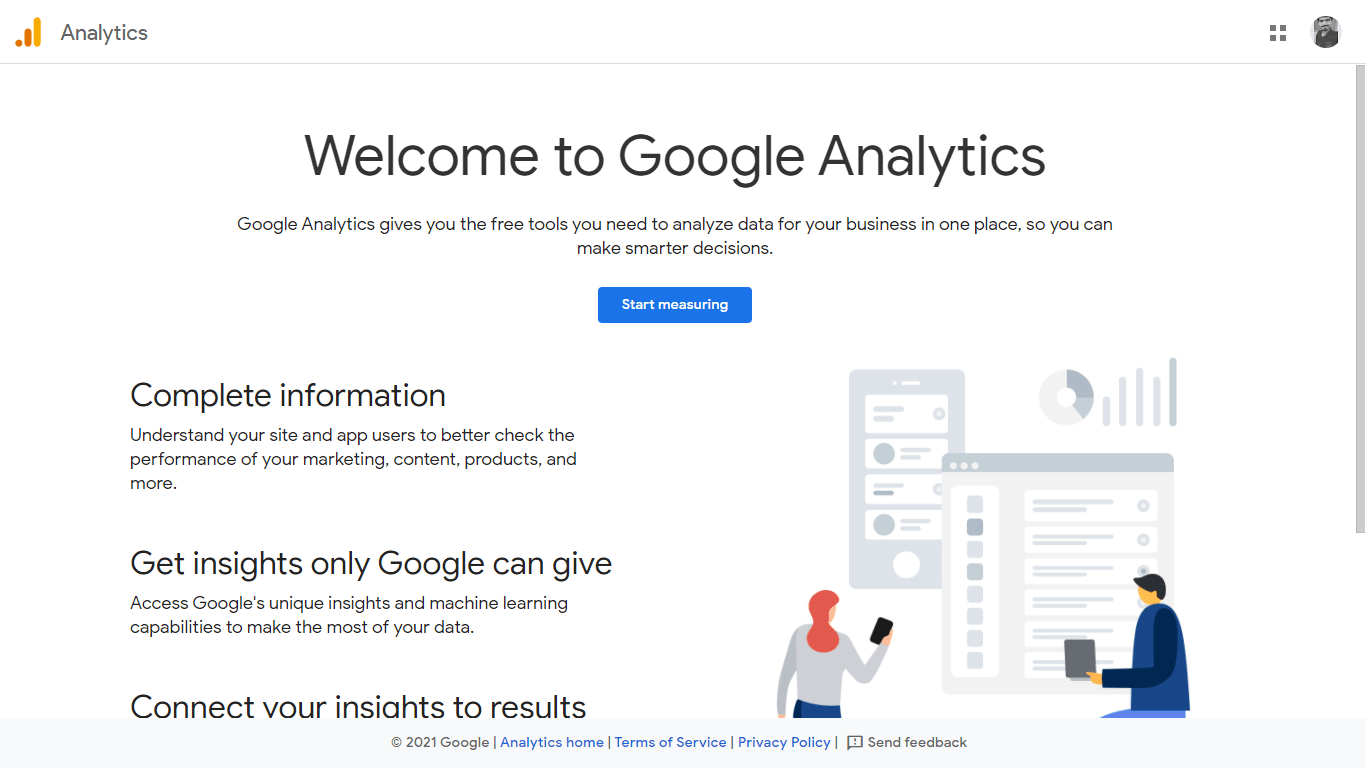 Google Analytics is a blog analysis tool and two things make it outstanding:
It's free
It pulls data directly from Google
Once you install Google Analytics, it gives you valuable insights like:
Bounce rate
New vs returning readers
How much time a reader spends on a page
The number of monthly readers your blog gets
There are many more metrics available.
Google Analytics Key Features & Benefits
Link builder: telling you exactly which sources are driving search traffic to your blog, which helps you refine your PR strategy.
Conversion tracking: allowing you to track how often users complete a desired goal on your blog, which helps you optimize your content strategy.
Flow visualization reports: helping you track your reader's behavior and the exact path they take to navigate your blog, which helps you optimize your blog for conversions.
User demographic data: telling you about the location, interests, and browsing habits of your readers, which helps you refine your marketing efforts.
How To Get Most Out of Google Analytics
The most important thing with Google Analytics is to set it up properly. Here's Google's guide on how to do that.
10. Productivity: News Feed Eradicator by Jordan West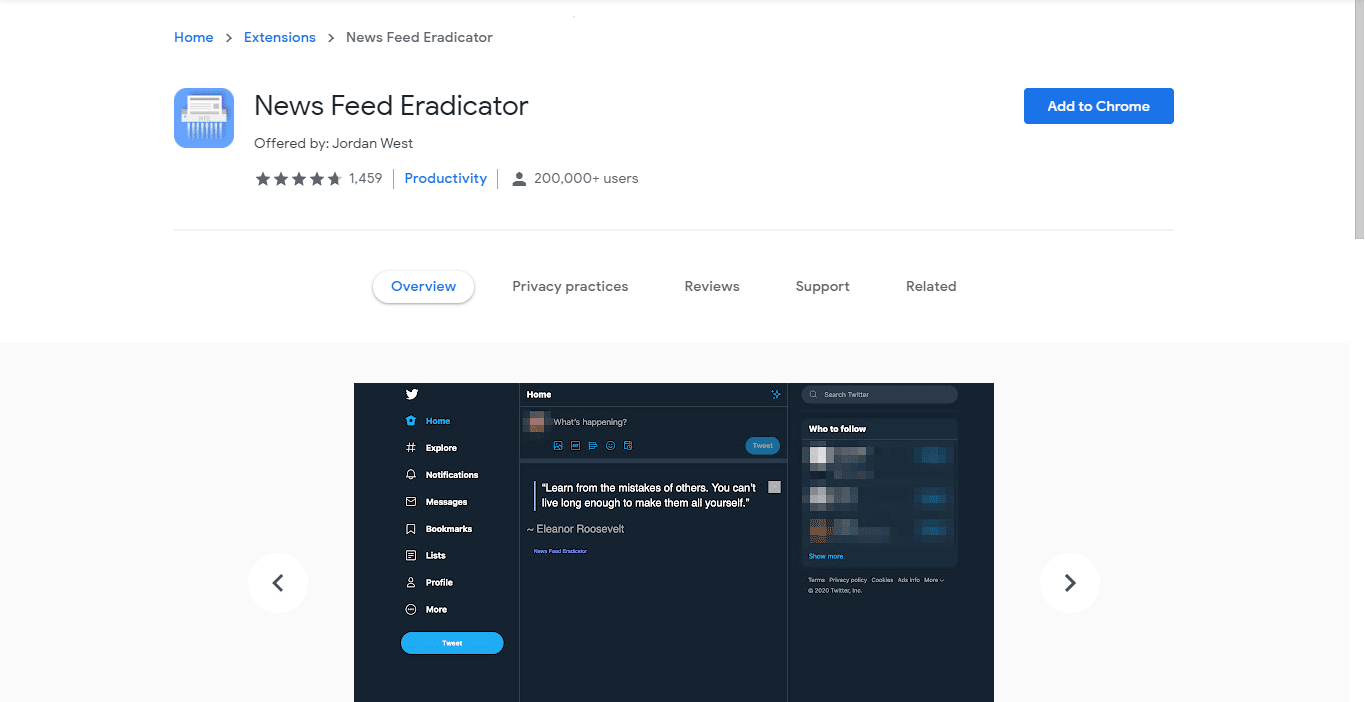 News Feed Eradicator is a Chrome extension that eliminates distraction that comes from your news feeds. It does that by replacing your feeds with a quote of your choice.
The best thing about this tool is that even though it blocks your newsfeeds, it still keeps social media platforms functional. You'll still be able to perform other platform functions like chatting and creating a new post, which may be important for your blogging workflow.
News Feed Eradicator Key Features & Benefits
Blocks major social media feeds across all your social accounts on Facebook, Twitter, Reddit, Instagram, and YouTube
Is free
Maintains important functionality of social media platforms
Option to display the feed temporarily
Minimal CPU and network usage, which keeps your blogging smooth
How To Get Most Out Of News Feed Eradicator
Just install it! Here's our recommended quote to replace your Facebook feed with:
"It's easy to quit Facebook. I've done it hundreds of times already." ~ Unknown
Further Reading