I use the 4-part LinkedIn email finder framework on this page to find nearly anyone's email address on LinkedIn in less than 30 seconds.
(That's true even for people who don't have their emails listed on their LinkedIn profile.)

And in this article, I'm going to show you exactly how I do it so you too can get accurate business emails of your ideal prospects fast.
Wanna skip the slow manual methods? Use Voila Norbert – the most accurate email finder on the web. Try it for free. Sign up with this link and get your first 50 personal email addresses on the house.
Method #1: Three Places To Check If a LinkedIn Profile Has An Email Address (FREE)
No matter who you are targeting, there has to be the first protocol. It should be to check their profiles to see if you can find their emails. Doing so will definitely save a lot of time and you can avoid doing unnecessary things.
For prospects that don't mind concealing their contact details, the easiest way to find their emails is by scouting their profiles. Specifically, look out for these 3 different places to find potential leads on LinkedIn.
1. The 'Contact Info' Section
LinkedIn has a dedicated section exactly for the purpose of getting the person's contact information. All you need to do is go over to the Contact Info section and check out the details.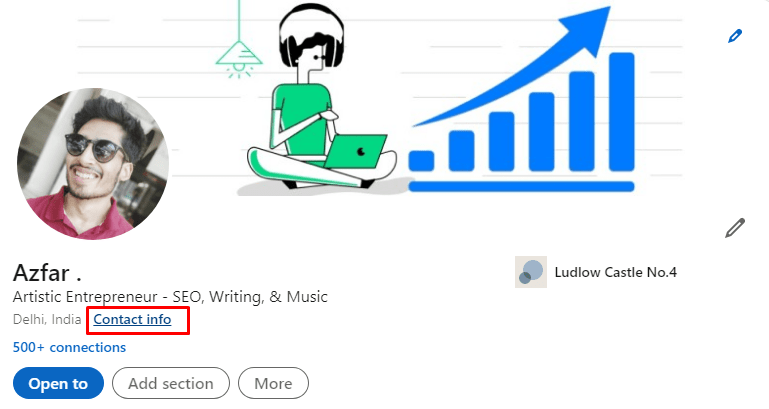 If you're lucky, your ideal prospect will have their email address displayed. Other than this, you can find their other social profiles, website links, phone numbers, and much more.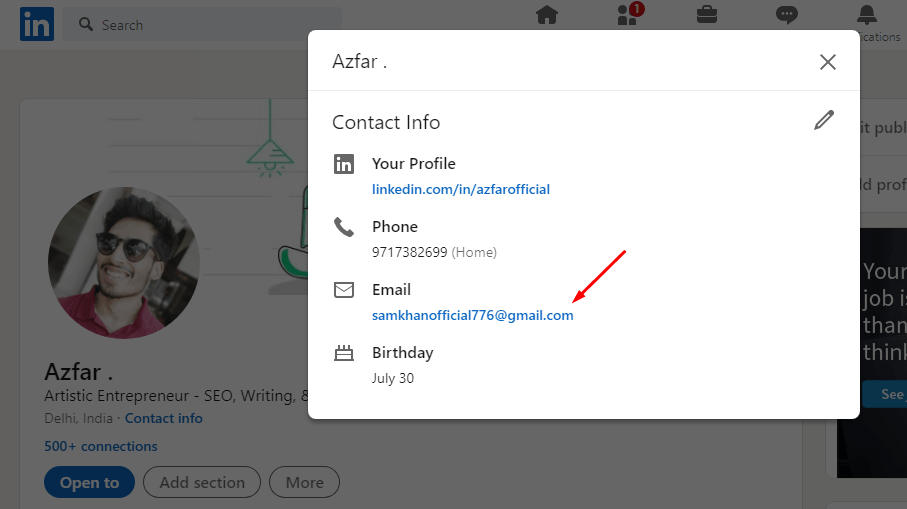 On the contrary, they may also hide it and you get none of what's mentioned earlier. This may be a sign that the person does not want anyone to send emails because of the frequent sales pitches or privacy concerns.
2. The Banner/Cover Image
Another obvious location for your prospect's email address can be the banner image. A lot of businesses have a distinct look which they like to continue even on the profile's cover.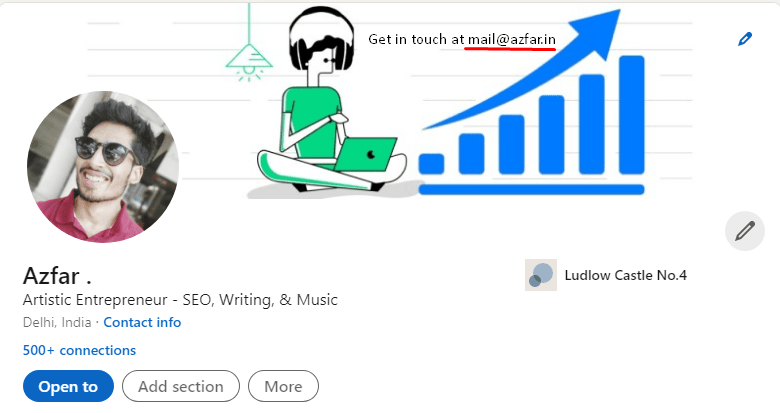 Voila! There you have it. As easy as that — if the company or the person happens to put their email address there.
3. The Bio
Lastly, there's a thing like LinkedIn bio that has all the information you may need, including the person's email address.
Naturally, some people like to put their contact information in their bio just to make it easy for the reader to connect with them and reach out to them personally. Not only that, but you can also use the bio to read a little bit about them to get a more personal understanding of their business!

The three methods above are great if the person you're inspecting is widely open to receiving cold emails.
Not everyone is like that, though.
Method #2: Use a LinkedIn Email Finder Tool Like Voila Norbert To Find Anyone's Email Address In Seconds
When it comes to getting someone's email on LinkedIn even if it's hidden, using an accurate Linkedin email finder is a no-brainer.
Voila Norbert is one of the best email finder tools on the internet for you to get an individual's email with only their name and website domain. What's cooler is that you can also get bulk emails without even going over the process again and again.
Well, how do you know if the emails are legitimate? To make sure you don't end up in the spam folder or get the wrong email address, Voila Norbert verifies the email's integrity and gives a confidence rate to let you know that you're getting verified emails.
On top of that, the process to get emails from LinkedIn is extremely easy. Here's the step by step guide:
Get Emails Directly From LinkedIn
Voila Norbert recently launched a new LinkedIn Email Finder Chrome Extension that allows you to find emails directly on LinkedIn!
The next time you log into LinkedIn after installing the extension, you will see a Voila Norbert button at the top right corner of your screen as well as a "Find Email" button on your prospects' LinkedIn profile.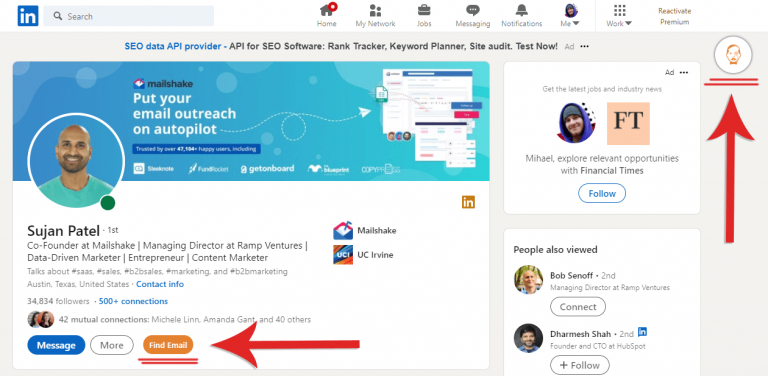 After clicking the button, Norbert will pull the names and the company Websites from LinkedIn social media profile and spit back a valid contact details in a few seconds: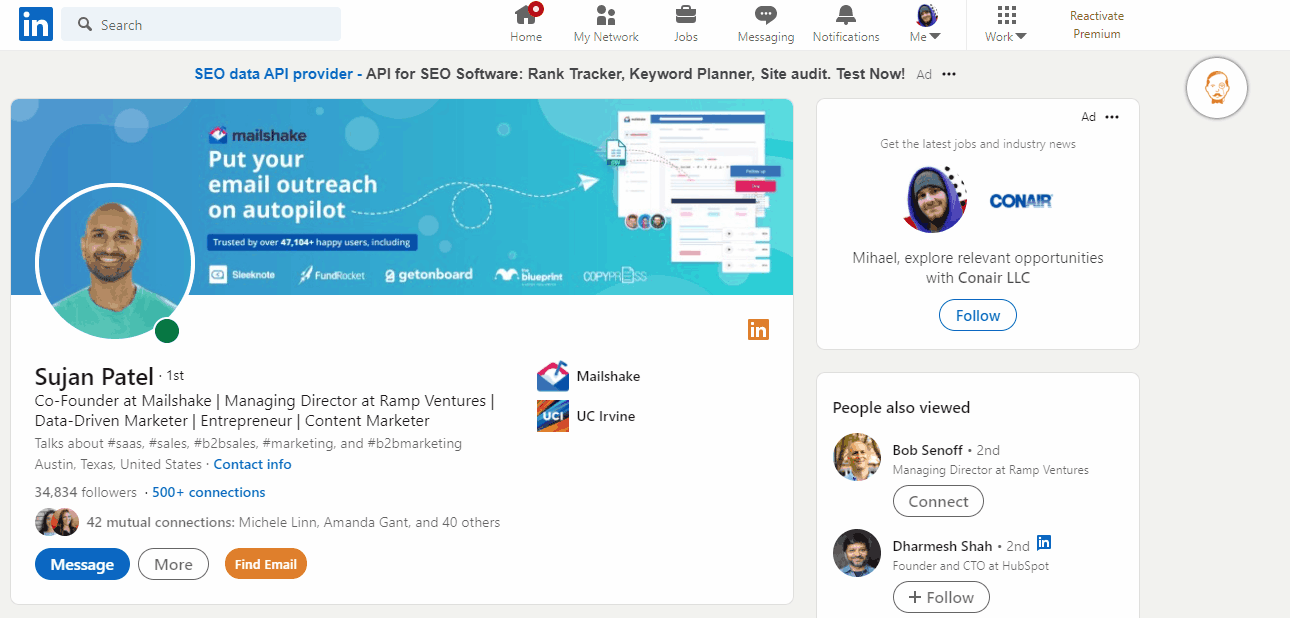 But you can also perform a bulk email search on LinkedIn search results. You can find individual emails by clicking the "Find Email" button next to the prospect's profile, or bulk emails by clicking the "Find Emails" button next to the filter bar.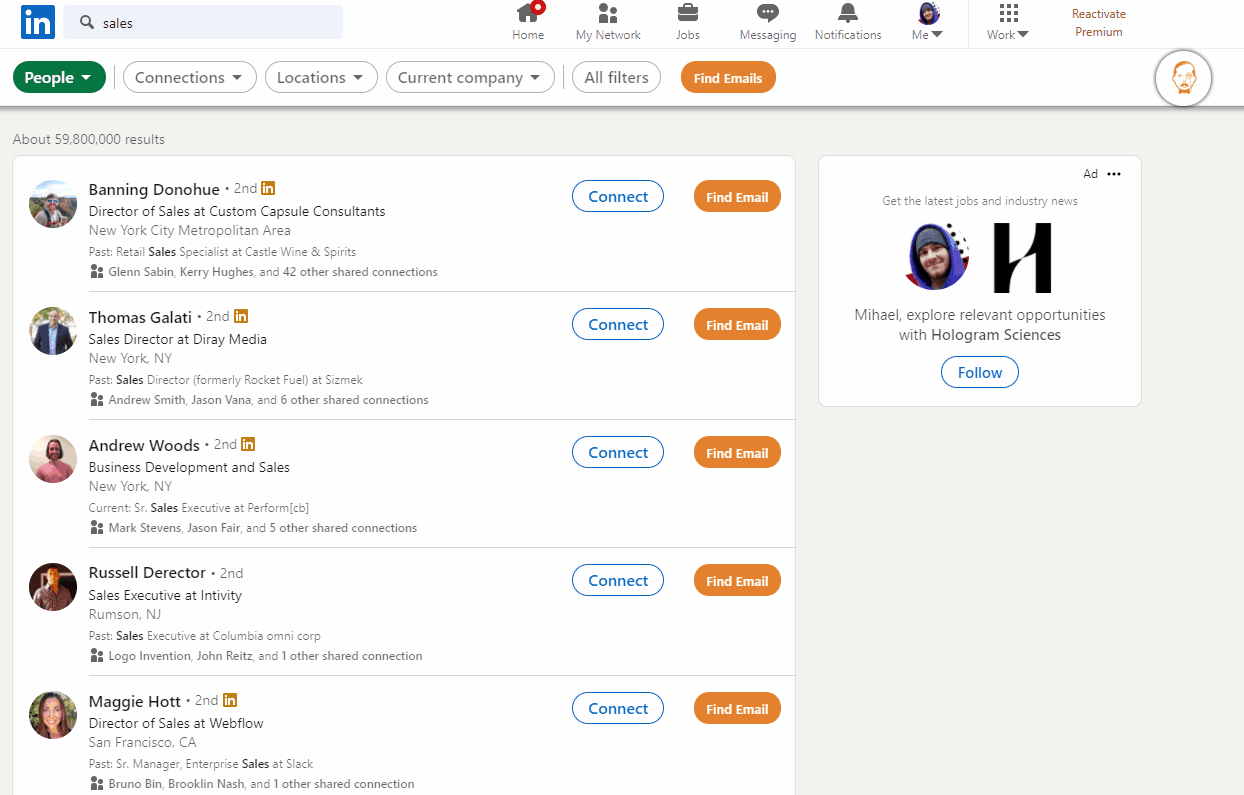 Wanna try this out yourself?
Sign up with this link and get your first 50 personal email addresses on the house!
Get Individual Emails Using the Manual Mode
Step 1: Select Manual to get individual emails from LinkedIn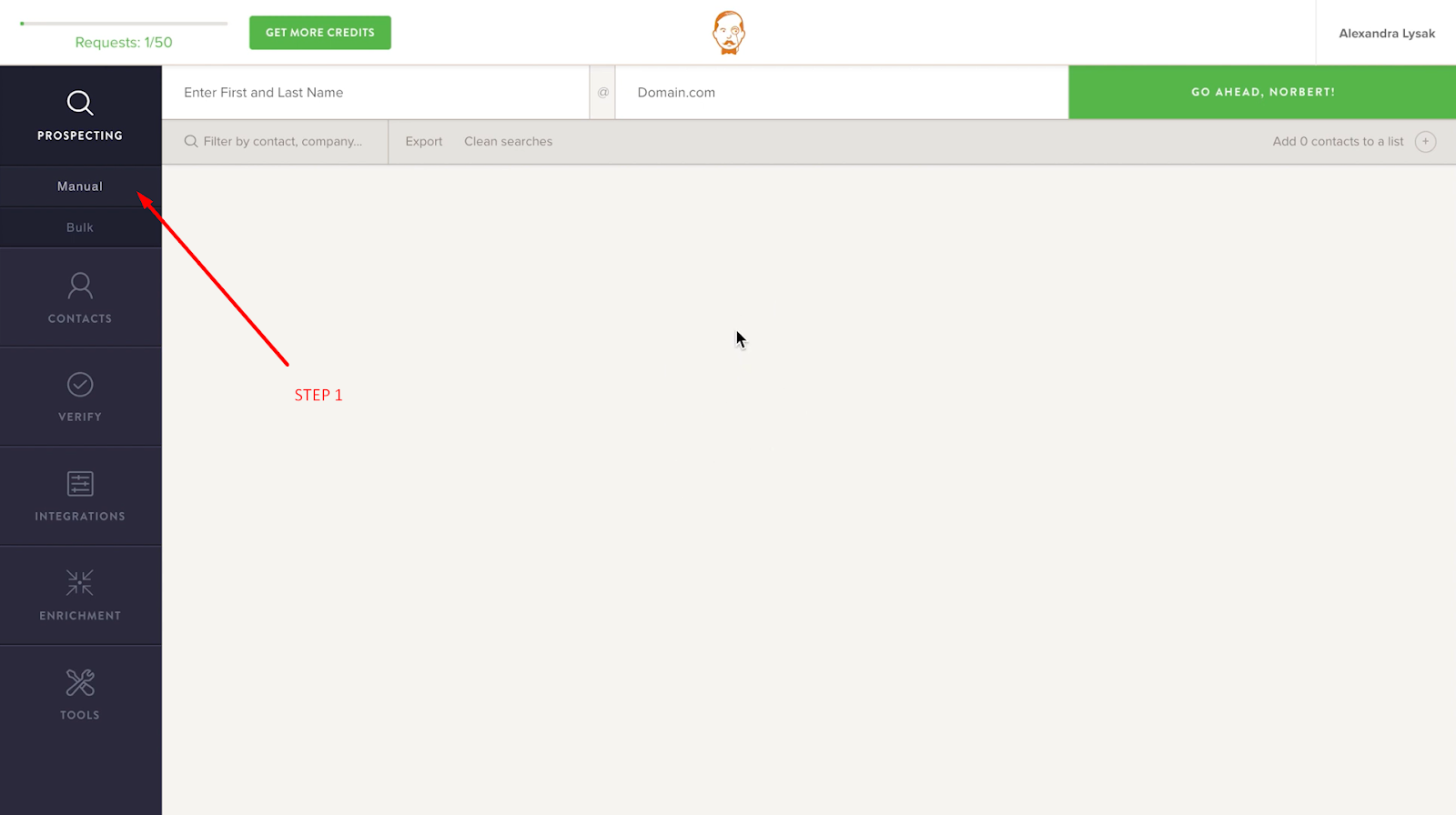 Step 2: Type the First & Last name of your prospect
In the box shown, write the first and last name of the person whose email you want to get. You can simply copy-paste the name from their LinkedIn profile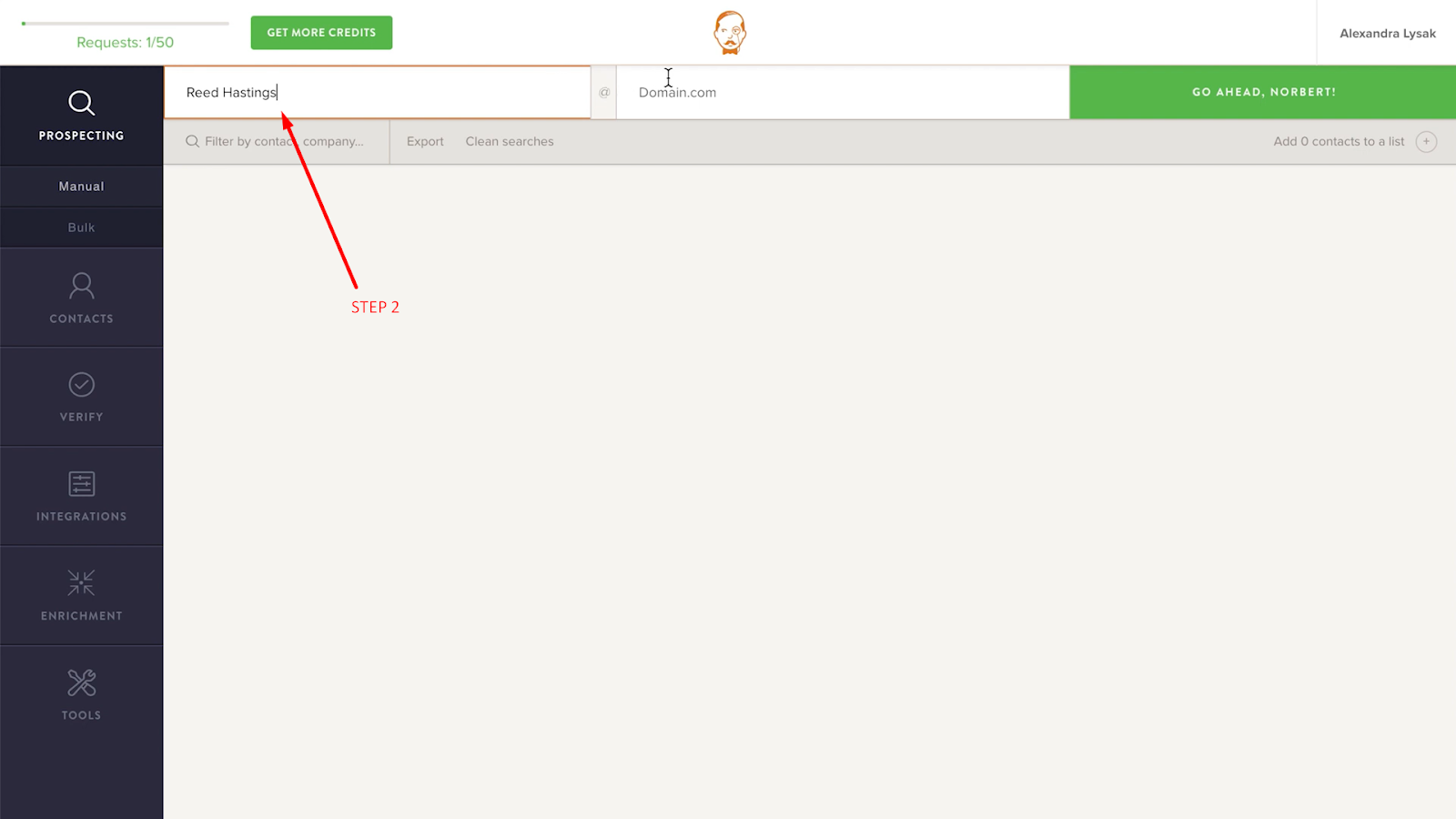 Step 3: Type the Company name of your prospect
Next, you need to type your prospect's company name, which you can get from their LinkedIn profile or bio. Voila Norbet will also suggest a few options that may indicate the company.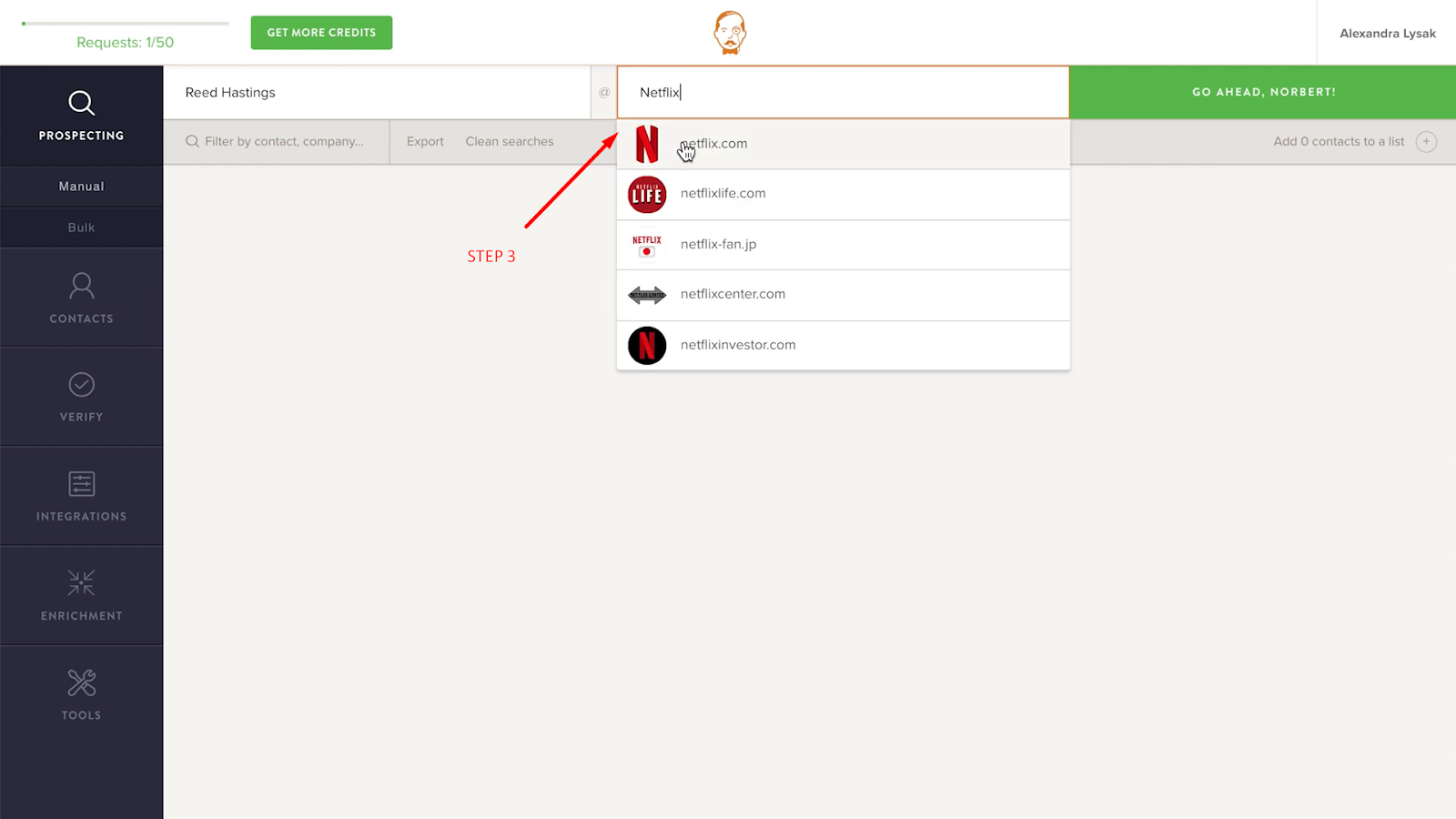 Step 4: Click on 'GO AHEAD NORBERT!' Button
Finally, you need to click on the GO AHEAD NORBERT! button to get your prospect's email address. The resulting email will be displayed with the profile picture of your lead as shown in the image. Additionally, you can keep an eye out for a green circle before the email address. If Voila Norbert is confident about the result, it will turn green.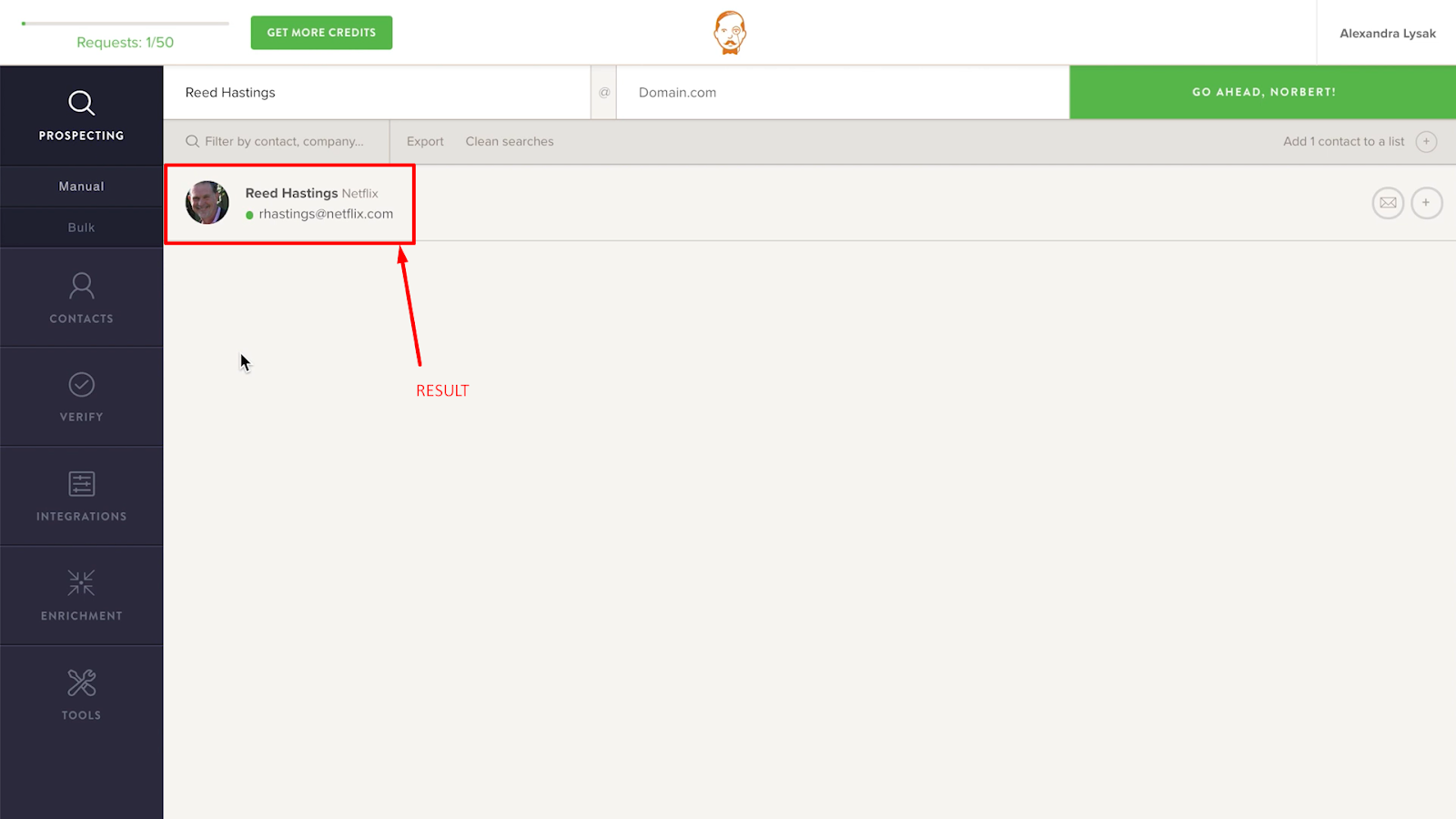 This method to find your prospect's email from LinkedIn is excellent. That's because you don't need to download or upload any data files.
Click here to try it out yourself for free!
However, you can only get individual emails from the Manual mode. To solve that issue, Voila Norbert has a Bulk Mode to get bulk emails. Here is how you can do it.
Get Multiple Emails Using the Bulk Mode
Step 1: Select Bulk to Get Multiple Emails from LinkedIn
By selecting Bulk, you can access Voila Norbert's bulk email finder to get a list of email addresses from various leads. You will need to scout the names of your prospects from their LinkedIn profiles before starting your bulk searches.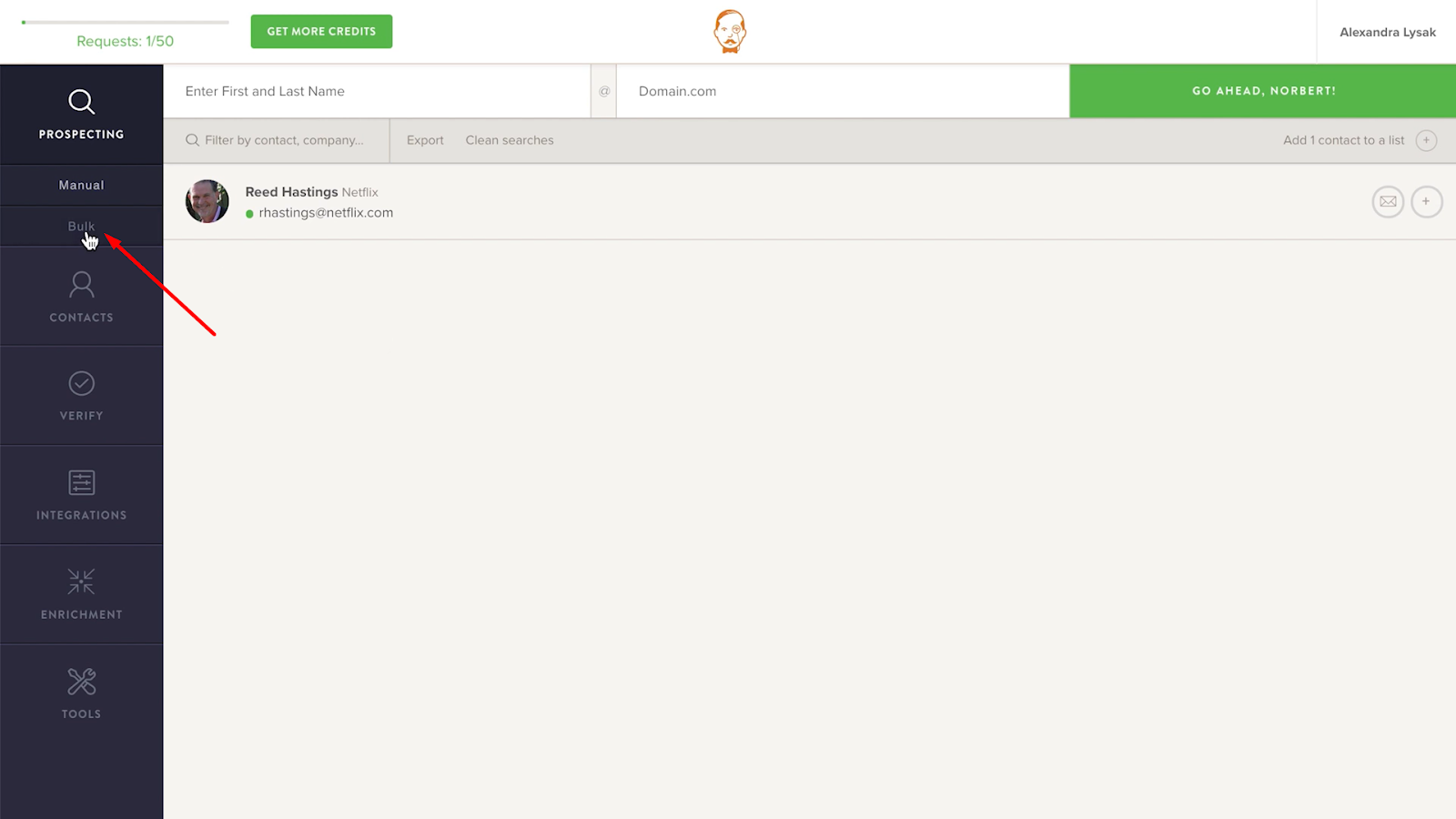 Step 2: Click on '+Upload a new file.'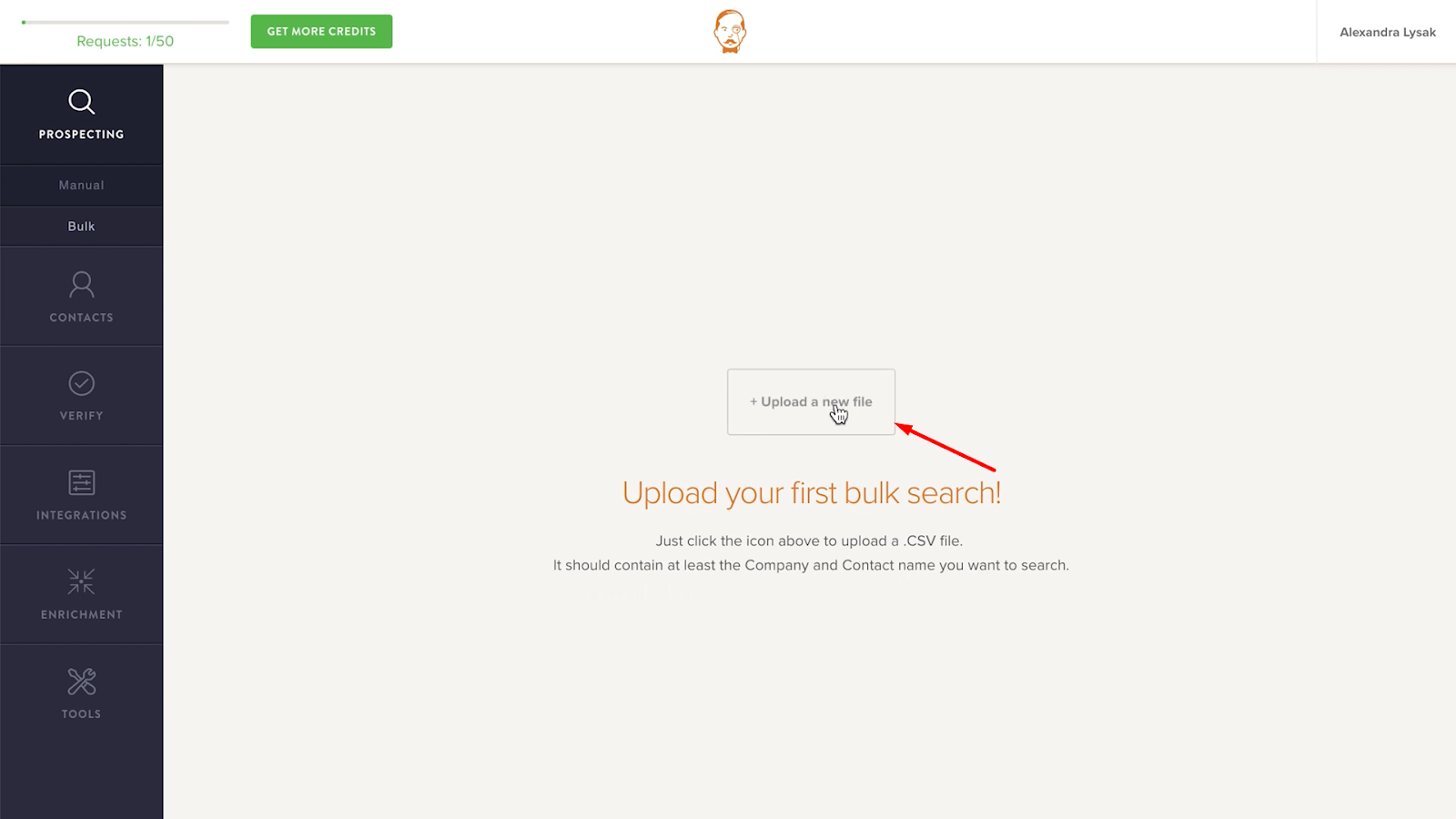 Step 3: Select your CSV file
Before selecting the file, make sure you have the information of your prospects. You can use their name, company domain, or company names.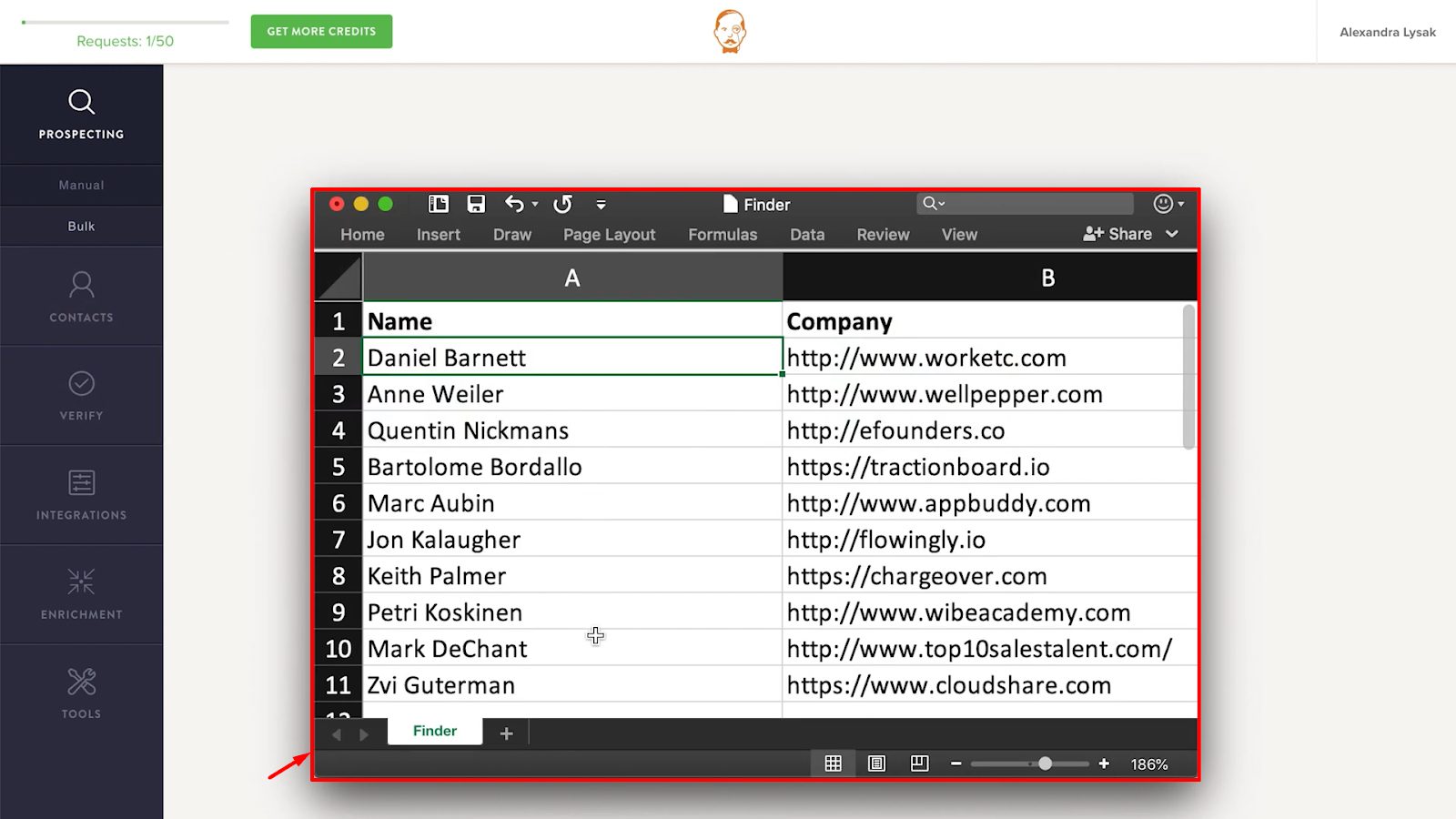 Step 4: Select the Type of Information You Have Mentioned in the CSV File
To get started, you need to specify the type of information. Doing so allows you to get more accurate results. Also, you need to do the same for both the columns where you can choose from the names, company names, or website domains of your prospects.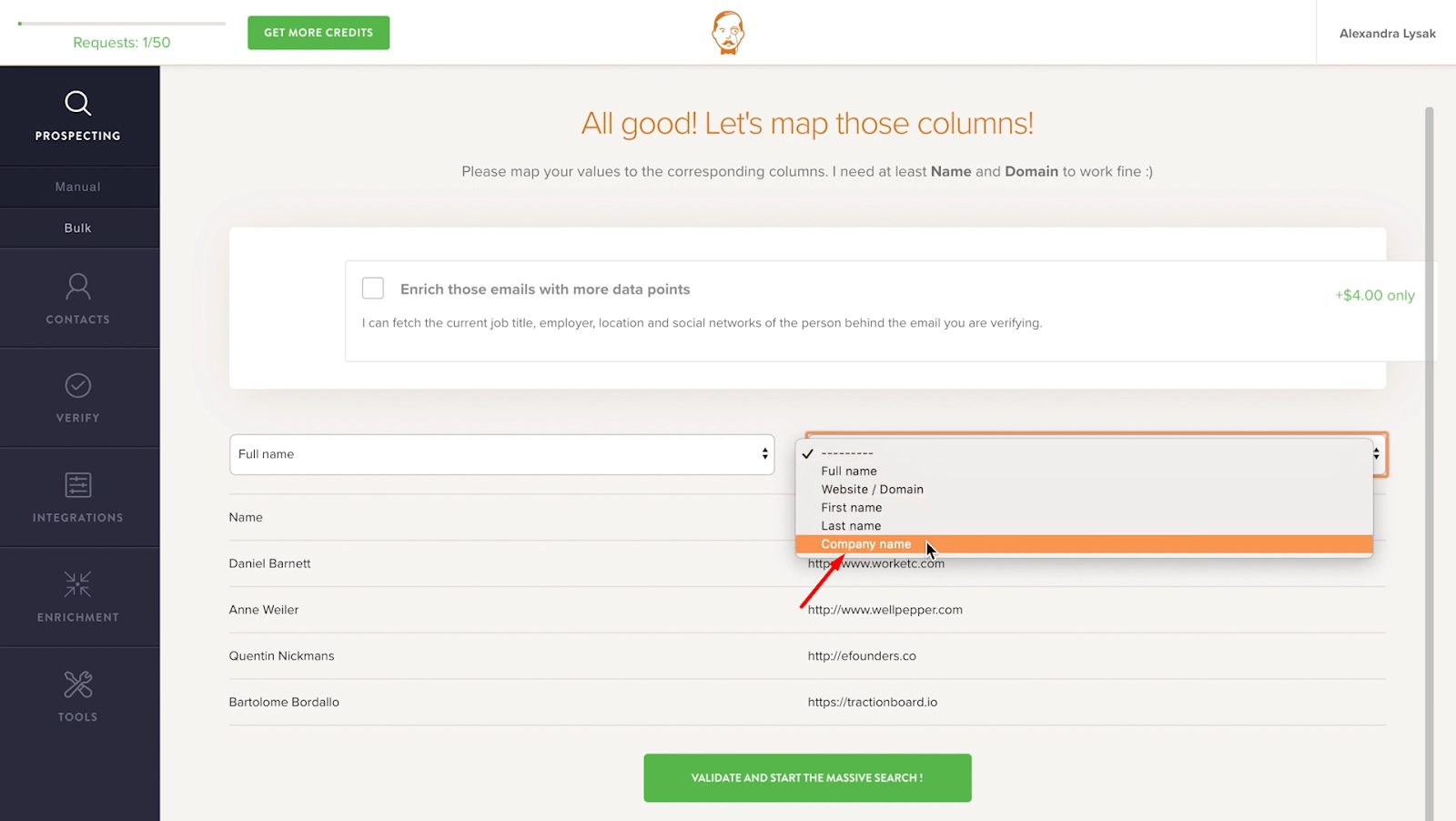 Step 5: Click on the 'Validate and start the massive search' button to begin
Begin the search by clicking the big green button!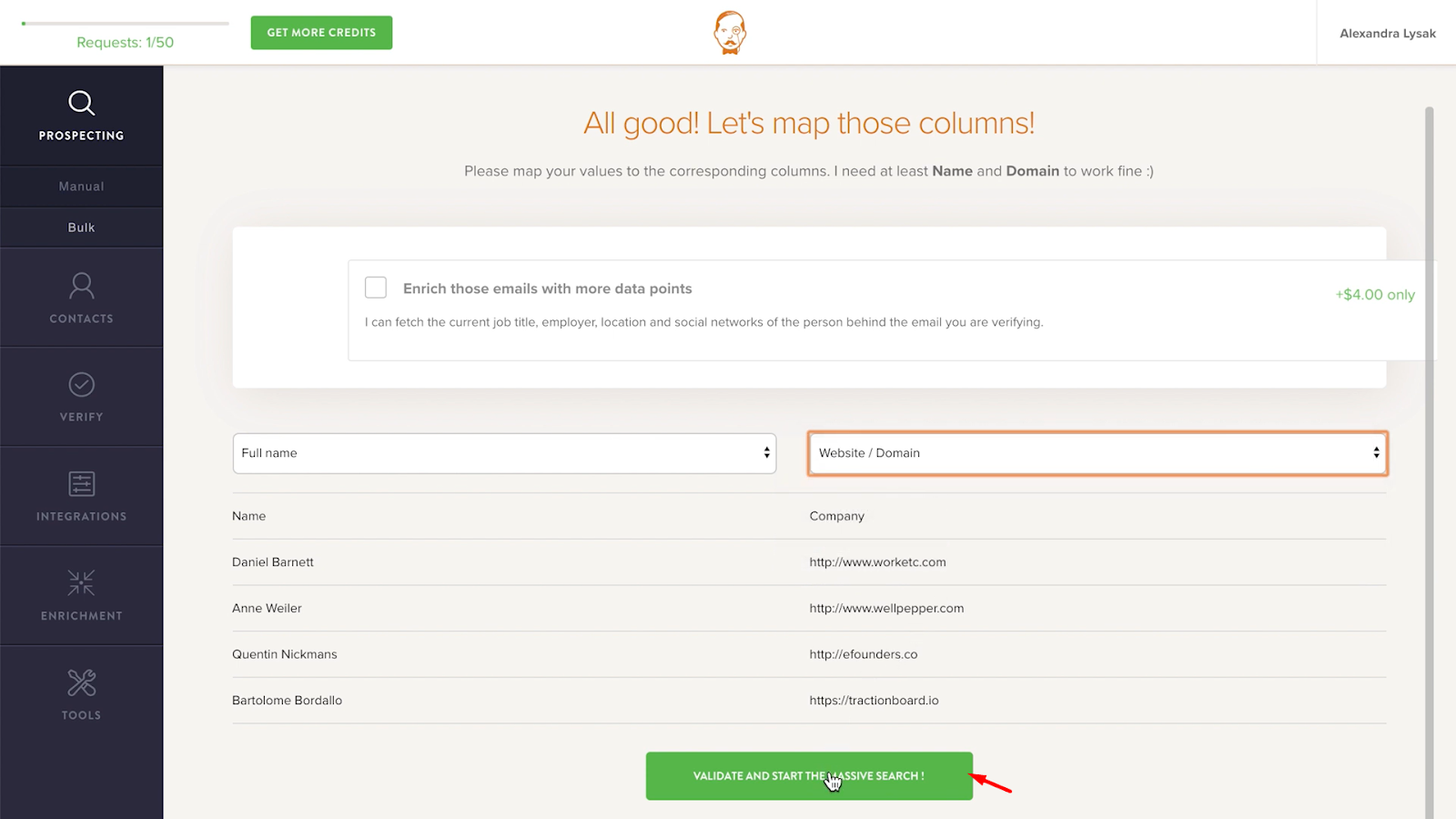 Step 6: Click on 'CSV' or 'Open List' to access the new database
You can choose to download your list of emails as a CSV file by clicking on the 'CSV' button. Alternatively, you can click on the 'Open List' button to view the data.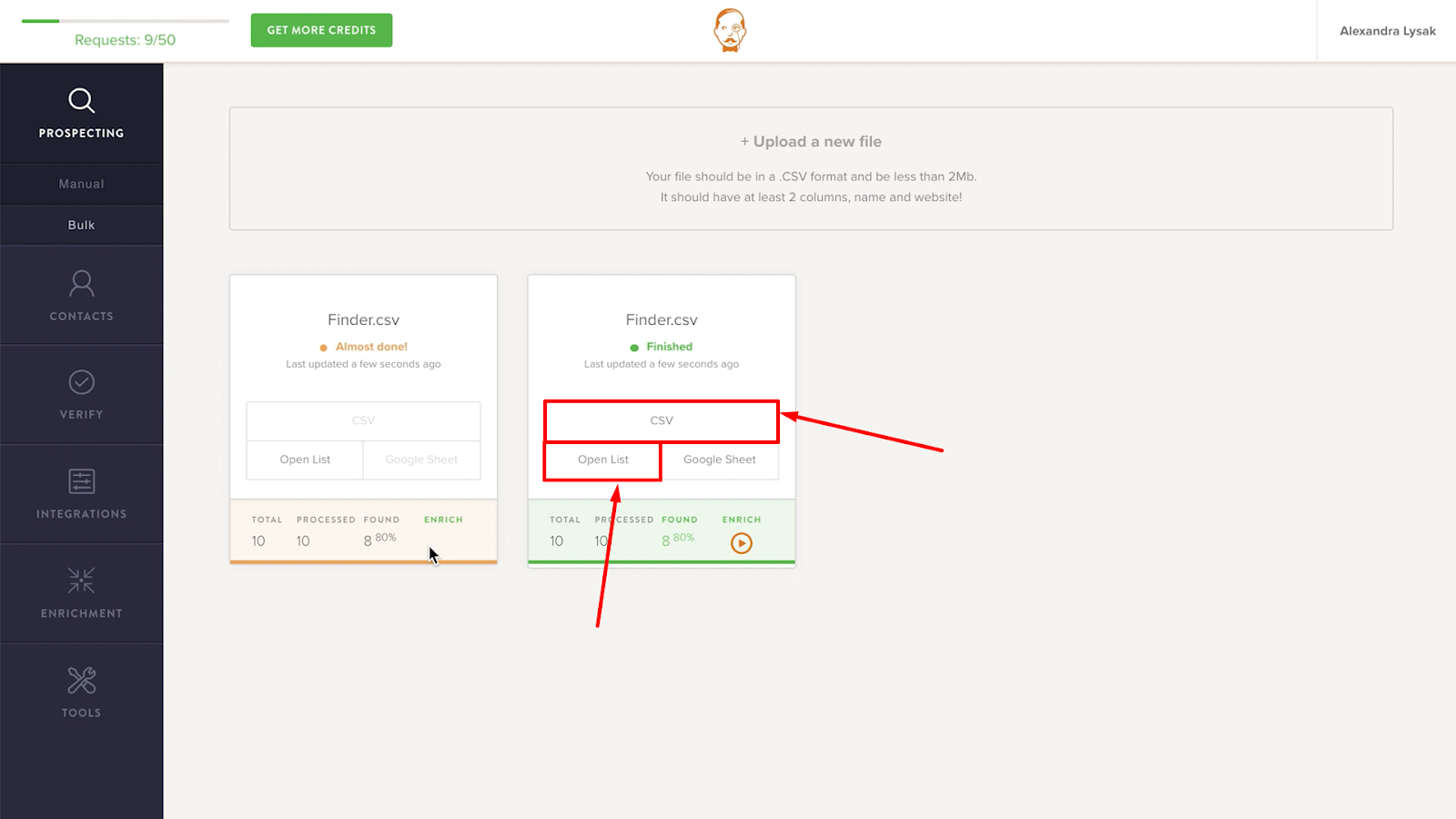 That's how easy it is to access the email addresses of your leads from LinkedIn using Voila Norbert. Sign up for Norbert with this link and get your first 50 email credits for free!
In case you still find yourself curious for a few more methods to know how to find someone's email address from LinkedIn, keep reading to know them!
Method #3: Search LinkedIn Through Google To Find Someone's Email Address on LinkedIn
If you pay close attention to all domain-specific emails, you can easily spot a pattern. Use that to your advantage with this method.
Using this method to get someone's email from LinkedIn is completely free but it also has a chance to fail. Nonetheless, you can still give it a try if you can't find it from the profile.
So, all you need for this method is the person's name and their company's website domain. You can check both of these from the person's LinkedIn profile or by doing a quick Google search for the company.
Now, once you have these details, you need to try the email patterns on Google as shown below:
first name.last name @domainname.com
first name @domainname.com
first initial last name @domainname.com
first name_last name @domainname.com
You can try several similar patterns to find out the person's email address. And when you get the business email address on Google's first page, you can verify it using any email verification service or email verifier to make sure you got the valid email address.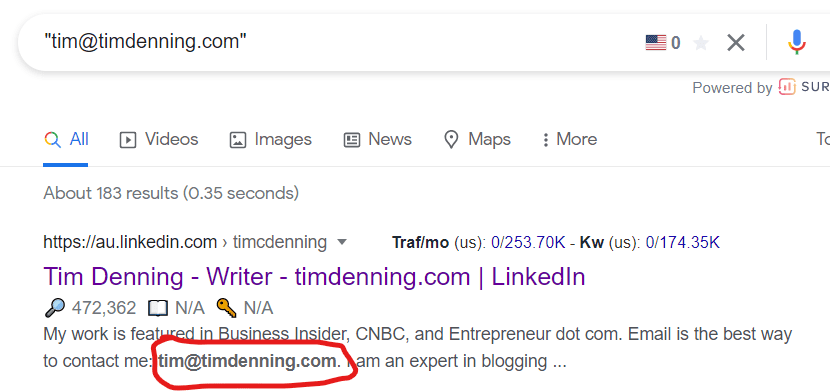 Method #4: Getting Emails From LinkedIn By Exporting Your Contacts
LinkedIn allows you to access all the data about your profile. That includes the data about your connections and their email addresses. This is a great method to get emails from LinkedIn if they're hidden. The only requirement is that the person has to be one of your connections.
You can start the process to download this data by following along these steps:
Step 1: Click on the 'Me' Icon & Go to the 'Settings & Privacy' Section.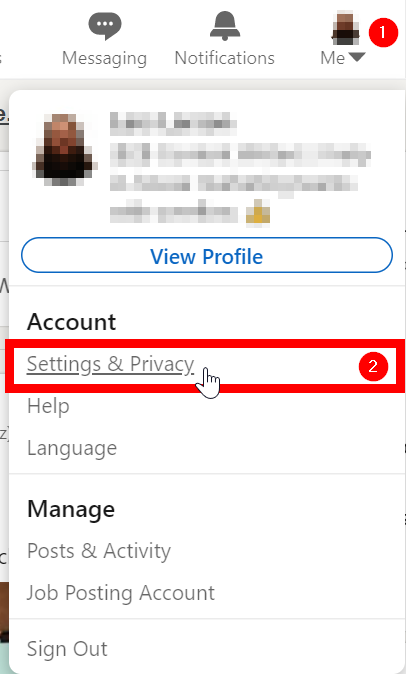 Step 2: Click on 'Data Privacy' & Go to the 'Get a copy of your data' Section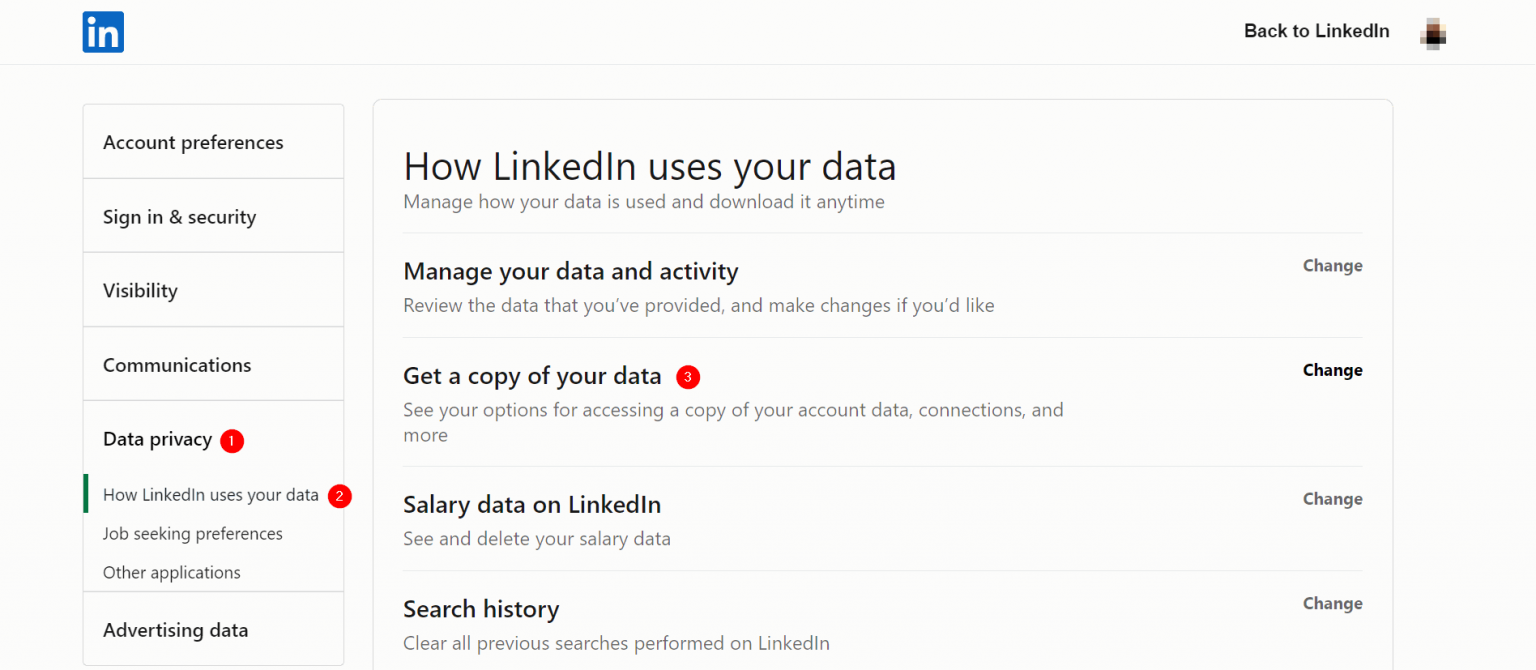 Step 3: Select 'Want something in particular' & Check 'Connections'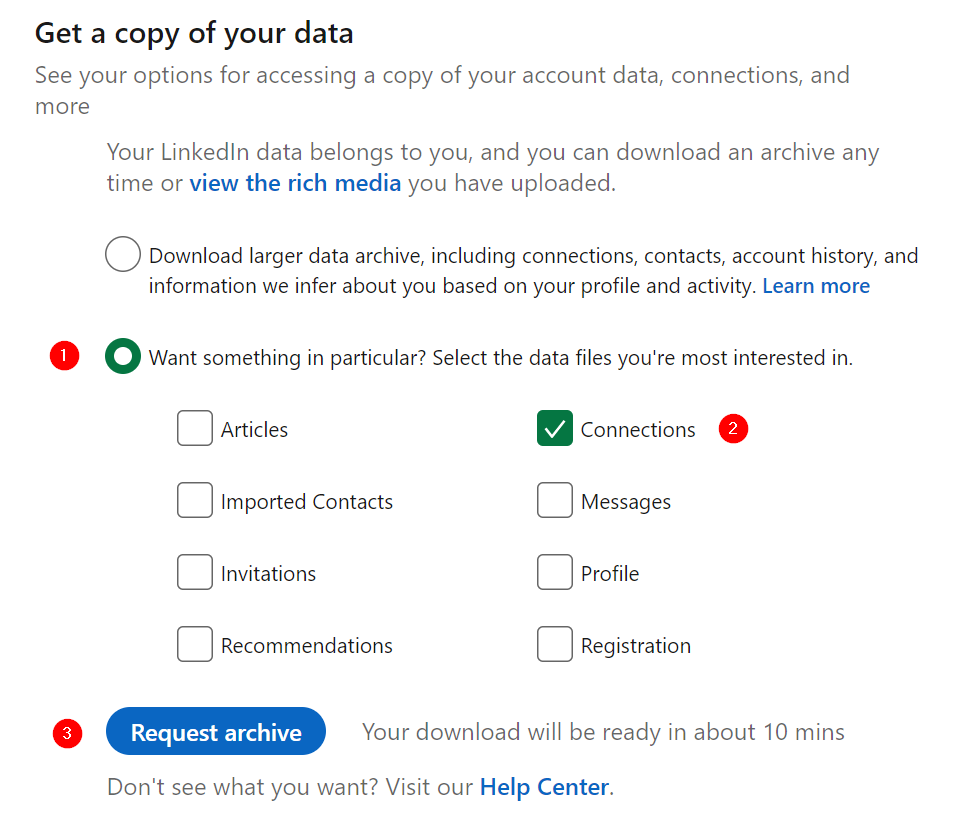 Once you click on Request archive, you will need to enter your password to confirm the decision. After that, the download of the data file will begin. Please keep in mind, this method will only work for your connections and not any other people on LinkedIn.
Method #5: Ask For The Email Address Directly Via A Private Message
Lastly, just ask the person directly via a personal message on LinkedIn.
This easy method will get you the most accurate result but there is a chance that you may not get anything at all.
You can use this for literally anyone on LinkedIn if you have a premium membership. Additionally, you can look out for the most relevant people from a detailed search that LinkedIn provides.
You will also need to craft a highly personal message that is convincing enough to make the person feel comfortable and assured enough to give you their email.
At the end of a best-case scenario, you may walk away with an email depending completely upon your salesman skills and the ability to convince your prospect!
The Bottom Line
Now that you know how to find someone's personal email address on LinkedIn, choose your weapon wisely.
Primarily, you need to target the easiest methods if you want to get your prospect's email without spending any money or using any tools. Most likely, you either not get the correct email address or not get one at all.
So, we recommend using accurate email finder tools and email verification tools like Voila Norbert. This way, you not only get the option to find an individual's email from business profiles and individual profiles but also find addresses in bulk directly from LinkedIn. Additionally, the emails are always verified and accurate so that you can get the most out of your leads.
So save yourself the trouble, get 50 business email addresses for free with Voila Norbert by clicking on this link!
Further Reading