There are over 2.9 billion active social profiles on Facebook.
Even if only 0.1% of them would fit your ideal customer profile, that's still 2.9 million high-quality leads.
That's why we've developed our own Facebook Email Finder tool, as well as three additional (free) methods how you can find someone's email address on Facebook.
Let's get started.
Skip To Sections:
Wanna skip the slow methods and jump straight to the tool? It's called Voila Norbert and it's the most accurate email finder on the web. You can try it for free. Sign up with this link and get your 50 business email addresses on the house.
Method 1: Analyze Your Prospect's Facebook Profile
Analyzing is the easiest way to get an email from the Facebook profile of your prospect.
You can follow a simple protocol for each lead by going through their profile and the about page.
There's also a very good chance that they will have their email in the contact info section as shown in the image below.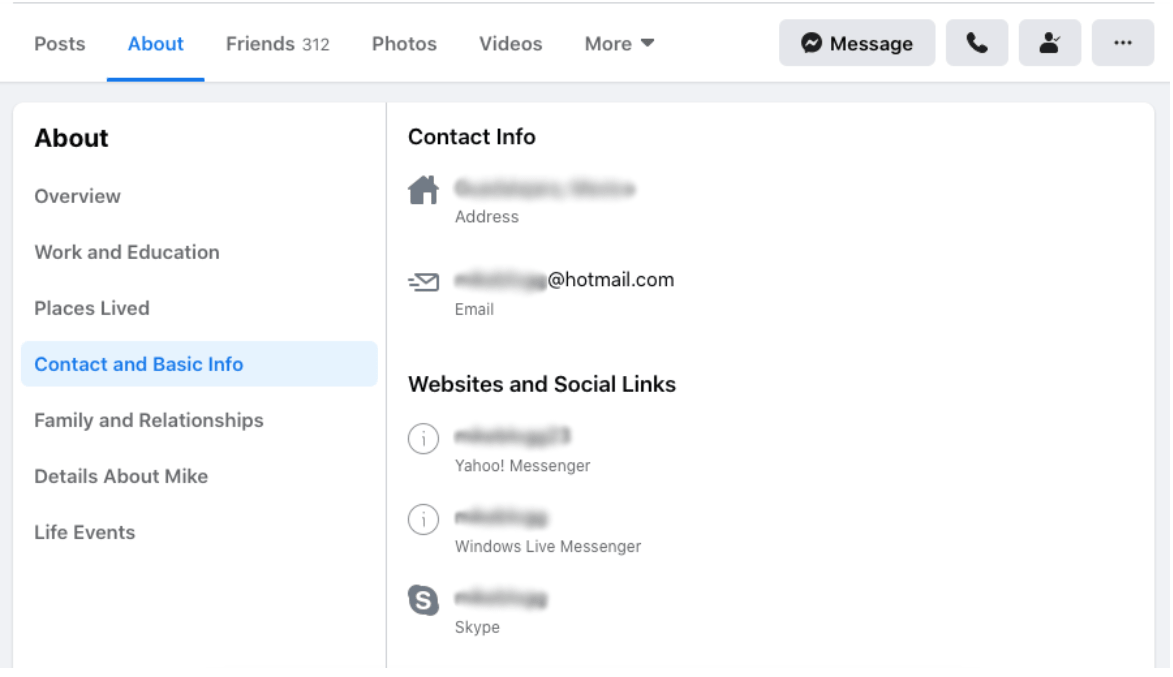 Here, your lead will have all of their contact information like business address, email, website links, and phone number.
Another important thing to note here is that some people may also hide their contact details due to privacy.
In case your prospect has made information private, you can send them a message. A polite greeting and an introduction can make your prospect comfortable to give their details directly.
Lastly, another manual thing you can do is a Google search to find someone's email on Facebook. The method shown below is extremely simple and all you need to do is type this on Google:
site:facebook.com "@companyname.com"
(make sure to change the company's domain name with the one you're searching for)
If the email address of the CEO, editor, or whoever you're targeting exists on the website, the code will give it on a silver platter.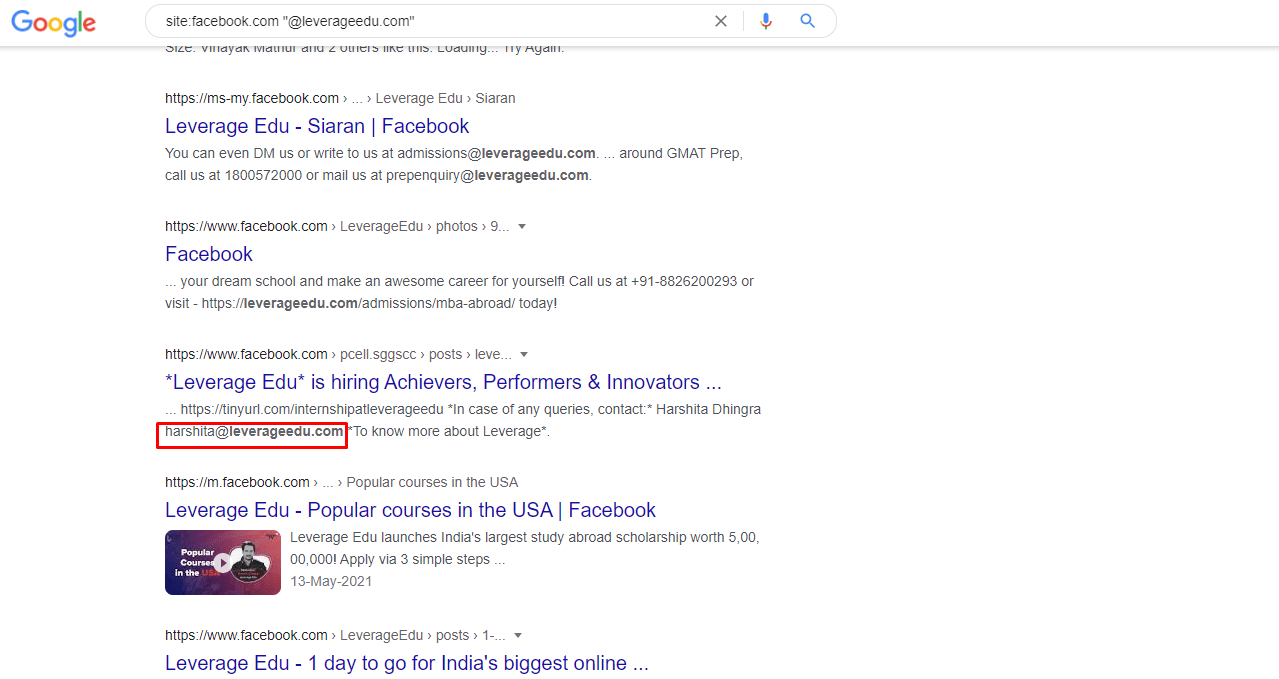 If nothing works, this unique method is a great last resort to find someone's hidden email on Facebook.
Method 2: Use An Accurate Facebook Email Finder Tool Like Voila Norbert
The manual methods take a lot of time and have a slim success rate.
But this method is super convenient and easy.
You can use an email finder tool like Voila Norbert to find the correct emails fast.
Voila Norbert is one of the best email finder tools that allows you to find individual emails and bulk emails. More importantly, you get access to features that check if the email patterns are valid and offer easy integration with your CRM software. Once emails are verified, there will be no high bounce rate and then your emails will land right inside the inbox, not spam!
Getting started on Voila Norbert is extremely easy and you can follow these steps to get individual emails from Facebook.
Step 1: Select Manual to get individual emails from Facebook
As there are two different categories of exporting emails, you need to select Manual for getting only one lead's email.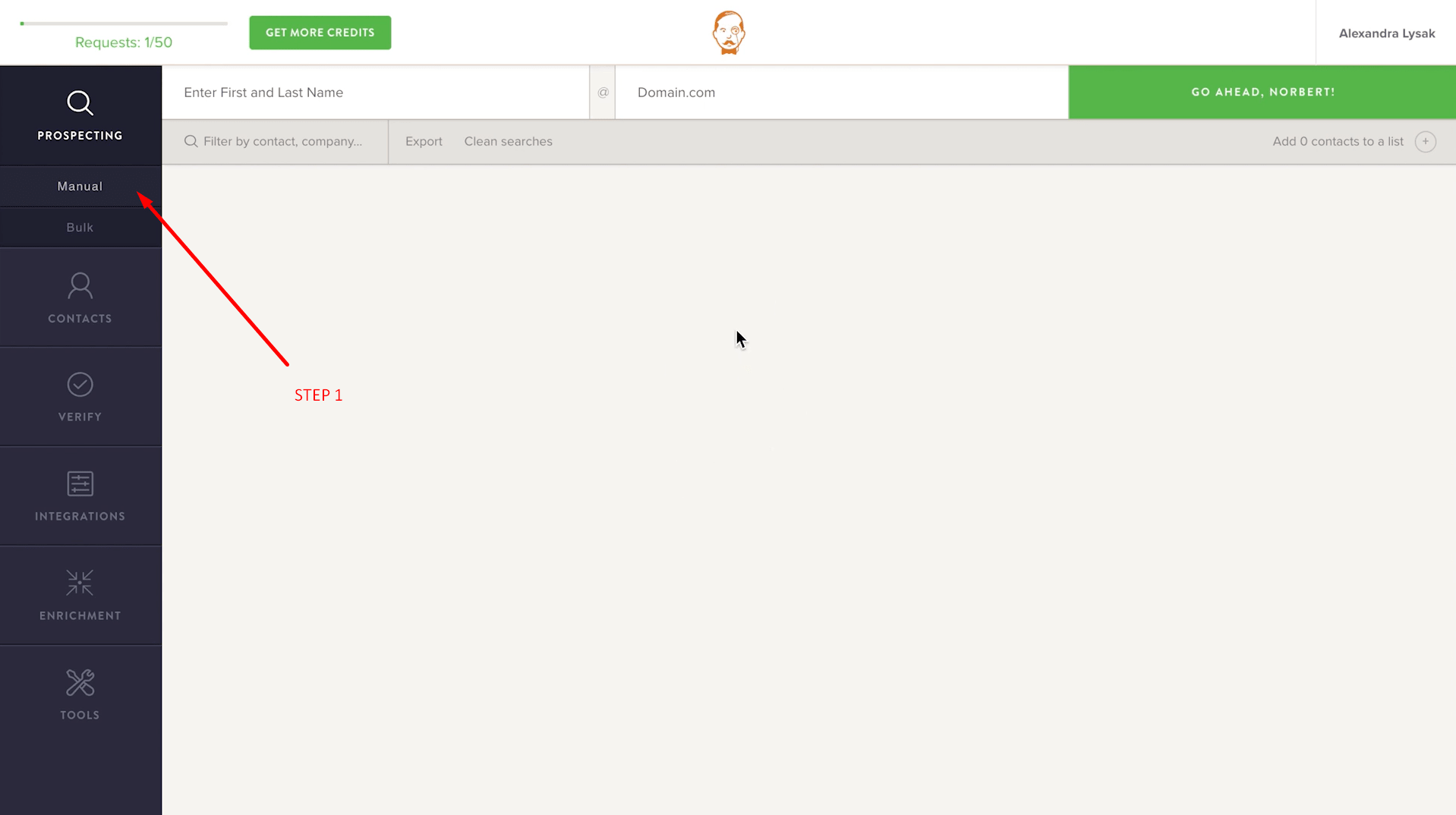 Step 2: Type the First & Last name of your prospect
In the box shown, type the first and last name of the prospect.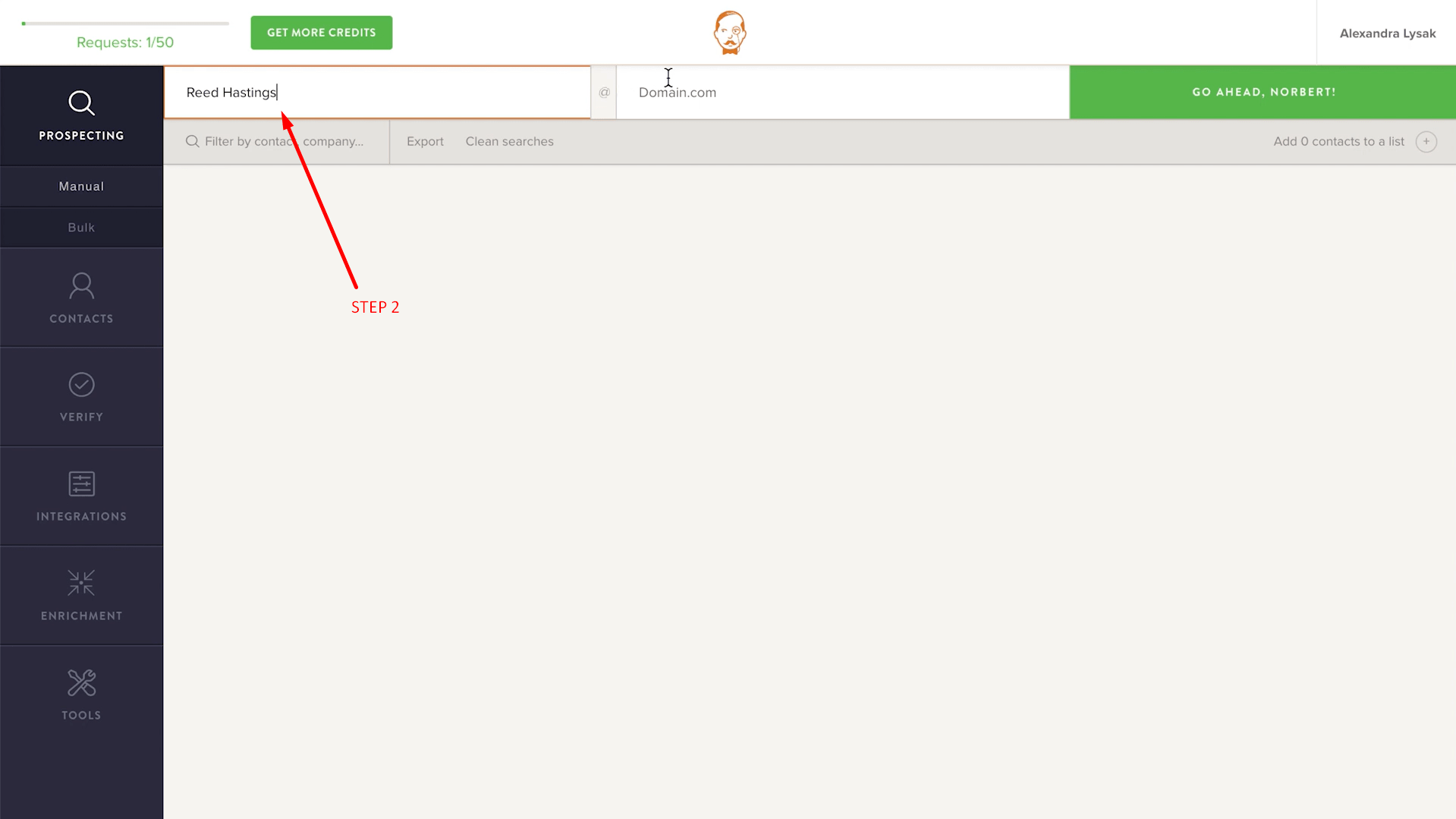 Step 3: Type the Company name of your prospect
Next, you need to type the name of your prospect's company. VoilaNorbet will suggest a few options which you can choose from.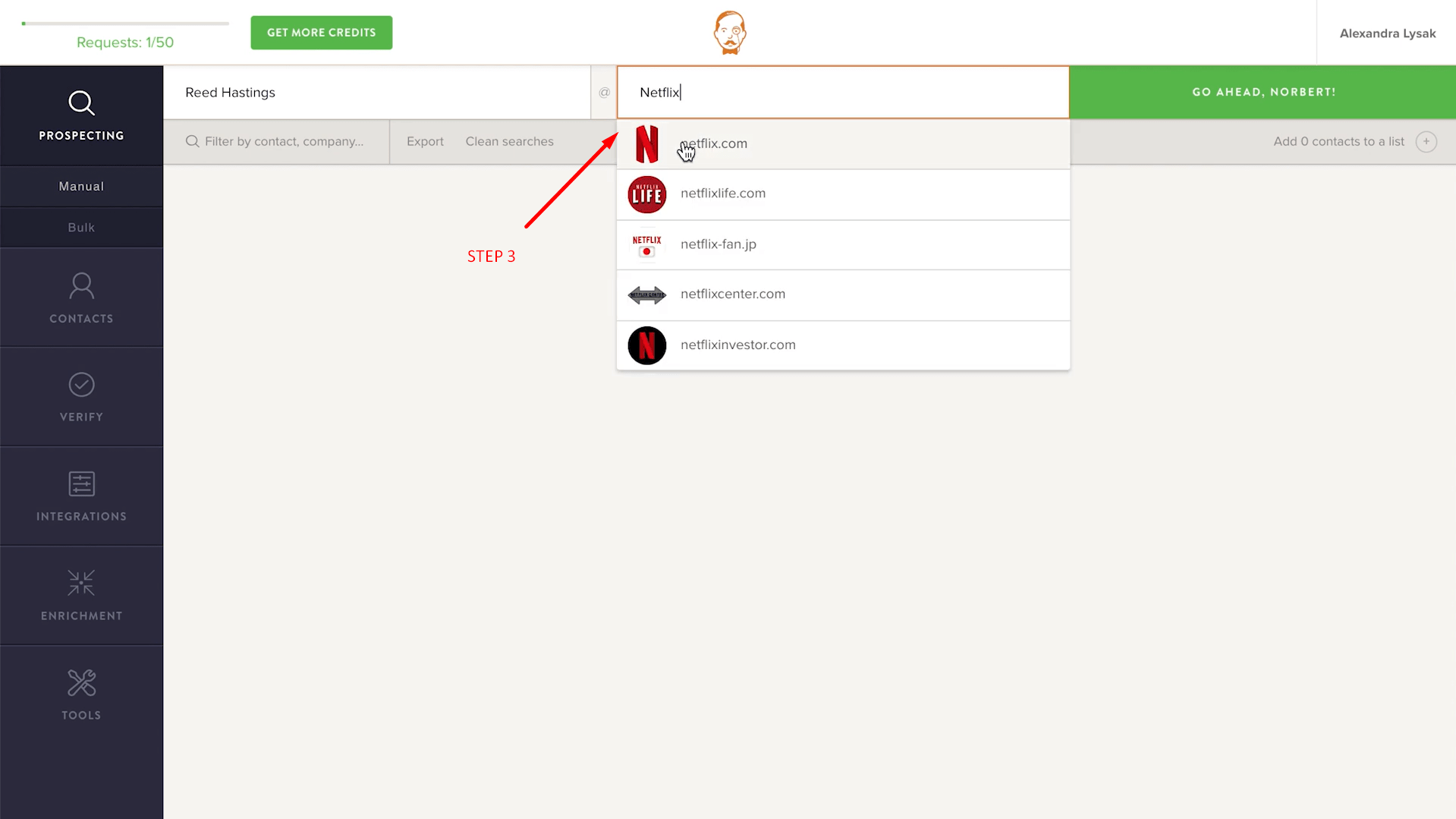 Step 4: Click on 'GO AHEAD NORBERT!' button
Finally, you need to click on the 'GO AHEAD NORBERT!' button to receive the email address of your prospect. The result will be shown along with the profile picture of your lead. Additionally, you will also see a green circle before the email address if Voila Norbert is confident about the result.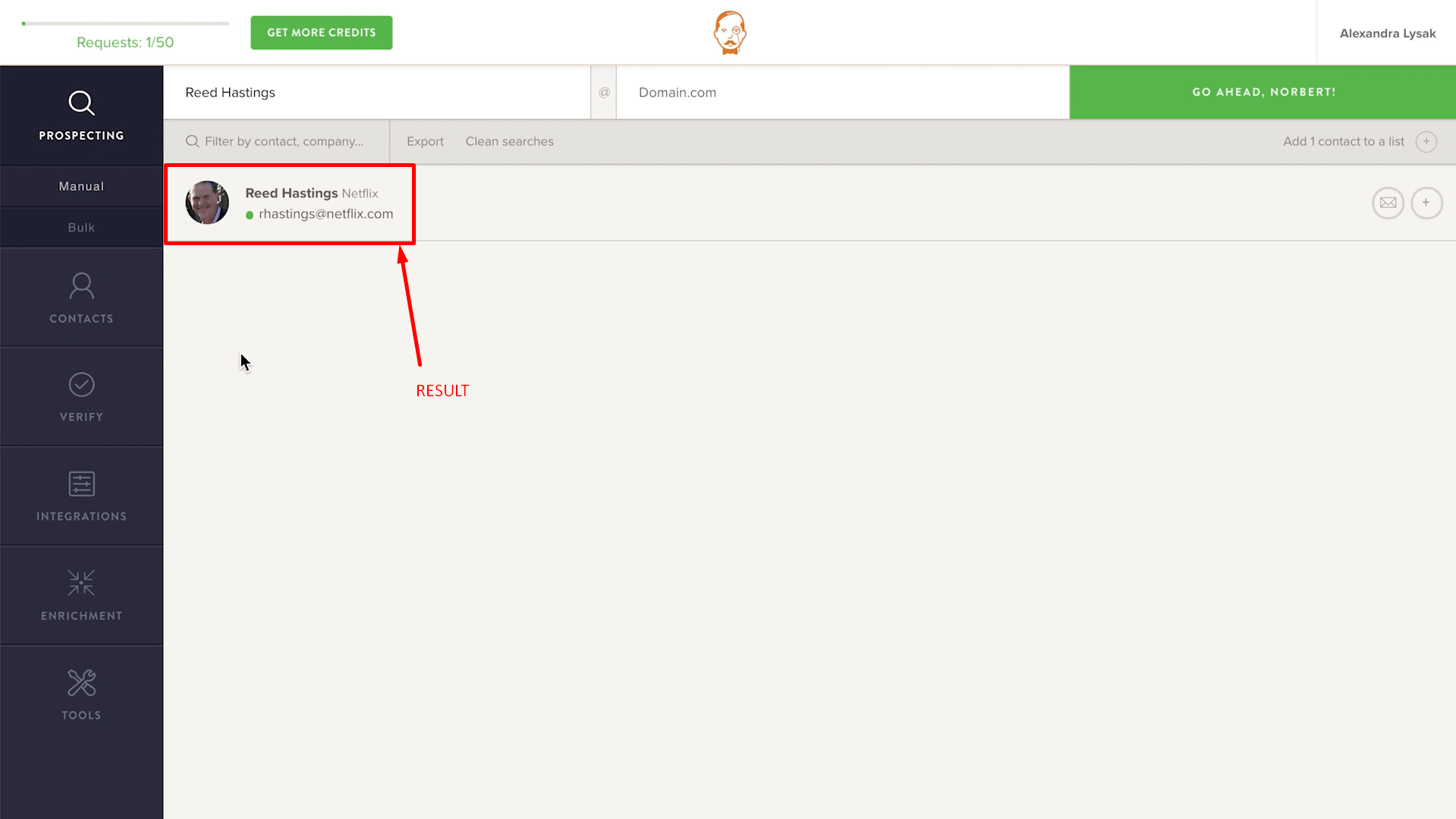 This method to find an email of your prospect from Facebook is excellent as you don't need to download or upload any data files.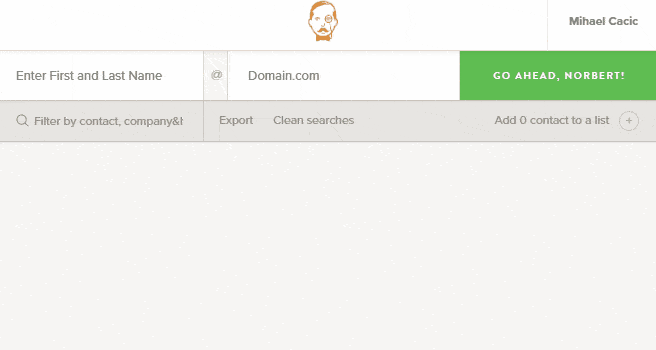 However, you can only get one person's email from this method. For bulk, follow up with the next section.
Get Bulk Emails from Facebook Profiles Using Voila Norbert
Step 1: Select Bulk to get multiple emails from Facebook
By selecting Bulk, you can access Voila Norbert's bulk email finder tool to quickly generate a database of B2B emails from your contact list.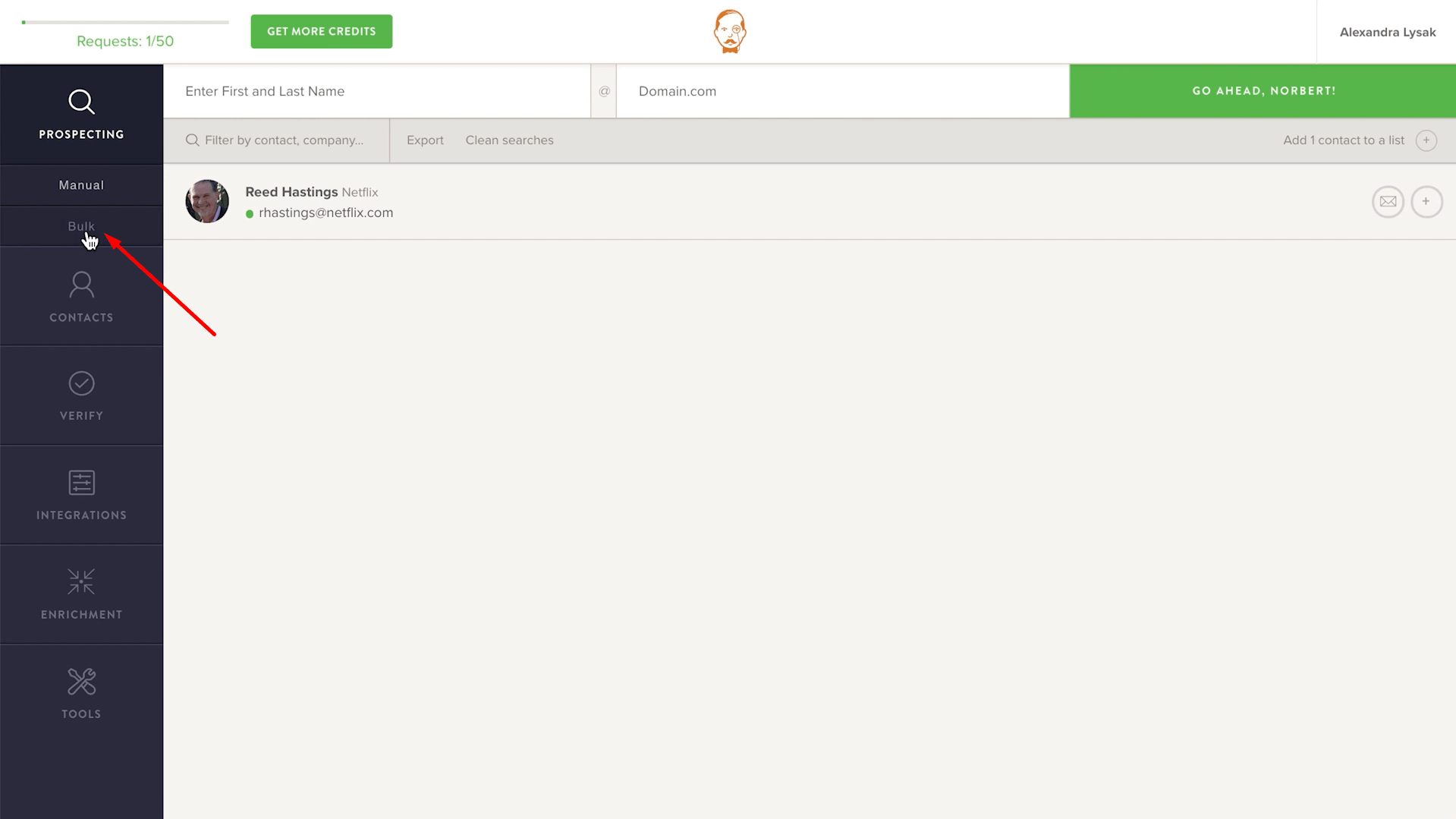 Step 2: Click on '+Upload a new file'
You can click on the '+Upload a new file' to select your CSV file and get started.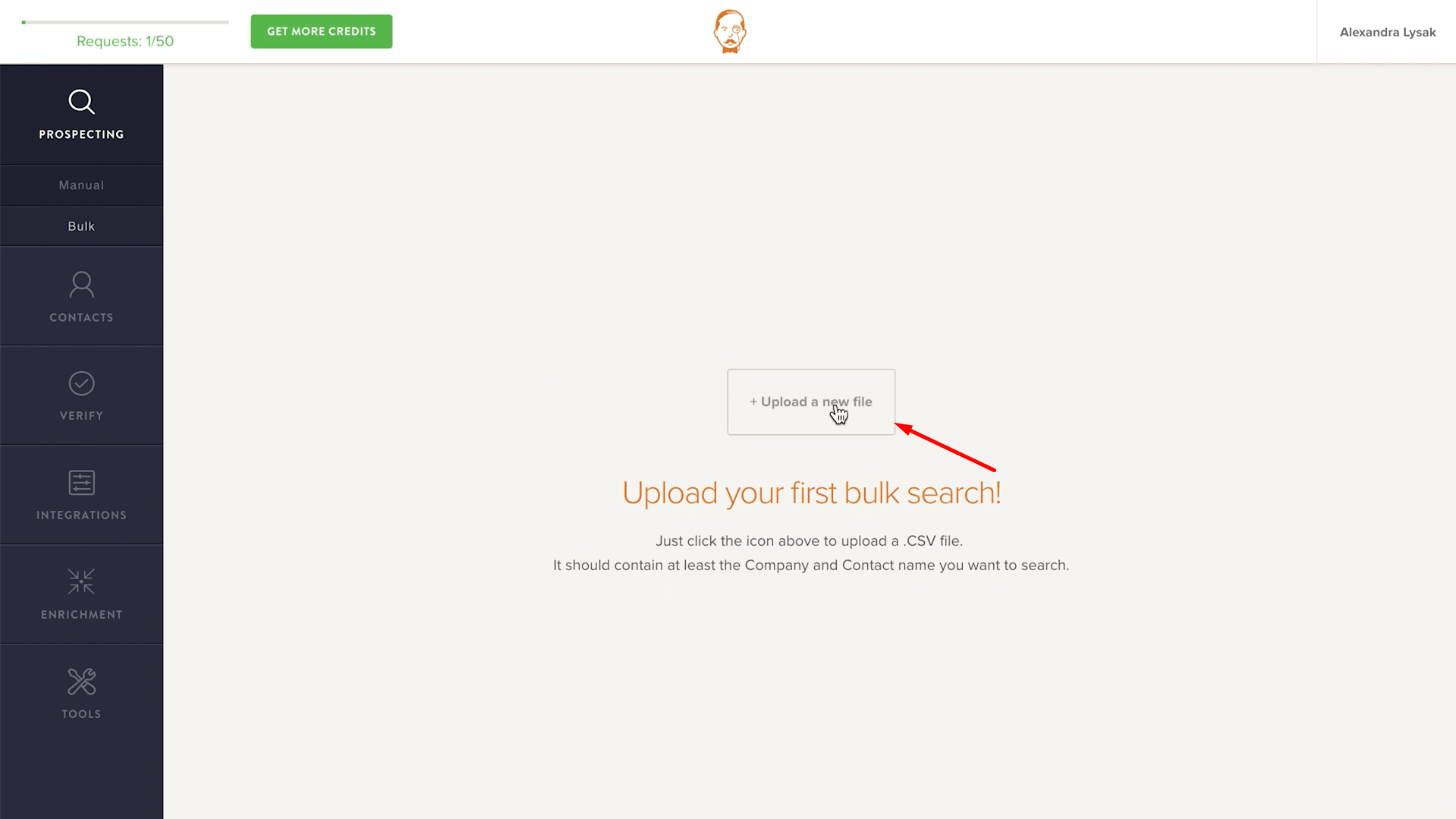 Step 3: Select your CSV file
Before selecting the file, make sure you have the information of your prospects. You can use names, website domains, or company names.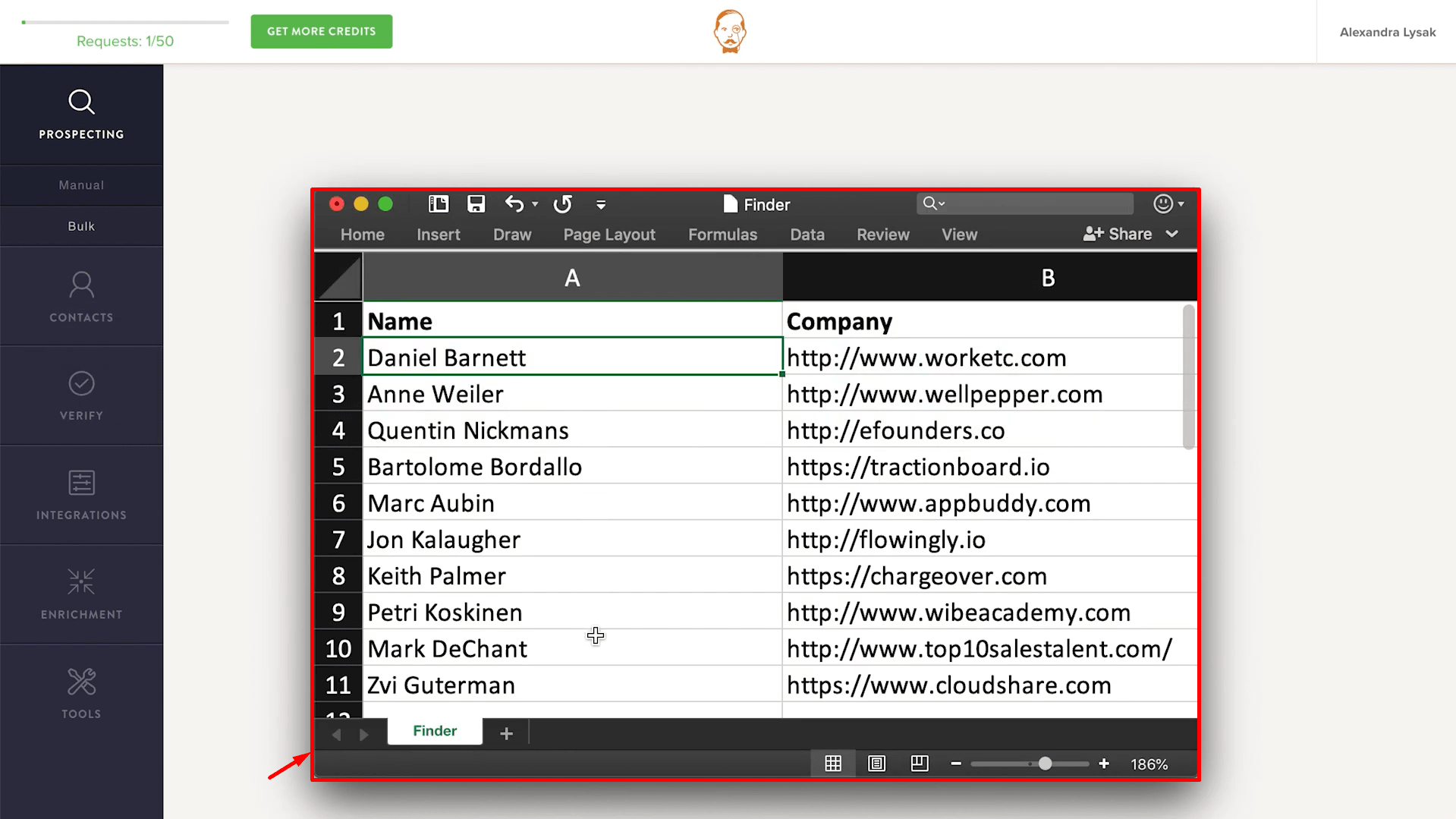 Step 4: Select what type of information you have mentioned in the CSV file
To get accurate results and the right email address of a person, you need to specify what type of information you have provided. Also, you will need to do the same for both the columns where you can choose from the names of your prospects, company names, or website domain.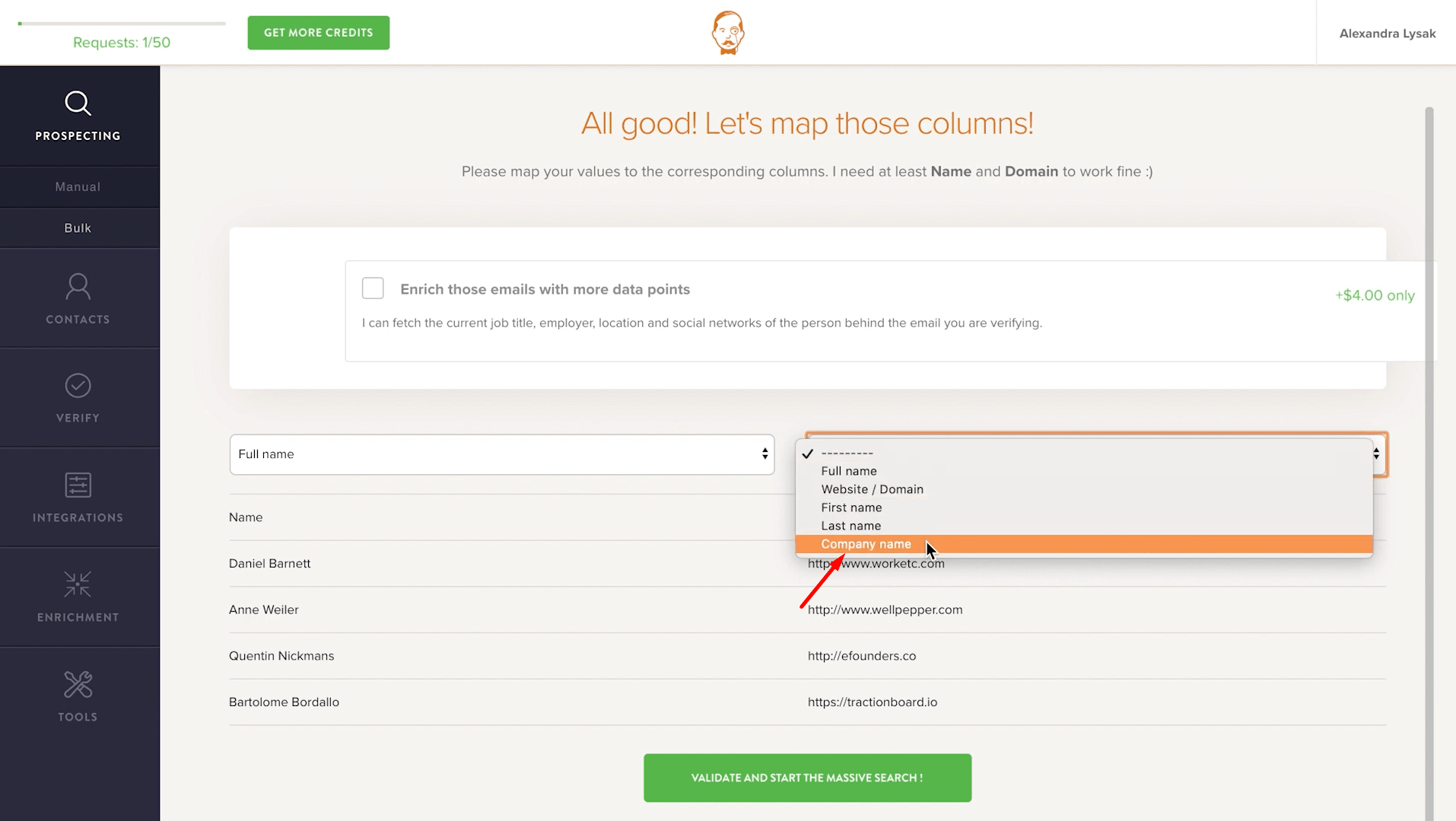 Step 5: Click on the 'Validate and start the massive search' button to begin
That's it, the emails of your prospects are just a click away!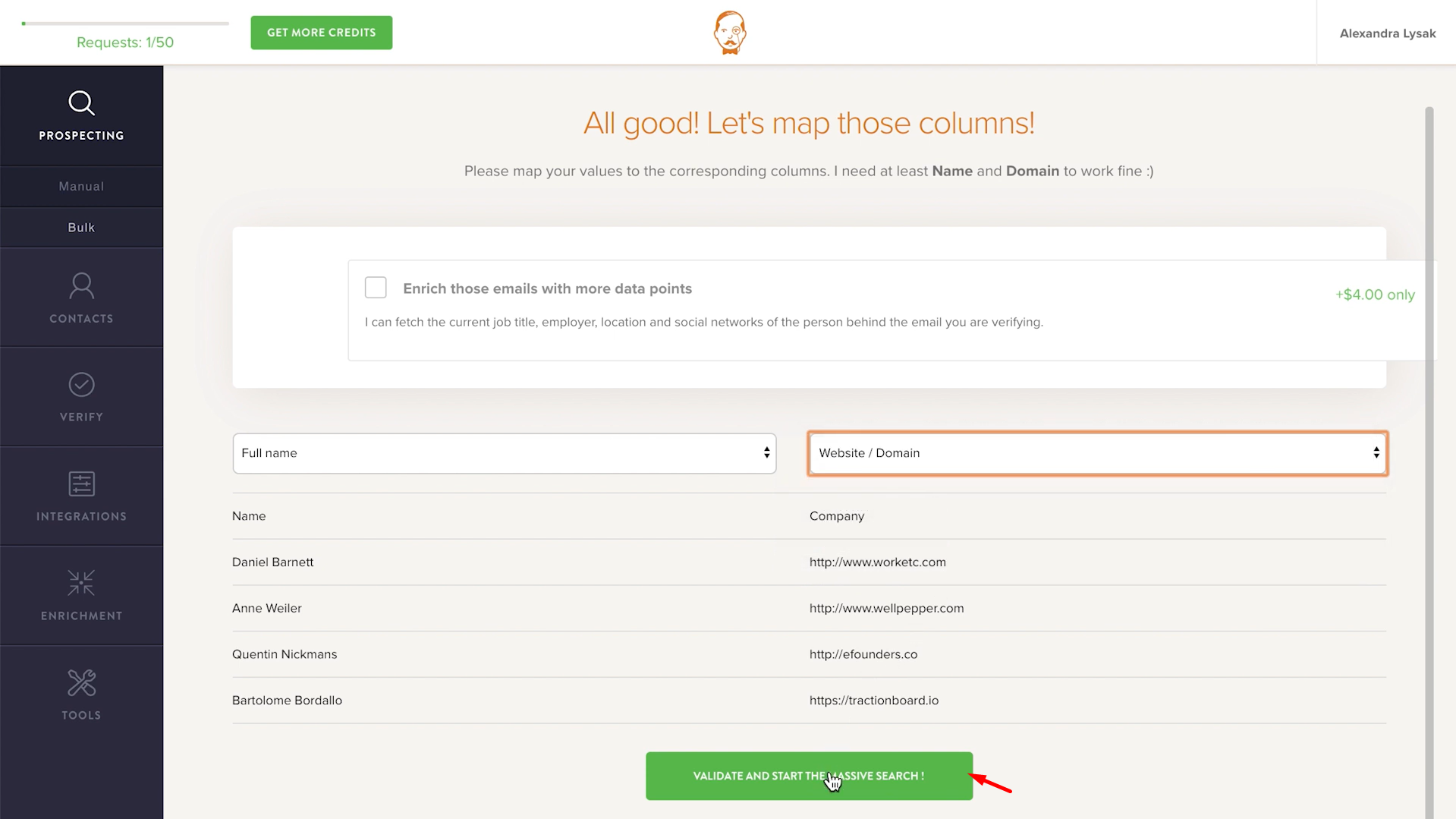 Step 6: Click on 'CSV' or 'Open List' to access the new database
You can choose to download the CSV file by clicking on the 'CSV' button. Alternatively, you can click on the 'Open List' button to view the data.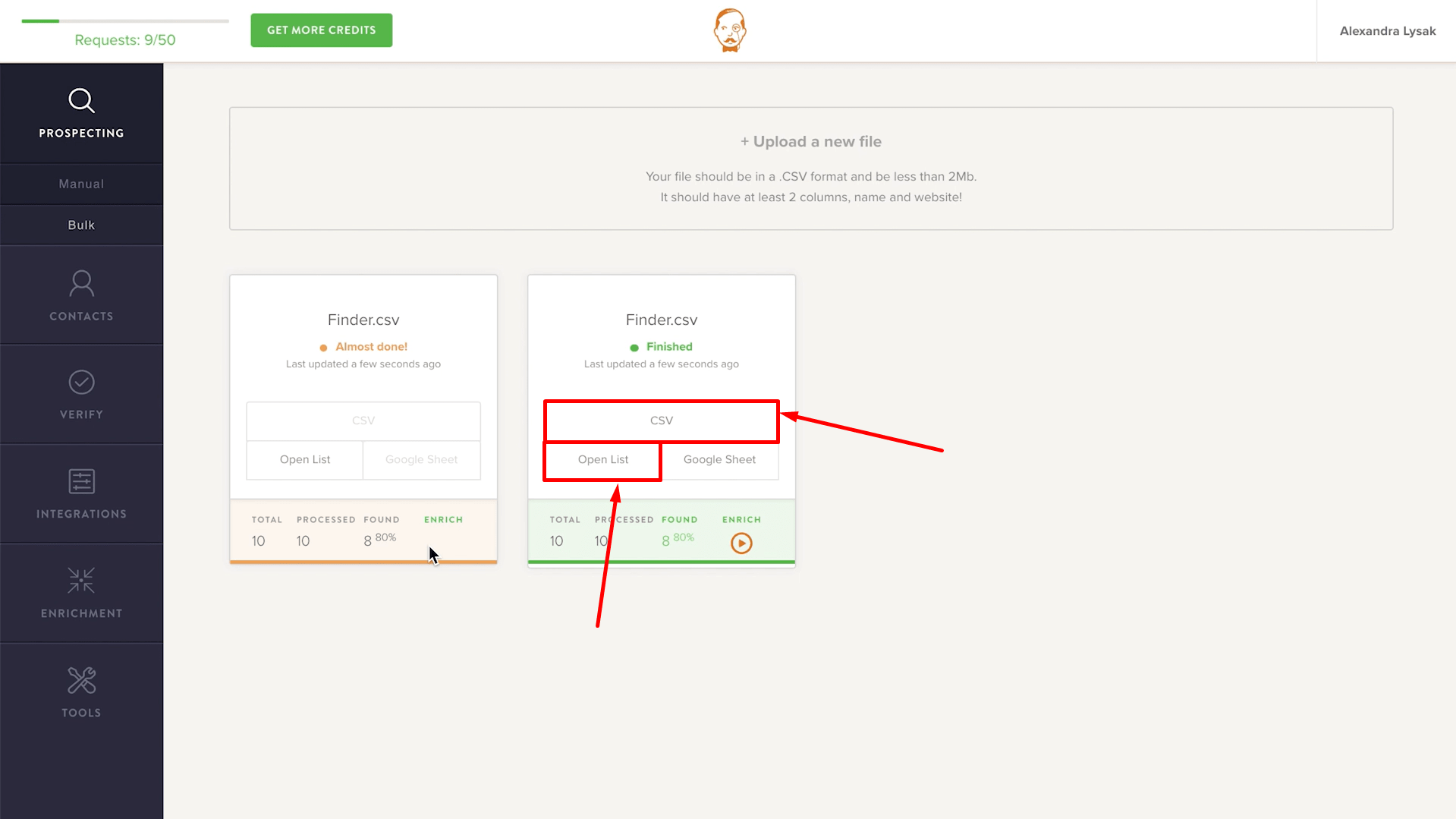 See? It's easy to find the correct email address from Facebook using Voila Norbert. Here's the entire process in a gif format: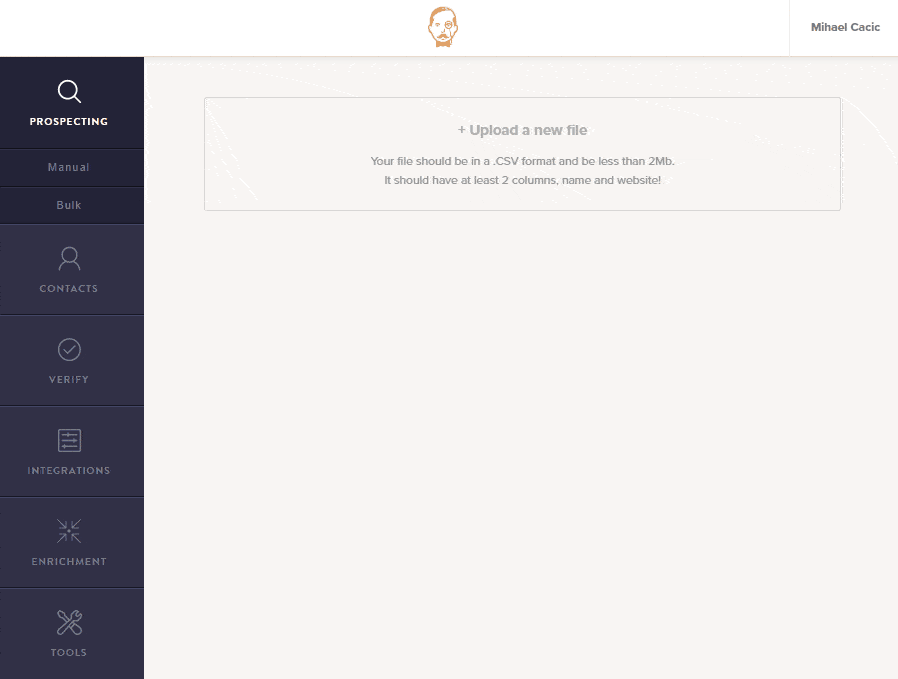 If you want to try out Voila Norbert, sign up with this link and get your 50 email addresses for free.
Method 3: Export Emails Directly From Facebook In Bulk
Facebook has evolved over the years to facilitate data protection and making privacy improvements. In a similar light, they also allow you to access your entire profile data for personal use. Meaning, you can extract data about your contacts and can get their emails in return.
Just follow these easy steps to know how to find someone's email on Facebook.
Step 1: Open your account settings.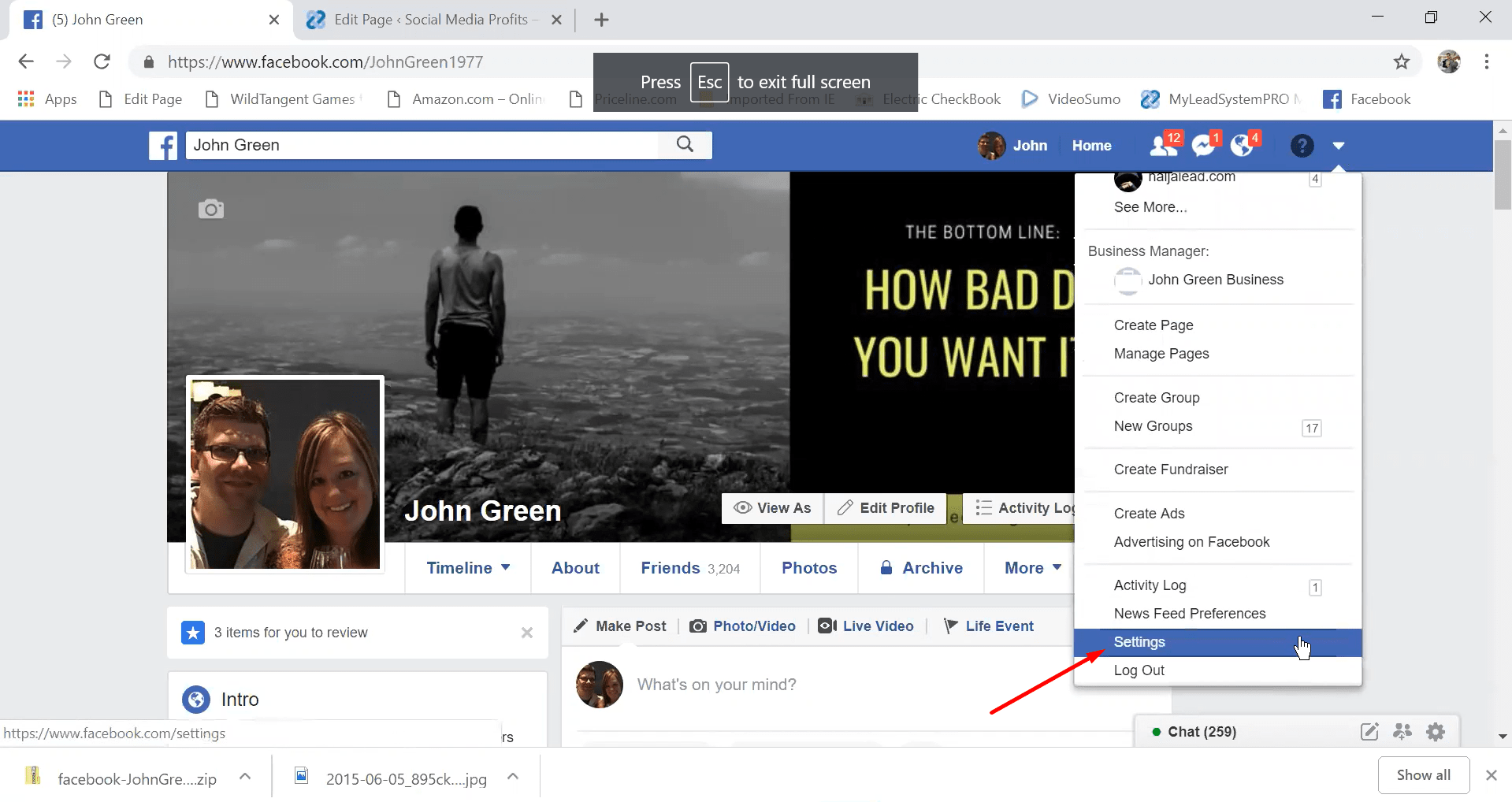 Step 2: Go to Your Facebook Information section.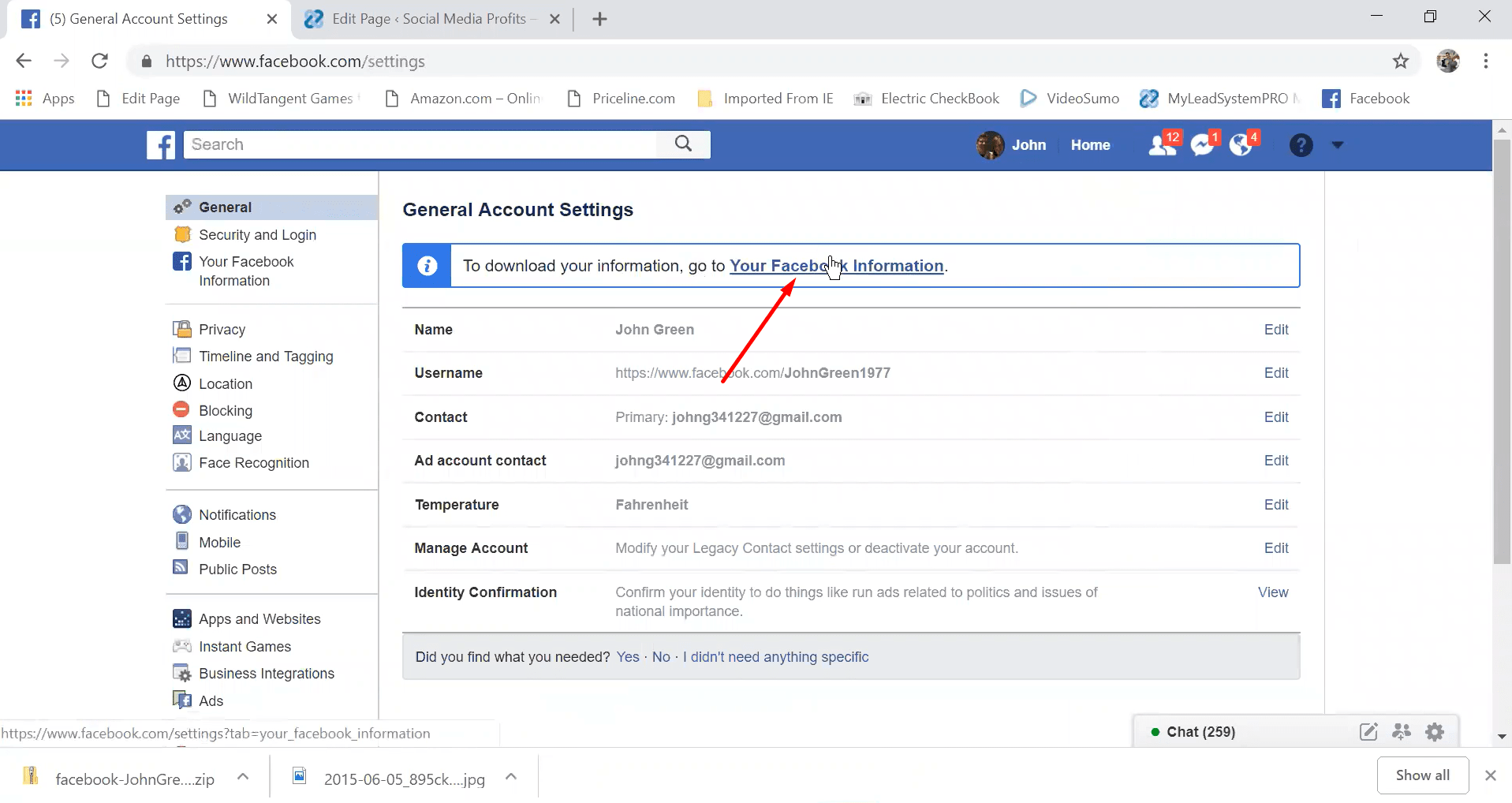 Step 3: Click on the View button besides the Download Your Information bar.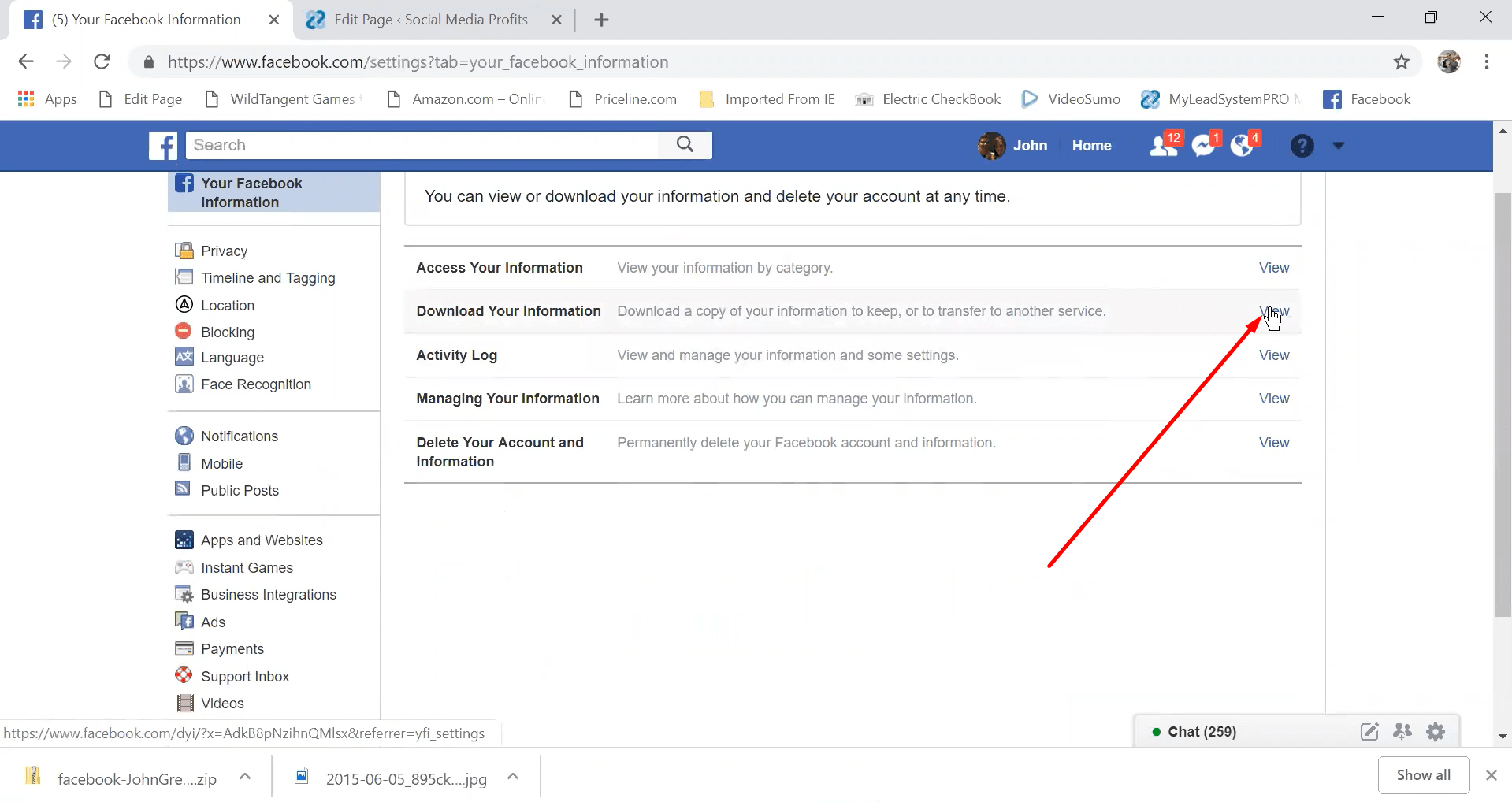 Step 4: Click on the Create File button to start the download.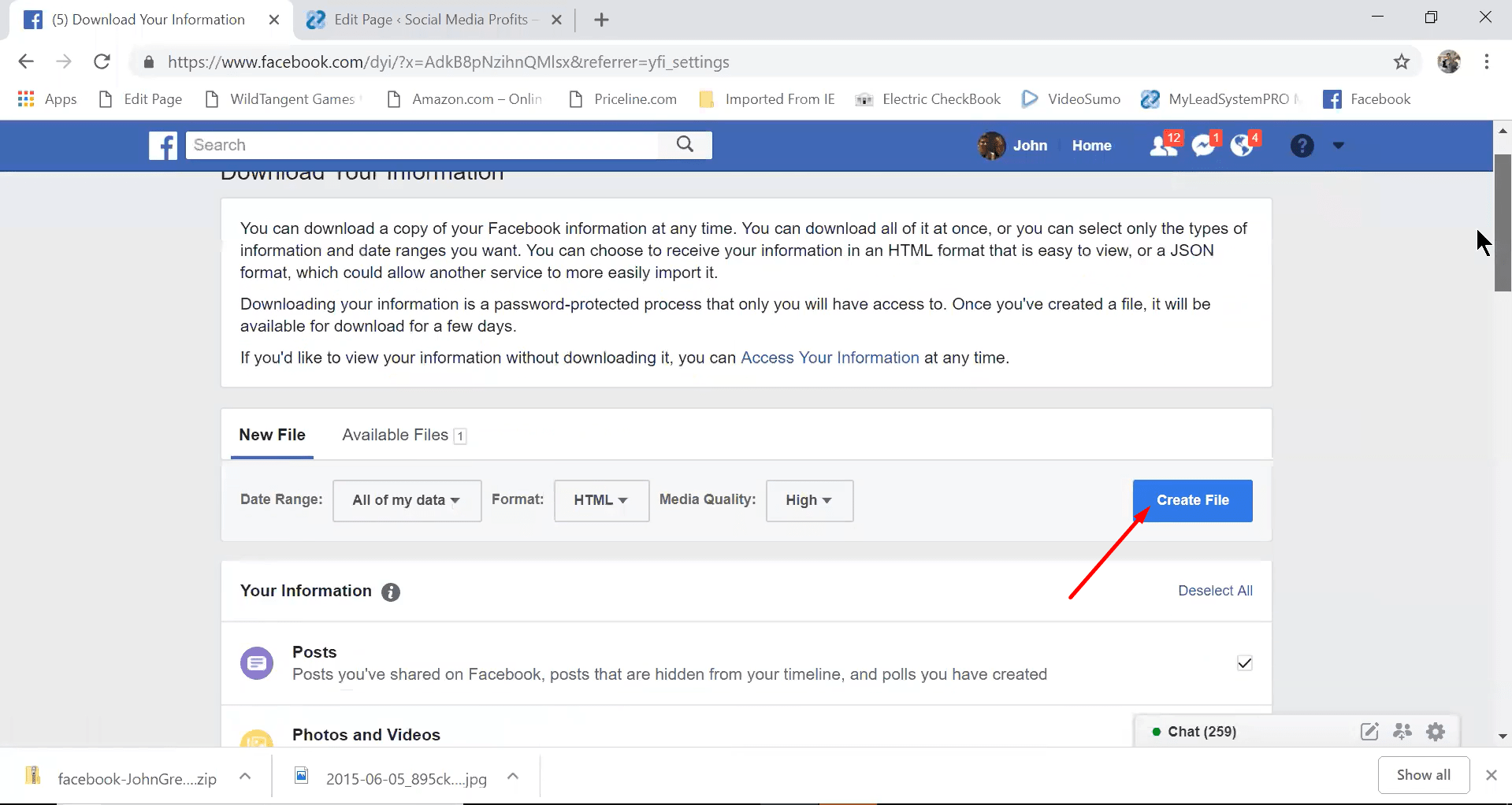 Step 5: Open the downloaded zip file to view all the data.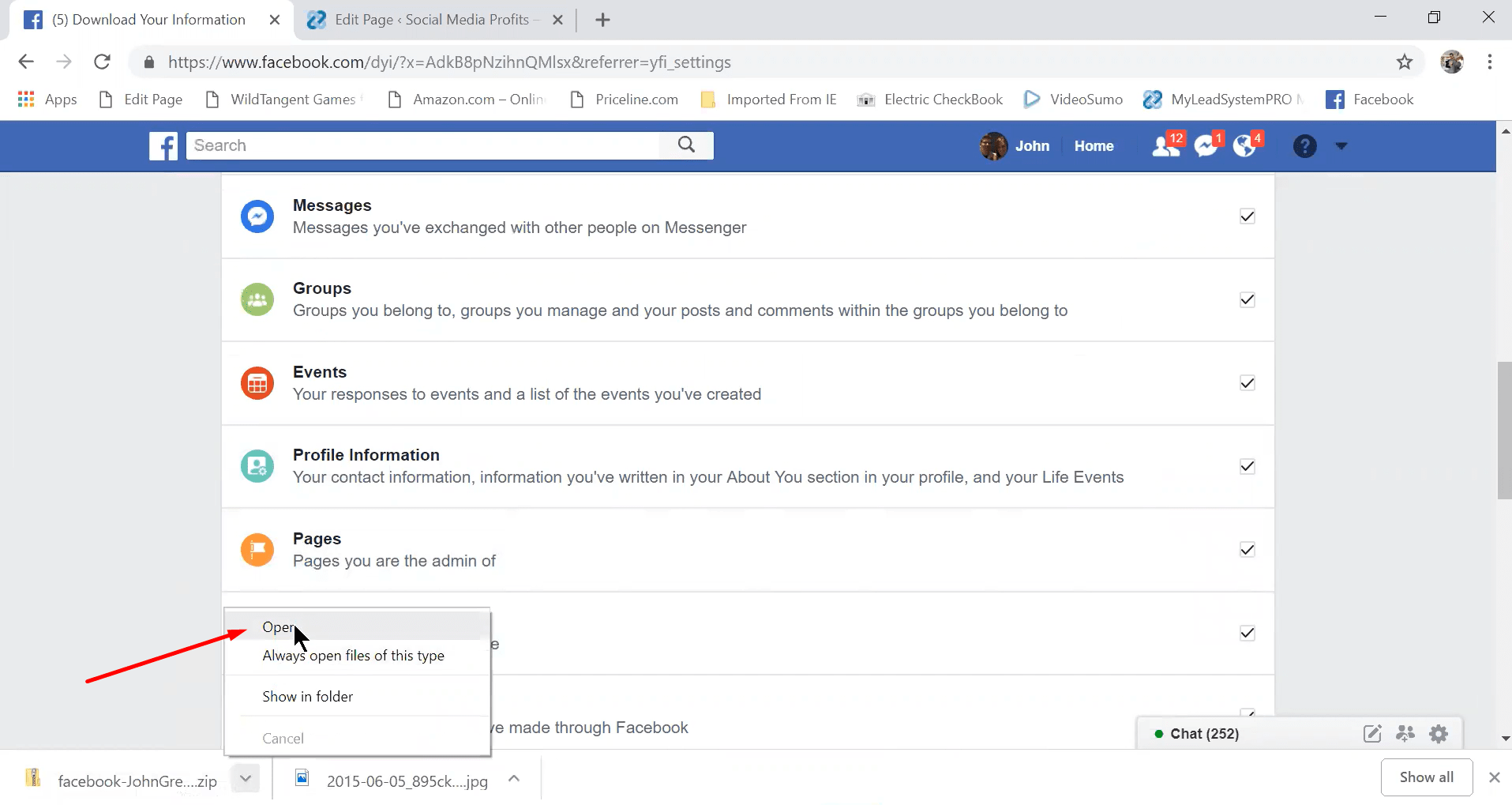 Step 6: Go to the about_you folder.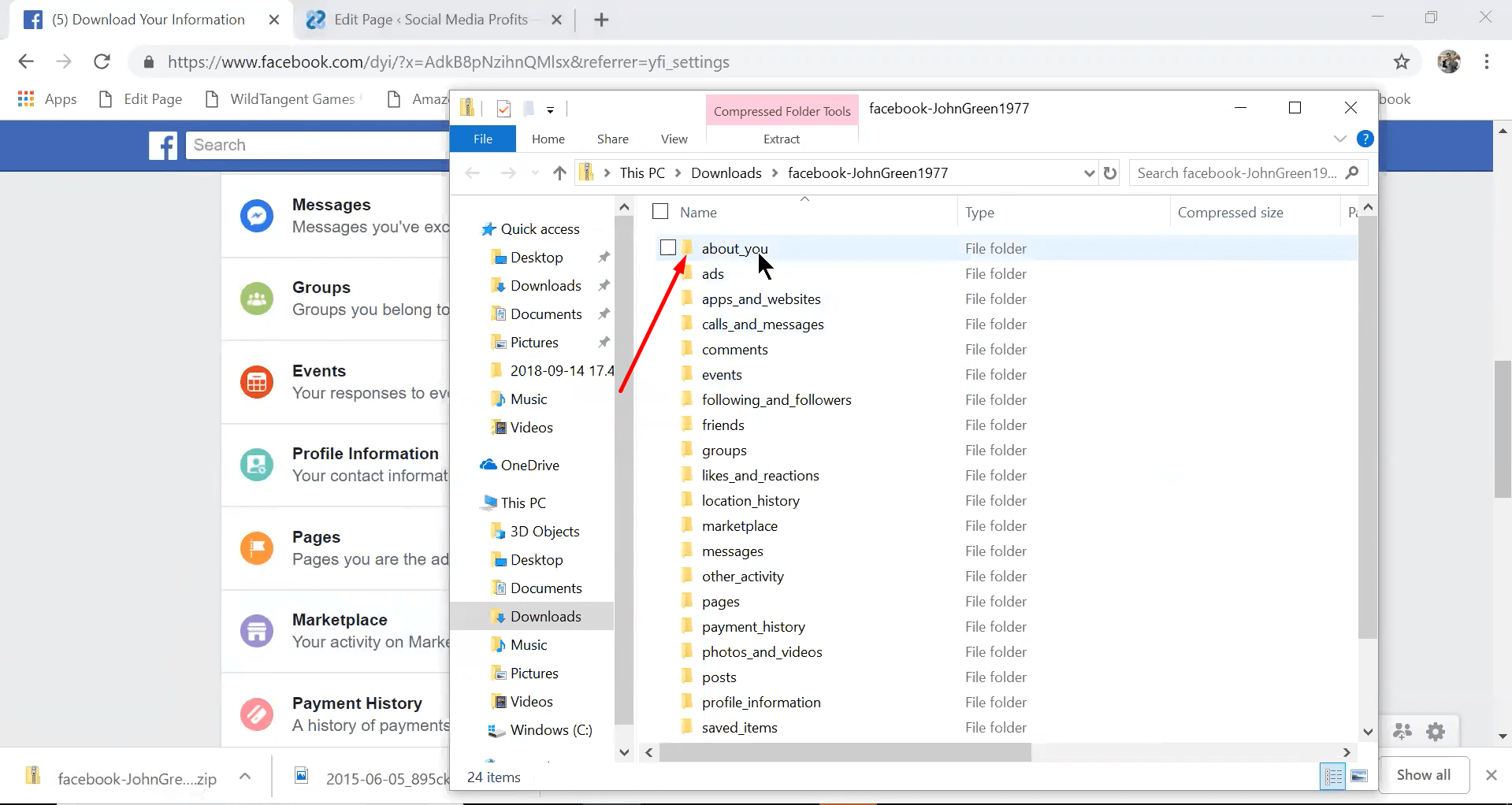 Step 7: Open the html file your_address_books to see the email addresses of your Facebook friends & contacts.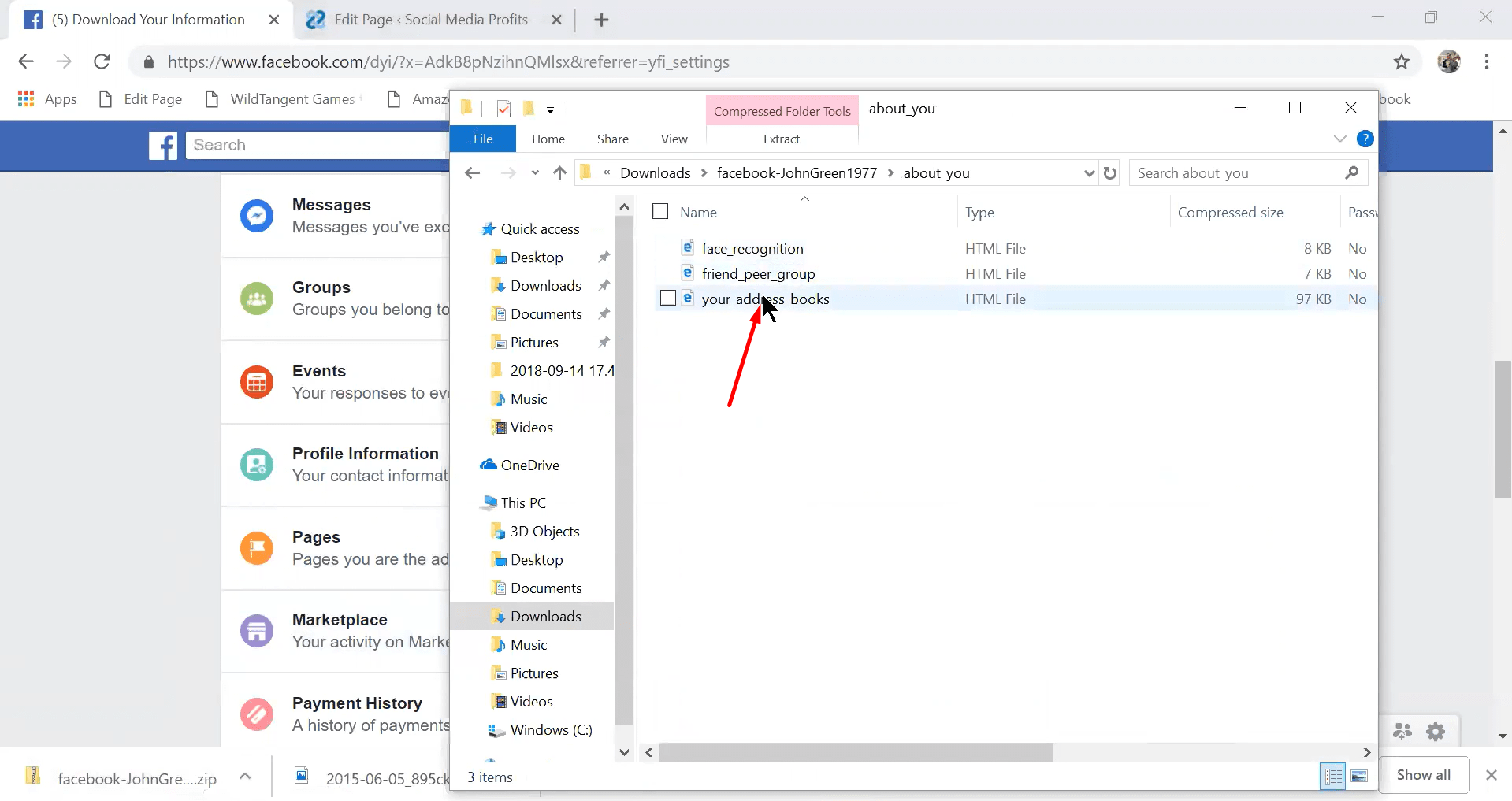 This is how to get emails from Facebook contacts from this method. After following this process, you will see the email address in the HTML as shown below: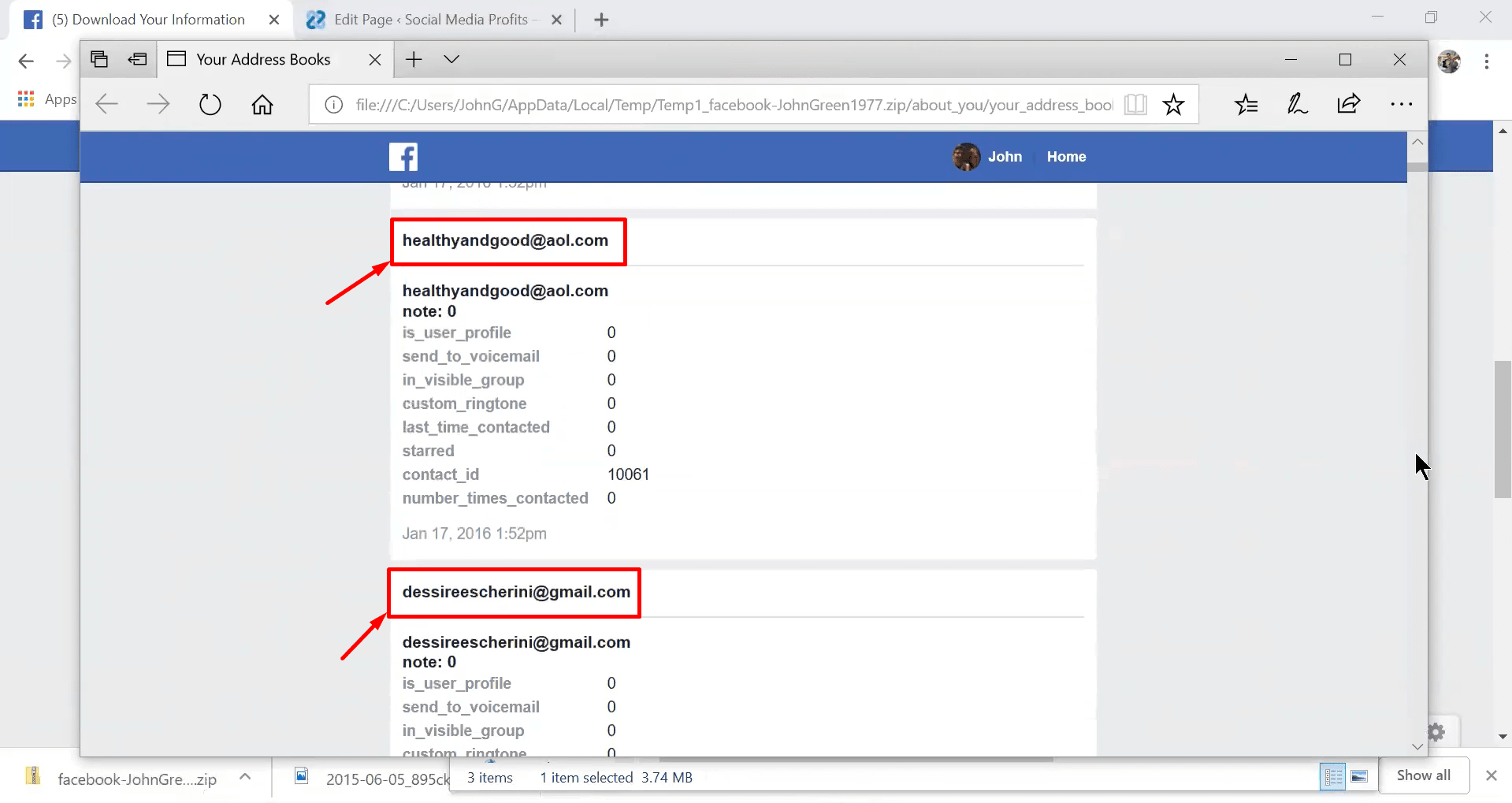 The Bottom Line
All three methods are different.
Each with its own pros and cons.
Which one should you use?
If you have an abundance of time but no money, then go with slow-but-free manual methods.
But in case you lack time and want faster and better results, Voila Norbert is the easiest and quickest way to get emails from Facebook… even if they're hidden.
…
With an accurate email finder tool like Voila Norbert, you can expect to get correct email addresses of your leads and build up your contact list fast and easily. Unlike the manual method, emails will be verified and checked if they belong to real people. So, you don't need to worry about your emails bouncing and ending up in spam.
To try out Voila Norbert, sign up with this link and get 50 searches for free.
Further Reading: