For many users, Instagram is a typical social media platform.
But the tides are shifting as it is quickly becoming a popular platform for many companies.
It serves as a valuable marketing tool with essential features that support business growth. For this reason, there was a ten million growth of business accounts between 2019 and 2017.
Luckily for you, this means that key business decision-makers hang out here. And it might be your only chance of getting qualified emails for your cold email outreach.
So today, I'm going to show you five ways how to find out someones' email address on Instagram.
Let's get started.
Method #1: Study Your Prospects' Profile On Your Phone
Instagram recently introduced a new feature that allows business profiles to display their emails publicly.
Since most social influencers and marketing professionals use business accounts, they unknowingly give you their email.
But the trick is that you can only see the "email" feature on a smartphone.
For example, I checked Neil Patel's profile on both devices. As you can see, the email feature is only visible on a smartphone.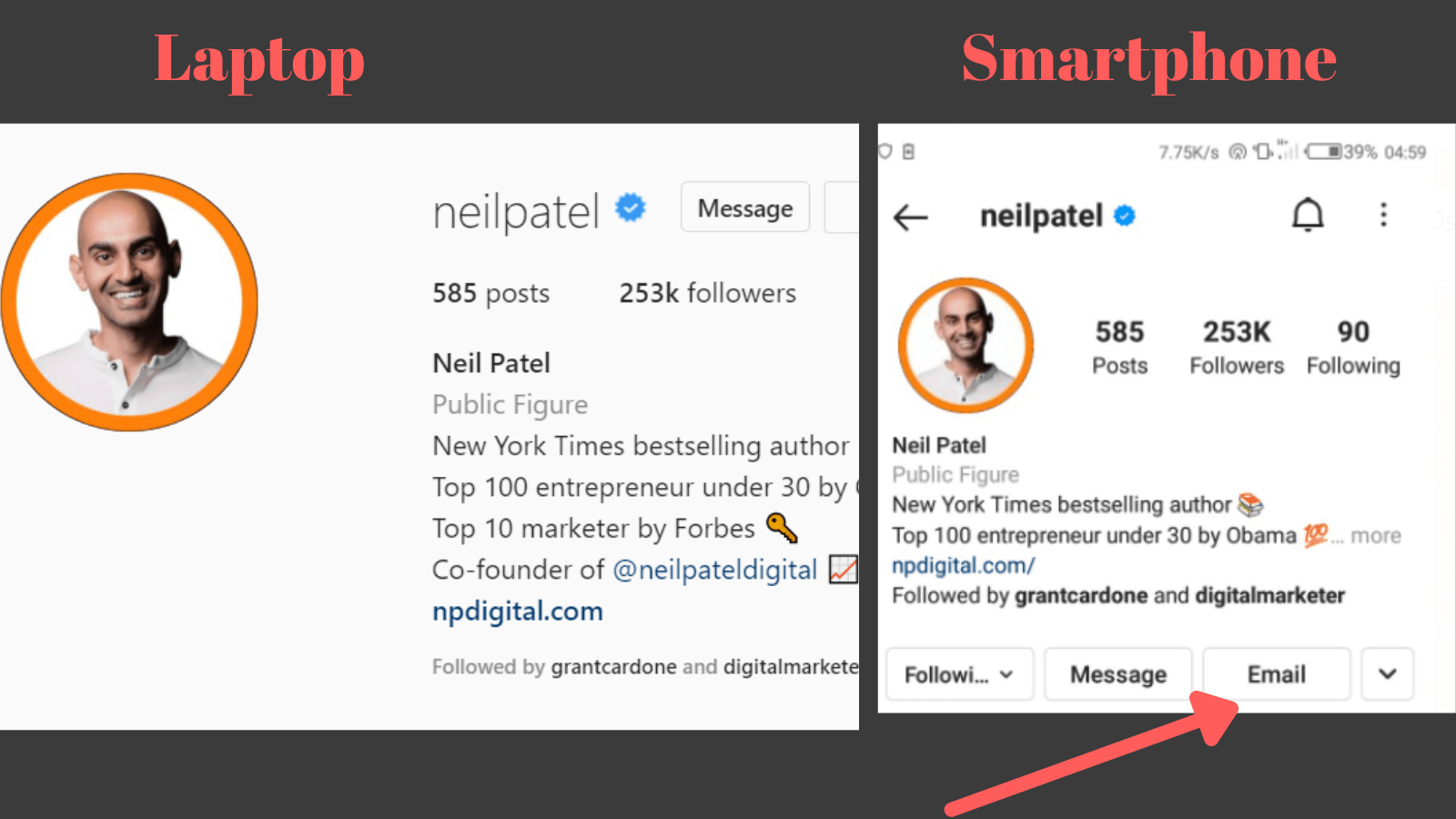 Therefore, this is the simplest Instagram email search option — you only need a phone and access to your prospect's profile.
Then follow these steps to find the email of an Instagram account using your phone:
Open Instagram on your phone.
On the search bar, type the username of your prospect.
Check the Instagram bio for an "email" icon.
Once you click on the "email" icon, it will take you to your email dashboard.
But what if the prospect remembered to hide their email address?
Method #2:Use Voila Norbert To Get Emails of Key Decision-Makers Fast
Voila Norbert is the most accurate email finder tool on the market.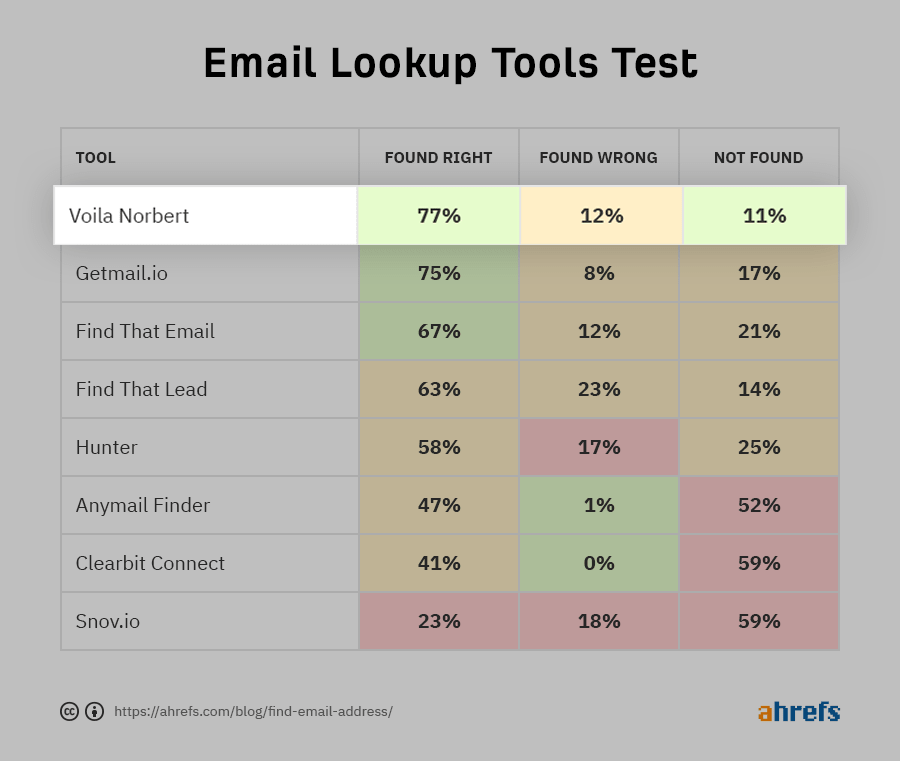 On top of that, it's super easy to use. Here's how people are voting on G2: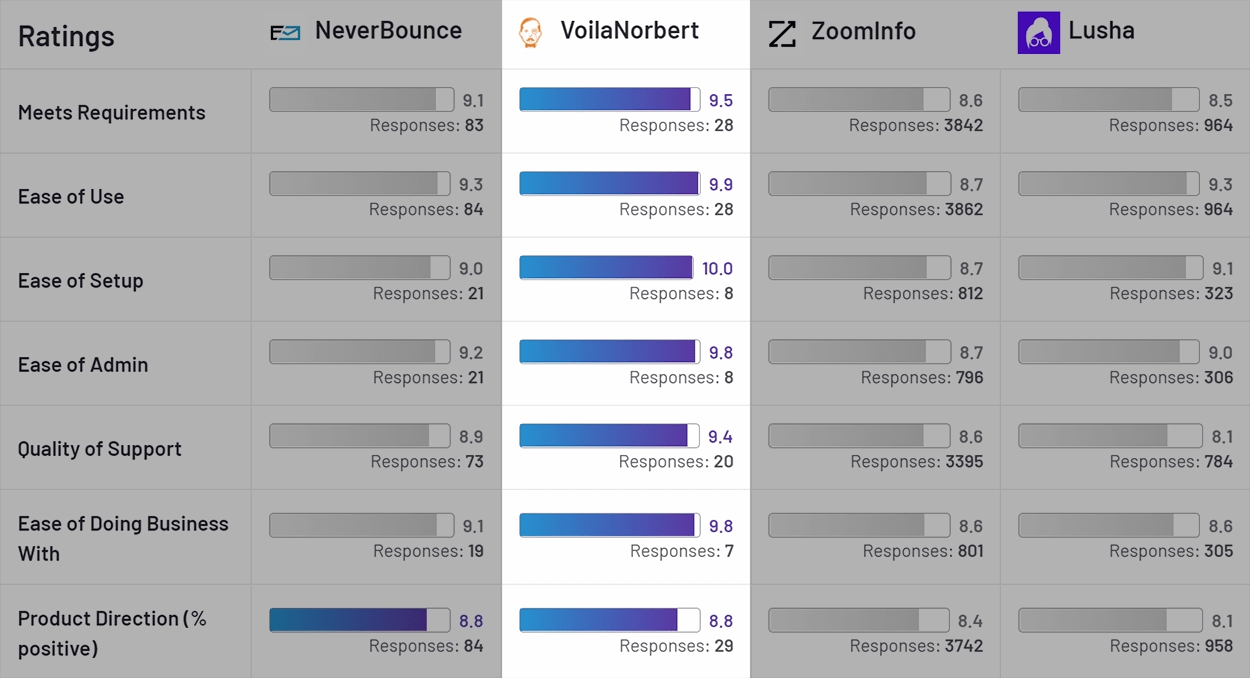 First, simply grab your prospect's first and last name as well as the domain address of their company… Right from their Instagram profile: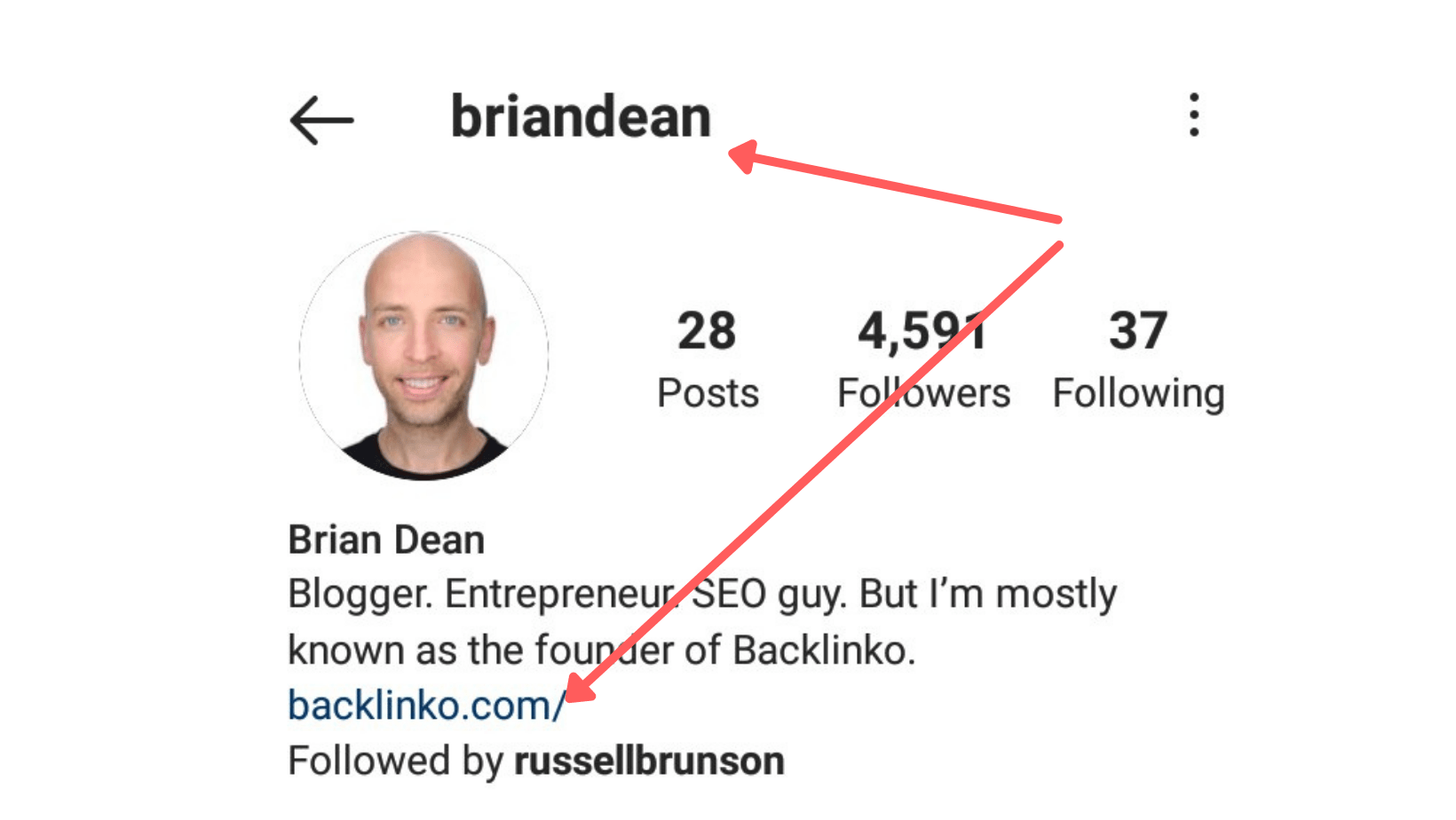 And then plug it in Voila Norbert, like so:
And Norbert will spit back the best email address he can find from his vast database (and a secret algorithm).
Easy.
…
But that's just one of two ways you can use Norbert to find emails.
Another way you can use it is when searching for bulk emails.
For that, you'll need a CSV file, which you can create from an excel sheet.
Make sure the file is divided into two columns, with one column having your prospects' first and last names, and the second column the company domain address.
Click on the "bulk" icon on the left side of Norbert's dashboard and upload the excel file.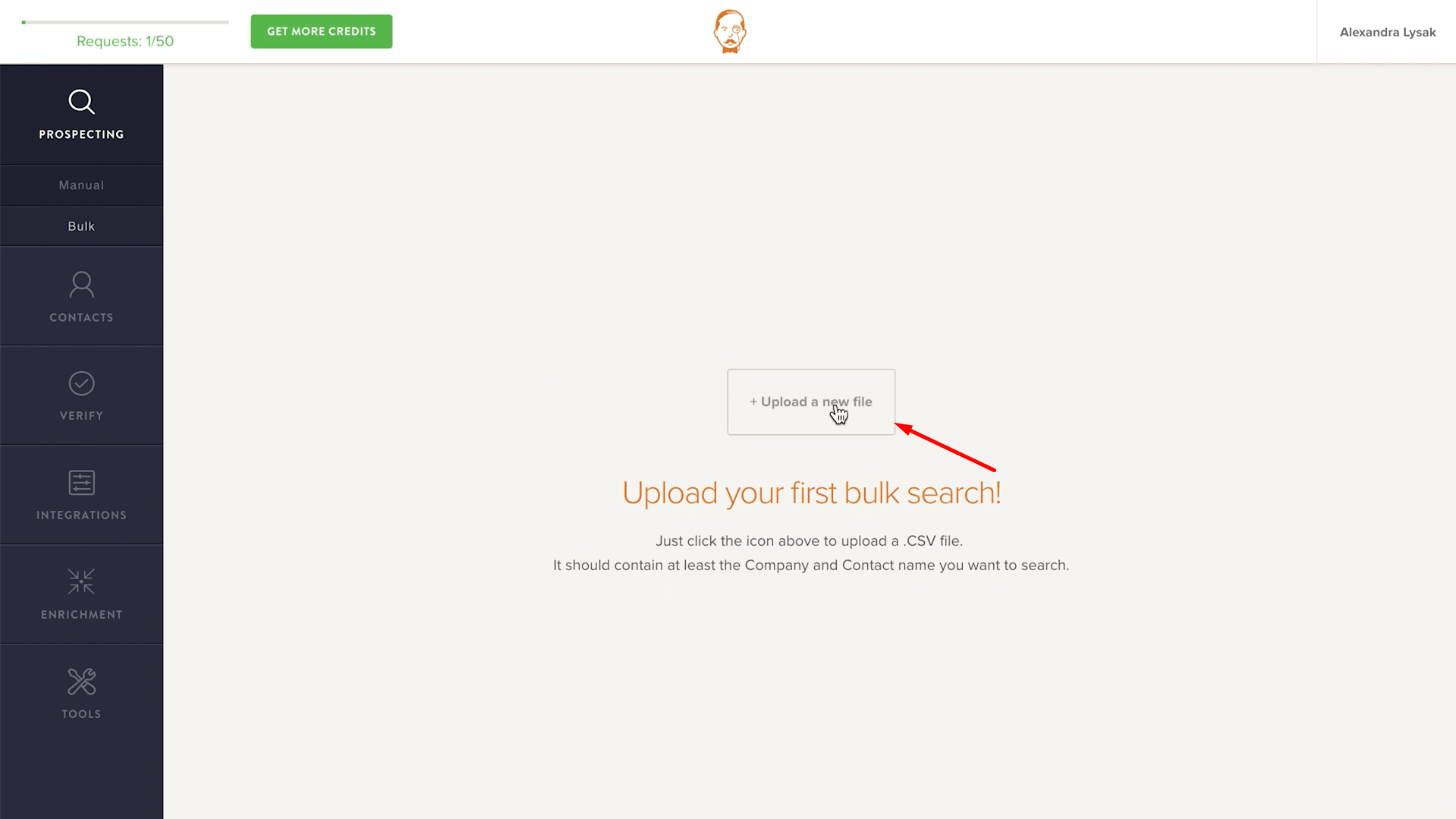 Confirm the data that appears and click the green search button.
As soon as Norbert is done, you'll be able to download the complete list of your prospect emails. It has an extra column with a rating between 0-100 to let you know how sure Norbert is that the emails work.
…
Method #3:Check Their Other Social Media Profiles — And Reach Out If You Have To
On average, one person has seven social media accounts across all social media platforms.
So if you don't get your prospect's email on Instagram, you can likely get it on LinkedIn or Twitter by checking the profile bio section.
Or even better, you can send your prospect a private message and introduce yourself. Let them know what you are offering and if they would like to take the conversation further via email.
But first, you'll need the right name of your prospect. Some Instagram users don't use correct trackable names.
For example, a prospect with a username like "papaz.from.the.The 90s" will be difficult to find on other platforms.
A simple Google search will do if your prospect is an influencer. For other prospects, visit their company website and check their leadership team. You'll likely get a name similar to what's on the Instagram profile.
Method #4:Use Their Names To Guess The Email Address
This approach is a bit challenging and might take a chunk of your time. But it is a viable option if all have failed.
First, you'll get the names and the company websites where your prospect works. Again, this is available on their Instagram profile. Next, try out a couple of email combinations as you search on Google.
For example, let's say the name of your prospect is the infamous Aussie blogger Tim Denning. Here is his Instagram profile.
We'll use three patterns to get his email as we confirm on Google if it exists. Our domain address will be timdenning.com.
I. First name(dot)last name + domain address
My email address using this format will be "tim.denning@timdenning.com." I didn't get any results after searching on Google. So we rule out this option.
II. First letter of the last name (dot) last name + domain address
The prospect's email address will be something like this. "tdenning@timdenning.com
This was my result on a quick Google search. We rule out this option too.
III. First name + Domain address format
Our final trial email for this format will be "tim@timdenning.com"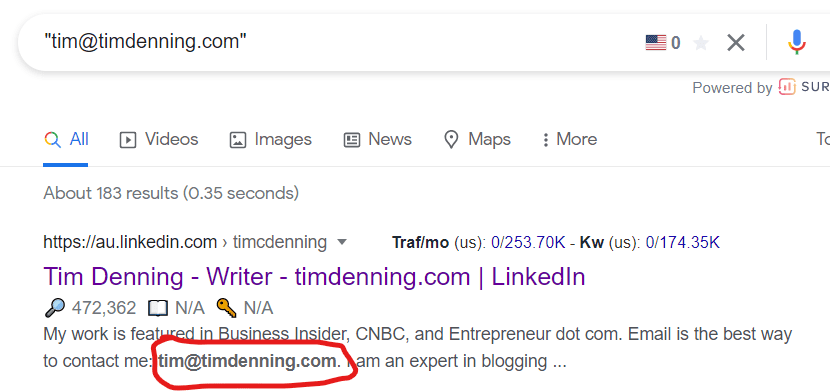 Boom!
We have our email.
If you have not got the email yet, use other patterns like the first letter of the first name plus last name(dot)domain address or initial letters of both names(dot)domain address.
(Remember to close the email with semicolons. It tells Google algorithms that you are not looking for variations of that word but the exact word.)
The Takeaway
Using Voila Norbert to get your prospects' emails will ease your work. You save more time focusing on essential factors to grow your business.
…
With Voila Norbert, you'll get everything you need to create a robust email prospecting campaign. Click here to get 50 free credits to start.