LinkedIn has revolutionized the way professionals connect and network online. With millions of active users and a vast range of industries represented, LinkedIn is an excellent resource for businesses and individuals to find and connect with potential customers, partners, or employees.
However, searching through LinkedIn profiles and manually collecting contact information can be time-consuming and frustrating.
Thankfully there are plenty of LinkedIn email finder extensions that can help streamline this process.  These extensions provide users with accurate email addresses and contact information for their target audience. In this article, we will explore some of the best LinkedIn email finder extensions available, their features, and how they can assist you in growing your business.
What is a LinkedIn Email Finder Exactly?
LinkedIn is a popular social network that nearly all real businesses and business professionals use.
As of 2023, there are more than 740 million active profiles and more than 55 million businesses have an active presence on the platform and use it to grow their business.
The potential prospect wealth on LinkedIn is near infinite, but how to tap into it correctly?
By using LinkedIn email extractor tools and scrapers.
These services scrape user profiles looking for email addresses. They can be standalone software of Chrome extensions that add new functionalities (usually new buttons) when viewing individual profiles of people and companies.
By Using LinkedIn email scrapers you can get those valuable emails and then plug them through a CRM software or email service of choice for an outreach campaign, thus bypassing the clunky and often buggy LinkedIn InMail system.
Though there are dozens upon dozens of decent tools that can scrape LinkedIn hunting for emails, I know you don't want decent, but best AND affordable.
Below are 7 tools that fit that lofty bill:
#1- Voila Norbert
Hey, you're on the Voila Norbert blog, so it makes sense to introduce us first as the (objectively) number #1 LinkedIn email extractor on this list.
Voila Norbert is the best email finder and extractor tool on the market.
It's a big claim, but one sustained by solid and independent proof.
In 2021 Ahrefs did a massive study testing out the best email extractors on the market.
They came to the conclusion that, while no tool had the perfect score, Voila Norbert by far delivered the most accurate results and had the fewest misses of the bunch.
Take a look: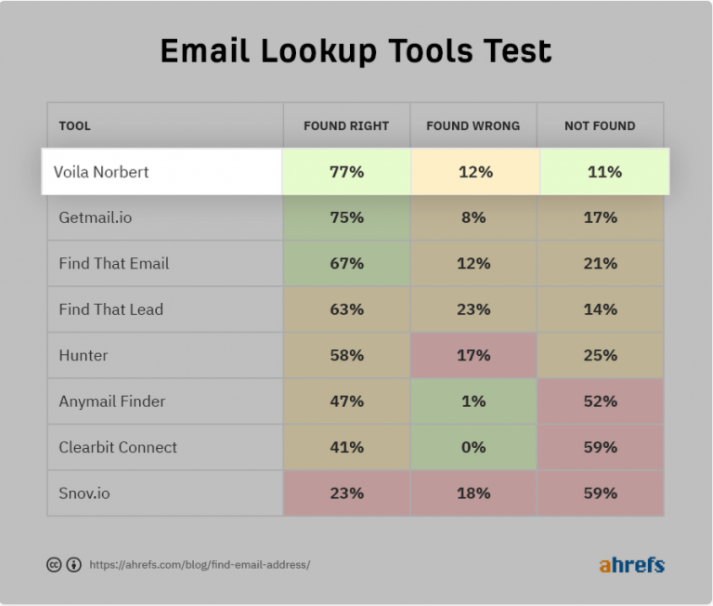 And besides being a general email extractor tool (they can scrape email from nearly everywhere) their recent addition is LinkedIn email extraction.
Starting August 2021, Voila Norbert has added the capability of finding anyone's email address from their Linkedin profile.
All you have to do is have the Voila Norbert extension enabled.
Then when you view the prospect's Linkedin profile you'll see a big orange button.
Click it and Voila Norbert will scrape and deliver.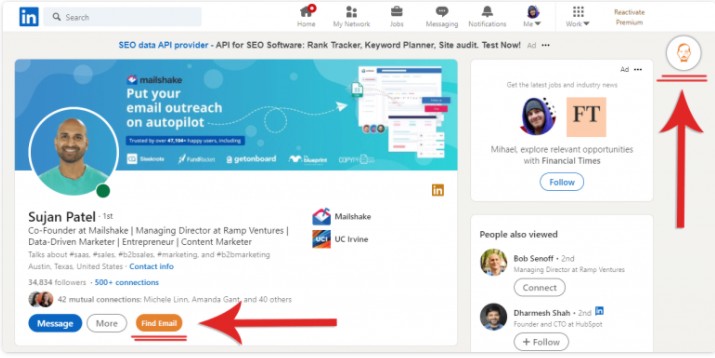 It is also possible to perform bulk email search on the LinkedIn search results
This is a great feature if you want to extract emails of, for example, 20 people working at the same company, or if you're a SAAS business and you know your tool can help other business owners.
Then use Voila Norbert to extract their emails in bulk and start some B2B marketing using LinkedIn and effective email outreach.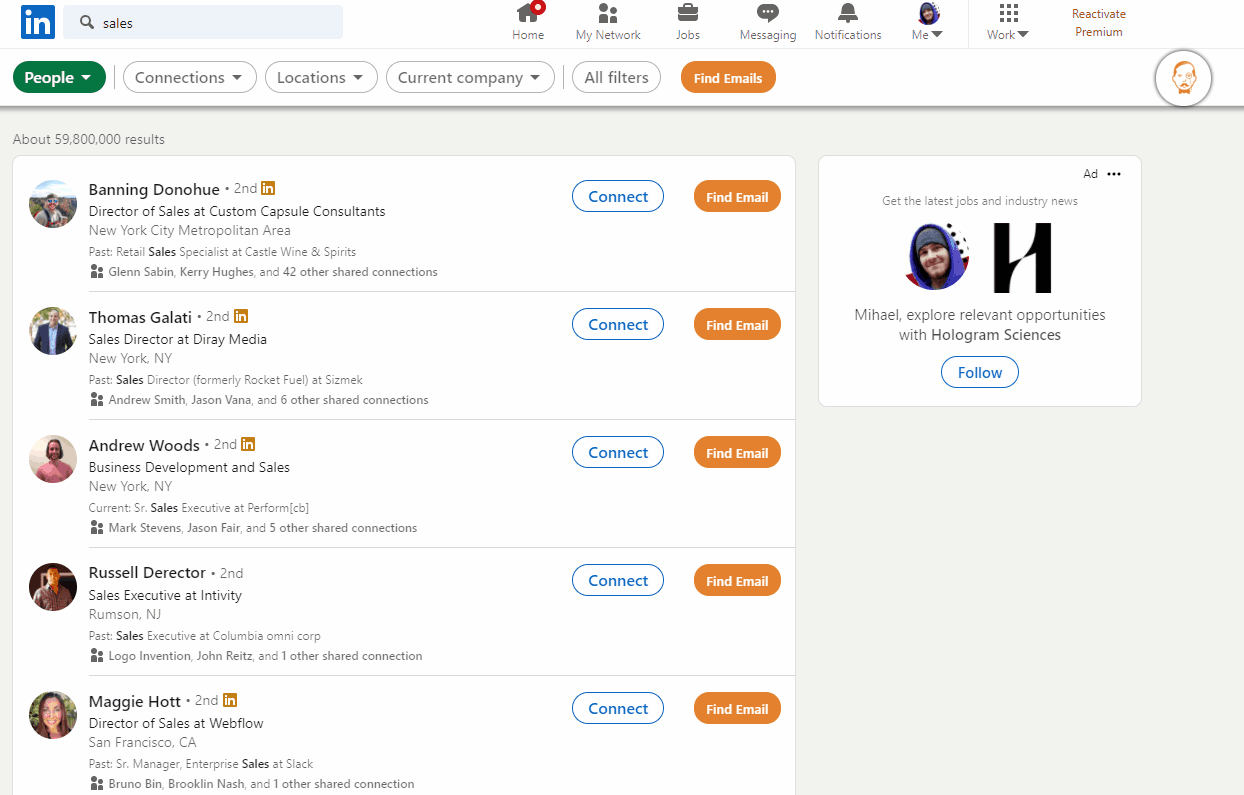 Pros:
Team account option available;
Prospect list export- you can export lists of prospects in CSV, XLCX and Google Sheets;
Abundant integrations (Zapier, Mailshake, Salesforce, Pipedrive…);
Chrome extension available;
Easily integratable API (yes, integrates even with Google Sheets);
And much more.
Cons:
Not 100% accurate; Sometimes finds emails that are no longer valid or doesn't find any.
Chrome extension sometimes unexpectedly closes if too many tabs are open at once.
Pricing:
Free trial available (50 emails found).
Valet- $49/mo or $39 on a yearly plan;
Buttler- $99/mo or $79 on a yearly plan;
Advisor- $249/mo or $199 on a yearly plan;
Counsellor- $499/mo or $399 on a yearly plan;
#2- Snov.io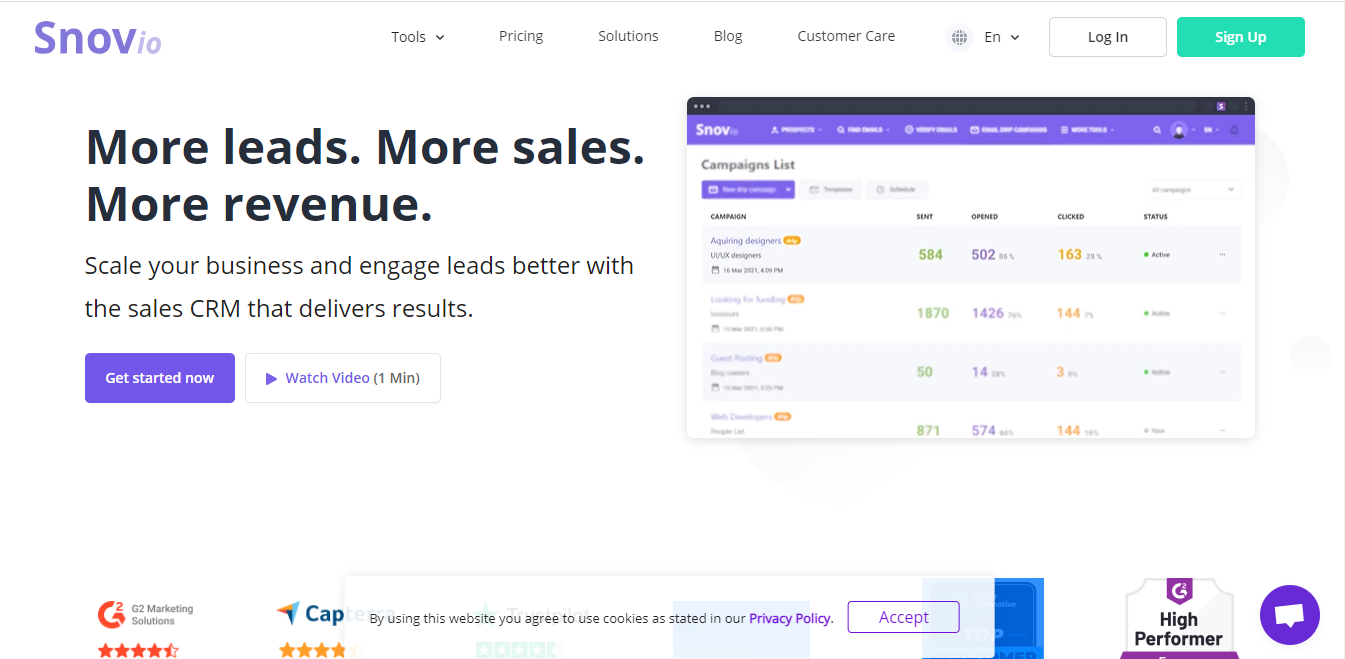 Snov.io is one of the best LinkedIn email scrapers on the market, and that's why it's included on this curated list.
It's actually a CRM that can help you do cold outreach and prospect management, but you can also use it for lead generation.
With it you can:
Find better leads;
Verify your contacts;
Automate cold outreach;
Track your leads' progress;
As for scraping emails from LinkedIn, you need to use Snoo.io's Social URL Search feature and it'll check every social profile of the target prospect, including their LinkedIn.
Pros:
Time saver as it scrapes LinkedIn profiles in seconds;
A versatile tool as you can use it to extract emails from LinkedIn and you can also use it as a full-fledged CRM software.
Very reliable and accurate (not 100% though) mail validator.
Cons:
The tool is a bit pricey. I guess because it's a CRM and not just a LinkedIn email scraper.
Not super intuitive; lacks proper user in-app onboarding;
The credits you bought have to be used up in one month, or they expire;
Doesn't show the most used email when a prospect has several email addresses.
Pricing
Snow.io works on a credit system where you spend a credit with each valid email found.
The basic plan starts at $39/mo and with it you get access to 1000 monthly credits.
#3- Wiza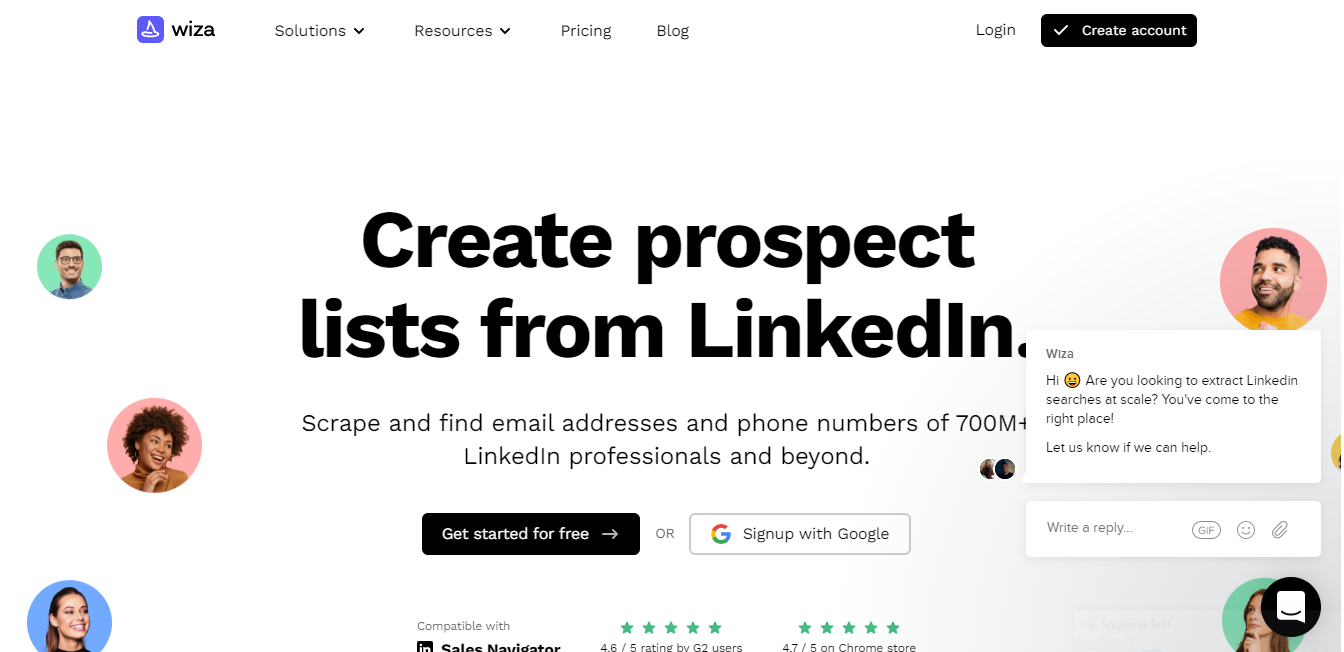 Wiza is a LinkedIn email extractor that lets you convert any LinkedIn Sales Navigator search into verified outreach emails.
Wiza is a unique tool on this list as they have a free, "pay as you go" plan, where you pay only $0.15 per valid email found.
Wiza free plan is an excellent choice for small businesses and freelancers doing outreach; basically for those who just need a solid LinkedIn email scraper and who don't need premium Wiza and all its features.
Pros:
Fast, simple to use, and effective at scraping valid emails;
Unlimited free scans on searches with no emails found;
Great UX and very intuitive;
CSV download option available;
Cons:
Cheap, but not free; pay 0,15 per found email
The quality of the scans can be improved as the tool sometimes mises emails clearly listed on email profiles.
Price:
Forever free plan is available where you pay as you go (15c per found email).
There's also a paid plan that starts at $50/mo and gives you 300 credits which are carried over to the next month if not used up.
#4- Aero Leads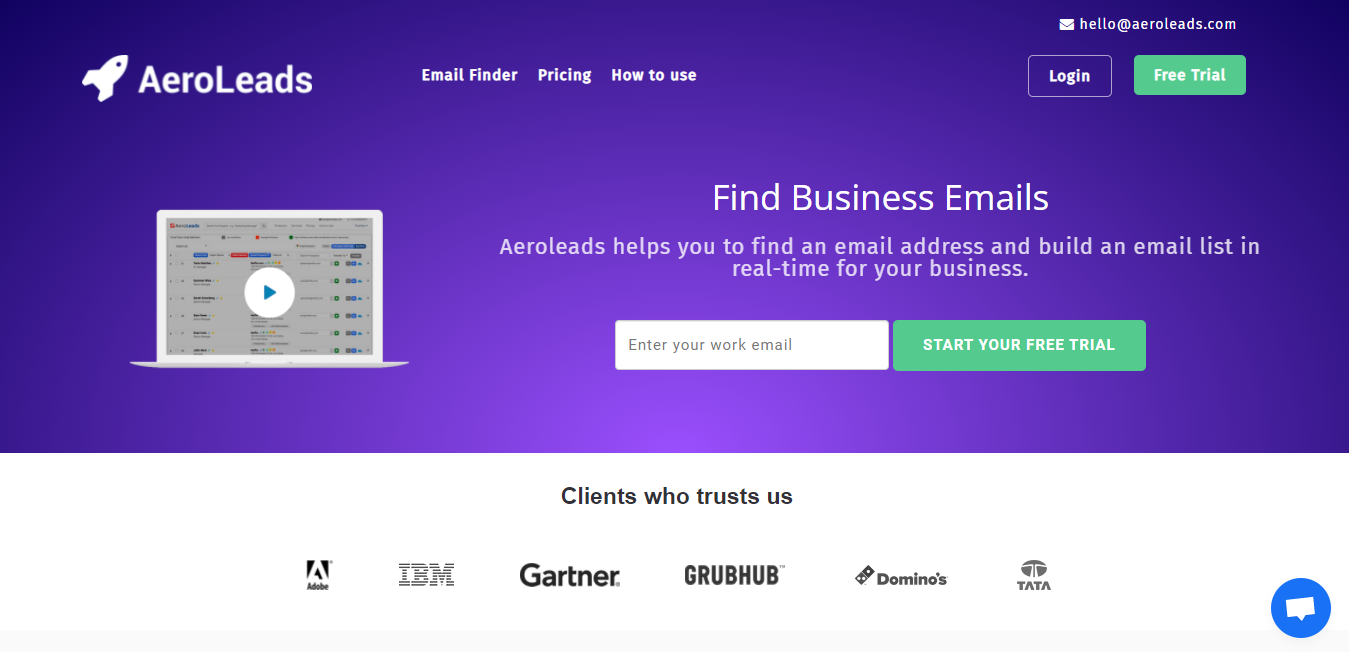 AeroLeads is a prospect generation software used to find phone numbers and correct emails of individuals and whole businesses on popular platforms like LinkedIn, CrunchBase, Xing, AngelList…
AeroLeads is simple to use. All you need to do is download their free Chrome extension, go to LinkedIn and use the Chrome extension to find relevant prospects.
The tool will get to work and spit out their valid email addresses, along with 15 other data points like company name and URL, job title, phone number, location…
You can then export that data in CSV format to other CRM's and marketing software.
Pros:
Excellent customer support;
Intuitive and easy to use;
Extract phone numbers, email and a bunch of other data from LinkedIn;
Proven email templates available.
Cons:
Pricey tool;
Can't separate and organize leads in the list;
Oftentimes the tool feels a little buggy; lagging is common, and processing times can be significantly improved.
Pricing
The basic plan for one user starts at $49/mo and gives 1000 credits, where a single credit is worth one email found.
#5- Adapt.io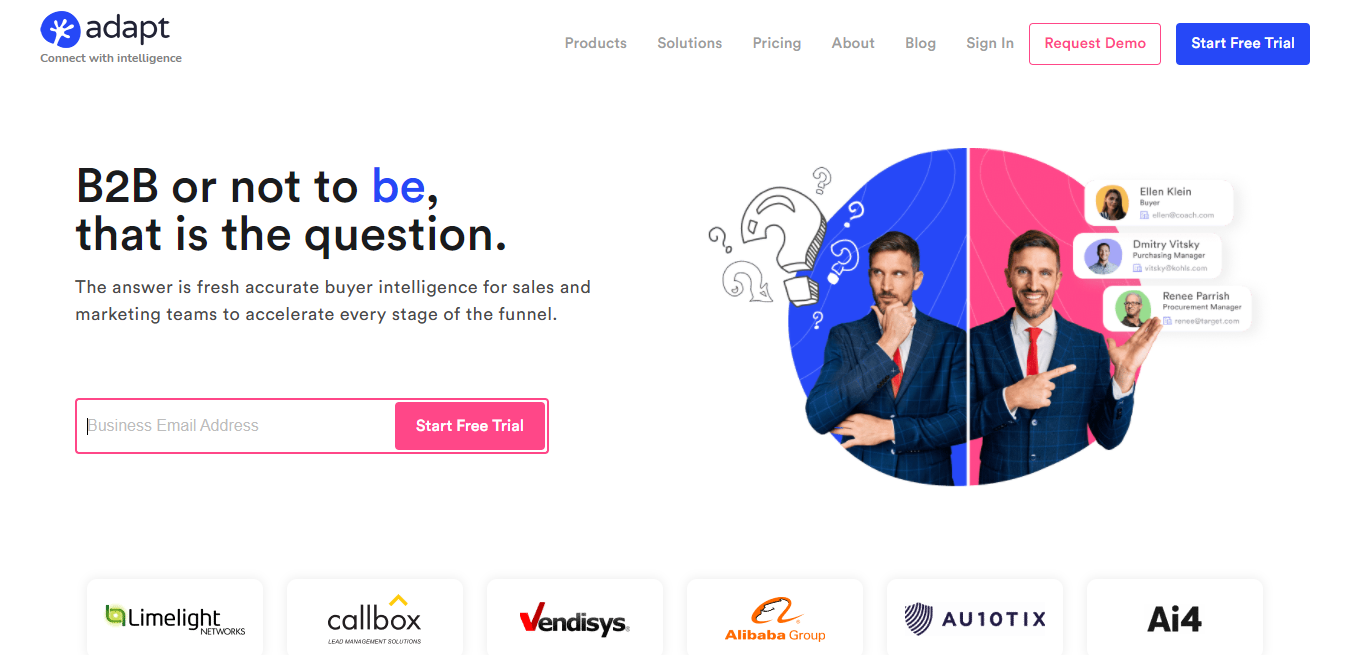 Adapt.io is a popular lead builder service with over 100 million corporation contacts and with a user base that's already 250 000+ strong and growing.
With so much data at hand, this tool gives a high-quality B2B database that can be filtered to be very granular.
Adapt.io is a very adaptive (pun intended) tool and can be integrated with all the popular CRM's as well.
Pros:
Very easy to use;
Free plan available;
Comprehensive tutorials available to learn the ins and outs of the platform;
The tool can find correct emails without you needing to connect with your prospects first;
Tracking emails for follow-up purposes feature available.
Cons:
Occasionally, the LinkedIn algorithm blocks it;
The email tracking function is not perfect and needs to be improved.
Occasionally the tool stops working and keeps rotating without scraping and delivering emails.
Pricing:
Free plan available with 100 credits per month.
Paid plans come at $49 per month with 500 emails found and $149/mo to find 2000 emails per month.
#6- Skrapp.io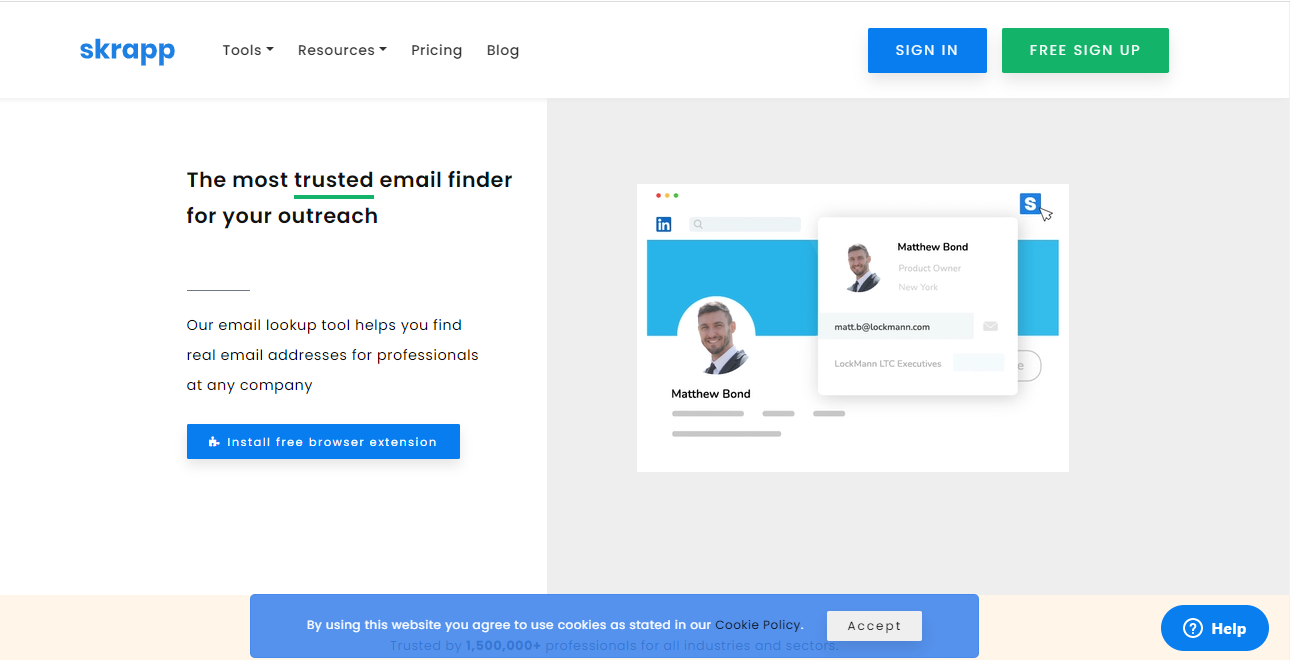 Skrapp.io is an email finder tool that finds B2B emails of people by scraping LinkedIn and other websites and social platforms.
They have a Chrome extension that integrates with your LinkedIn Sales Navigator and which you can use to find email addresses right within LinkedIn.
This extension works with both Chrome and Firefox.
Pros:
Free for 150 emails and one user per month;
Ability to search through company domain to find the email addresses of the people who work there.
When you enable the extension within the browser and visit the profile of your prospect, you can simply click on the Skrapp icon and it'll show you the email address then and there.
Cons:
Less accurate than other LinkedIn email extractors;
Bad UI/UX
Pricing: there's a free version The starter price is for premium is $49/mo for 1000 emails and two users.
#7- Emailsearch.io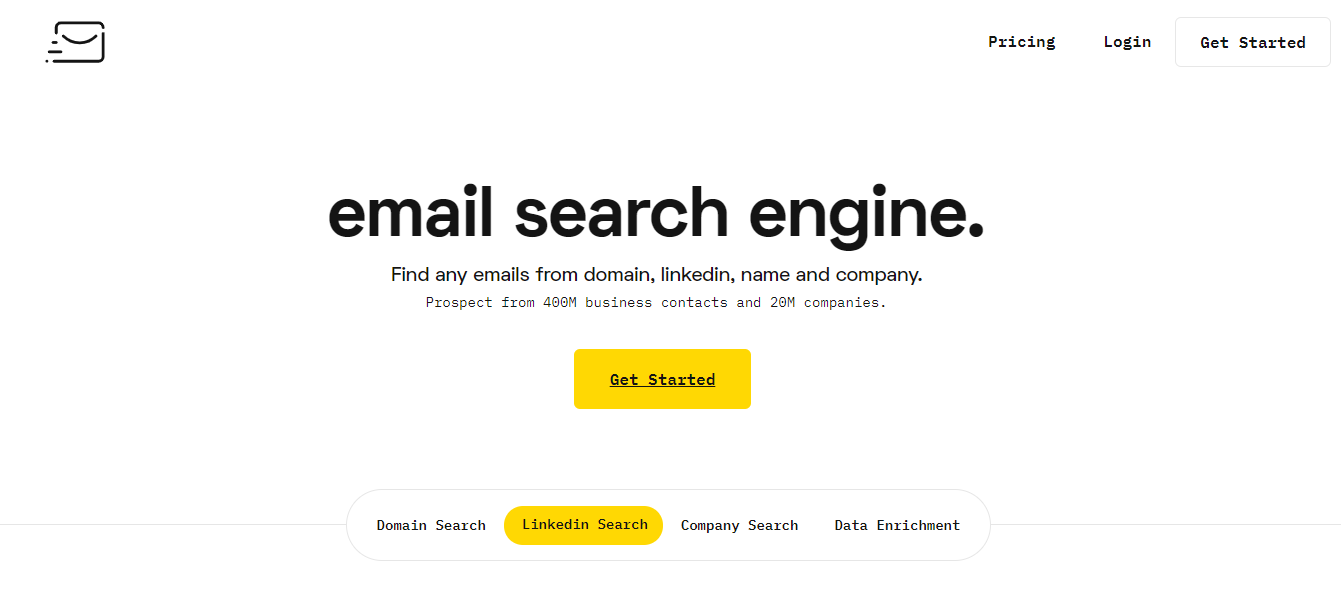 As you can see from the image above, Emailsearch.io describes itself as an email search engine.
Not only can they extract business emails from LinkedIn and other platforms, but they can also discover personal email addresses, something most other tools can't do.
With Email Search Engine you can also target your prospects with email enrichment and drip campaigns so that's a large plus for this tool.
Pros
Finds personal emails in addition to business emails;
Linkedin Sales Navigator Support available;
Affordable tool.
Cons
Monthly credits reset at the end of the month, so it's not possible to pile up unused credits for later.
Pricing
The Basic plan is $29/mo and gives you 1000 credits to spend. The other two plans are Pro $49/mo and 5000 credits; and Expert at $99/mo and 20 000 credits
Best LinkedIn Email Extractors FAQ- All Your Questions Answered!
My guide on the best LinkedIn email scrapers isn't complete without an FAQ section, do you agree?
#1-Can You Really Extract Emails From LinkedIn Profiles?
Yes, you can.
You can do it manually, which is a common blunder most amateur bloggers make.
Or you can do it with a dedicated tool.
I recommend the latter.
#2- Why Use LinkedIn Email Scrapers to Get Someone's Email?
Why do you need someone's email in the first place? Because you can't just rely on blindly following your content calendar to grow your blog.
You also need to promote your content and that's where cold email outreach comes into play.
And that's where LinkedIn email extractors figure in as they can get you a ton of emails you otherwise wouldn't have gotten access to.
You'll simply be more productive that way.
#3- Which LinkedIn Email Extractor is the Best One?
Any of the tools on this list is a good choice, but Voila Norbert is the most accurate tool (as proven by Ahrefs) with the best interface and ease of use.
#4- Does LinkedIn Sell Email Addresses?
No, they do not.
However, there are ways for your email address to inadvertently be shared with others.
Conclusion
Scraping valid B2B emails off LinkedIn is a worthwhile practice that will give you a ton of new business opportunities and people to pitch to.
The key is using a tool that will deliver the most accurate results, and doing it affordably.
And even though this post listed 7 best LinkedIn email extractor tools and services, we here at Voila Nobert are thoroughly convinced our tool is the best one.
Feel free to try us out with a free trial.
No credit card is required.
Author bio:
Nikola Roza is a freelance writer who, when not writing for clients, uses SEO to rank his affiliate site on Google and make affiliate commissions.
If you want to see how it's done, or if you need to hire a writer, pay his site a visit.