All cold email software fundamentally does the same things.
However, some go a little further by adding new features to suit different users' needs. These might include:
Sales engagement
Email finding
Email tracking
Link tracking
Engagement metrics
With all these variations trying to meet one goal, getting the right tool that best suits your needs is challenging.
No need to worry; we've rounded up ten of the best email software in the market today. We've checked what you're concerned about, like deliverability rate, metrics, price, and functionality.
We hope you won't have to continue searching after reading this article.
Skip to sections:
If you want to choose quickly, we recommend Voila Norbert, the most accurate email finder in the market. We're happy to give you 50 free emails to test our accuracy power. Take a free ride now using this link.
Skip to sections
Voila Norbert
Since we wrote this piece, we thought it would be nice to introduce ourselves.
Voila Norbert is the face of email prospecting.
That's not something we whisper when everyone is asleep. Ahrefs did research and found that it's the most accurate email finder in the market.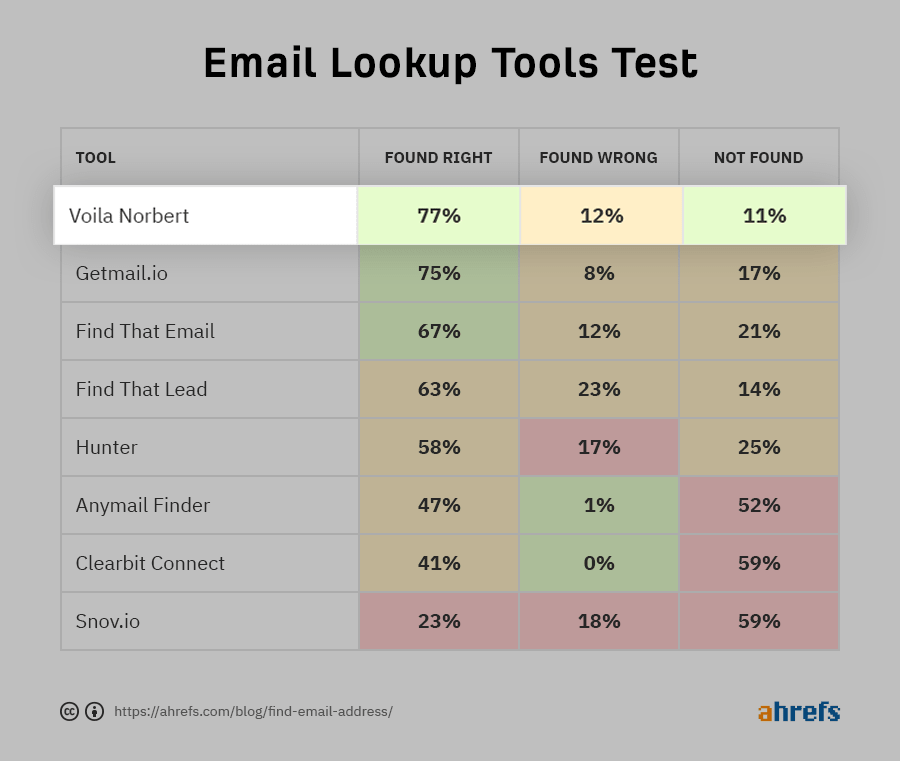 So how do we do it?
Norbert uses the standard algorithms in the industry like any other email finder. In addition, we add our *magic* and secret cloud-based algorithm to get valid emails.
Norbert also has a robust feature-arsenal that will fuel your cold email outreach.
Features and Benefits
You can use our individual or bulk email finding system by entering your prospect's names and company domain in Norbert's search box.
Our chrome extension sweetens the process as you can find prospects' emails from the website you're currently visiting on the fly.
Use our bulk email verification service to validate each email when you have a list of emails but aren't sure which one is correct.
Our bulk email enrichment service gives you more data points to build relationships. It fetches your prospect's vital information like company, location, social profile, and current job title.
We have a list of integrations that comes in handy when doing an intensive cold email campaign. These include Zapier, Mailshake, Pipedrive, and Salesforce.
Reviews
Here's what our current users say.
G2: 4.8/5
Capterra: 4.6/5
TrustRadius: 9.2/10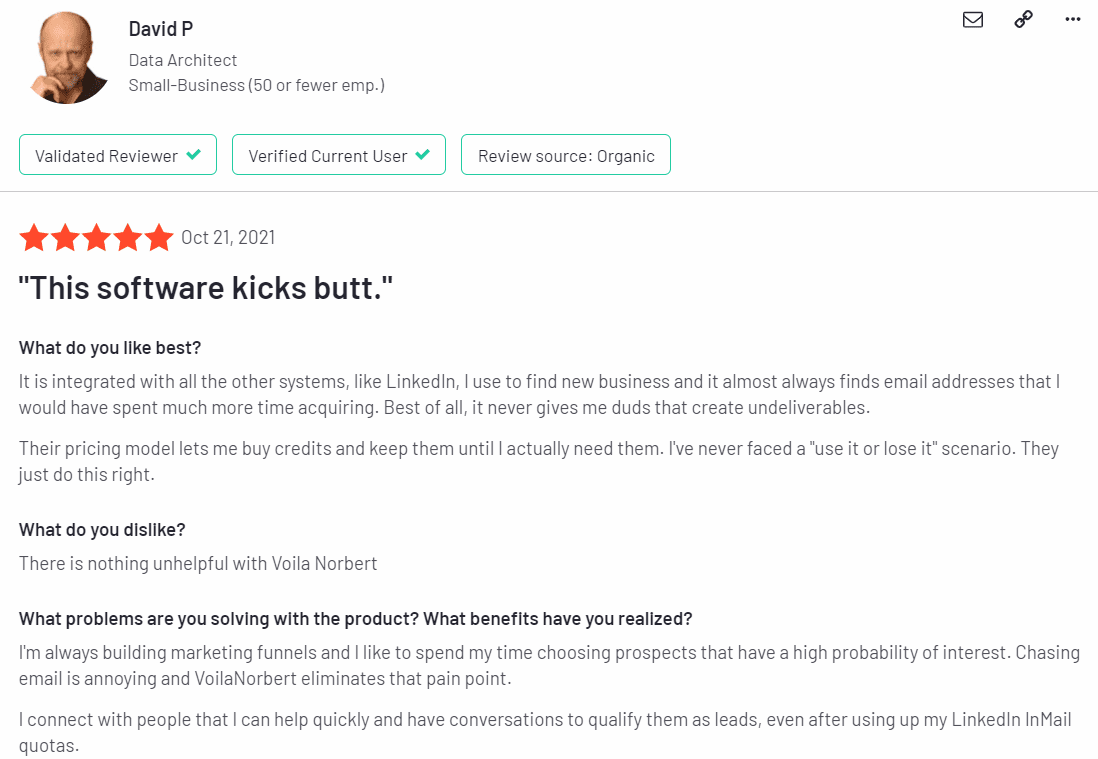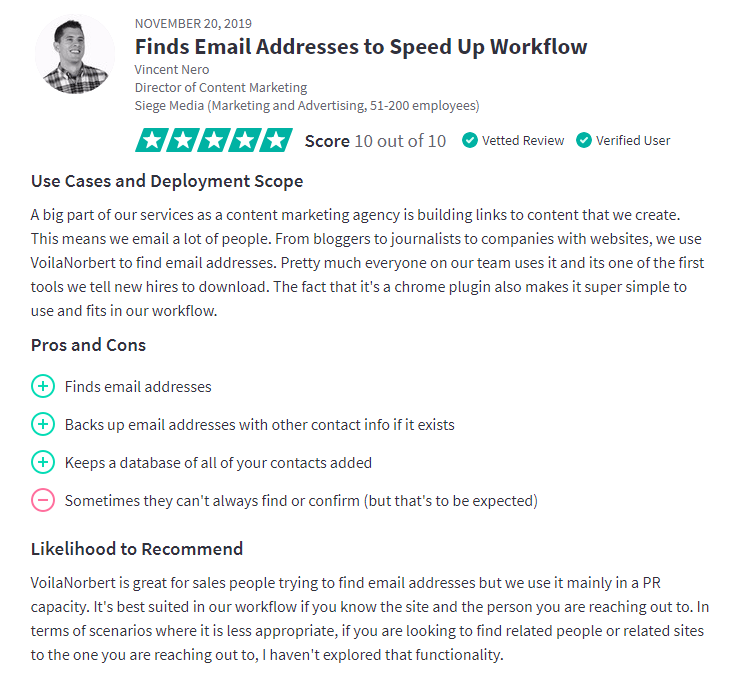 Voila Norbert Pricing
Voila Norbert comes packaged in four pricing plans.

Each plan gives you all the features you need for your cold email outreach. These include API usage, bulk email finding, and multiple team members if you're a marketing agency such as The Social Shepherd.
The price per word is affordable and more economical when upgrading to high-end plans.
For example, let's assume that after taking our free trial, you start with the Valet plan going for $49/month. This will cost you approximately $0.05/word on a deeper look.
But after using it for two months, your demand for prospecting increases, and the plan can no longer sustain your bulk work.
If you jump to a high-end package like the "counselor" plan, you will only have to pay $0.01/email for 50,000 emails. That's an 80% discount on the price per email.
Do you think Voila Norbert has got all that you need for your next cold email outreach? Try us out and get 50 free emails.
Mailshake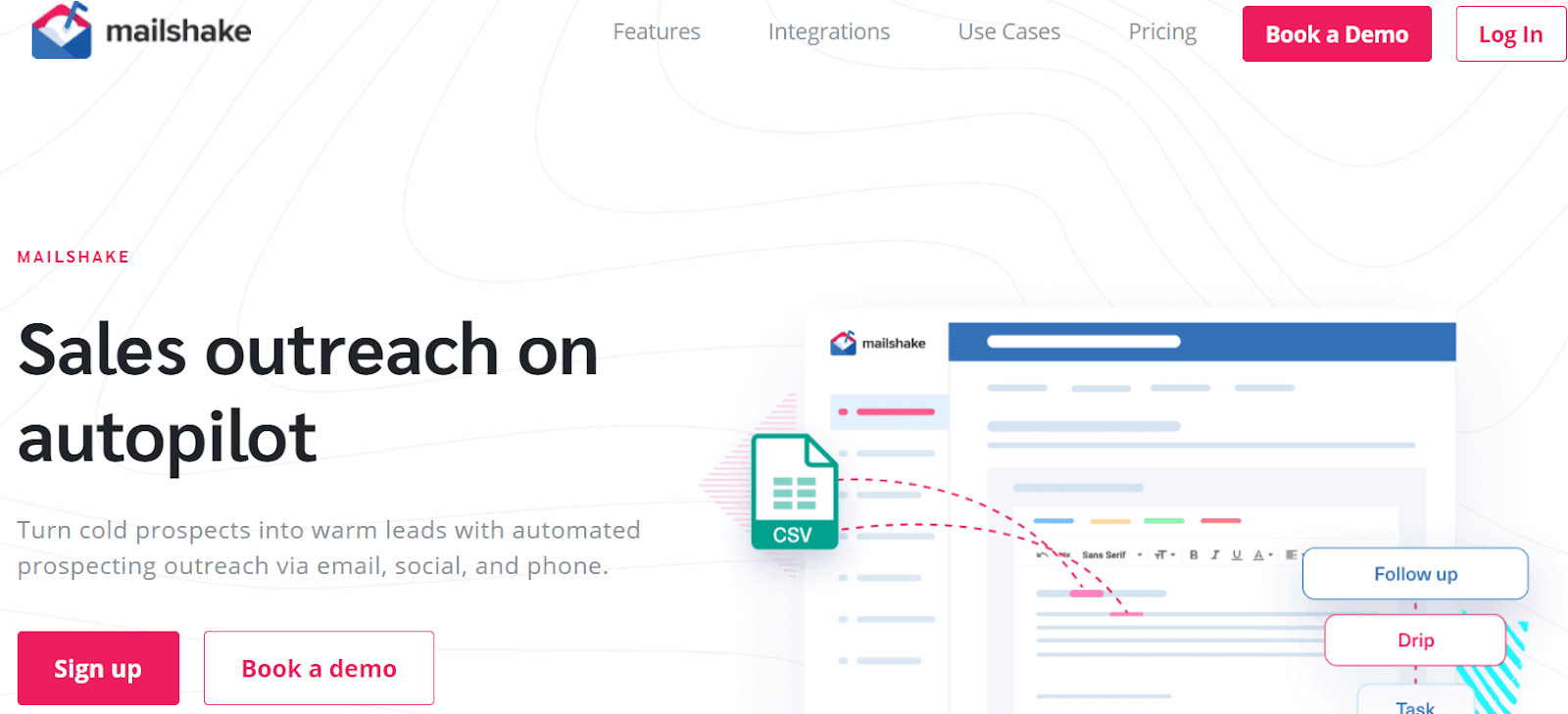 Mailshake is Voila Nobert's sister company.
It completes the puzzle on the empty spaces (if any) you'll come across in Voila Norbert.
After finding prospects' emails with Norbert, your next stage is starting your outreach.
This is where Mailshake comes in. It will automate your outreach to fill promising leads into your sales pipeline management software.
Here's an overview of the features you need to know.
Features and Benefits
Mailshake is mainly popular because of the automated email sequences. It means you can send bulk personalized cold emails with little input from your end.
The social outreach feature comes in handy when you want to reach and engage your prospects from multiple social platforms.
Most cold email outreach tools don't have a feature to test and record your cold email's performance. Mailshake's split testing feature allows you to do just this.
The built-in phone dialer seals everything together. While most marketers believe cold calling is dead, nothing is better when you integrate calling for follow-ups in your outreach.
Thanks to Mailshake's multiple integrations, you can filter responses from prospects and fill your CRM with consistent leads. The best part? You can add emails from an email finder like Voila Norbert and integrate them with other apps from Zapier.
Reviews
G2: 4.7/5
Trustraidus: 8.6:10
Capterra: 4.7/5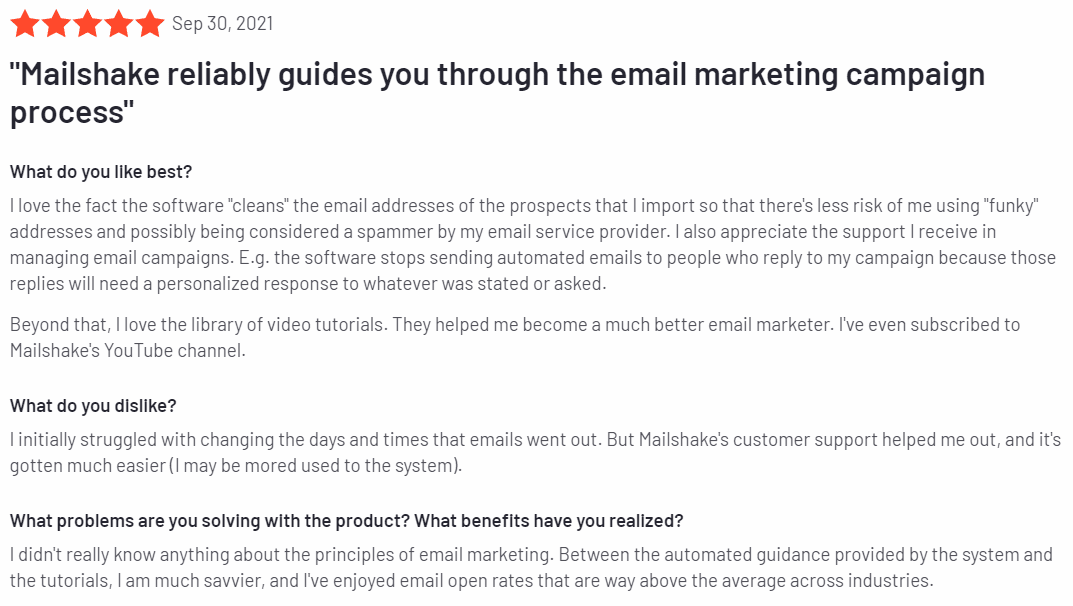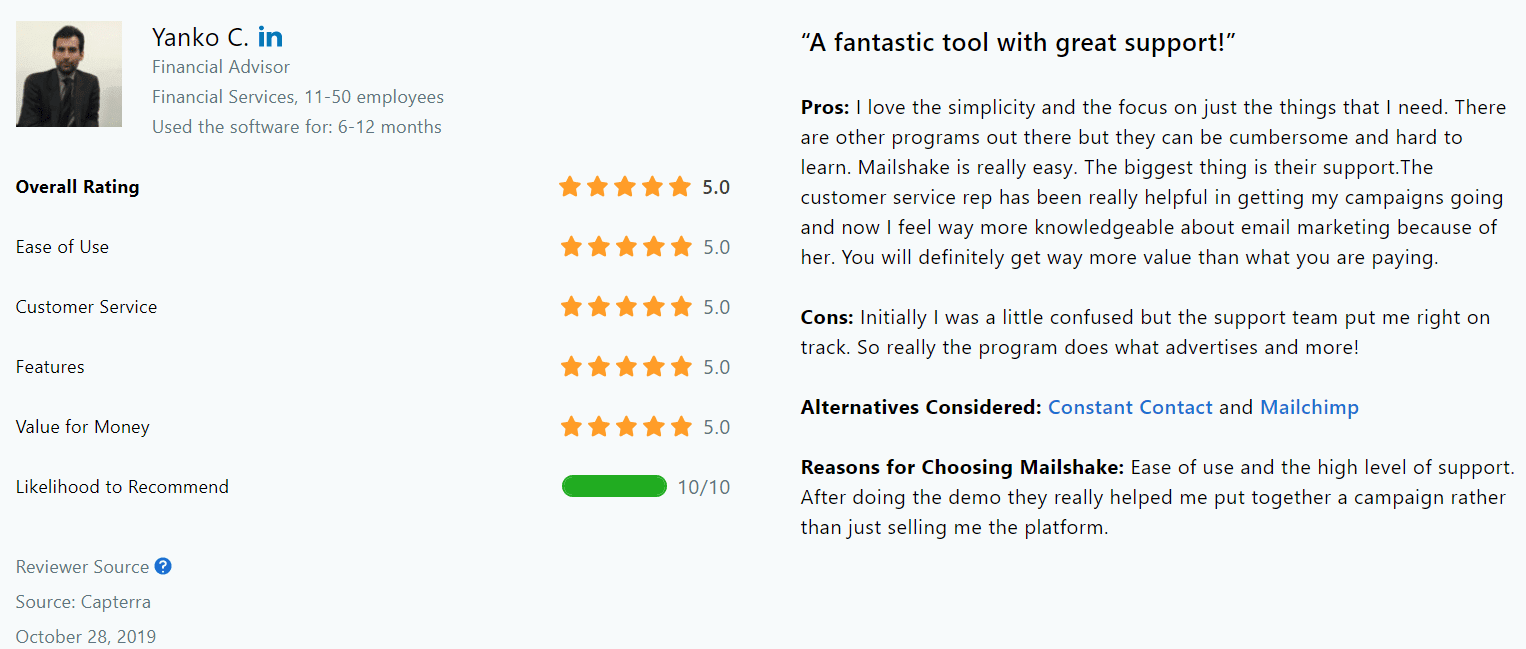 Mailshake Pricing
Mailshake gives you two pricing options to choose from.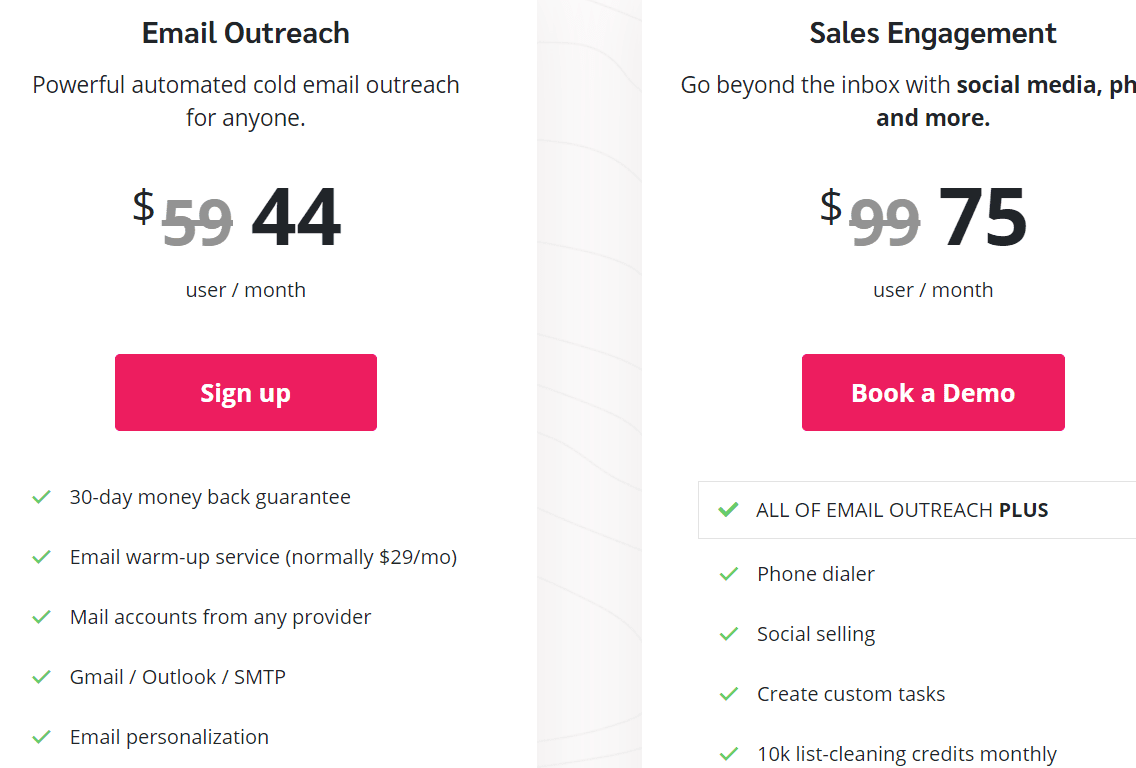 The first plan for $44/month is purely for email outreach. It includes all Mailshakes core features like email personalization, automated email sequences, and A/B testing.
The second "sales engagement" plan costs $75/month. It gives you all the features in the email outreach plan.
Additionally, you have access to premium features like phone dialer, custom task creation, and social selling.
Rightinbox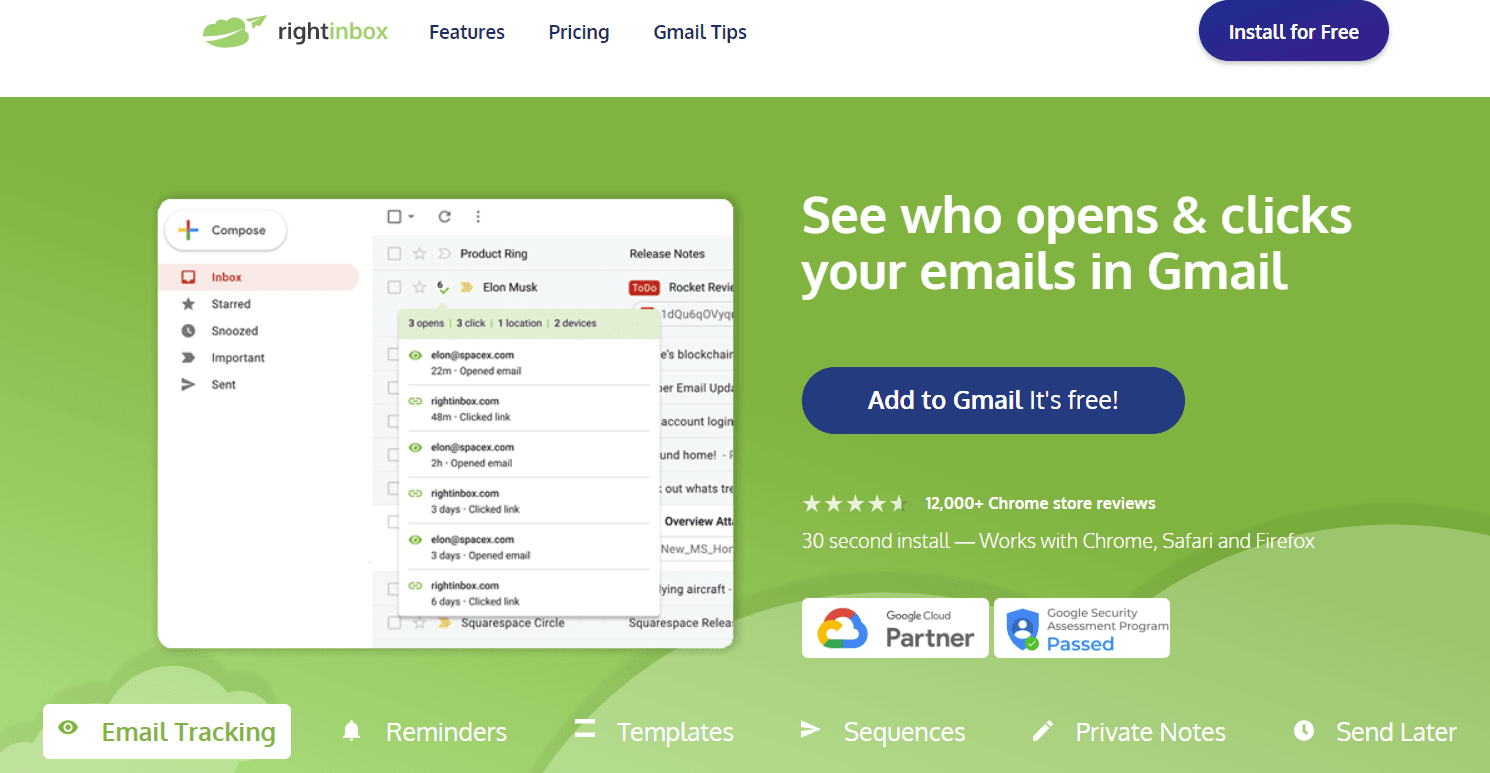 To get credible results from a cold email outreach, you need a tool that gives automation total attention.
That's what Rightinbox is built for.
It's one of the best cold outreach tools out there, with multiple automated features to ease your outreach.
Here's what it has to offer.
Features and Benefits
Email tracking is by far the best feature Rightinbox has to offer. It allows you to spy on all the emails you send to prospects. You'll know if they have opened the email, clicked on a link, or viewed your attachment.
When we talk about automation, the best feature that brings this side of Rightinbox is the email scheduler. You can set it to send your cold emails when your prospect is most likely to open it.
The automated follow-up feature works best when you don't want to spend your whole day running after leads you emailed earlier. You can create multiple follow-up templates that respond to a prospect based on an action they take.
If one email tends to be the most effective in close rates, you can turn it into a template for future emails by customizing it with one click.
It's easy to lose track of emails you need to respond to. If you are a victim of this, Rightinbox's email reminder will send you a nudge to avoid forgetting essential emails and deadlines.
Reviews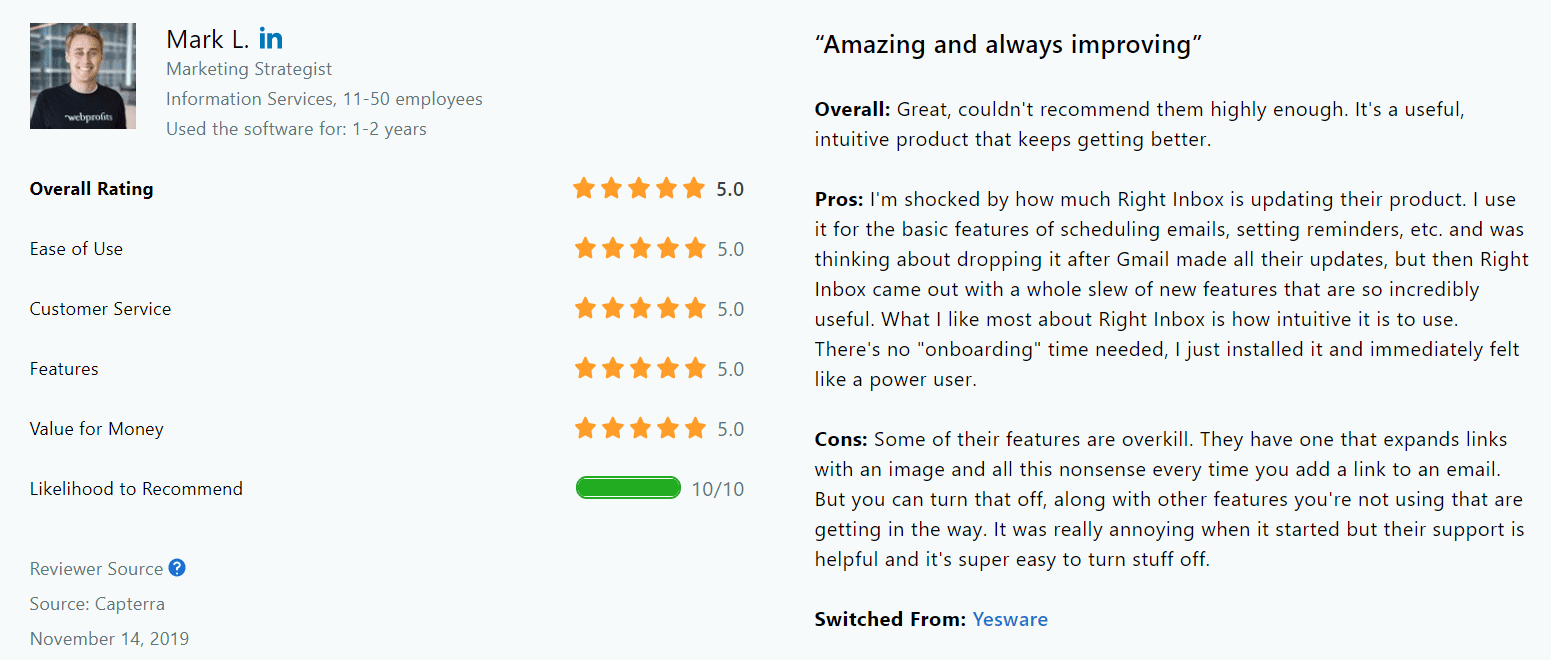 Rightinbox Pricing
Rightinbox is the most affordable cold email software in this guide. It comes in two pricing options.

You can first test it out for free before choosing a plan.
The free plan gives you enough features to successfully conduct a basic cold email outreach.
You get ten free email reminders per month, five email tracking, and ten send later per month. This is just enough for freelancers looking to fill their client base using cold emails.
If you want to go full swing, you can choose one of the paid plans and get unlimited features. The best part? You save $1 on each plan when you purchase Rightinbox with a friend.
WoodPecker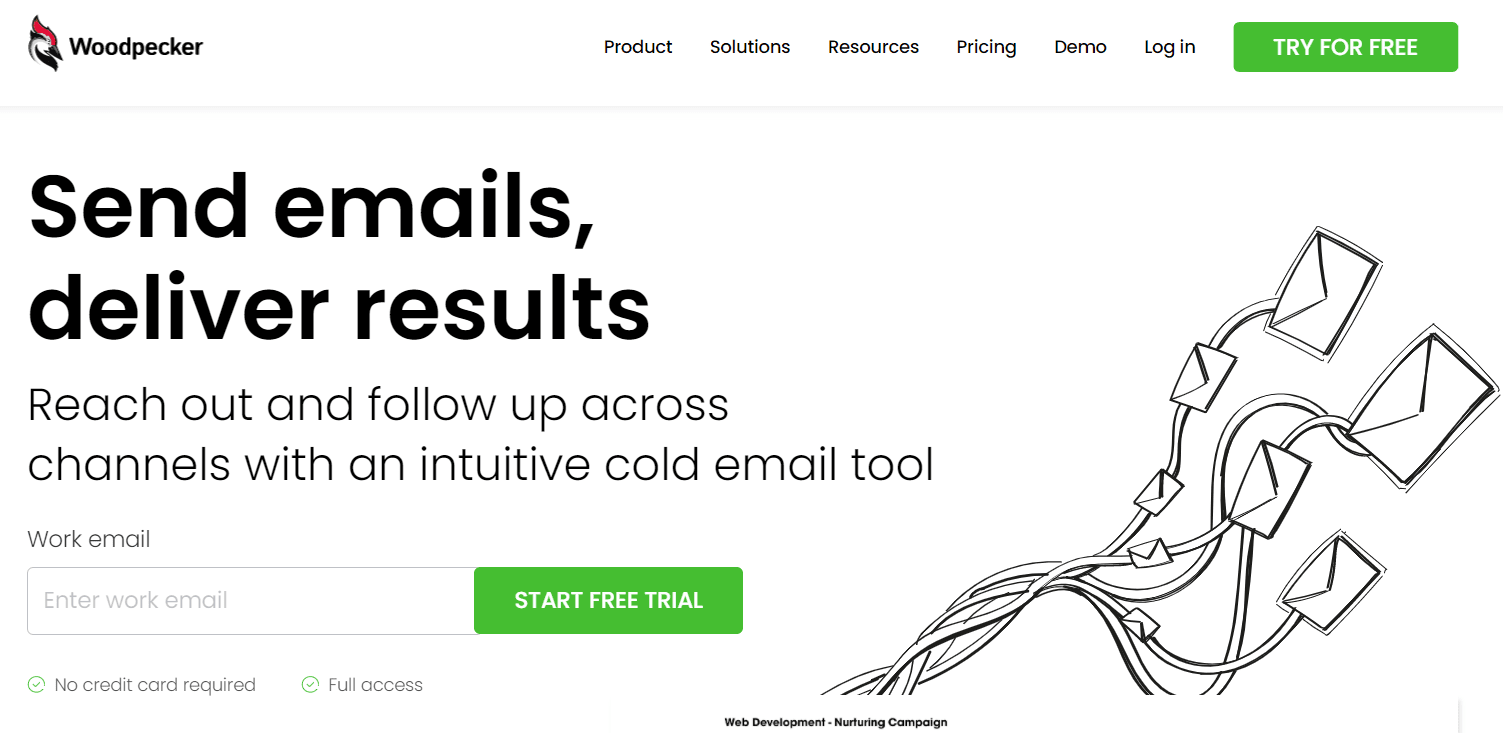 Most cold email software want to help users scale their cold outreach in a very personalized way.
As a B2B-focused company, Woodpecker is armed with the tools you need to send cold emails and follow-ups without losing your personal touch.
While doing this, the tool is fitted with top-notch security and bypassing spam filters. This helps it automatically scan emails and detect duplicates, blacklist emails, and monitor bounces.
WoodPecker Features and Benefits
The tool's email and sequence automation is a big deal, and it guarantees a high deliverability rate when doing your outreach at scale.
Woodpecker allows a multi-channel outreach, like Voila Norbert. These include LinkedIn outreaching, woodpecker calling, and email-LinkedIn-call and combined cadences.
The stats and tracking metrics help study your campaign's performance. Among other data you get include open rates, click rates, bounce rates, and reply rates.
For agencies, Woodpecker has specialized features like dashboards for client companies, advanced safety settings, and different prospect bases for full data safety.
Reviews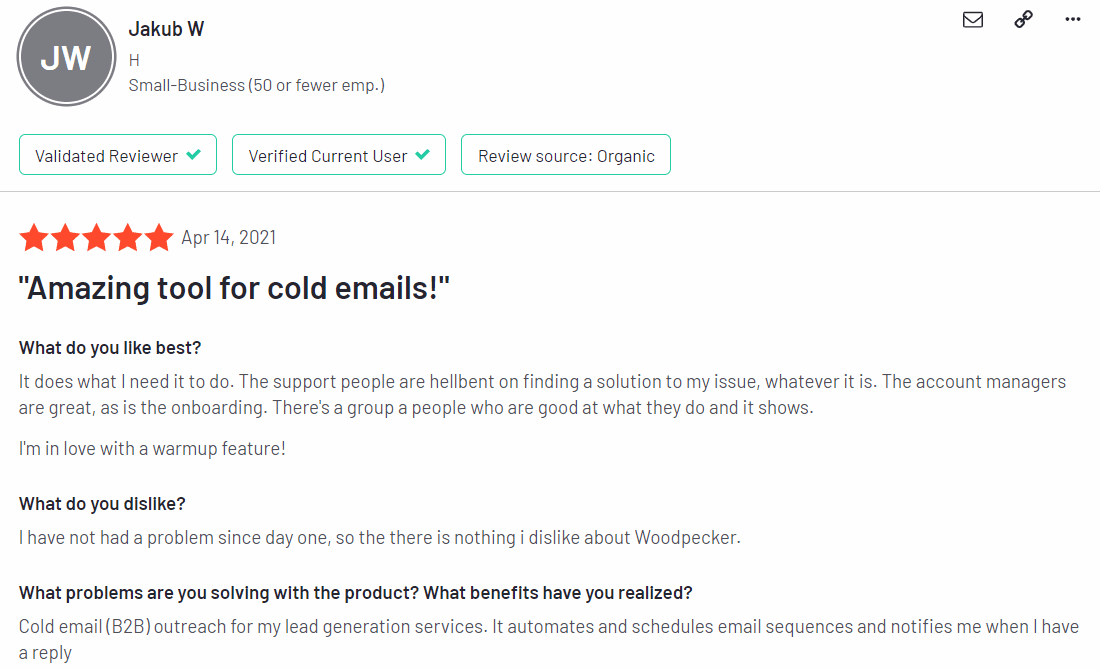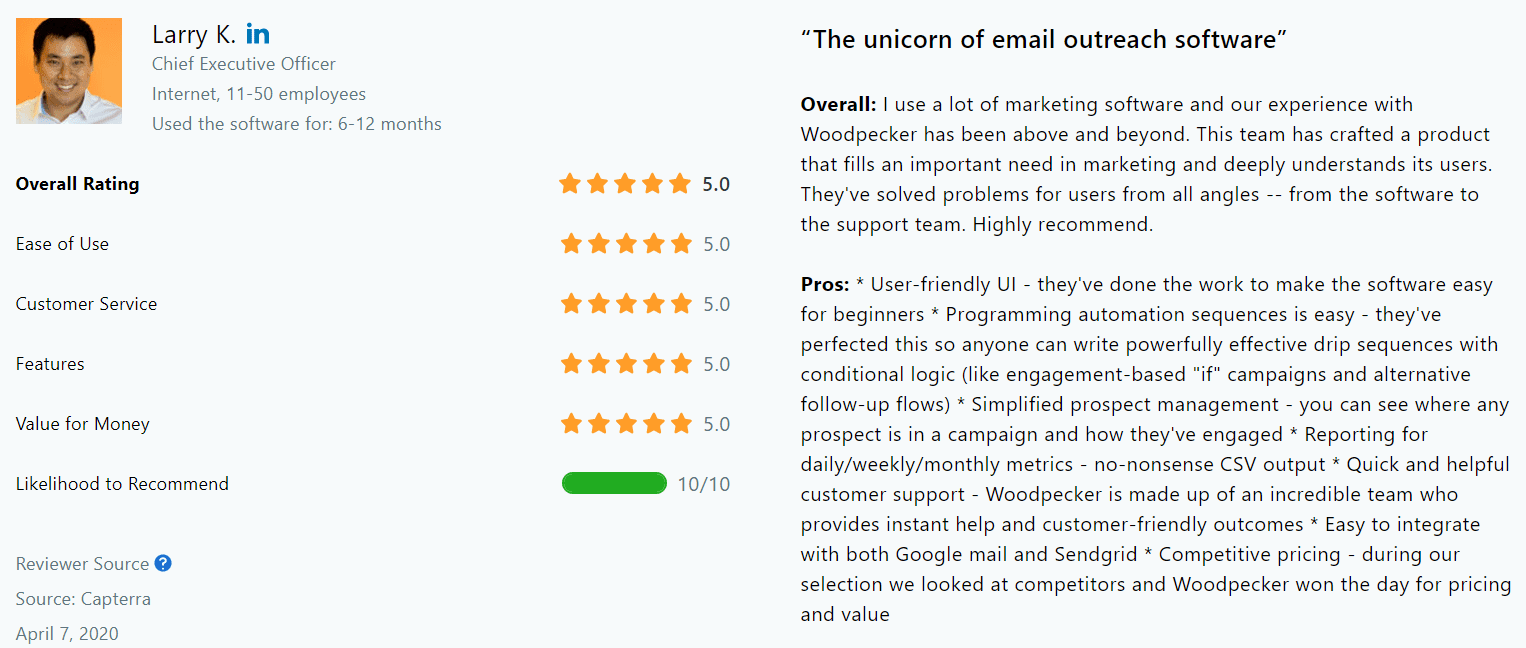 WoodPecker Pricing
Woodpecker has a different pricing model, which lets you decide what to pay for depending on what you want.
In short, you'll pay for the basic price per slot and for the add-on features you want to use.
For example, if you want to contact 50 prospects per month without add-ons like advanced campaigns and API keys and integration, you'll only pay $39/month.
Still, you get all the features we talked about above and more.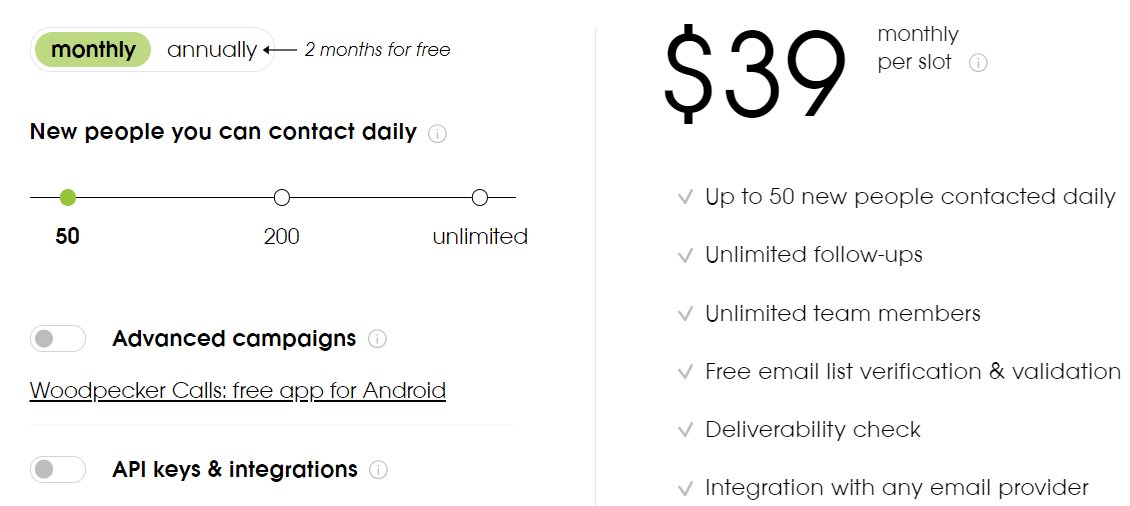 But if you want to include more add-ons, the pricing will be adjusted accordingly. On the downside, this might be pretty confusing for a beginner.
A tool like Voila Norbert has a pretty clear pricing structure detailing what you'll get for each plan. Feel free to check our pricing model.
Gmass
Gmass is a robust cold email extension that plugs in your Gmail.
There are many things that Gmass does best, but what stands out is the mail merge.
It is a popular cold email feature that lets you merge all your cold emails and send them at once without losing your personality for each prospect.
Besides, Gmass is incredibly easy to use and quick to get started with, even with the chrome extension.
Features and Benefits
The mass emails in gmails make it possible to send vast batches of messages, invoices, and more to multiple recipients at once.
With the email list builder, you can create huge email lists. All you need to do is search the emails of prospects that have interacted with your business before. Gmass will then build a list based on the IDs from your search.
Gmass has one of the most effective email personalization features. You can enter first names to your emails, add personalized paragraphs and even personalized images.
The advanced email analytics and mail merge reports come in handy when you want to get a breakdown of your cold email outreach performance.
Reviews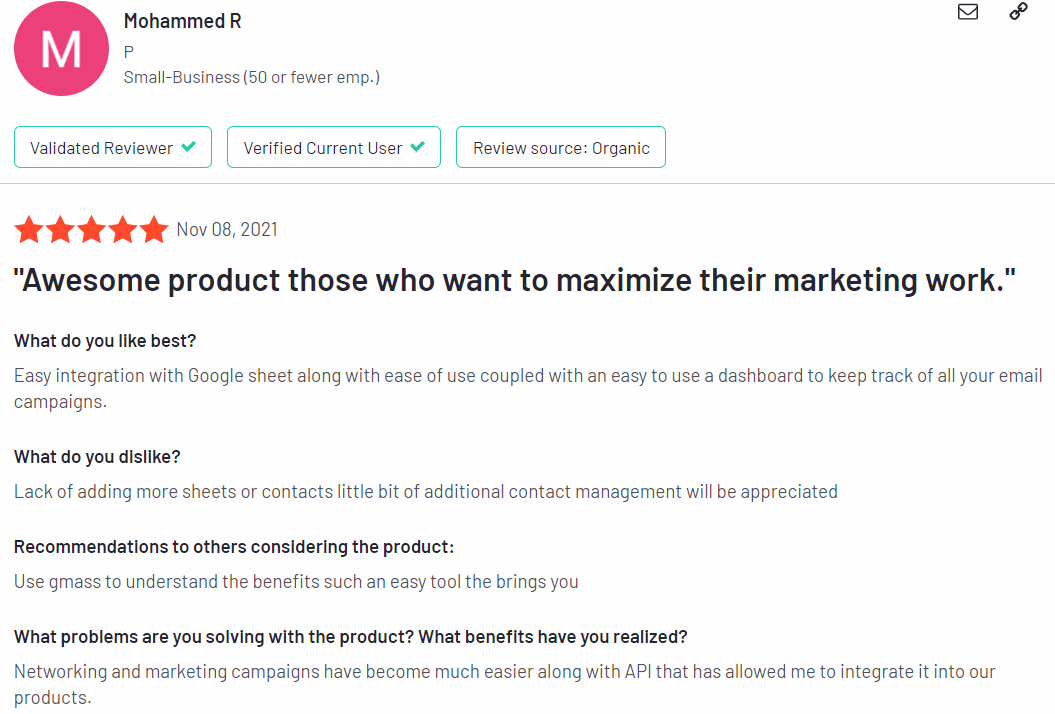 Gmass Pricing
Gmass gives you three pricing options to choose from.

The standard plan gives you a few tools for basic outreach like mail merge and personalization.
The premium plan goes a notch higher and gives you all the features. It only lacks the high-priority support, which is available on the enterprise plan costing $49/month.
We still don't get why the enterprise plan costs $20 more, yet you only get one more feature added from the preceding plan.
Hunter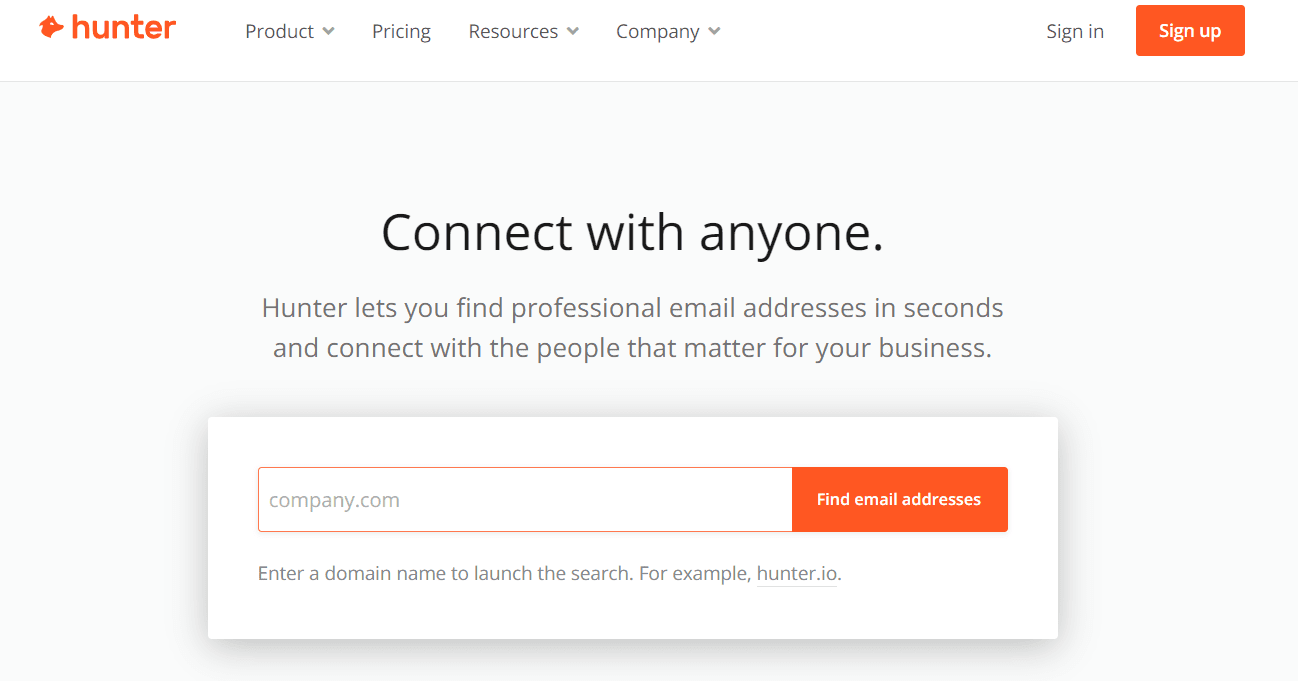 Hunter is the most popular email finder tool. You'll use it in your early stages of cold outreach to find your prospects' emails.
It works by crawling the internet to find the emails of people. It then stores the data on its database for use when you'll need them.
To use the tool, you need your prospect's name and company domain. It will then do the necessary to get their emails.
Features and Benefits
All the emails you find via Hunter are verified to tell you how accurate they are. Nevertheless, it still comes in handy when you have a vast list of prospect emails that you want to confirm if they work.
According to Hunter, their most powerful tool is the domain finder. You use it to find all the email addresses in a company using its domain address. This is helpful if you don't know who to contact in a company.
Hunter provides all users with accurate email templates that give you inspiration from the best-performing cold emails. The templates cut across sales, SEO, recruitment, networking, and marketing.
The chrome extension gives you all the functionalities you need to use on the fly without visiting the web app.
Reviews
G2: 4.3/5
Capterra: 4.6/5
Software Advice: 4.7/5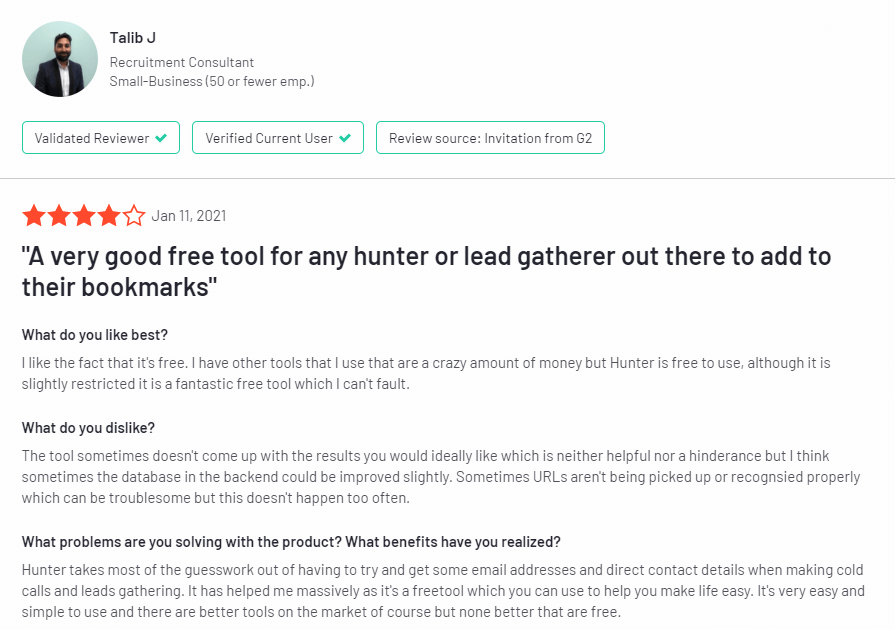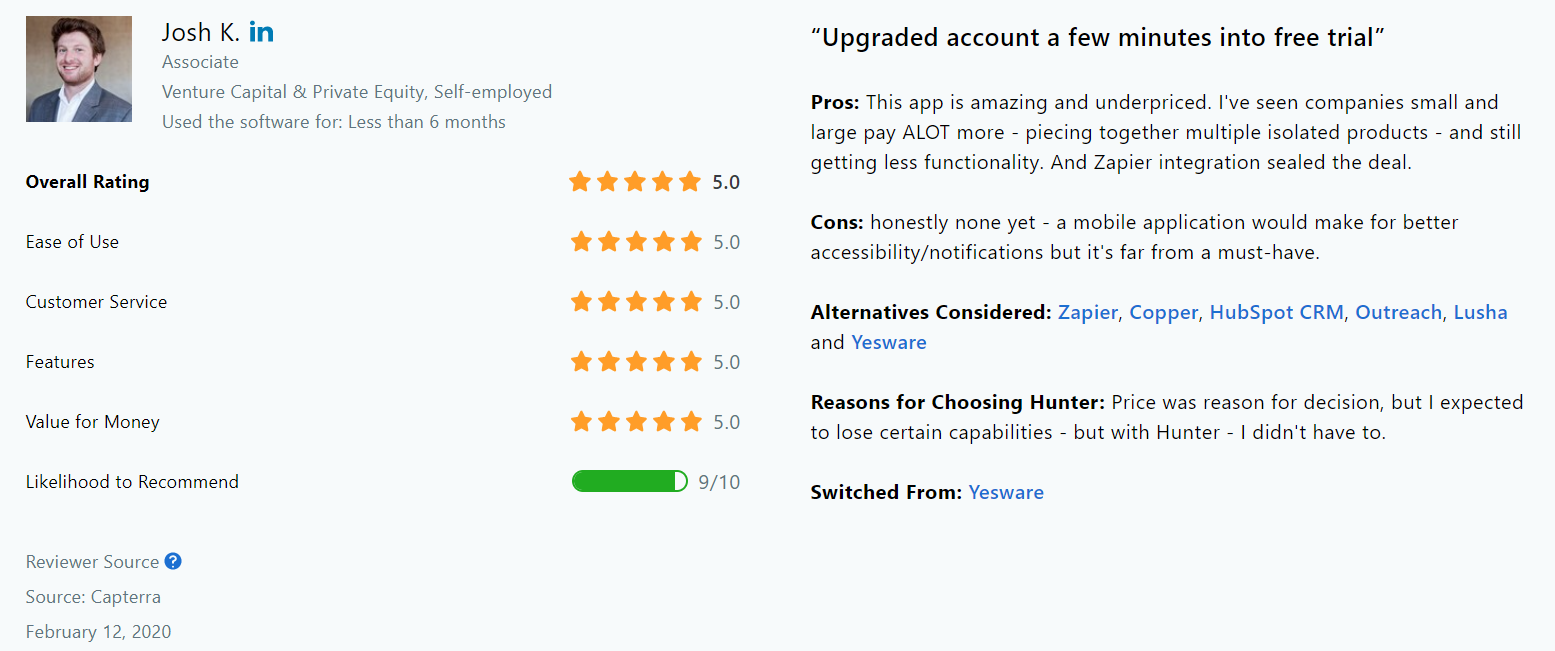 Hunter Pricing
Hunter has tiered pricing plans spanning five options.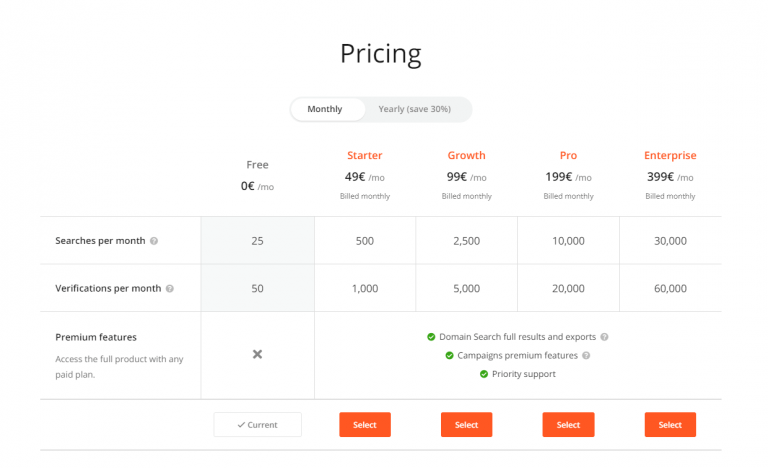 As you can see, Hunter's pricing is quite expensive. For 49 pounds, you only get 500 emails and 1000 verifications every month.
The high-end plans are likewise.
The pricing is far different from Voila Norbert, which gives you double the emails for the same price.
Check out our ultimate pricing breakdown for the two tools in this guide.
Yesware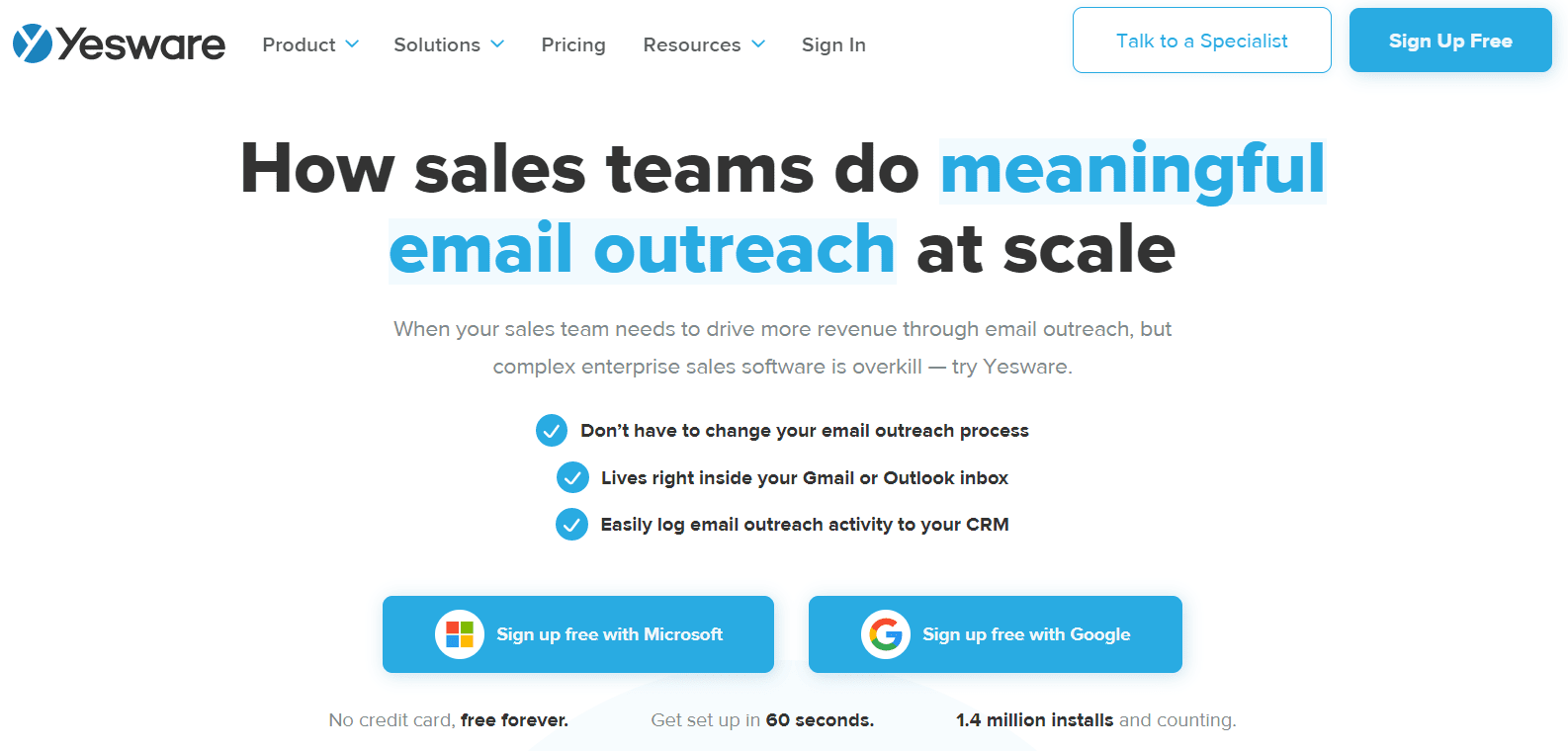 Yesware does the same function as Rightinbox.
The only difference is that it works with Gmail and Outlook while Rightinbox is compatible with Gmail only. It also has additional features that give it an edge.
One of these is the meeting scheduler.
The feature is similar to calendly. You send a link to your prospects and let them pick a reasonable time you can meet. This avoids the back and forth in email which can be a big time-waster.
Features and Benefits
Yesware's email tracking feature notifies you when your recipient reads your email, clicks on links, and views your attachments. It then sends you results in real-time.
The multi-channel outreach makes it easy to personalize your cold email outreach. It gives you more communication channels like phone call reminders and LinkedIn Inmails.
Yesware has a huge list of integrations that saves you time in your daily workflow.
Yesware has a powerful follow-up reminder that automatically sends emails based on an action your prospect takes.
Reviews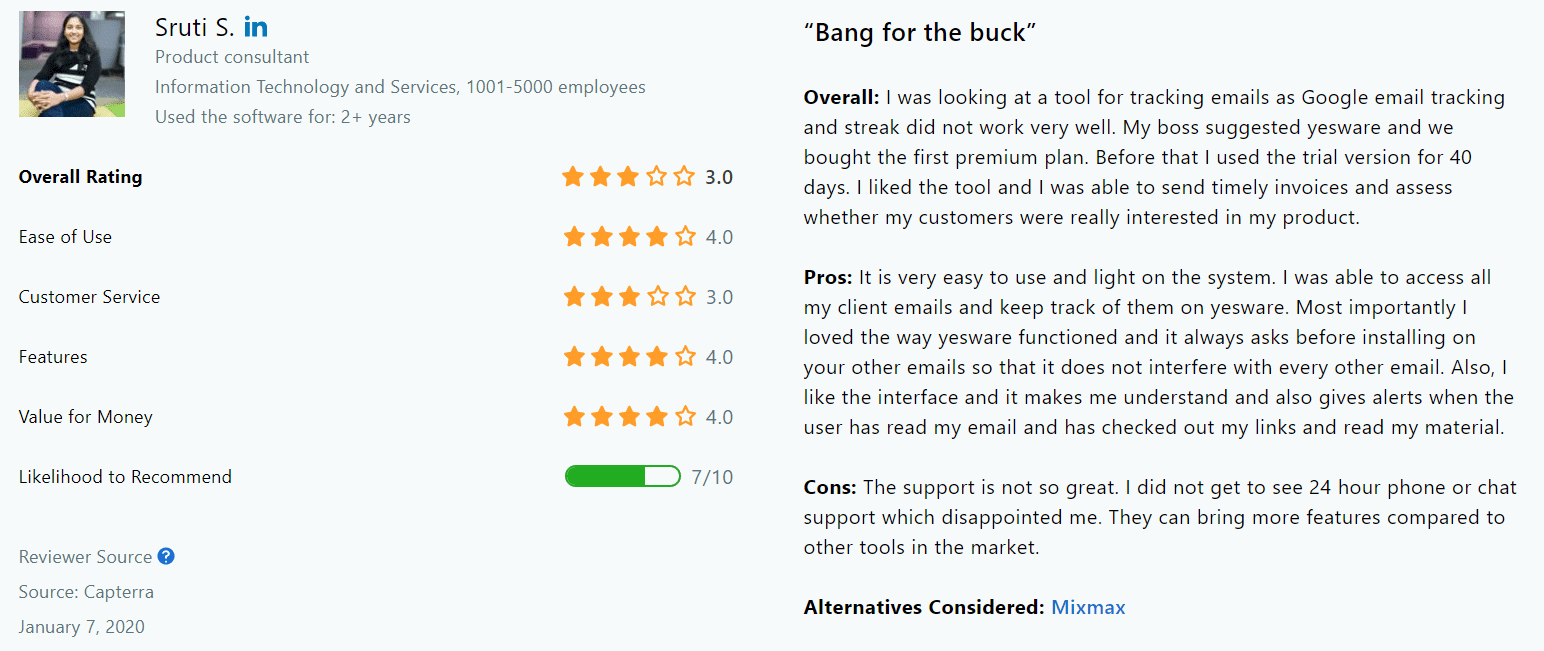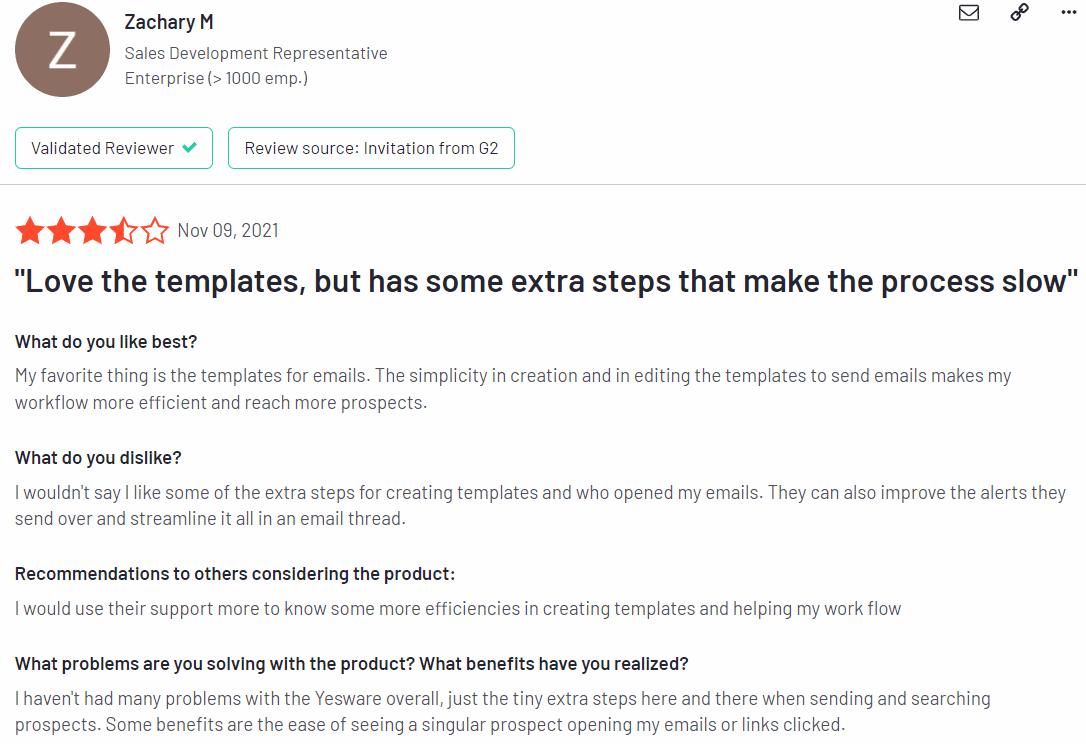 Yesware Pricing

Yesware's pricing starts at $15/month, then $45/month, and finally $85/month.
Compared to other cold email software in the email outreach category, its pricing is too expensive.
Let's take Rightinbox, for example. Yesware's first plan is three times the price of Rightinbox's basic plan. And the "enterprise" plan is ten times more.
Sure, Yesware has a few more features under its sleeves to justify the price. Talk about personal reporting and colleague reporting. But from an economic view, it's pretty costly.
Mailrush.io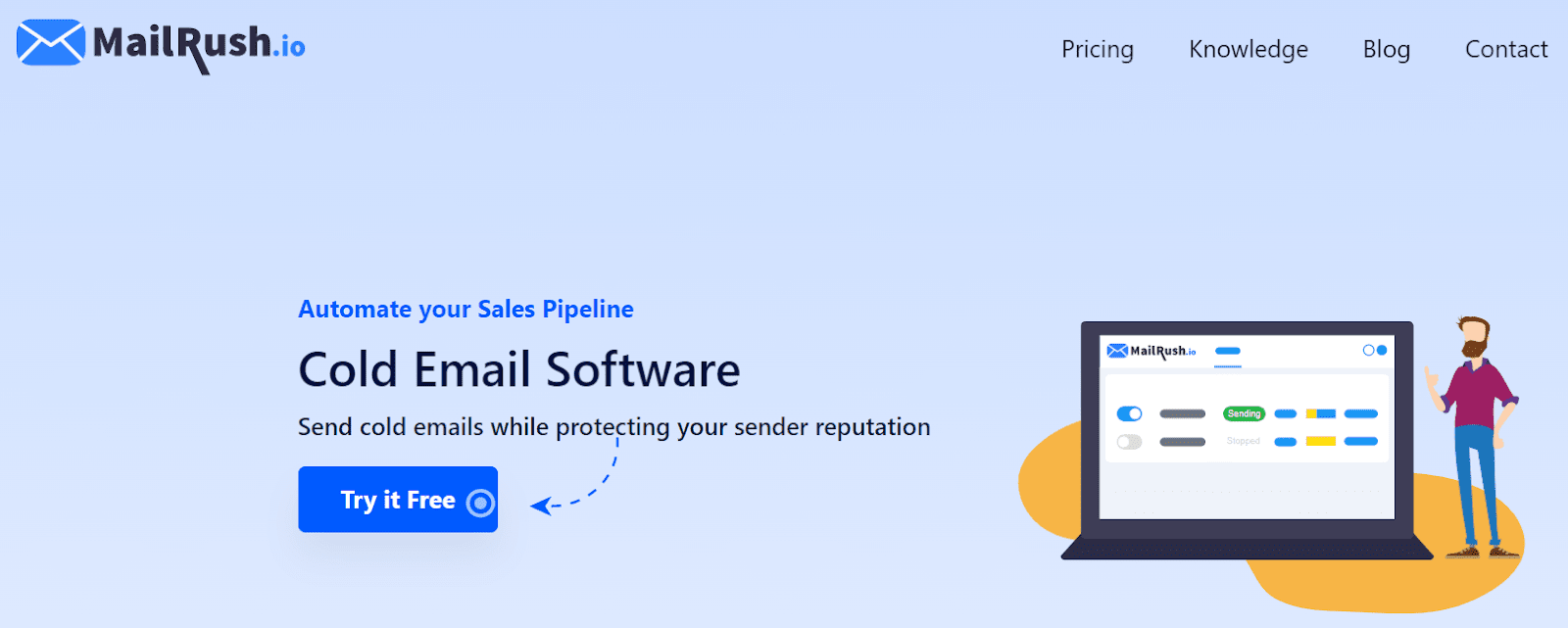 Mailrush is a B2B cold email software with the goal of helping businesses in customer acquisition.
Like any other cold email software, the tool is focused on automation. This way, you can send many emails at once without losing personalization for each prospect.
So why is Mailsrush such a big hit in the B2B space?
It offers all the features in one package. For example, you can use it for prospecting, email validation while still automating your B2B cold email campaigns on the fly.
Features and Benefits
Mailrush.io has a customizable email template builder that lets you leverage your most performing email. You can customize it for each prospect and still record a significant close rate.
Perhaps the most sought-after feature is email warming. As the name hints, it ensures your emails don't land in your prospects' spam folder, hence improving your deliverability rate.
As mentioned earlier, Mailrush can find prospects and validate your existing list of prospects' emails. This is possible because the tool integrates with LinkedIn sales navigator, which effectively finds promising profiles for lead generation.
You can create drip sequences for your email marketing campaigns and cold email follow-ups with a drag and drop tool in a few minutes.
Reviews
G2: 5/5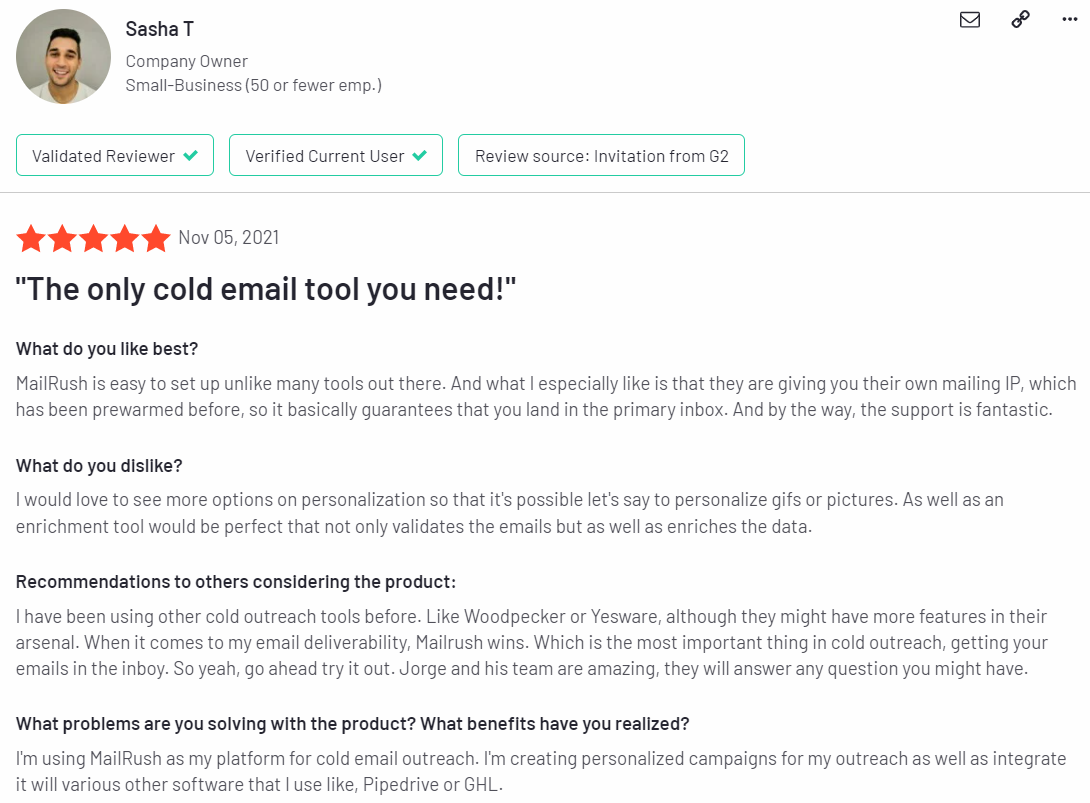 Mailrush Pricing
Mailrush offers a free trial that goes for 14 days for all plans.
Once done, you can choose either of the three options as follows.

Reply.io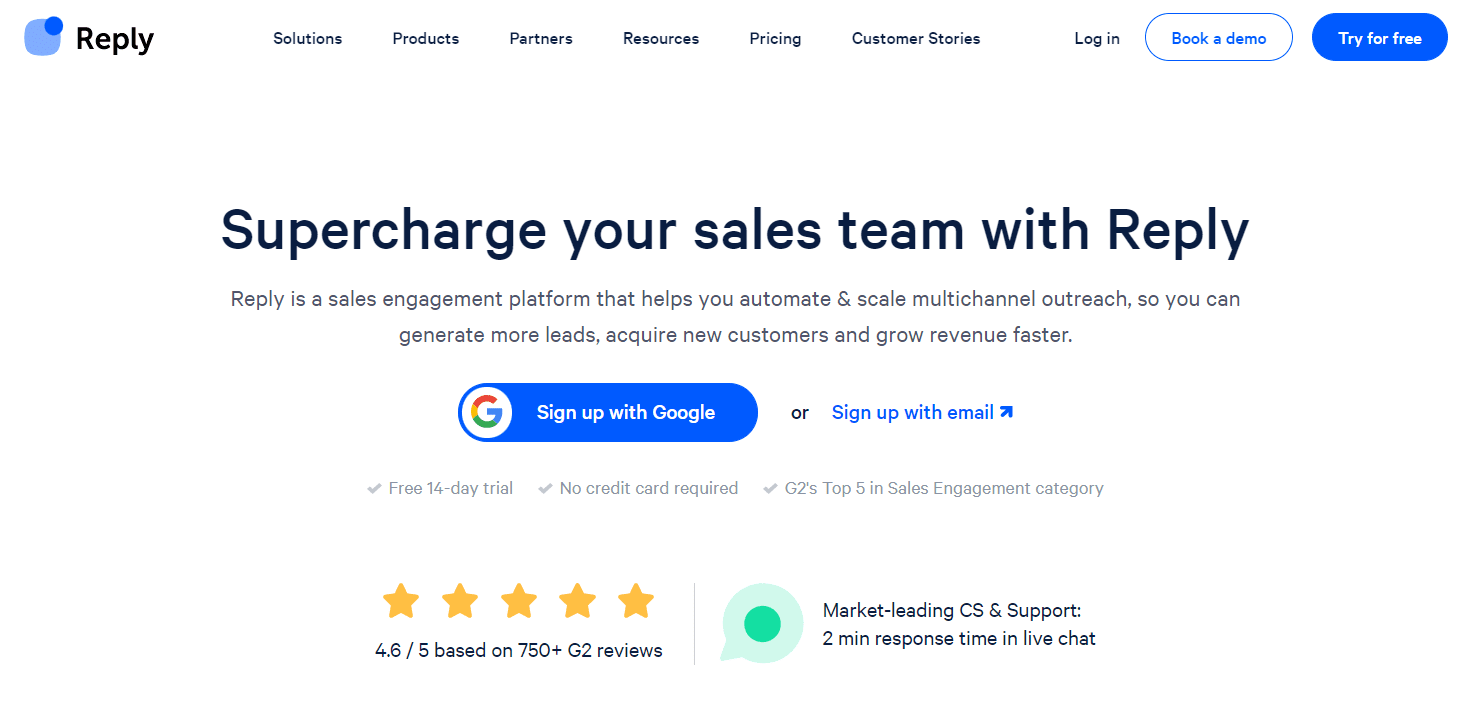 Reply is a sales engagement software that doubles up as cold email software.
As a full-suite tool, you can use it for email search, cold email automation, and LinkedIn outreach.
Most importantly, it still gives you just enough integrations if you think something is missing in your workflow.
Features and Benefits
With Reply's chrome extension, you can find verified emails on LinkedIn and sales navigator. Once you're done, you can send the prospects directly to your outreach sequence.
Reply's unique feature is the multi-channel platform. This means you can contact prospects using multiple channels like LinkedIn, email, SMS, and even following up with calls.
The tool has also invested in a sophisticated AI to streamline your email outreach. The AI analyzes your email body and gives it a quality score. It comes in handy as you'll have a snapshot of how your emails might perform even before starting your cold outreach.
You can track and analyze your progress using Reply's data and metrics. Additionally, the A/B testing platform allows you to test your messages.
Reviews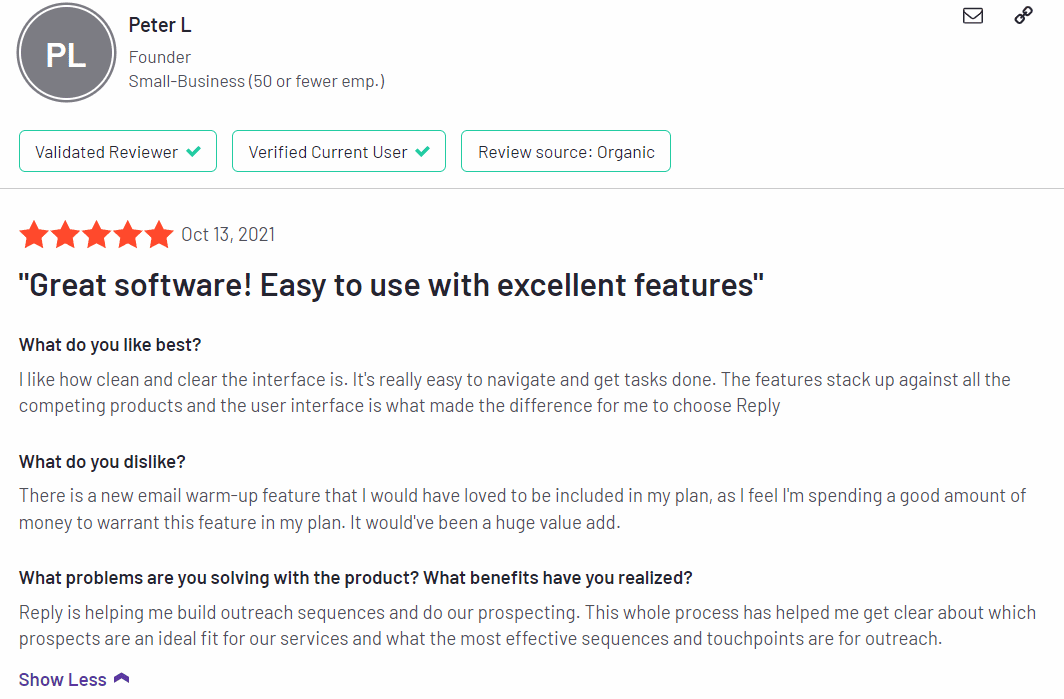 Reply Pricing

As you can see, reply is an expensive cold email software.
Its pricing is also different. You'll pay more if you have a small team, but less if you have a huge team.
For instance, the first plan for $70/month allows only three users while the final plan costing $50 allows ten users and more.
It's not clear why they have taken this model. But most importantly, all plans give you unlimited contacts, which might be the reason for the expensive pricing.
SalesLoft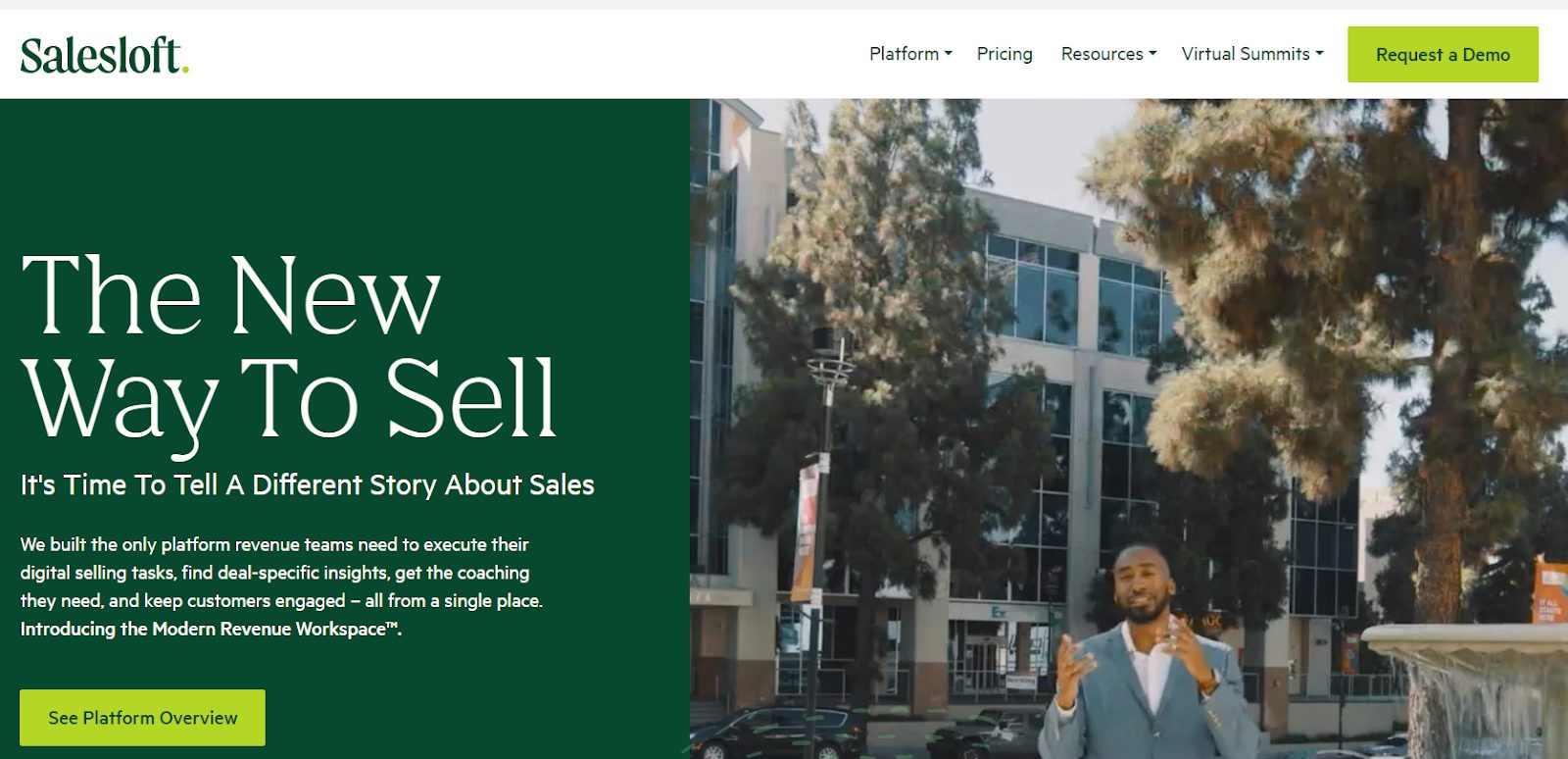 Salesloft is a sales engagement platform that has focused on large teams.
For this reason, it is best suited for large sales teams looking to get leads through cold emails.
Typically, what it does is to help sales teams wade through overwhelming data, confusing admin work, and tools with many promises which they don't meet.
With its modern "workspace," you get all you need to pull up successful cold email campaigns from one platform.
Features and Benefits
Salesloft has some pretty unique names for its workflow. For example, the cadence + automation enables you to do your outreach and follow-up, takings away the guesswork of pipeline generation.
The dialer + messenger feature takes away the need for a separate dialer. You can quickly make one-click sales calls and sales-texting with your prospect with the built-in features.
Conversation intelligence solution is a feature you must buy separately when using a different sales engagement platform. But SalesLoft includes it in its package.
If you want to have a deeper look at your sales process and how it's performing, you have a robust analytics and reporting feature built for the same. It gives you insights after tracking and collecting data from your outreach.
Review
SalesLoft Pricing
"No matter how big or small your revenue team is, Salesloft has a package for your needs."
That's the message displayed on Salesloft's pricing page. It kind of ushers you into its unpopular pricing model since the numbers aren't displayed.
It comes with four options. You have to request a quote to get an accurate pricing.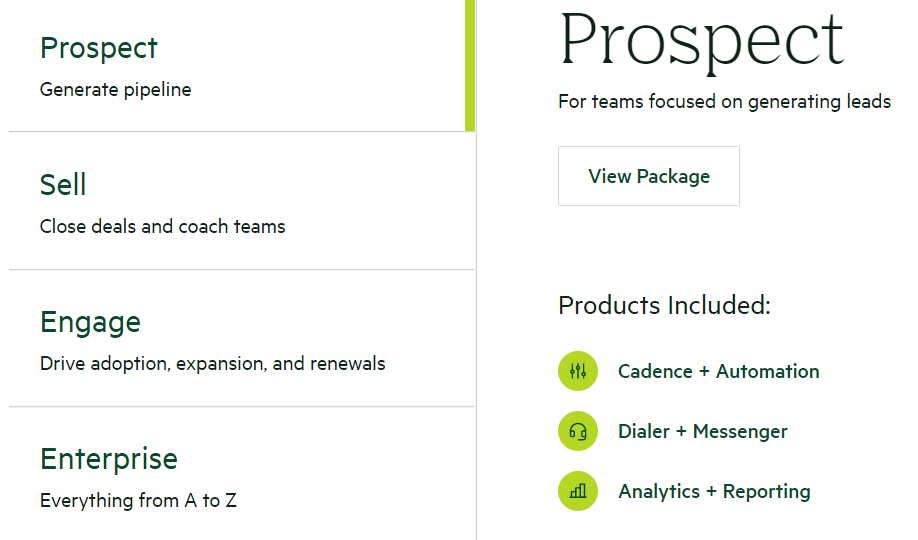 But we did our due research and found that its pricing varies from $75/ seat per month to $125/seat per month. But don't take our word for it.