Whether you are running a blog, an online store, or a B2B business, your email subscribers are critical to your content distribution strategy. Especially, since remote work has now become more prevalent than ever, they are crucial to bringing in repeat purchases. However, it is not easy to keep all your subscribers happy.
Across all industries, the average unsubscribe rate across all industries is .48%. The average unsubscribe rate might appear to be a bare minimum and even negligible to the untrained eye. However, if you do not keep the unsubscribes in check, your email subscriber base will soon erode and amount to nothing.
To augment that fact, studies have proven that It can cost 5x more to acquire new customers than to keep current ones
Now that makes us wonder: why do users unsubscribe?
The reasons why users unsubscribe is BIG!
B — Boring. The content is repetitive or boring
I — Irrelevant. Does not add value to the user in any way
G — Graceless. Not personalized to user preferences
In email marketing, most marketers follow the spray and pray approach. That is, send email bursts in bulk and hope that they work out. Sometimes to make this approach work, brands send emails too frequently. This can clutter the user's inbox and irritates them driving them to the point of unsubscription.
Once the user has decided to unsubscribe, winning them back is no easy task. If you have a presence on other social media platforms like Facebook or YouTube (which is a great income stream) you might be able to get them back, but it's not the best strategy. Instead, you'll have to run extensive re-engagement campaigns to keep them from unsubscribing.
What is a re-engagement campaign?
In simple terms, a re-engagement campaign is a focused approach to re-engaging with your users who have unsubscribed. If you send only one re-engagement email, you get only one chance to win them back. The more emails with varying messaging you try, the higher the chance of winning back your subscribers.
There are several types of re-engagement campaigns you can try. However, there are five popular ones that do most of the rounds on the internet.
The Reminder
The Offer
The Feedback
The Last Chance
The Goodbye
Basically, these emails are all win-back emails. Each one tries to convince the user that they have something to gain by engaging with it. Except for the fifth email, which is a final confirmation that the user has been successfully unsubscribed.
The Reminder
Those who get a torrent of emails might decide to unsubscribe to some emails out of frustration. Their choices may not be a conscious choice but one that is based on chance. So, sending a quick reminder before removing the user's email from the database might actually help. It will nudge the user to consider the terminal decision of unsubscribing. Here is an example of a reminder email: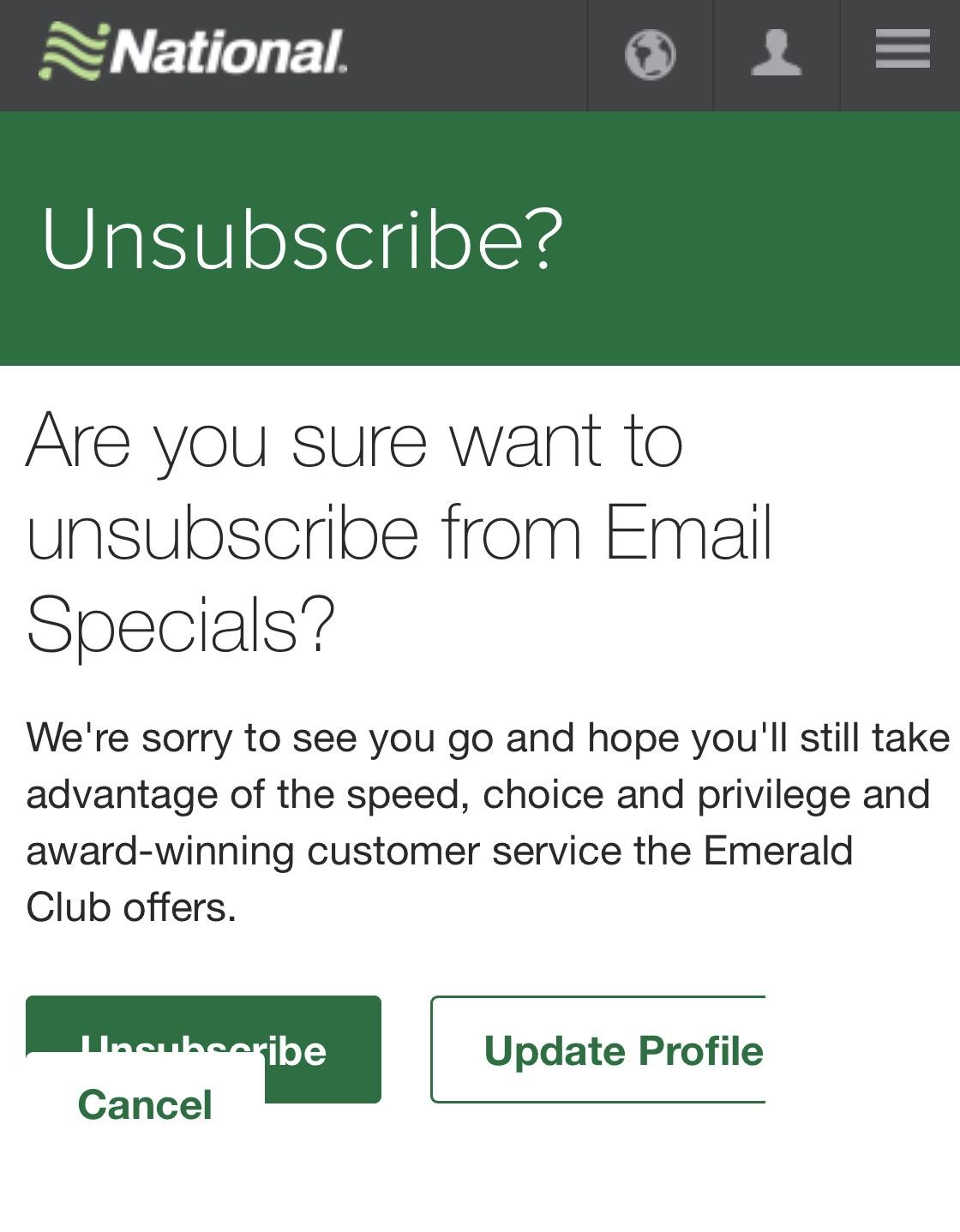 Source: reddit.com
The Offer
Sometimes a reminder is not enough. You have to showcase value to convince the user to revoke the decision to unsubscribe. That comes in the form of an offer — a discount offer, a promo code, access to exclusive content, and so on. In short, you must offer something to the user to make them stay as a subscriber.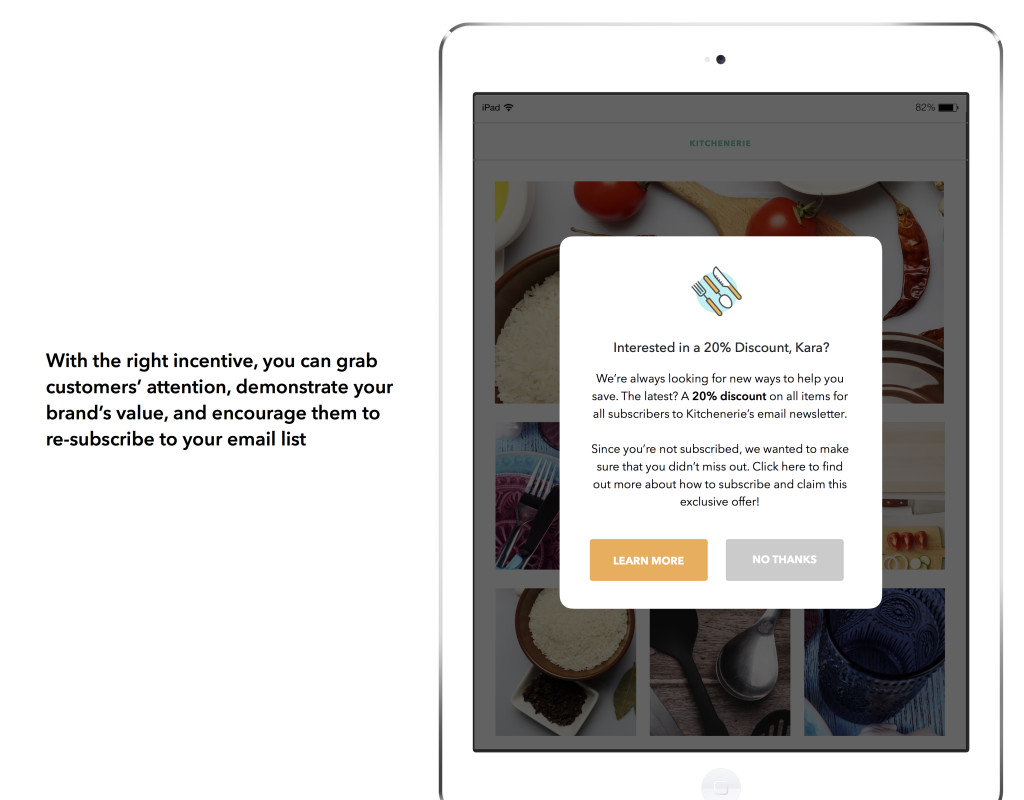 Source: braze.com
The Feedback
To quote Bill Gates, "Your most unhappy customers are your greatest source of learning." In email marketing parlance, your unsubscribers are a great source of learning. If they have taken the final decision to unsubscribe, they must have been seriously irked by something.
If the reason for their leaving can be identified, it can help prevent users from unsubscribing in the future. A feedback email can help collect the necessary feedback. They are often referred to as exit surveys. It can help collect information from disappointed users about what needs to be fixed to improve your email newsletters or marketing message.
Through feedback emails, the team at Spider Solitaire Challenge learned their users wanted to play a solitaire game of the day. Not only is it their most popular feature, but it's improved their number of returning visitors by over 20%.
Source: campaignmonitor.com
The Last Chance
One of the biggest tools in a marketer's toolkit is FOMO — the Fear Of Missing Out. Planting an idea in the user's mind that they are going to miss out on something can do the trick. You can also this last chance email to persuade the user to subscribe again.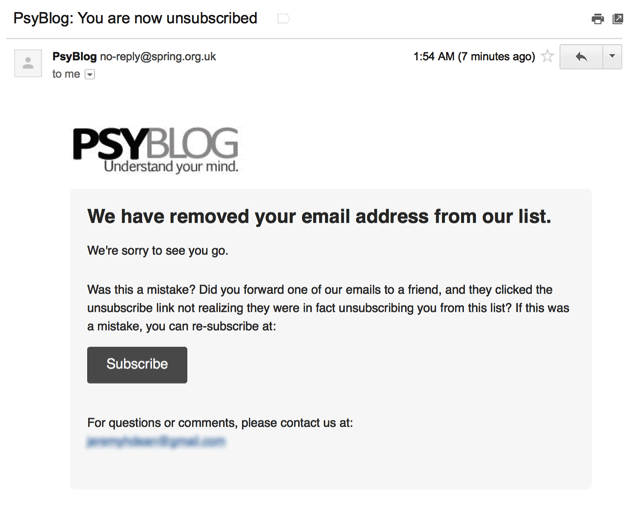 Source: business2community.com
The Goodbye
Sometimes it is better to just let the users unsubscribe to the email in the quickest way possible. This is typically used by enterprises who would like to give their users, even at the time of unsubscribing a smooth user experience. The final goodbye will confirm the user that their unsubscription process is complete and requires no further action.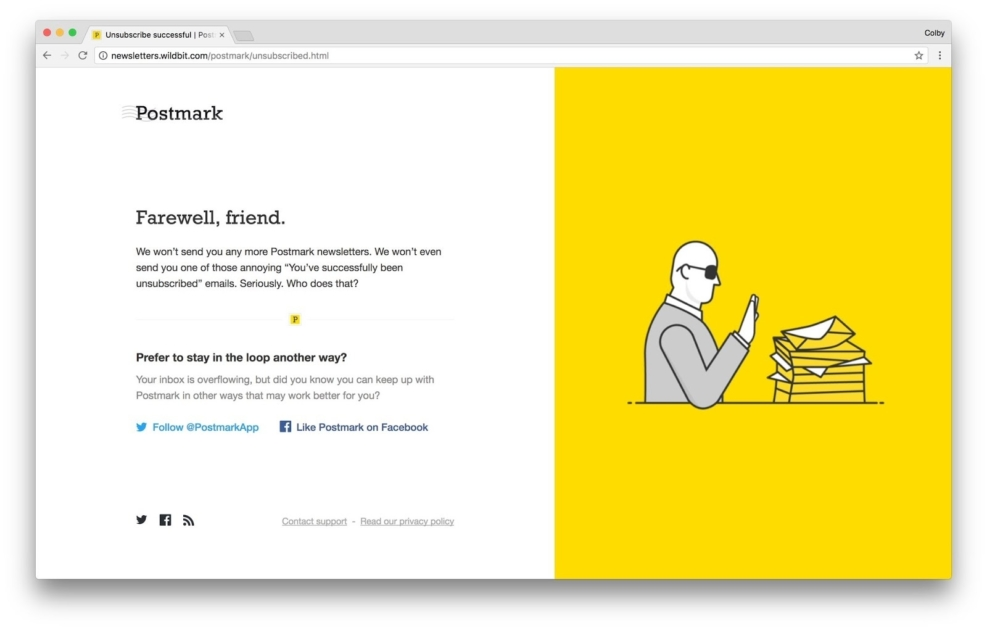 Source: postmarkapp.com
Winning back your unsubscribers with a re-engagement campaign
Now that you know what a re-engagement campaign is, it is necessary to know how to make it happen — the broad steps necessary to implement a re-engagement campaign. Although it is customized based on the business' individual needs, here are the broad steps you ought to be taking.
Identify your unsubscribers
Send personalized emails
Incentivize resubscription
Ask for mailing frequency
Manage separate lists for re-subscribers
Identify your Unsubscribers
If you look close enough, you will notice that the users who have unsubscribed exhibit common traits of some nature. Mostly it would be based on:
Demographics — age and gender
Geography — country and region
Interests — hobbies, pursuits, vocation, profession, etc.
Why is it necessary to analyze these traits of users? Earlier we discussed how users can be won back by sending them relevant and personalized emails. If you have to send them personalized emails that match their preferences and interests, it is necessary to know the audience demographics, geographical distribution, and interests. As a matter of fact, even something basic as geographical interests is necessary since it helps evaluate whether the emails are culturally relevant to the user.
Tweaking your email strategy based on these traits can help win back users who might have unsubscribed.
Send hyper-personalized mail content
Piggybacking on the previous point, personalized emails stand a great chance of keeping your unsubscription rate at check. But, how do you serve personalized content over email? What does personalization in email mean?
Definitely, it is not restricted to addressing your users by their first email. Or wishing them seasonal greetings. It goes beyond that. It is getting under the skin of the user and getting a pulse of their intent of subscribing to the newsletter.
Did they subscribe to get exclusive content? Or was it the hope of getting offers and promotions? If you are a subject matter expert, maybe what they are looking for is content like how-to articles, thought leadership content, latest trends, and so on that will educate them.
Identifying this intent and then serving hyper-personalized content will help keep the unsubscription rate in check.
Incentivize subscription
Opt-in incentives are a common practice in email marketing. However, incentivization need not be restricted only to opt-in. Incentives can also be used to stop users from unsubscribing or to encourage them to resubscribe to your emails.
When it comes to incentives, creativity and sky is the only limit. However, there is one ground rule. You must offer value to the user through the incentive. Otherwise, it will flat like any other badly planned marketing campaign.
There are some popular collaterals or downloadables that have been proven to keep users from unsubscribing to emails. Some of them include:
eBooks
Email course
Educational and informative webinars
Video series on focused topics
Contests, giveaways,
Polls and surveys with participative incentives
Discounts, promo codes, etc.
Like mentioned earlier, it is up to you to use these collaterals in a creative way to keep your subscribers stick to your emails as subscribers.
Ask for mailing frequency
Do you like uninvited guests? The vast majority doesn't. The same applies to emails as well. Nobody expects an email out of the blue. Especially at the wrong time when they are engrossed with work or want to use their email for focused communication.
Most email marketers tend to forget this tenet, or rather they tend to ignore it. It is scammy to send back-to-back emails. It is scammy to send too many emails within a week. You definitely need to have a mailing frequency.
Which is the best mailing frequency. It differs from industry to industry. The ideal one for your business can be found only by asking your users. Also, you might be able to segment your users into multiple buckets based on their preferred mailing frequency.
In case you are wondering, a study conducted by Smartrmail found that fewer than 4 emails a month can lead to more sales-to-click rate.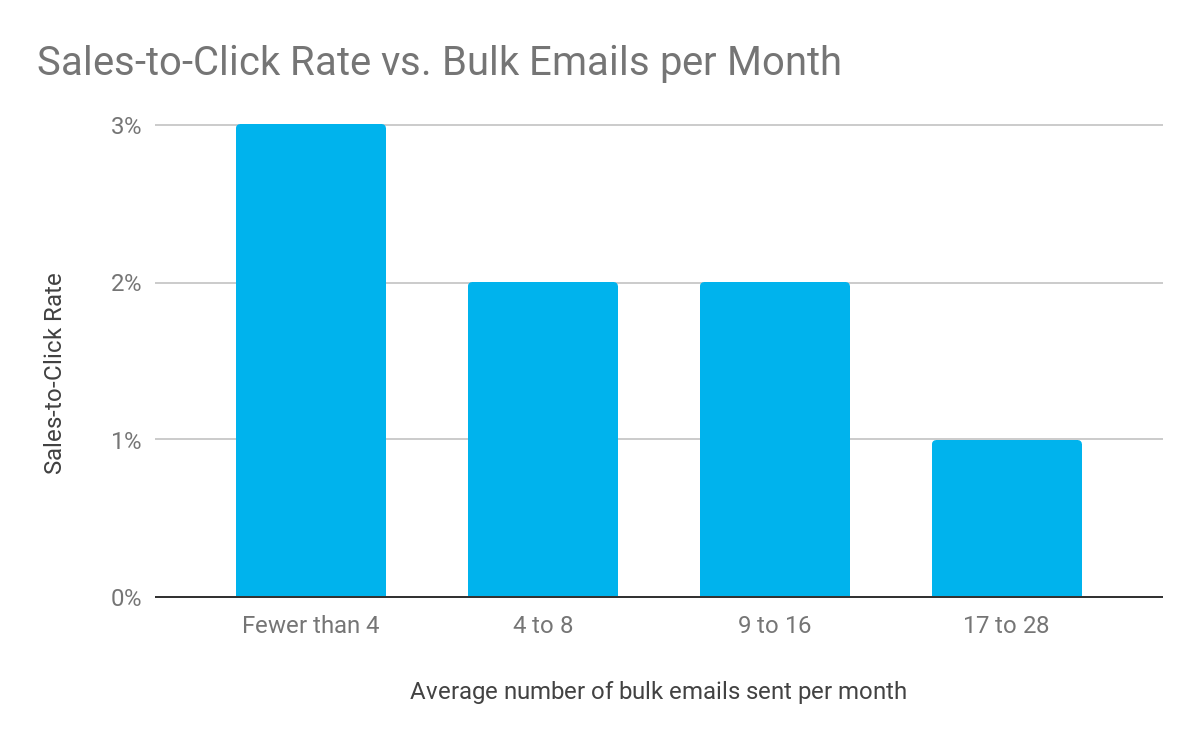 Source: smartrmail.com
Manage separate lists for re-subscribers
Why is it necessary to maintain a separate list for re-subscribers? So that you can ensure that you do not fail to serve them the way you promised. So far we discussed how to win back users who have unsubscribed or are on the verge of unsubscribing. When you win back your users, you must ensure that the mailing frequency that they opted for, the topics that they choose, and the collaterals that they are more interested in are served to them without any slips.
To do this amidst all other marketing activities can be quite difficult. Keeping a separate track of your re-subscribers in your overall marketing strategy can help you manage email marketing better.
Additionally, it helps ensure that you are able to set aside specific time for tracking your activities for subscriptions.
Conclusion
Email marketing is a fragile activity. All it takes is just one bad email to lose your subscribers. This bad email could be out of chance or because of a recurring mistake. Whatever the case, it is necessary that you fix it. Also, you must take action to win back users who unsubscribed from your email.
The fact is, it is not going to be easy. It is an uphill climb. Nevertheless, it is difficult and not impossible. There are proven tactics that can help you make the climb swiftly and reach that pinnacle or restore your subscriber base. Re-engagement campaigns can help you guide the path to that top.
A re-engagement campaign has several moving parts to it. You can also choose from various types of re-engagement emails to target and win back your subscribers. Now that you know about re-engagement campaigns and how to use them, it is only a matter of choice.
So, where do you begin?
_____________________________________________________________________________________________
Author Bio: Mehdi Hussen is the digital marketing manager at SalesHandy, a cold email outreach tool. He is passionate about helping B2B companies achieve organic growth and acquire new customers through data-driven content marketing. Mehdi writes about startup growth, digital marketing strategies, sales productivity, and remote work. You can follow him on Twitter or connect on LinkedIn.