An email list with just 1% of invalid, closed, or "bad" emails can lead to a 10% loss in deliverability. This means that if you have 10,000 subscribers and an average conversion rate of 8.17%, you'll lose the chance to convert at least 80 people out of the 1,000 you lose.
Think about it: you just lost 80 potential customers who could've helped you scale. Luckily for you, email verification can help you reverse those losses and get your audience's attention back.
But what is email verification and how can it improve your email deliverability? Let's find out.
What is email verification?
Email verification is the process of checking whether an email address is currently active, valid, and accepting mail. You can verify an email as soon as it enters your customer relationship management (CRM) software.
You can also do that after compiling your mailing list and sending a test message to each email address to find out if it's active and valid. If the message is delivered, the account is active. However, if it bounces, the email is either invalid or inactive.
What's the Need for Email Verification?
Email lists naturally degrade by 22.5% every year. This means the emails of a significant number of your mailing list subscribers will become invalid over time. If you don't do anything about this decay, such as verifying your list, you'll end up:
Increasing your bounce rates.
Lowering your delivery rates.
Reducing your open rates because your subscribers will never receive your emails.
Undermining your outreach efforts.
Damaging your sender's reputation.
Plus, if you ignore email list decay for long enough, email service providers may mark and blacklist you as a spammer, even if you have the best intentions.
3 Benefits of Email Verification
Now that you know what email verification is and why it's important, let's dig into three reasons why you should go for it:
1. Reduced bounce rate
If your email list contains invalid email addresses, around 10% of your emails will bounce off and never be delivered to your subscribers. This can cause you to lose subscribers, experience lower engagement levels, and wrangle with reduced conversions.
However, if you verify your mailing list, you'll remove all the invalid email addresses. This can reduce your bounce rate by 90%.
2. Improved sender's reputation and score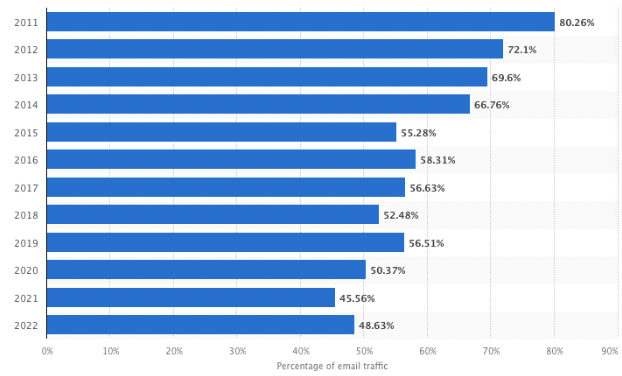 Almost 49% of sent emails are categorized as spam because of high bounce rates, low open rates, and lack of email verification.
Why? Because all these factors indicate to email service providers that you're most likely spamming your recipients, causing your sender's reputation and score to plummet.
Email verification stops that from happening by weeding out invalid, closed, and inaccurate email addresses from your list. This keeps your sender score high and helps you send emails to people who'll actually interact with them.
3. Lowered email costs
The average cost of sending an email can range between $0.10 to over $0.50, depending on the size of the email list and mailing frequency. This means a business with 5,000 subscribers might spend anywhere from $500 to $2,500 on sending emails.
If a significant percentage of those emails bounce or remain undelivered due to email address inaccuracies, you'll lose money every month as you try to fulfill your email quota by sending extra emails. Email verification helps you stop that by removing invalid email addresses from your list, lowering your average mailing costs.
What is included in email verification?
Email verification comes with a great many benefits, but what does it actually include? Let's look at seven factors below:
1. Syntax check
A syntax check inspects the email provided by a prospect for syntax errors like missing @ symbols and formatting errors.
For instance, if someone puts in this email address: zoej@gmaik.com, it'll be caught at this stage.
2. Domain verification
A domain verification happens when an email verifier checks the DNS records to make sure the domain name actually exists and can receive emails.
For example, in the case of this email: "zoej@gmaik.com," the system will try to find a domain under "gmaik.com." If there isn't any, the email will be labeled as invalid.
3. Catch-all domain check
A catch-all domain is an inbox that receives all emails even when a particular domain address is invalid. This means you won't experience a hard bounce — a tell-tale sign of an invalid email — when sending an email to this domain, making a normal domain check useless.
You'll have to use an email verification service to find out whether the emails you're sending are going to a catch-all domain.
4. Role-based account detection
Role-based email accounts are usually assigned to a specific role in an organization, such as info@, editor@, and admin@. They have several types:
Position – These accounts are based on a position, such as ceo@ and admin@.
Broadcast – These accounts are group-based, such as team@ and support@.
Compliance – These accounts are for ensuring compliance and complaints, such as abuse@, spam@, and complaints@.
Sending marketing emails to these accounts can lead to low open rates, a high number of spam complaints, and blacklisting. Email verification services usually directly block these accounts.
5. Disposable email address detection
Disposable email addresses are used by people to sign up for online services without using their primary account. They raise hard and soft bounce rates, lower open rates, and increase your chances of getting blacklisted.
An email verification service looks for these email addresses by checking your mailing list against a list of disposable domains — usually through a JSON, Node.js, PHP, Python, and Ruby API.
6. Mailbox verification
Mailbox verification uses the SMTP protocol to find out if an email address is active and can receive messages. For instance, instead of writing "zoe@claire.com," Zoe wrote "zoo@claire.com."
In this case, an email verification service may send a signal to the mailbox to figure out if it's active. If it isn't, the address will be removed.
7. Greylist domain detection
Greylisting is used by email servers to filter out potential spam emails. Here's how it works:
A mail transfer agent rejects an email it encounters for the first time from an unknown domain.
A technical error code (usually the 451 error) is shown to indicate that a problem has occurred and that the user should try sending the email again after a waiting period.
Once the waiting period has passed, the email is sent again and usually accepted by the recipient.
How to Choose an Email Verification Service?
If you're looking for an email verification service that does all you want and more, keep a lookout for the following features:
Accuracy – Make sure the email verification tool you choose is at least 90% accurate and has a low bounce rate. You don't want your tool to flag valid addresses as invalid. For instance, Voila Norbert is 98% accurate, 3.3 times more than Snov.io and 1.3 times more than Hunter.
Speed – If you're working with email lists with hundreds of thousands of subscribers, verifying them is going to take forever if you choose a slow email verification service. To reduce delay, make sure the service has a fast turn-around time.
Integrations – If you're checking massive lists regularly, make sure your service of choice can integrate with your email service (Mailchimp and SendGrid) and CRM software (HubSpot and Salesforce). This can help you increase your efficiency through automation.
Customer Support – The greatest product in the world is nothing without great customer service, so make sure the email verification service you use comes with excellent support.
Pricing – If you're looking to run thousands of emails through, you might want to price shop to find the best deals. But if that's not the case, try to go with tools that fit your requirements, no matter how expensive.
How to Verify Emails with Voila Norbert?
Let's look at how you can verify your email list with Voila Norbert:
Step 1: Upload your list
Before clicking on the Verify button, convert your current email list into a CSV format. Make sure the file has only one column containing the email addresses you want to verify.
Aside from that, you could also copy each email address from your spreadsheet and paste it into Voila Norbert or source the addresses from another software via an integration, such as MailChimp.
Step 2: Start the verification
After your list is done uploading, click the Verify My List button. Here's what Voila Norbert is going to do:
Filter out emails with invalid syntax and gibberish.
Compare your list with catch-all domain databases.
Use the MX record test to find out if an email is active.
Remove all duplicate emails.
Verify all domains, getting rid of all that are inactive, closed, or invalid.
Perform the SMTP authentication test to double-check whether an email is valid.
The process is going to take a few minutes — longer if your list contains thousands of emails.
Step 3: Get your results
Once the process is complete, you'll get the results as a compressed .zip file with four CSV files containing the following:
Deliverable email addresses
Risky email addresses
Email addresses likely to bounce
Complete report (containing all three categories)
You can now use the first report to kickstart your marketing campaign and ensure at least 90% deliverability.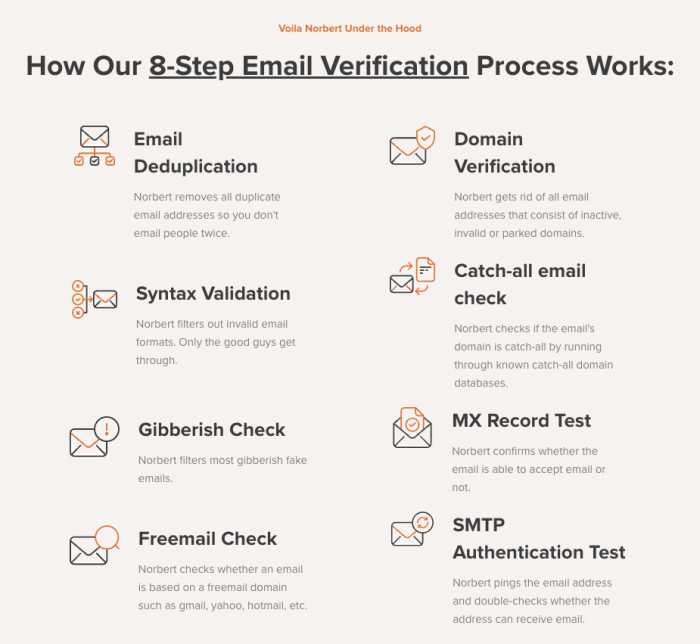 Is there anything I can do to avoid paying for an email verification service?
If you're not ready to invest in an email verification service, you can try to manage your list on your own. Keep in mind that when you handle verification manually, those efforts still cost you money, albeit in the form of team members' time/hourly rates. But if you do try this course of action, consider the following tactics:
Trial and error
Taking a trial and error approach can help you clean some unnecessary items from your list.
For example, you could scan your list for things like "gmai.com" instead of "gmail.com" or manually remove email address duplications. However, this approach can take a lot of extra time and effort, and it's not foolproof because it depends solely on the list researcher's discretion.
Shift the burden to the recipient
Another option to keep your list clean is to put the burden on the subscriber by using double opt-in verification to make sure your emails are making it to the correct address.
However, this approach doesn't take into consideration the fact that people leave jobs and company domains change. It's a one-shot effort to keep bad addresses off the list to begin with, instead of a frequent culling to make sure the addresses on the list remain usable over time.
Do nothing
If you choose to ignore the need for verification altogether, you'll have a bigger overall list to work with and can watch your subscriber numbers continue to grow. What's the catch?
While your list will have quantity, it won't necessarily maintain a high quality, as a good email list should be composed of people who want your messages and have the potential to take action on them.
How much does email verification cost?
The price of email verification tools can vary from $30 to $1,500+. You have to pay upfront for some tools, while others are pay-as-you-go. Let's compare five of the best below:
| | | | |
| --- | --- | --- | --- |
| Solution | 2,000/month | 10,000/month | 100,000/month |
| VoilaNorbert | $6 | $30 | $300 |
| Snov.io | $39 | $99 | $369 |
| ZeroBounce | $15 | $64 | $350 |
| UseBouncer | $16 | $60 | $400 |
| NeverBounce | $16 | $50 | $400 |
So, out of all the best email verification solutions on the market, Voila Norbert is the most cost-effective, making it an excellent choice if you're looking to verify larger (100,000 to 500,000+) email lists.
What are email verification best practices?
Now that you know how to verify an email list, let's check out five best practices that can help you make the process as efficient as possible:
1. Use an email verification service
Although you can verify emails manually, a dedicated service can save you a significant amount of time.
Plus, email verification services use multiple techniques to verify emails, something that's not possible to do manually for large lists. They are also compliant with data privacy and security regulations, ensuring your data remains safe.
2. Add email validation on input
Over 20% of email registrations have syntax errors and typos and 8.4% of email addresses are either misspelled, fake, or invalid. To ensure prospects enter the correct details, create a code that compares the input value to a pre-determined expression in the right format.
3. Verify email addresses at sign-up
Instead of waiting to verify your email list once you've reached a certain number, cut your work in half by authenticating each email at sign-up. For instance, once a subscriber signs up, send them an email with a verification link to ensure your database is accurate and up to date.
You could also use real-time email verification to ensure valid email address collection while growing your email list 25% faster compared to other methods.
How often should you verify your email lists?
While your email list verification schedule will depend on the frequency of your email send-out, you should always clean your list during the following times:
1. For regular email campaigns
Your email list is always growing. So, even if you vetted it two weeks ago, your 2,000 new subscribers would've introduced invalid email addresses into the pool. This makes verification crucial before sending any email.
Here's a schedule you could stick to:

2. Before major marketing campaigns
Marketing campaigns usually churn out hundreds to thousands of emails at once. If your mailing list contains addresses that are false, invalid, or closed, your campaign will damage your sender's reputation and get you blacklisted.
To prevent that from happening, verify all the addresses in your email list before starting the campaign.
3. Periodic checks for dormant or old lists
If you haven't sent a newsletter or marketing email to your subscribers in a while, such as a few months, always verify your list to make sure it doesn't contain any scam traps or invalid addresses that will hurt your business.
You don't want to come back to a list that's completely unusable after your much-needed break or sabbatical.
Common Misconceptions about Email Verification
Email verification maximizes email deliverability, ensures your emails reach the right people, and improves your open rates. But it's not a magic solution.
Let's look at four common misconceptions about email verification:
1. "It's not necessary if you've just collected the emails"
Just because you've gotten people to sign up for your list doesn't mean your list doesn't contain bots or spammers. In fact, with spam reaching a staggering 14.5 billion emails per day, there are bound to be some fake or invalid email addresses in your list.
Finding these and scrubbing them out from the get-go can help you maintain the accuracy of your list and ensure that email providers don't blacklist your domain.
2. "It only benefits large businesses or email campaigns"
Email spam costs businesses over $20 billion per year, with small and medium businesses (SMBs) being hit the hardest.
This means verification can reduce the financial losses SMBs incur by ensuring they email valid accounts. It also equalizes the playing field by enabling both small and large organizations to get an average return of $36 over every $1 spent.
3. "Verification ensures 100% deliverability"
Email verification improves deliverability by removing invalid email addresses, but it cannot stop your emails from being labeled as spam.
It also cannot encourage people to open and acknowledge your email. That's something your copywriter has to work on.
4. "It's the same as having a double opt-in process"
A double opt-in is when a person signs up to your mailing list and you send them a link to verify that they actually want to go ahead. While this is one way of verifying addresses, it's not the entire process.
Email verification is a complete process that starts by checking for scam traps, moves on to formatting and syntax checks, verifies the domain, and then performs mailbox validation — usually without alerting your subscribers.
Are there any legal or ethical restrictions to email verification?
If you're sending marketing emails to your subscribers, it's considered ethical to get the following types of consent first:
Implied – It's when a person provides their email address to access some resource but hasn't ticked any box or mentioned they want you to send them emails.
Explicit – It's when you ask a person outright if they'd like to receive marketing emails, usually in the form of a checkbox, and they agree.
Once your prospect has provided consent, you can send them a verification email to find out if their email account is valid. You'll most likely have acquired this permission beforehand, i.e., when they subscribed to your list.
But what if you bought a mailing list and wanted to send those people verification requests? That's where the law comes in.
According to the CAN-SPAM Act, sending unsolicited emails to people without their explicit consent may be illegal. This is because these lists are either generated using a randomizer or scraped from a website that doesn't sell user information, which is, again, illegal.
But of course, if you're going to use an email verification service, your list won't be alerted to the verification process.