Ecommerce and social media go hand-in-hand.
Your online store can't thrive without effective marketing on social media platforms.
Keep reading to learn what social media marketing is, why your ecommerce business needs a strong social media presence and an effective content promotion strategy to successfully promote your ecommerce brand on social media.
Why does your ecommerce business need a solid social media presence?
As an ecommerce business, you're essentially selling products over the internet. And online consumer behavior is largely determined by social media. To answer the question, we'll just let the numbers do the talking:
75% of people have purchased something because they saw it on social media.
57% of people are more likely to buy from a brand that they follow on social.
What's more, recent social commerce stats suggest:
In the last couple of years, social media referral traffic to online stores has increased by more than 100%.
30% of interviewed online buyers claim they would purchase directly from Pinterest, Facebook, Twitter, Instagram, or Snapchat.
70% of consumers search for products they need to buy on Instagram and Facebook.
And so, the significance of establishing a solid social media presence as an ecommerce brand is unarguable.
What is social media marketing, and how does it benefit your ecommerce business?
Buffer defines social media marketing as:
"Social media marketing is the use of social media platforms to connect with your audience to build your brand, increase sales, and drive website traffic. This involves publishing great content on your social media profiles, listening to and engaging your followers, analyzing your results, and running social media advertisements."
As corroborated by the stats shared above, social media marketing is an absolute necessity for ecommerce brands. When done right, here's how social media marketing can benefit your ecommerce business:
Increase website traffic
Boost conversions (chabot conversations, sales, email sign-ups, etc.)
Build brand awareness
Craft a unique brand identity and positive brand association
Encourage word of mouth and brand advocacy
Improve pre-purchase and post-purchase communication and customer service
Gather insights about your industry (audience, competitors, success benchmarks, etc.)
Ultimately, you can say that social media marketing is a single solution for many ecommerce growth problems.
Furthermore, a recent benchmark report suggests almost half of the revenue of ecommerce stores is brought by returning customers.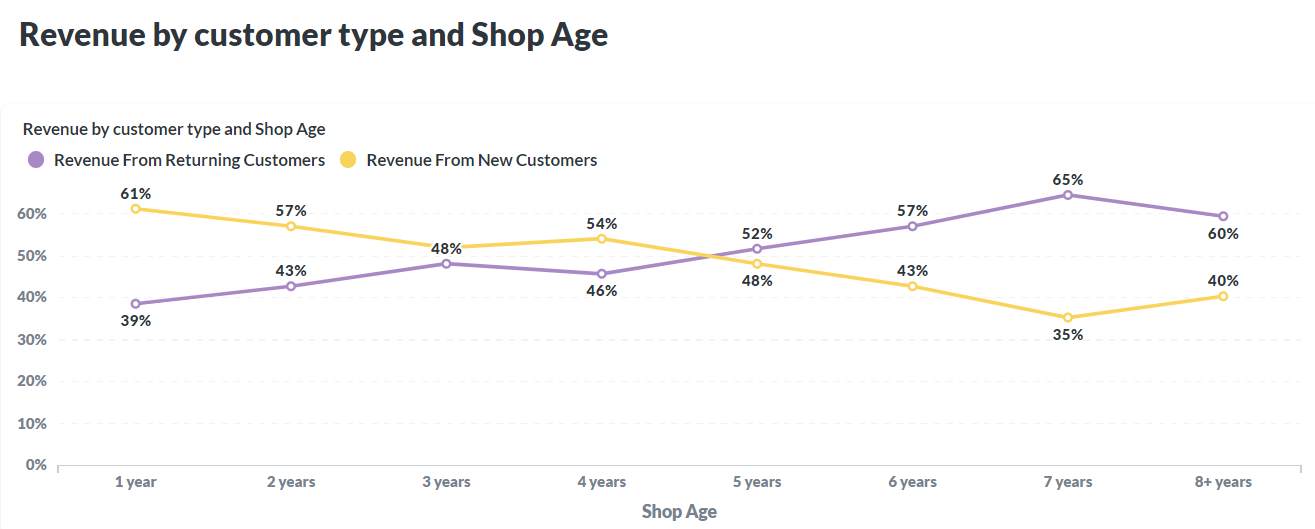 So while earning new customers is always going to be tricky, leveraging the proper social media tools and channels to supercharge your content promotion, ads, and customer experience is a surefire way to keep your customers coming back for more.
And by using the right marketing tech stack — including photo/video editing tools like Canva and Visme, social media management tools such as Socialbakers and Hootsuite, etc. — you can build a solid social media presence for your ecommerce business.
Let's see how you can get started doing just that.
How Ecommerce Social Media Marketing Works
With the what and why of ecommerce social media marketing clear, now let's look at how to start doing it right.
To help you hit the ground running, here are the top ecommerce social media marketing strategies for some of the major social media platforms.
Facebook Strategies for Your Ecommerce Business
With about 2.85 billion monthly active users, of which over 1.5 billion log in daily, rest assured, your customers are on Facebook.
Facebook is the number one product discovery platform, and Facebook users are online not just to connect with their friends and family but also to actively engage with brands.
But organic reach on Facebook has declined, so let's look into the top three paid Facebook advertising strategies to drive more traffic and sales for your ecommerce business.
1. Create Retargeting Campaigns
Stats suggest that over 75% of shoppers leave websites without completing a purchase. These people have shown interest in your products but, for some reason, abandoned their cart.
With Facebook retargeting ads, you can bring them back to your website to complete the purchase. For example, the same stats point out that 25% of shoppers abandoned checkout because they found unexpected shipping costs. Thus, creating a retargeting campaign that offers a shipping discount could earn you those potential customers back.To get better results with your campaigns, make sure you test your Facebook ads with different images, headlines and budget.
Don't forget to set rules to exclude users who have already converted.
2. Run Multi-Product Dynamic Facebook Ads
Facebook multi-product ads boost conversions by showing potential customers a variety of product options and highlighting various product benefits all in one ad. Combine them with Dynamic Product ads, and you've got yourself a killer Facebook strategy.
According to Facebook, Facebook dynamic ads "automatically show the right products to people who have expressed interest on your website, in your app, or elsewhere on the Internet." So these are essentially a type of remarketing ads that are automatically displayed based on what products the user viewed on your online store.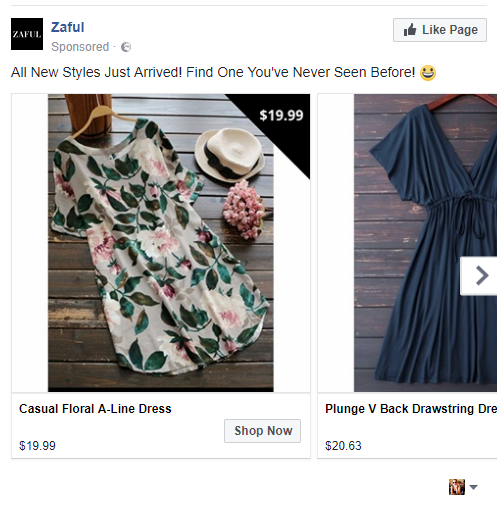 Check out this neat guide on how to use Facebook Dynamic Product Ads For ecommerce.
3. Align Your Ad Sequence With the Buying Journey
Yes, Facebook advertising is a great channel to drive sales; you don't just want to keep shoving promotional ads down your audience's throats. Nobody likes a brand that keeps pushing its products like a sleazy salesman.
So, align your ads with the buyer's journey.
A three-step ad sequence with separate creatives for the awareness (guides, infographics, templates, questions or polls etc.), consideration (success stories, influencer endorsements, etc.), and decision (time-limited offers, retargeting abandoned carts, etc.) stages of the buyer's journey works better, as it shows your brand is here to provide value and connect with customers rather than just hard sell.
Such a three-step ad sequence brings a warmer audience to your product-based ads and ultimately helps to boost sales.
Twitter Strategies for Your Ecommerce Business
With over 192 million daily active users, Twitter is one of the most popular social networks today. Twitter users also engage a lot with brands — four out of ten Twitter users completed a purchase after having come across the product on the platform.
Here are three tried-and-true strategies to start using Twitter fruitfully for your ecommerce business.
1. Building Interest in Your Brand
While Twitter can drive direct sales for some brands (54% of users reported taking action and making a purchase after seeing an unknown brand mentioned on Twitter), it's a platform that's best leveraged to create a stronger brand presence and audience interest. It's a place to showcase yourself as a likable brand that people can relate to.
For example, you can:
Create and share relatable memes relevant to your niche using a free online meme-making tool like Imgflip.
Monitor trending hashtags and join popular conversations in your industry.
For example, Shopify uses Twitter to frequently post memes and entertaining one-liners.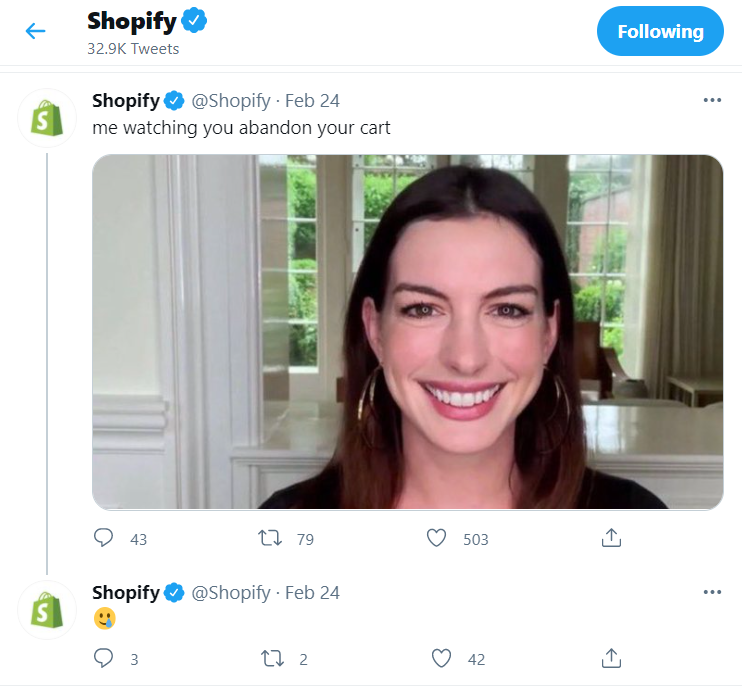 It's no surprise they have a strong brand presence with over three hundred thousand engaged followers.
2. Host Twitter Chats
Twitter chats, aka Tweet chats, are conversations organized around a specific topic on Twitter. These moderated discussions are planned for a specified time with a specific hashtag. They're an excellent way to build a community around your brand.
By hosting a Twitter chat, you can:
Better understand your potential customers
Gather audience feedback
Learn how people feel about your brand
Solve customer problems and answers their queries
Establish your brand's authority on a relevant topic
Form connections with other business leaders
To host a successful Twitter chat:
Have a dedicated, relevant, and memorable hashtag.
Focus on a topic relevant to your audience and brand interests.
Set a date and time.
Use a structured Q&A format
Reply directly to specific questions or comments
Encourage hashtag use
End with thanks and a call to action (CTA)
Repurpose your chat content into a blog post, webinar, or YouTube video
Check out below how Hootsuite hosts a Twitter chat.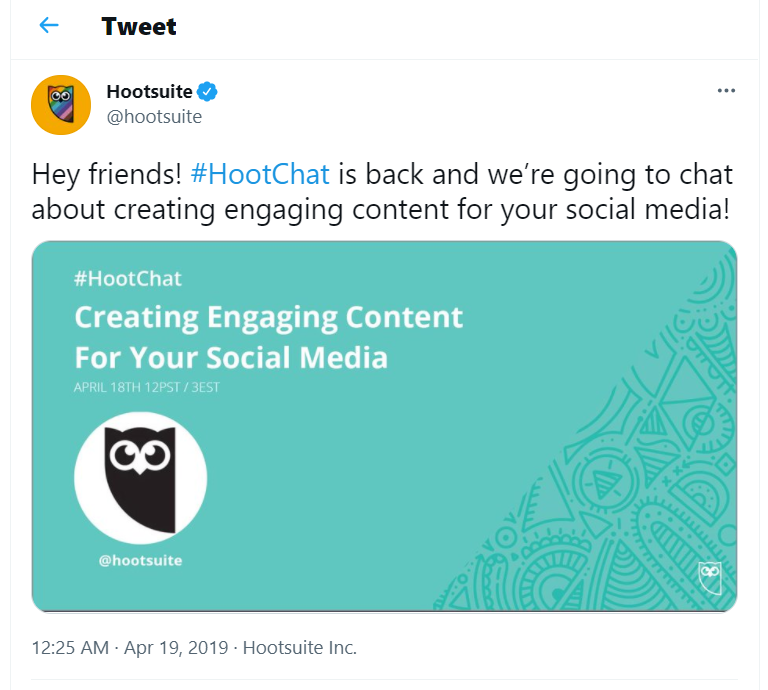 3. Target Relevant Users with Sponsored Tweets
With the help of sponsored tweets, you can target a super-specific audience with characteristics similar to that of your ideal customers. You can ensure these Twitter users notice your tweets that are super relevant to them, ultimately compelling them to give your store a visit.
To further improve your targeting, you can use Twitter remarketing to reach users who have already shown interest in your products. Essentially, you increase the odds of conversions by showing ads to people who have visited your site before.
Instagram Strategies for Your Ecommerce Business
Instagram is a marketing powerhouse for ecommerce businesses such as Kaoori. 90% of people on Instagram follow a business, and two-thirds of the people surveyed say Instagram enables interaction with brands.
While there are many Instagram marketing strategies you can adopt, here are the top three strategies that help you establish yourself as an authentic ecommerce brand worth following.
1. Show Behind the Scenes
Say you run an ecommerce store that sells custom t-shirts. Your followers already know just how vibrant your clothing line is — owing to your standard product posts and Stories.
But does your audience know all the effort that goes into creating a custom t-shirt? A quick Instagram Reels video is an excellent way to show your team's work behind the curtains.
Similarly, a "day in the life" post with a descriptive caption gives your followers an inside look into your brand's culture, your life as an entrepreneur, the technology used in production, the hard work of your team, and so on.
For instance, Dubsado shares all the love they put into their welcome packets in a behind-the-scenes Instagram Reel.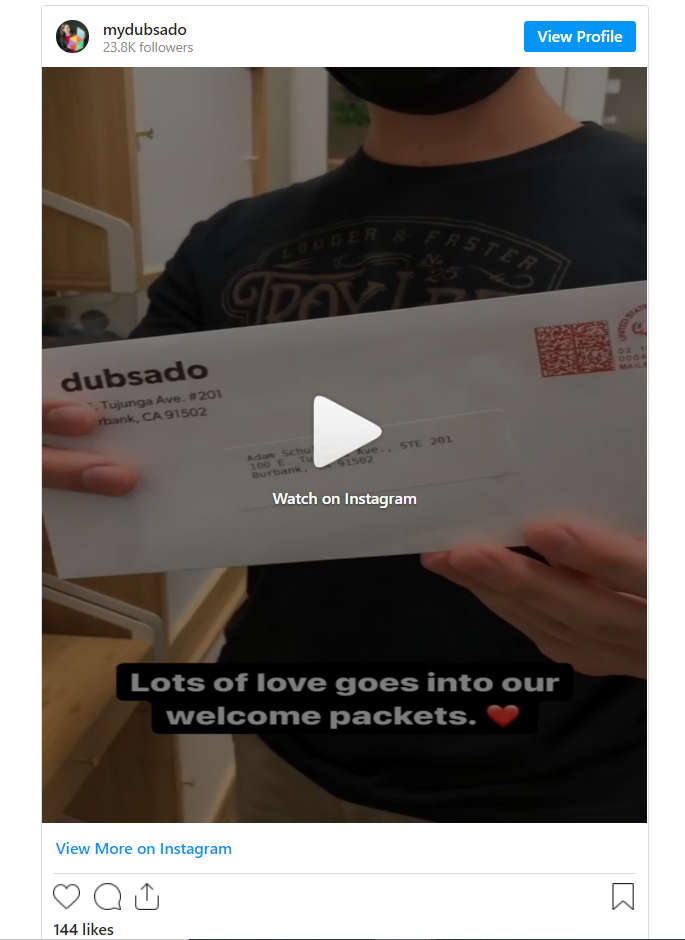 Besides, for a behind-the-scenes video, you don't necessarily have to plan a lot or do a lot of editing work. Your followers would appreciate a raw, uncut backstage pass. Such content makes your audience feel closer to your brand.
2. Repost User-Generated Content
Instagram is a platform infamous for attracting users that love to "fake it till they make it," but you must do the opposite and focus on authenticity.
After all, 86% of consumers say authenticity is important when deciding what brands they like and support, and your modern audience of Millennials and younger generations only shop brands that post genuine content.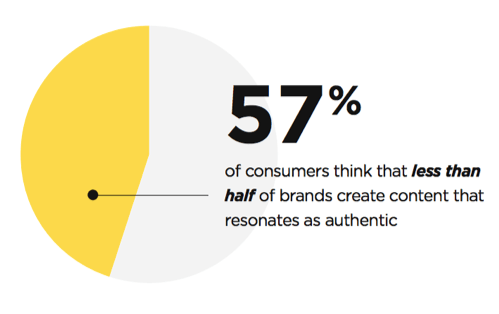 So, apart from behind-the-scenes content, the other authentic content format to focus on is user-generated content. UGC involves your audience in content creation, so you get quality content from actual customers that you can repost to prove your business's veracity.
But how do you encourage UGC?
One way is to work with micro-influencers to create branded content that includes your products in natural light. Next, if your customers post photos or videos using your products, request permission to use their content and then repost by crediting them in the caption.
Another tried-and-true tactic to earn more UGC is to…
3. Host Hashtag Contests and Giveaways
In a hashtag contest, you typically invite your followers to post content featuring your product and tag your brand. Once the contest period is over, you reward participants that post the best content in terms of likes or comments.
Social media contests incentivize your followers to publicly tag and celebrate your brand, boosting your all-important social proof.
Likewise, a giveaway is a contest format where you pick winners at random and reward them. The participants have to engage with your brand on Instagram in some way (such as comment with the right answer to a question) to stand a chance to win. Use a social media contest tool to easily host an Instagram contest or giveaway.
Pinterest Strategies for Your Ecommerce Business
Pinterest is a great platform to drive interest in your products, generate brand awareness, and even drive sales with product-led growth. You can benefit from ecommerce-oriented features like Shopping Ads, Product Pins, Collections Ads, etc.
With 478 million people using Pinterest each month to find ideas and inspire their next purchase, here are the top three strategies to start leveraging this platform for your ecommerce business.
1. Add Share Pins to Your Product Pages
When potential customers are browsing your product pages, invite them to follow your brand on Pinterest so they can share their favorite products with their network.
Source: Forever 21
When people click on the link, they're taken to Pinterest, where they can save and share the products they like. This boosts your exposure to a bigger audience that might not have found you otherwise.
To encourage click-throughs, include a CTA on your product pages that says something like, "Not quite ready to buy? No worries! Click the Pin button to save it on Pinterest."
2. Add "Shop the Look" Pins
Over the past few years, Pinterest has introduced new visual discovery tools and made more Pins shoppable. The platform recently introduced "Shop the Look" on mobile, which lets retailers feature multiple products in a single ad so Pinners can discover great products in the context of a Pin's image and click to checkout on the retailer's site.
Shop the Look Pins facilitate more ecommerce purchases by letting users see a product they like and quickly complete checkout. To get started with this feature, use Pinterest's tagging tool to create your Pins and tag your images with links that take users to your product pages.
3. Share Complementary Pins
As is the case with your ecommerce product pages or blog, keep your Pinterest boards fresh to encourage people to revisit. The key lies in sharing your products and supporting content that proves the value your brand offers.
That is, pinning content that goes beyond self-promotion shows your audience what's important to your brand besides making sales. If your values align with your audiences', they're more likely to stick with your brand.
The ecommerce fashion brand 6pm sells discounted merch on their online store. But their Pinterest page is packed with boards that highlight lifestyle topics (crafting, travel, recipes, etc.) that their audience finds interesting and valuable.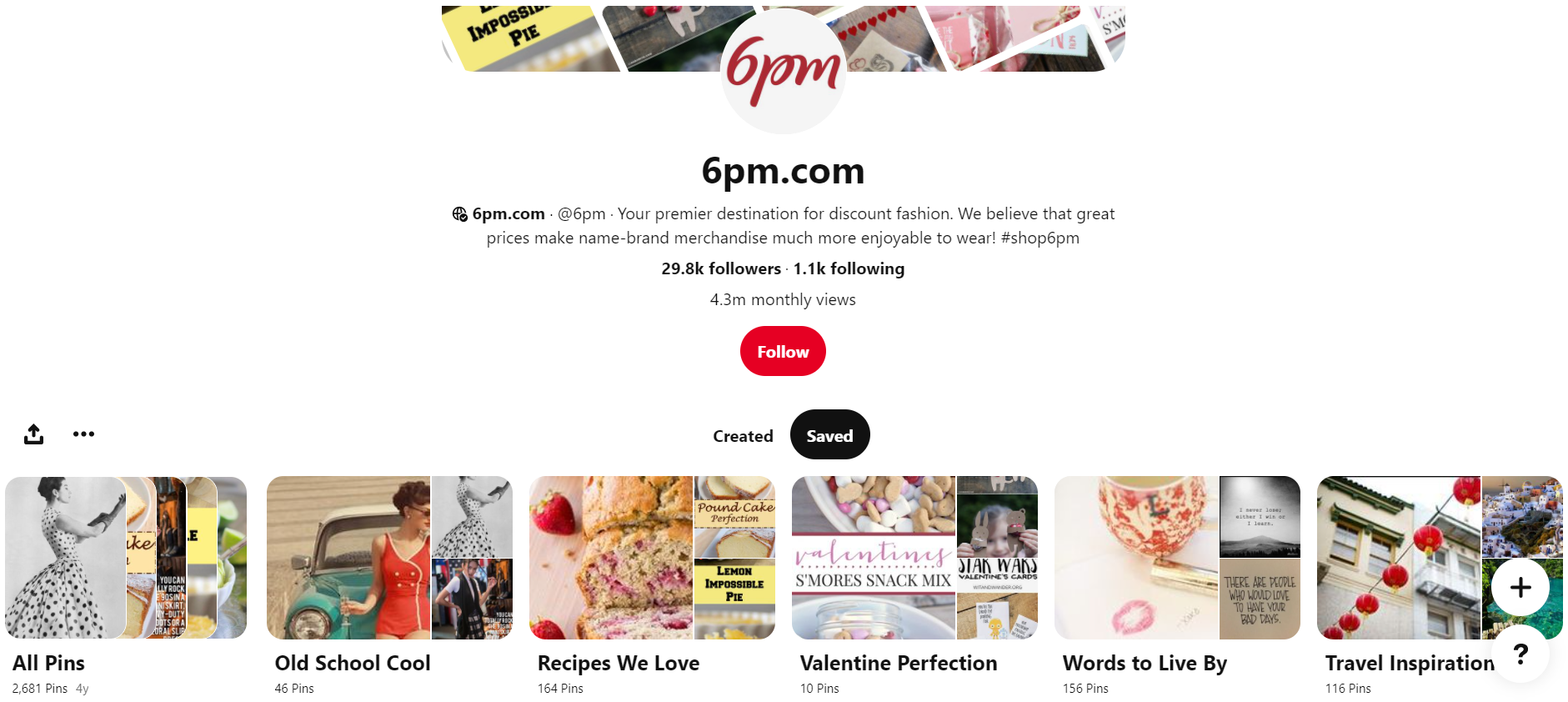 As 75% of consumers say they'll start shopping brands that have the same beliefs and values as they do, it's a good idea to survey your audience to understand what's important to them and tailor your marketing to them.
LinkedIn Strategies for Your Ecommerce Business
LinkedIn may not strike you as the first platform for marketing your ecommerce business, as it's a social network meant for job seekers and professionals and better suited to B2B marketing.
However, with 756+ million active users and 57+ million companies listed on LinkedIn, it's not a good idea to ignore this platform altogether. As an ecommerce brand, you can leverage it not just for hiring but also to expand your visibility, build your authority, share your brand story, and network with others.
1. Share Your Business Story
A business profile on LinkedIn gives you an excellent opportunity to showcase your brand's unique story, mission, values, and what sets it apart from the rest. The more compelling your business story is — explaining why and how your ecommerce brand came into existence, what it does differently, etc. — the more attention and traffic it'll get.
You can share your brand story as LinkedIn posts, but it also makes sense to put your story in the About section of your LinkedIn profile, just as you would when writing a killer About Us page for your ecommerce store.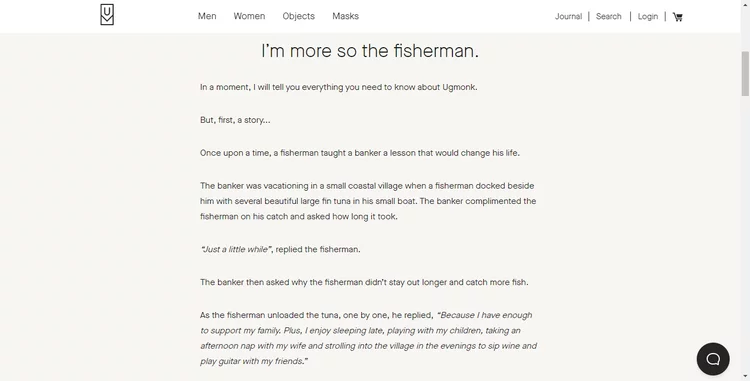 Source: Ugmonk
Be as genuine and to the point as possible while writing your story to keep users engaged and build credibility.
2. Network With Other Business Owners
LinkedIn is packed with business owners and entrepreneurs, so it's an excellent platform for you as an ecommerce store owner to network.
While only some of the connections you make may turn into direct sales, your focus should be to create relationships with other business owners, sellers, and vendors. Use LinkedIn Polls to spark conversations and learn your audience's perspectives about various topics.
The business-to-business connections you build here can lead to things like spots on podcasts, public relations or guest posts on authoritative publications, affiliate partnerships, and so on.
3. Showcase Your Expertise
By frequently publishing in-depth posts and how-to articles on LinkedIn as an ecommerce business, you can position your brand as an industry expert.
In doing so, not only do you build trust and authority, but the content itself can be shared, which in turn results in better online visibility, branding, and traffic to your ecommerce store.
Pro-tip: If you create video tutorials or content, you can use LinkedIn scheduling to better manage your calendar and make the best of publishing times.
Influencer Marketing Strategies for Your Ecommerce Business
Influencer marketing usually goes hand in hand with social media and content marketing. Put simply, an influencer is a person who has established credibility and authority in a specific niche. An influencer can be a food blogger, travel vlogger, fitness freak, beauty model, etc. — we all follow one or more of these on social media.
As Instagram is by far the most popular platform for influencer marketing, with 68% of brands considering it the most important channel for successful influencer partnerships, let's dive into the top three Instagram influencer marketing strategies for your ecommerce business and how you can find instagram influencers.
1. Determine Your Goal
With influencer marketing, you are essentially leveraging the reach and following of a niche authority figure to endorse your brand and co-create content, with intents such as to:
While you can try to achieve multiple such goals in one go, you'll likely fail to hit the desired numbers in each area if your focus is too broad.
So, it's crucial to clarify your objective of using Instagram influencer marketing right from the off. Plus, nailing the "why" of your influencer campaign also helps create a concrete partnership strategy.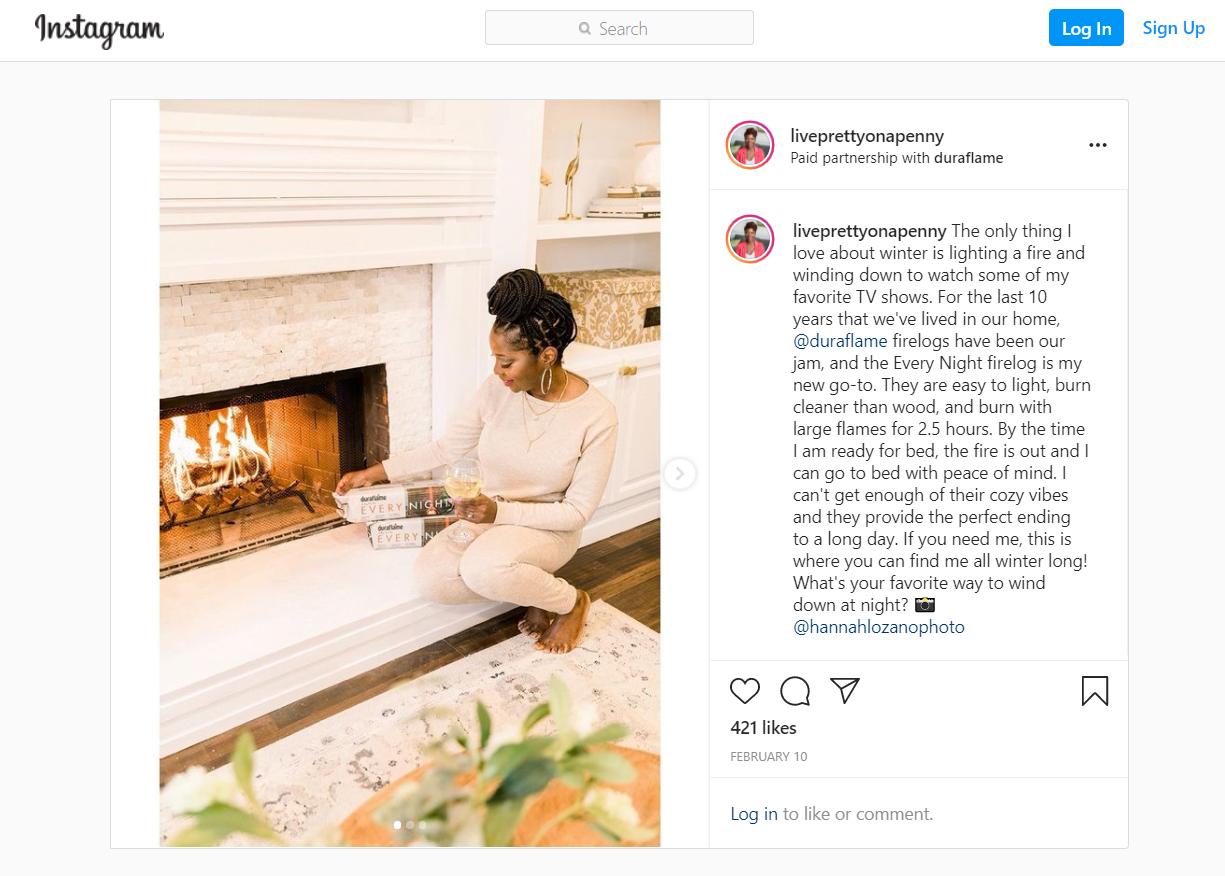 For instance, Duraflame partnered up with Erin Marshall, the blogger behind Live Pretty on a Penny — a home décor, home improvement, and DIY blog — to build brand awareness and promote their new product Every Night Firelog.
Duraflame was clear about its goal and, thus, was able to partner perfectly with just the right kind of influencer, which brings us to the next point…
2. Find the Right Influencers
To ensure your Instagram influencer marketing campaign brings in the expected ROI, you must find Instagram influencers whose audiences and content are super relevant to your business.
Use the following metrics to pick the ideal partner:
Engagement: A higher engagement rate means the audience actively engages with the influencer's content instead of scrolling past.
Follower count: While this metric isn't too important, influencers with larger audiences tend to have a broader reach.
Influencer preferences: Pair up with an influencer who truly prefers what you're selling. For example, if you're selling plant-based meat, go for food or lifestyle influencers who prefer and promote vegan diets.
Content quality: Review the content the influencer posts on their Instagram to get an idea of their personality, voice, creativity, opinions, etc.
Also, keep your budget in mind when narrowing down influencers. Make it clear about how much you're willing to pay and what kind of content you want, which brings us to the next point…
3. Set Clear Partnership Guidelines
Make sure to elucidate your engagement expectations, campaign goals, product concept, type of content, references, hashtags, brand voice, and so on to help the influencer create content that aligns precisely with what you want. The clearer your guidelines, the more likely influencers will respond and the better odds of you picking the right partner.
For example, when it comes to the type of content, here are a few of the many ways you can partner up:
Ask the influencer to create an Instagram Story and add a link to your landing page.
Ask the influencer to mention your brand in their post or share a detailed review of your products.
Invite the influencer to engage with your audience in real-time using Instagram Live.
Ask the influencer to run a giveaway where the winner will receive a gift provided by you or a promo code to shop your store.
Time to Sell Better on Social
Now that you're clear about the importance of social media marketing for your ecommerce store and how to start making the most of each of the top social platforms, it's time to get to work!
Which platforms do you currently use to promote your ecommerce business? Which ones of the above do you plan to leverage going forward? Let us know in the comments below.
Author Bio
Since 2003, Chris Makara has developed a broad digital marketing background with a focus on SEO, Social Media, Automation and Analytics. He is the founder of Bulkly, a social media automation tool for individuals and small businesses.