We send and receive a ton of emails every day.
The numbers suggest that 333.2 billion emails will be exchanged globally every day in 2022. These numbers will keep increasing exponentially as email marketing proves to be a great way to promote any business as well as keep the leads and clients engaged.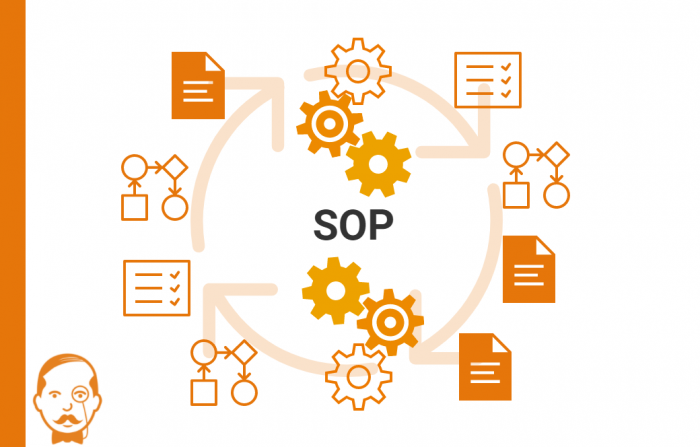 Outbound emails are an essential part of marketing strategies.
Every company does cold calling initially to reach potential customers and outbound emails are a similar extension of the campaign.
But sending cold emails to prospects can be tricky business. Nobody wants unwanted emails clogging up their inbox, especially with email volume on the rise. Whether a brand is using email for school marketing or SaaS product promotion, they should be careful with cold messages.
There are high chances that if not planned, composed, and rolled out strategically they will be perceived as spam.
Here's where a well-defined standard operating procedure or SOP can come to your rescue. Let's talk about why having an SOP for outbound email is important and how you can make one your marketing team.
Why Do You Need an SOP?
Sending outbound emails as part of an outreach campaign relies on many tasks, being done in a coherent and similar way by different employees.
A Standard Operating Procedure, or SOP, is a document that outlines how to carry out a certain business task step by step. Although the majority of SOPs are text documents, they can sometimes include graphics or videos to help clarify instructions. Some companies also use document conversion tools so that they are available in different formats for all users.
Let's consider this example:
Have you ever been in a store line and the cashier couldn't figure out how to process a return or provide a refund?
Consider the inefficiency and potential for chaos that would result if product returns weren't handled in a consistent manner. This is where a standard operating procedure (SOP) can come in handy.
Employees are most certainly instructed on how to process returns.
However, without SOPs in place to eliminate ambiguity, you're at the whim of the cashier's memory of that specific training session.
Most people believe that standard operating procedures bind them and limit their flexibility.
However, in our increasingly complex world of work, where there are so many alternative decisions and stages, standardization can be liberating.
SOPs can actually make customizing client experiences more cost-effective.
How to Write an SOP?
There are a variety of approaches to drafting an SOP, but one thing to remember is that it should always be simple to follow and specific to your outbound email marketing team.
Despite the fact that SOPs are often produced according to a set of rules, there is no one-size-fits-all SOP format. Procedures will differ from one firm to the next, and their SOP format should reflect this.
The following steps provide a baseline for you to establish an SOP that suits your company the best:
Define the End Goal
Before you start writing an SOP, you must have a clear understanding of why you're writing it in the first place. Deciding on a goal for your outbound email campaigns is a great way to initiate curating a document.
You'll also want to discover any present pain spots or roadblocks in the emailing process. This will allow you to be more specific when identifying how the SOP will help your team be more productive.
Setting targets for your SOP-related efforts will allow you to:
Be in a better position to create absolute best practices to write and send outbound emails
Have a better understanding of how applying the SOP will affect your company's bottom line
Know exactly what to look for when revisiting and evaluating SOP over time
A solid internal knowledge base can help your team maximize productivity.
You may have previously developed informal documents about your various procedures which can be utilized as a starting point for establishing an SOP.
In addition to that, you can refer to the list of outbound email team-related goals that you've been working toward, which will help you define your goals for the current SOP.
Identify the Stakeholders and Creators
Every individual who will be involved in or impacted by the SOP should have a say in its formulation. In general, your SOP development team for outbound emails should include the managers and experienced employees.
Management leaders must:
Identify the best practices,
Define the needed resources,
Define the software that must be used,
and develop a strategy for implementing SOPs.
Employees on the ground can assess the SOP's validity and plausibility in terms of practicality. They can provide insights on the cold emailing strategies that have worked in the past and boosted the company's bottom line.
You'll also have to figure out who will be responsible for actually authoring the document.
Whether you use current employees or hire a freelancer, it's critical that the person who creates your SOP is a technical writer with an understanding and experience of your company's way of planning outbound emails campaigns.
Create an Outline
You can start planning out the document as a whole after you know what your goals are for the SOP and who will be present in the process.
Format each SOP in the manual in the same way.
For your outline, you can refer to any existing SOP format that your organization uses for other processes. In case you don't have any existing templates, you'll need to decide on a layout that works best for your business.
Here are the different components of a complete SOP document and what information should be included in each:
Header: It specifies information like the title, author, and date of the document
Objective: This part gives a brief overview of why this document exists and the goals it strives to achieve
Scope: This mentions the expanse of the processes and how the email marketers can use it
Glossary: Simplifying the uncommon words, phrases, and abbreviations, used in the document
Process: It is the body of the document. You can include the expectations and guidelines in this section
Related documents: Here, you can add detailed information about the different automation and software documentation tools. This will help the reader out when they are facing any issues during the outbound emailing process.
Jot Down the Current Procedures
Ongoing policies and procedures are almost certainly documented in some form at your company.
This could be a formal SOP or a handwritten paper made by a long-serving employee. These documents can be used as the foundation for a standard operating procedure.
If no such document exists, you might conduct interviews with employees and managers to learn about their processes and procedures.
You might even ask them to write a step-by-step procedure for you to go over. Alternatively, you might observe and document the processes of staff.
Whatever approach you use, begin by mapping out processes as they are now, not as they should be. It's preferable to start where employees are and make adjustments rather than trying to build a new process from the ground up.
35% of recipients open emails solely based on the subject line.
Look into how the existing employees write engaging subject lines that people click on and compose the body of outbound emails. Then observe how they manage the entire email campaign from kick-off to end goal.
Establish quality assurance and control procedures
It's critical that your team members are able to evaluate their performance relative to the SOP, on a case-by-case basis, and at pre-determined time intervals.
Documentation allowing them to do so should be included here. This could involve the following:
Anecdotes that demonstrate expert practices for a given method
Rubrics or other forms of performance evaluation
Past performance evaluation samples (actual or simulated)
While the "core" of your SOP should be as precise as possible, this part will ensure that your team members continue to follow it to the best of their abilities—as well as identify areas where they may need to improve in the future.
Review and Refine the SOP
After you've finished writing the document in its entirety, give all stakeholders the chance to review and update it for accuracy, cohesion, and comprehensiveness.
Of course, you want the end-input users' suggestions to be a big part of this.
After all, they'll be the ones performing the method, so you'll want to be sure they understand everything in the document.
Furthermore, because they have firsthand familiarity with the processes in question, they will be able to spot areas that were neglected when the document was first created.
However, you might want to have the paper examined by people who aren't as familiar with the processes in concern.
This will allow you to account for any biases that more senior team members may have as a result of their knowledge and experience. As a result, new hires will be able to swiftly get up to speed with SOP once they arrive.
Summing up
Developing standard operating procedures is one of the finest ways to ensure that your team's skills are put to the best possible use.
Even the most gifted professionals may not be able to be completely productive and effective in their positions if they are not provided adequate and unambiguous guidance.
Your team members will always know exactly what to do when it comes to outbound emails if they have clear, detailed standard operating procedures on hand. As a result, your company's productivity will surely increase.